Hellllo weekend! It's been a crazy busy week; kids home, places to go and sleeping in to be had. It has been spectacular. PLUS I made this here Grilled corn black bean salad… because weekends need as much.
Salad, salsa, whatever, you can call it whatever you want to because this stuff is delicious. Black beans and grilled corn are tossed together in this amazingly simple balsamic vinaigrette with fresh garlic, cilantro and green onions.
My mom is responsible for introducing me to this salad. I think it's a Weight Watcher's recipe, I'm not sure, but what I do know is that when I first dipped my chip into it and took a bite, I found it completely and utterly addicting. So good that I could not physically move my body away from the bowl on the table. It's salads like this that I love to eat as a lunch or as a topping on things like grilled chicken or salmon for dinner. The balsamic gives it some zip while the sweet corn, cilantro and green onions round it all out.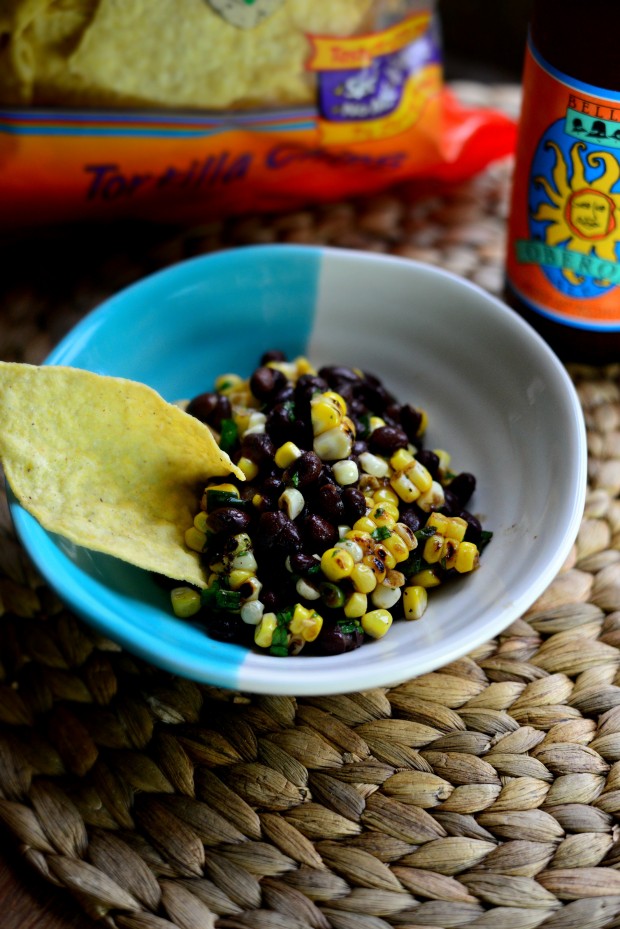 As I sit here typing up this post, it's raining buckets. It's been off and on all day long, but the weekend weather is looking up and Saturday we're grilling. We just bought a new grill and so steaks, Oberon and this salad (salsa) are on the menu.
Grill up a couple ears of sweet corn until bright yellow and slightly charred (<— my fave). Then remove set them off to the side to cool.
Moving on to the dressing, slice up three green onions…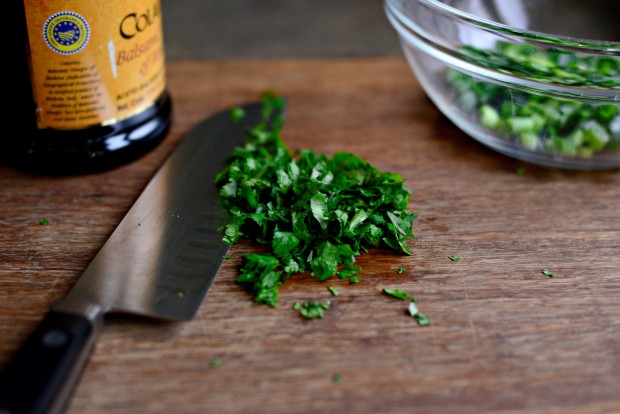 Mince up 1/4 cup of fresh cilantro leaves…
And just throw it all into a small bowl.
Pour in 1/4 cup of balsamic vinegar.
Next add 2 cloves of garlic that has been finely grated or squeezed through a garlic press.
Then whisk in 1/4 cup of olive oil.
That's it!
Then slice the corn off of the cob. My little trick for not having corn ALL over the place is to angle the cob towards the board and starting at the top, cut slowly downwards. At first it may seem a little awkward but it really helps the corn land on the cutting board and not on the floor, counter or everywhere else except for where you want it.
Next add the black beans and grilled corn kernels into a bowl.
Then add in the balsamic cilantro vinaigrette.
Lastly, season with kosher salt and black pepper to taste.
Boom. Deliciousness. PS. that hunk of grilled corn perfection is all mine.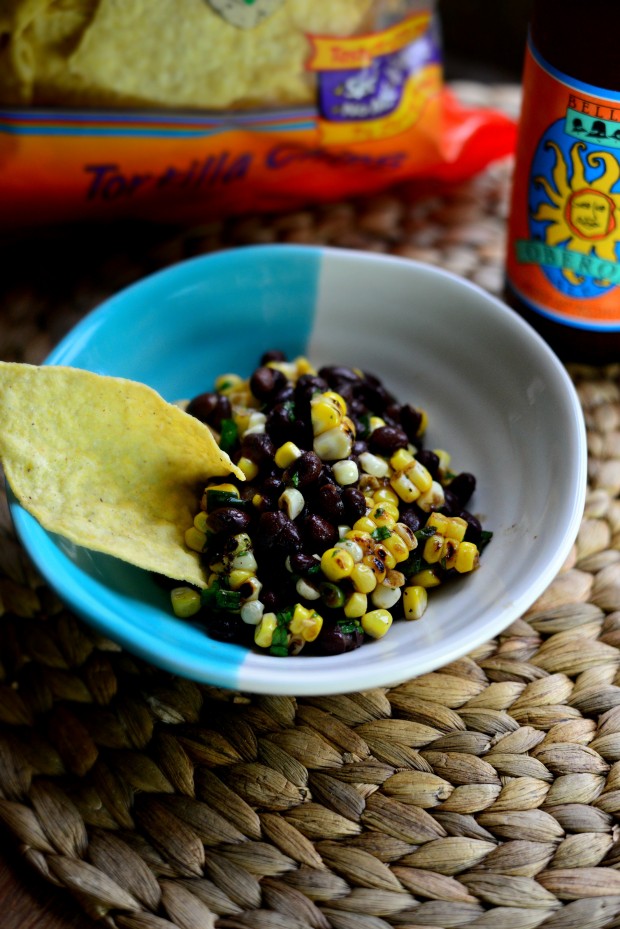 I made this salad a couple days in advance to give it a little time to marinate in the fridge, but 1 to 2 hours is perfectly fine too.
But of course I couldn't resist snacking on a small bowl of this stuff right away. YUM!
Enjoy! And if you give this Grilled Corn Black Bean Salad recipe a try, let me know! Snap a photo and tag me on twitter or instagram!
My cookbook Simply Scratch : 120 Wholesome Homemade Recipes Made Easy is now available! CLICK HERE for details and THANK YOU in advance!
[this post contains affiliate links.]
This post may contain affiliate links.
Buy the Cookbook: Simply Scratch : 120 Wholesome Homemade Recipes Made Easy Now available on Amazon »
THANK YOU in advance for your support!