In this breakfast polenta bowls, you'll find  creamy polenta, crispy bacon, sautéed onions and peppers gets topped off with a crispy-edged fried egg.
I have mad love for polenta. It may sound strange but I can't quite quit it. I want it for dinner. Or to sit on the couch and spoon it straight from the pan and into my mouth… and now I will forever crave it for breakfast.  So basically all day errryday.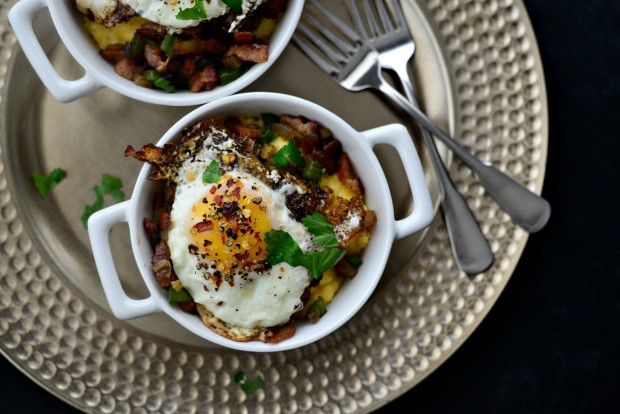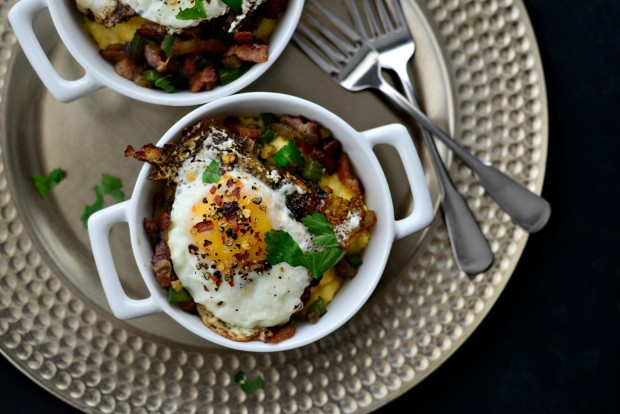 So peep this. I ate both these bowls. I'm not proud but I was blissfully full. Full of creamy polenta,  topped with sautéed green bell pepper and onions, crispy bacon lardons THEN (big gasp) a crispy fried egg tops it off… that drippy yolk kills me. Just kills me.
You won't believe how simple and extremely delicious and comforting this breakfast bowl is.
Let's do this.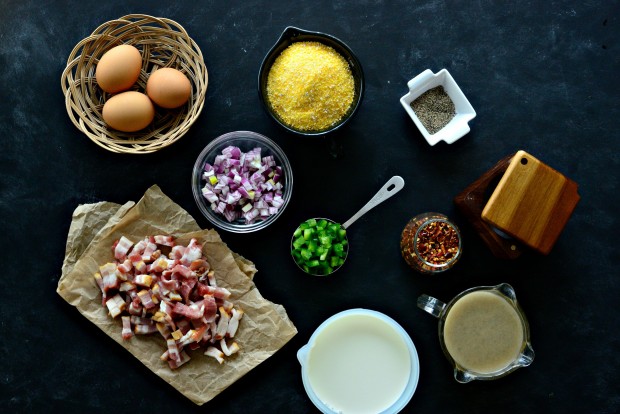 The usual breakfast suspects. I like it.
Start by tossing the bacon into a cold cast iron skillet and heat over medium.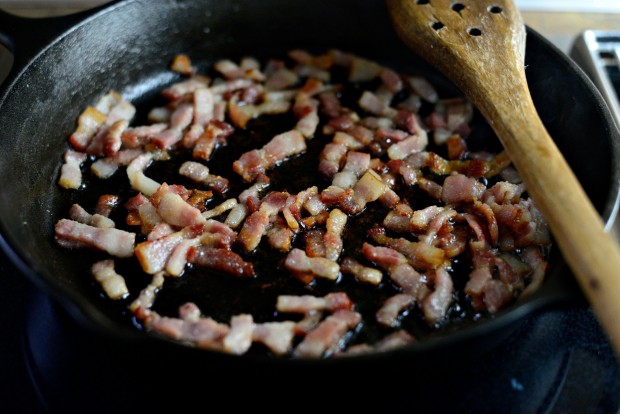 Cook, stirring every so often until crispy and gloriously perfect.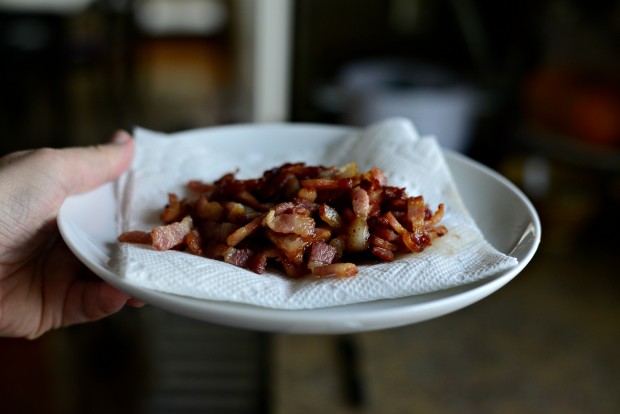 Scoop the bacon pieces out with a slotted spoon and onto a paper towel lined plate.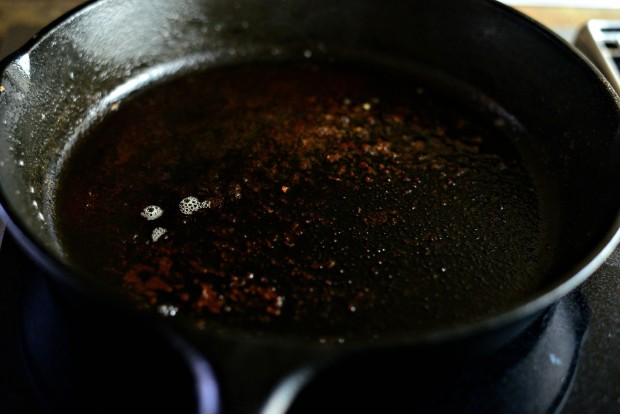 Drain off all but a tablespoon of bacon fat. (Save that fat for frying the eggs!!!)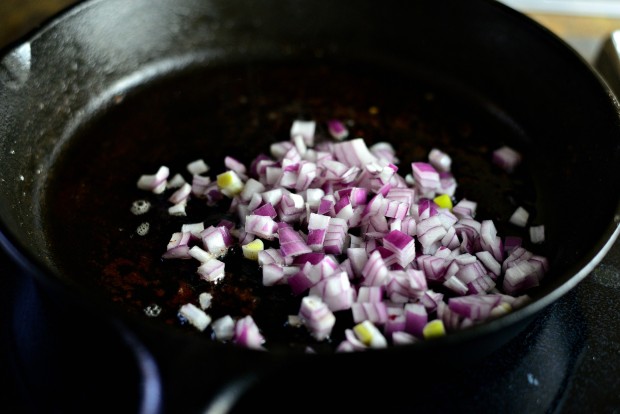 Toss in the diced onion…
…the diced green bell pepper…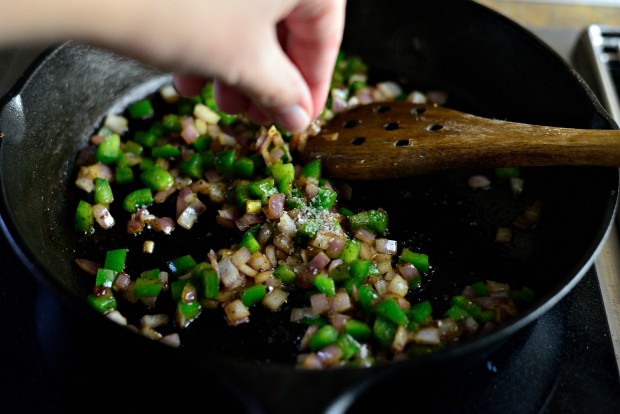 …plus a pinch of kosher salt. Cook stirring until the vegetables are soft and tender.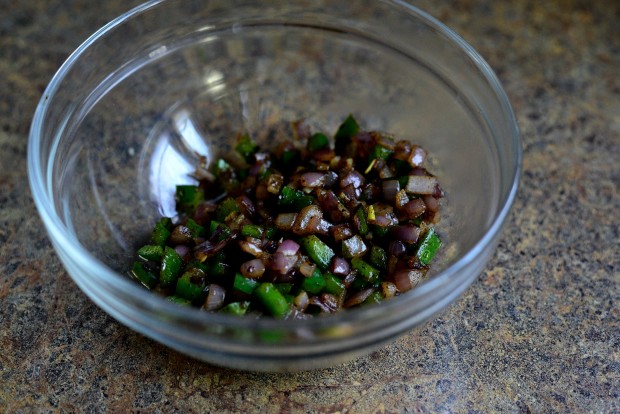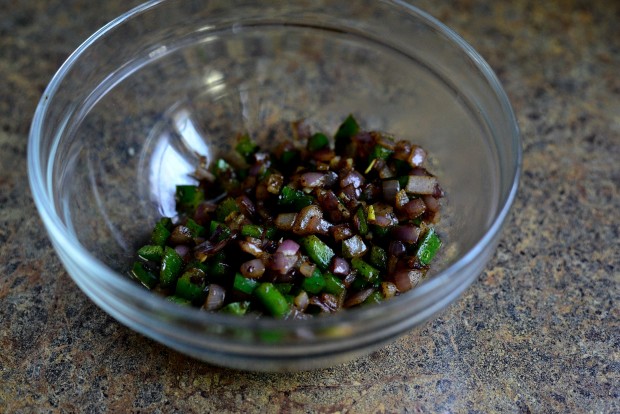 Transfer those to a medium bowl…
Add in the crisp bacon pieces and stir to combine.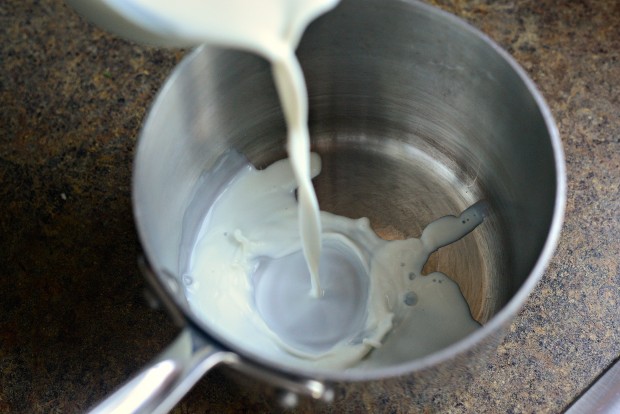 Pour two cups of milk into a medium sauce pan.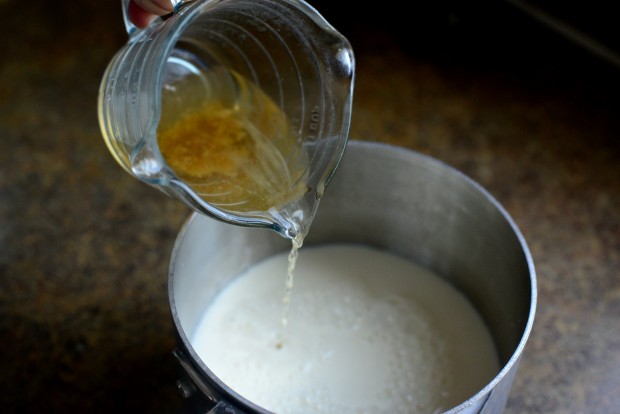 Add in a cup of broth, place on the stove top heat over high.
In the meantime, measure out 3/4 teaspoon of salt and 1/8 teaspoon black pepper.
Once teeny tiny bubble start to gather on the top of the milk/broth combo… it's about to come to a boil.
Reduce the temp to medium or medium-low and pour in the polenta, salt and pepper while whisking.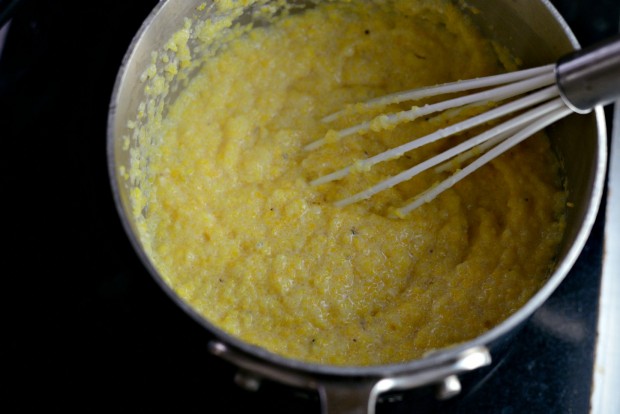 Continue to whisk, dodging the bubbling hot polenta, until the milk has been absorbed and the mixture is lusciously creamy. Keep on low and stir to keep the polenta loose.
The skillet should still be warm from the vegetables, so just heat it back up to medium and add in the bacon fat you saved from earlier. Crack in as many eggs you need or that can fit in the pan and cook according to your preference.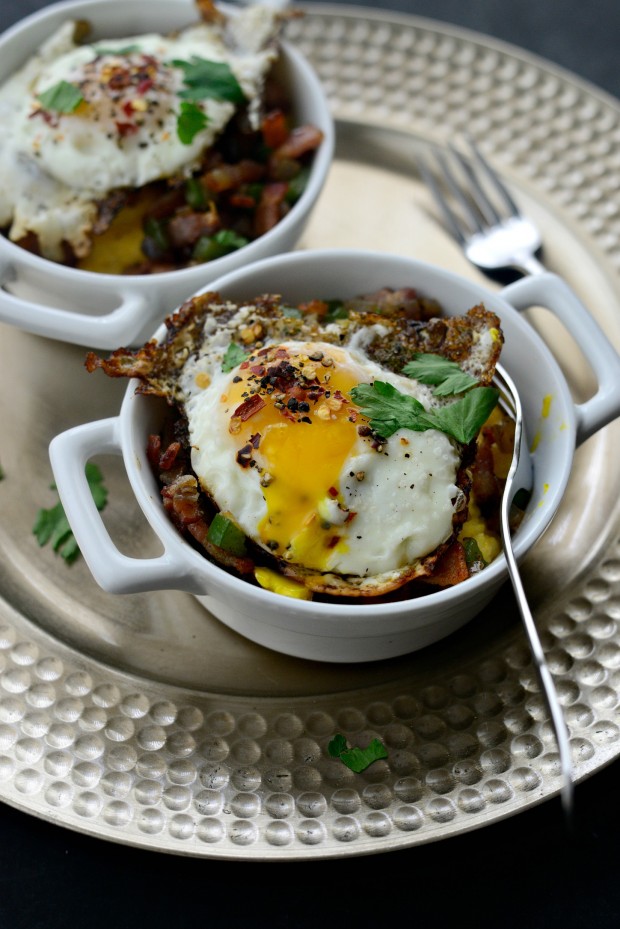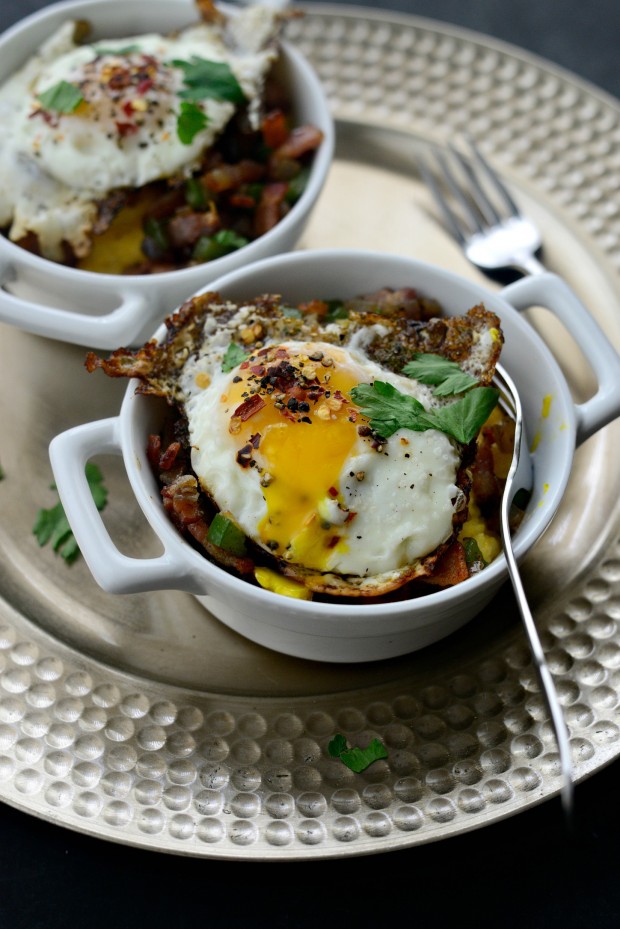 Divide the polenta by spooning it into bowls. Top with bacon/pepper mixture and a crispy edged fried egg.
Sometimes I like to sprinkle my eggs with salt, cracked black pepper and red pepper flakes for a smidgen of heat.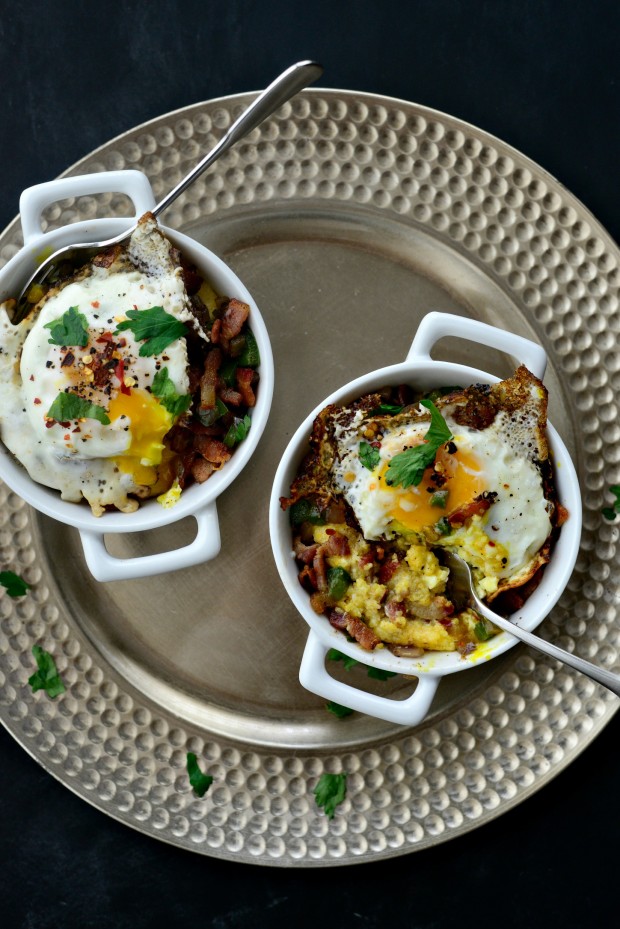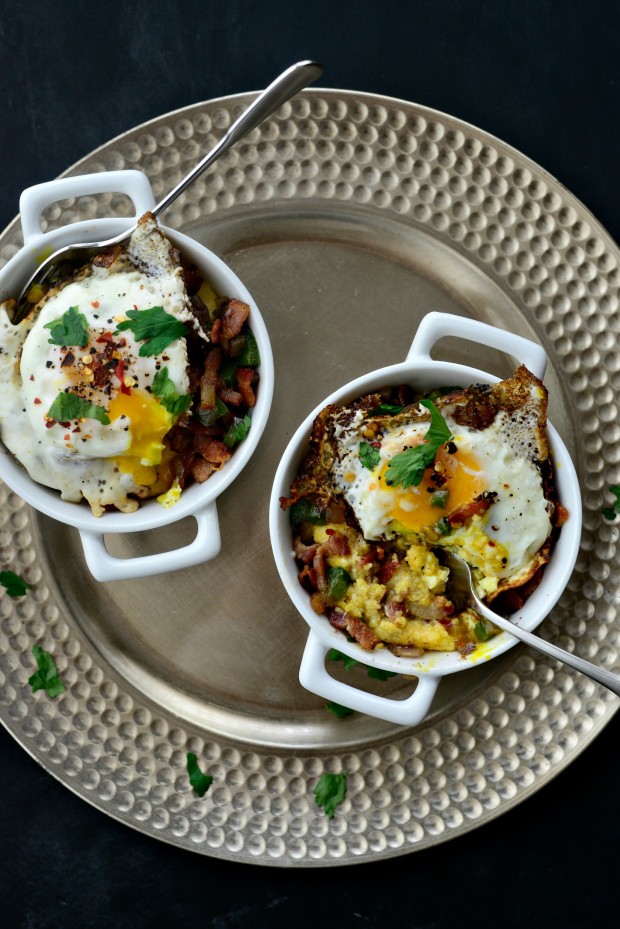 Then I go in for the kill, armed with a fork and enjoy every blessed bite and in this case, every bowl too! And the breakfast polenta bowls leftovers are just as fab the next day.
Oh and this isn't the last of polenta in breakfast form. I guarantee it.
Enjoy! And if you give these Breakfast Polenta Bowls a try, let me know! Snap a photo and tag me on twitter or instagram!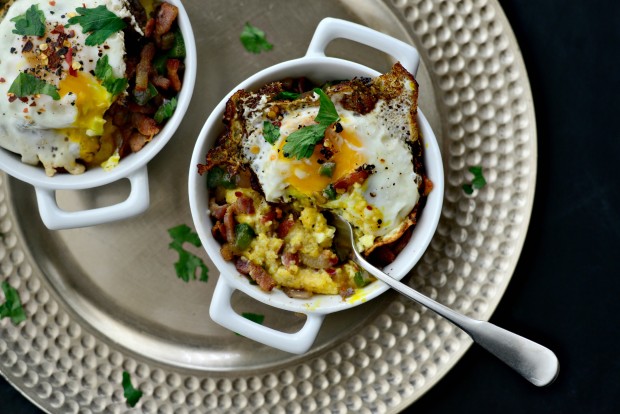 My cookbook Simply Scratch : 120 Wholesome Homemade Recipes Made Easy is now available! CLICK HERE for details and THANK YOU in advance!
[this post contains affiliate links.]
This post may contain affiliate links.
Buy the Cookbook: Simply Scratch : 120 Wholesome Homemade Recipes Made Easy Now available on Amazon »
THANK YOU in advance for your support!