Smoky and spicy, this Chipotle White Bean Turkey Chili is cozy comfort in a bowl. Sautéed onions, garlic and ground turkey is cooked with spices, white beans and tomato sauce for a quick and healthy meal. Serves 6 in under an hour.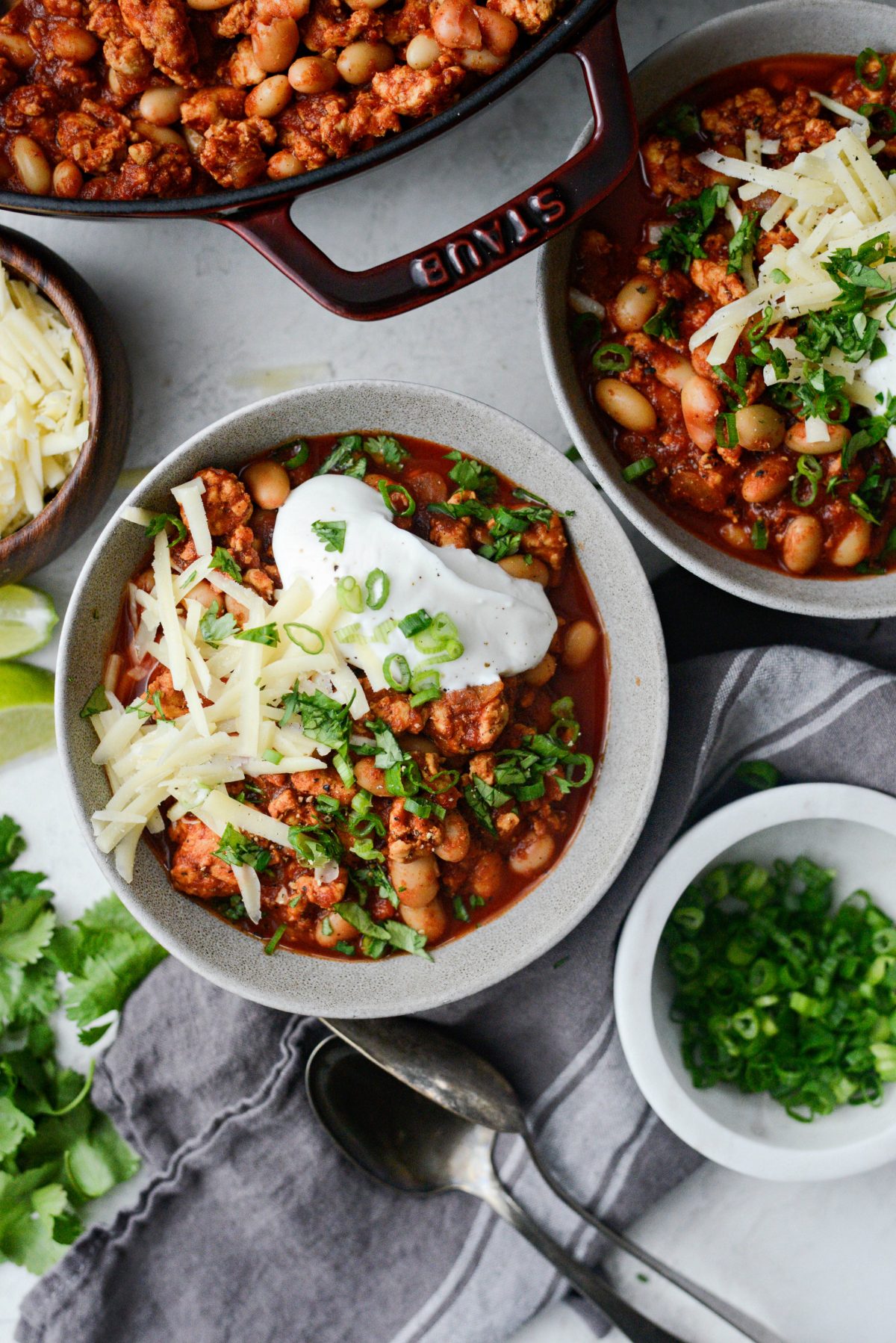 The weather has been all over the place. Once day it's sunny and warm and then the next it's cold, cloudy and rainy. It's been unpredictable and yet, totally predictable because, hello it's Michigan.
However, no matter what crazy fall or winter weather is happening outside, I'm always game for a bowl of chili. Because there's nothing better than a bowl of chili to warm up with. This chipotle chili is leaner with ground turkey instead of beef, and a little meaner with a ground chipotle chili powder for that deliciously smoky, back-of-the-throat heat.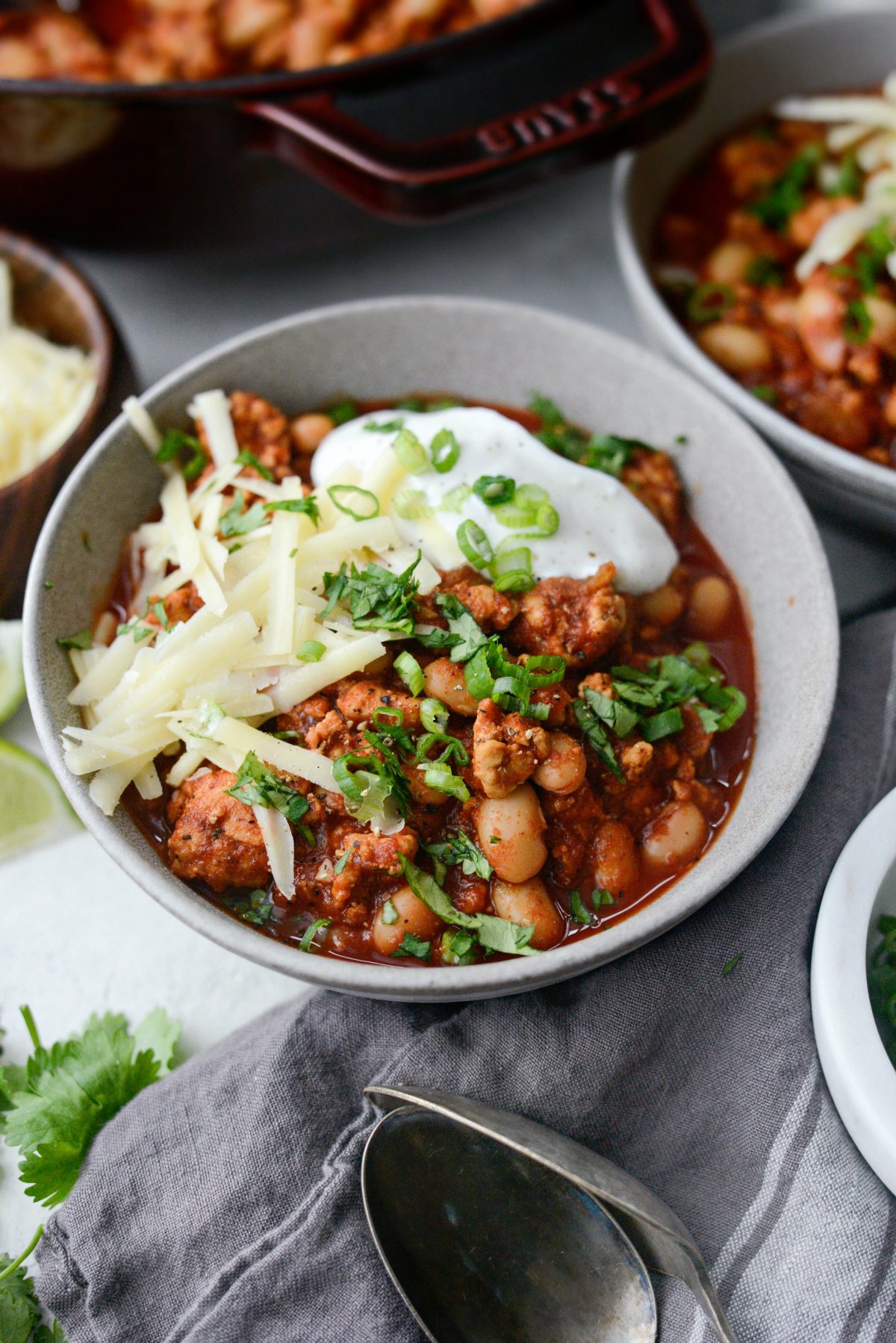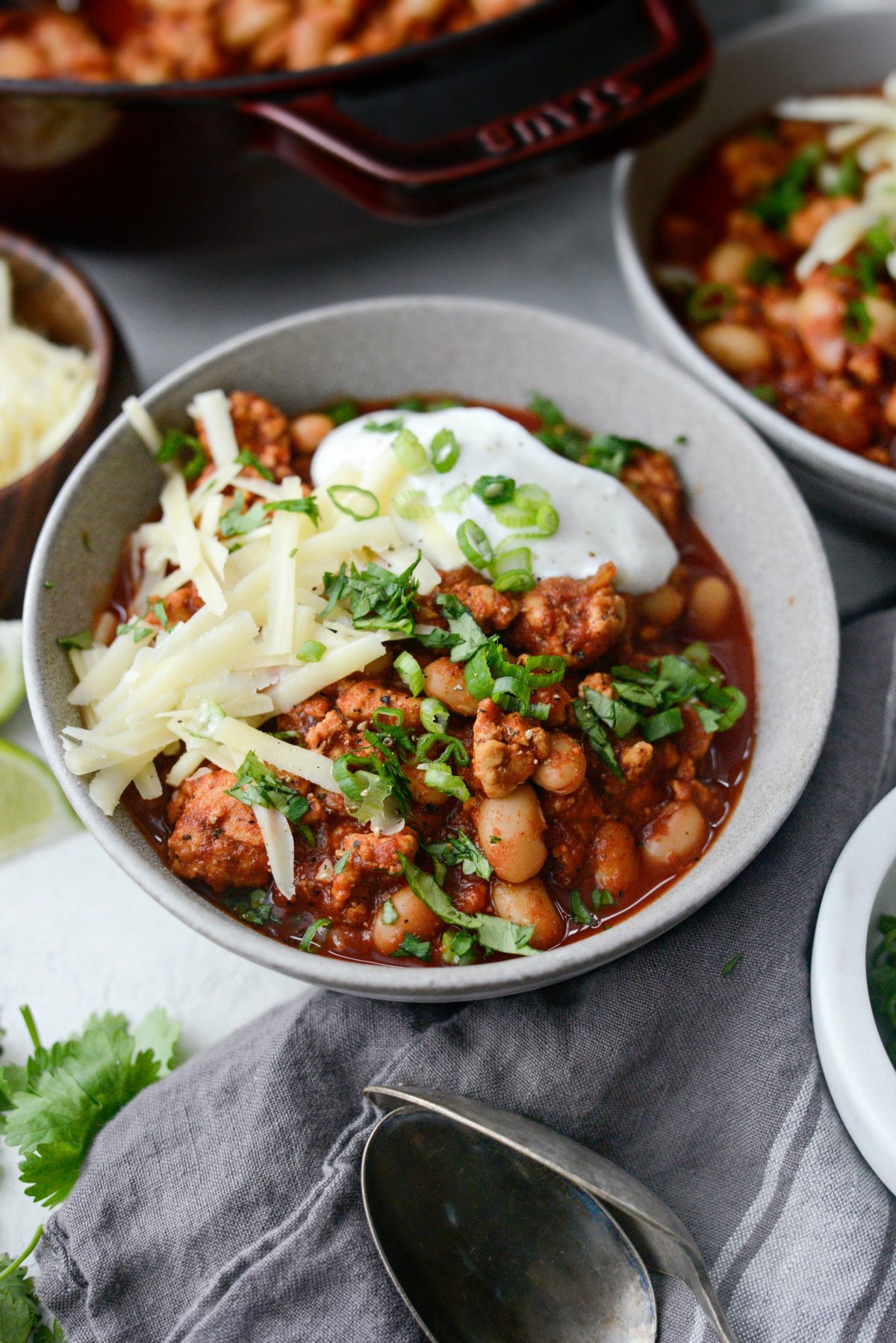 In under an hour you will enjoy a bowlful of hearty, smoky, soul warming chipotle white bean turkey chili. It's the perfect thing after a day of yard work and raking up leaves.
First, gather all of your ingredients. For this recipe you will need; olive oil spray, 1 medium onion, 3 cloves fresh garlic, 2 pounds extra lean ground turkey, 2 teaspoons chili powder, 2 teaspoons ground chipotle powder, 1-1/4 teaspoon ground cumin, 1/2 teaspoon dried oregano, 3 (15 ounce) cans white beans like navy or great northern and 2 (15 ounce) cans tomato sauce.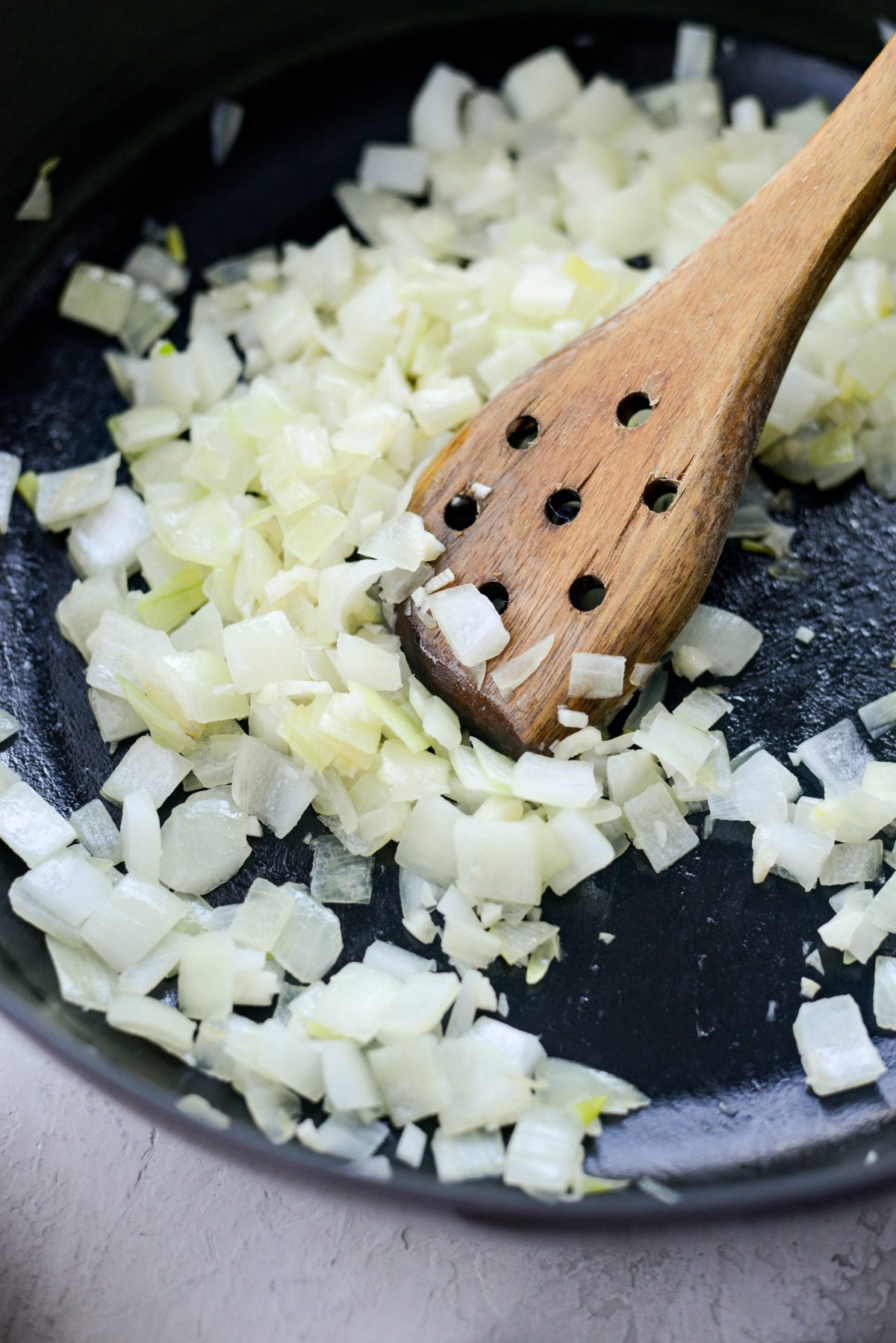 Next, dice up 1 cup of yellow onion and also mince up 3 cloves fresh garlic. Then spray a large, deep-sided pan or Dutch oven with olive oil and heat over medium. Once hot, add in the onion, garlic and a pinch of kosher salt, cooking until softened, stirring occasionally for about 8 to 10 minutes.
Then add in the 2 pounds of extra lean ground turkey. Using a wooden spatula, break the ground turkey into small crumbles and cook until no longer pink.
Next, add the chili powder, ground chipotle powder, kosher salt, ground cumin and dried oregano.
Then, stir and cook for 1 more minute to open up those spices.
Next add in the rinsed and drain white beans.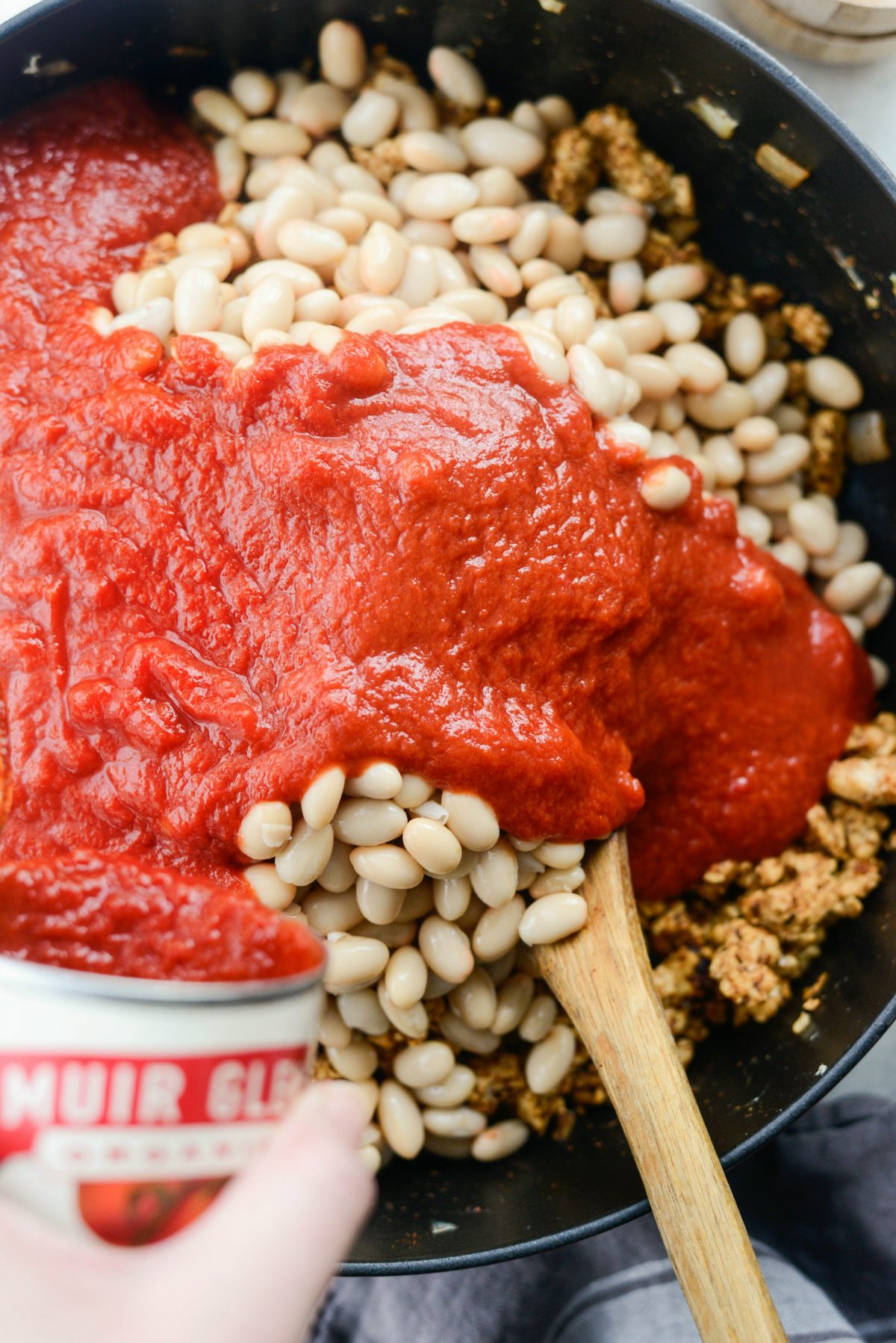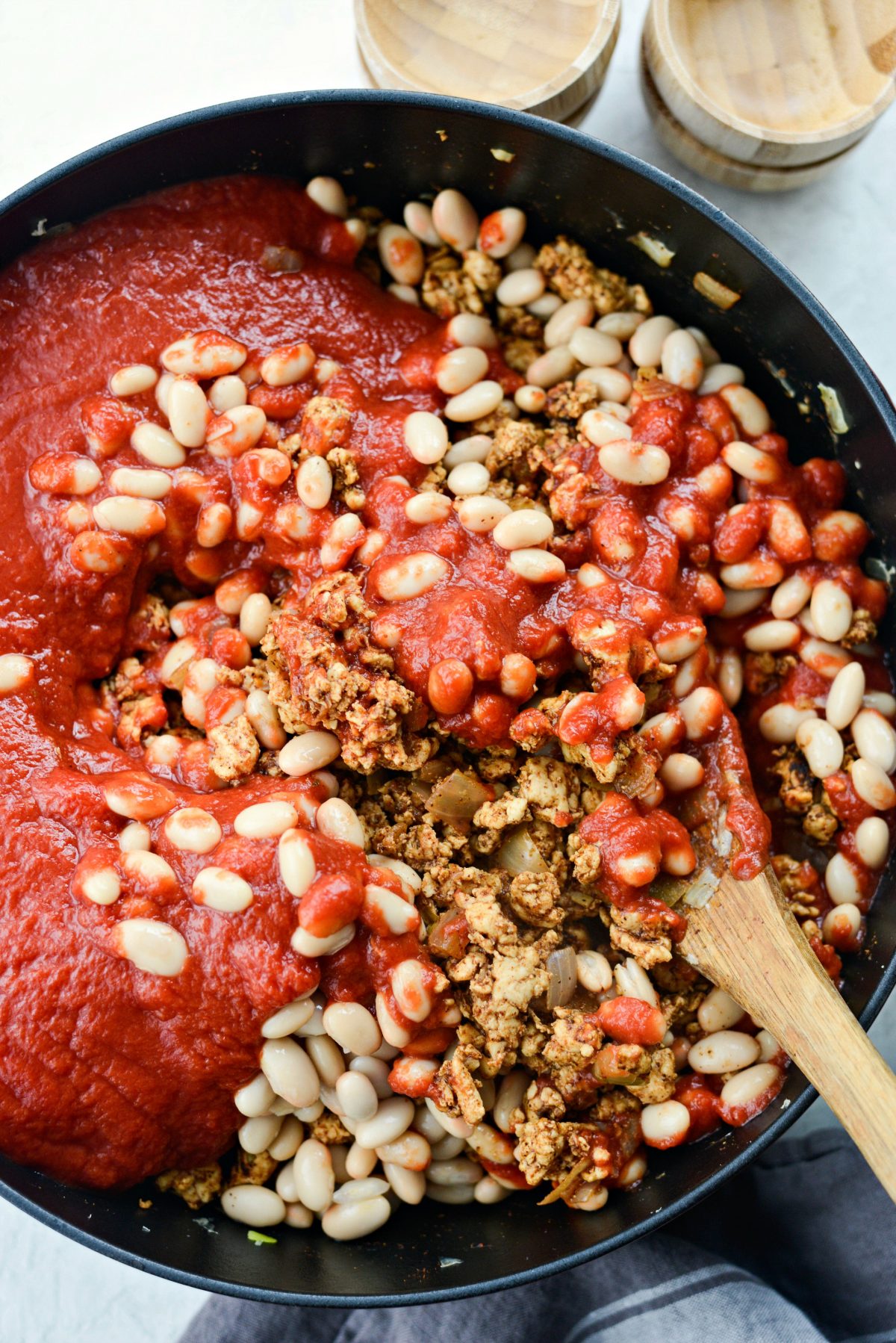 Lastly, add two cans of tomato sauce along with a 1/2 cup of water to thin it out a smidge. I like to add the water to the empty can and swirl it around to catch any leftover sauce.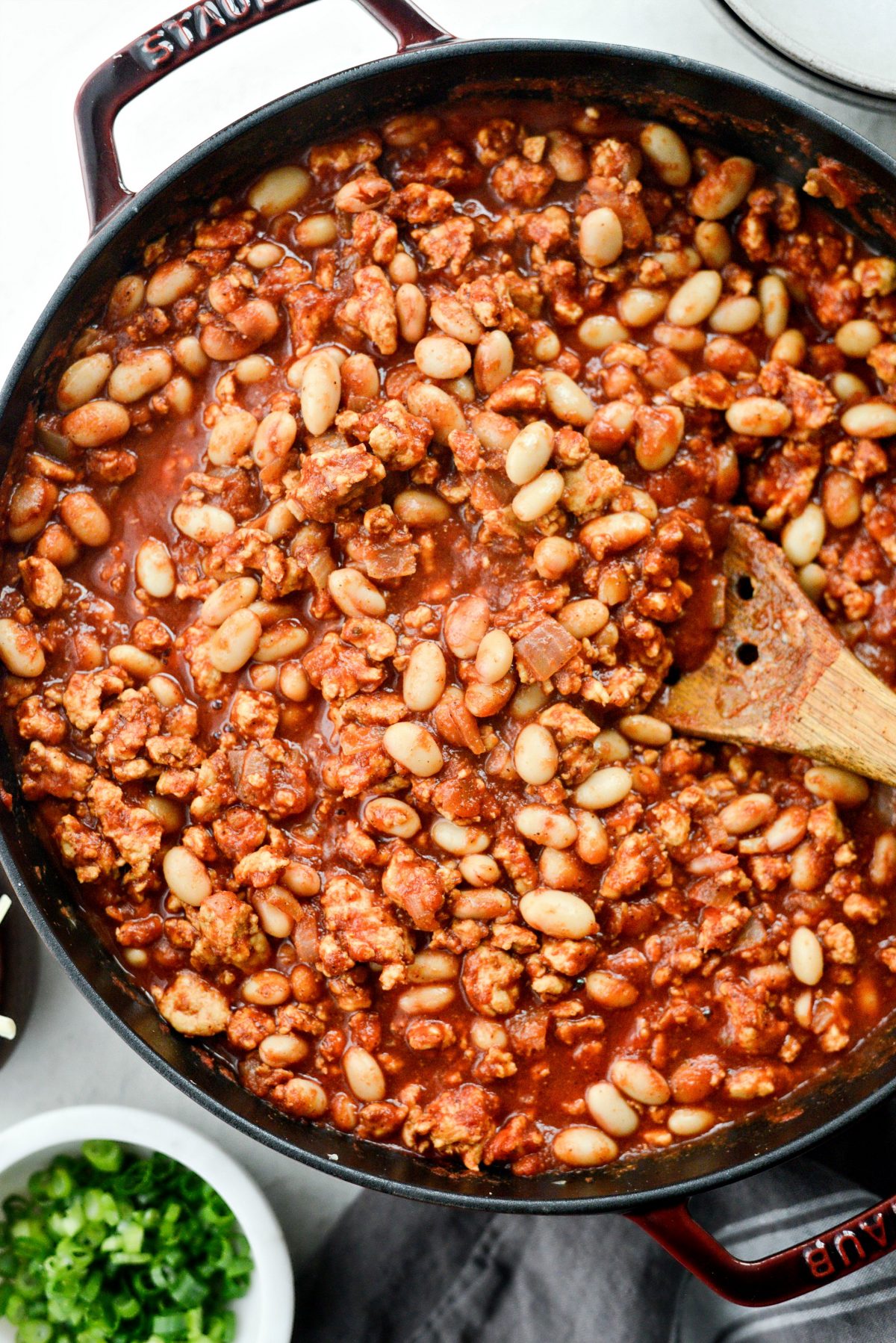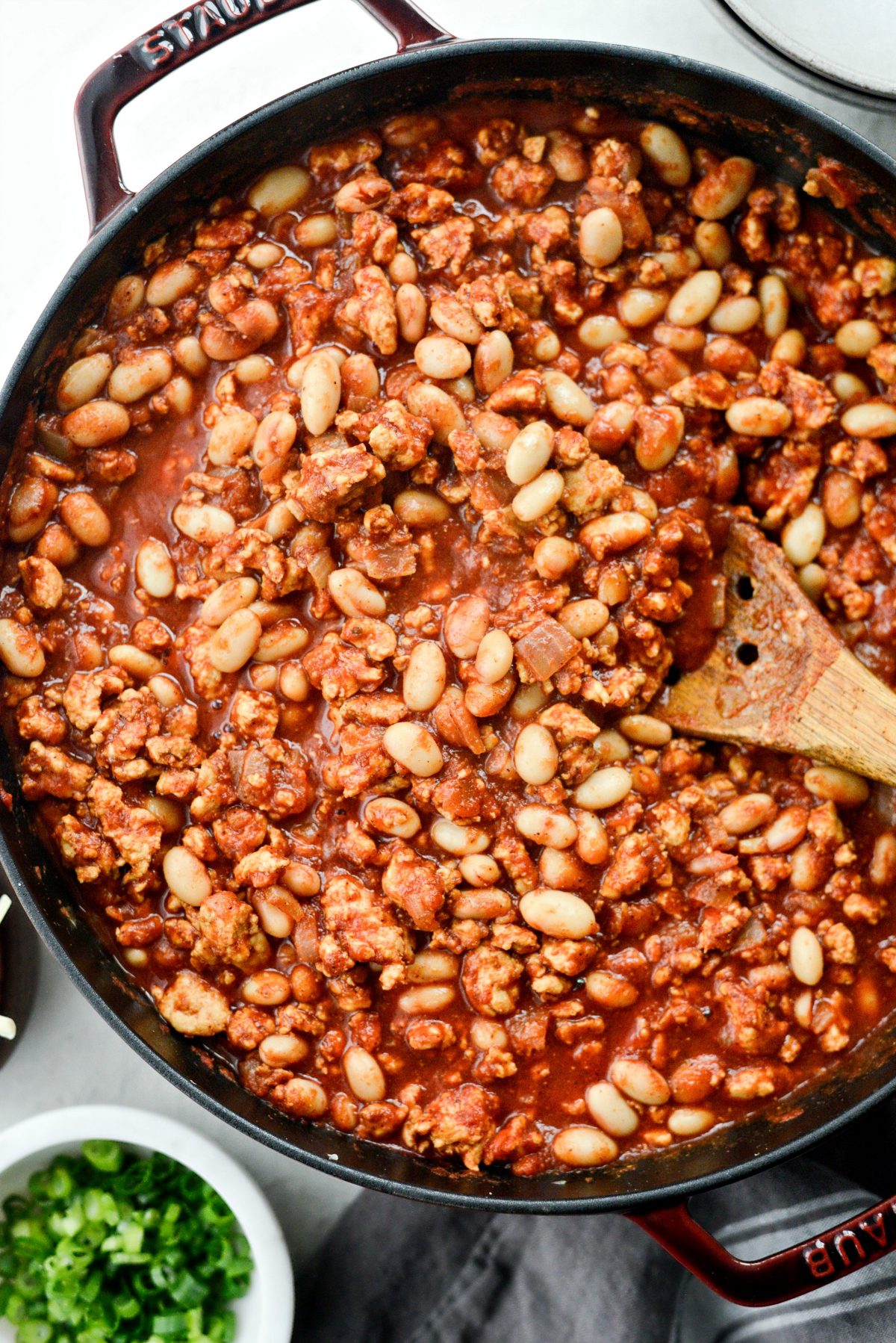 Next, cover and simmer for 30 minutes, stirring occasionally.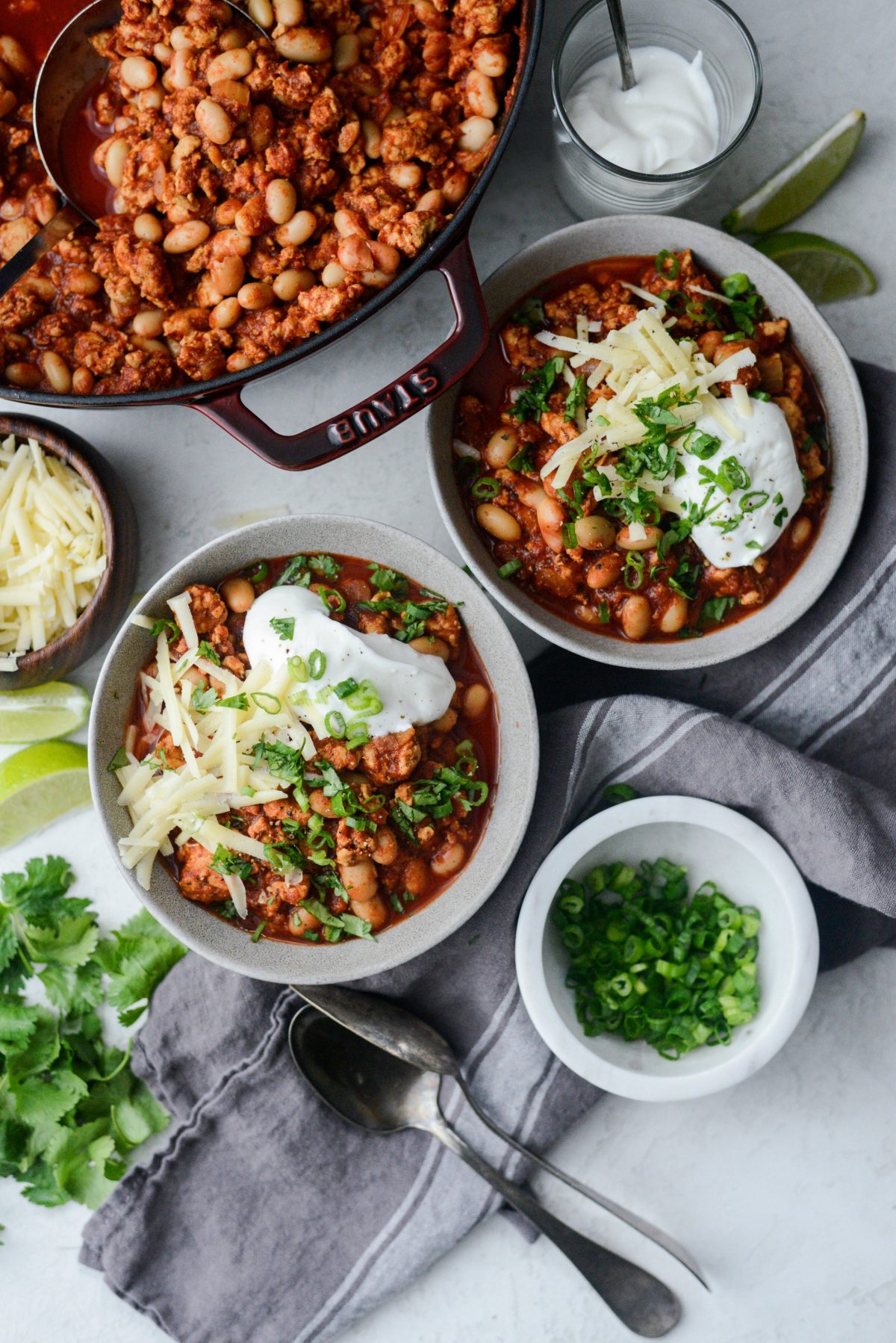 Finally the chipotle white bean turkey chili is ready to be served. And as we all know, chili is all about the toppings.
Toppings really amp up the flavor and make chili that much more delicious.
I highly suggest, toping your bowl of chili with sour cream or plain greek yogurt, shredded sharp white cheddar, sliced green onions, cilantro and a squeeze of lime juice.
Lastly, and more importantly serve this chili with corn tortilla chips or Fritos.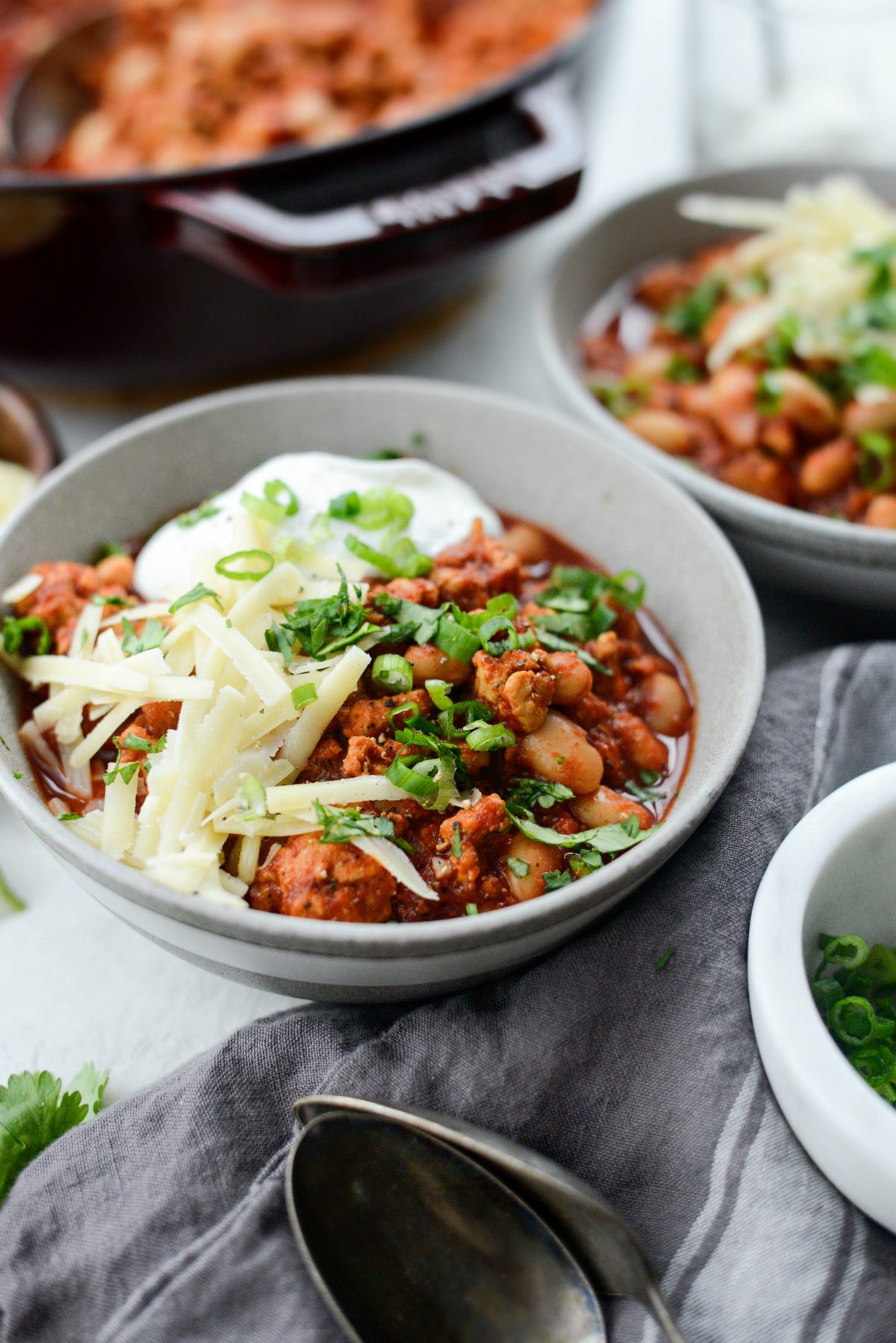 Get your spoons ready!
For more delicious chili recipes click HERE!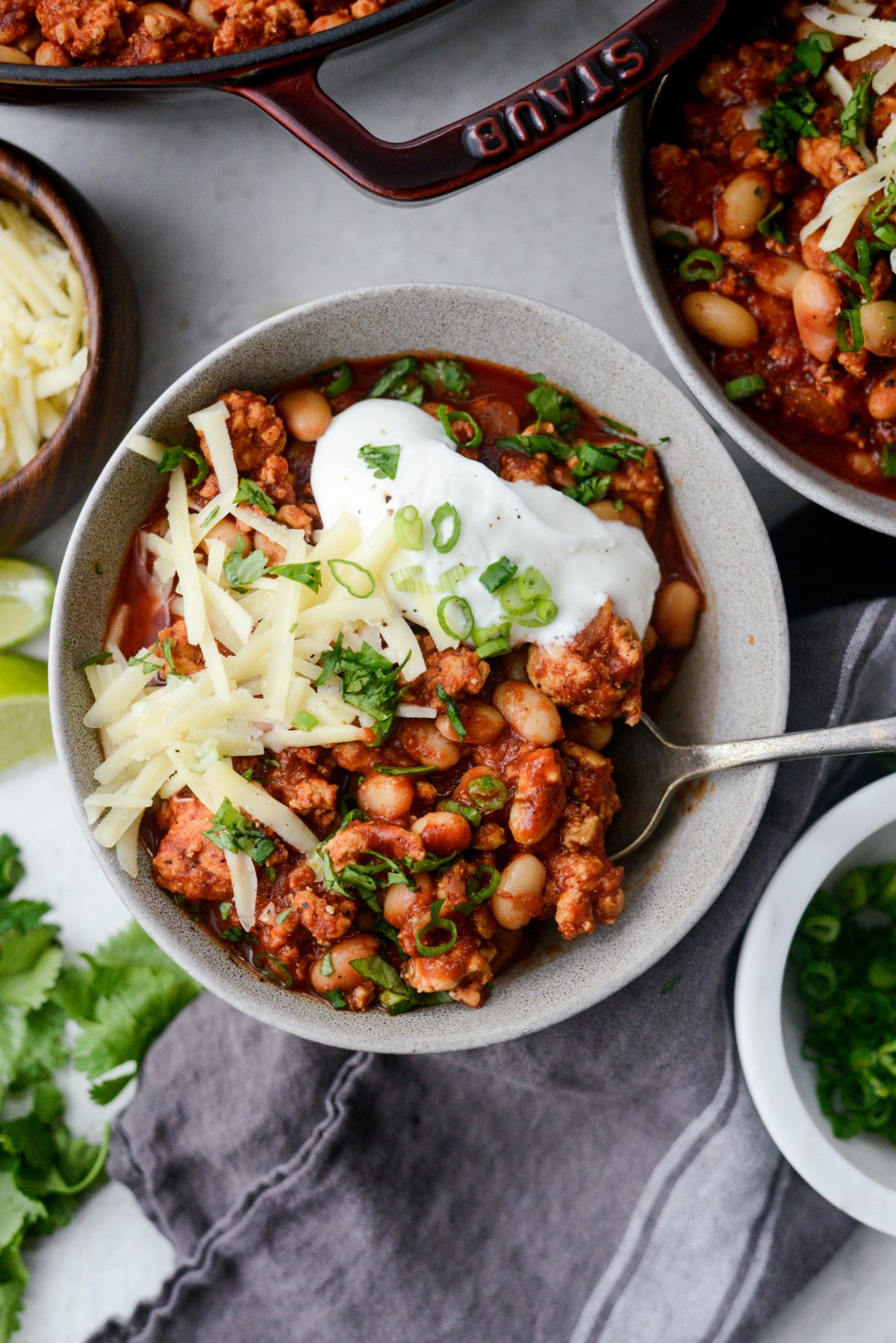 Enjoy! And if you give this Chipotle White Bean Turkey Chili recipe a try, let me know! Snap a photo and tag me on twitter or instagram!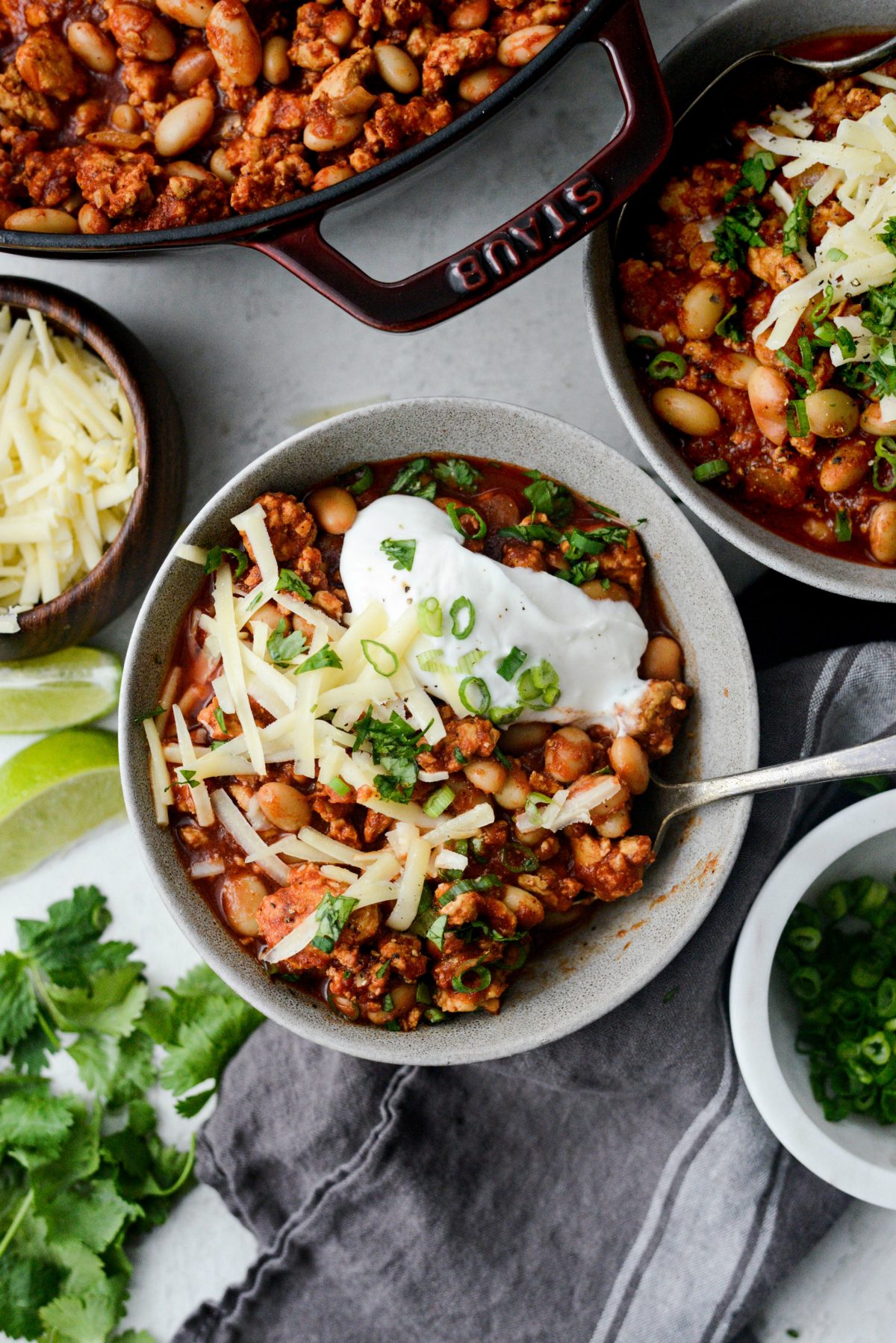 My cookbook Simply Scratch : 120 Wholesome Homemade Recipes Made Easy is now available! CLICK HERE for details and THANK YOU in advance!
[this post contains affiliate links.]
This post may contain affiliate links.
Buy the Cookbook: Simply Scratch : 120 Wholesome Homemade Recipes Made Easy Now available on Amazon »
THANK YOU in advance for your support!