Roasted Broccoli Cauliflower Soup is absolutely delicious! Roasted veggies blended with onions cooked in bacon fat, blended with broth and cream until lusciously delicious. Serve with crisp bacon, white cheddar and a grilled cheese.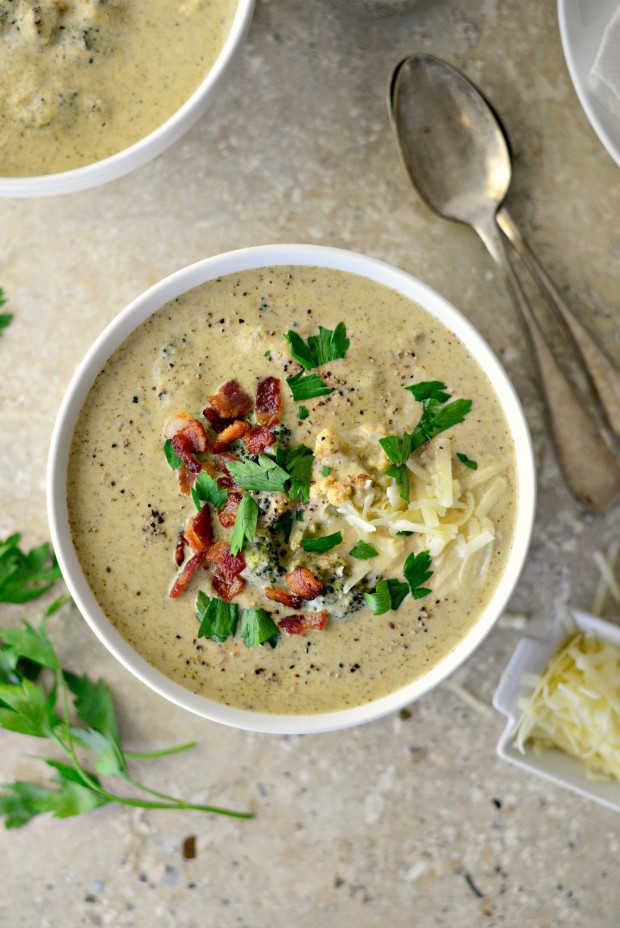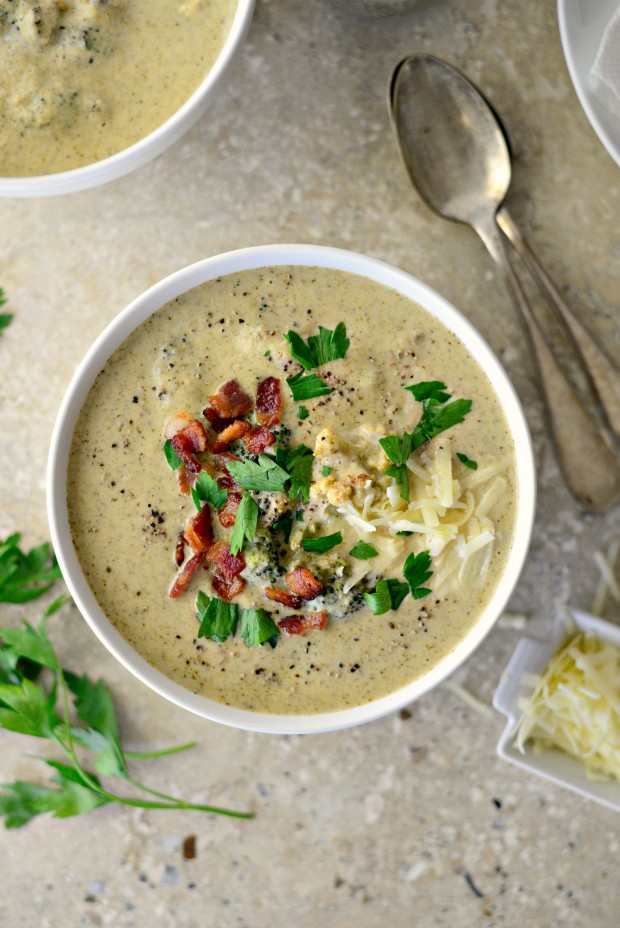 So yeah, this soup. What can I say? It's the soup that you will want on a cold day. Or on a lazy Sunday where grilled cheese and soup and a crackling fire are all that's needed to create the coziest of days. And get you through watching football. Okay so maybe that's just me.
This soup reminds me of a better, roasted version of this soup but with the addition of cauliflower and BACON. Come to think of it, what isn't better with the addition of bacon? Absolutely nothing.
This soup begins and ends with bacon. It adds a welcoming smoky touch, but totally takes the back seat to the roasted broccoli, cauliflower and the sharp white cheddar. Yet somehow I'm unsure if this soup would be what it is without those crispy little lardons and truthfully I don't want to find out. It's a soup that will warm your soul, or as my dad would always say; "It'll put hair on your chest". Which really isn't going to make anyone try this soup soooo let's just forget I even said that, deal?
[Hi👋🏼Love you, Dad!]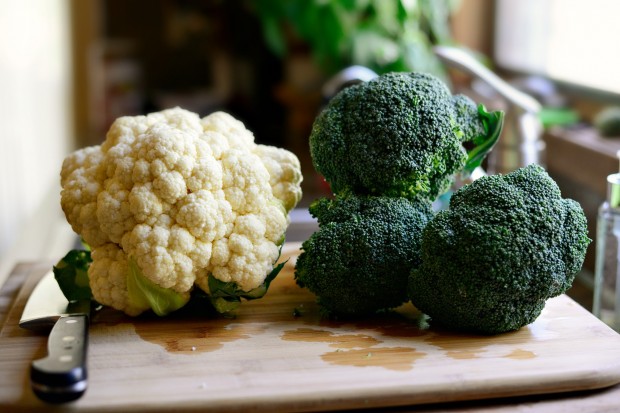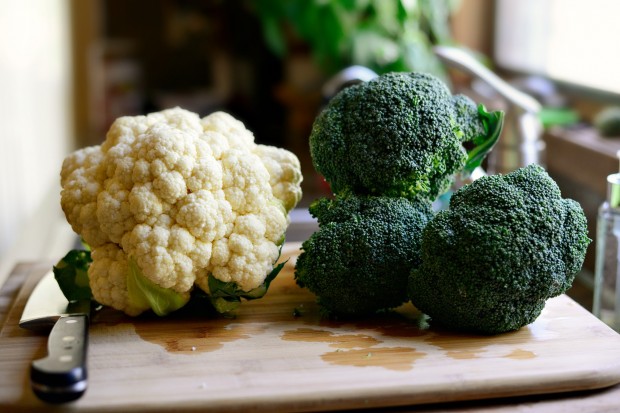 Grab the largest head of cauliflower and broccoli you can lay your hands on.
Cut the cauli into uniform sized florets and drizzle them with a couple tablespoons of olive oil and a generous pinch of kosher salt.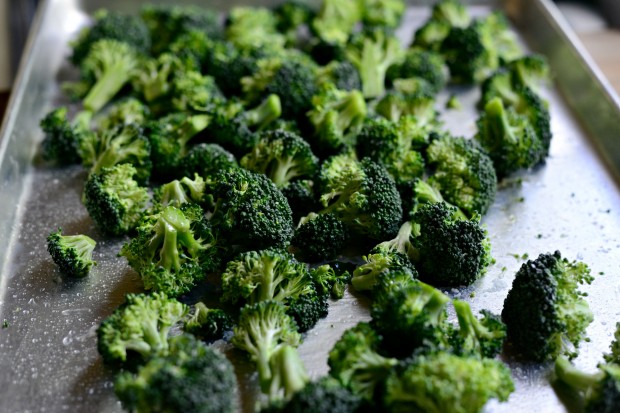 Next, repeat with the broccoli florets. Roast both pans of vegetables in a 450° oven for 20-25 minutes or until they start to caramelize and are knife tender, swap racks halfway through roasting.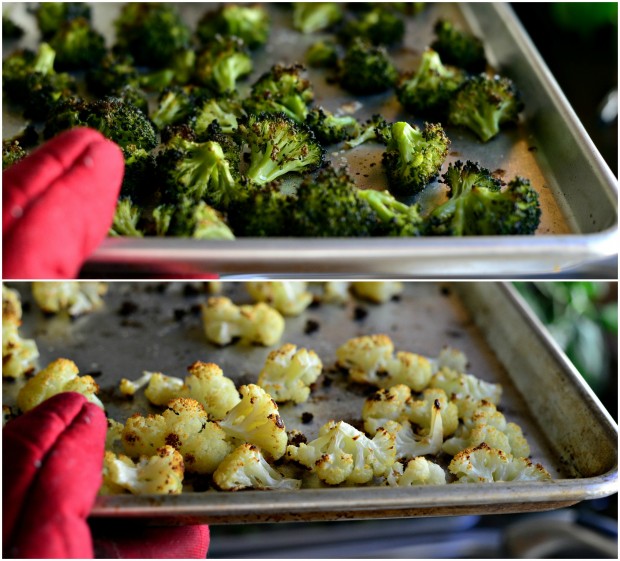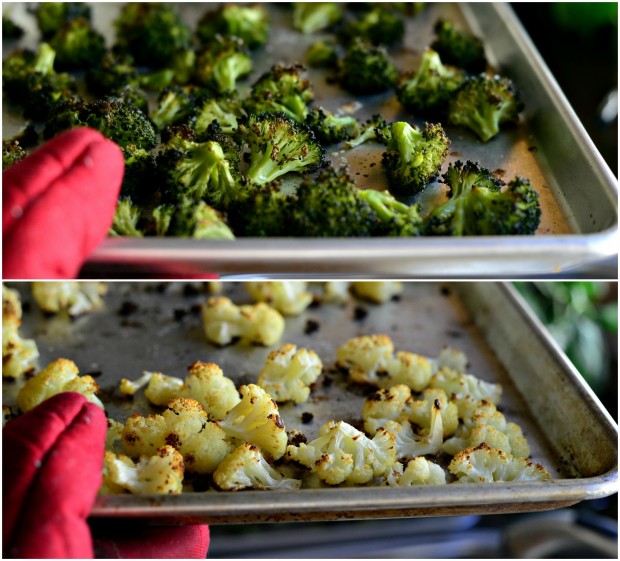 The broccoli was done at 20 and the cauli needed 5 more minutes. So watch'em and pull them out when they are done.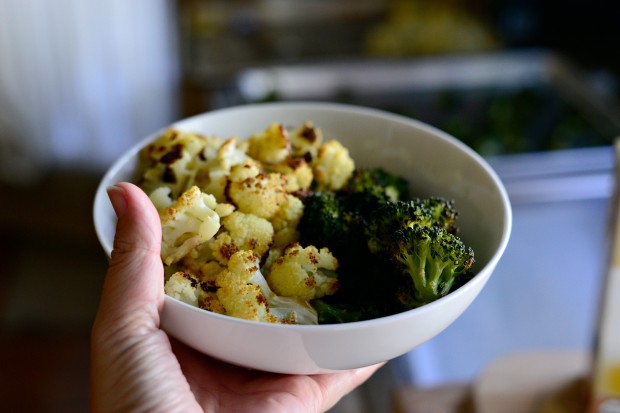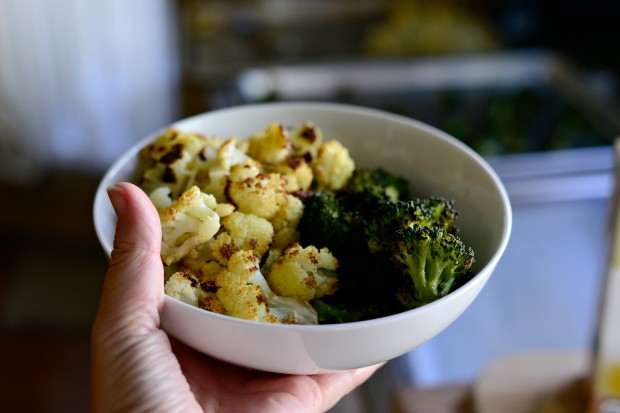 Reserve 1/4 of each pan of roasted cauliflower and broccoli. We'll be adding these back in a little later but for now set them off to the side.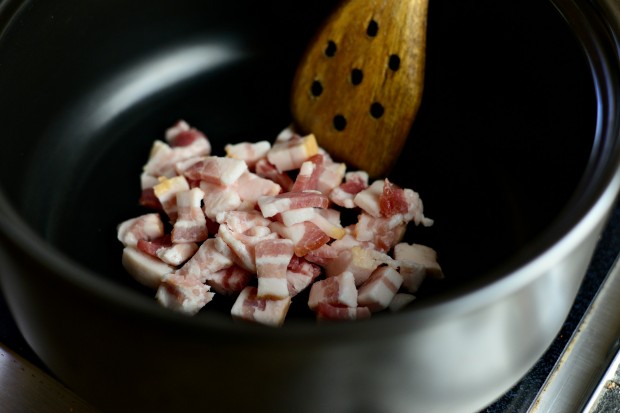 Next, add diced applewood or pecanwood bacon to a Dutch oven and heat over medium low.
Then add a teaspoon of olive oil to get the bacon off to a good start. Cook until golden and super crispy. With a slotted spoon drain the bacon on a paper towel lined plate and set off to the side for a smidgen.
Next, dice up amedium onion, roughly about a cup will do. Then mince up two cloves of fresh garlic.
Next drain off all but a tablespoon of bacon fat and sauté the onions until soft. About 5 minutes. Then, add the garlic in and cook for a minute or two.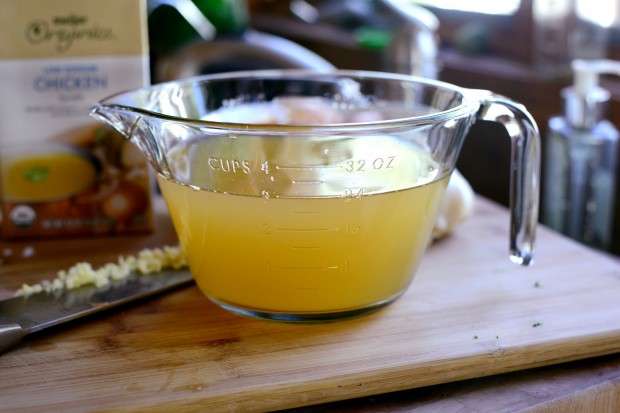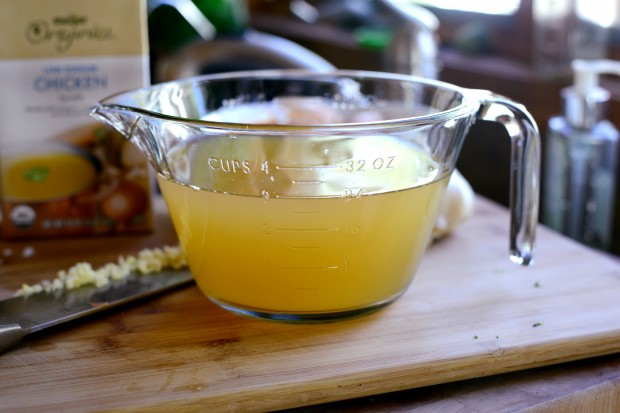 Next, measure out 4 cups of low sodium chicken broth. I know, I know this cup reads 3. But really you want 4. Trust.
Next add the broth to the pot along with the rest of the roasted broccoli roasted cauliflower.
Stir, increase heat to medium.
Next cover and simmer for 15 to 20 minutes.
Awww yes! Vegetable deliciousness!
Now, ladle out spoonfuls of the tender vegetables and broth and place into a blender. OR you could use an immersion blender right into the pot. Blend until smooth.
Next pour the pureed soup back into the pot. Then reduce the heat to low and measure and add 1 cup heavy cream, stirring to combine.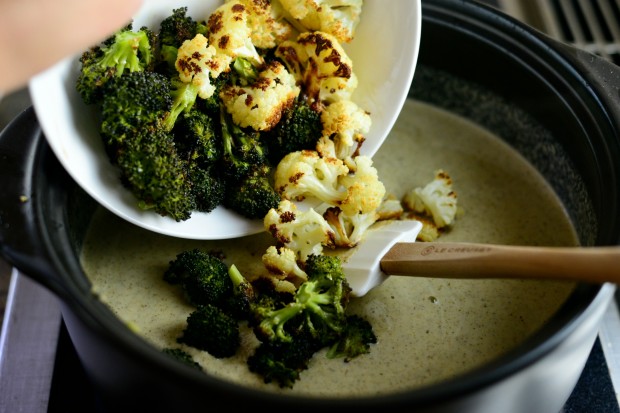 Next add that bowl of reservedd roasted veg in as well.
Then add in the 4 ounces of grated fresh sharp white cheddar cheese, about 1 heaping cup.
Lastly, gradually stir until the cheese has melted and soup is warmed through. No need to bring back to a boil. Taste and check for seasoning. I added 1-1/2 teaspoons of kosher salt… then I seasoned my personal bowl with lots of black pepper. Furthermore, add more broth if a soup is desired.
Finally ladle into bowls and then garnish your beautiful bowl of roasted broccoli cauliflower soup with the crispy bacon pieces, fresh torn parsley and more cheddar. Because why not? However, served with a grilled cheese isn't ever a bad idea.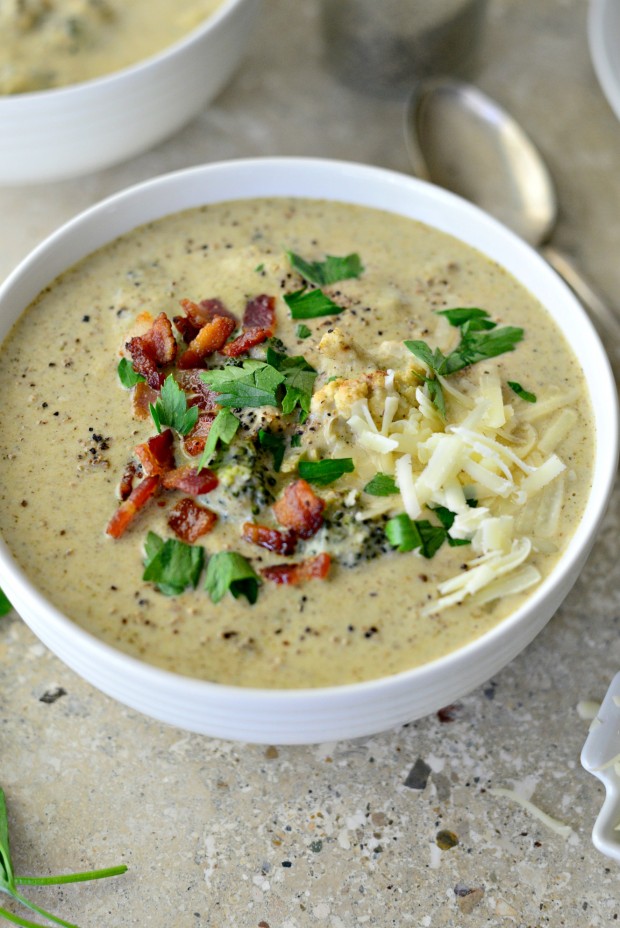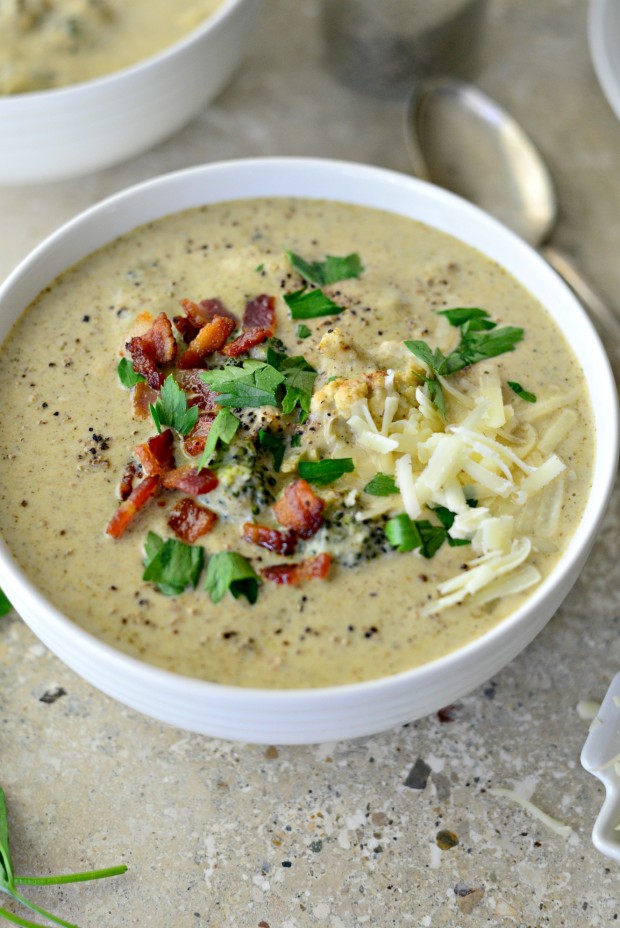 Enjoy! And if you give this Roasted Broccoli Cauliflower Soup recipe a try, let me know! Snap a photo and tag me on twitter or instagram!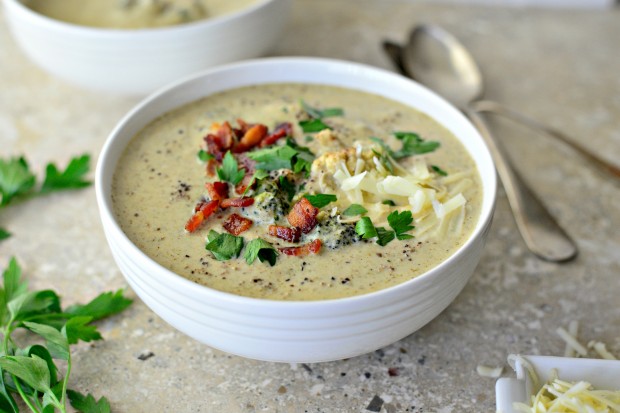 My cookbook Simply Scratch : 120 Wholesome Homemade Recipes Made Easy is now available! CLICK HERE for details and THANK YOU in advance!
[this post contains affiliate links.]
This post may contain affiliate links.
Buy the Cookbook: Simply Scratch : 120 Wholesome Homemade Recipes Made Easy Now available on Amazon »
THANK YOU in advance for your support!