Kale is tossed lightly in olive oil and baked until crispy. With the curry ketchup as a fun dip, this is a light and healthy snack that's totally guiltless and delicious.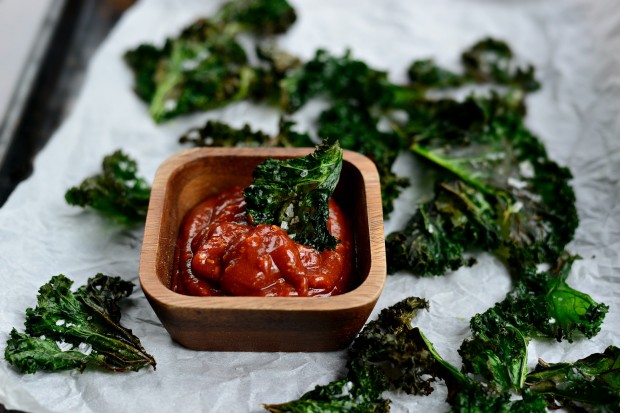 I was not expecting to like these.
I've heard so many people say they LOVE kale chips, but for some reason I've been dragging my feet to make them. I know, I know get with the times Laurie! Don't get me wrong, I like kale, but I've never ventured down kale chip road.
I had a bunch of kale hanging around in my fridge from the other day when I made this kale hummus and instead of letting the extra kale go to waste, I made chips. To my utter surprise they're pretty darn easy to make and even more delicious. I accidentally let a batch go a little too long in the oven and even liked the well done version just as much as the perfectly done batch. However, I'm weird and like slightly burnt toast too.
And while the kale chips were getting their crisp on (<—- why my daughter thinks I'm SOOOO cool right?) I whipped up a quick curry ketchup. It's nothing fancy yet it's totally fancy at the same time. Feel free to use homemade ketchup or not. Dip your fries in it, put it on a burger… really it's pretty incredible. It's just 5 ingredients mixed together and the longer it sits the yummier.
The texture is light and crispy and not overly kale-y… if-you-know-what-I-mean. A light and healthy snack that's totally guiltless and delicious. Sign. Me. Up. I even had my thirteen-year-old hovering over me while I was taking the final recipe shots. She was literally stalking me to snag this final batch. She even admitted to liking these better than regular chips. WHAT?
Baked kale chips for the win.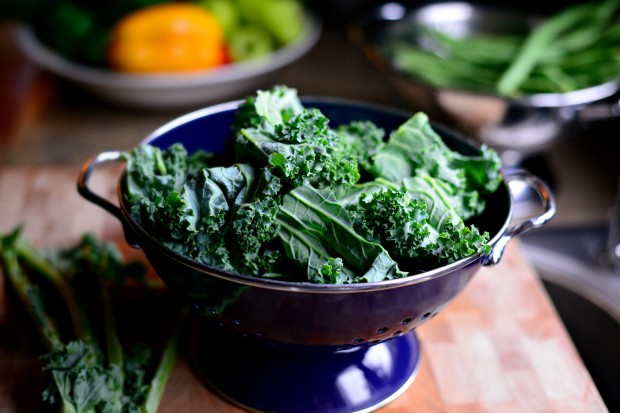 Start off by washing and drying the kale well.
Remove the leafy greens from the thick stem. Either discard, compost or use the stems for another purpose like soup stock.
Tear the kale into good-size pieces. Nothing too small or they'll burn.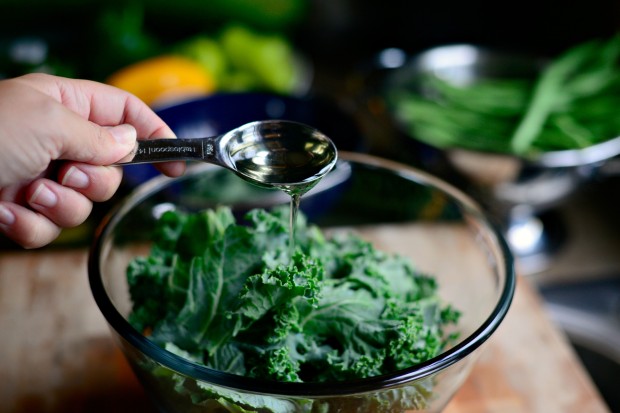 Drizzle in a tablespoon of olive oil.
Use your hands and rub the kale down with the olive oil so it's nicely coated.
Divide the kale pieces among two rimmed sheet pans lined with parchment.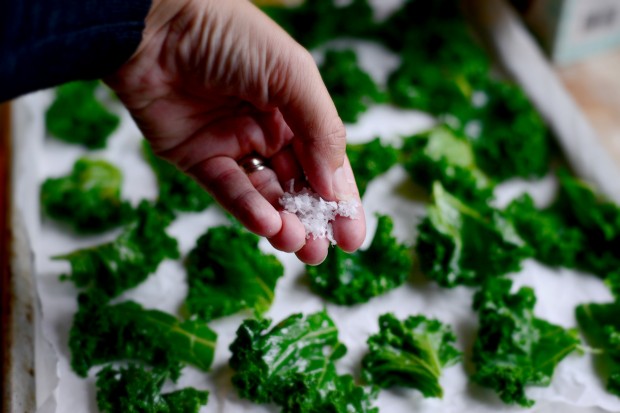 Then sprinkle them with a few pinches of flaky sea salt.
Slide the pan-o-kale into your preheated 325 degree oven for 8 minutes. Rotate and continue to bake for 6-8 minutes more depending on the size of your kale chips.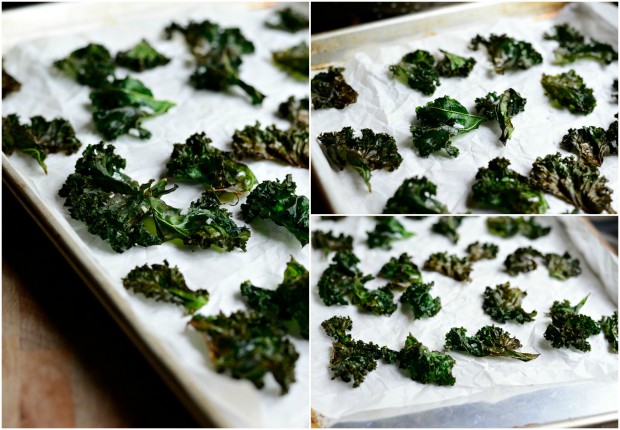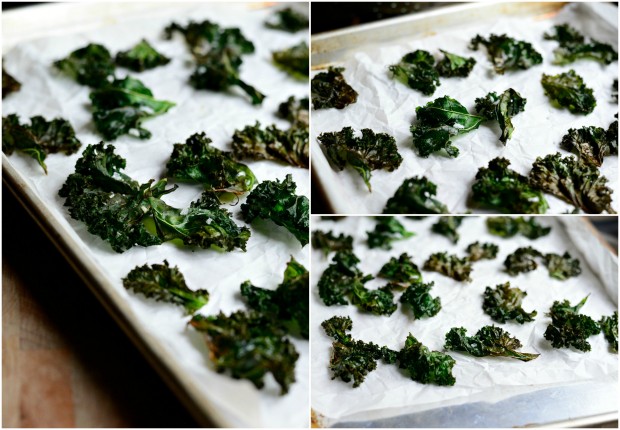 Let them sit for a few minutes before serving. This was the pan that had a few that were over-baked. I still liked them, but keep a watchful eye on them while they bake so they don't burn up on you.
While the kale chips were in the oven I made a little fancified ketchup to dip them in. Start by using a 1/2 cup of ketchup. Homemade, organic store bought… whatever floats your boat.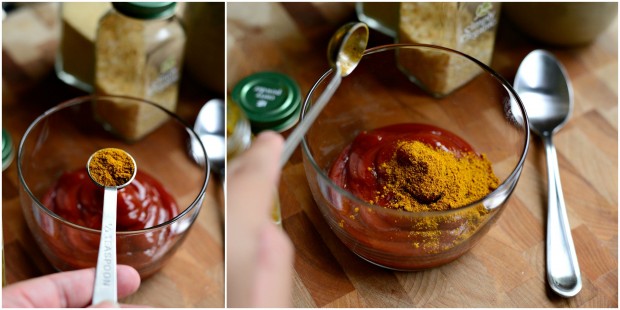 Measure and add in a 1/2 teaspoon ground curry…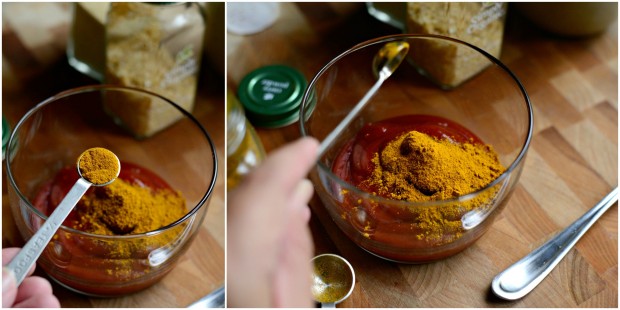 1/4 teaspoon of turmeric…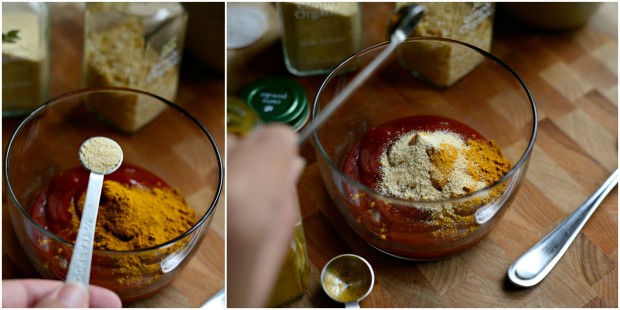 1/2 teaspoon of garlic powder…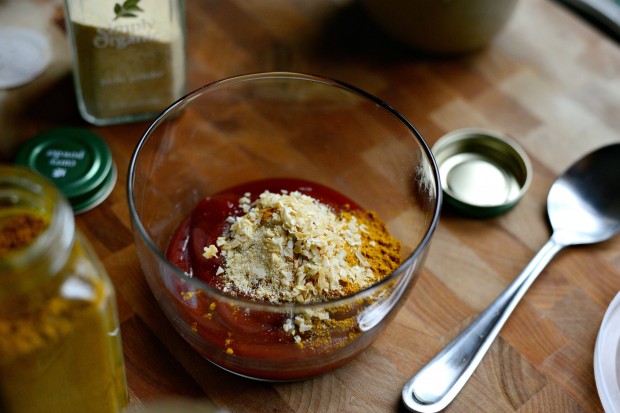 And a 1/2 teaspoon of onion flakes.
Stir…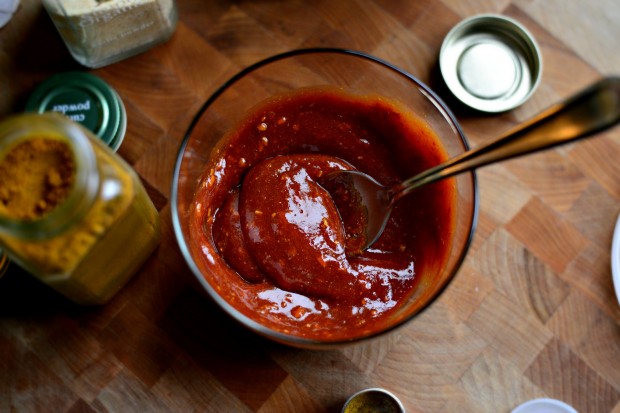 And voila! Let this sit for a few while the chips are baking… the flavor is out of this world. Trust me.
My favorite part of the job… taste testing. So SO good.
Pretty sure I found our new favorite snack. I couldn't bribe my ten-year-old to try it. But her loss is my gain and I'll happily eat her portion.
Enjoy! And if you give this Baked Kale Chips recipe a try, let me know! Snap a photo and tag me on twitter or instagram!
My cookbook Simply Scratch : 120 Wholesome Homemade Recipes Made Easy is now available! CLICK HERE for details and THANK YOU in advance!
[this post contains affiliate links.]
This post may contain affiliate links.
Buy the Cookbook: Simply Scratch : 120 Wholesome Homemade Recipes Made Easy Now available on Amazon »
THANK YOU in advance for your support!