These banana chocolate chunk streusel mini muffins have roasted bananas, semi-sweet chocolate chunks, walnut streusel- baked into 24 mini muffins. They are like tiny gifts of deliciousness that are the perfectly bite size.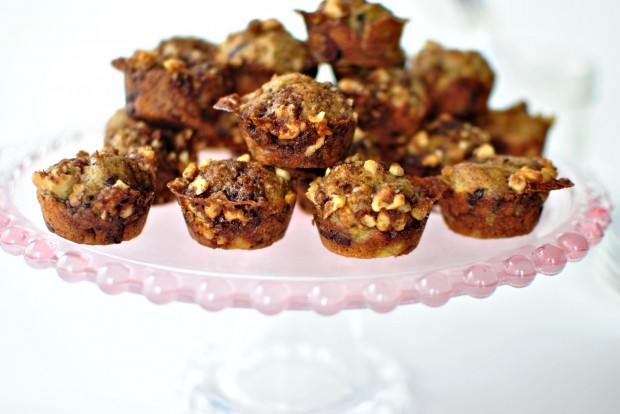 Speaking of gifts, *wink-wink* Mother's Day is around the corner.
Do you brunch it? Lunch it? or text it? Well every Mother's Day I take my Mom to breakfast/brunch at one of our favorite restaurants. We talk, eat and sip coffee. I love it. My Mom is a nurse and has been for a little over 25 years (maybe longer?) and she makes a difference everyday she shows up to work. She started as a nurse in the ER, years later in the CCU and now in post op care. She's one heck of a nurse and I'm so proud of her.
All over the world mothers make differences. Whether you stay at home or work full time, moms are life changers. You all rock.
Supporting the Fair Trade organization is something I hold near and dear to my heart. So obviously when my friends over there at Fair Trade USA contacted me about creating a scrumptious brunch recipe featuring Fair Trade ingredients for their FIRST ever Mother's Day virtual brunch… how could I say no? This is my second year participating and I love to shine the spotlight on all the mother's who work the farms that bring us so many fabulous Fair Trade items. Whether they harvest cocoa, tea, flowers etc. all of these woman have one thing in common, they're hard-working, dedicated mothers that all work toward the building their communities. It's a beautiful thing.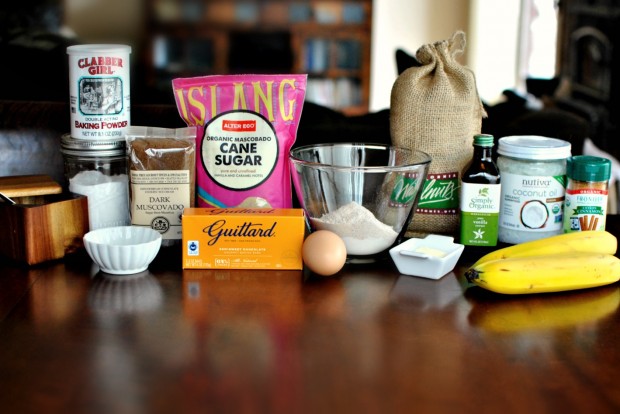 To Make These Banana Chocolate Chunk Streusel Mini Muffins You Will Need:
FOR THE STREUSEL:
1/4 cup (heaping) finely chopped walnuts
2 tablespoons dark muscovado sugar (or substitute with dark brown sugar)
1 tablespoon all-purpose flour
1/4 teaspoon cinnamon
1 tablespoon butter
FOR THE MUFFINS:
1/2 cup all-purpose flour
1/4 cup whole wheat flour
1/2 teaspoon baking soda
1/2 teaspoon baking powder
1/4 teaspoon kosher salt
2 bananas
1/4 cup organic cane sugar
2 tablespoons (melted and cooled) coconut oil, plus more for coating the muffin pan
1 large egg
3/4 teaspoon pure vanilla extract
2 ounces semi-sweet chocolate (bar) chopped small
I have plenty of Fair Trade items in my pantry already, but to help me out a little more they shipped me a big fat box of even more amazing things inside… and one lucky reader will win the very same box! More on that below the printable recipe.
First though… let's get baking.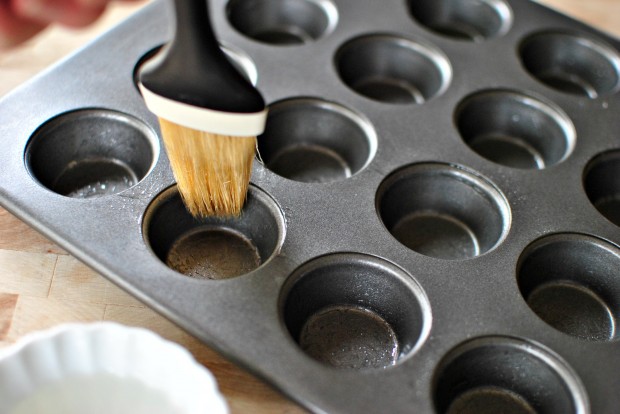 Start by brushing each muffin slot with a little melted coconut oil.
Then finely chop enough walnuts to equal 1/4 cup.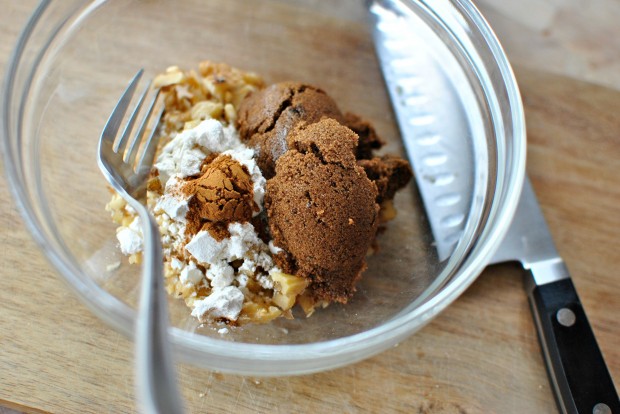 Next, throw the chopped walnuts into the bowl along with the two tablespoons of muscovado sugar, flour and cinnamon.
Then stir to combine, throw in the tablespoon of butter and using a fork, cut the butter into the dry ingredients until crumbly. Set this off to the side for a moment.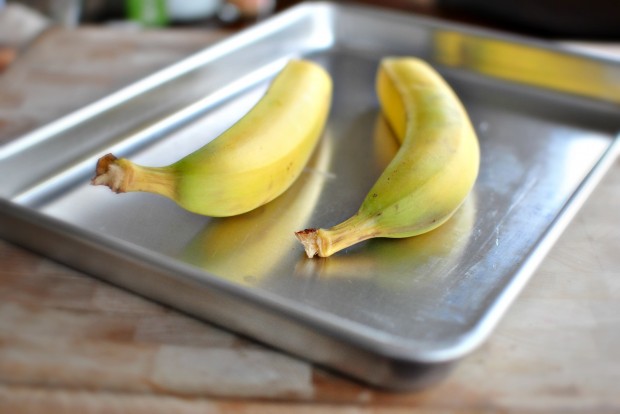 This little nifty trick I like to do when I want ripe bananas but don't have the time to wait. Simply preheat your oven to 350°, place two un-ripened bananas onto a rimmed sheet pan and bake for 15 minutes.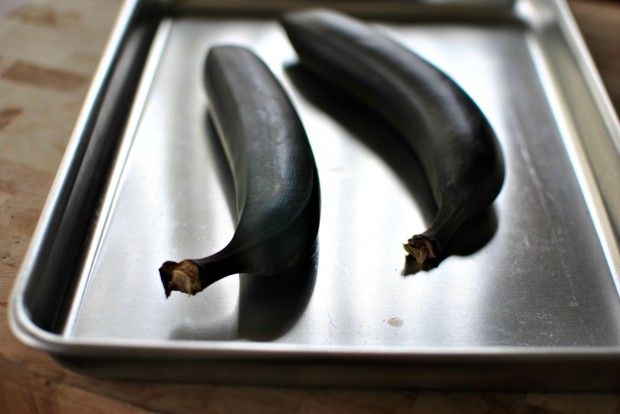 Don't fret on their appearance. They will be as black as night…
…but soft, ripe and juicy once you slice them open.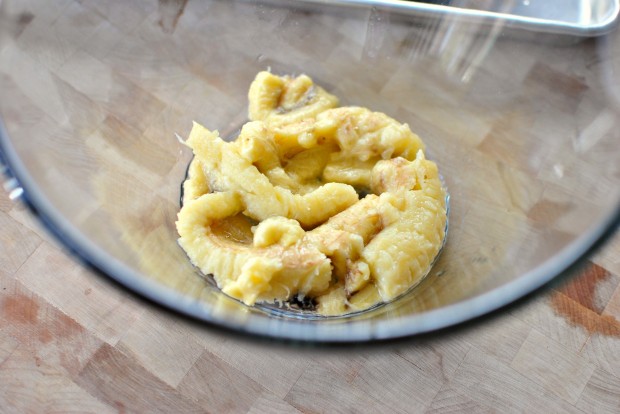 Next add the bananas to a large mixing bowl.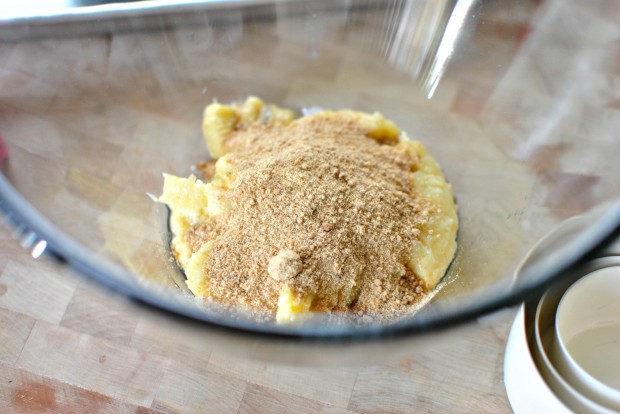 And then measure and add in the 1/4 cup of cane sugar.
Next crack in one egg.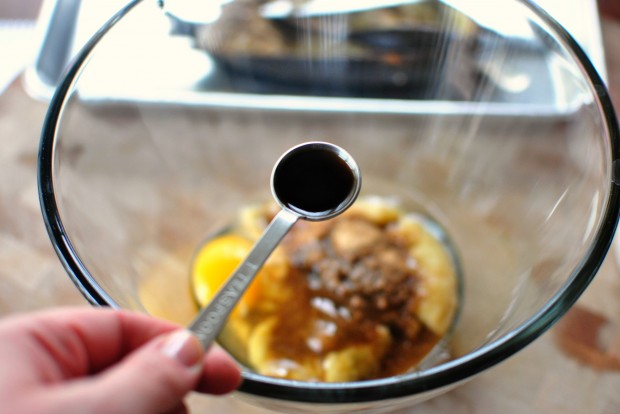 Along with 3/4 teaspoon of pure vanilla extract.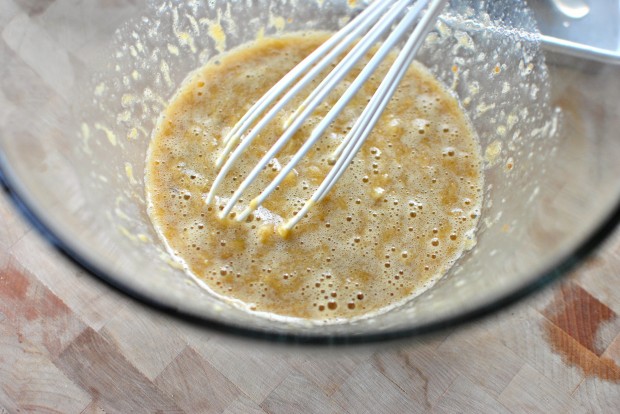 And then whisk to combine. The bananas are so soft that you won't need to mash them. I like my muffins a little chunky anyways.
Next you'll want to unwrap 2 ounces of semi sweet chocolate.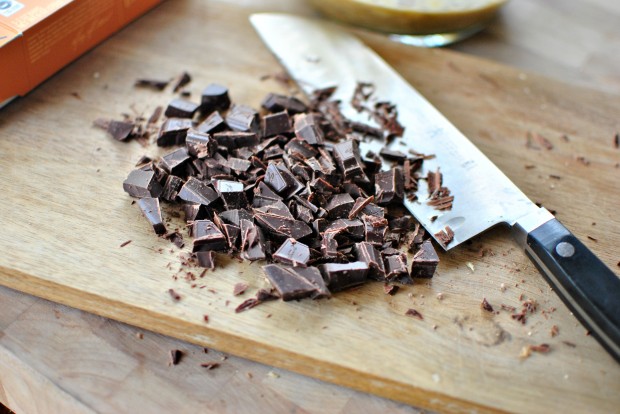 And then chop it up into small chunks.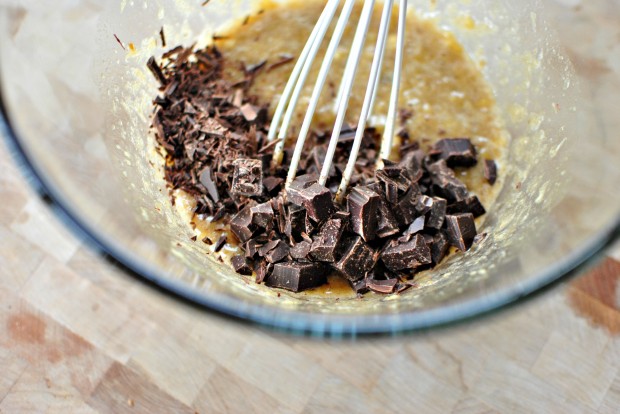 Next throw the chopped chocolate into the bowl with the banana batter.
Then, for the dry ingredients; measure and add 1/2 cup all purpose flour, 1/4 cup whole wheat flour, 1/2 teaspoon both baking soda and powder and 1/4 teaspoon kosher salt.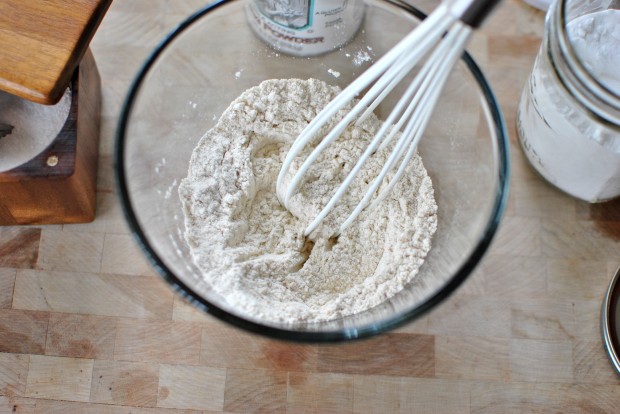 And then whisk to combine.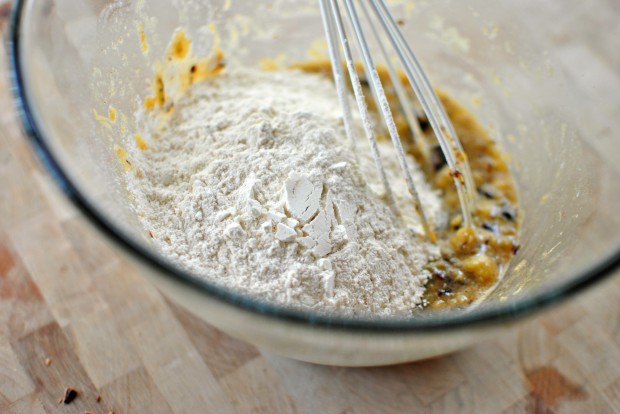 Next add the dry ingredients in to the bowl with the we ingredients.
Switch to a rubber spatula. Next, fold the batter until all the dry ingredients are incorporated.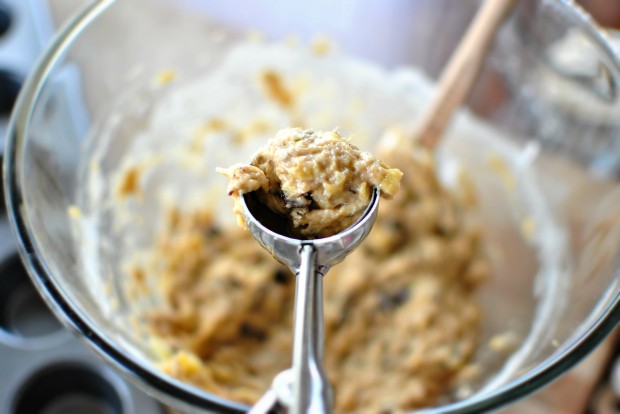 Then grab a tablespoon of the banana chocolate chunk streusel mini muffins batter…
And drop it into each of the muffin tins.
Grab a teaspoon of the streusel mixture.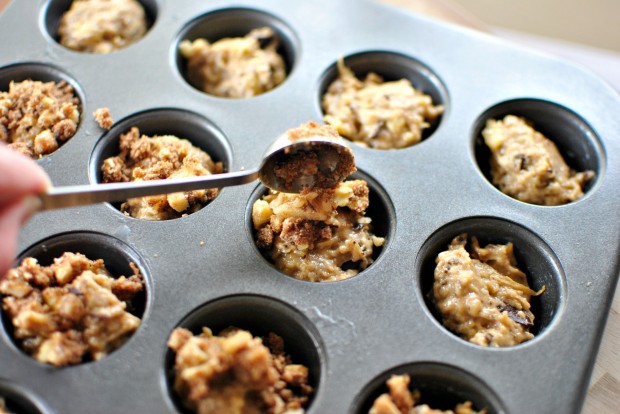 Sprinkle it over all 24 banana chocolate chunk streusel mini muffins.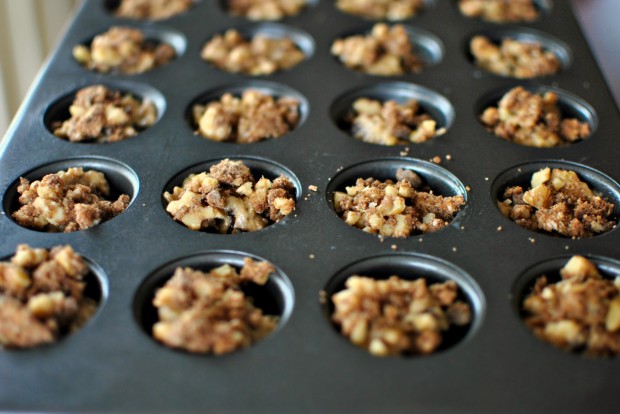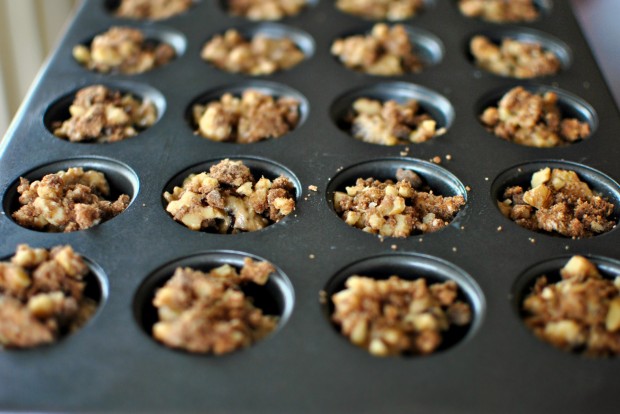 Bake in a preheated 350° oven for 10-12 minutes. Rotate the pan in the oven halfway through to ensure even cooking.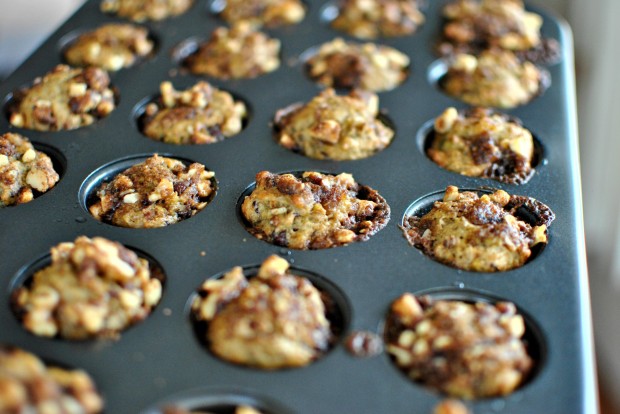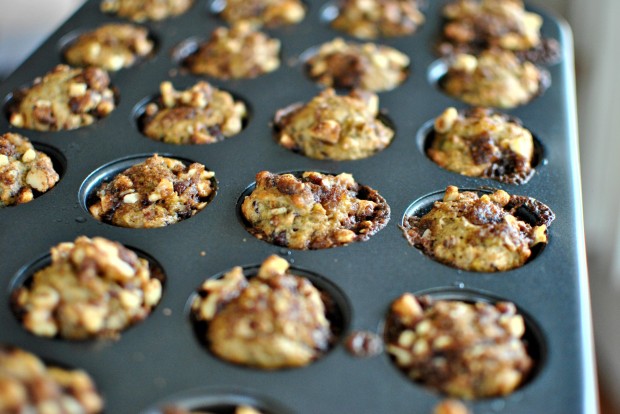 Poifect!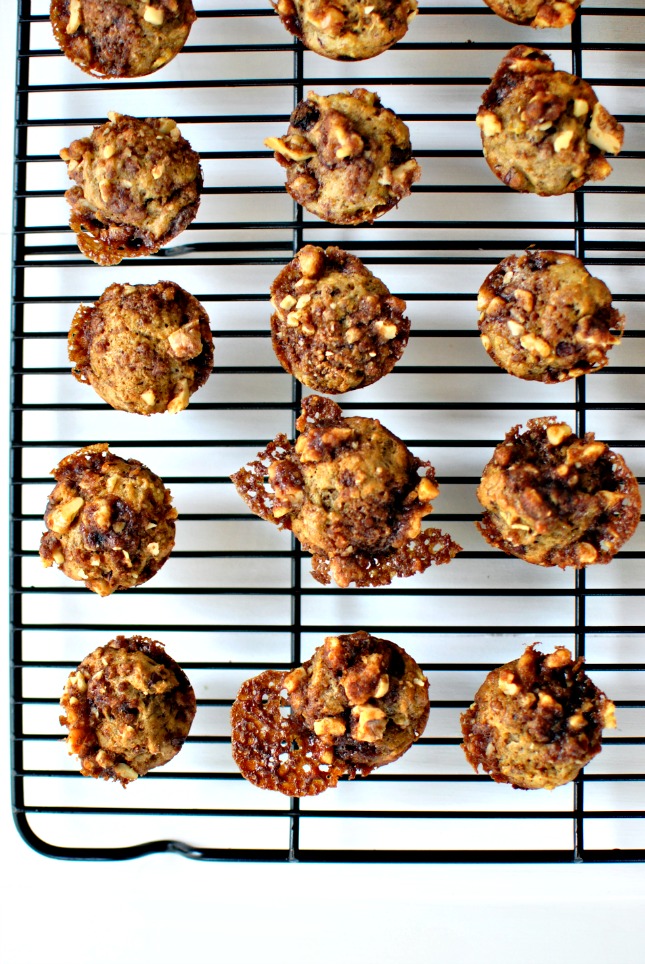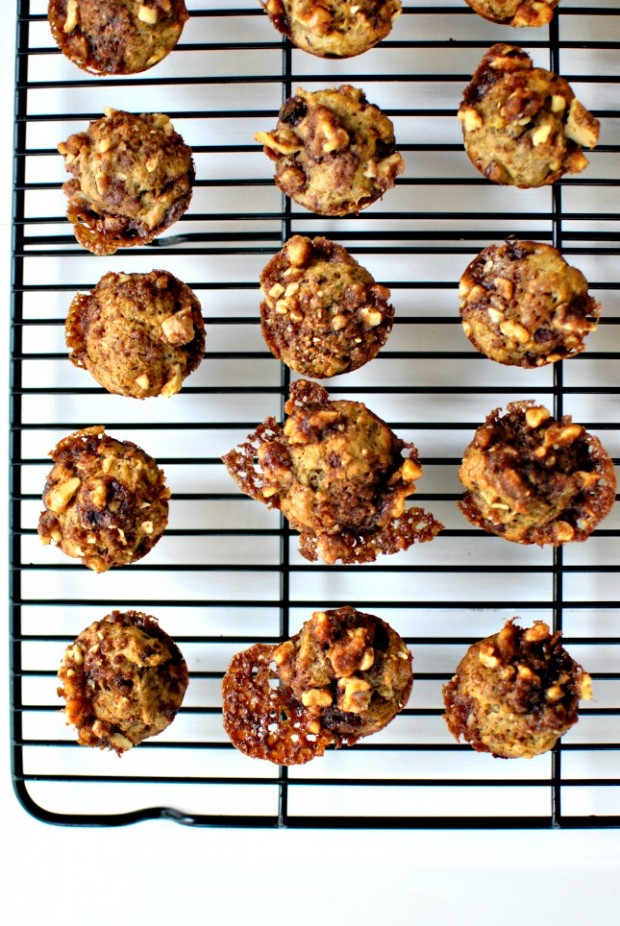 Let the banana chocolate chunk streusel mini muffins cool in the pan for 5 minutes before carefully removing them to a wire rack to finish cooling.
I must say, these are pretty darn good slightly warm and the chocolate is melty.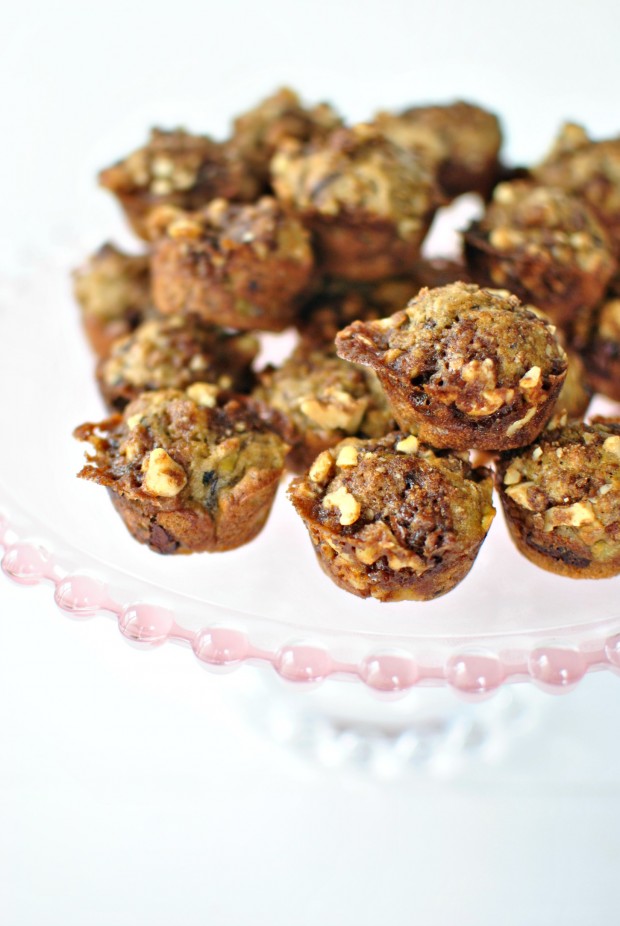 And that walnut crumble. Gah! It's the much loved and needed textural topping.
I mean C'MON.
These are the muffins your mother doesn't know she wants. #bakethem 😉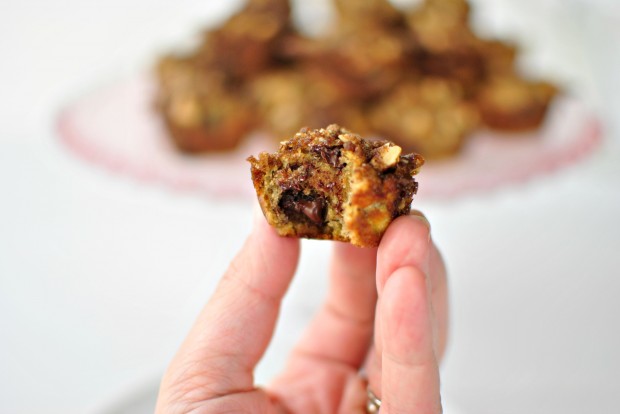 Enjoy! And if you give this banana chocolate chunk streusel mini muffins recipe a try, let me know! Snap a photo and tag me on twitter or instagram!
Enjoy! And if you give this Banana Chocolate Chunk Streusel Mini Muffins recipe a try, let me know! Snap a photo and tag me on twitter or instagram!
This post was sponsored via Fair Trade USA and brands that participate. As always my opinions are my own and I support Fair Trade USA!
This post may contain affiliate links.
Buy the Cookbook: Simply Scratch : 120 Wholesome Homemade Recipes Made Easy Now available on Amazon »
THANK YOU in advance for your support!