This Bacon Potato Poblano Breakfast Skillet is a delicious! Bacon, poblano peppers, redskin potatoes and smoky mozzarella cheese served topped with a fried egg!
Nothing makes my heart go pitter-pat more than a drippy-runny yolk.
I love dunking my toast in it and a savory waffle doesn't need syrup as long as you serve them with an egg on top. But I especially lurve it when it coats cheesy, potato, bacon and poblano hash. Ya feel me?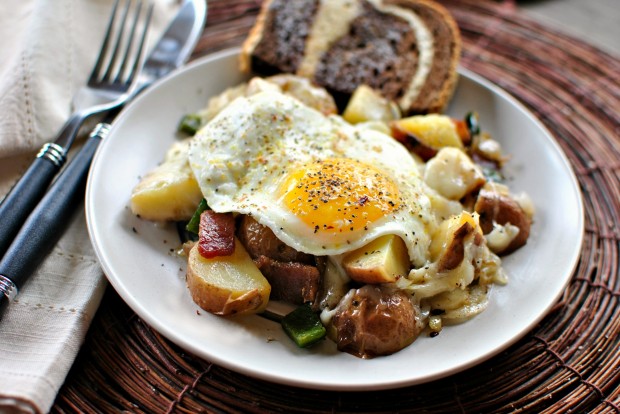 I had just gotten home from grocery shopping and I was starving. Which reminds me, never go grocery shopping hyped up on coffee and hungry. It usually doesn't end well. So it was either the two egg rolls from our Chinese dinner the night before or a quick skillet hash topped with egg and all of its runny yolk goodness. Hmmmm deeecicisons.
Re-warmed egg rolls are always an excellent breakfast/lunch option… but obviously, I went the whole egg and hash route and I didn't look back. (Except at 10pm when I had the munchies.)
Yolk wins me every single time.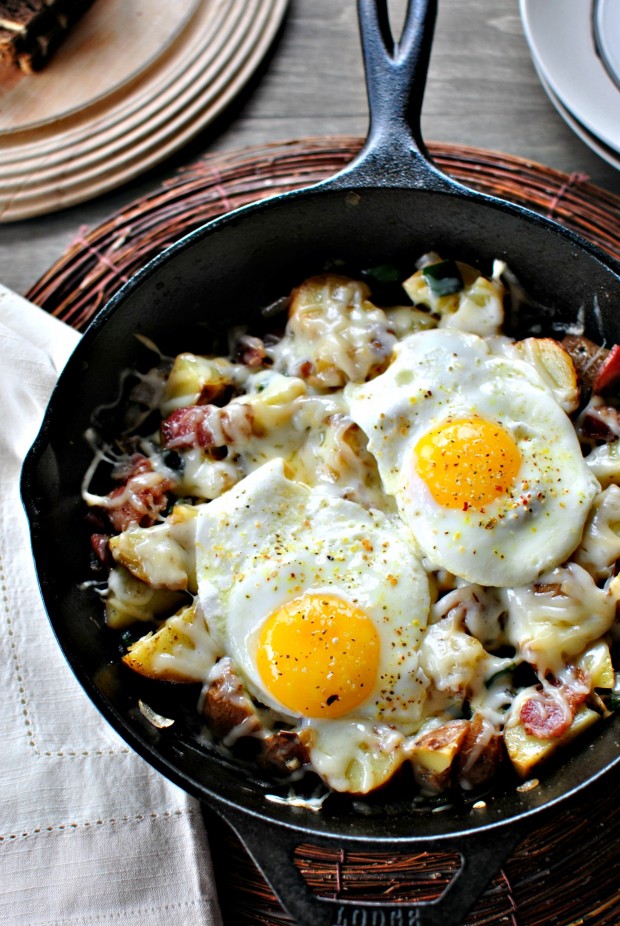 Skillet breakfasts may be my favorite kinds of breakfast on earth. Yup, right next to pancakes, waffles, cereal, French toast, scones, doughnuts, biscuits with sausage gravy and bagels. I think I just like ALL things breakfast.
Got leftover potatoes? Make this skillet dream happen.
To Make This Bacon Potato Poblano Breakfast Skillet You Will Need:
4 strips if thick-cut applewood bacon, cut into 1/2 inch pieces
1 small yellow onion, diced
1 small poblano pepper, diced
1 clove garlic, minced
6 pre-cooked medium redskin potatoes, diced
1 cup grated smoked mozzarella
4 large eggs
1 tablespoon olive oil
1 tablespoon butter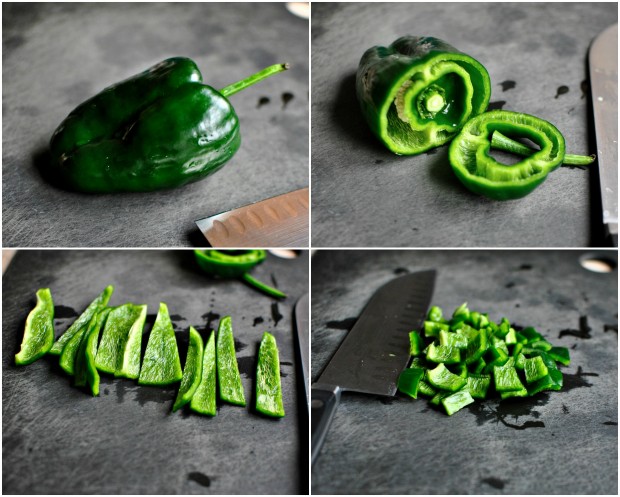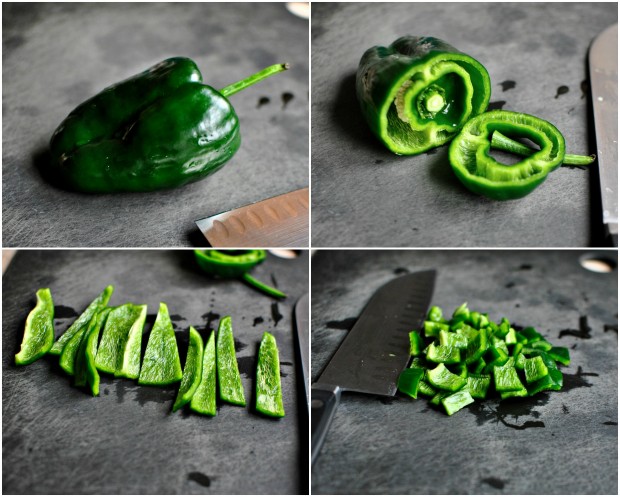 Start by washing, trimming, slicing and dicing one small poblano pepper.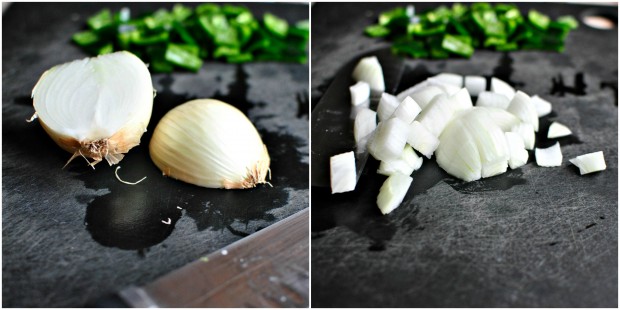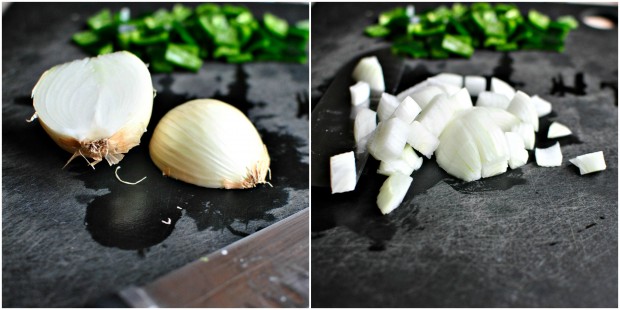 Dice up a small yellow onion.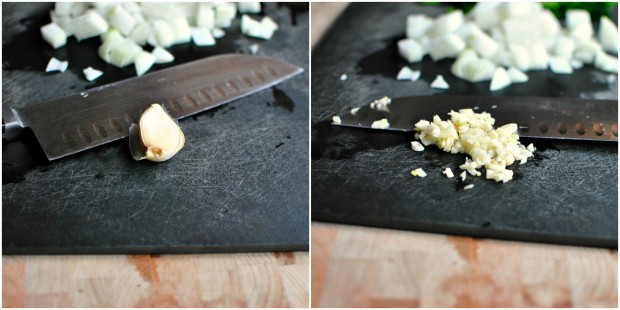 Smash, peel and mince up one clove of garlic.
And grate some smoked mozzarella. You'll need a cup… or so.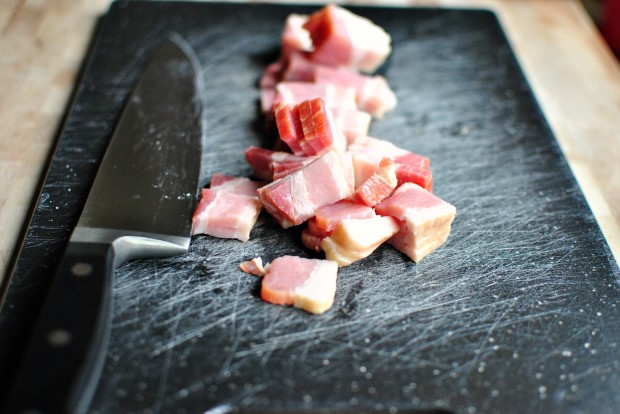 Grab 4 slices of applewood slab bacon and slice it into cubes.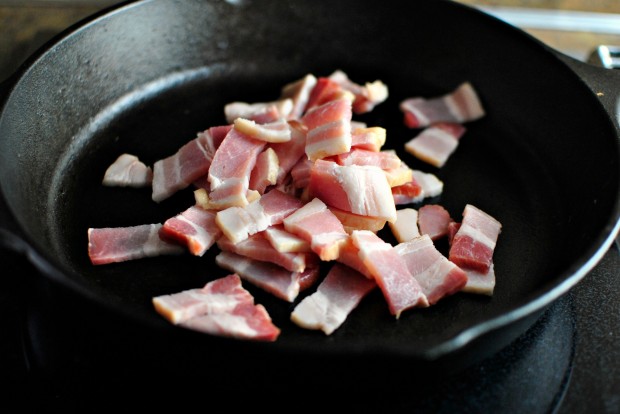 Throw it into a cool skillet and turn the heat to medium and slowly render out that delicious bacon fat.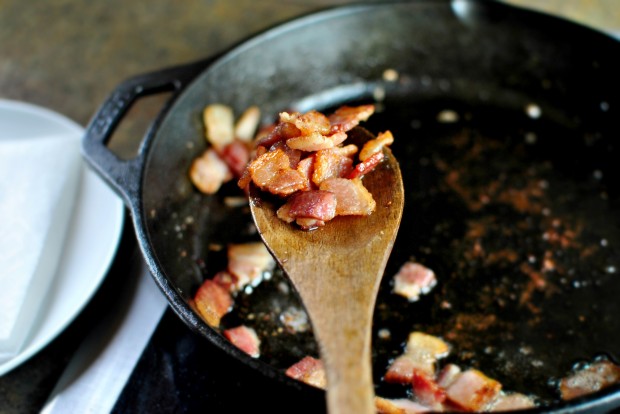 Cook the bacon until crispy.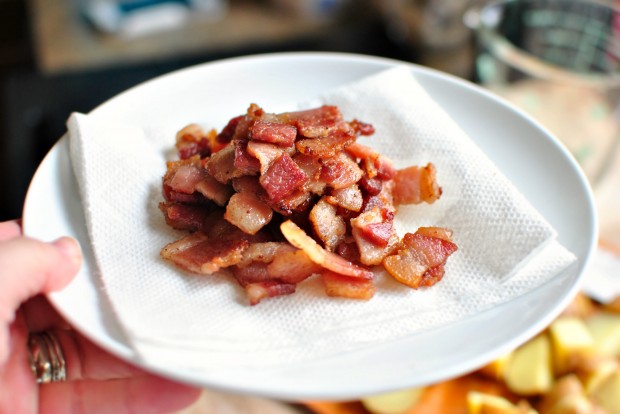 With your spoon, remove the crispy bacon to a paper towel-lined plate and set it off to the side.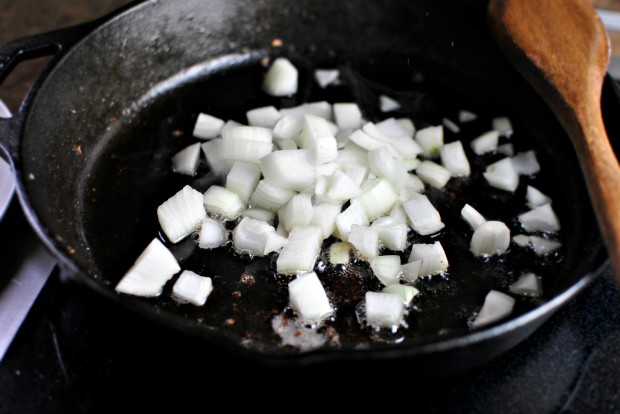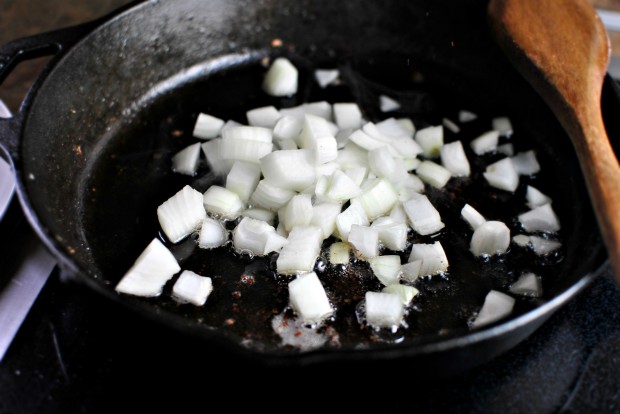 There should be only a few tablespoons of bacon fat left in the pan. No need to drain it, simply throw in the diced onion…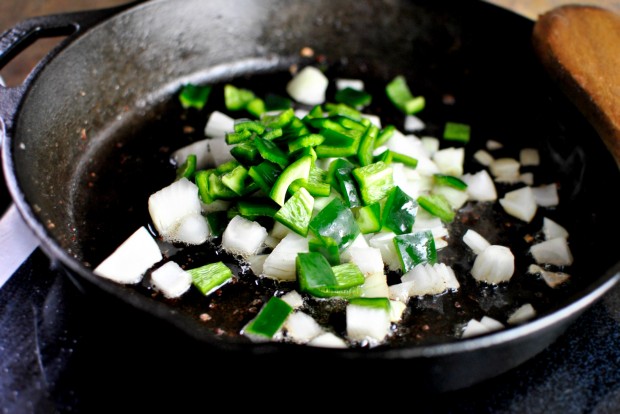 …the diced poblano…
…stir to coat in all that glorious bacon fat and then let it cook until softened.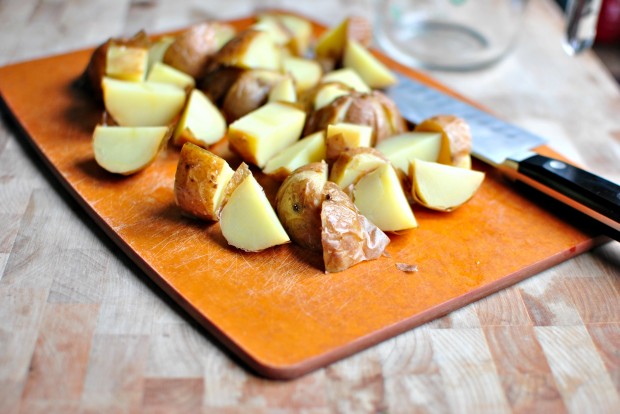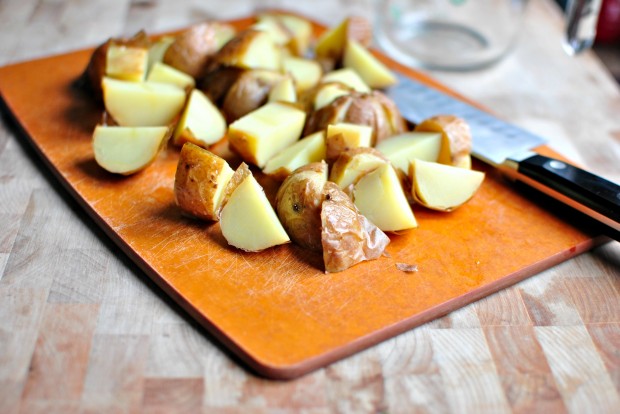 Meanwhile I cubed up the leftover potatoes I had saved from dinner Sunday. I just roasted them in a couple teaspoons of olive oil, sprinkled with sea salt and roasted them at 400 for about 45-60 minutes.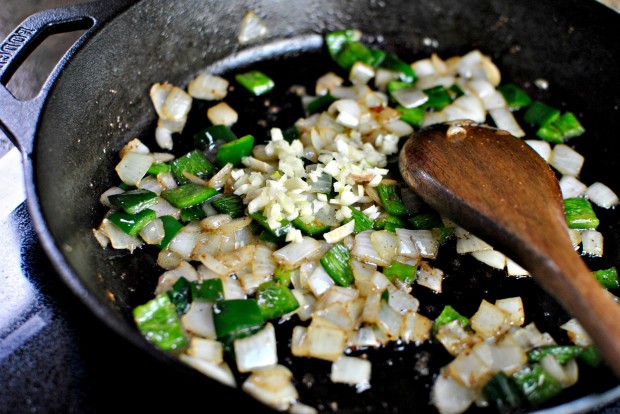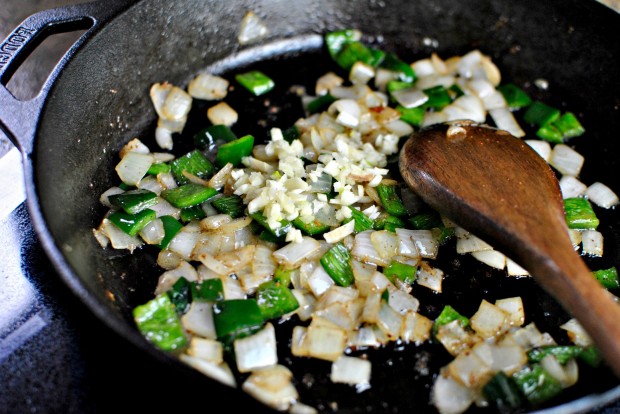 Once the onions and peppers are softened, throw in the minced garlic clove, stir and cook for a minute or two. PS. it smells AHmazing.
Slide the potatoes right on in…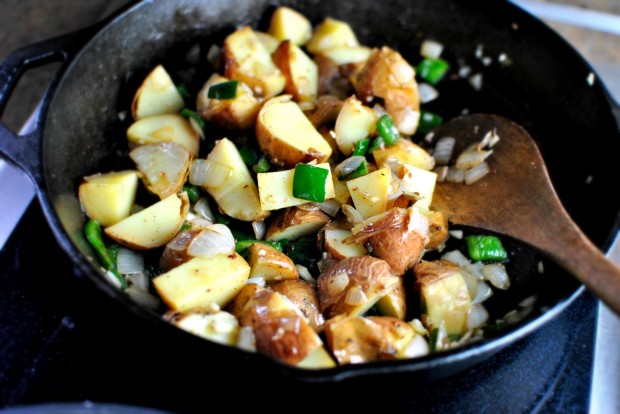 Give those a good stir…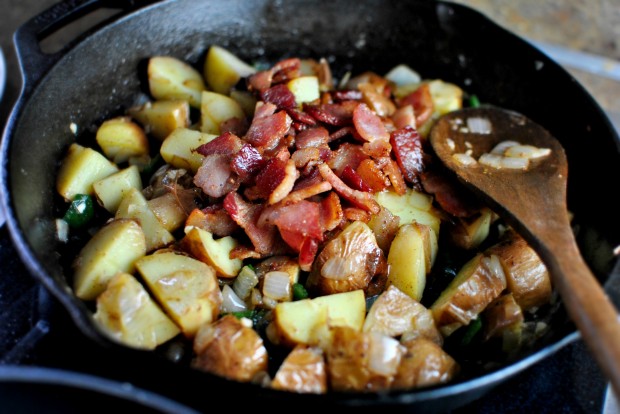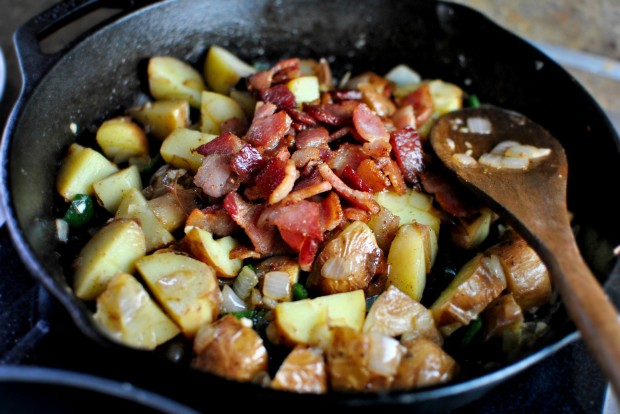 … Oh! and add in the bacon…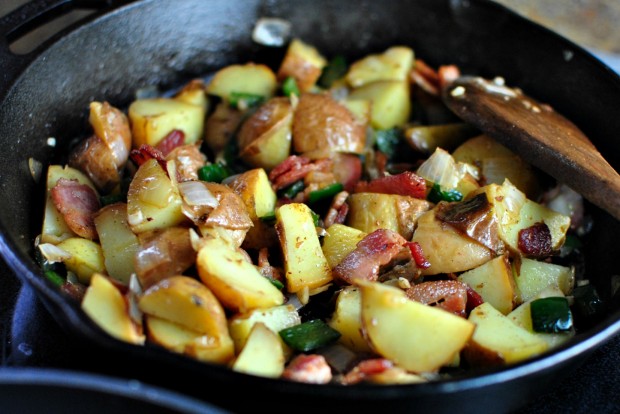 Spread the whole thing into a single layer…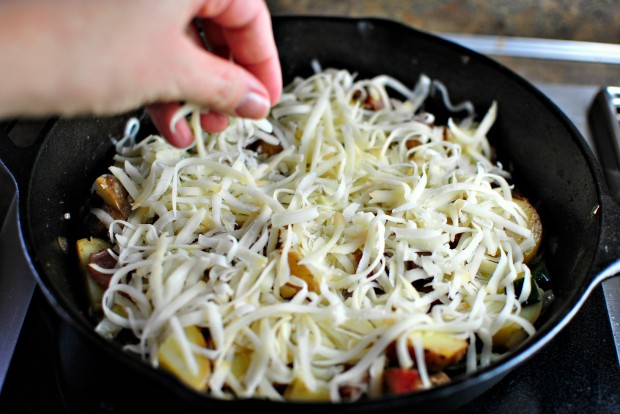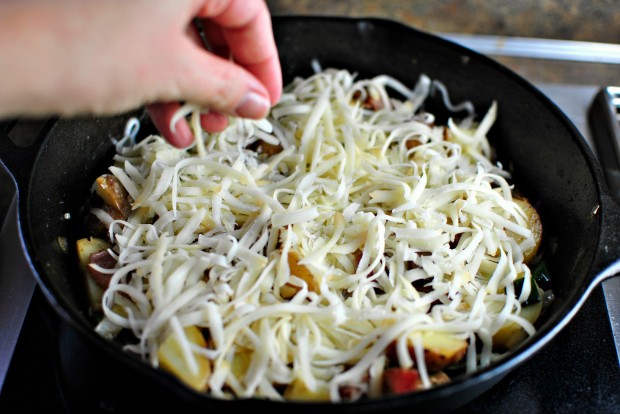 …sprinkle on the cup of smoked mozzarella. Reduce the heat to low, cover with a lid and let the steam do all the work and melt that cheese.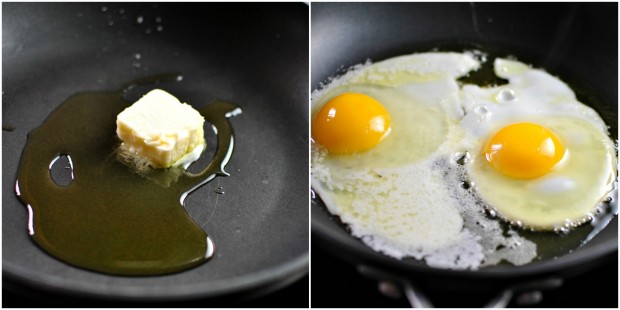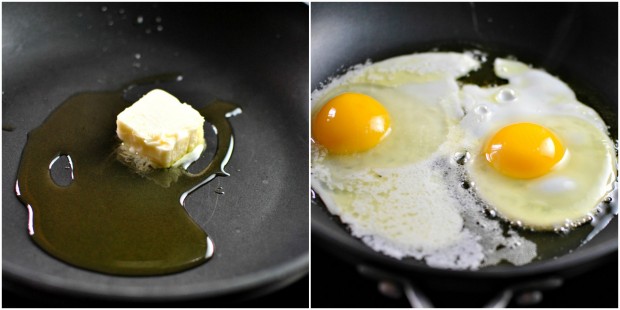 Meanwhile fry up a couple eggs. Since I was the only person eating, I made myself two… I think two eggs per person is pretty generous… but serving one egg is fine, do whatever floats your boat.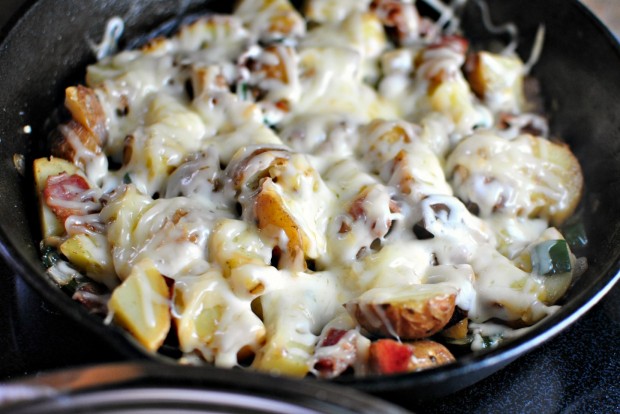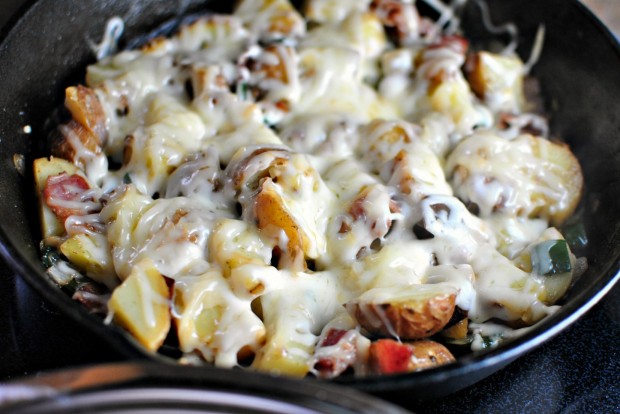 Once the eggs are done and the cheese is melted it's time to serve.
Although this alone would be pretty marvelous…
The fried eggs on top totally makes it. #cheesestrings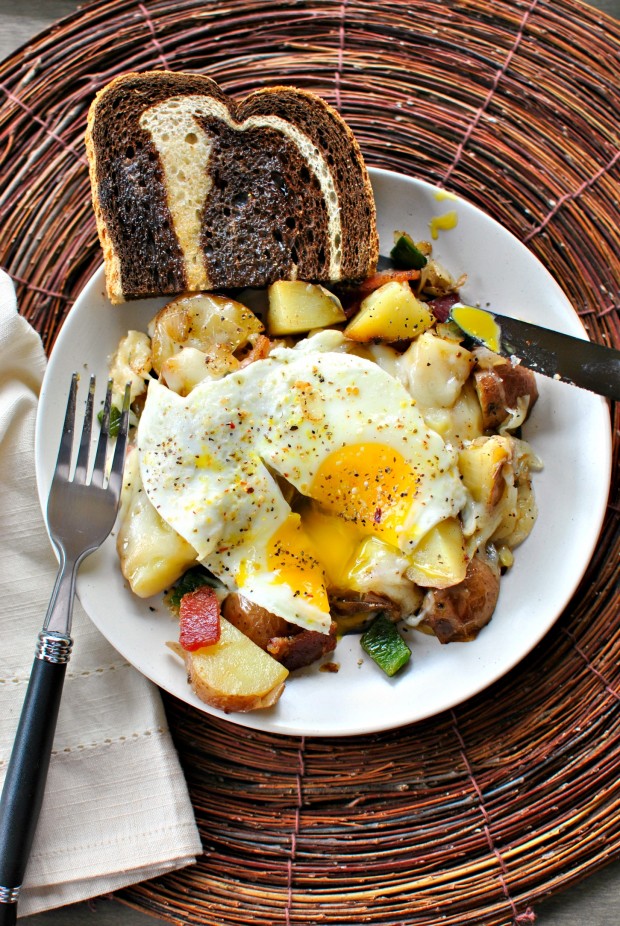 Lastly, season with salt and pepper or your favorite seasoning salt and grab your fork.
One bite and it felt like I had died and gone to runny-yolk-cheesy-potato-bacon- poblano-hash heaven. Truth.
Serve this bacon potato poblano breakfast skillet with toast so you can mop your plate clean.
Enjoy! And if you give this Bacon Potato Poblano Breakfast Skillet recipe a try, let me know! Snap a photo and tag me on twitter or instagram!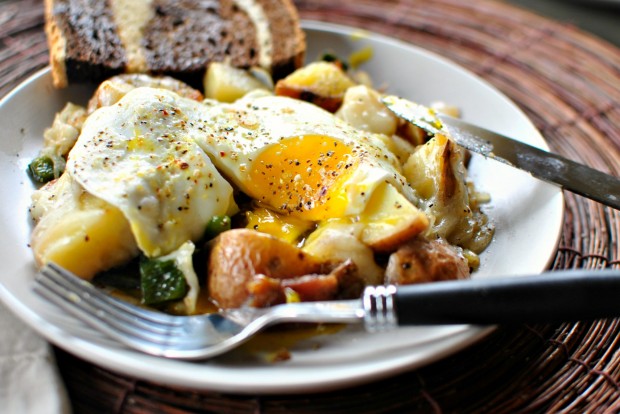 This post may contain affiliate links.
Buy the Cookbook: Simply Scratch : 120 Wholesome Homemade Recipes Made Easy Now available on Amazon »
THANK YOU in advance for your support!