This creamy yet cream-less Turkey Pot Pie Soup will make good use out of your leftover Thanksgiving turkey. Simple and flavorful, a one-pot soup to warm your soul. Serves 6 in about 45 minutes.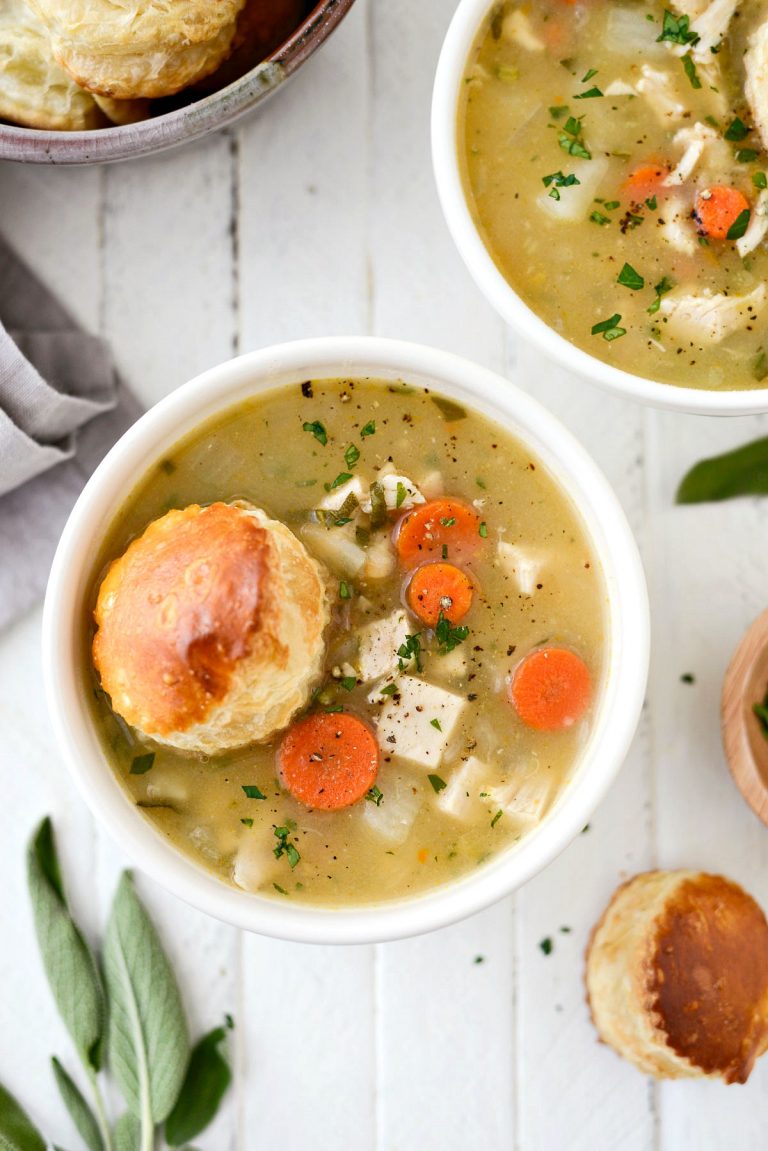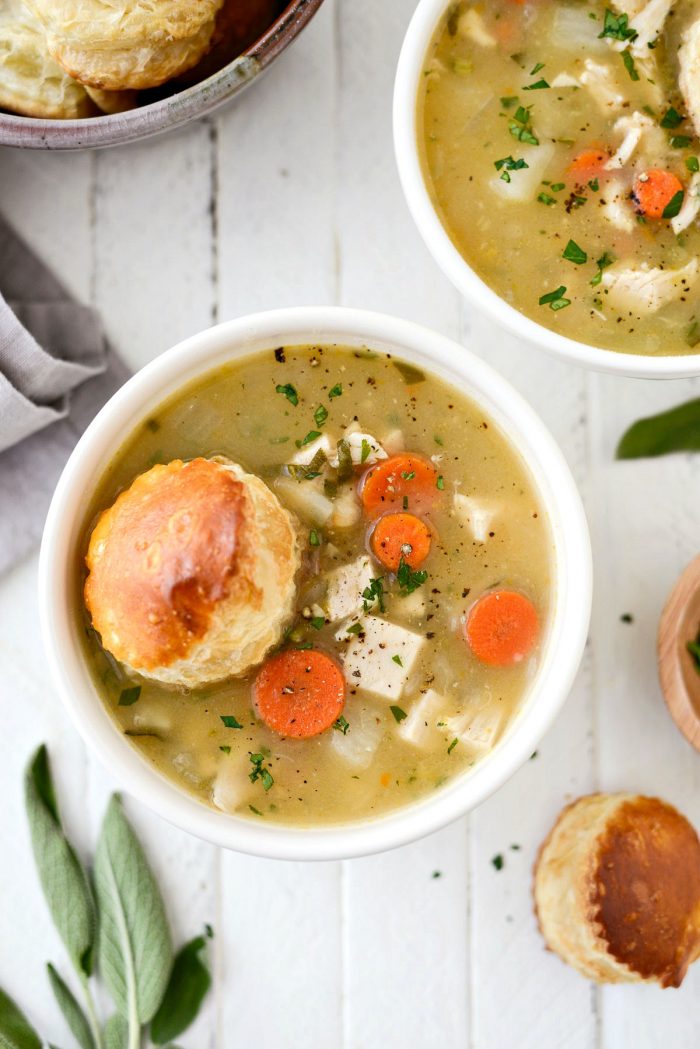 I made you a pot of soup today.
An incredible, light and creamy yet totally cream-less turkey pot pie soup! This recipe is bulked up with leftover turkey, celery, carrots and potato and isn't loaded down with heavy cream. Instead flour and broth are whisked together and added to slightly thicken the soup.
You are really going to like this recipe. It's easy and tastes like something you would order at a diner. So if you like pot pies like I like pot pies then this soup is your jam.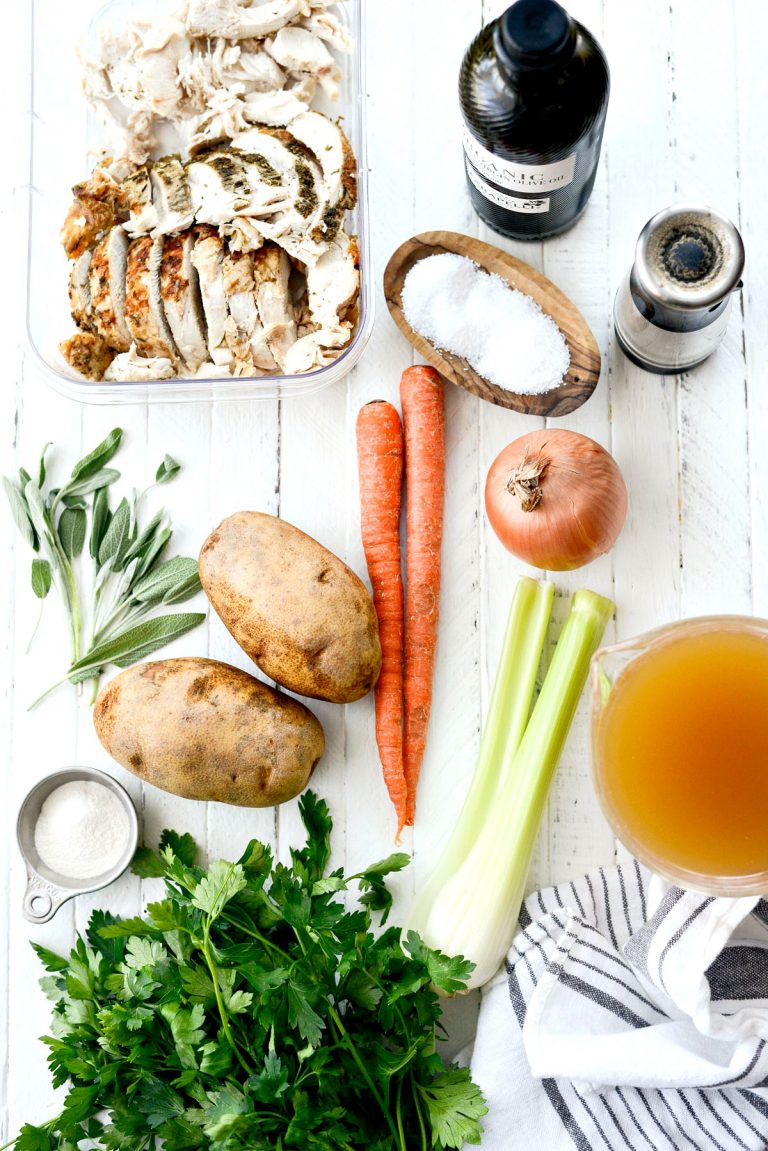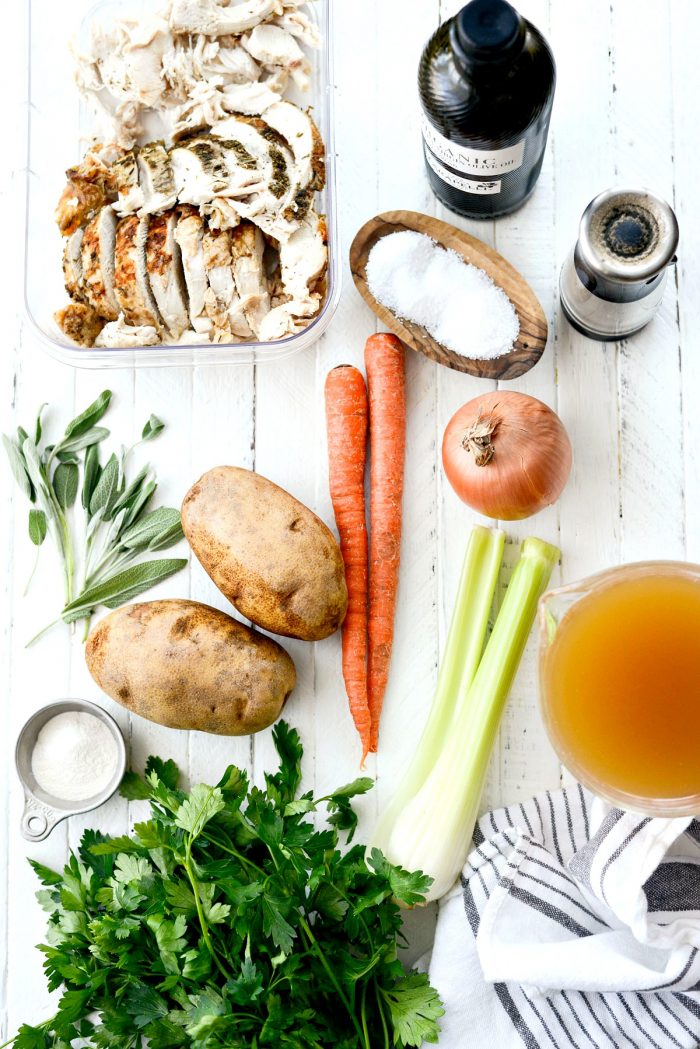 To Make This Homemade Turkey Pot Pie Soup You Will Need:
olive oil
yellow onion
celery
carrot
potato
sage
black pepper
water
flour
leftover cooked turkey
parsley
kosher salt
puff pastry, biscuits or soup crackers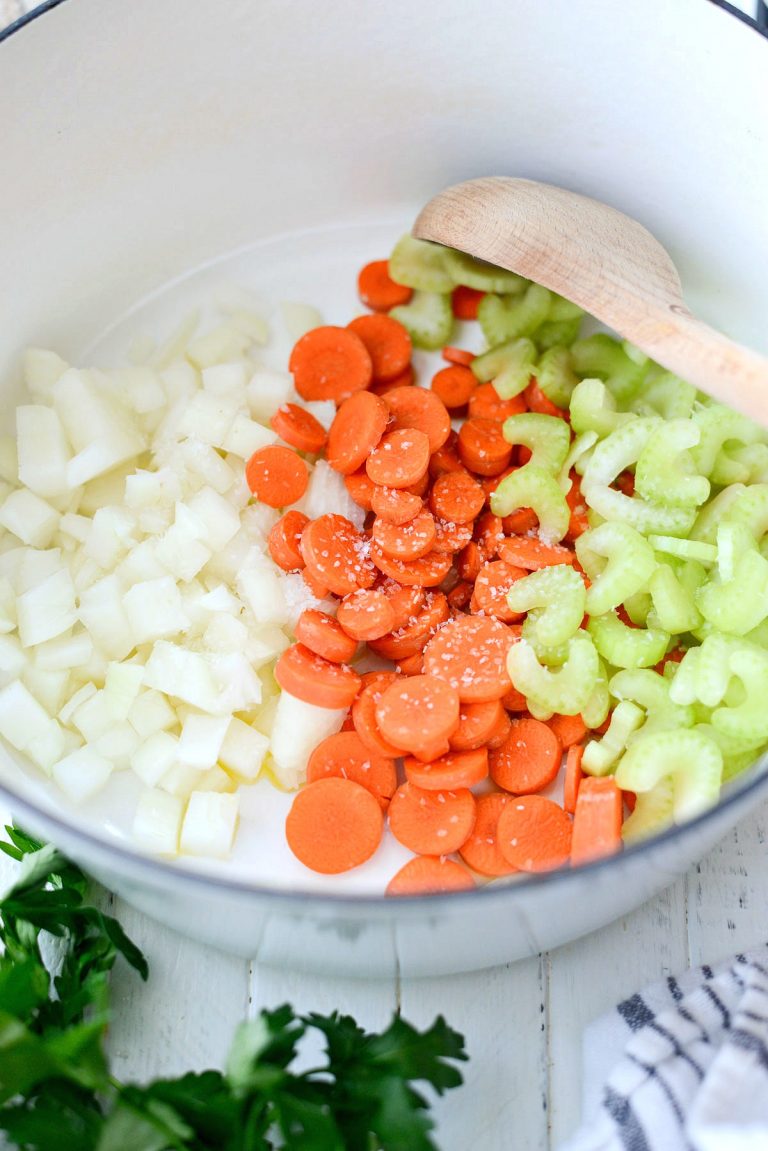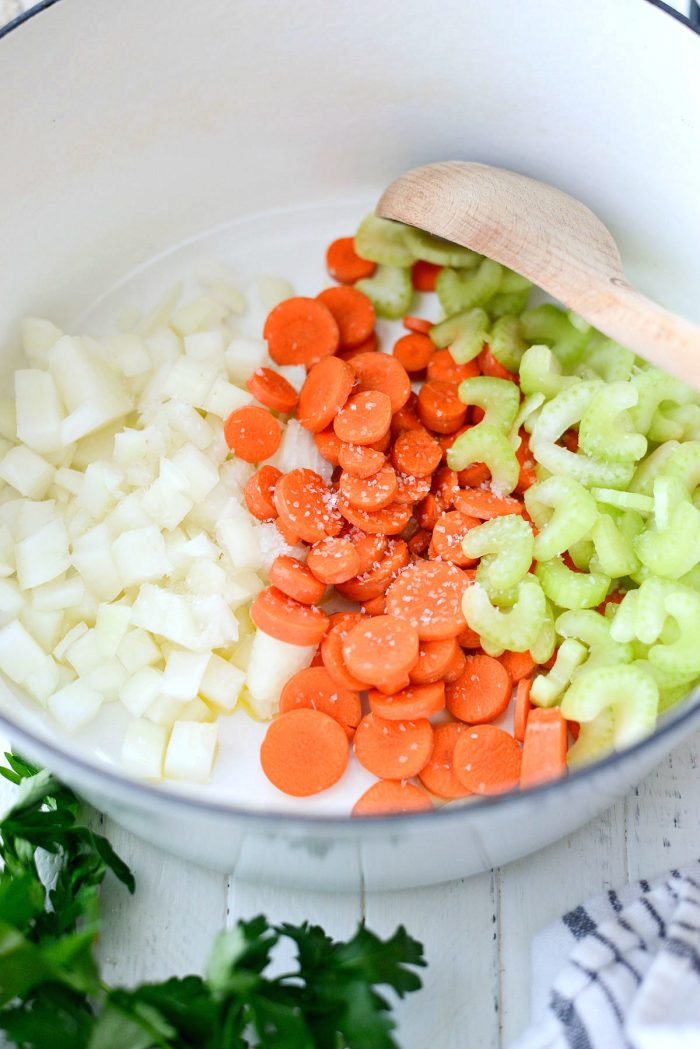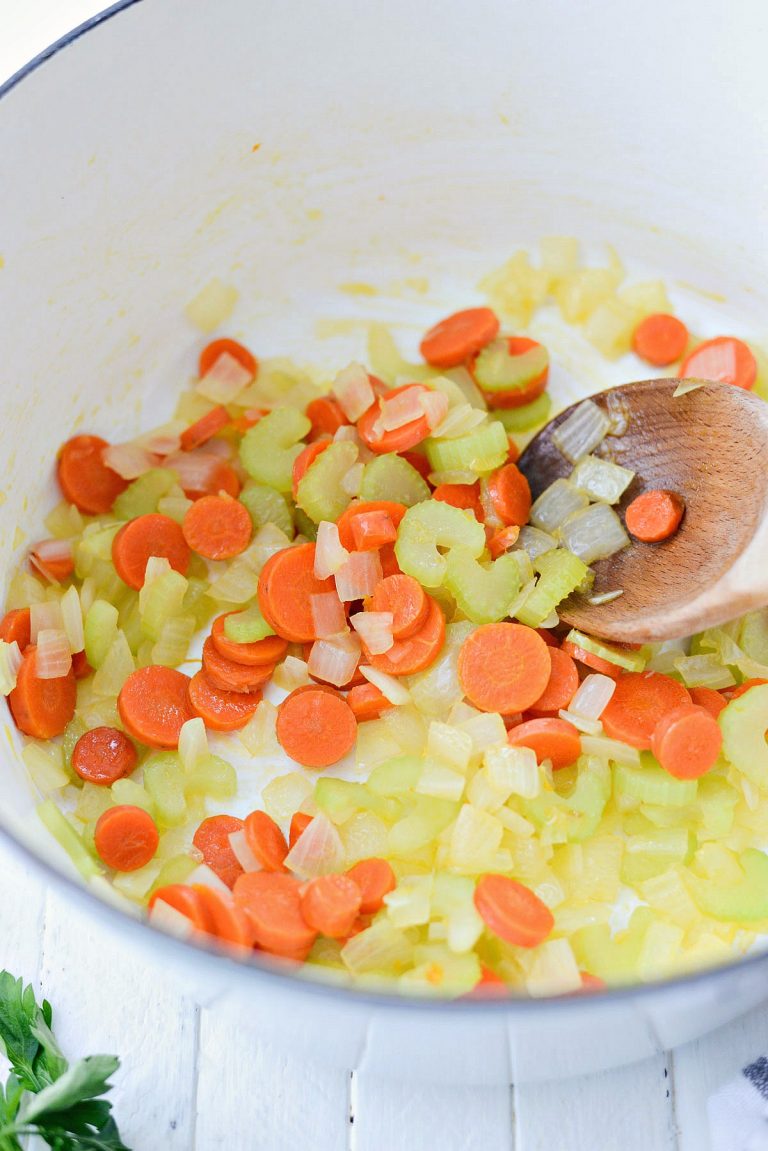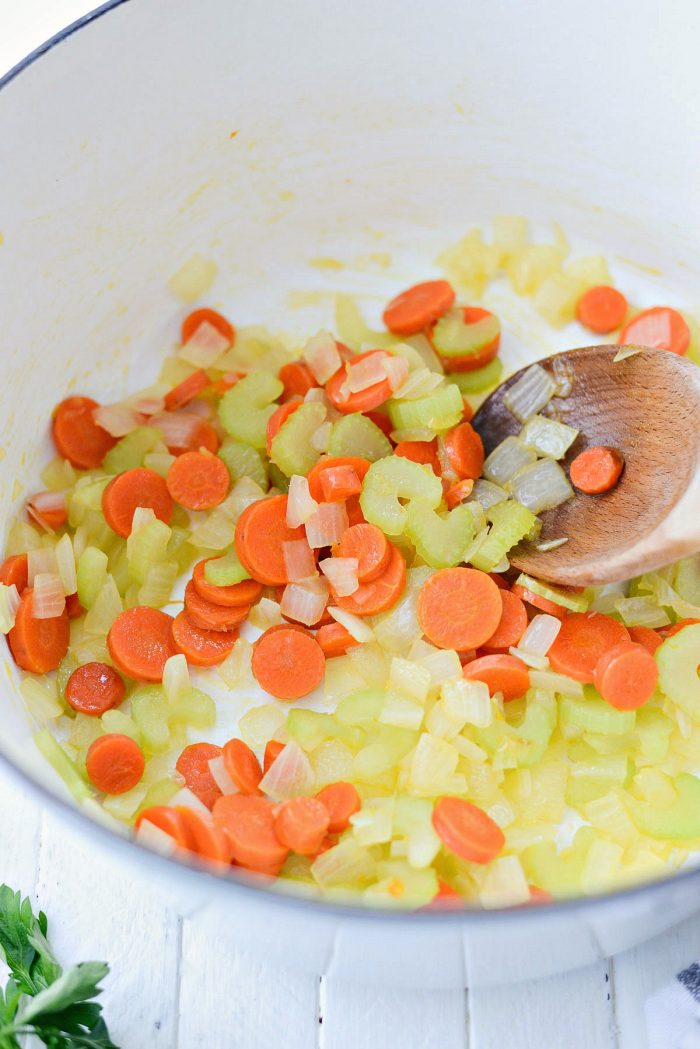 In a large Dutch oven, measure and add in 1 tablespoon of olive oil, 1 diced medium yellow onion, 2 short stalks of celery and 2 carrots. Heat on medium and cook for 8 minutes or until the veggies are tender.
Add in 2 russet potatoes (that have been peeled and diced into 1/2-inch cubes0 and 1 tablespoon sliced fresh sage and 1/2 teaspoon freshly ground black pepper.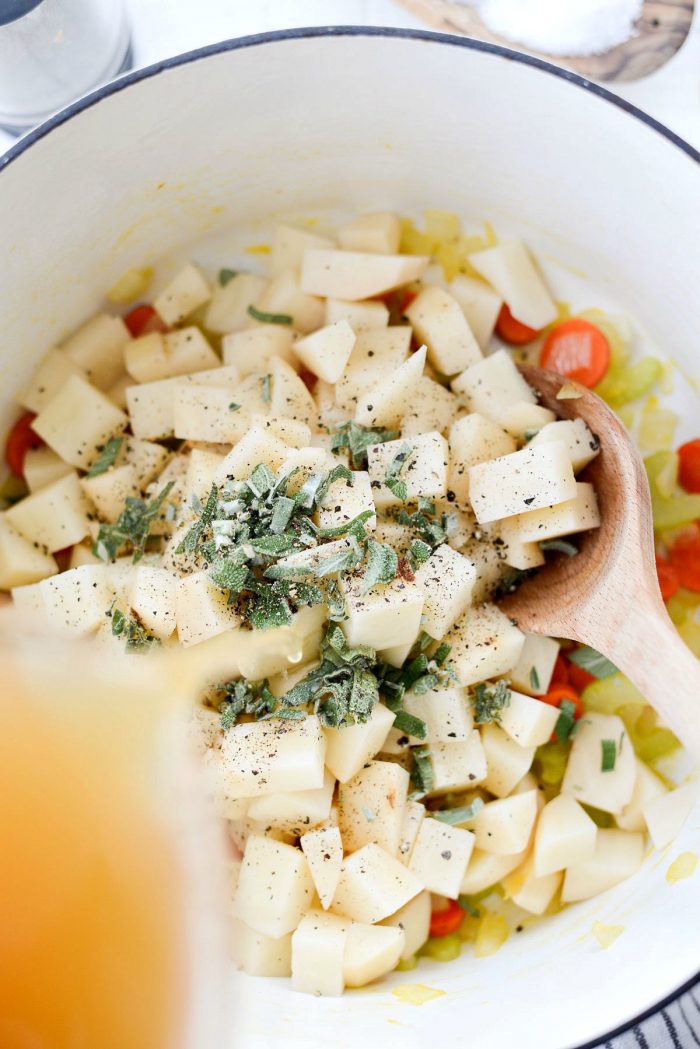 Pour in 4 cups of turkey stock and two cups of water.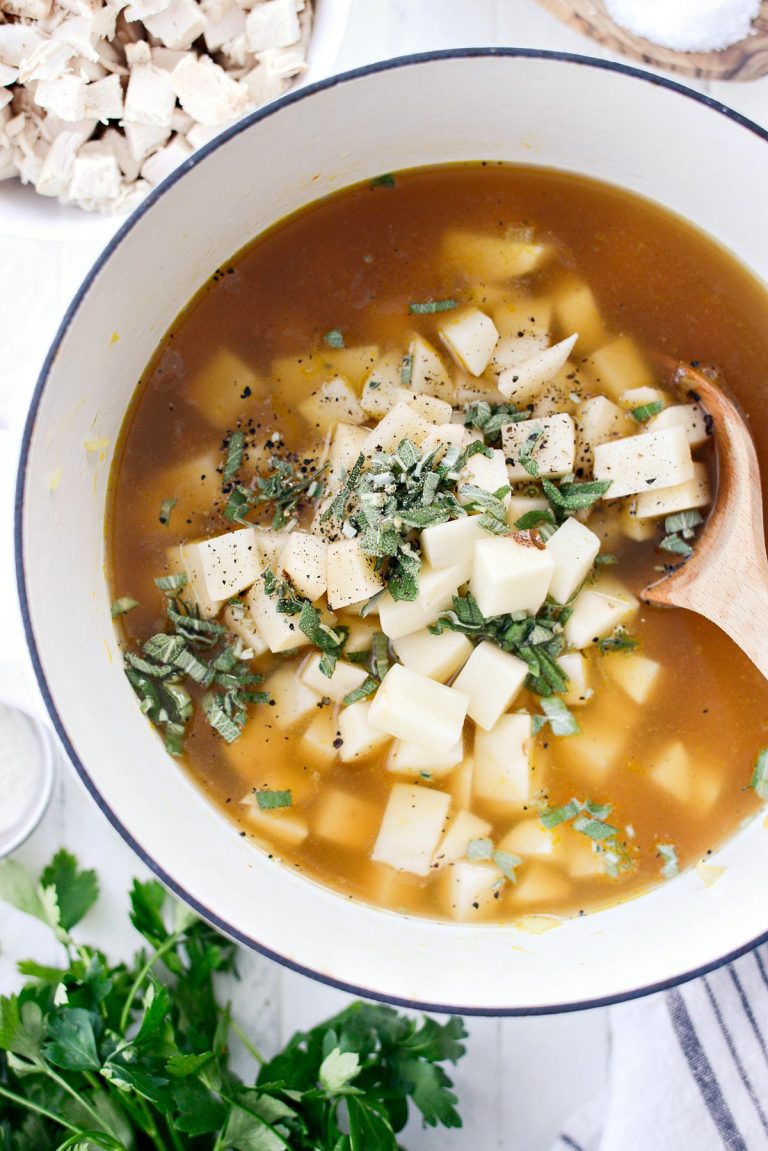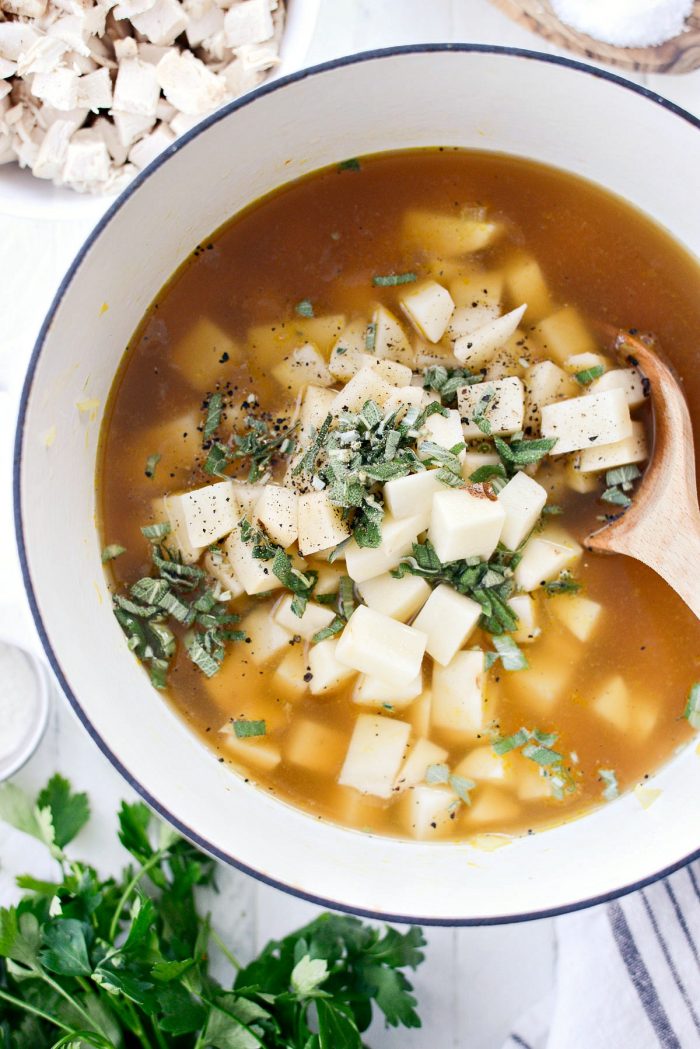 Stir and bring to a boil. Reduce the heat to a simmer, cover and cook for about 15-18 minutes.
Or until the potatoes are soft and fork tender.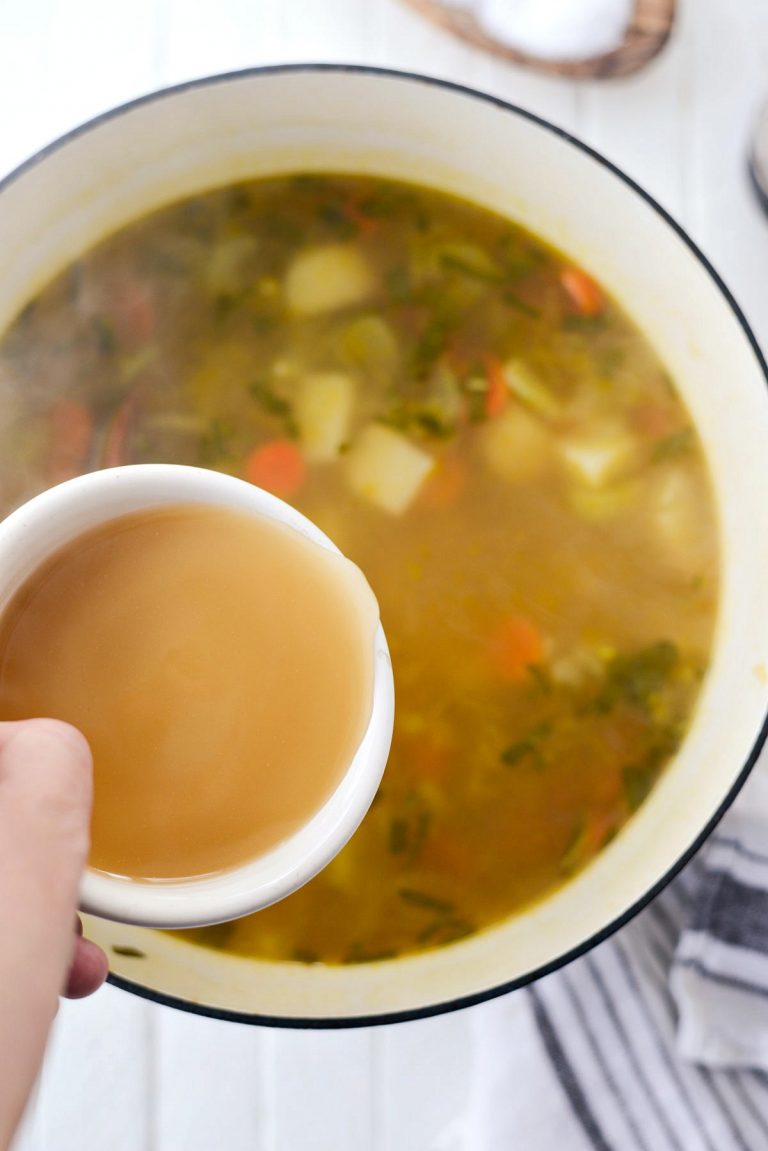 Meanwhile in a small bowl, whisk together 2 tablespoons of all-purpose flour with 3/4 cup of turkey stock (or water) until smooth before stirring it into the soup. The heat of the soup mixed with the flour/stock combination will thicken the soup slightly without the addition of any heavy cream.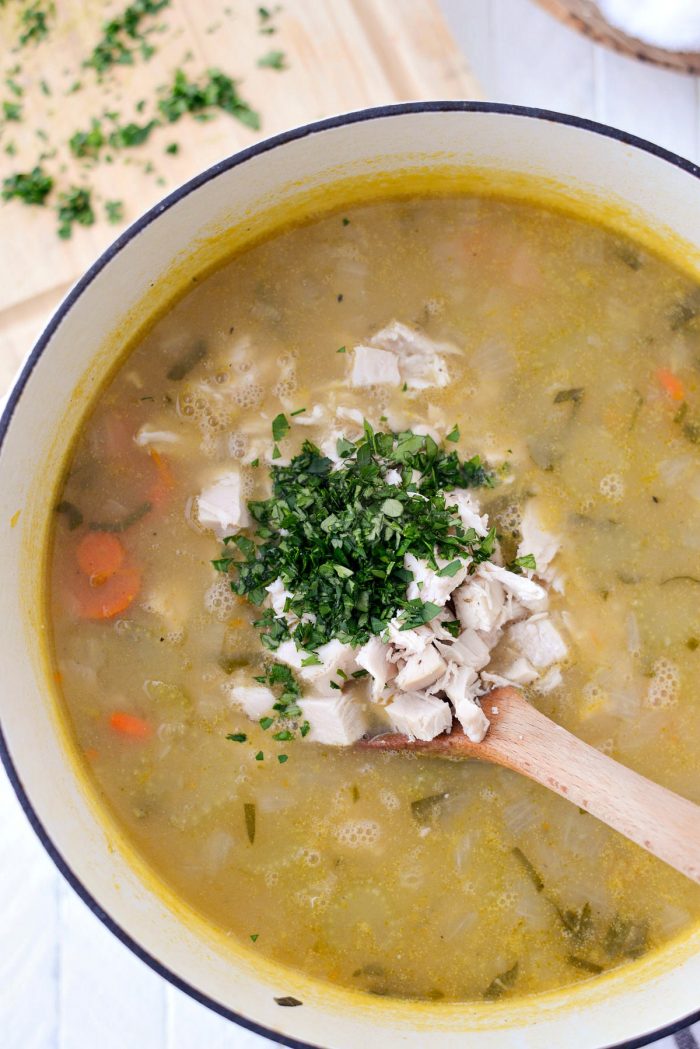 Once thickened slightly, add in 3 cups chopped leftover cooked turkey and a tablespoon of minced fresh parsley.
I had some leftover turkey from this recipe. However if you want to make this soup and don't happen to have leftover turkey, you can buy a turkey breast or turkey tenderloins, poach them for 25 minutes and shred them. Or use leftover chicken and turn this into a chicken pot pie soup. Either way it's a win-win.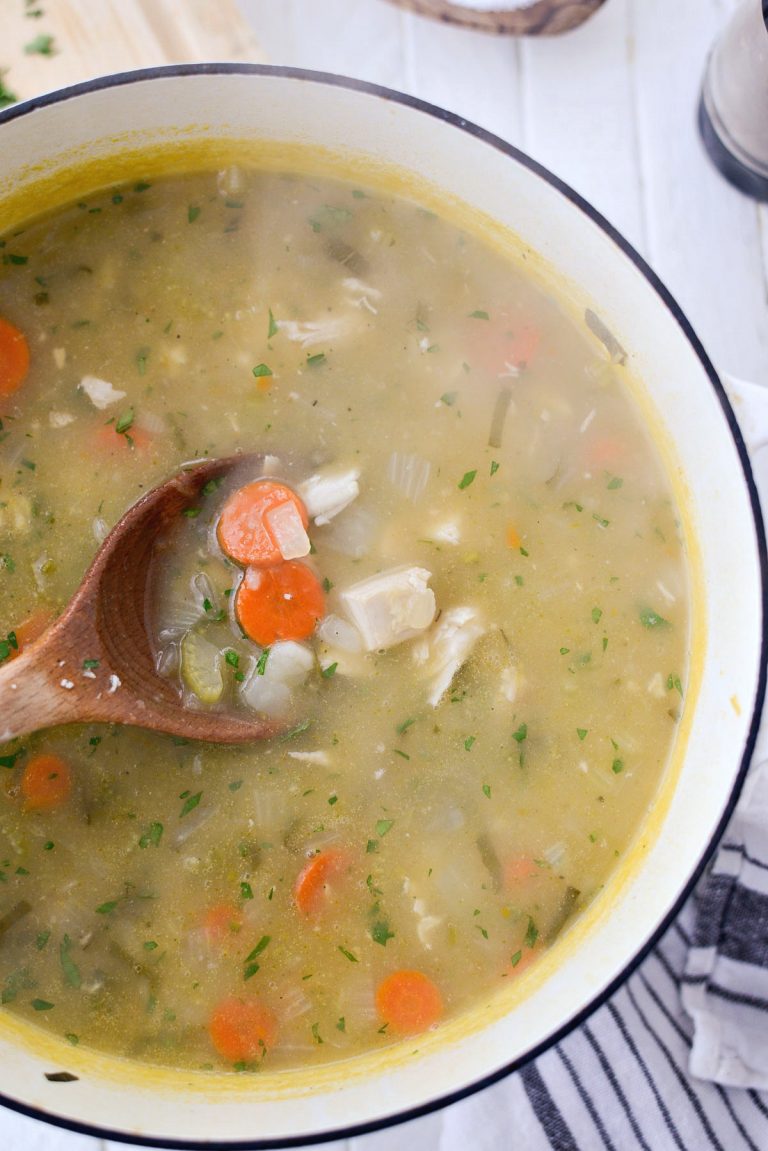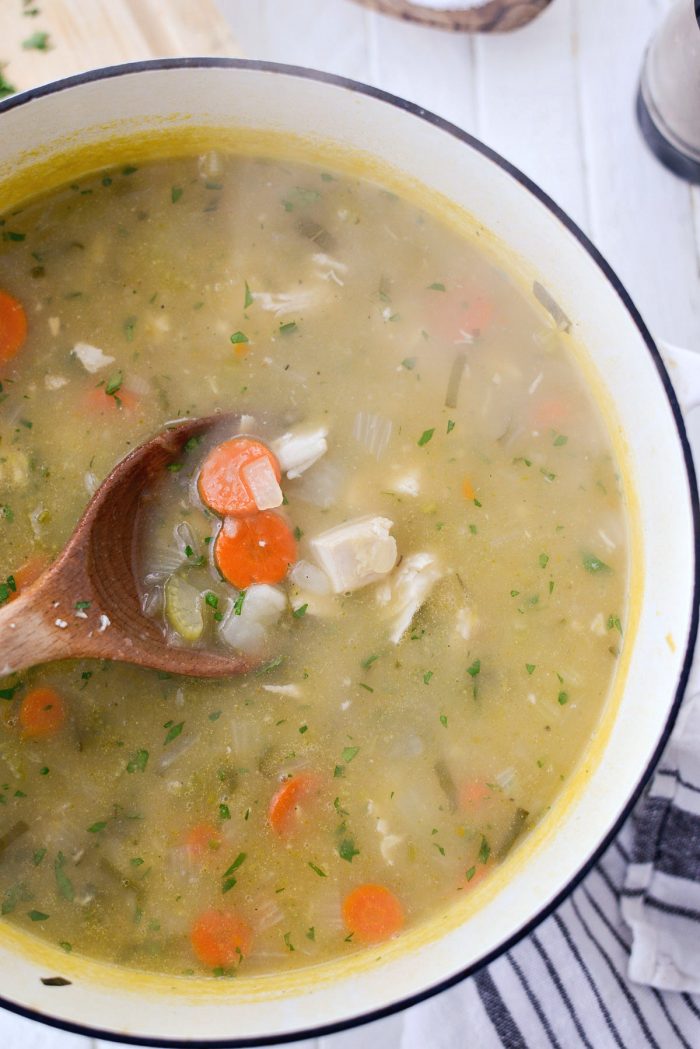 After you've added the turkey, allow the soup to simmer for 5-8 minutes to cook out any of the flour taste and warm the chicken.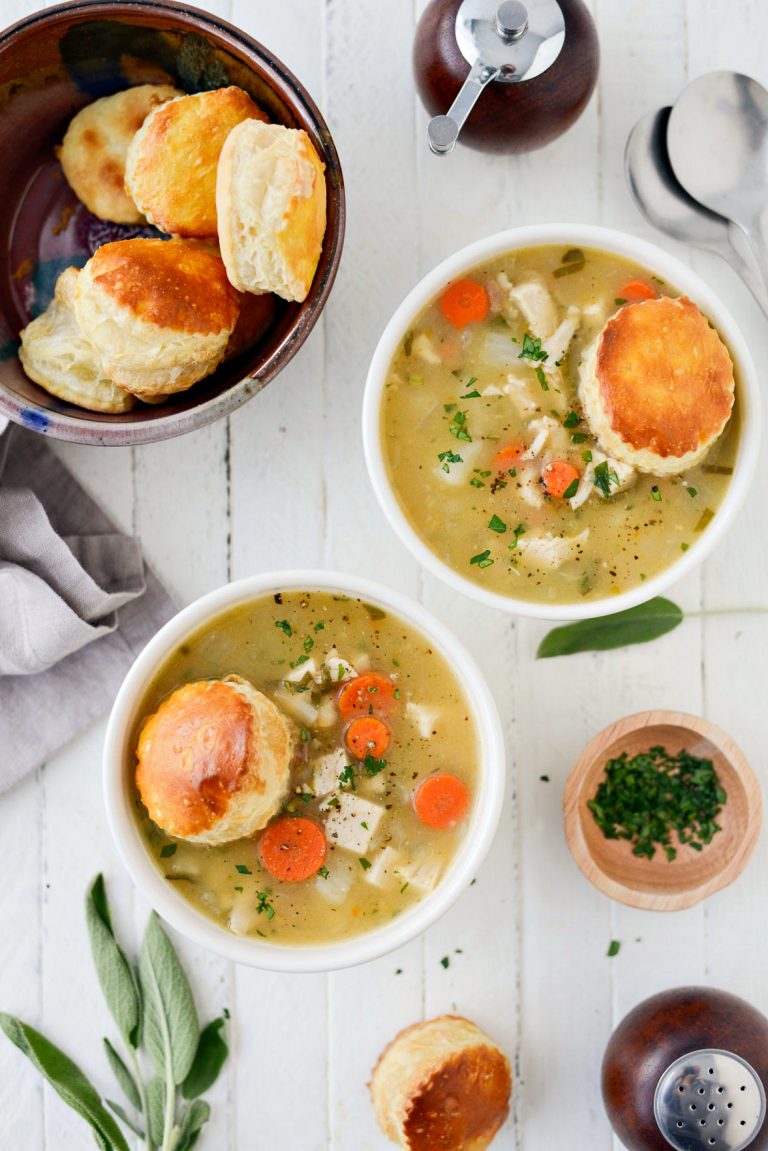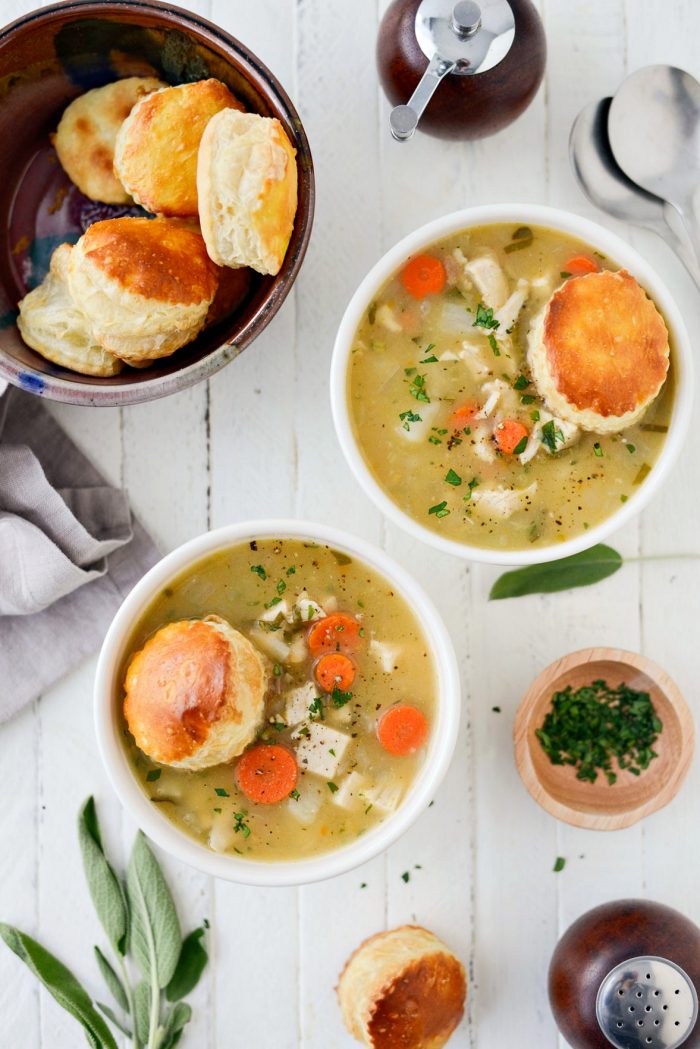 Now you have a couple options.
You could serve with crackers, biscuits or chunks of a torn bread. I thought about making some homemade pie dough, bake it up to serve it on top. But I cut out rounds of puff pastry and baked them instead. (so much easier!)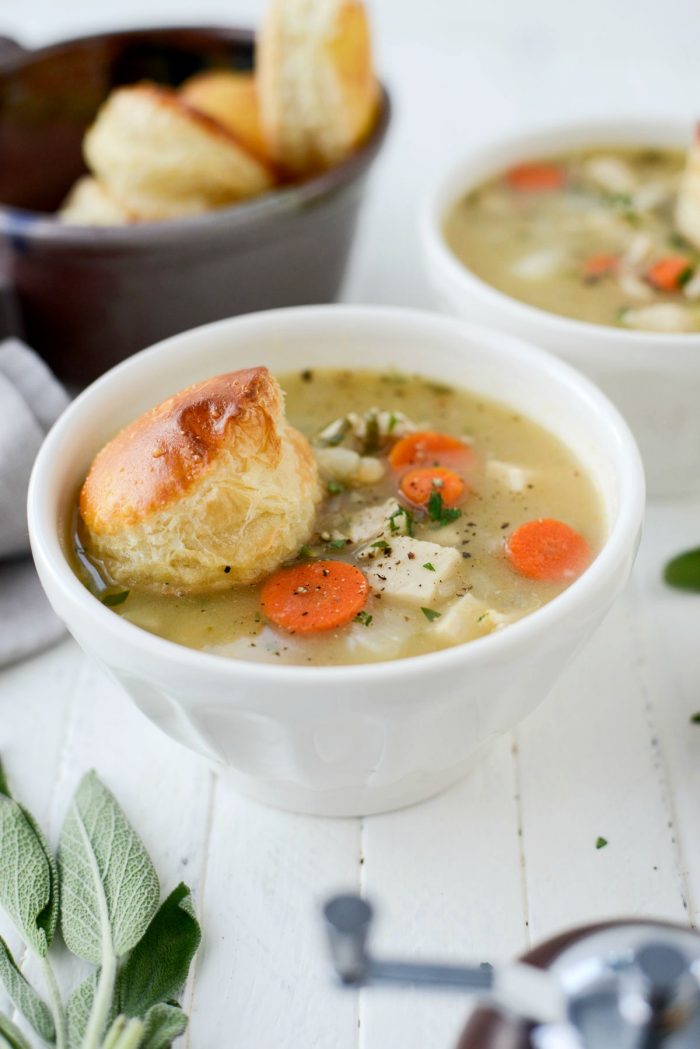 Crumbled up and mixed into this soup, it's ridiculously delicious.
This comforting recipe is great way to use up leftover turkey form thanksgiving. A from scratch soup that's slightly creamy, majorly delicious and filled with turkey pot pie goodness. Your friends and family will think you picked it up from a local deli or sandwich shop.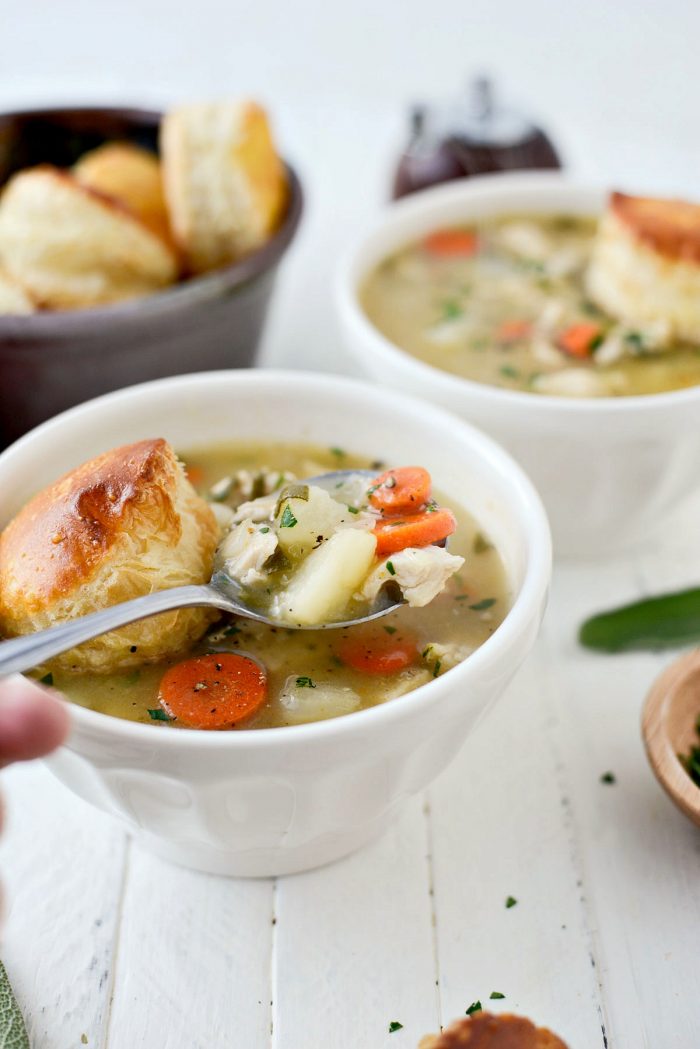 Enjoy! And if you give this Turkey Pot Pie Soup recipe a try, let me know! Snap a photo and tag me on twitter or instagram!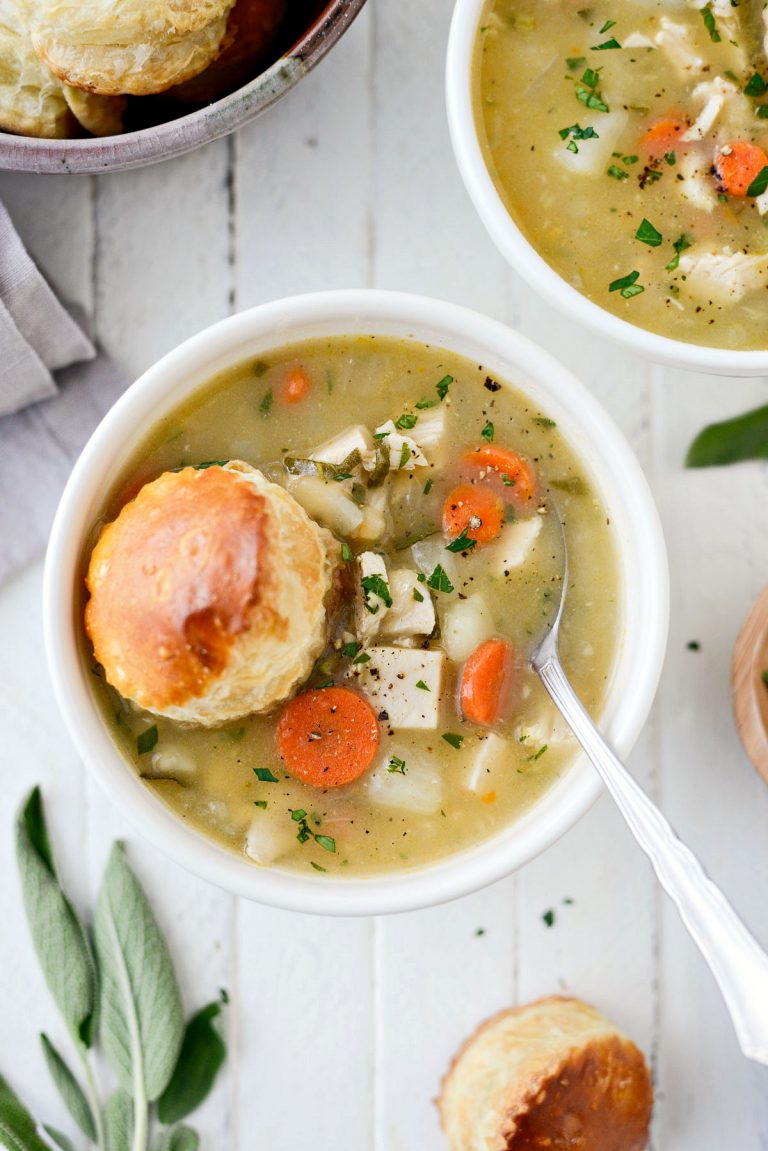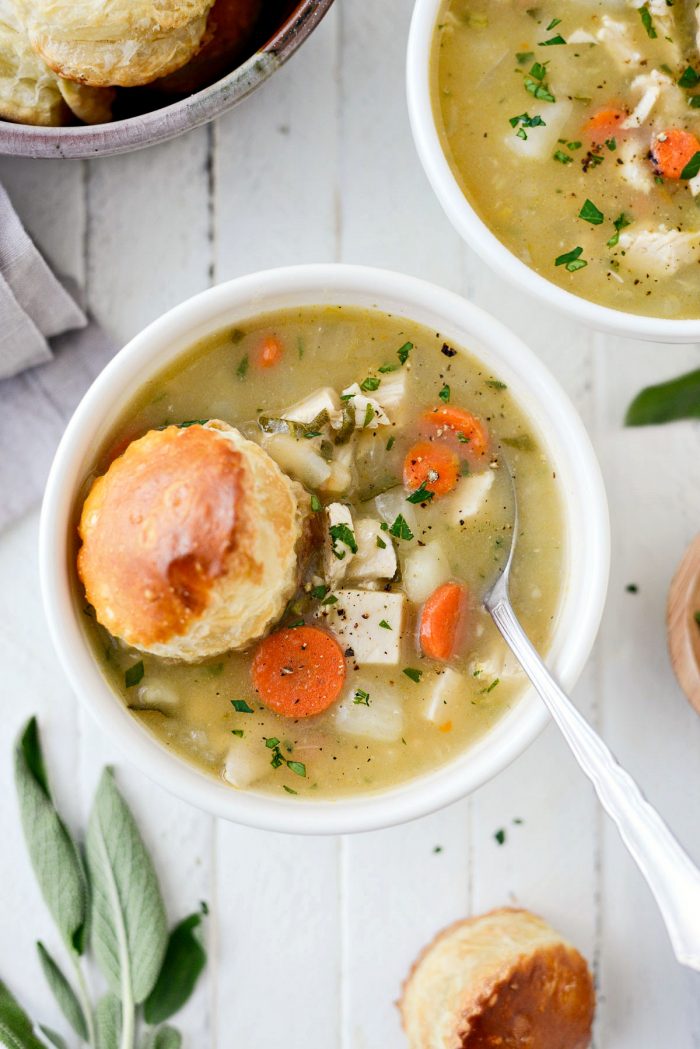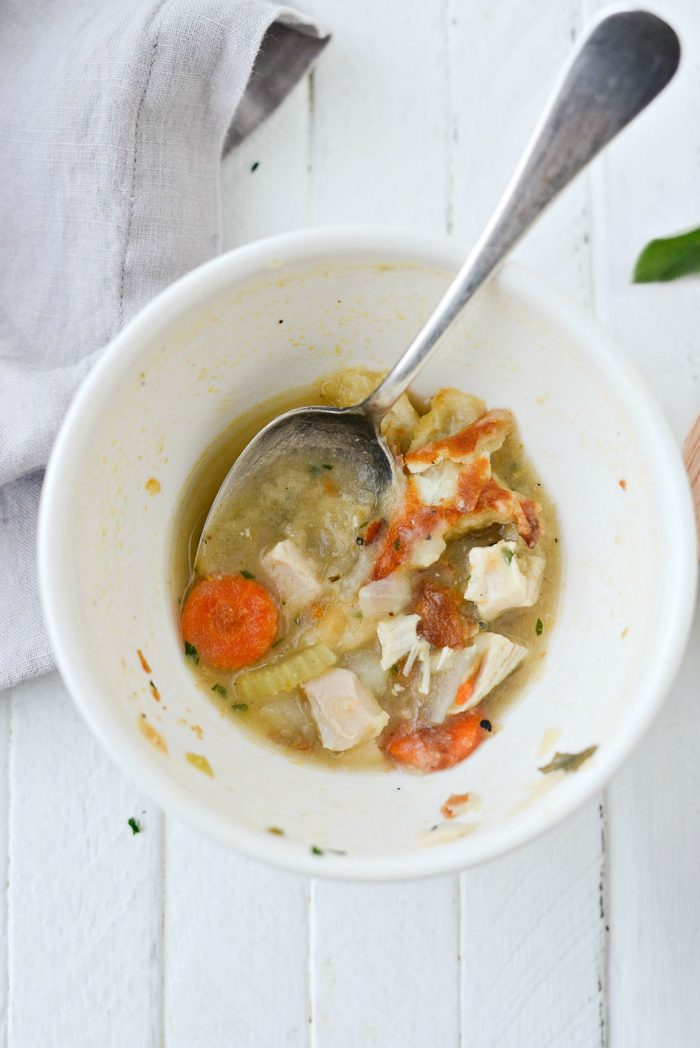 This post may contain affiliate links.
Buy the Cookbook: Simply Scratch : 120 Wholesome Homemade Recipes Made Easy Now available on Amazon »
THANK YOU in advance for your support!