Fresh and fun, these Strawberry Lemon Pancake Muffins are pancakes in muffin form. Pancake-y batter studded with strawberries and lemon zest. To make this breakfast complete, smear with a little butter and drizzle with real maple syrup. Light and fluffy and delicious.
Pancake muffins are a favorite in our house. It all started with these muffins here and today I thought I would mix that pancake-y muffin batter with some strawberries and lemon zest, because why not? If these pancake muffins don't perk your morning right up I don't know what will.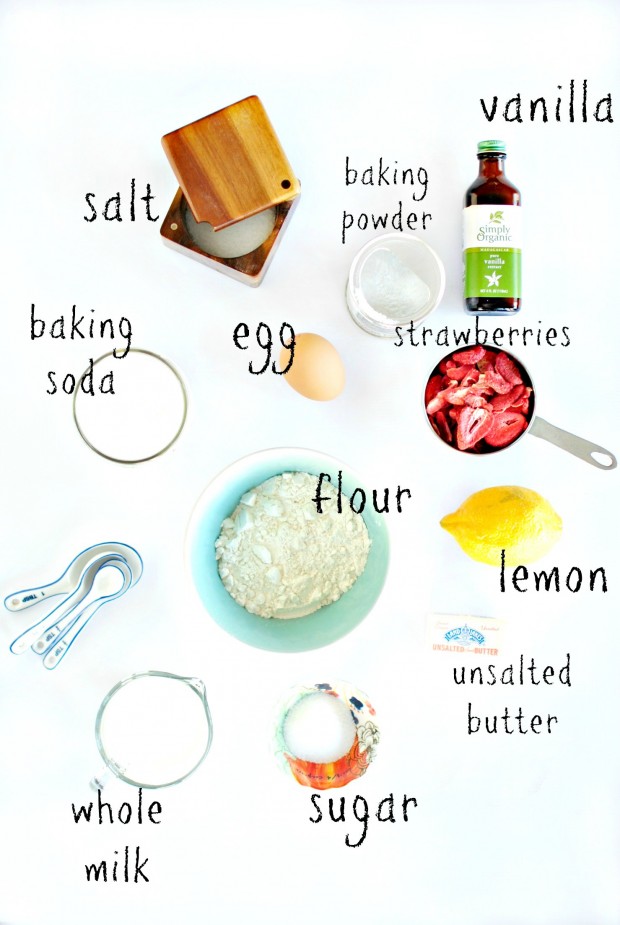 So I have a thing with buying strawberries in the winter. I just can't do it. I'm not knocking anyone who does, it's purely a personal thing and well, I'll just leave it at that.
However, back in the summer I bought some dehydrated strawberries from Whole Foods, thinking that these would come in handy during the winter when I start going nut-so and start craving summer. To be honest, I was a little nervous about trying these dehydrated strawberries, why? Who knows. But I really didn't notice much of a taste difference and since they were dried, they retained that pretty, vibrant red color, even after baking.
Don't have dried strawberries? Not a problem just use fresh. You really can't go wrong!
Start out by measuring and adding a cup of flour, plus a teaspoon of baking powder, a half teaspoon of baking soda and then a quarter teaspoon of kosher salt.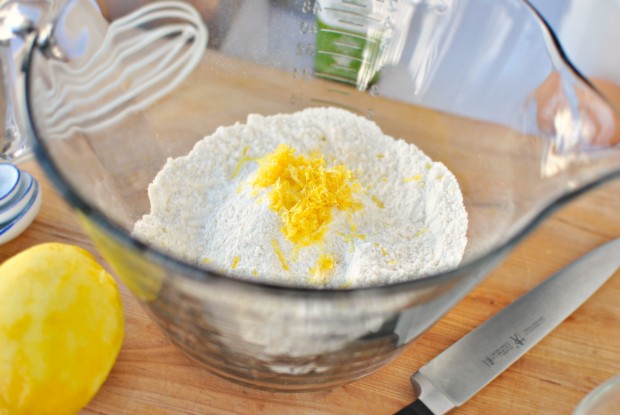 Next, grate in the zest from an entire lemon, whisk and set aside. I love the smell of lemon zest.
Then in a smaller bowl, pour in 2/3 cup of whole milk…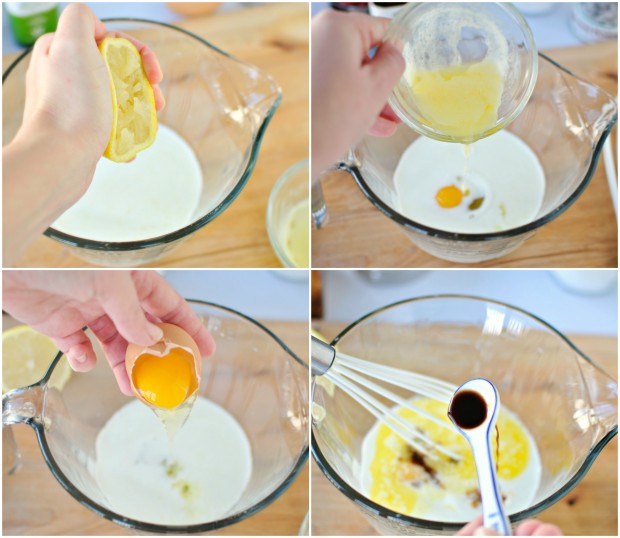 Next, squeeze in about a teaspoon of lemon juice, two tablespoons of melted and cooled butter, one large egg and then a half teaspoon of pure vanilla extract.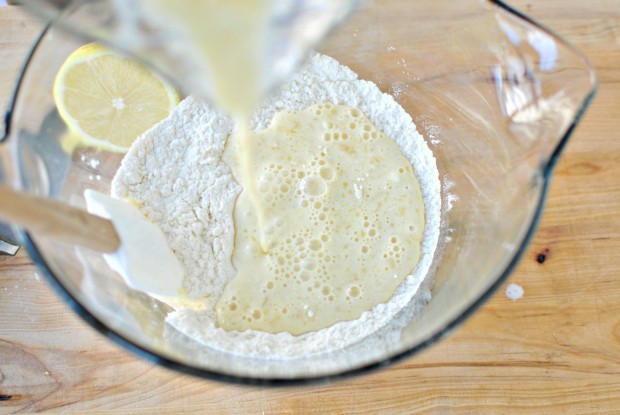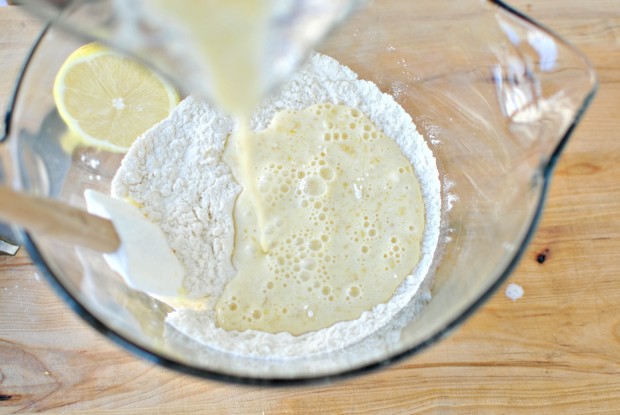 And then whisk to combine and pour into your dry ingredients.
Then mix and add in the strawberries. In a way they remind me of those Lucky Charm marshmallows, not that I buy that junk… unless I'm on vacation or something. mmhmm yeah.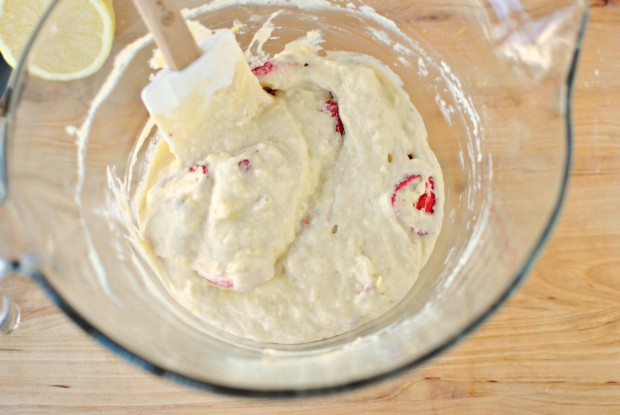 And then stir to combine.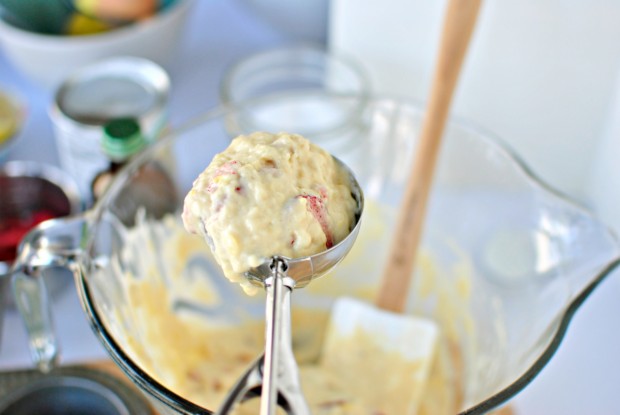 Next scoop about 3 to 4 tablespoons of batter…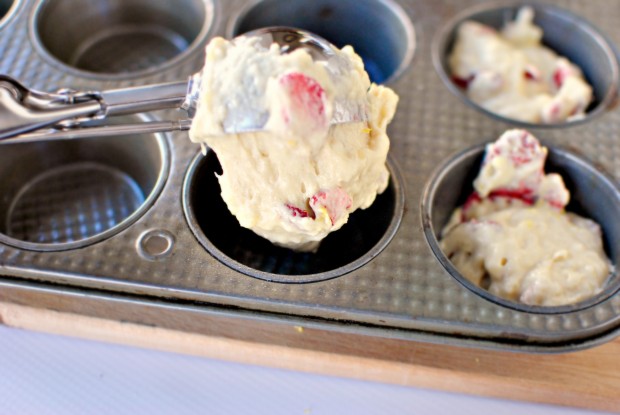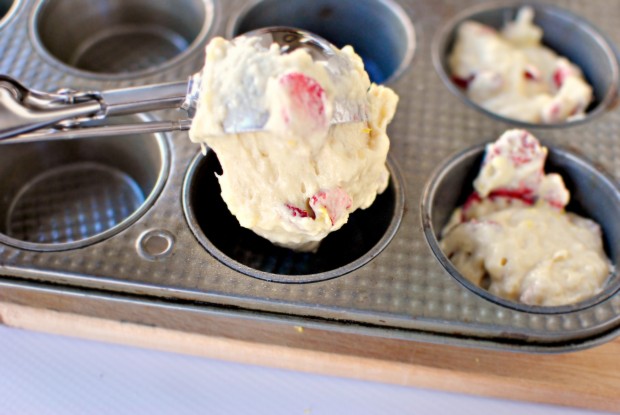 And then dropped the dough into each of the muffin slots. Bake at 350° for 12-15 minutes.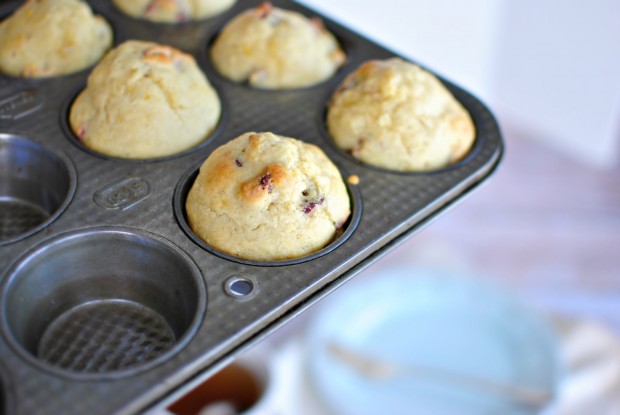 Finally, let these cool for 10 minutes, before running a knife around the edges and carefully removing them from the pan.
Serve these warm with some butter and a drizzle of maple syrup.
Luckily this recipe only makes six.
That means, four for me and one for each of my kids. Because that's fair right? 😉
Enjoy! And if you give this Strawberry Lemon Pancake Muffins recipe a try, let me know! Snap a photo and tag me on twitter or instagram!
My cookbook Simply Scratch : 120 Wholesome Homemade Recipes Made Easy is now available! CLICK HERE for details and THANK YOU in advance!
[this post contains affiliate links.]
This post may contain affiliate links.
Buy the Cookbook: Simply Scratch : 120 Wholesome Homemade Recipes Made Easy Now available on Amazon »
THANK YOU in advance for your support!