Try this chocolate pie crust with your next pumpkin or pecan pie! It's so easy and chocolaty!
I have an idea. Take all of your (okay so maybe not all of them) favorite fall pies and swap out its regular pie crust for chocolate one!
Can't ya just picture it? Pecan pie with a chocolate pie crust- ding! Pumpkin pie with a chocolate pie crust- DING-DING! Winner-winner let's have pie for dinner?!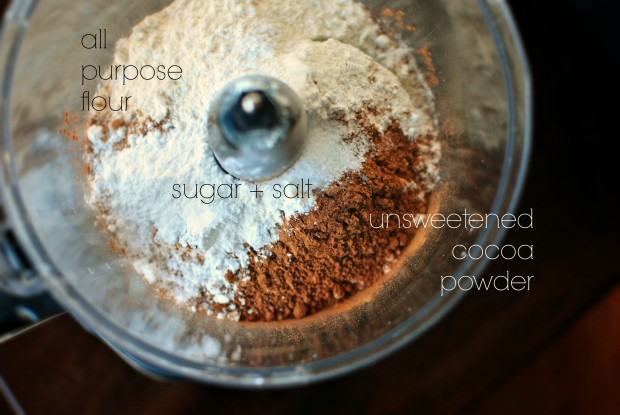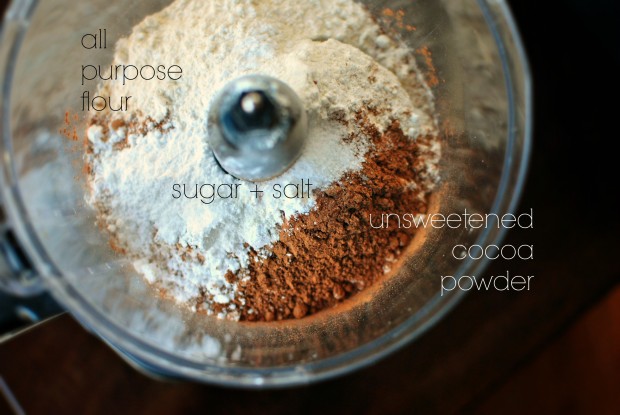 So basically this is my regular pie crust with a wee bit of cocoa and sugar.
I swear it's not complicated. It's pretty much fool-proof. Hey if I can do it, you can do it.
So start by throwing the flour, cocoa, sugar and salt into the bowl of your food processor.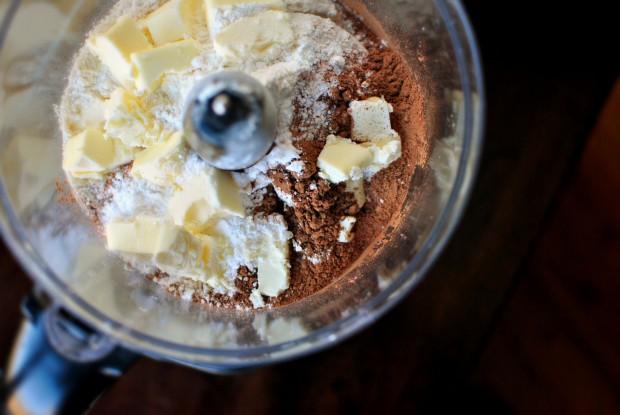 I probably should have pulsed this first before adding butter, but I was overly eager and excited to make a chocolate crust that I just plowed forward without even thinking. This wasn't the first of the many times I did this throughout the day.
Either way I pulsed the bejesus out of it until the butter was the size of small peas.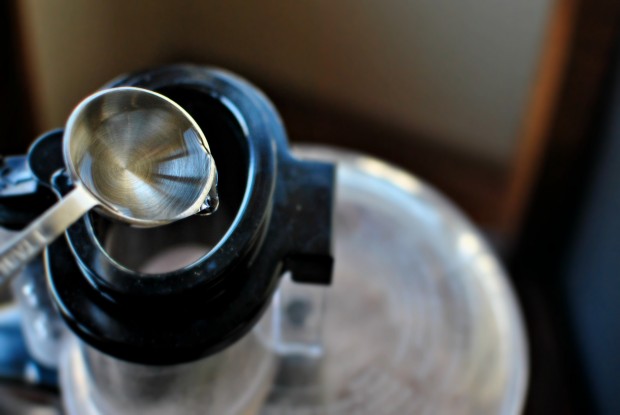 Then with the food processor on, I slowly poured in a few tablespoons of ice-cold water.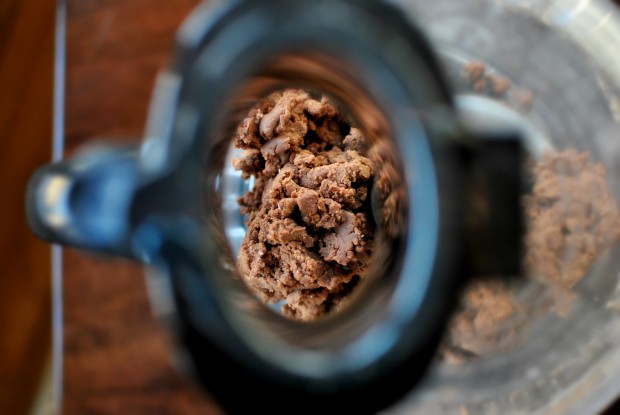 I stopped my processor when large wet clumps started to form.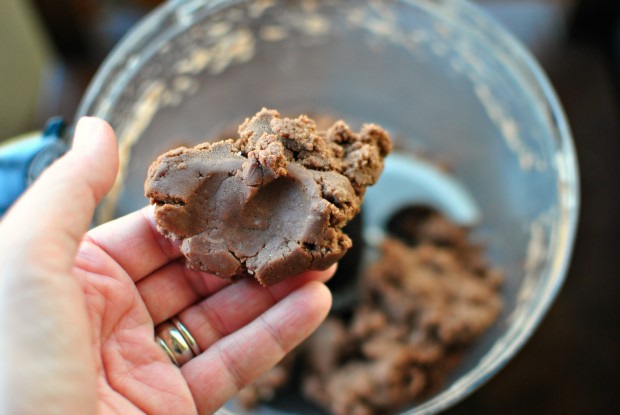 The consistency should remind you of play dough. Now who sees the heart?
Pat it into a disc…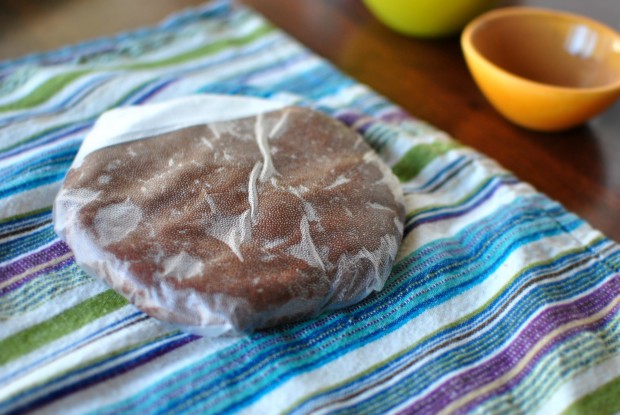 …and wrap it up tight in plastic wrap or stick the whole thing in a ziplock bag. Then just pop it into the fridge to chill for 30 minutes.
Once it's chilled, unwrap it and let it sit for 8-10 minutes on a clean, lightly floured surface.
Using a rolling pin, slowly roll out the dough until it is about a quarter of an inch thick… I think. I should really invest in a ruler. But honestly it doesn't have to be perfect.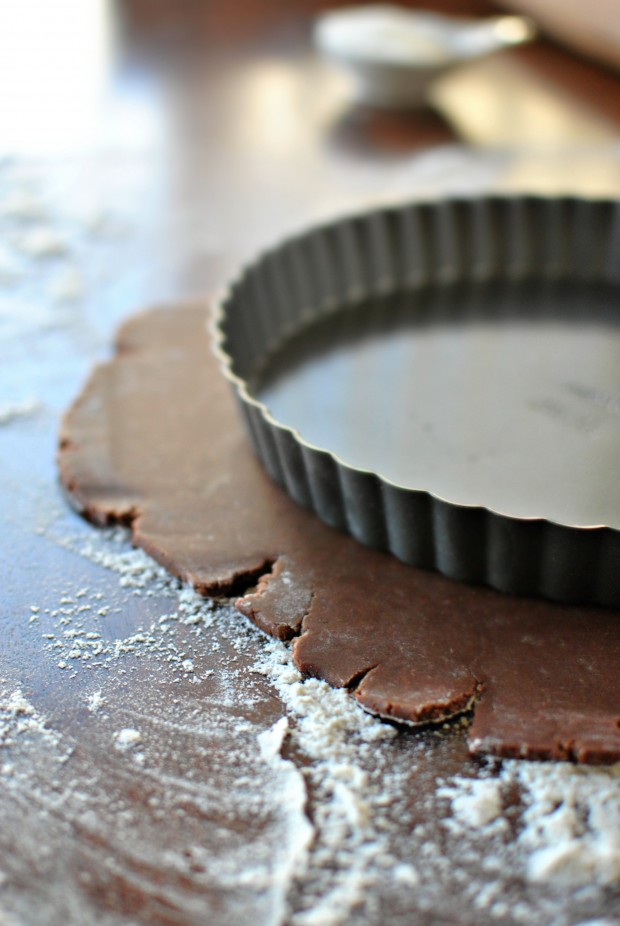 I set the tart or pie plate on the dough to check that it will fit.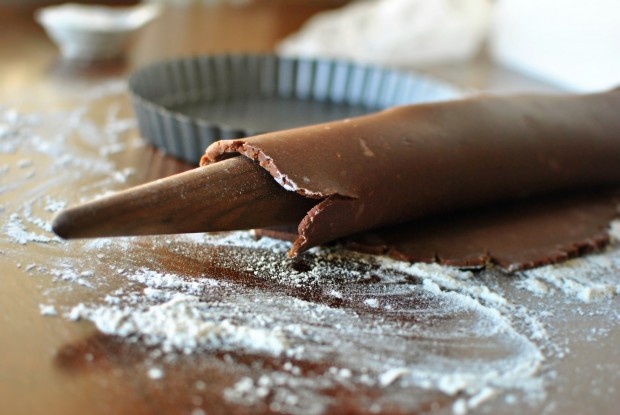 Then I roll up the dough onto my rolling pin.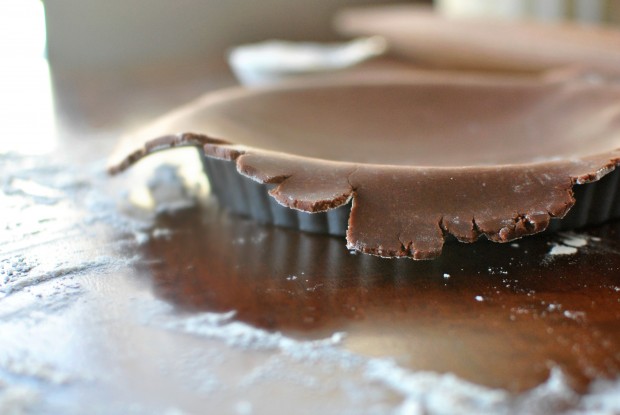 And carefully drape it over the pan.
With your fingers press the dough so it forms to the pan.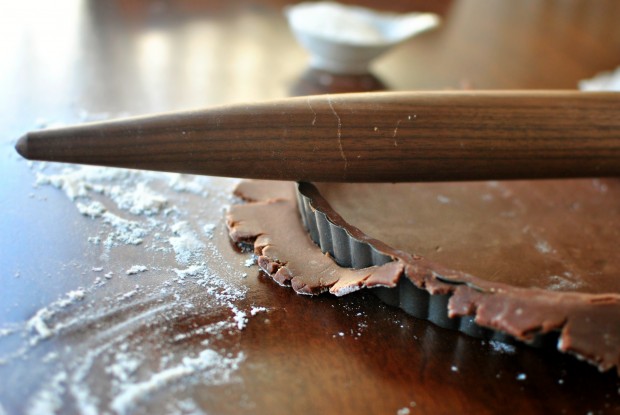 Then gently roll the rolling pin over top so the tart pan literally will trim the dough itself.
If you're making a pie, you can simply trim off any excess leaving an inch overhang, fold the dough under and with your fingers, crimp the edge.
Now this is only part one of a two-part recipe. It's getting late and I still need a little extra time to finish editing and writing that post… but I promise you will get that recipe tomorrow or Friday.
Now in other news… I may or may not have baked up the extra dough-trimmings and snacked on them… I'll never tell.
Enjoy! And if you give this Chocolate Pie Crust recipe a try, let me know! Snap a photo and tag me on twitter or instagram!
My cookbook Simply Scratch : 120 Wholesome Homemade Recipes Made Easy is now available! CLICK HERE for details and THANK YOU in advance! 
[this post contains affiliate links.]
This post may contain affiliate links.
Buy the Cookbook: Simply Scratch : 120 Wholesome Homemade Recipes Made Easy Now available on Amazon »
THANK YOU in advance for your support!