These Rhubarb Almond Breakfast Bars are so delicious! I used my homemade rhubarb jam and stuffed it inside of an oat crust.
Breakfast that masks itself as dessert is more than alright in my world.
Think about it; there's oatmeal, jam and almonds… which are the makings for a great start to the morning. These homemade breakfast bars fooled my kids into thinking they were having a treat, awesome! Who has two thumbs and is the coolest Mom like evah? This girl.
Believe it or not, I made these bars at midnight Thursday night/Friday morning. I was editing the photos and writing the post for the roasted rhubarb jam recipe for the next day when I suddenly was craving the jam. I like reeeally needed to have it and so I thought why not make a quick basic crumble crust and spread the rhubarb jam over top and bake it for a fun breakfast in the morning?
So I set up my table top light and a white board and started shooting. The whole thing took 35 minutes and filled my house with a mouth-watering aroma.
First, start my measuring out the oats, flours, coconut and salt into a medium sized bowl.
And then give it a stir to combine.
Next pour in the third cup of melted butter, stirring until the butter has absorbed the flours and crumbles have formed.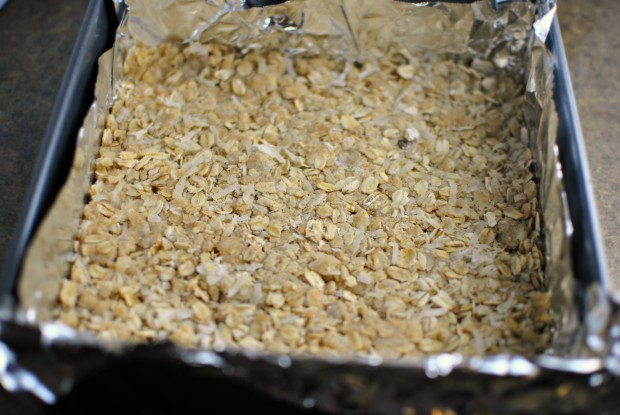 Press about two-thirds of the oat mixture into a lightly greased and foil-lined 8×8 baking pan.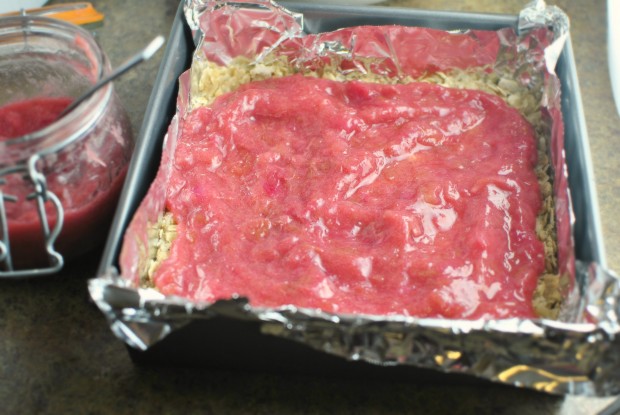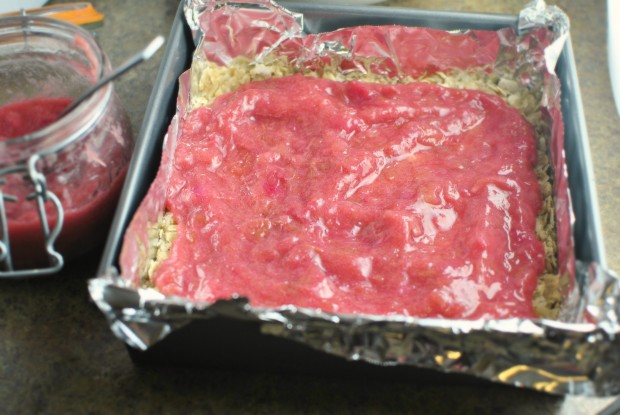 Next spread a cup of the roasted rhubarb jam (or jam of your choice) over the top of the oatmeal crust.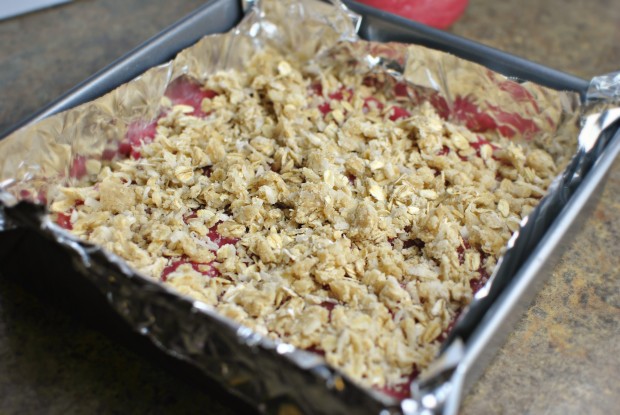 Then sprinkle with the remaining crumble topping and pop it into a preheated 350° oven to bake for 15 minutes.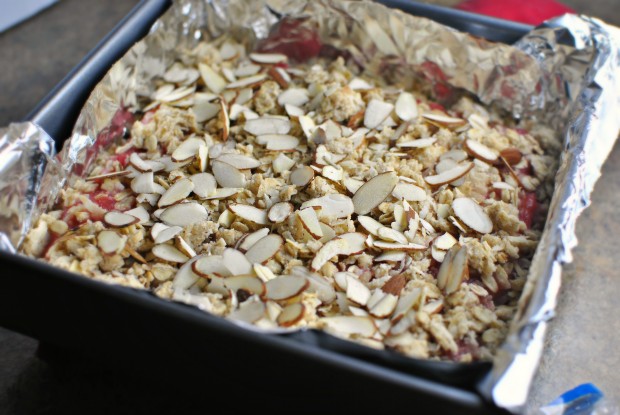 Next remove and sprinkle with sliced almonds. I add these halfway through baking so they don't burn. Now place the bars back into the oven for 10 to 15 more minutes.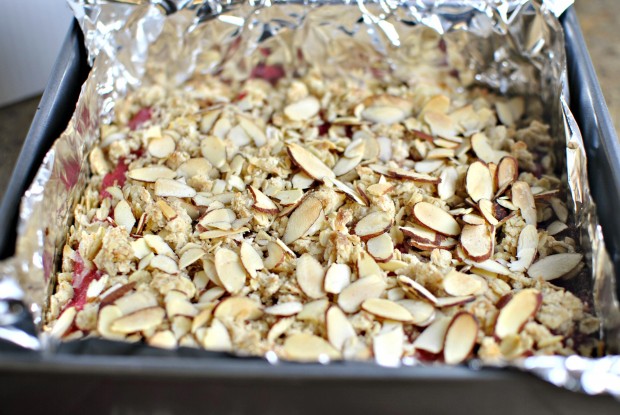 Finally, remove and let cool completely before cutting.
The coconut and the rhubarb jam add just the right amount of sweetness without making these bars too sweet. And then there is the chewy texture of the oatmeal crust and the crunchy almonds which is absolutely heavenly.
Finally, grab yourself a fork, a cup of coffee or oj and a giant piece of the breakfast bar and dig in.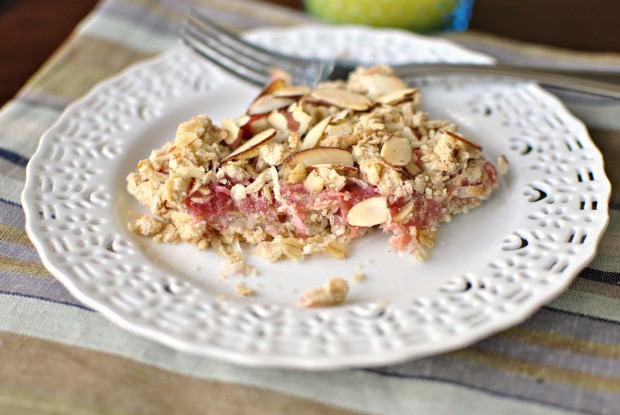 Amen.
Enjoy! And if you give this Rhubarb Almond Breakfast Bars recipe a try, let me know! Snap a photo and tag me on twitter or instagram!
My cookbook Simply Scratch : 120 Wholesome Homemade Recipes Made Easy is now available! CLICK HERE for details and THANK YOU in advance!
[this post contains affiliate links.]
This post may contain affiliate links.
Buy the Cookbook: Simply Scratch : 120 Wholesome Homemade Recipes Made Easy Now available on Amazon »
THANK YOU in advance for your support!