Caramelized Balsamic Glazed Brussels Sprouts is a simple side dish loaded with flavor. Brussels sprouts caramelize in bacon fat and tossed with crispy bacon, sautéed onions, garlic and tangy balsamic glaze. Yields 6 in 30 minutes.
There's actually a great story behind this sprout recipe.
I have learned that there is a generation of folks who grew up eating steamed-to-death brussels sprouts, i.e. my parents. Sprouts so over-cooked beyond repair that when my parents were married, my mom promised my dad that she would never make them and my dad promised he would never eat them.
Fast forward: Christmas Eve 2012 and I'm making these Caramelized Balsamic Glazed Brussels Sprouts to go with prime rib. Already aware of my dad's dislike for sprouts so I made green beans too, just in case. We were standing in my kitchen when I turned to my dad and said: "C'mon dad… just try them! There's bacon and onions and what doesn't taste amazing where bacon is involved?"
And then I promised him he could ditch the rest on his plate in the garbage if he didn't like them and my feelings wouldn't be hurt a bit.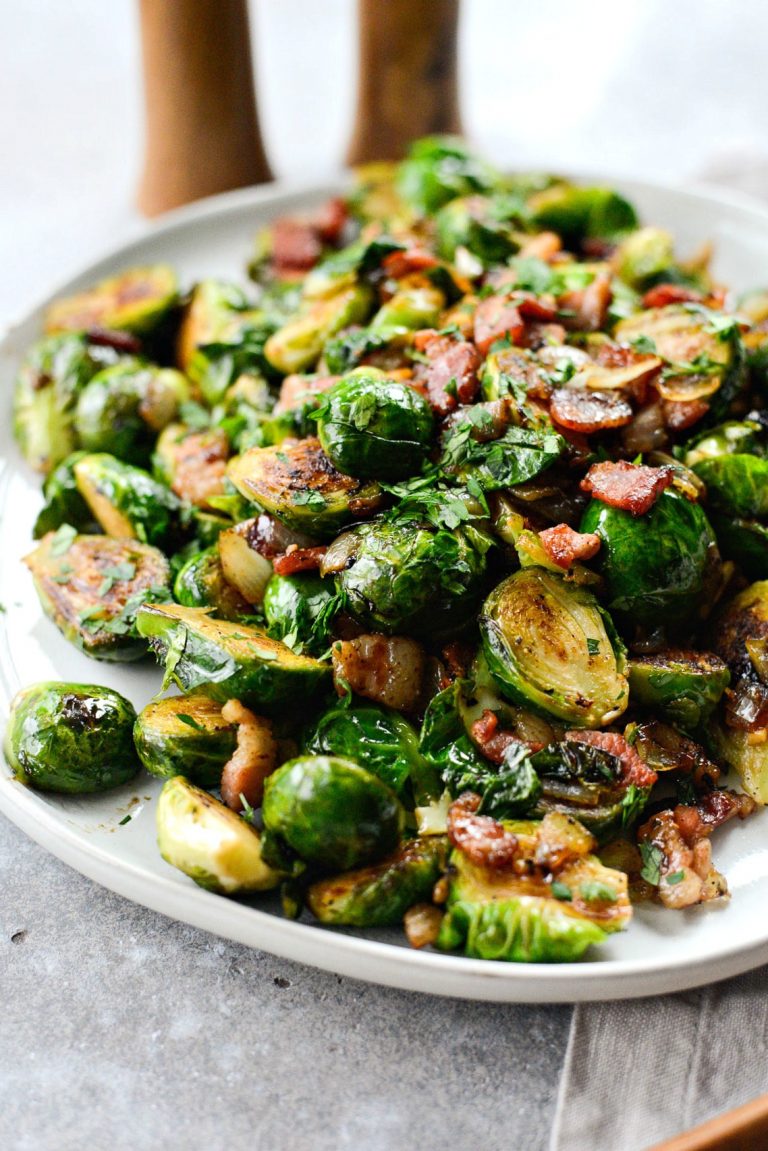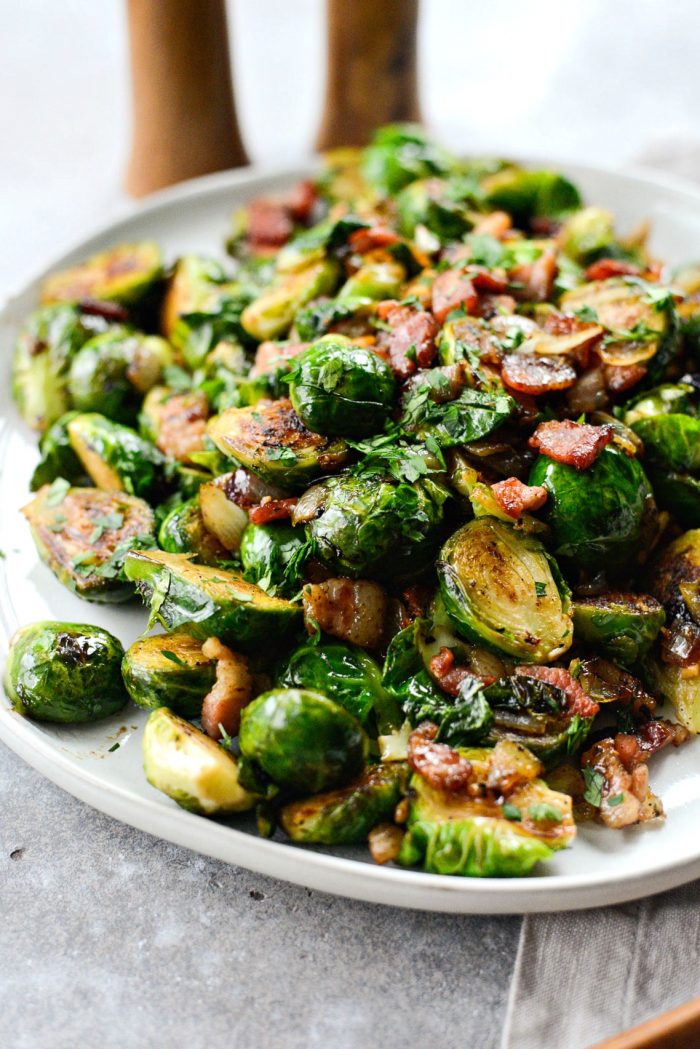 Well guess what? He agreed to it and he took a bite. You guys he actually liked them! In fact I think it's safe to say he loved them. My dad even told his sister, my Aunt Kathy in Texas about them and then she emailed me for the recipe. Winning!
I honestly can't believe that I got my dad, who probably hasn't had a brussels sprout in 50 years err a long time to try one and then he had a plateful! It took all I had to not do a happy dance right then and there.
To Make These Caramelized Balsamic Glazed Brussels sprouts You Will Need:
bacon
yellow onion
brussels sprouts
garlic (not pictured)
kosher salt
freshly ground black pepper
balsamic glaze (homemade or store-bought)
minced fresh parsley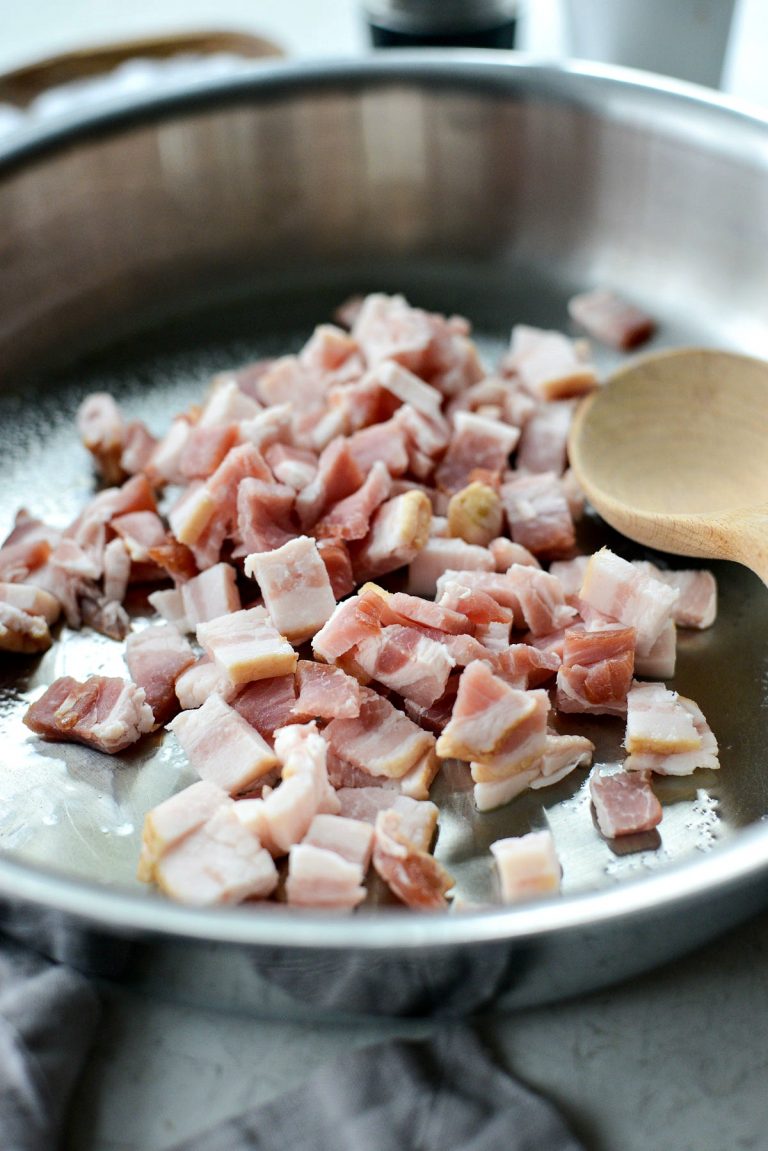 Start by lightly spraying a large 12-inch skillet (one that has a lid) with olive oil and add in the 4 strips of diced thick-cut bacon. Heat on medium and cook for 5 minutes.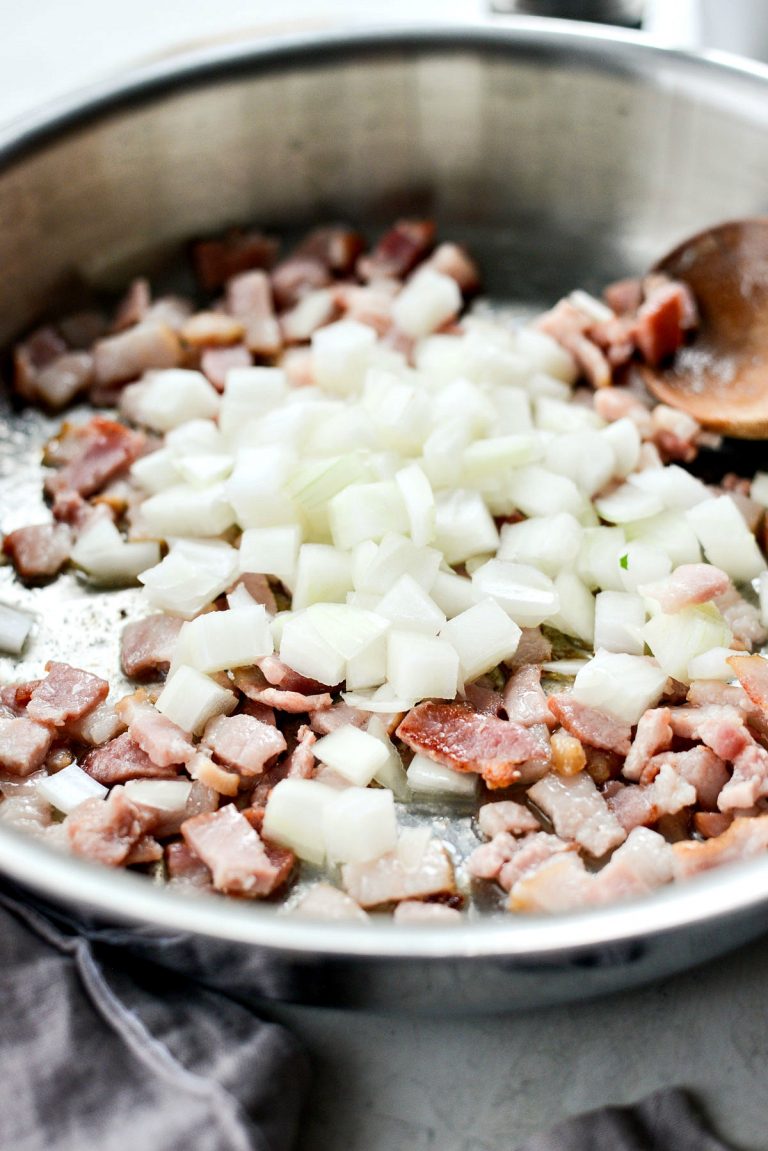 Add 1 cup diced yellow onion to the bacon, stir and cook until the bacon is crispy and the onions are soft and translucent. Use a slotted spoon to transfer the bacon and onions to a plate, leaving the fat in the pan.
While the bacon crisps and the onions soften, trim the ends off of a pound and a half of fresh brussles sprouts and cut in half.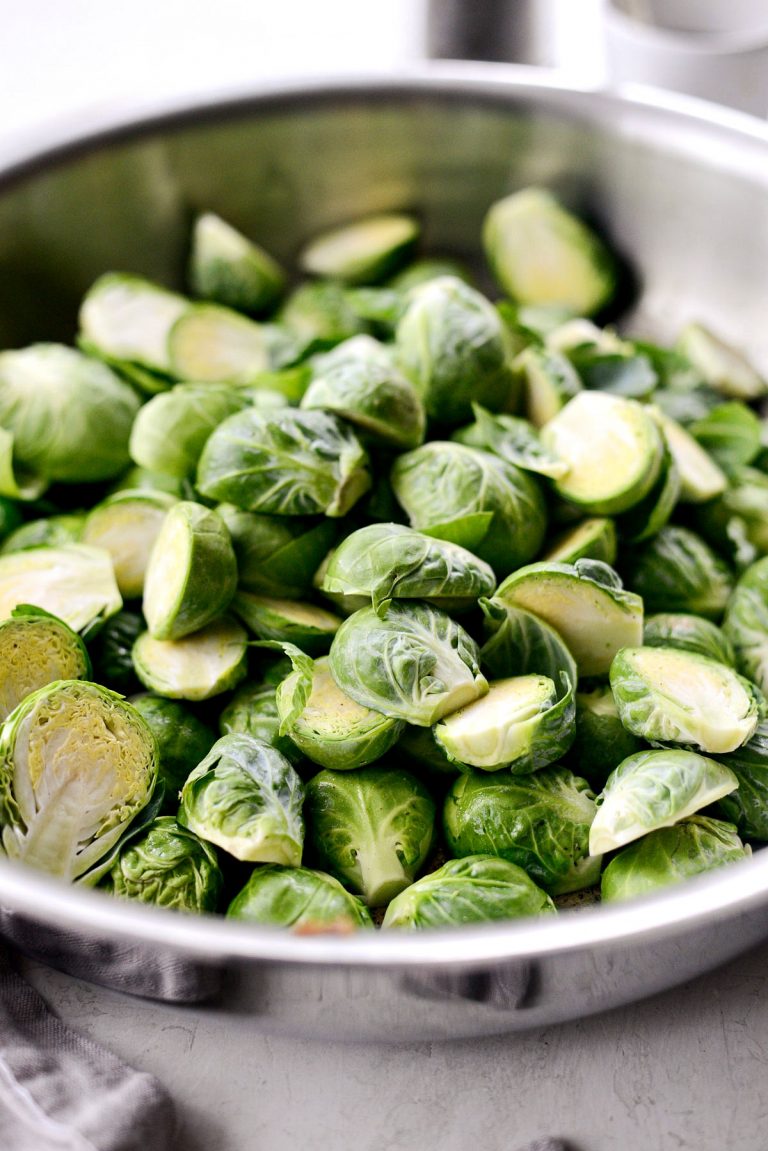 Place the first layer of brussels sprout half cut-side down into the pan, before adding the rest in. This is why a big skillet helps, because there's more surface area to caramelize the sprouts.
Once the brussels are all in, place a lid on and let the steam start to soften the sprouts for about 8 to 10 minutes.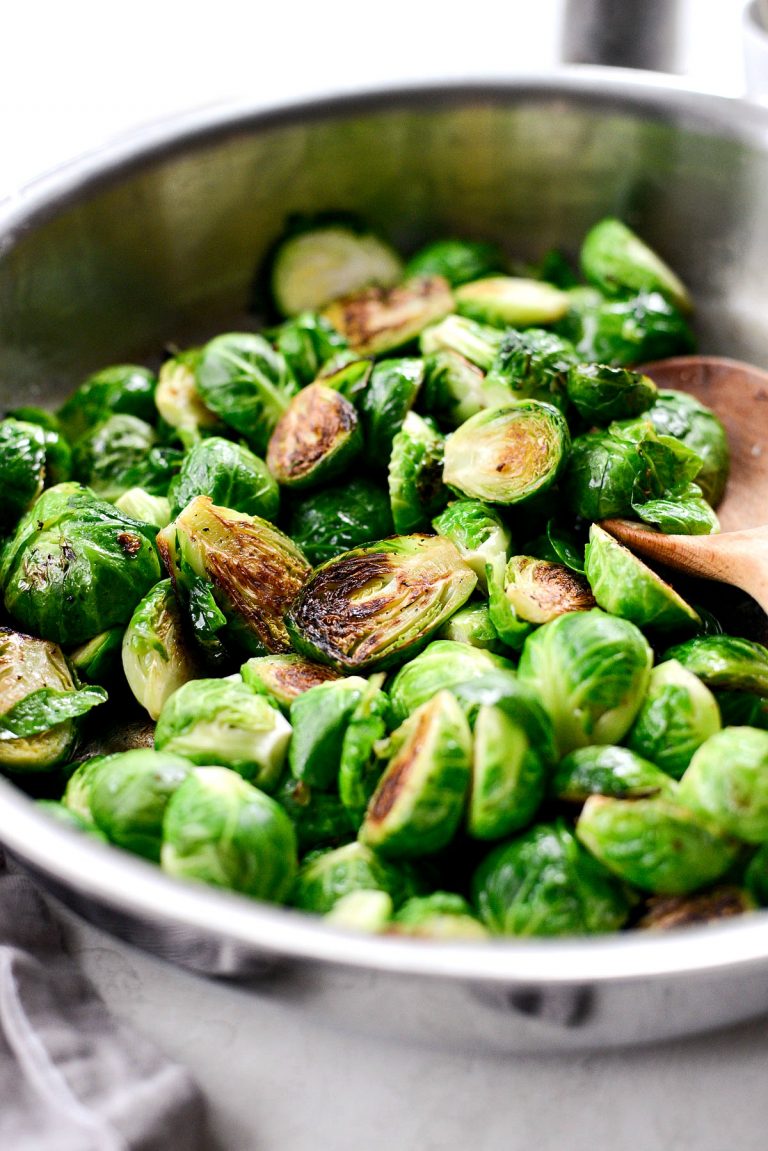 After 5-8 minutes, stir and appreciate the golden underside of those sprouts!
Gorgeous!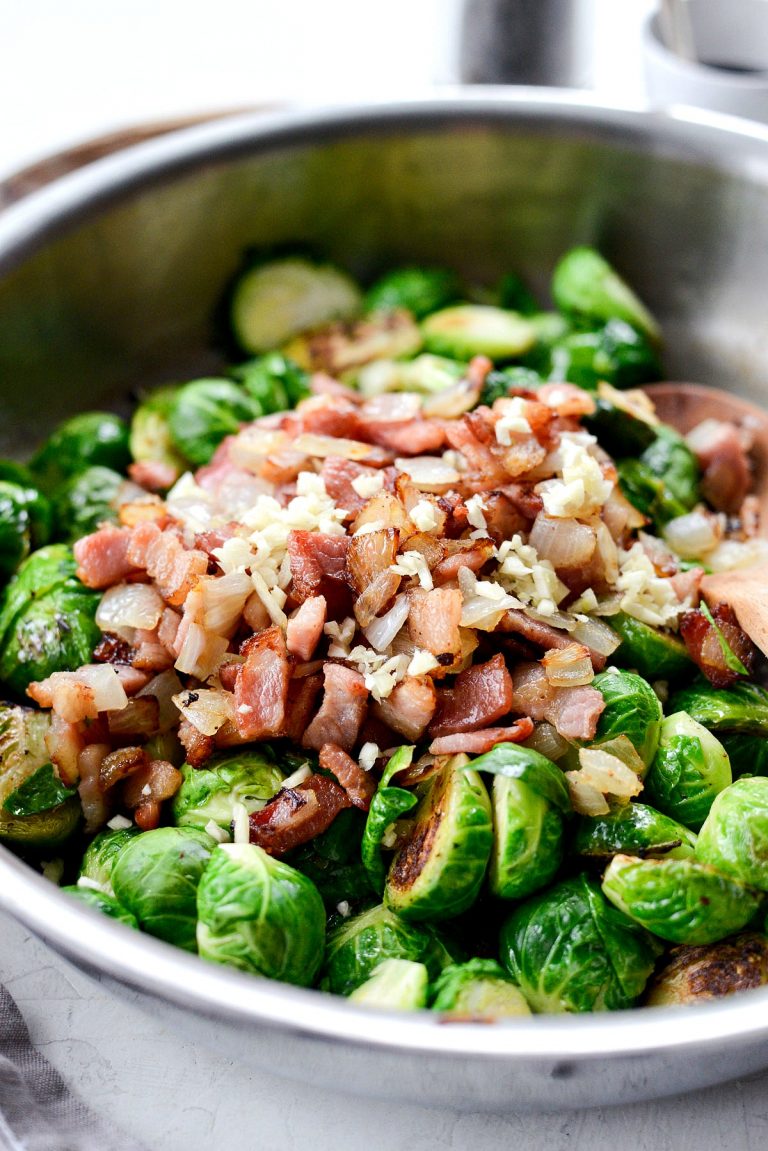 Add the bacon and onions back in along with 2 cloves minced fresh garlic, Season with a few pinches of kosher salt and lots of black pepper. Stir to combine. Continue to cook the sprouts until they are fork tender yet still firm.
Remember, nobody likes soggy sprouts… nobody.
Lastly, drizzle in about two tablespoons of reduced balsamic or balsamic glaze and toss to combine.
Everything should be nicely coated in that tangy glaze.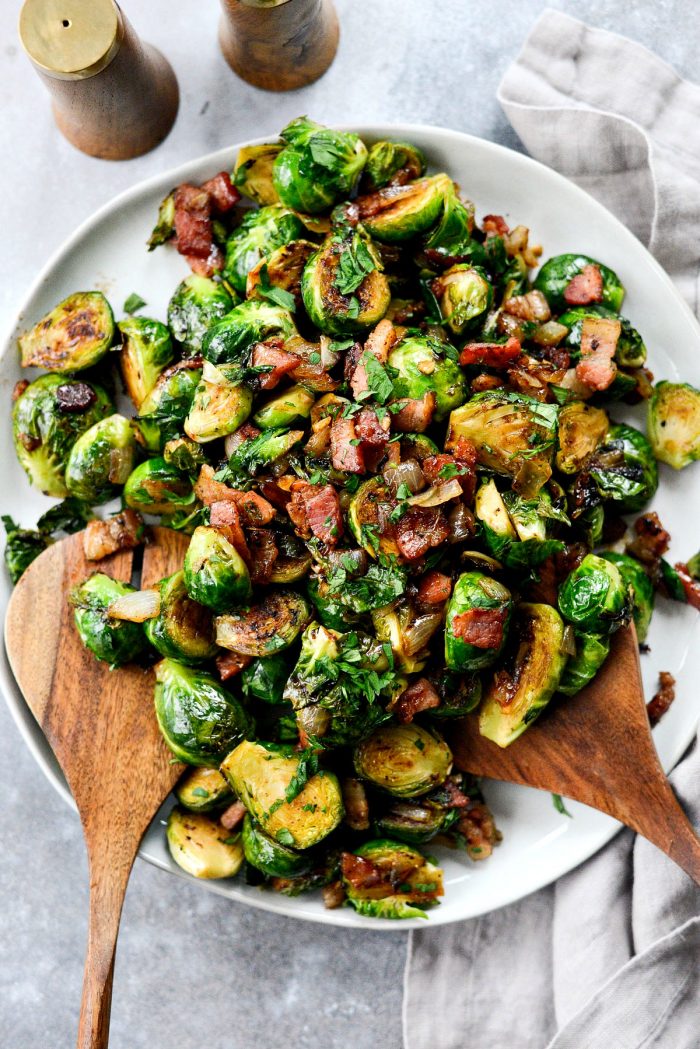 Serve on a platter with a sprinkle of minced fresh parsley.
That's it! A simple side dish packed full with flavor and BACON. You guys are gonna love these Caramelized Balsamic Glazed Brussels Sprouts! And I can guarantee these will turn any sprout-hater into a brussels sprout lover!
Enjoy! And if you give this Caramelized Balsamic Glazed Brussels Sprouts recipe a try, let me know! Snap a photo and tag me on twitter or instagram!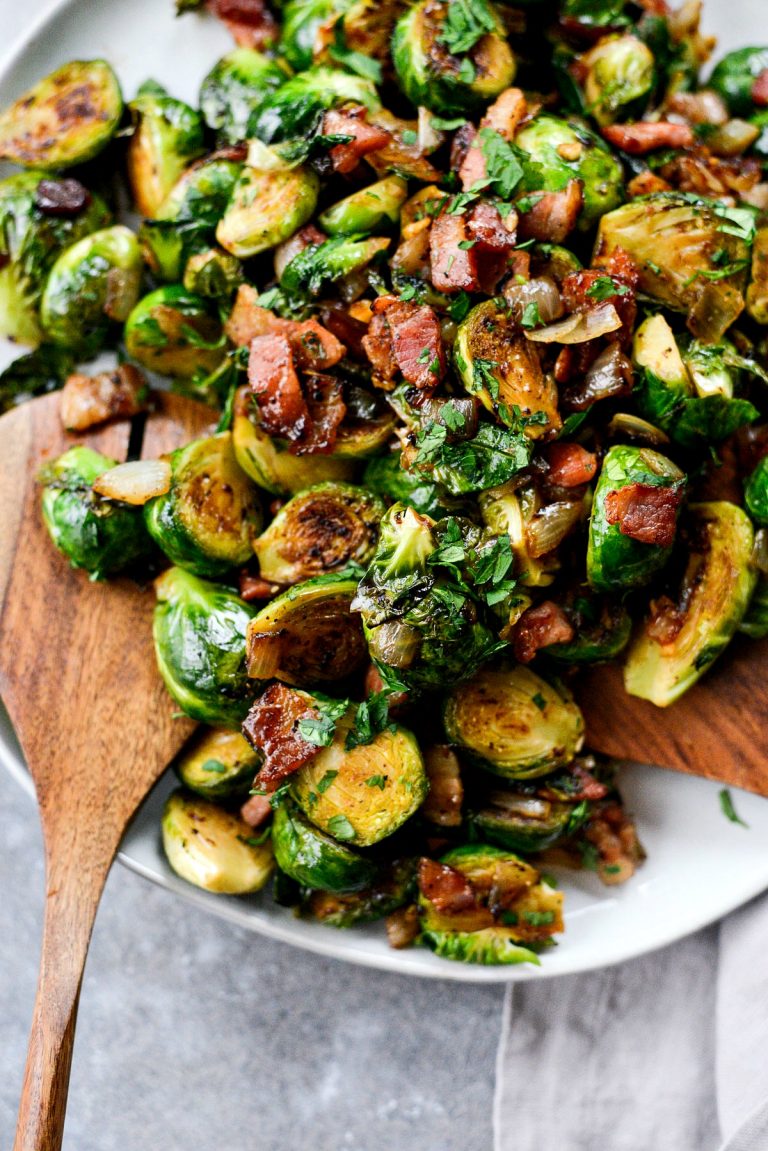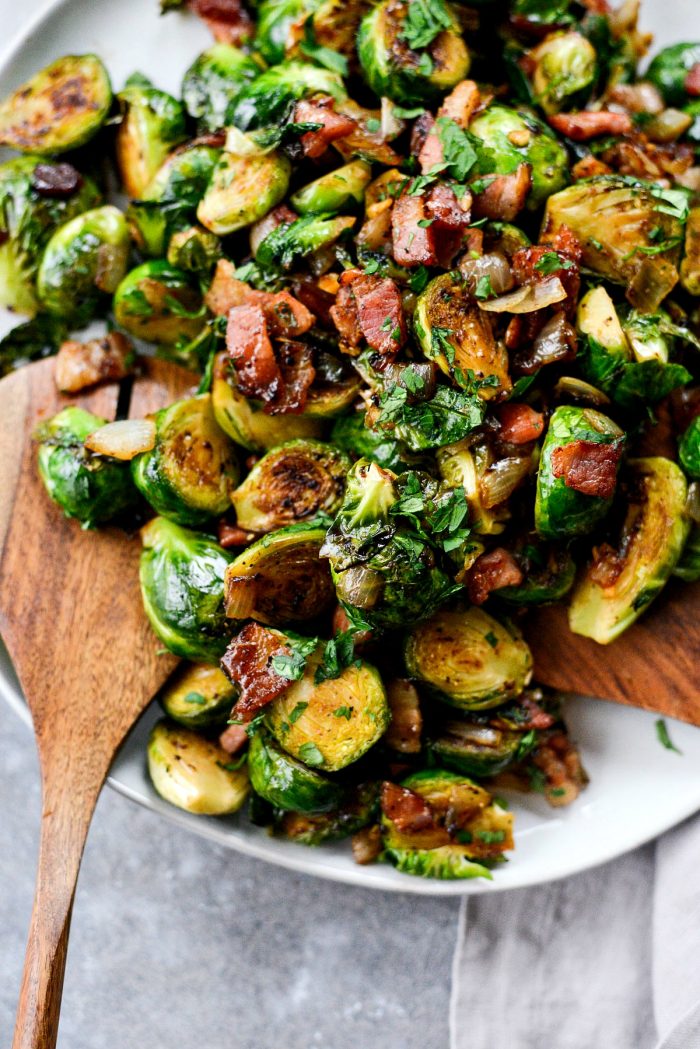 This post may contain affiliate links.
Buy the Cookbook: Simply Scratch : 120 Wholesome Homemade Recipes Made Easy Now available on Amazon »
THANK YOU in advance for your support!