This easy Homemade Chicken Noodle Soup is my go to recipe when I'm a little under the weather or wanting something cozy, but you don't need to be sick to enjoy this comforting soup! Homemade broth with tender vegetables, and chicken, and the best part, the Kluski noodles! So deliciously comforting and good for you too!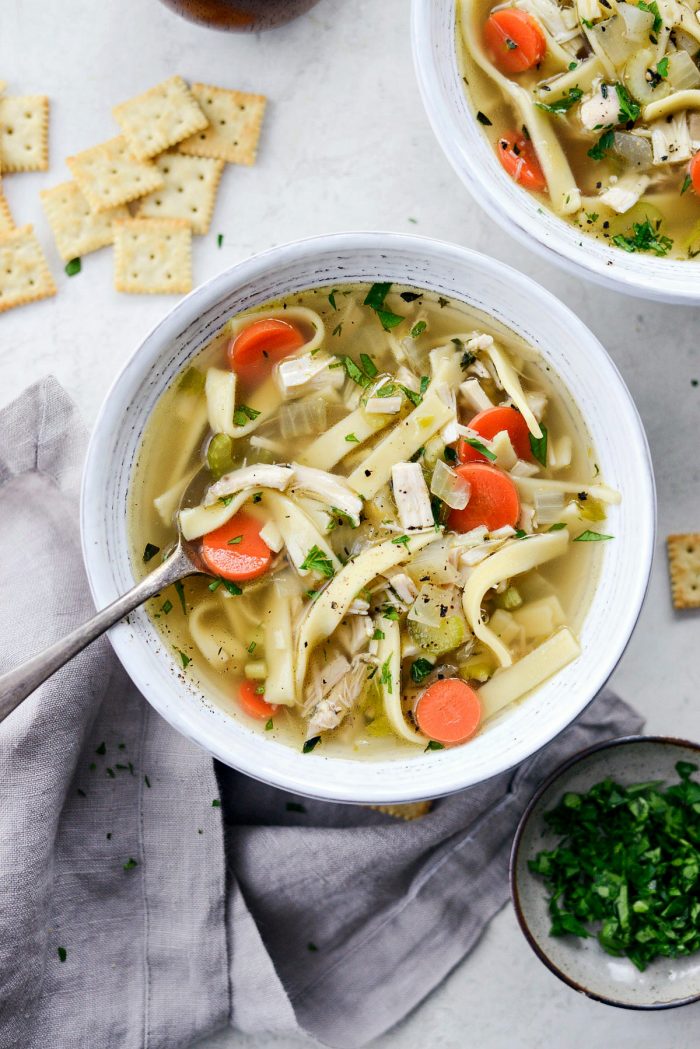 Last week everyone in the house had colds but me. I bragged about how "I really think it has to do with me working at a hospital. I'm like super immune or something."
And as if working in an ER with a bunch of sick patients all around isn't enough to make ya wish you walked around in a bubble, being at home… completely surrounded by sickness might be worse. AND I can only handle hearing so much sniffling and complaining before I wanna scream. So for dinner I made us all grilled cheese sandwiches and a big pot of chicken noodle soup and guess what… everyone's better!
But me.
After all the kiss-dodging, hand washing and Lysol spraying I still caught their colds. And now I'm sitting here with chapped lips, a wadded up tissue stuck up my left nostril and breathing through my mouth. Pretty glamorous huh? Yeah-not.
Anyone out there want to make me soup?
To Make The Homemade Chicken Stock For The Soup You Will Need:
leftover bones from a cooked chicken (more on this later)
carrots
celery
yellow onion
parsley
thyme (fresh)
bay leaf
black peppercorns
water
How I Make the Whole Chicken For THE soup:
Place a whole chicken in your slow cooker with carrots, celery, onion, 1 cup of broth and sprinkle in a generous amount of poultry seasoning. Cook it on low and slowly for 7 to 8 hours. I then carefully remove the chicken (usually it's falling apart) and when safe to handle, I pick the meat from the bone – saving both and discarding the skin. Next I pour the cooking liquids into a fat separator and once separated, pour out the juices leaving the fat behind. Save the liquids and discard the fat. The bones, meat and cooking liquids are used in this soup! Essentially, I follow this recipe (as far as the method for slow cooking) substituting in the poultry seasoning.
Drizzle a couple teaspoons of extra light olive oil into a heavy bottom pot.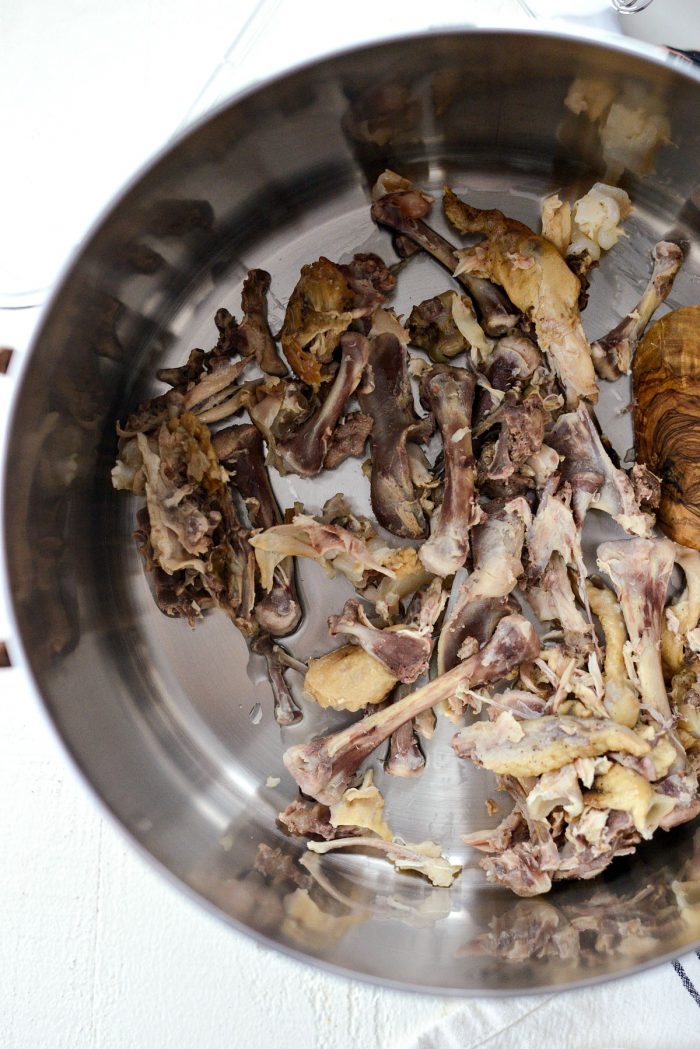 Add in the bones from the chicken you prepared earlier. Heat on medium-high heat and cook for 8 minutes.
Meanwhile, prep some veggies. For the stock, you will need 2 carrots, 2 celery, 1 medium, yellow onion (root removed, papery skin left on), 4 to 5 sprigs of fresh thyme, 6 to 8 parsley sprigs, 1 bay leaf and a heaping 1/2 teaspoon whole peppercorns.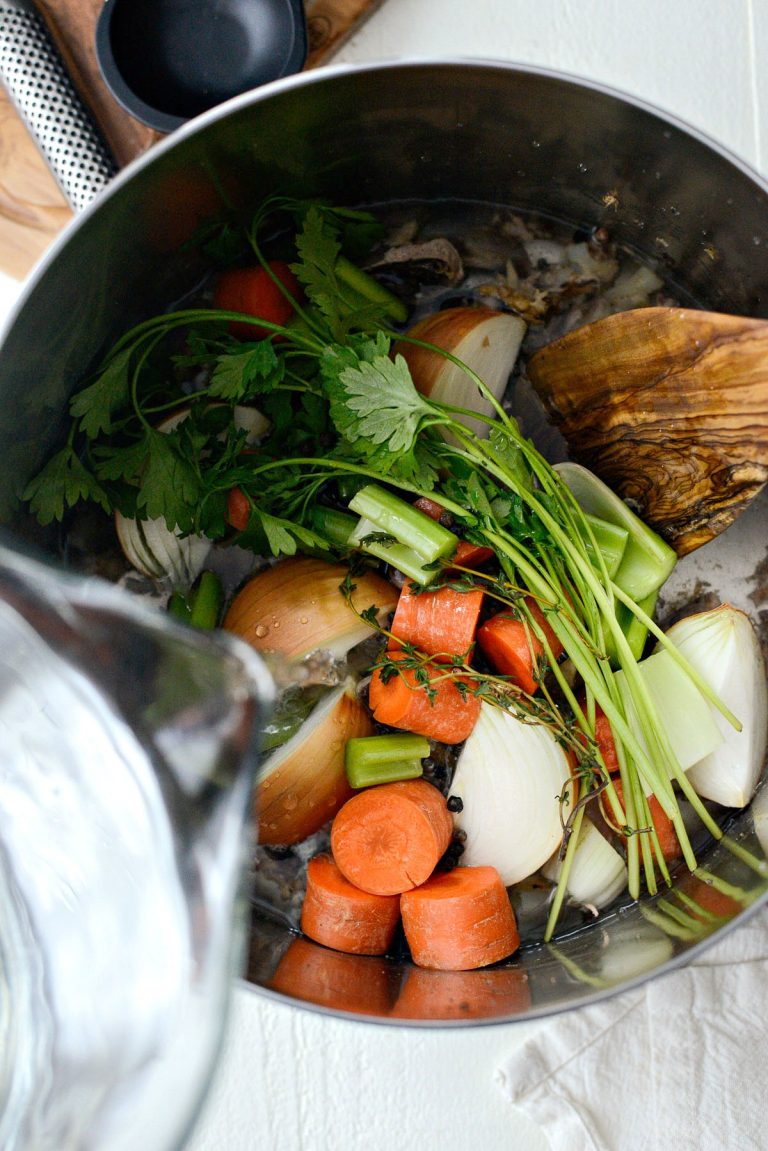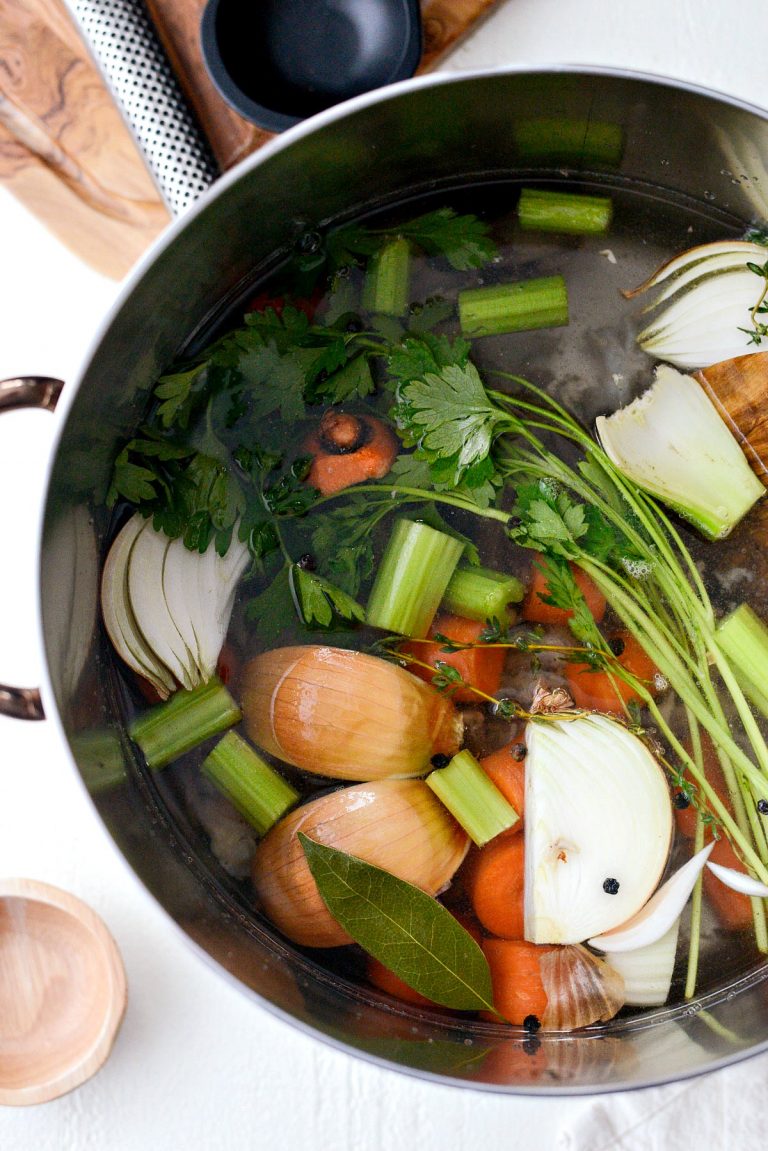 Once the bones have cooked, throw in the carrot, celery, onion, parsley, thyme, bay leaf and peppercorns. Pour in the 10 to 12 cups of filtered water and use a wooden spoon or spatula to scrape any brown bits that are stuck on the bottom of the pan.
If I have 2 cups of liquids after slow cooking a chicken, I only use 10 cups of water.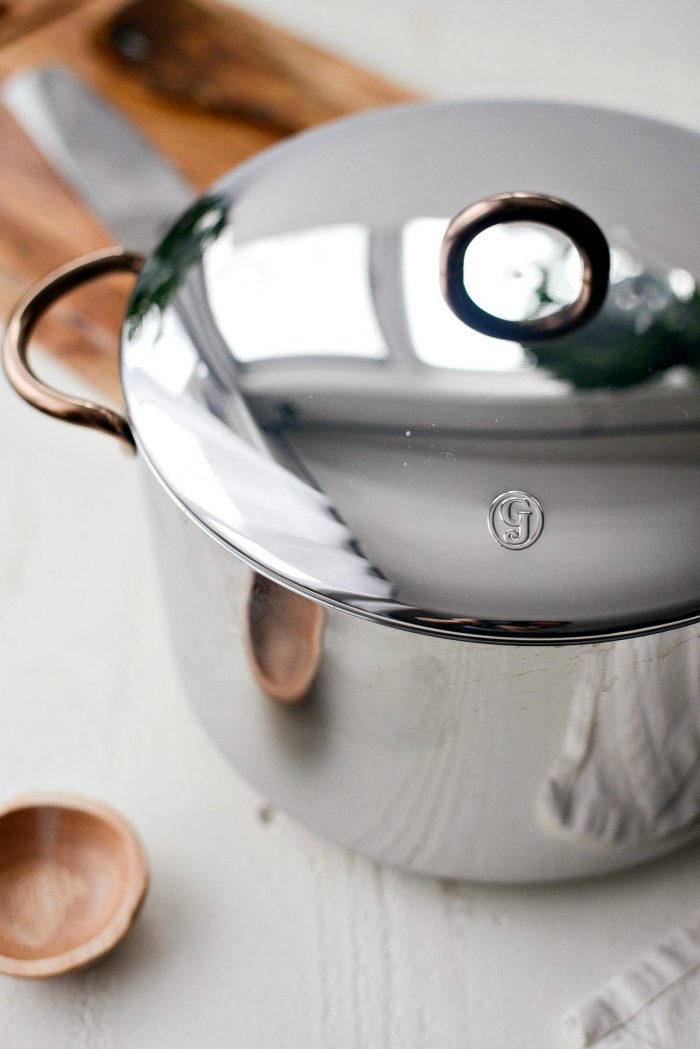 Cover and bring to a boil, then reduce the heat to medium-low for 1 to 1-1/2 hours.
To Make This Homemade Chicken Noodle Soup You Will Need:
olive oil
yellow onion
celery
carrot
thyme
slow cooker cooking liquids
chicken stock (from above recipe)
6 ounces egg noodles (like Kluski)
2 cups chopped cooked chicken
kosher salt
freshly ground black pepper
In the last 20 minutes or so of the stock simmer, prep the soup veggies. Diced 1 medium yellow onion, slice two carrots and two celery stalks and roughly chopped a teaspoon of fresh thyme leaves.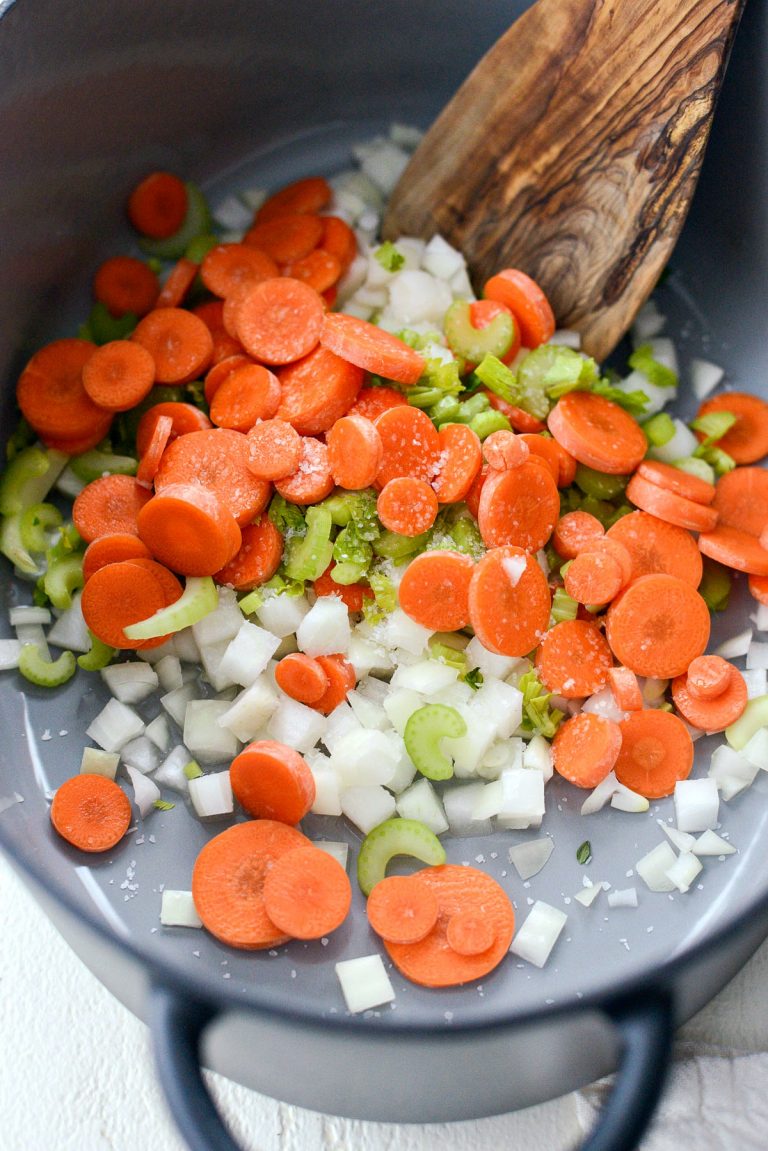 Next, pour 2 teaspoons of olive oil in a large dutch oven and add in the prepared onion, celery and carrots with a generous pinch of kosher salt.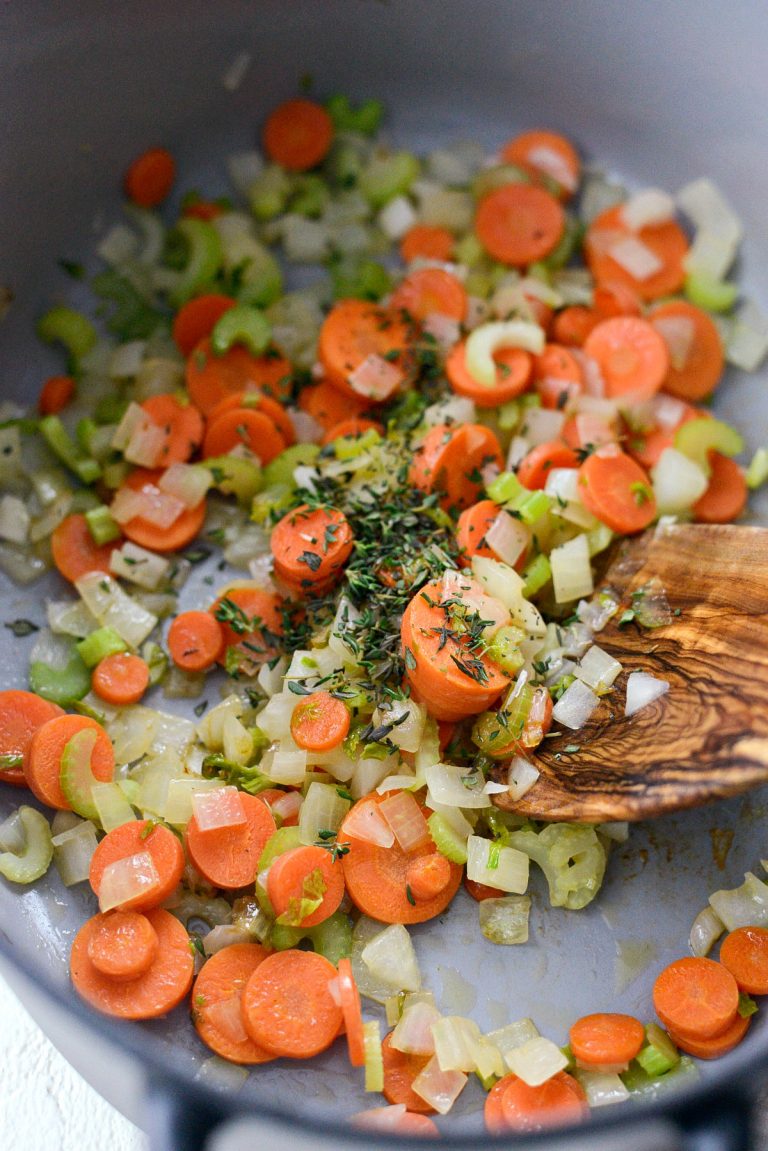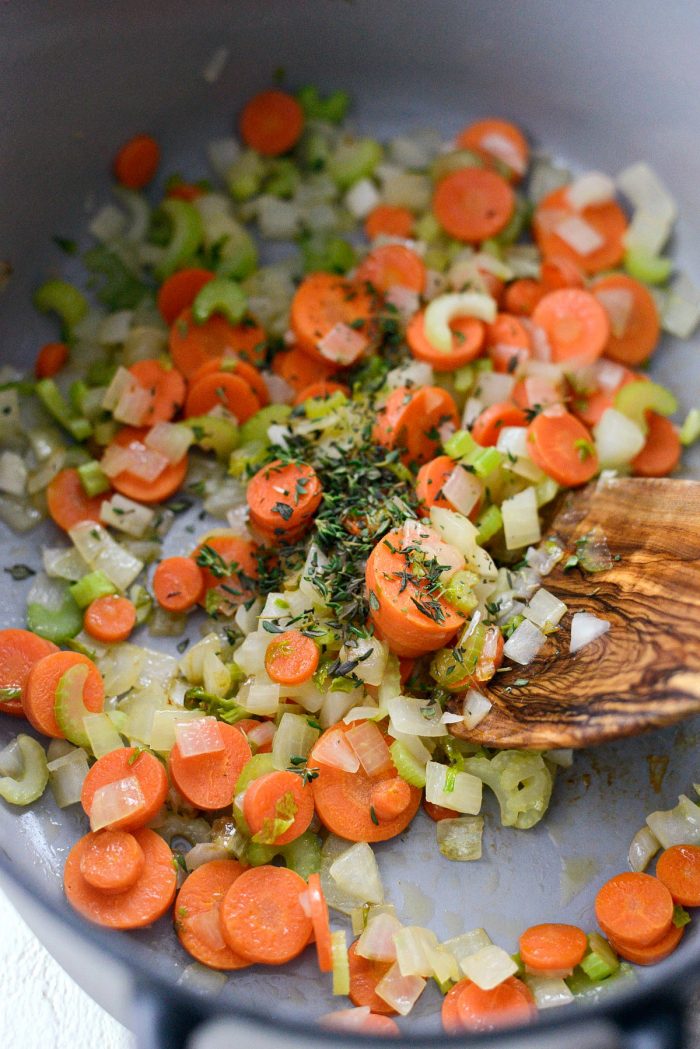 Stir , cover and cook for 8 to 10 minutes (stirring occasionally) or until the vegetables are tender. Then add in the minced fresh thyme, stir and cook 1 minute.
Next add in the leftover cooking liquids (if you have them) from slow cooking your chicken. If congealed, they will melt once they are in the hot pot.
Smells incredible.
When the stock has finished simmering, use tongs to remove any large vegetables or bones.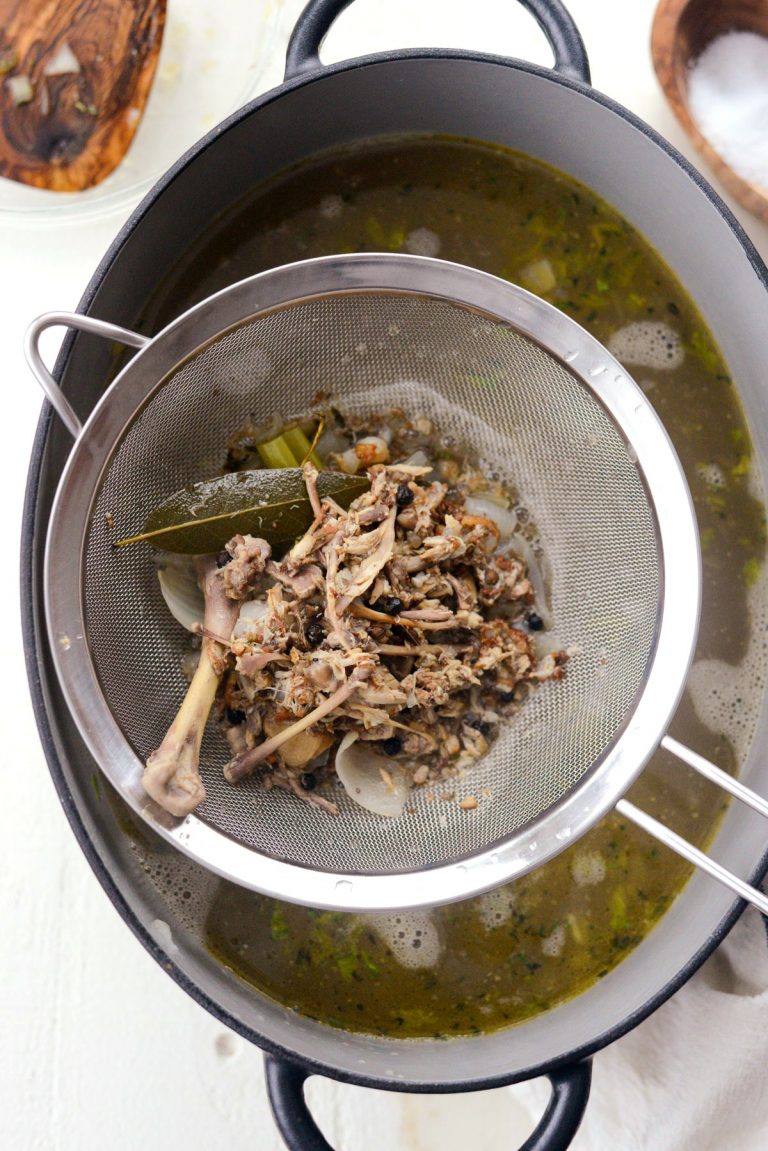 Set a sieve over the soup pot, and pour the stock you just made through it to catch any remaining bones or vegetables. Cover the pot and keep warm over low heat.
Meanwhile, bring a separate saucepan of water to boil. Add in a small palmful of sea salt and add in 6 ounces of the dried noodles. Cook according to the package directions or until al dente. Cooking the noodles separately keeps them from cooking in the soup and absorbing a lot of the broth.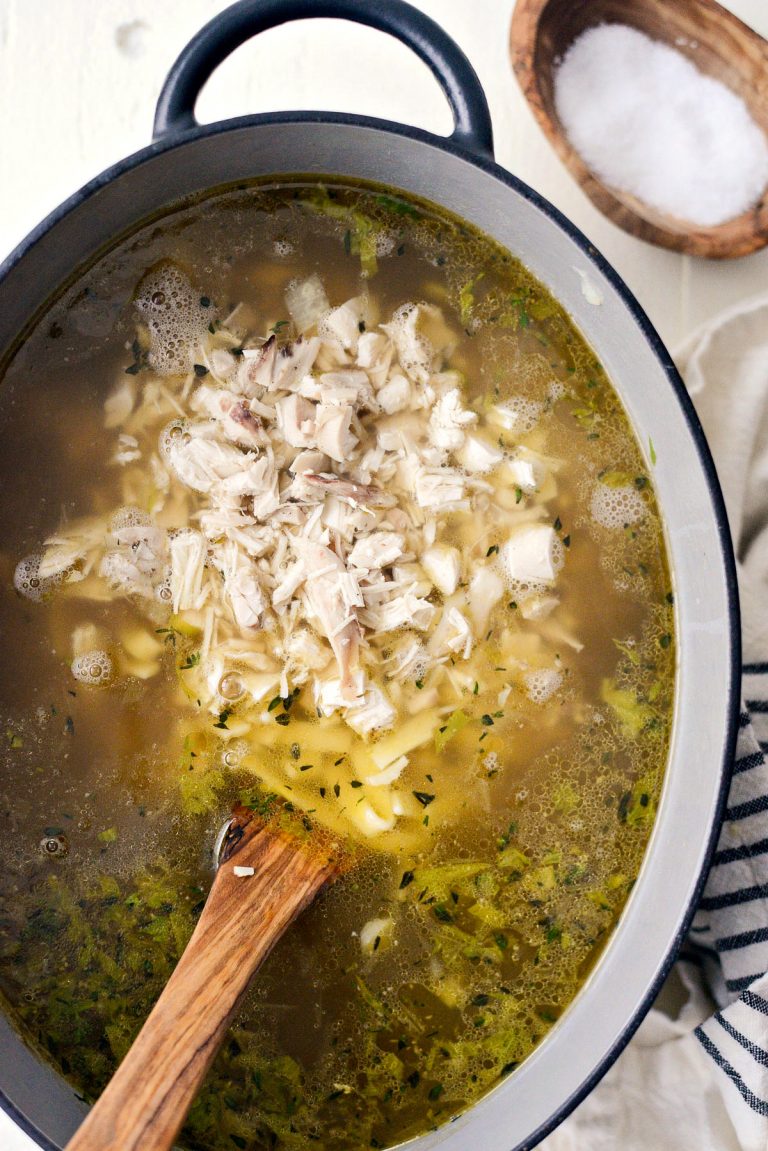 Lastly, add the drained noodles and cooked chicken. Season with kosher salt and freshly ground black pepper to taste. For me it was about 2-1/2 teaspoons kosher salt. Stir to combine.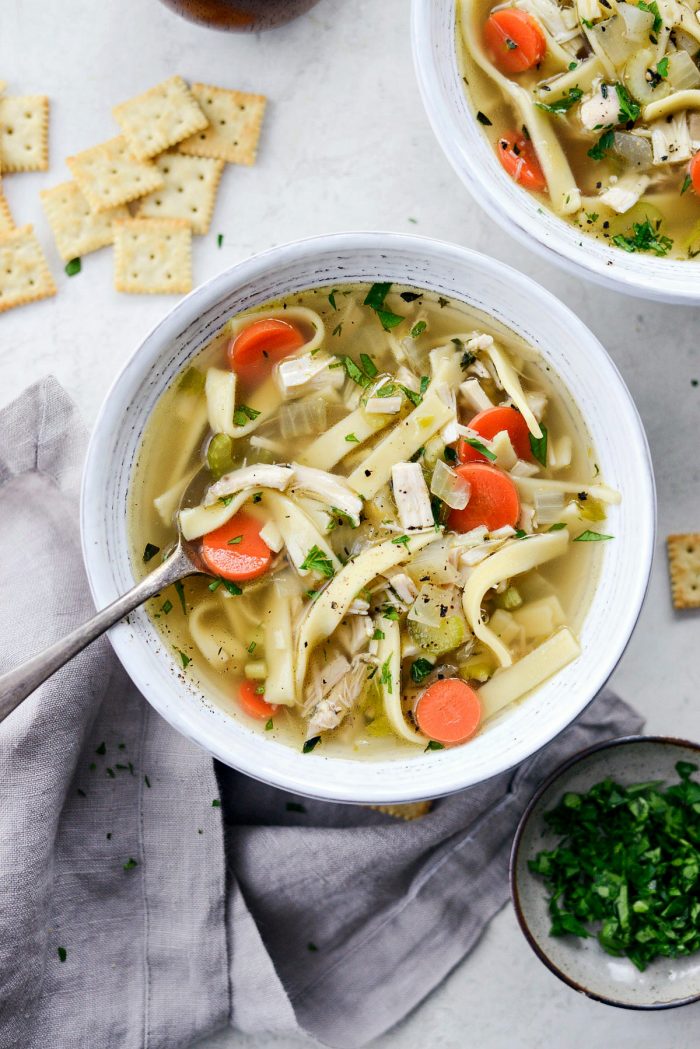 And poof. Homemade chicken noodle soup. And it's the BEST homemade chicken noodle soup!
This bowl of goodness is just what ya need when you are chapped, stuffy, achy and in need of a hot and hearty bowl of soup to sooth your soul. Now, seriously, who wants to come over and make me some? Becud I kent breeve.
For More Noodle Soup Recipes Click Here!
Enjoy! And if you give this Homemade Chicken Noodle Soup recipe a try, let me know! Snap a photo and tag me on twitter or instagram!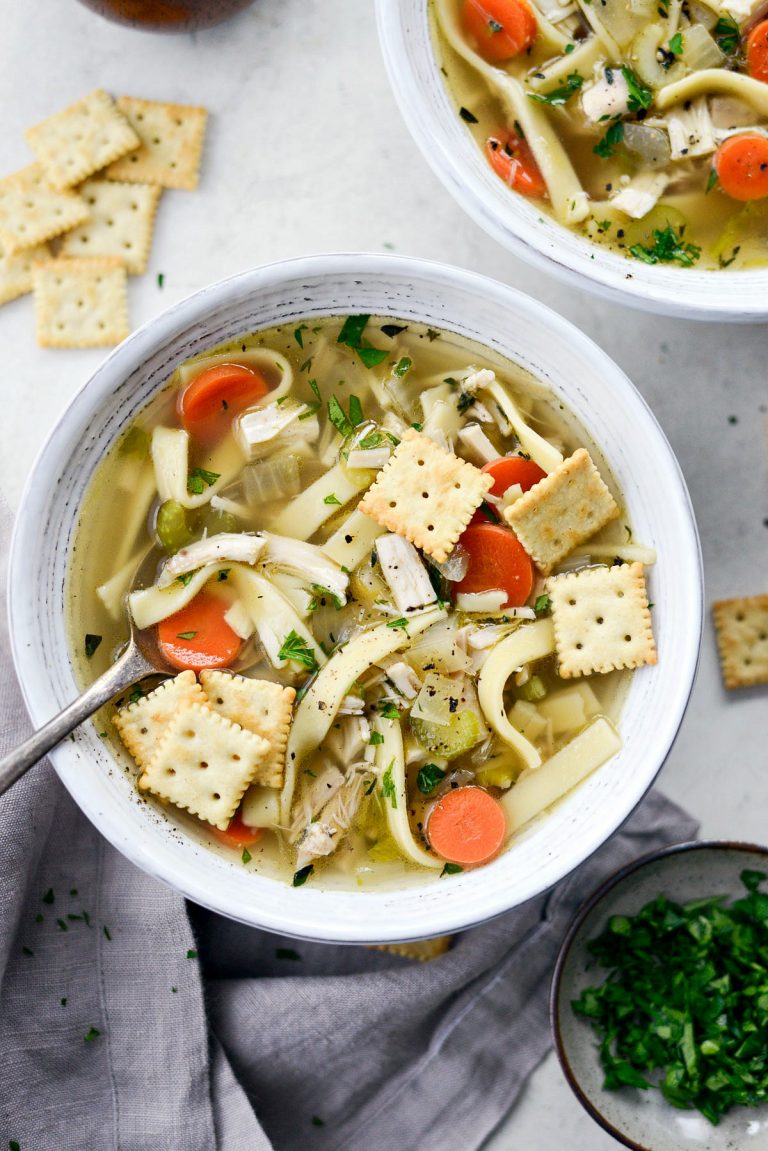 This post may contain affiliate links.
Buy the Cookbook: Simply Scratch : 120 Wholesome Homemade Recipes Made Easy Now available on Amazon »
THANK YOU in advance for your support!