These double chocolate chip bacon cookies have been long overdue.
It was only a matter of time before I succumbed to the whole trend/obsession/idea of putting bacon IN a baked good.
Monday I was craving cookies. Tuesday I made it happen. The only thing bad that came out of these gems? I think I just gained 83 pounds… From eating roughly about 8 6 in one breath.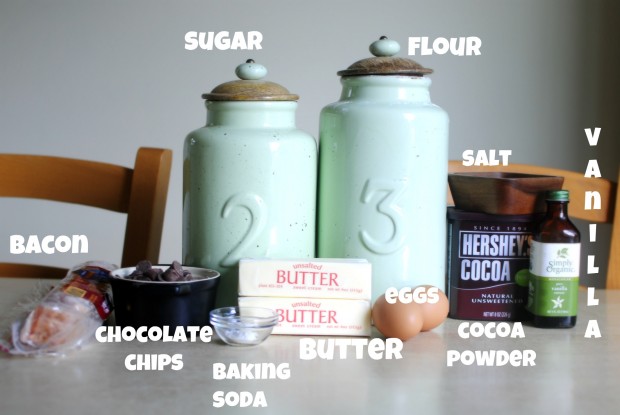 I had some left over applewood slab bacon and I knew it was time to stick them in some cookie dough and bake it up. With fingers crossed, I went for it…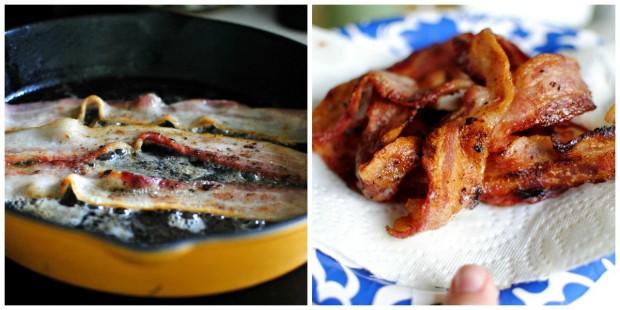 Let's start this recipe off right by first cooking up six slices of bacon. When they're fully cooked and crispy, let them drain on a few sheets of paper towel. FYI: I chose applewood bacon for two reasons: a) I already had it on hand. b) I thought the smoky-ness would be PHENOMINAL with the chocolate… and it is.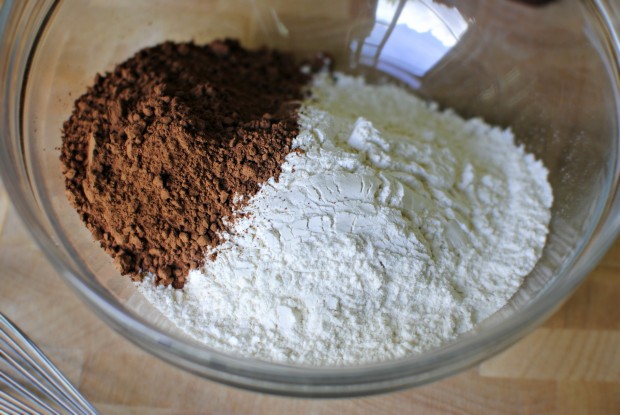 Then move on to the dry ingredients by measuring the flour and cocoa powder and throwing those into a bowl.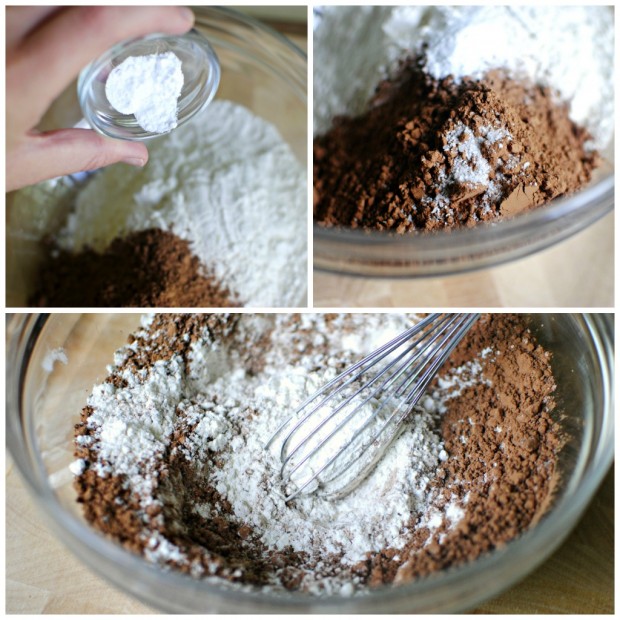 Next add the baking soda, kosher salt and give it a whisk so everything is soft and there isn't a single lump in sight.
Then throw two sticks of room temperature butter into the bowl of your mixer.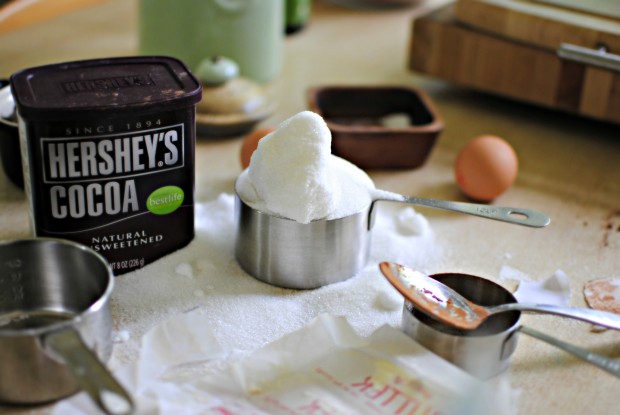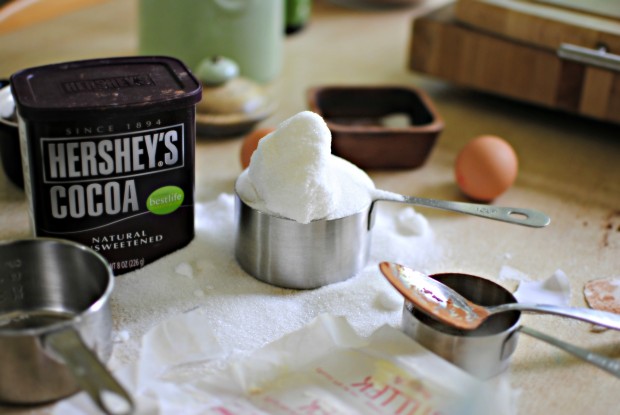 Next, measure one and a half cups of sugar… just make sure there isn't any sugar-boulders that will fall out and create an even larger mess on your already extremely messy work-space.
Now go on and add the sugar in with the butter…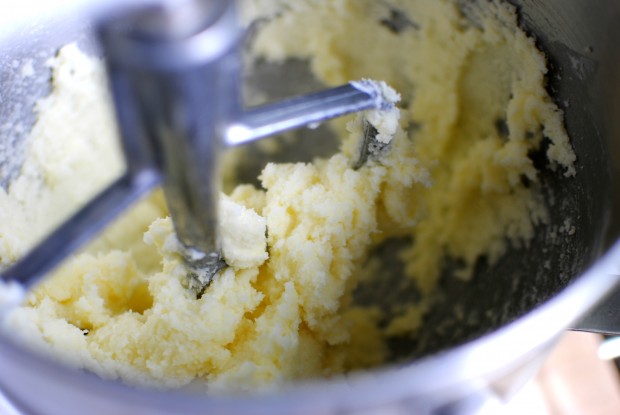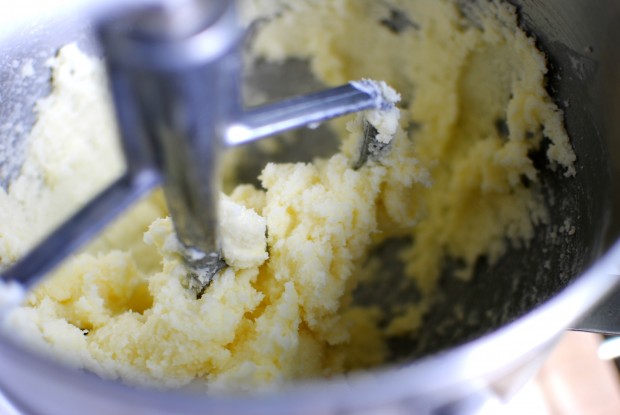 Then mix on low speed until the sugar/butter mixture is light and fluffy.

Next it's time to add the two teaspoons vanilla, two whole eggs (mix after each egg added) until well incorporated.
Then spoon in the dry ingredients while the mixer is on low speed.
Once everything is looking chocolaty, scrape down the sides and bottom of the bowl.
Then with the mixer off; add in the cup of milk chocolate chips.
Now it's time to go back to that bacon.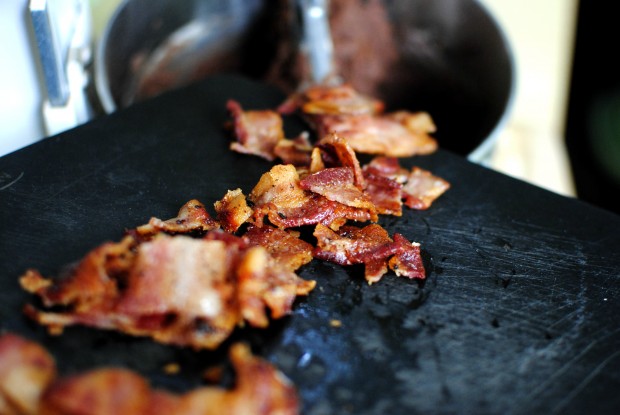 Lastly, chop and add the bacon into the bowl. I kept my pieces on the large size because I wanted the bacon to be prominent. But you can chop the bacon whatever size you wish.
Oh look, this one escaped the bowl. I guess I'll just have to use it as a chip and taste test the cookie batter. Success!
This part you can do however you like as well. Place a heaping tablespoons of Double Chocolate Chip Bacon cookie dough onto a silpat [affiliate] lined sheet pan. Either roll the dough into balls, or dont. Then just pop these into a preheated 350 degree oven for 12 minutes. You might want to check them at 10… because your oven temp may be different than mine.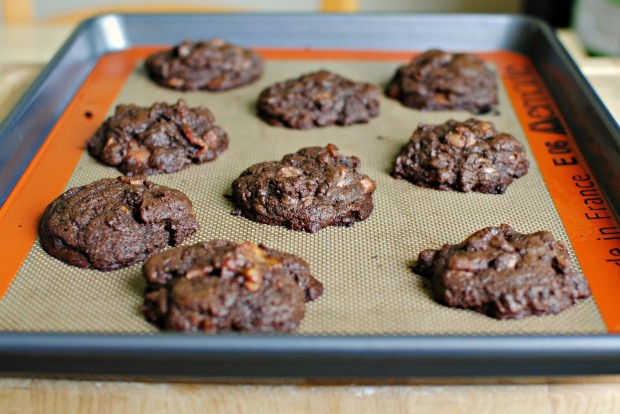 This was the batch that came out looking "rustic", still pretty tasty just not too pretty looking.
Now, Pat wasn't sure what to think about bacon being in his chocolate cookies. But after the saltiness mixed with the sweet chocolaty-ness, I had him. Hook, line and sinker. The girls loved them too, they even asked if they could have them in their lunch box tomorrow for school. How totally cool is that?
As for me? I have a batch hiding in my bedside drawer :). Enjoy these friends! And remember; EVERYTHING is better with bacon. Amen.
Enjoy! And if you give this Double Chocolate Chip Bacon Cookies recipe a try, let me know by snapping a photo and tagging me on twitter or instagram!
My cookbook Simply Scratch : 120 Wholesome Homemade Recipes Made Easy is now available! CLICK HERE for details and THANK YOU in advance!
[this post contains affiliate links.]
This post may contain affiliate links.
Buy the Cookbook: Simply Scratch : 120 Wholesome Homemade Recipes Made Easy Now available on Amazon »
THANK YOU in advance for your support!