These cinnamon sugar swirled pancake muffins is just that. Pancake batter swirled with cinnamon sugar and baked in a muffin tin. Top with maple syrup!
Like, I don't want to toot my own horn in all, but THIS is the best recipe I've dreamed up of since well those double chocolate merlot cookies.
Just in case you didn't catch the title it reads; CINNAMON SUGAR SWIRLED PANCAKE MUFFINS!! I know right?! But wait until you scroll through the post and see what I use to brush on these tasty morsels.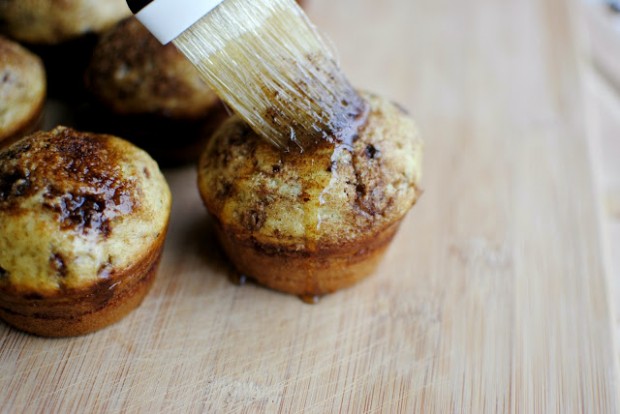 You'll die. Well, not really die… but you'll probably love me forever or love these muffins forever, both of which I'm totally cool with.
Everyday ingredients. Not so everyday muffins.
TO Make These Cinnamon Sugar Pancake Muffins You Will Need:
nonstick cooking
light brown sugar
cinnamon
unbleached all-purpose flour
granulated sugar
baking powder
baking soda
kosher salt
whole milk
lemon juice
egg
butter
Since this recipe makes a half dozen, you will only need to spray the half of the pan.
Then, in a small bowl, toss in 1/4 cup of brown sugar and 1 teaspoon of cinnamon.
With a spoon, stir and set aside.
Into a mixing bowl, measure and add in 1 cup of all purpose flour.
Next add in 2 tablespoons of sugar, 1 teaspoon of baking soda, 1/2 teaspoon of baking powder and 1/4 teaspoon kosher salt.
Use a whisk to stir and fluff the dry ingredients. Or you could use a sifter, whatevs.
Set it aside for a quick sec.
Next, in a medium bowl add the "faux buttermilk". You could so use regular buttermilk, but if you're like me and don't have it on hand, just add 1 teaspoon of fresh lemon juice (or distilled white vinegar) to the 2/3 cup of whole milk and let it sit for 10 minutes.
When the "buttermilk" is ready, crack in 1 large egg.
To that, add the 2 tablespoons of melted (yet slightly cooled) butter.
Whisk it to incorporate. Don't freak out if the cold milk solidifies the butter, hey it happens.
And then add it to the dry ingredients. Alternatively you could add the butter after the wet ingredients were mixed into the dry.
Using a tablespoon for measuring, add 2 tablespoons of batter into 6 prepared muffin cups.
Lastly, sprinkle with a teaspoon of the brown sugar and cinnamon mixture.
Divide the remaining batter over each muffin (about a tablespoon and a half each).
Now comes the fun part. Grab a toothpick or skewer.
Starting in the center and swirl.
Lastly sprinkle with a little bit more of the cinnamon sugar and save any remaining for your buttered toast. Pop the muffin tin onto the middle rack of your preheated 350° oven and bake for 12-14 minutes.
That's it. Remove and let the pan cool for 10 minutes before serving.
I like to serve these with eggnog French toast.
Brush the tops with the syrup and prepare to fall in love.
There's a reason why this cinnamon sugar swirled pancake muffins recipe only makes 6. Just sayin.
Click Here For More Muffin Recipes!
Enjoy! And if you give these Cinnamon Sugar Swirled Pancake Muffins a try, let me know! Snap a photo and tag me on twitter or instagram!
This post may contain affiliate links.
Buy the Cookbook: Simply Scratch : 120 Wholesome Homemade Recipes Made Easy Now available on Amazon »
THANK YOU in advance for your support!