Lemon and basil ricotta stuffed shells in a champagne cream sauce is just as decadent as it sounds. Ps. I made my own ricotta!
Can you EVEN believe I almost forgot to share with you this delicious baked pasta recipe?
It was back in November when I made this pasta and I remember the day perfectly…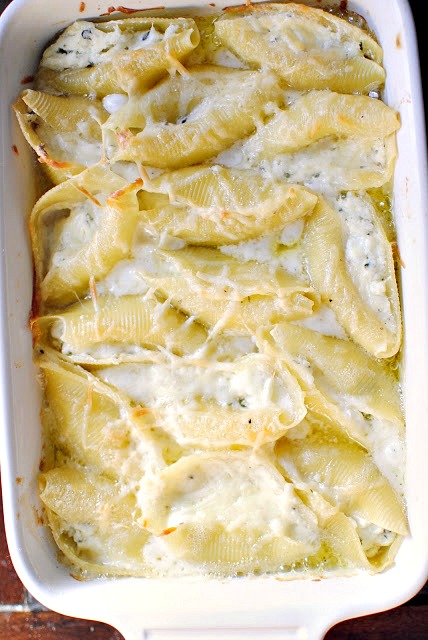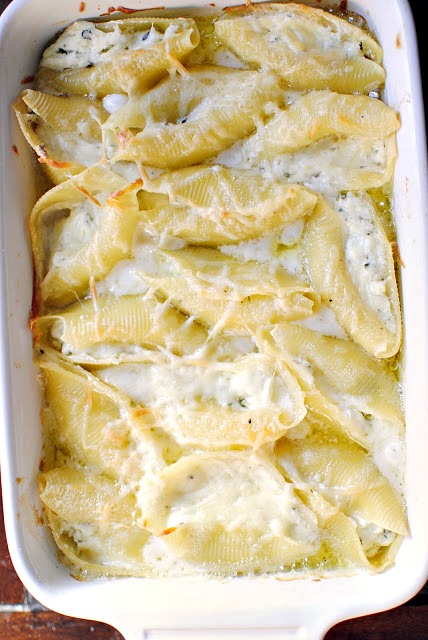 It was real sunny. My hair in a scrunchy, the stretchy grey comfy-pants are on, I was totally rocking the whole I-don't-give-a-care-what-I-look-like-it's-my-day-off look like nobody's business. I'd once again put laundry on the back burner that afternoon (who has time for THAT?), turned on a little Florence and the Machine, opened the fridge to get the creamer for my coffee and then I spied the champagne and then… the cream. I squinted at the cream… then back to the champagne… then back to the cream… then, well you get the point.
POW (that's the exact sound it makes in my brain when a recipe happens)! Thanks to one-too-many aired Olive Garden commercials advertising some pasta dish with champagne cream sauce and of course a huge THANKS to that left over lemon and basil ricotta, because at that very second it dawned on me; PRC… pasta, ricotta, champagne cream sauce! Not only was it fun to make… but a little messy, messy and I got to sip on a lot little bubbly while I was cooking. It was only 12:30-ish… it felt awesome.
It WAS awesome.
To Make This Lemon and basil ricotta stuffed shells You Will Need:
jumbo shells
lemon basil ricotta
pecorino romano
unsalted butter
unbleached all-purpose flour
garlic
champagne
heavy cream
kosher salt
freshly ground black pepper
Please don't think I ran out and bought champagne. Oh no-no! I have had it in my fridge for two freeeeaking years! My friend Heidi left it two (maybe it's really been three years?) New Year's Eves ago! Wait. Does champagne go bad??
Butter a baking dish and set aside.
On the large holes of your box grater; shred 1 cup of Pecorino Romano or Parmesan cheese.
Season 1 and 1/2 cups of lemon basil ricotta with a little extra salt and pepper if you haven't already.
Combine the ricotta with 1/2 cup of Pecorino Romano and set aside.
And then measure out 3/4 cup of champagne.
Next, cook 1 box of jumbo pasta just short of al dente in salted water. You most likely won't use them all but some may stick and/or break in the cooking process.
Then drain and spread them out onto a rimmed sheet pan or some parchment paper.
Next, use spoon to stuff each shell with some of the cheese and place them in your prepared dish.
Then in a small sauce pan, melt 3 tablespoons of butter and add 1 to 2 cloves finely minced garlic. I pressed mine in with a garlic press, it saves SO much time.
Next, whisk until the garlic softens and is fragrant but not brown.
Then add in 3 tablespoons flour and whisk, whisk, whisk until it is absorbed. Cook the flour mixture for a minute.
Next pour in the champagne…
Then add in 1/2 cup of heavy cream. Whisk, whisk, whisk some more.
Next, season with fresh ground black pepper.
And then pour it over the stuffed shells.
If things are smelling heavenly, then you're on the right track!
Next, top with the remaining Pecorino Romano and place in a 350° oven until the cheese is melted and sauce is bubbling. I didn't write how long I baked this for, sorry bout that. If I had to guess it was 20-25 minutes.
Finally, remove and let the ricotta stuffed shells cool a bit before serving. Sometimes all one needs is a little pasta, a little cream sauce and a glass of champagne in the middle of the afternoon to make'em feel awesome.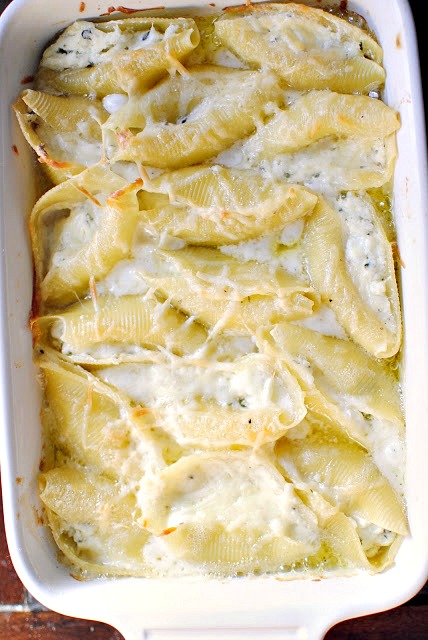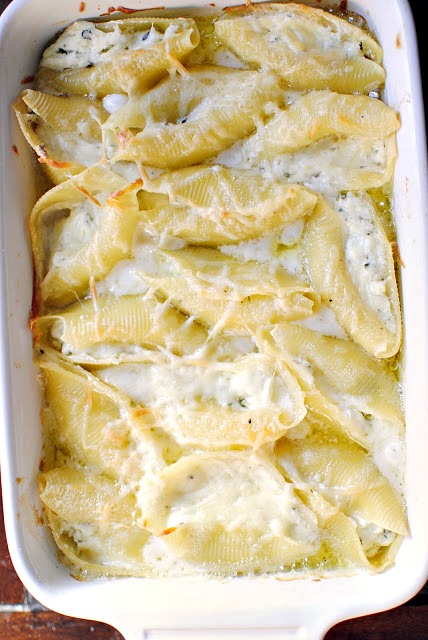 Enjoy! And if you give this Ricotta Stuffed Shells
recipe a try, let me know! Snap a photo and tag me on twitter or instagram!
This post may contain affiliate links.
Buy the Cookbook: Simply Scratch : 120 Wholesome Homemade Recipes Made Easy Now available on Amazon »
THANK YOU in advance for your support!