These Giant Ginger Molasses cookies are super soft, chewy and delicious! And also happen to be as big as your face! Recipe yields 10 giant ginger molasses cookies!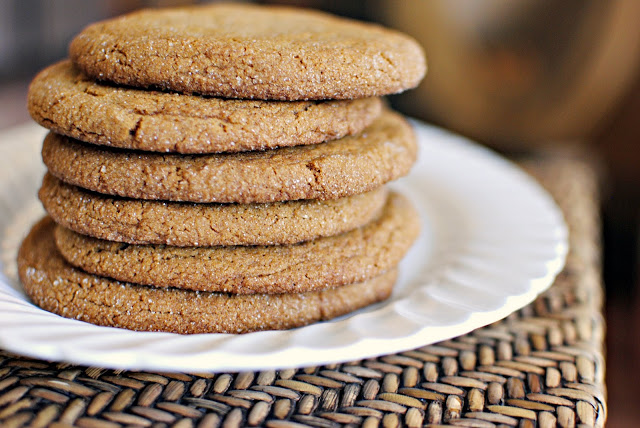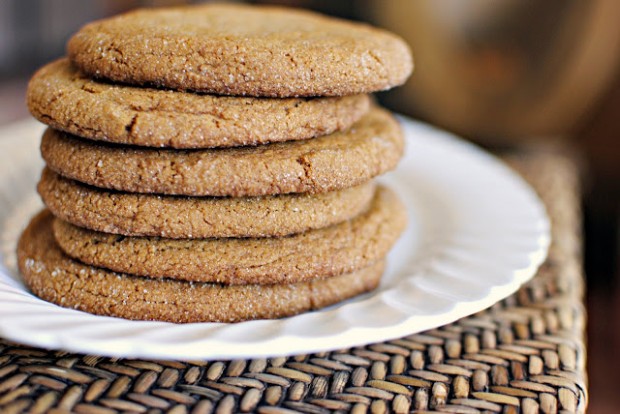 What if I told you I had a deliciously easy cookie recipe that was perfectly spiced with ginger, cinnamon and laced with molasses? And then I went on to tell you it has a soft chewy center with a slightly crispy and sugary edge?
And if I told you this recipe yielded cookies the size of your face and is a total clone of a certain coffee house cookie. Would you make them?
These are my FaVoRiTe Christmas-esque cookie.
I only make them around the holidays, and I even made them last year to share with you, but the lighting and the photos were below par so I scrapped those and promised I'd deliver the goods in 2011. And here you go, the best knock off version of Starbucks Giant Ginger Molasses Cookies, right at your fingertips!
To Make These Giant Ginger Molasses Cookies You Will Need:
unbleached all-purpose flour
baking soda
kosher salt
cinnamon
ground ginger
softened unsalted butter
dark brown sugar
egg
unsulphured molasses (not blackstrap)
granulated sugar (for rolling cookie dough)
Sift together 2-1/4 cups unbleached all-purpose flour, 2 teaspoons baking soda, 1/4 teaspoon kosher salt, 1 teaspoon ground cinnamon and 1 teaspoon ground ginger and set aside.
Cream 1-1/2 sticks (or 3/4 cup) softened unsalted butter and 1 cup dark brown sugar until light and fluffy.
Crack in 1 large egg and pour in 1/4 cup unsulfured molasses. I like to use my butter wrappers or nonstick spray for greasing up my measuring cup before doling out the molasses. It'll help with the pouring. You will most likely still need to use a spatula to get it all out, but it will be way easier and faster!
Turn your mixer on low to medium-low and combine.
Until creamy and no longer looks all curdled. You'll know what I mean when you see it.
With your mixer on low, gradually add in the flour. I do it in three parts… but mix and scrape down your bowl in between the additions.
Now it should be looking like cookie dough.
With a 1/4 cup scoop, measure out the cookie dough.
It would be a great idea to remove any and all rings before the next part of the recipe (take my word for it!).
Roll each "scoop" of dough into balls.
Then roll each of them into 1/2 cup granulated sugar.
Place four at a time on a prepared sheet pan. Keep them far apart because they will spread out!
With dampened fingers, press down the center of each cookie. Place the pan into a 375 degree oven and bake for 10-12 minutes.
Let them cool just a tad before removing them to a wire rack. Repeat with the rolling, sugaring and baking until all cookies are done.
This recipe only makes 10 cookies, but they are large. Like two cookies in one sort of deal.
See, it's meant to be.
Enjoy! And if you give this Ginger Molasses Cookies recipe a try, let me know! Snap a photo and tag me on twitter or instagram!
This post may contain affiliate links.
Buy the Cookbook: Simply Scratch : 120 Wholesome Homemade Recipes Made Easy Now available on Amazon »
THANK YOU in advance for your support!