These Prosciutto Wrapped Gorgonzola Stuffed Dates are drizzled with a Honey-Balsamic Drizzle! Sweet dates, tangy gorgonzola, salty prosciutto and drizzle in a delicious balsamic glaze!
Instead of pies, side dishes or turkey recipes to serve this Thanksgiving, I decided to give you a tasty appetizer.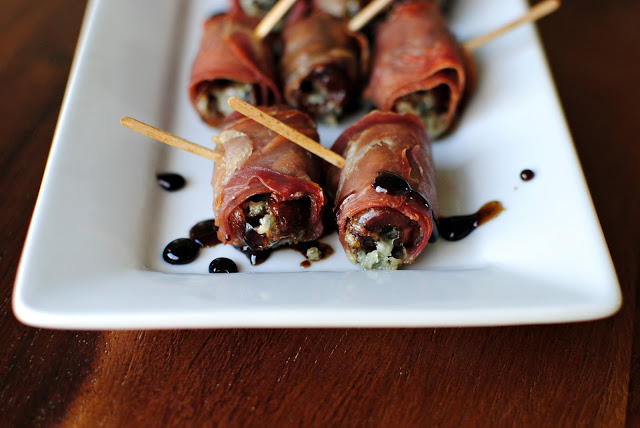 In my opinion the snacks you serve before could be the most important dish of the entire Thanksgiving menu. What? HOW SO, you ask? Well I'll tell ya! It gets your guests ready for the main show. It gives them a little peek of what's in store because we all know, if the apps rock… so will dinner! Okay, that AND it keeps something in there bellies so while they are consuming all those glasses of wine, they don't pass out before dinner. I'm a total expert in these things.
I'd like to take a moment to break down for you the flavors you will experience with these delicious little bundles. First you have the prosciutto, baked in the oven so they got all crispy…Yum! Then there's the subtle sweetness of the date along with the pungent saltiness of the Gorgonzola cheese… double yum! There was only one thing left I thought I should do. Make a honey-balsamic reduction. CONSIDER YOUR TASTE BUDS WARNED!
Slice the prosciutto lengthwise. Seriously isn't everything better when it's wrapped in prosciutto? Amen.
Next slice one side of the dates getting them ready to stuff!
Pinch some Gorgonzola and fill each date.
Place a stuffed date at one end of a strip of prosciutto and roll.
You could definitely stop here and serve as is, but who could hate salty prosciutto that's crispy? Not this girl.
Lodge a toothpick straight through the center. Toothpicks aren't necessary to keep the prosciutto in place, it's more of a handle for your guests to easily pick these up and stuff their face.
Then place on an oven safe baking rack and line the sheet pan underneath with foil to catch any drippings. The rack will help with crisping the entire date without you having to turn. When there is 10 minutes left in baking, start on the reduction.
Next, measure and pour in 1/4 cup of balsamic vinegar into a small saucepan.
Then add two tablespoons of honey and season with just a little salt and a lot of black pepper.
Next, bring it up to a rapid simmer over medium heat, whisking until reduced by 75 percent. It should be thick and a darker brown in color. I use a skewer and keep dipping it into the pot until I see those results. This usually takes 7-10 minutes.
On your serving platter, drizzle the desired amount of the balsamic reduction over the prosciutto wrapped gorgonzola stuffed dates. Serve warm and enjoy! (I like to drizzle a little extra over top and serve the rest in a small dish on the side too!)
This hors d'oeuvre is super easy, I'm an expert at this because I wrapped all twenty of them! And they taste unbelievable, this is true because I ate all but six of them!
Enjoy! And if you give this Prosciutto Wrapped Gorgonzola Stuffed Dates recipe a try, let me know by snapping a photo and tagging me on twitter or instagram!
My cookbook Simply Scratch : 120 Wholesome Homemade Recipes Made Easy is now available! CLICK HERE for details and THANK YOU in advance!
[this post contains affiliate links.]
This post may contain affiliate links.
Buy the Cookbook: Simply Scratch : 120 Wholesome Homemade Recipes Made Easy Now available on Amazon »
THANK YOU in advance for your support!