Broccoli and Cheddar Soup is creamy and cheesy and homemade! Serve with grilled cheese for a cozy dinner on any cold day.
A week ago it was cold here in Michigan. There air was just crisp enough so I could get away with wearing sweatshirts, jeans and fun scarves. Today… it's 77. I'm not complaining, I know those frigidly cold days will soon be knockin' at my door. And I'm prepared for it. I can see me know…
Me, Julie & Juliet and my snuggie. Did I say snuggie? I meant snuggling on the couch. I don't even own a snuuuuuuuggie. Swear it.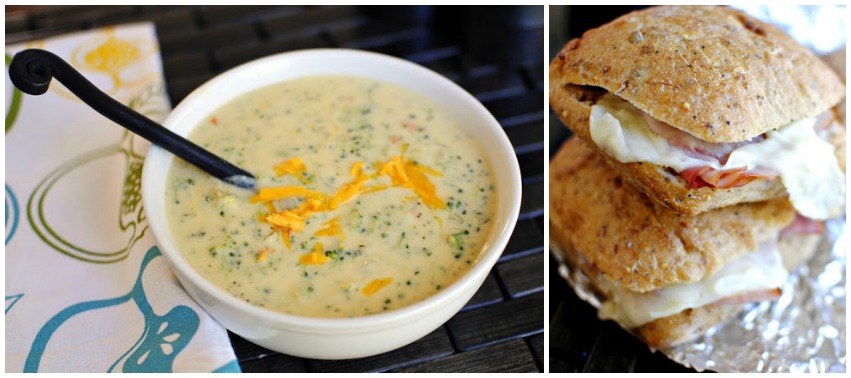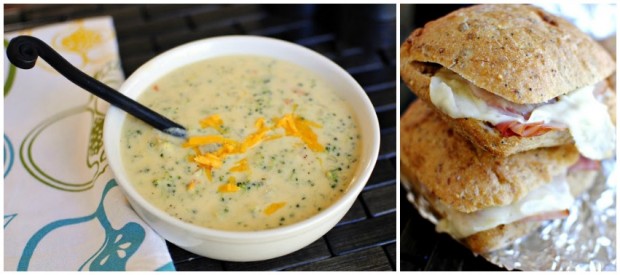 I'd be, snuggling, on the couch with a steamy hot bowl of this goodness. Yeaaaah.
My soup and stew section on SS has been severely lacking in recipes. I'm not sure how that happened. But I hope to fill it up this year with "from scratch" soups and stews galore! Kicking it off with this recipe. Simple and straight forward, creamy and cheddar-y, this soup will warm your soul!
You could totally swap out the vegetable stock with chicken stock. There will be a slight difference in taste but either way you'll be rock solid.
*note: as you can imagine I've made this a billion times. So I will say that now I only use low sodium chicken broth.
And no I didn't forget the cheese (okay maybe I did). But I do want to make sure you know for this soup to get that "cheddar-y" flavor, you need to buy a really good sharp cheddar.
I like to grate the cheese before starting the soup. After I grate it up, I transfer it in a bowl and stick it back into the fridge.
Trim up about 12 ounces of broccoli, or one package of 2 bunches, into florets.
Drop the florets into a deep pan of salted, boiling water. Cover and let boil for 3 minutes.
Immediately remove the broccoli.
And drop the florets into an ice water bath, to lock in that color and stop the cooking process.
Next, wash, peel, and julienne the carrot into matchsticks.
Then dice up a small yellow onion.
Next sauté the onions and carrots in a tablespoon or two of butter. Sprinkle with kosher salt and black pepper.
Then transfer the vegetables should be soft yet still firm, remove and set aside.
Next, to the quarter cup of melted butter, add in the quarter cup of flour. Whisk often until the flour/butter mixture has slightly deepened in color about 2-3 minutes.
Then pour in the half and half, then the vegetable broth.
Next, grate in some fresh nutmeg, and keep whisking while you bring it up to a small simmer. Cover and cook for 20 minutes.
It should be slightly thicker, so now you can toss in the sautéed carrots and onions.
And then add the blanched broccoli florets, and if now you notice the soup seems too thick for your liking, go ahead and add in more vegetable broth at this point.
Next, reduce the heat to low, stir and cover. Continue to simmer the soup over low heat for 25-30 more minutes.
Then after the 25-30 minutes, remove the lid. Using your mashed potato thingy, mash up the broccoli until only a few large broccoli pieces remain. I like mine a little on the chunky side so I go easy with it.
Next add in half of the cheddar.
And then stir.
Lastly, serve with a little extra cheddar on top.
And then inhale the whole bowl.
Now if you like a little sandwich action to tag along with your broccoli and cheddar soup. These can be thrown together in seconds while your soup is bubbling away on the stove top.
I found some whole grain ciabatta mini-loaves at my grocery store. But any rolls will do.
Layer some honey ham.
Then a slice of brick cheese or any creamy melty cheese.
Put the lid on.
Wrap in foil.
And bake for 15 minutes in a 350 degree oven until the cheese is melted. The perfect cozy meal for any day of the week!
Click Here For More Panera Copycat recipes!
NOTE: I have since rewritten the Broccoli Cheddar Soup recipe, so the recipe below may not match the step-by-step but it will save you a lot of time.
Enjoy! And if you give this Simple Broccoli Cheddar Soup recipe a try, let me know! Snap a photo and tag me on twitter or instagram!
This post may contain affiliate links.
Buy the Cookbook: Simply Scratch : 120 Wholesome Homemade Recipes Made Easy Now available on Amazon »
THANK YOU in advance for your support!