This Lemony Ahi Tuna and Olive Oil Pasta is simple and delicious! Fresh tuna is cooked and tossed with pasta and Parmesan in a light olive oil wine sauce.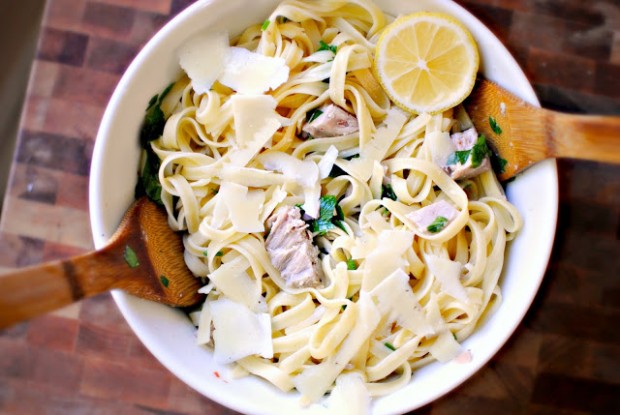 While recently flipping through my Real Simple magazine I came across a recipe for Lemony Tuna Pasta.
It called for canned tuna in oil, I was really not feeling that part of the recipe, although it would be great alternative in a pinch, and so I was looking for a way to make that recipe but with fresh tuna instead. This is what I came up with.
TO Make This Lemony Ahi Tuna and Olive Oil Pasta You Will Need:
fresh wild caught ahi tuna steaks (thawed if frozen)
dried fettuccine or linguine
lemon
fresh garlic cloves
red pepper flakes
quality olive oil
sauvignon blanc
parsley, roughly chopped
reserved pasta water
kosher salt
freshly ground black pepper, to taste
shaved parmesan, for serving
Gather all of your ingredients, and have them prepped and pre-measured.
I didn't have much luck finding fresh tuna at my grocery store, so I substituted frozen. Sometimes purchasing frozen tuna or any fish for that matter can be, well, fishy! But I found the Full Circle brand vacuumed-seals their tuna and because of that fact alone I wasn't the littlest bit worried about it not tasting superb. You need 12 ounces of ahi tuna.
Bring a large pot of salted water to boil.
Meanwhile, in a small bowl; add in the 2 cloves of garlic (pressed or finely minced), the 1/4 teaspoon red pepper flakes, 1 tablespoon olive oil and 1/4 cup sauvignon blanc.
Whisk until combined.
Thinly slice 1 lemon. Remove any seeds just to be safe.
Place a few of the slices down. Which brings me to the whole parchment paper thing. If you don't have it… then just use foil. It got a little messy for me so I ended up double wrapping it in foil too. So do whatever you are comfortable with. Parchment or foil… doesn't matter.
Lay the Ahi tuna on top of the lemon bed. Sprinkle with kosher salt and fresh cracked black pepper.
Pour the winey-oil over top. Wrap up and place in a 375° oven for 15-20 minutes depending on how thick the tuna is. They are done when a toothpick glides in smoothly without meeting any resistance.
When 10 minutes have passed, drop in 3/4 of a pound of pasta.
Mine only needed to cook for seven minutes. I figured after the ten minute mark of the tuna being in the oven it was the perfect time to drop it in. Every so often, come back to the pot and stir.
Roughly chop up about a 1/4 cup of parsley.
Using a veggie peeler, shave some fresh parmesan cheese.
When the timer alarms, remove and carefully open the tuna from the top so the juices remain in the packet.
Remove the tuna and break it up into smaller pieces.
Drain the pasta and reserve 1/4 cup of pasta water.
Sprinkle in the minced fresh parsley.
Toss in the tuna.
Combine the juices from the foil packet with some or all of the pasta water, and drizzle it over top.
Lastly, season with salt, a little black pepper, and toss with shaved Parmesan cheese.
Top with more cheese and serve.
I could have plated some up and showed you what. it. would. look. like on a plate. yeah… it was all a blur after the first bite. Poof! The whole bowl was gone. Crazy.
Enjoy! And if you give this Lemony Ahi Tuna Olive Oil Pasta recipe a try, let me know! Snap a photo and tag me on twitter or instagram!
This post may contain affiliate links.
Buy the Cookbook: Simply Scratch : 120 Wholesome Homemade Recipes Made Easy Now available on Amazon »
THANK YOU in advance for your support!