Homestyle Baked Chicken is a cozy and comforting dinner. Served best with homemade mashed potatoes and buttery sautéed corn.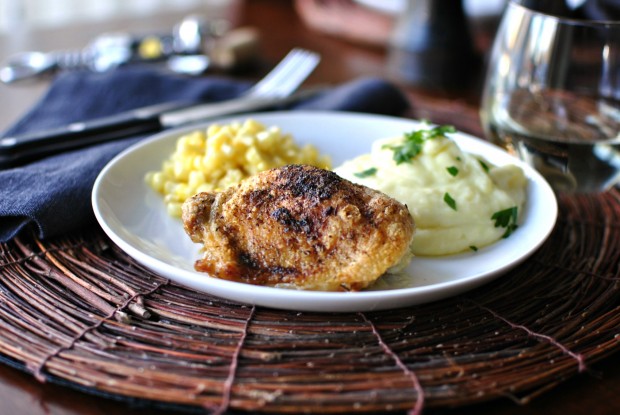 Pat had been up north hunting all weekend, and us girls have been trying to stay warm with the sudden drop in temperature and gusty winds. All of which made our errands around town downright miserable. So on Sunday I thought we all needed some good ol' home cooking. Specifically my mom's baked chicken with mashed potatoes, gravy, buttery corn and dinner rolls. And although it calls for only a few simple ingredients, it's the basting technique that I believe really makes this chicken incredible.
My Mom has been making chicken this way since I can remember.
I can remember walking in the front door, on a chilly fall day after school sports practice, and getting gently slapped in the face by the smell of her chicken baking in the oven. It's hands down on of my most favorite childhood memories and favorite meal that she makes.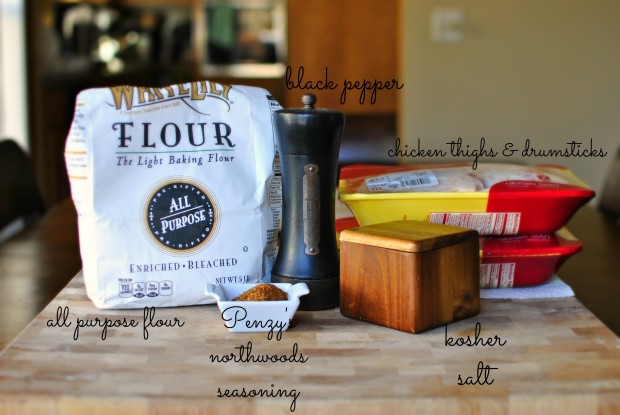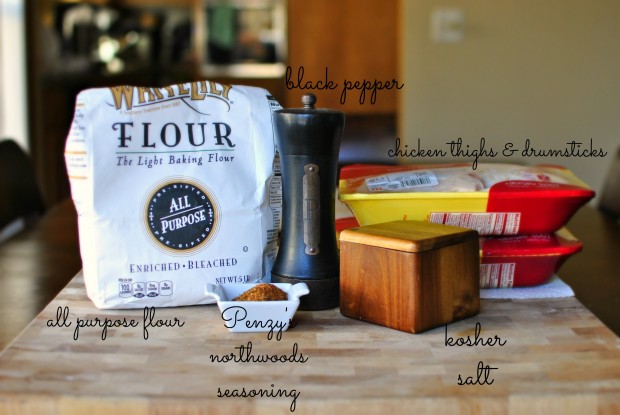 To make This Homemade Baked Chicken Recipe You Will Need:
olive oil
butter
bone-in and skin on chicken thighs and drumsticks
unbleached all-purpose flour
kosher salt
freshly ground black pepper
all-purpose seasoning
Now, raise your hand if you're ready to see 27 pictures of chicken… and only chicken? Super! 😉
In a stainless pan coat with 1 tablespoon olive oil. I may have gotten a little carried away while I was taking photos… so don't be like me… just a thin coat, k?
Dot with a few tablespoon butter and place in the preheated oven, to get the pan nice and hot (and the butter melted).
In a bag (I like to use leftover bread or produce bags but ziplock is fine too) add 2 cups of flour, generous pinch of both black pepper and kosher salt.
Get your chicken ready. My mom always used either thighs, drumsticks or a combination of the two. I've made this with bone-in breasts and it's doable… but boneless, it's just not the same. I've since gotten over my phobia of chicken on a bone… and enjoy the drumsticks just as much as I did when I was a kid-o. Tip: I always trim off any extra skin that's sort of "hanging" off the chicken. Soggy skin = disgusting.
Throw in a couple pieces at a time, shake to coat. Then just give the chicken pieces a shake any excess flour off the chicken.
Repeat and place the chicken on a clean plate as you go along.
Next, with your oven mitts on your mitts, remove the pan from the oven.
Then arrange the floured chicken into the roasting pan.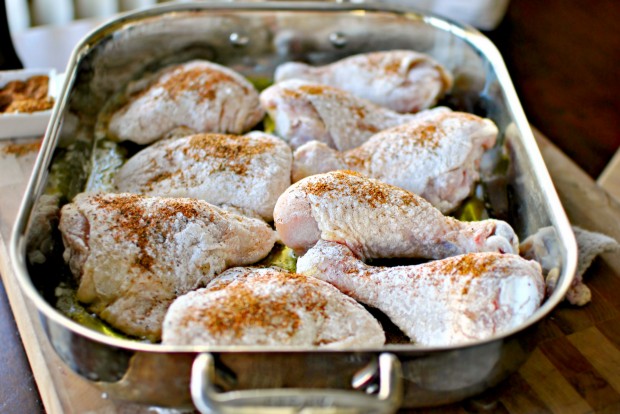 Now sprinkle with poultry seasoning, some salt, black pepper and paprika. Now just throw it in the oven, as is, and bake for 20 minutes.
Then pull it out, notice it's still a bit flour-y?
Then with your oven mitt on your one hand, and armed with a spoon (and not a camera) in your other hand, dip the spoon in to the pan drippings and baste the chicken.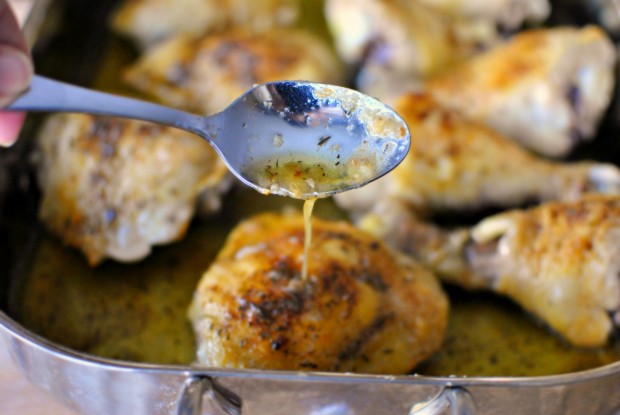 Next, make sure to get the extra seasonings into your spoon when you drizzle!
Once coated, return the chicken back to the oven and bake for 20 more minutes.
Then repeat the basting process and place back into the oven for 10 minutes, remove, baste and bake for an additional 10 minutes more (so 60 minutes total). Let cool for 5-10 minutes before serving.
This baked chicken is crispy, delicious and perfect!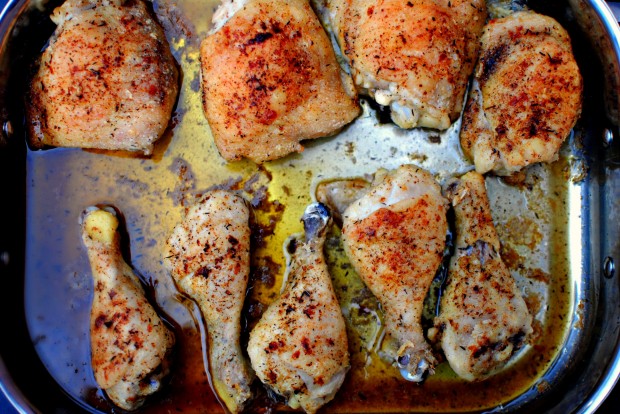 Enjoy! And if you give this Baked Chicken recipe a try, let me know! Snap a photo and tag me on twitter or instagram!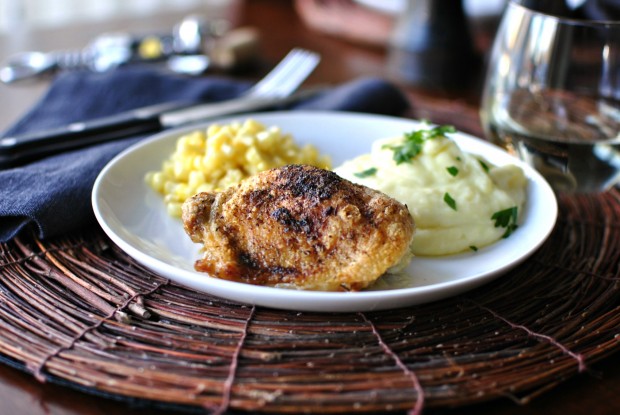 This post may contain affiliate links.
Buy the Cookbook: Simply Scratch : 120 Wholesome Homemade Recipes Made Easy Now available on Amazon »
THANK YOU in advance for your support!