Sometimes I crave salmon, especially this Orange Glazed Salmon Salad. Flavorful orange glazed salmon topped a crisp salad drizzled with a delicious citrusy dressing.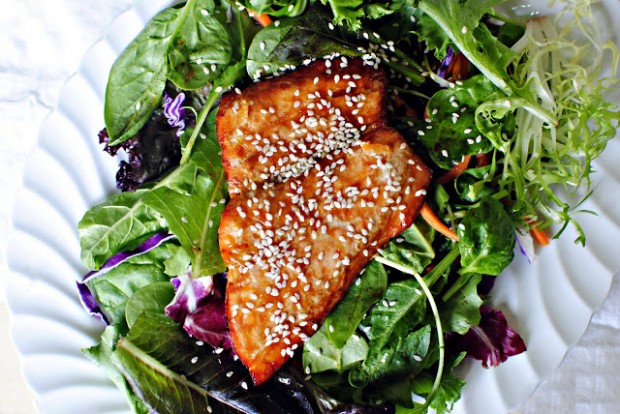 I love salmon.
My oldest daughter and I are the only ones who do. My youngest dramatically fake acts like it's making her sick and my husband calls it SAL-mon. <–insert eye roll emoji. Good luck trying not to read salmon as SAL-mon throughout this post, k? Or do it. It could be funny!? But probably not.
To Make This Orange Glazed Citrus Salad You Will need:
fresh salmon
low-sodium soy sauce or low-sodium tamari if gluten free
toasted sesame oil
dark brown sugar
orange
olive oil spray, for pan
Here are the ingredients. For those who are gluten free substitute tamari for the soy sauce. Tamari is 100% soybean and no wheat!
This is a pound of salmon. If you were serving 4 entree portions, I'd serve 6-8 ounces per person, so you'd need more than a pound. But this was mainly for me and I wanted this to last so I divided this into thirds just so I could eat this for lunch the next few days.
Cut into equal portions. I left the end piece longer because it was thinner.
I could wall paper my office with this pattern, that's if I had an office. Love.
Place salmon in a shallow dish.
For the salmon dressinade:
Then in a small dish; measure and pour in 3 tablespoons low-sodium soy sauce or tamari.
Then measure and add 1 tablespoon toasted sesame oil.
And 1 tablespoon dark brown sugar.
Grate the zest from 1/2 an orange.
After juice half of an orange and add it into the dish with the glaze.
Whisk until combined and sugar is dissolved.
Pour half of the sauce/marinade/glaze over the salmon. The rest of it will be the dressing!
Toss, coat and let it chill on the counter for 15 minutes or so.
While you wait, you could line a sheet pan with foil and grease it with some olive oil or spray with olive oil spray.
Place the salmon, ugly side up.
Place underneath the broiler for about 4-6 minutes. Carefully flip the salmon over and repeat for another 4-6 minutes or until the salmon is fully cooked. Once cooked let it cool for a few. Pssst the brown sugar caramelizes!!!!
Next, while all that's going on I get moving on the salad part.
I love mixed spring greens, they are my favorite, A little baby spinach, baby romaine and radicchio it's salad perfection! Some sliced purple cabbage, matchstick carrots, sesame seeds and the reserved glaze.
I was going to add a little red bell pepper, but when I pulled it out of my veggie bin it looked like this :(. But any of your favorite veggies would work; mushrooms, pea pods, thinly sliced red onion, sliced red pepper that isn't wrinkly.
Next, toss them in with the greens.
And then give it a light toss.
Then, dish up some salad and place a piece of the orange glazed salmon in the center.
Next, drizzle with some of the glaze. It acts like a salad dressing and is awesome.
Then sprinkle them on top. Next, just season with black pepper and a little sea salt, just go easy on the sea salt because tamari or soy sauce tends to be a little salty. But you probably already knew that and you probably mumbled "thanks captain obvious". I know I would.
Finally, serve with a squeeze a little fresh orange juice over top.
What I like most about this Orange Glazed Salmon Salad, is that it's simple. Because simple is how I roll. No but seriously this is a light, healthy and wholesome. On that note, I'm going to eat this salad for breakfast, lunch or dinner for the rest of my life.
Enjoy! And if you give this Orange Glazed Salmon Salad recipe a try, let me know! Snap a photo and tag me on twitter or instagram!
This post may contain affiliate links.
Buy the Cookbook: Simply Scratch : 120 Wholesome Homemade Recipes Made Easy Now available on Amazon »
THANK YOU in advance for your support!