When in a pinch Naan Personal Pizzas can be whipped up in little to no time. These are our two favorite versions but check out this delicious buffalo version.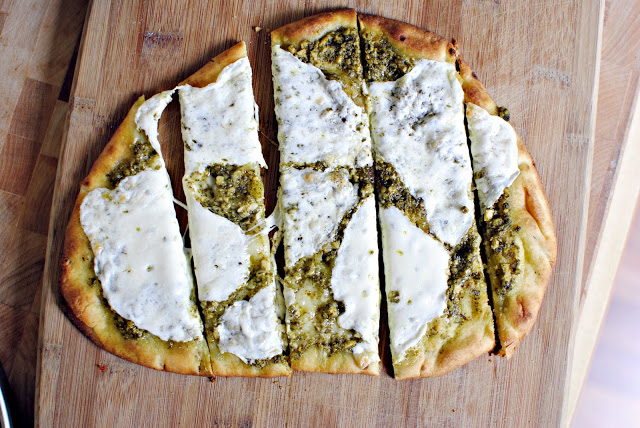 If I was stranded on a deserted island and I could pick only one food to eat for the rest of my life, it would be pizza.
A thin crust.
Fire roasted.
Pizza.
I've had many different pizzas in my life and I love too many to choose a favorite. But on my island. I'd lie… swinging in a hammock… eating pizza & beer… from sun up to sun down.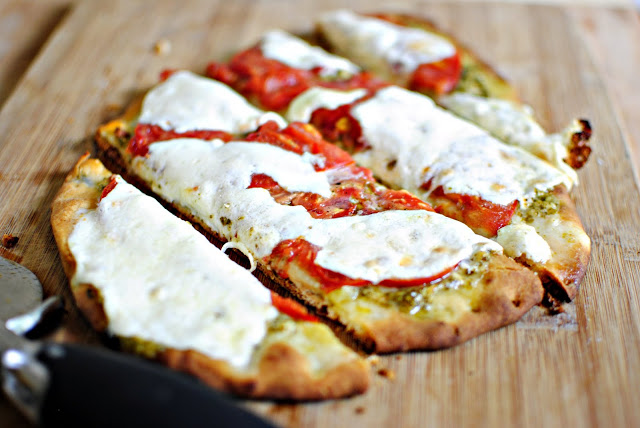 Beer is not a food… but a drink. That's on my island too. Abundantly.
To Make These Pesto Tomato Naan Pizzas You Will Need:
Basil Pesto is definitely on my top 10 favorite things to eat list.
Get some mozzarella. Fresh is best but any will do.
Homemade Naan or store bought, either one because this is a judge free blog. Sometimes you simply don't have time to make and rise your own pizza dough. Especially when one is at the salon getting ones overdue grays covered.
On this past Sunday evening, I was lucky to receive 4 of these ginormous tomatoes that my in-laws picked up at an Amish farm up north. I have two left. It's Wednesday. Did I mention they're huge?
Then place the naan on an un-greased sheet pan.
Next, spoon on about 2-3 tablespoons of the basil pesto.
Then spread it around, leaving a little crust edge.
Next slice up the to-maters as thin or as thick as you like.
Then lay them on top of the pesto, sprinkle with some kosher salt and black pepper.
Next slice up the mozzarella… thin… well try as thin as possible because the thinner the better, and the more better… the even more melty.
Then after you lay the sliced mozz on top of the pizza; bake in a 425° oven for about 8-10 minutes or until cheese is melted and the crust is a deep gold.
That crispy edge is what I'm talking about!
Then cool, slice and serve.
I never ever ever go for the center pieces first…
I like the edges. I'm a total crust girl.
Not a tomato fan? Neither are my girls, unless it's ketchup, salsa, tomato sauce, spaghetti sauce or pico… go figure right?
So I make one with out and we call it perfect-pesto-pizza.
Enjoy! And if you give this recipe a try, let me know! Snap a photo and tag me on twitter or instagram!

This post may contain affiliate links.
Buy the Cookbook: Simply Scratch : 120 Wholesome Homemade Recipes Made Easy Now available on Amazon »
THANK YOU in advance for your support!