Sweet and tangy, these Peach Balsamic Glazed Drumsticks will be the perfect addition to your summer barbecue!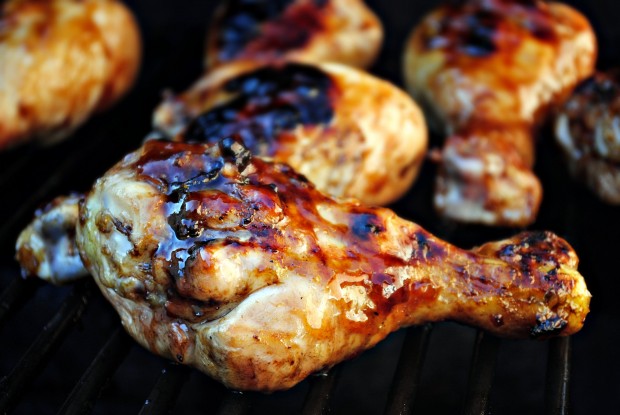 There are things in life couples won't ever agree on.
It's a fact.
For example. I loved these Peach Balsamic Glazed Drumsticks they are sweet, tangy and juicy. My husband said his usual comment: "The sauce needs a habanero in it." Then he said that they were just "all right". Wha-WHAT?? I promptly punched him in the arm and told him that he was crazy, rolled my eyes and then reached for a second drumstick.
To Make This Peach Balsamic Glazed Chicken Drumsticks You Will Need:
8 skinless, bone-in chicken drumsticks
peach preserves – or may sub with apricot peach (which is what I did here)
balsamic vinegar
fresh ground ginger, grated
a pinch of cayenne
kosher salt, to taste
In a large mixing bowl, add 1 teaspoon freshly ground ginger root. I keep my leftover pieces in the freezer and grate it when needed. But, if you need to use ground ginger, then only use a half a teaspoon of the stuff.
Add in the 1/2 cup peach preserves.
Then add in kosher salt, freshly ground black pepper, a pinch of cayenne pepper and then pour in the 1/4 cup balsamic vinegar. Give it a stir and then reserve 1/4 cup for some final glazing.
Add the drumsticks.
Use tongs to toss until well coated.
Place the glazed chicken drumsticks on greased grill grates that has pre-heated to medium-low. Notice how I start off all organized? yeeeeeah… it doesn't last for long.
Grill covered for about 25-30 minutes, turning occasionally.
Then 10 minutes before they are done pull out the reserved glaze…. ohhhh yeah baby!!
Then using your pastry brush, slather it all over the grilled chicken.
Really, I could drink this stuff.
Oh me oh my.
Like I said, sweet and tangy. The key to these chicken drumsticks is a crispy skin and a good char! Perfect next to my Apple & Cabbage Slaw I'm just saying.
These are delicious!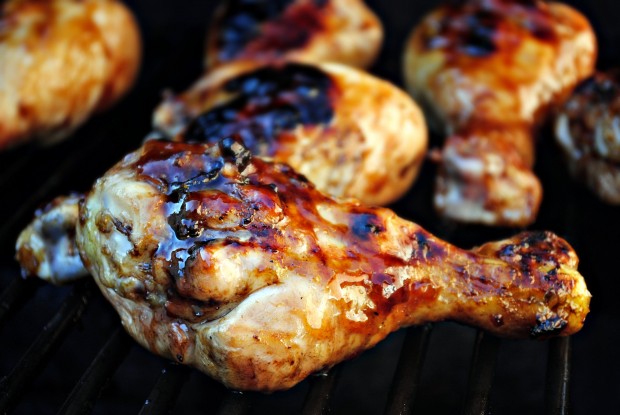 This post may contain affiliate links.
Buy the Cookbook: Simply Scratch : 120 Wholesome Homemade Recipes Made Easy Now available on Amazon »
THANK YOU in advance for your support!