Spicy chipotle shrimp skewers are smoky, spicy and tastes amazing! Feel free to adjust the chipotles depending on your preferred spice level.
Mmmm shrimp.
I. Love. You.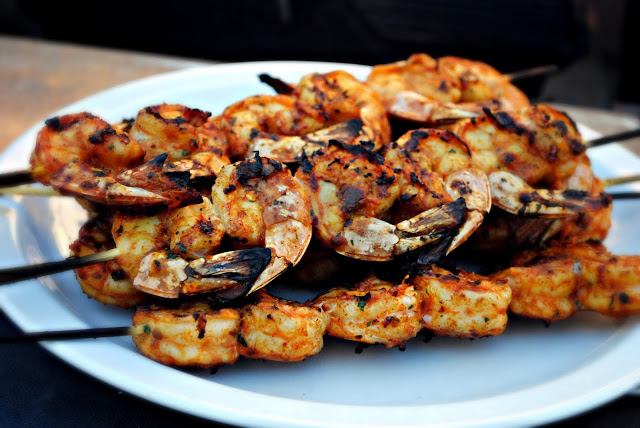 Did I also mention I love it spicy?! I've been on a real spicy kick lately. There is something about heat and flavor of chipotle peppers in adobo that has me quite obsessed. And it doesn't even matter if it's breakfast, because I can make breakfast spicy too!
The spice factor of these shrimp is about a 6 out of 10. My six year old thought they were hot and asked me to make her a pb & j. My husband and 9 year old loved them and I personally didn't feel the need to chug a glass of milk after eating them. There is just constant warmth that stays on your taste buds, but feel free to take out one of the chipotle peppers and just add a few more teaspoons of adobo or ketchup!
Since my trip to North Carolina, where I experienced the best seafood ever in my life, at Shucker's Grill & Oyster Bar, I've wanted shrimp. Bad. REAL BAD. So why not combine my two favorite things… set them on top of some grilled pineapple and cilantro lime rice and call it dinner?!
Works for me!

To make these shrimp you will need, garlic, cilantro, lemon, olive oil, crushed red pepper, cayenne pepper, paprika, chipotle peppers and the adobo sauce, kosher salt and black pepper.
Oh yeah. And some fresh, peeled and deveined shrimp. I peeled and deveined my own shrimp, so if you do your own shrimp give yourself an extra 20-30 minutes to peel and clean the suckers. It's a messy job but sometimes you just got to do it! Here is a great video on how to tackle this dirty job!
Then just smash and peel the three cloves of garlic.
Next, toss them into a food processor, a mini one works awesome for this!
Then along with two chipotle peppers and adobo sauce, about two teaspoons.
Next add the kosher salt and cracked black pepper.
Then the paprika, cayenne, red pepper flakes and the fresh cilantro. I eyeball my cilantro… about a tablespoon of fresh cilantro will do.
*note: as of recently, I've omitted the red pepper flakes and cayenne pepper from the recipe. There's enough spice from the chipotles, that it's unnecessary to add these spices.
Next, pour in the two tablespoons of olive oil…

And then add the juice of one whole lemon.
Next, puree until the garlic, chipotle peppers and cilantro are no longer in large pieces.
Then, place the cleaned shrimp into a large bag or bowl.
Next, pour the marinade over top.
Then squish the bag until the sauce coats the shrimp evenly and let those hang out for 20 minutes.
Next, while those were marinating, I grilled up some fresh pineapple rings! I love grilled pineapple! Have you ever had grilled pineapple? It's so delicious!
Then, while the pineapple was grilling I skewered the shrimp, about six per skewer. If using wooden ones then soak them in water for about an hour beforehand, this will keep them from catching fire.
Next, place on a preheated, medium-high heat grill for about 2-3 minutes per side, until opaque and pink.
I so wish you could smell this!

I served the shrimp over the grilled pineapple and some cilantro lime rice. DELISH! This spicy and smokiness of the chipotle peppers tastes amazing with the sweet grilled pineapple. A perfect combination of smoky-spicy-sweet goodness!
Enjoy! And if you give these Chipotle Shrimp Skewers a try, let me know by snapping a photo and tagging me on twitter or instagram!
My cookbook Simply Scratch : 120 Wholesome Homemade Recipes Made Easy is now available! CLICK HERE for details and THANK YOU in advance!
[this post contains affiliate links.]
This post may contain affiliate links.
Buy the Cookbook: Simply Scratch : 120 Wholesome Homemade Recipes Made Easy Now available on Amazon »
THANK YOU in advance for your support!