This recipe for Grilled Honey Mustard Chicken is one of my most popular recipes. A simple marinade/sauce of mustard, lemon juice, garlic and spices dresses up regular chicken breasts for a mouthwateringly delicious dinner.
I have made this recipe a couple dozen times. And whether it's grilled outdoors, on a grill pan indoors or even baked in the oven, this honey mustard chicken turns out amazing every single time. With such simple ingredients, you may wonder how it could possibly be so ridiculously good?
Two words: honey and mustard. Those two simple ingredients really make this recipe special. I always try to buy good quality honey and mustard, but especially when making this recipe. Have you ever had bland honey before? Because believe be I've picked up honey at the dollar store once out of desperation and it was almost clear in color and it hardly tasted like honey at all.
For the mustard in this recipe, try to find stone ground, whole grain natural mustard because not only is the flavor incredible, but the texture is delicious too.
Combine this with some spices and lemon juice and you have my no fail, always-a-hit-and-guaranteed-to-turn-out-delicious-every-time chicken recipe!
Having company over? How about grilled honey mustard chicken for dinner? Want a quick dinner? Whip up this grilled honey mustard chicken.
Not sure what to make for dinner on a Monday? This is it.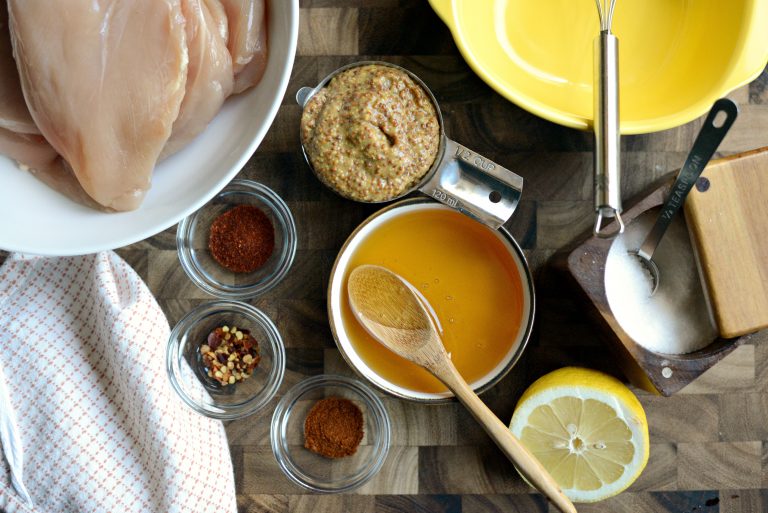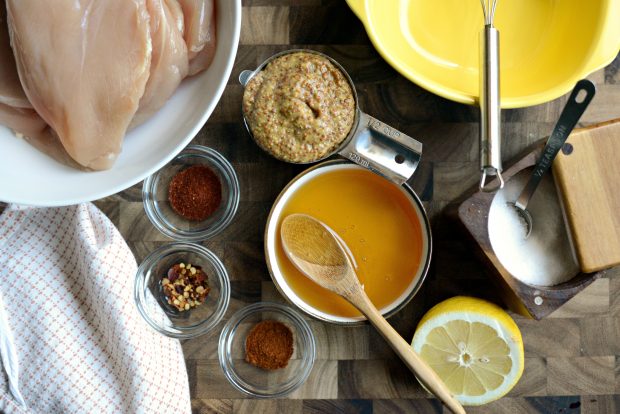 To Make This Grilled Honey Mustard Chicken You Will Need:
honey
whole grain mustard (hot beer mustard, if you can find it, is really good too)
fresh garlic
lemon
kosher salt
paprika
cayenne pepper
red chili flakes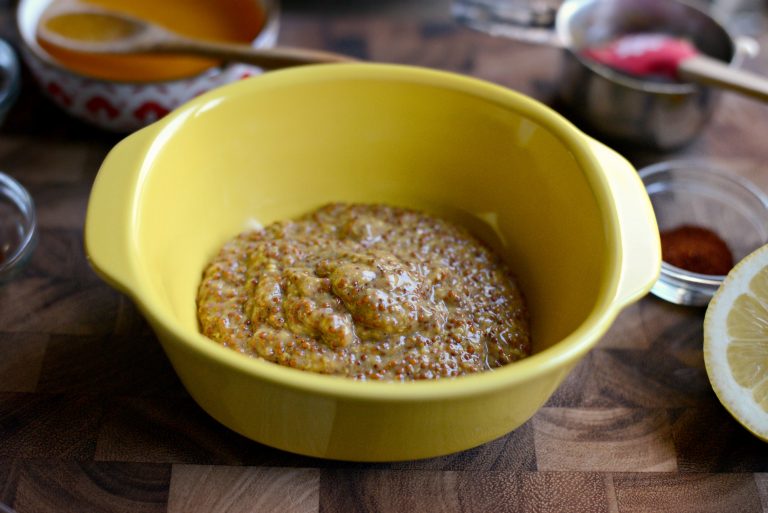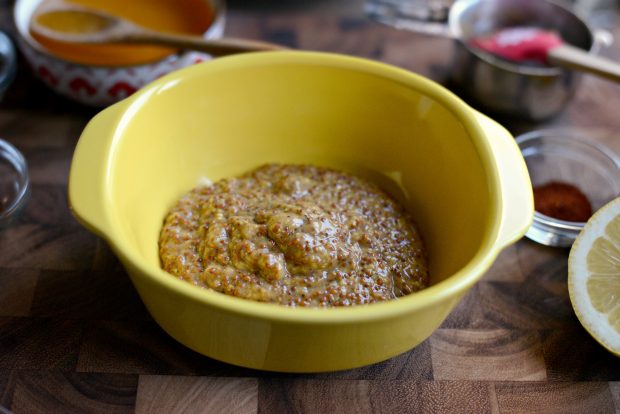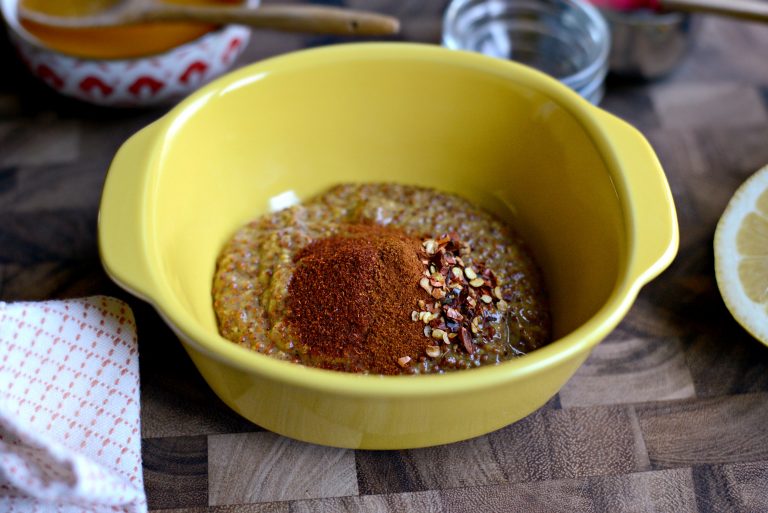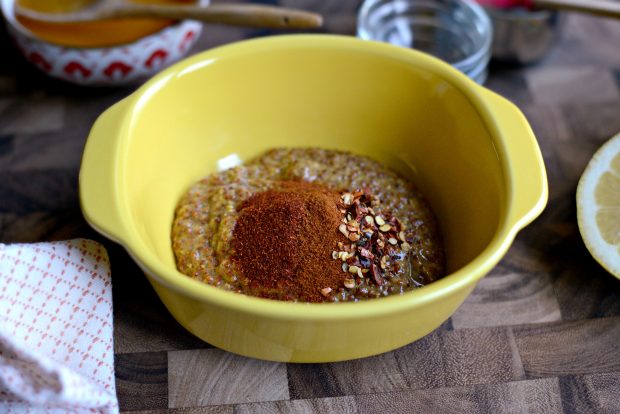 First add a half cup of the stone ground mustard to a small bowl with a 1/2 teaspoon of both kosher salt and paprika. 1/4 teaspoon of both cayenne pepper and red pepper flakes.
Don't be worried about the spices, this chicken is NOT spicy. It just gives it great flavor!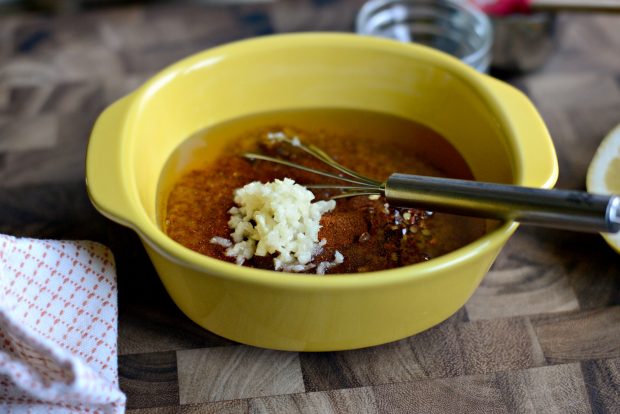 Pour in a 1/2 cup of honey and then squeeze two cloves of garlic through a garlic press or finely grate on a microplane.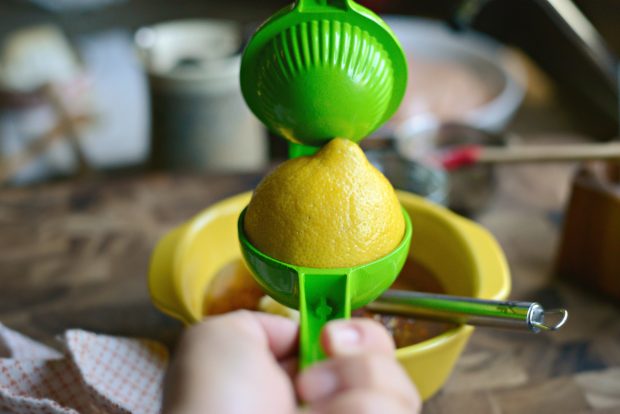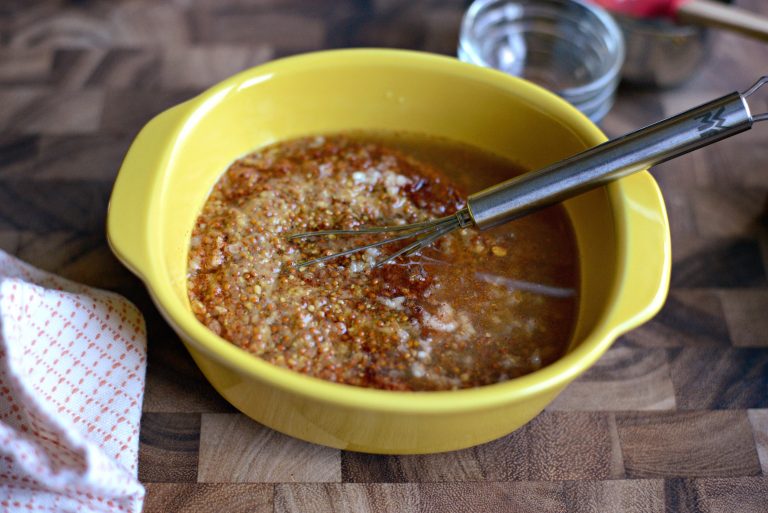 Lastly, add in the juice from half a juicy lemon and whisk until everything is combined.
Measure and reserve about 1/4 cup of the honey-mustard mixture because you will want 1 tablespoon for each chicken breast. Set this off to the side until you're ready to serve.
Pound the chicken breasts thin with the flat side of a meat tenderize and place into a bowl and pour the remaining marinade over the chicken.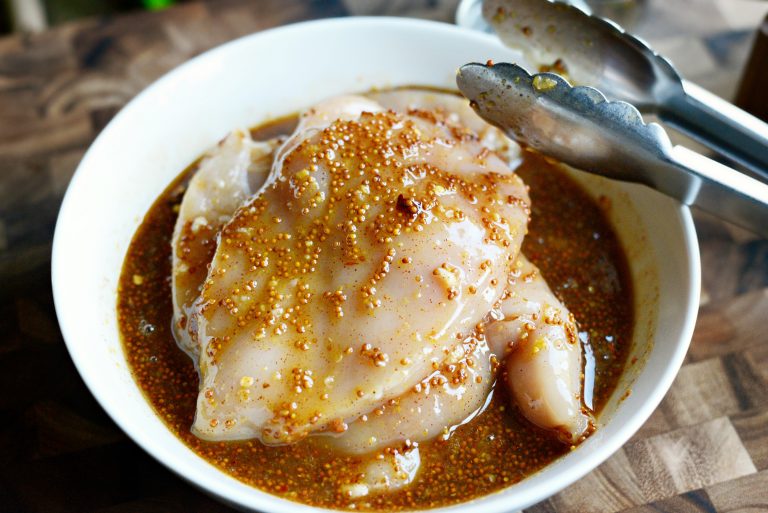 Toss to coat before covering with plastic wrap. Leave the chicken on the counter (at room temp) for about and 30 to 45 minutes.
Never ever put cold chicken, or any meat for that matter, on a hot grill.
Preheat your grill to medium to medium-high heat. Once hot, grill the chicken for about 6 to 8 minutes per side or until fully cooked. You will know the chicken is ready to turn if it easily releases itself from the grates.
Would you check out those grill marks!
Finally, allow the chicken to rest for about 5 minutes before serving. Doing so allows the juices can redistribute resulting in moist and delicious chicken.
Right before serving, pour a tablespoon of the reserved sauce over the top of each piece.
There you have it, the most delicious grilled honey mustard chicken.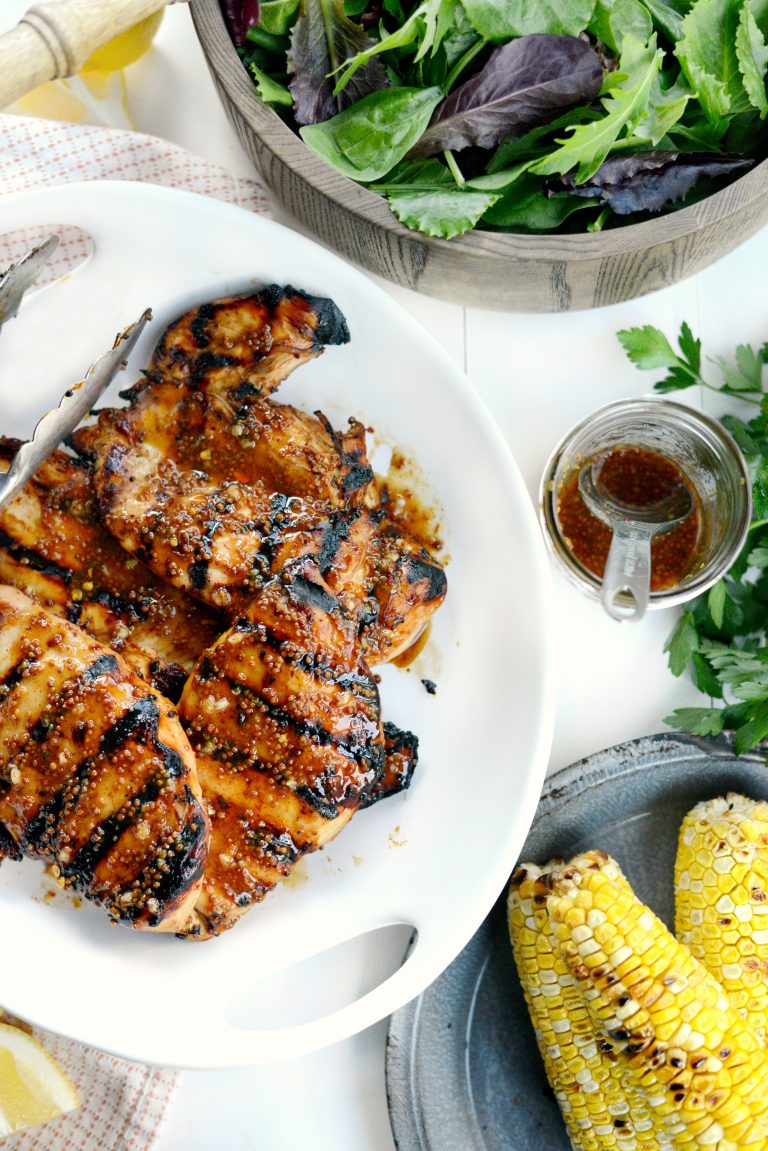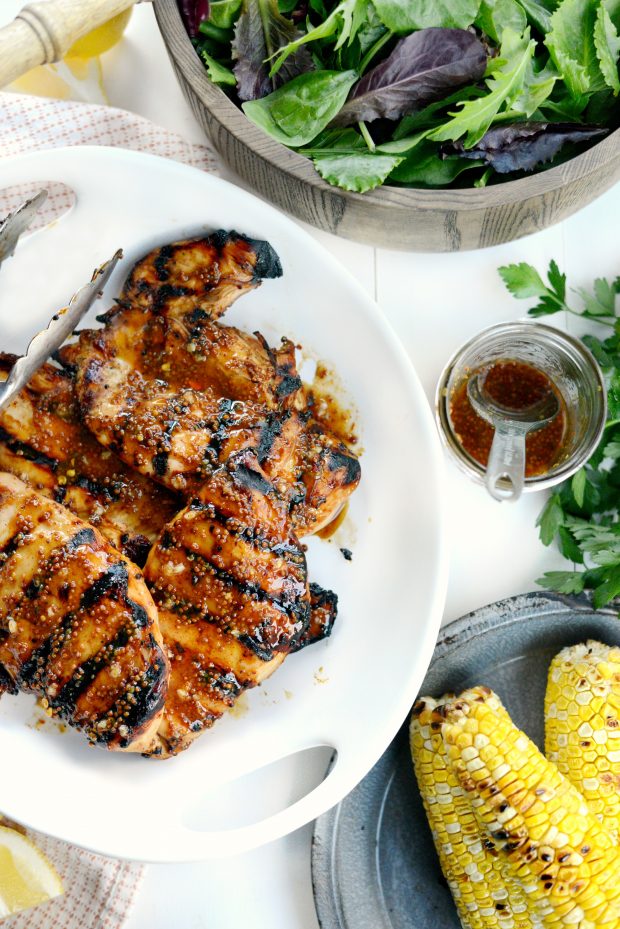 Most importantly, with the perfect amount of sauce! Because sweet, tangy, saucy with lots of good flavor is almost too good to be true.
This is my family's favorite chicken off of the grill. Serve this next to grilled corn and a garden salad for a quick, easy and delicious meal. Or slice and serve on top of a salad. The options are endless.
Click here For more chicken recipes!
Enjoy! And if you give this Grilled Honey Mustard Chicken recipe a try, let me know! Snap a photo and tag me on twitter or instagram!
This post may contain affiliate links.
Buy the Cookbook: Simply Scratch : 120 Wholesome Homemade Recipes Made Easy Now available on Amazon »
THANK YOU in advance for your support!