This coconut popcorn is a healthy twist on a traditional popped corn. Popcorn kernels are stove-popped in coconut oil for a healthy alternative!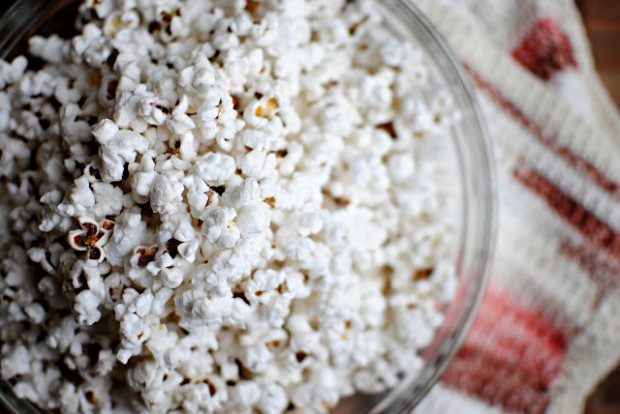 Move Over Buttered Popcorn!
The first time I tried this was at my sister Kelly's and I was a little unsure when I heard she was using coconut oil to make the popcorn, it can't possibly taste good!? I was so wrong! It was really good. There isn't an overwhelming coconut flavor, but it's there ever so subtly. I couldn't get it out of my head.
So I tried to make this on my own, but I bought refined coconut oil by accident. I Googled and found out that means it's basically stripped of flavor – totally bummed! Luckily my mom and I belong to a food co-op and we split a jar of un-refined and non-hydrogenated coconut oil. Now I have a nice huge jar of it sitting in my pantry!
Why use coconut oil for popcorn?
Well it has a high smoke point (360°), so it doesn't create any harmful byproducts when heated, and it has a long shelf life. I could go on and on about all of "pros" of using coconut oil.
To Make Coconut Popcorn You Will Need:
unrefined non-homoginzied coconut oil
popcorn kernels
Heat 1 tablespoon of coconut oil to a large pot (don't use a shallow pan!!) over medium-high heat. Add a single popcorn kernel.
Place the lid on and wait for the POP!
When you hear it, pour in 1/2 cup of popcorn kernels in a single layer on the bottom of your pan. The size of your pan will determine how many kernels you can add.
Put a lid on it and shake it often, being careful not to leave it on the burner or else you will risk burning it!
When the popping subsides, remove from the heat and slowly take off the lid. Season with kosher salt (you don't need butter because of the oil) and enjoy this healthy and delicious snack!
Enjoy! And if you give this Coconut Popcorn recipe a try, let me know! Snap a photo and tag me on twitter or instagram!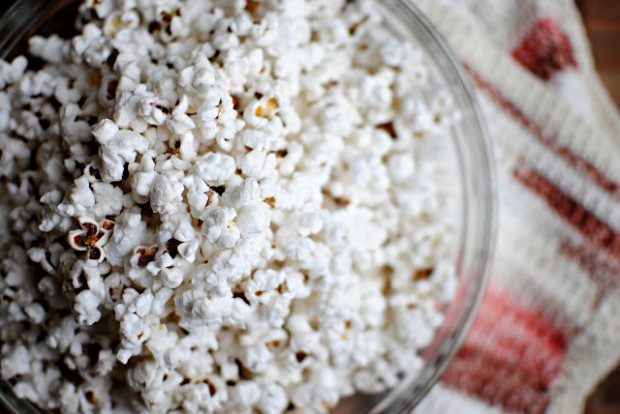 This post may contain affiliate links.
Buy the Cookbook: Simply Scratch : 120 Wholesome Homemade Recipes Made Easy Now available on Amazon »
THANK YOU in advance for your support!