Chorizo Sweet Potato Chilaquiles is a delicious rustic breakfast that will surely satisfy your hunger. In this recipe you'll find baked eggs with robust chorizo and sweet potato tortilla chips in a fire-roasted tomato sauce! This perfect one-pan breakfast serves 4 in about 35 minutes.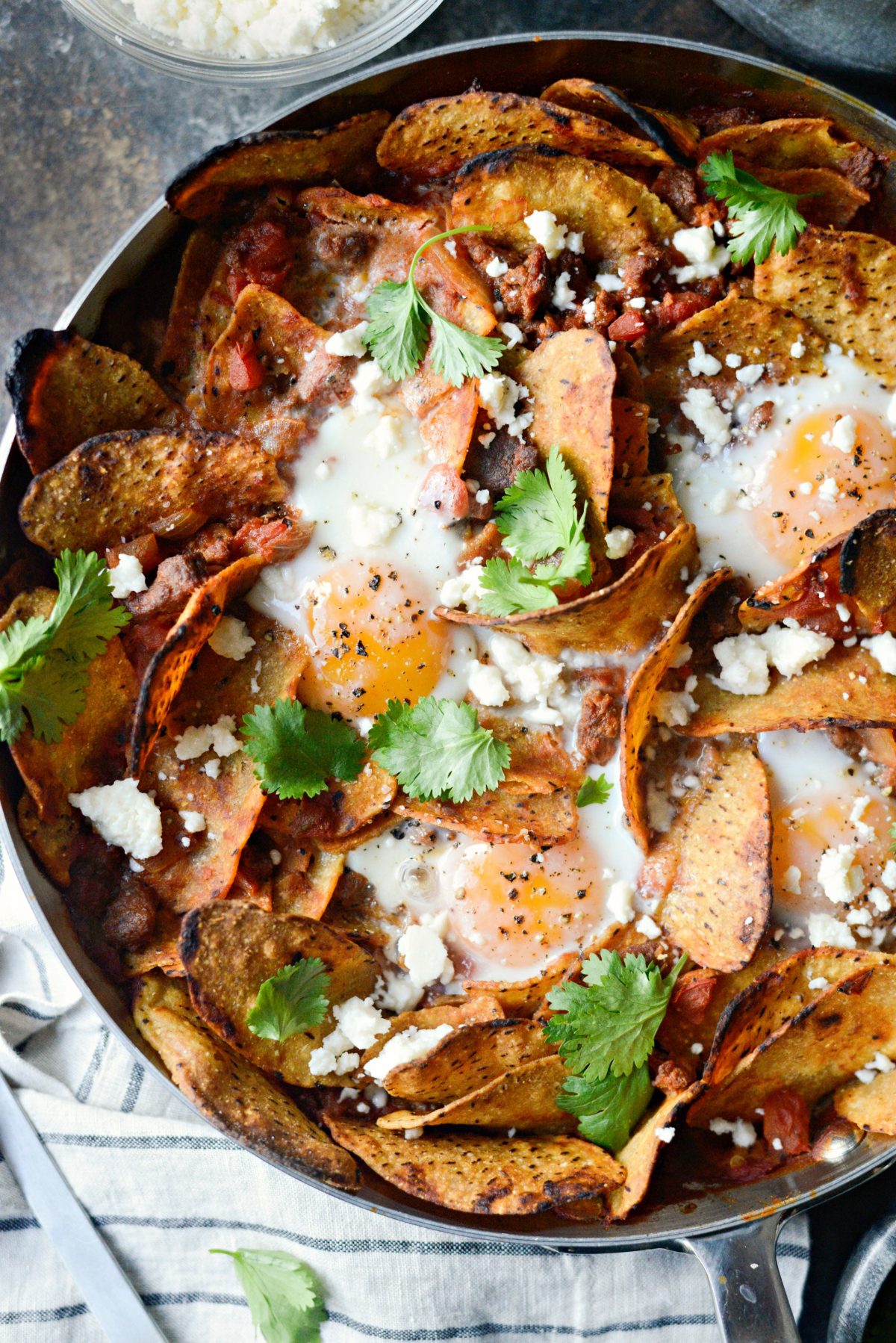 Originally I had plans to make basic chilaquiles. Because chips tossed with with onions, garlic and tomatoes is never a bad idea. But as I thought about it, I wanted something more. I cooked some chorizo and lightly caramelized onions with garlic and used fire-roasted tomatoes as the base for this amazing breakfast recipe.
This delicious skillet creation is easily one of the best breakfasts I've made in a long time. If you haven't had chilaquiles before, let me tell you, before my first bite, I thought I knew what to expect. I had no idea I would like an egg with a tomato sauce, but boy was I in for a surprise. The egg yolk is like a bonus sauce.
This is one of those recipes where I sit and wish that calories didn't exist because I could totally eat the entire skillet. True story.
It's hard to say what I love more; the contrasting textures of crisp and softened sweet potato chips, the thick yolk mixed with the tomato sauce or the chorizo sausage. It's all pretty amazing.
Here's what you'll need: 1/2 pound chorizo, 1/2 a yellow onion, 2 cloves fresh garlic, 30 ounces of crushed fire-roasted tomatoes, 1 (4 ounce) can diced green chiles, sweet potato tortilla chips, 4 eggs, salt and pepper.
As far as garnish/toppings go you will want queso fresco, cilantro and lime wedges.
To start, place a 1/2 pound of chorizo into a large 12-inch oven safe skillet. Use a wooden spatula to break the sausage into small crumbles. Whether your pan is cast iron or stainless, it really doesn't matter as long as it's deep-sided and safe to go from the stove top to the oven.
Once the chorizo is fully cooked, use a slotted spoon to transfer the chorizo to a paper towel lined plate, leaving the fat in the pan.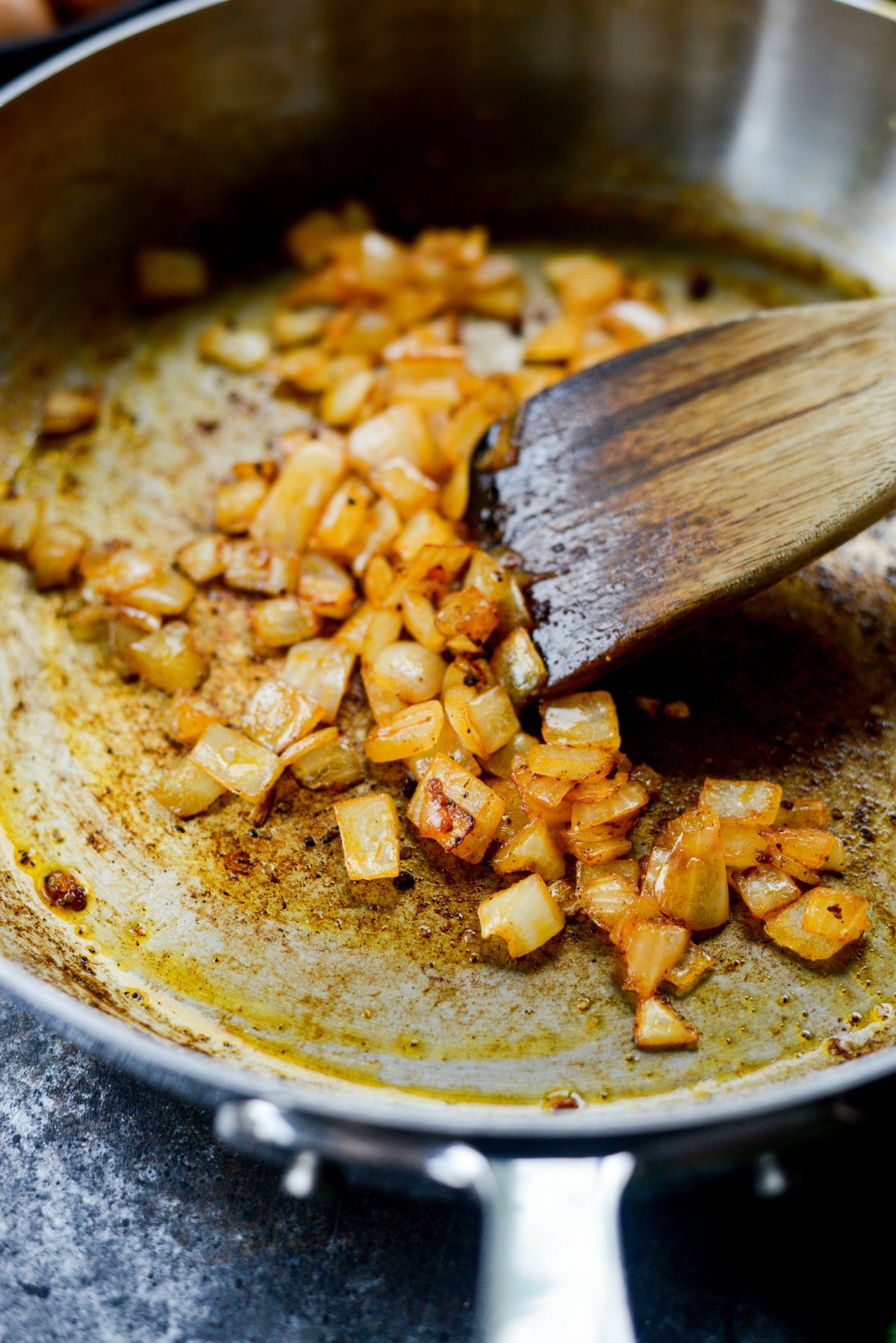 Next, add 1/2 a yellow onion that has been diced to the skillet. Season with kosher salt and freshly ground black pepper. Cook until the onions are tender and the edges start to caramelize and turn brown. Then add in the 2 cloves of minced fresh garlic and cook for about a minute.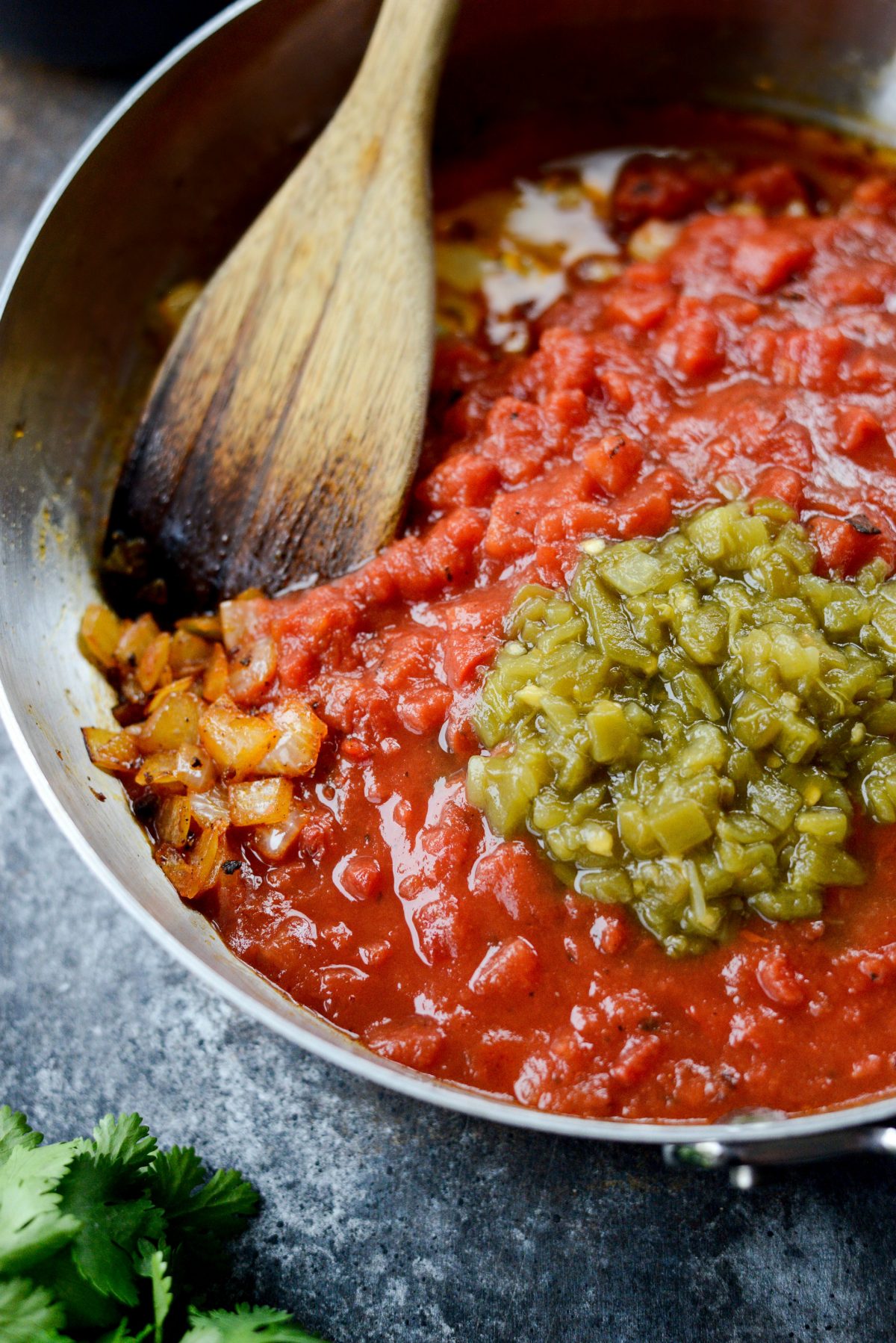 Next, reduce the heat under your skillet to medium-low heat and slowly pour in the crushed fire-roasted tomatoes and a pinch or two of sugar. Be careful when pouring, the pan will be hot and when the tomatoes get added, there may be some splash back. Add in the (drained) diced green chiles and stir to combine.
And then eason with 3/4 teaspoon kosher salt (more or less to taste). Then stir and simmer the tomato sauce for about 5 to 6 minutes or until it reduces slightly and thickens.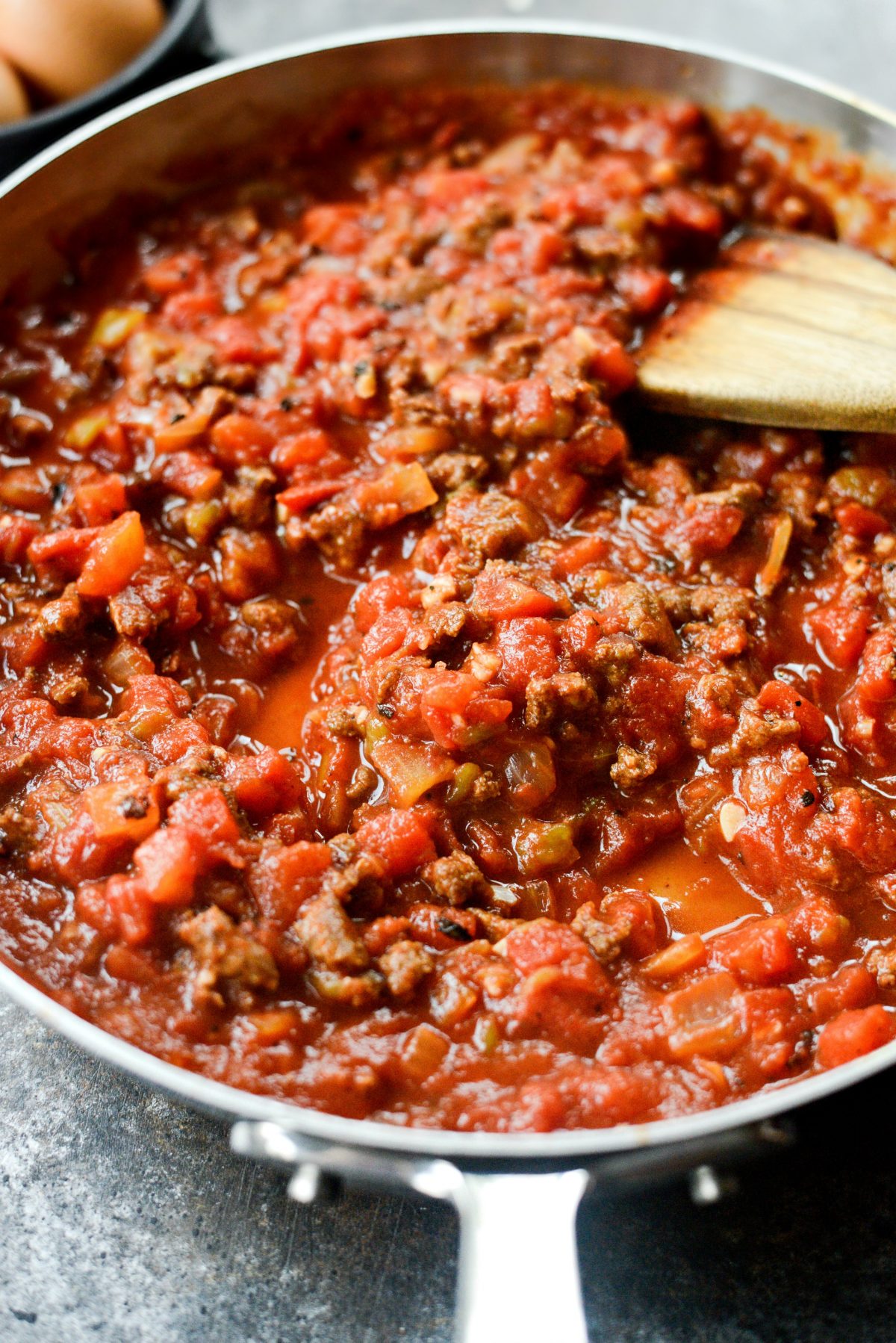 Then add the chorizo back into the fire-roasted tomato sauce, stir and bring to a simmer.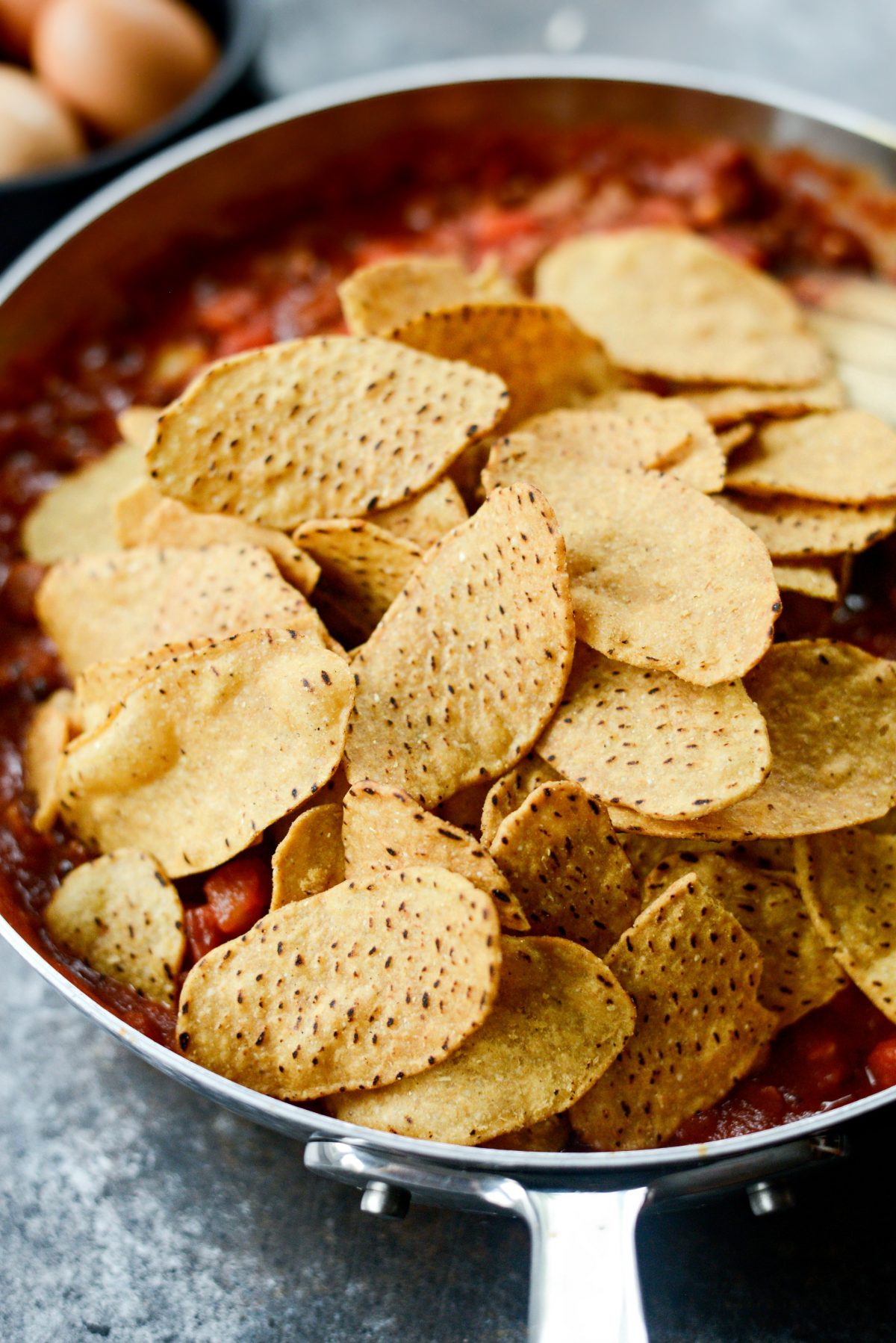 Next, turn off the heat and add in 4 generous handfuls of sweet potato tortilla chips or about 4 to 5 cups. Then toss to combine. This dish has delicious texture because some chips stick out and get all nice and crispy while other chips will soften from simmering in the sauce.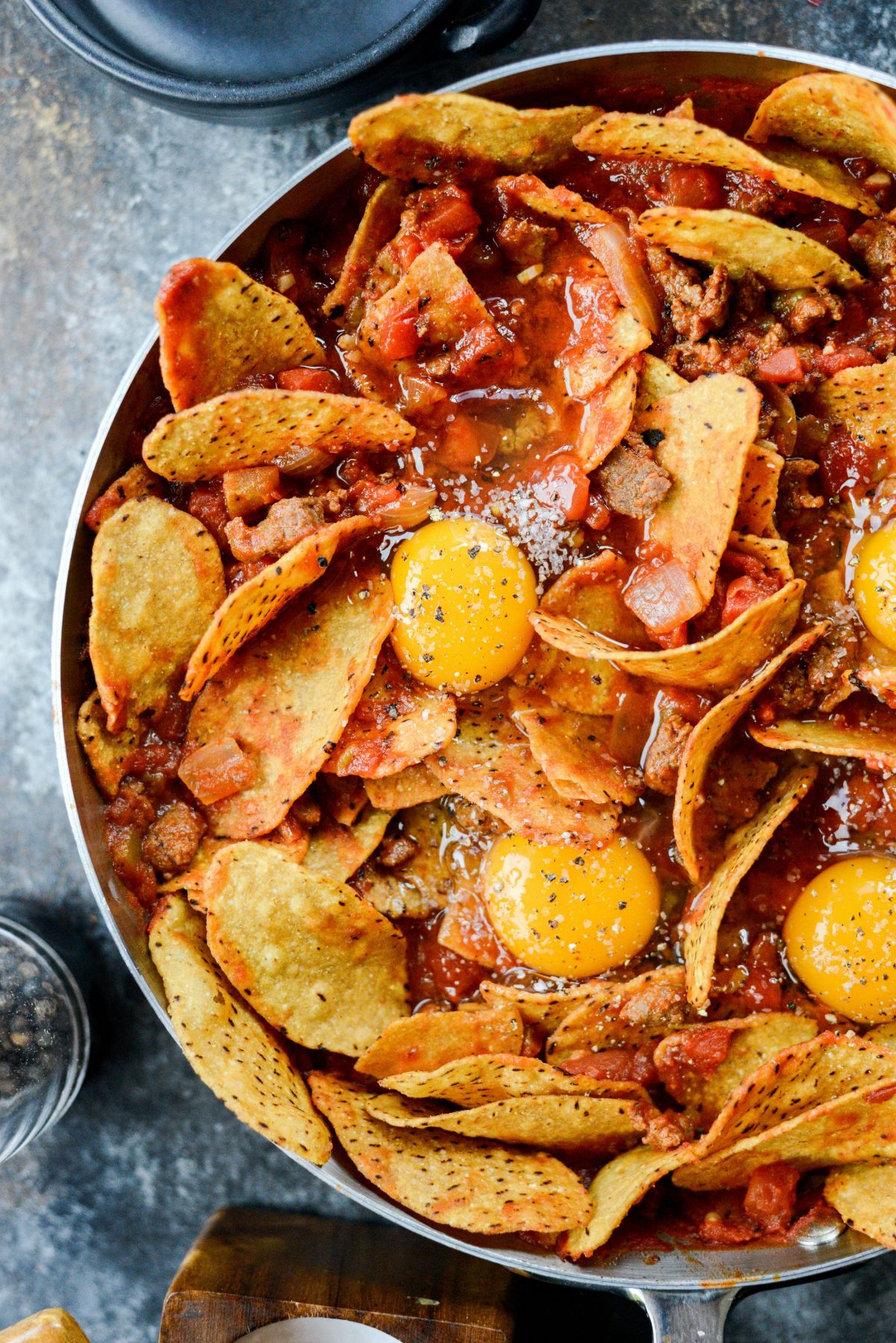 Next, use your spatula to make a four wells in the skillet. Carefully crack each egg into the wells and season the eggs with kosher salt and freshly ground black pepper.
Then slip the skillet onto the middle rack of your preheated 400° oven and bake for 12 to 14 minutes. With that said, you may want to check on your skillet at the 9 or 10 minute mark to make sure your eggs aren't cooking too fast. And then gauge how much longer you need for the egg whites to set. I highly reccomend keeping an eye on this and using a for to check the egg whites periodically.
To keep the egg yolks from over cooking, remove the skillet the minute the egg whites are set.
You guys, this chorizo sweet potato chilaquiles + a thick and runny egg yolk is heavenly.
Lastly, garnish the chorizo sweet potato chilaquiles with crumbled quest fresca, cilantro leaves and a little extra black pepper never hurts.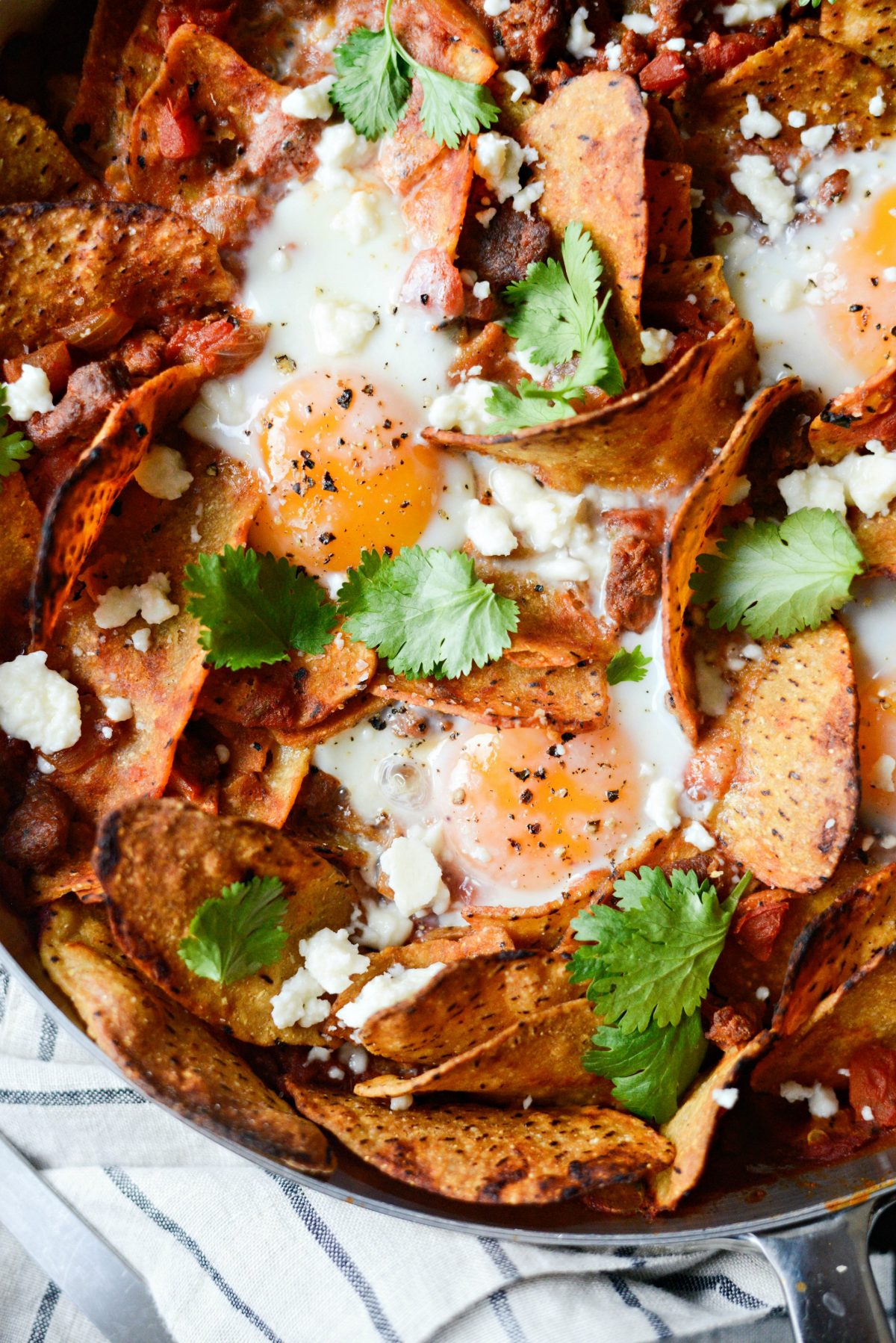 Queso Fresco vs. Cotija? First of all, either cheese would work fine in this recipe. Queso fresco has more moisture in it than Cotija, therefore it melts beautifully once the crumbles hits the hot chilaquiles.
Serve with a fresh squeeze of lime juice over top.
Enjoy!
And if you give this Chorizo Sweet Potato Chilaquiles recipe a try, let me know! Snap a photo and tag me on

twitter

or

instagram!
My cookbook Simply Scratch : 120 Wholesome Homemade Recipes Made Easy is now available!

CLICK HERE fo

r details and THANK YOU in advance!

Yield: 2 to 4 (depending on how hungry you are!)
Chorizo Sweet Potato Chilaquiles
Chorizo Sweet Potato Chilaquiles is a delicious rustic breakfast that will surely satisfy your hunger. In it, eggs bake with robust chorizo tossed with sweet potato tortilla chips in a fire-roasted tomato sauce!

Prep Time 5 minutes

Cook Time 40 minutes

Total Time 45 minutes
Ingredients
1/2 pound bulk chorizo sausage
1/2 a medium yellow onion, diced
kosher salt
freshly ground black pepper
2 cloves minced fresh garlic
28 ounces crushed fire-roasted tomatoes
a pinch of sugar
4 ounces diced green chiles
4 cups sweet potato tortilla chips
queso fresco, for serving
cilantro leaves, for serving
lime wedges, for serving
Instructions
Preheat your oven to 400°.
In a 12-inch deep sided skillet over medium heat, use a spoon to break it up into small crumbs and fully cook. Use a slotted spoon to transfer the chorizo to a paper towel lined plate to drain.
To the same pan (with the remaining fat) add the onion and cook until edges start to caramelize. Add in the garlic and cook 1 minute or until fragrant.
Carefully pour in the crushed tomatoes and green chiles and a pinch or two of sugar. Simmer on medium-low heat until thickened, about 5 minutes.
Add the chorizo back in and stir. Next add in the sweet potato tortilla chips and gently toss. The chips do not need to be evenly coated. Taste and season the sauce with salt to taste.
Make 4 wells into the saucy chips and crack in an egg into each one and season with salt and freshly ground black pepper..
Slide the pan onto the middle rack of your preheated oven and bake for 12 minutes or until the egg whites are set. The yolks should still be runny. Because every oven is different, I suggest that you start checking your eggs at the 9 to 10 minute mark to prevent the eggs from over cooking.
Serve with a sprinkle of queso fresco, cilantro leaves and lime wedges.
Recommended Products
As an Amazon Associate and member of other affiliate programs, I earn from qualifying purchases.
Nutrition Information:
Yield:
4
Serving Size:
1

Amount Per Serving:

Calories: 559 Total Fat: 36g Saturated Fat: 13g Trans Fat: 1g Unsaturated Fat: 20g Cholesterol: 71mg Sodium: 1414mg Carbohydrates: 38g Fiber: 7g Sugar: 8g Protein: 24g

Nutrition information isn't always accurate.

[this post contains affiliate links.]