Tis the season for cranberry Moscow mules! Yes I added a few splashes of cranberry to my adult bevvy to make it festive. Seriously, it's meant to happen. Cranberry juice, ginger beer and lime. Oh and vodka. Can't forget the vodka!
Cheers! I made us a drink.
Can you believe this past summer was the first time I had a Moscow Mule? I know, I'm just as shocked as you are. My sister Christine was in town and I tried hers. So dang good you guys and it's totally my kind of drink. Easy and contains wedges of lime.
Why in the heck did it take me so long? I mean, hellllo there's a COPPER MUG involved.
So I decided to spike the already spiked cocktail with cranberry juice for a festive twist. It adds a distinct tart cranberry flavor that just works with this already heavenly adult beverage and especially over the holidays.
And of course there's still the whole copper mug thing.
Really there's no "rules" to making a drink in my house. We pretty much eyeball everything. However, what is a rule (at least for me) is the brand of vodka and ginger beer.
No this is not a paid sponsored post. Just my personal opinion here, take it or leave. 😉
With that said:
Tito's vodka
Bundaberg ginger beer.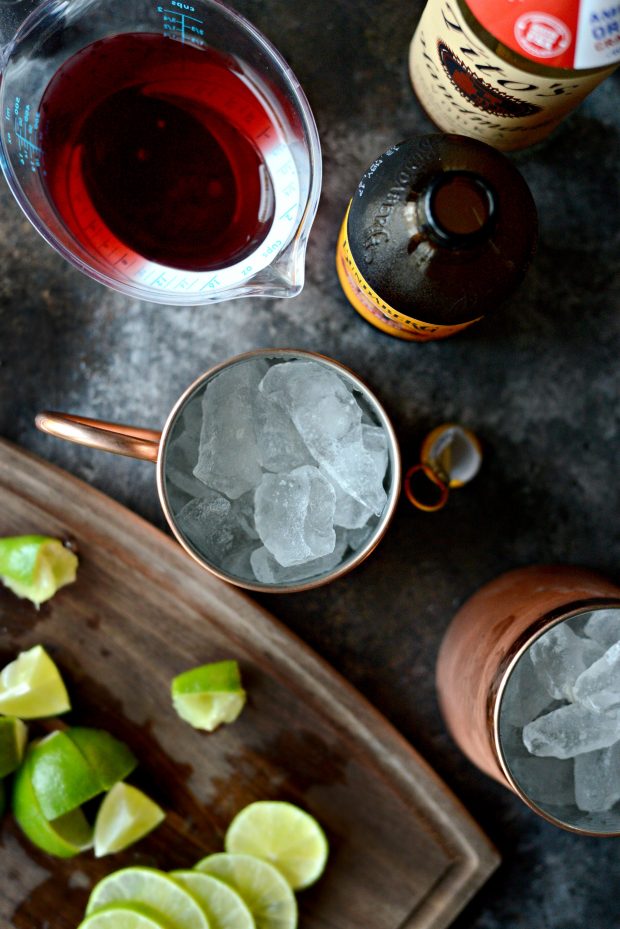 Fill two mugs with ice. I have the big mugs, because they hold more and well, nope that's actually the only reason.
I found them at Target and I love them.
Next pour in 1 to 1-1/2 ounces of vodka over the ice.
Then pour in about 6 ounces of cranberry juice…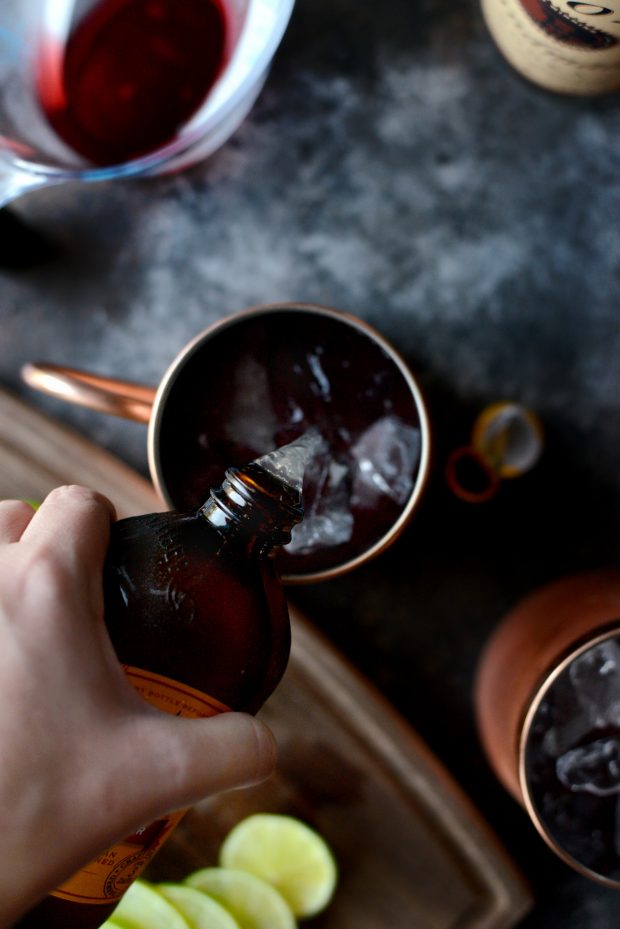 Then top it all off with the ginger beer. My mom got me hooked on this Bundaberg ginger beer. Most likely you can find it at your local major grocery store, but I know Costco sells a typical Costco-size box… if you want to stock up. Which you will.
Before sipping, squeeze in a wedge or two of lime juice. Garnish with thin slices of lime and fresh cranberries for a special festive touch.
Now just sip and enjoy these ice cold cranberry Moscow mules. Bonus points if it's in front of a cozy fire.
Cheers!
(and please drink responsibly!)
My cookbook Simply Scratch : 120 Wholesome Homemade Recipes Made Easy is now available! CLICK HERE for details and THANK YOU in advance!
Cranberry Moscow Mules
I gave these Cranberry Moscow mules a holiday twist by adding a few splashes of cranberry juice into the mix. You need these at your next holiday party .
Yield: 2 large mugs (mules)
Prep Time: 5 minutes
Cook Time: 0 minutes
Total Time: 5 minutes
Ingredients:
2 to 3 ounces vodka (I like Tito's)
12 to 16 ounces cranberry juice
12-13 ounces ginger beer (I like Bundaberg)
lime wedges
fresh cranberries, for garnish
lime slices, for garnish
Directions:
Add ice into large copper mugs or glasses.
Pour 1 to 1-1/2 ounces of vodka into each mug. Top with 6 to 8 ounces cranberry juice.
Fill the mug the rest of the way with ginger beer.
Lastly, squeeze in a lime wedge or two.
[this post contains affiliate links.]