Roasted Sweet Potatoes are tossed in a smoky seasoning blend and drizzled with honey for the perfect sweet and smoky combo.
When your bff texts to tell you how she's majorly crushin' on a certain sweet potato recipe she's been making lately, you do NOT ignore it- you ask for the recipe. STAT.
Especially when the recipe is as simple as the one I'm about to show you.
Simple as in one pan, nine ingredients, 10 minutes of prep (if that) and in 30 minutes you have sweet and smoky sweet potatoes.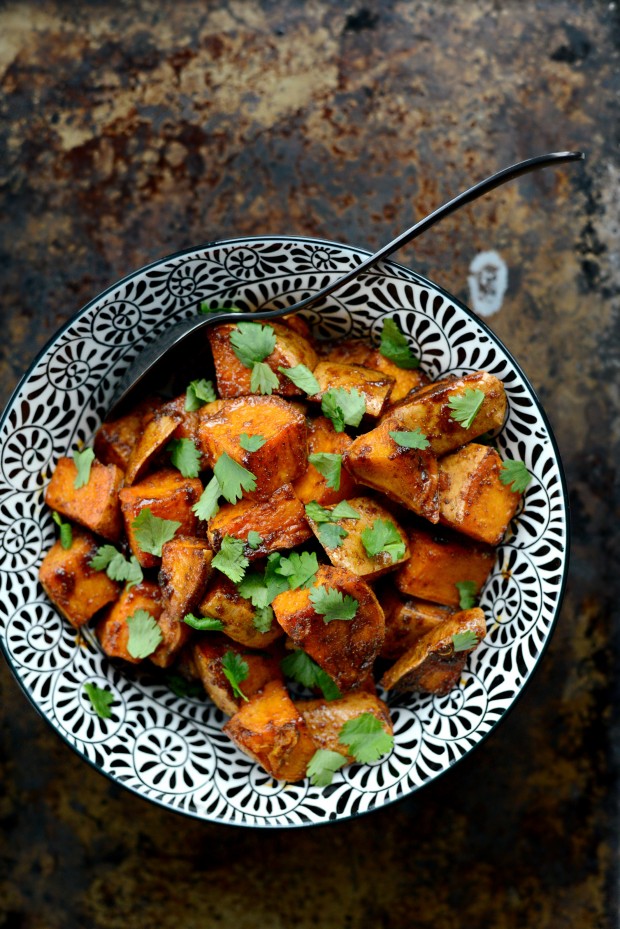 It's kind of a hash, could be a side or do what I do and make it lunch (with a side of avocado and a fried egg on top- whaaat? craziness!).
I never did ask here how she came up with this, but am I glad she did. Friends are good like that. They create and share recipes so you can make them, eat them and then blog them to share with the world (<— you know what I mean).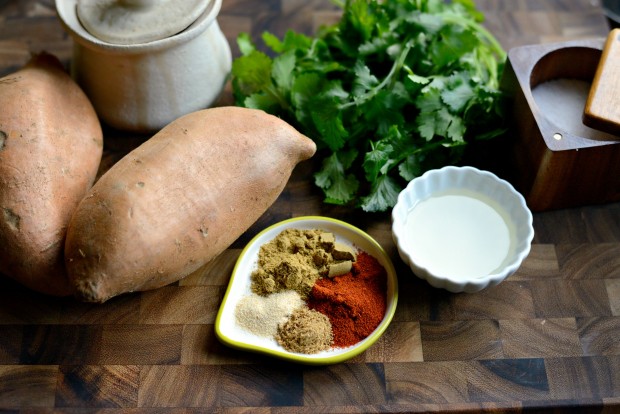 Grab the ingredients and get going.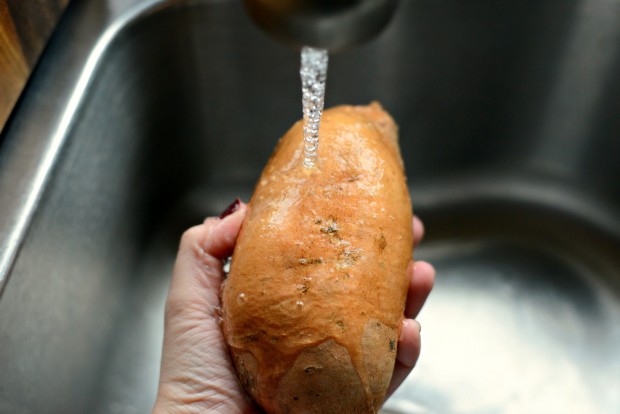 Scrub the sweet potatoes and rinse under cool water.
Trim the ends off if they're all busted up.
Cut into thirds…
…and then in to large chunks. These do shrink a bit in the oven so don't worry.
Oh and yeah, we're leaving the skin on not only out of sheer laziness but because there' s nutrients there.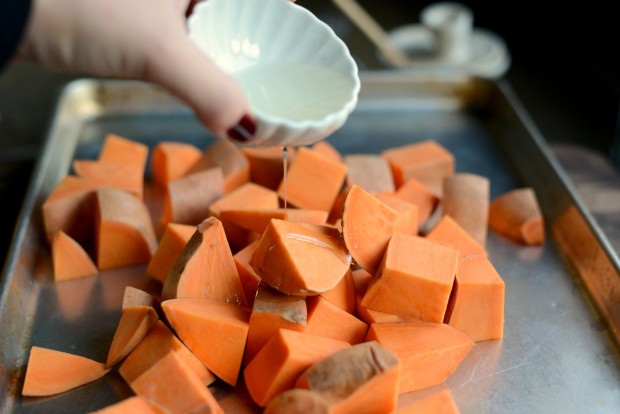 Place the sweet potatoes on a rimmed, metal baking sheet and drizzle with the oil.
Sprinkle on the spices…
Toss…
…and season with kosher salt.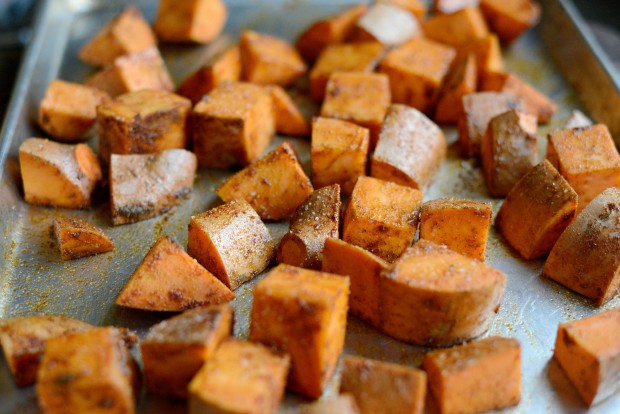 Spread the potatoes out evenly…
And roast in a preheated 400 degree oven for 25 to 30 minutes (or until tender and caramelized) rotating the pan halfway to ensure even roasting.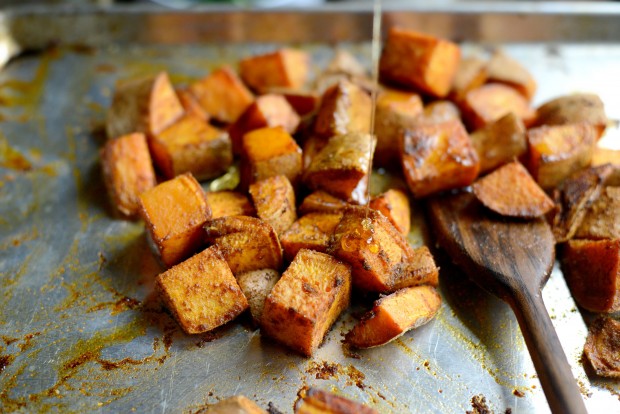 Once roasted, drizzle the potatoes with a tablespoon of honey.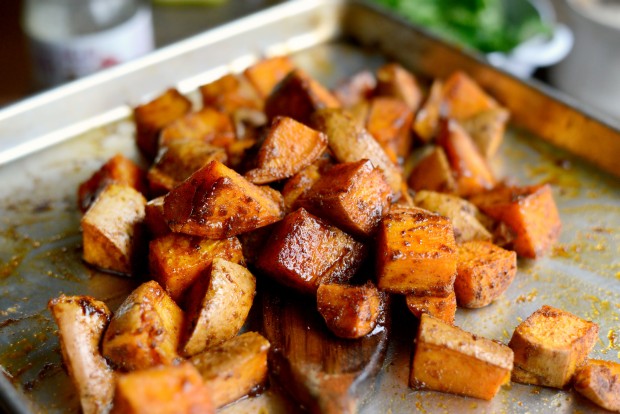 That's all folks!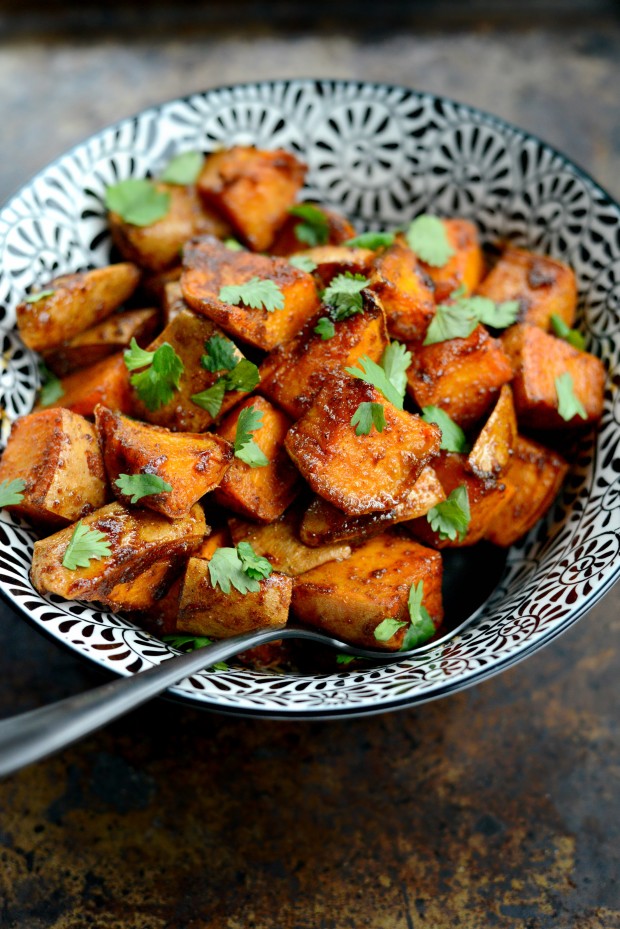 Sweet from honey, smoky from the paprika and delicious because these are sweet potatoes we're talking about here.
These are perfect next to chicken, pork or simply by themselves. They make excellent leftovers and are fantastic in the morning with a drippy yolk cascading over them.
Enjoy!
My cookbook Simply Scratch : 120 Wholesome Homemade Recipes Made Easy is now available! CLICK HERE for details and THANK YOU in advance!
Yield: 4 servings
Sweet and Smoky Sweet Potatoes
Sweet from honey, smoky from the paprika and delicious because these are sweet potatoes we're talking about here.
Ingredients
2 large sweet potatoes, cut into 1-1/2 inch chunks
2-1/2 tablespoons sunflower or safflower oil
1-1/2 teaspoons ground cumin
1-1/2 teaspoons smoked paprika
1/2 teaspoon ground coriander
1/2 teaspoon garlic powder
1/2 teaspoon kosher salt
1 tablespoon honey
chopped fresh cilantro, for serving
Instructions
Preheat your oven to 400°.
Toss the sweet potatoes with the oil, cumin, paprika, coriander, garlic powder and salt. Spread them into an even layer and roast for 25 to 30 minutes or until tender.
Allow the sweet potatoes to cool for a few minutes before using a spatula to toss them with the honey.
Serve topped with fresh cilantro.
Recommended Products
As an Amazon Associate and member of other affiliate programs, I earn from qualifying purchases.