This beef satay and peanut sauce is one of my favorite recipes on my blog. We serve it over jasmine rice, drizzled with a delicious peanut sauce and topped with green onions and cilantro!
It's Monday, and boy do I have a case of the Monday's. Big time. After having all these plans of a fun and food-filled weekend, it all was thrown for a loop at 11:17 Friday night when we lost power. The wind was crazy strong and it was only a matter of time or gusts before a gigantic tree came down and hit the power-lines square in the back of our yard. Awesome.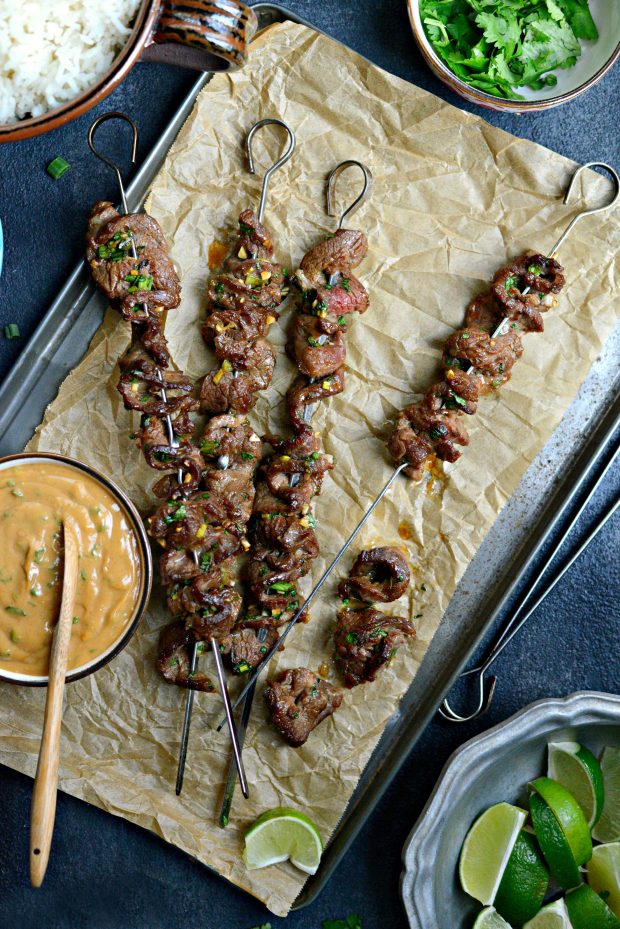 So instead of cooking, laundry and catching up on the weeks American Idol episodes, all four of us laid in bed playing on our cell phones. We played cards by candle light with the smell of kerosene in the air. What can I say? It was better than I'd planned. Really! It was cozy and quiet, never mind that hum of generators in the back yard of every home on our side of the street except ours. It actually was really fun.
So when the power was restored early Sunday I was a little sad but more than ready to cook up today's post for you. Beef satay, a recipe I found on Food.com long ago and have been in love with ever since.
For the marinade, you'll need just a few fridge and pantry ingredients– and flank steak.
One of my favorite cuts of beef to work with is flank steak.This is around a pound and a half. First, I cut in half lengthwise, then I place into a small rimmed sheet pan and pop it in the freezer for 20 to 25 minutes so it can freeze slightly which makes the slicing part much, much easier.
To make the beef satay marinade; mince up two cloves of garlic, slice up four green onions and about a quarter cup of fresh cilantro. Add those plus a quarter cup of dark brown sugar, a quarter cup of tamari and a quarter cup of oil to that. I'm using grapeseed but any light flavorless oil will work. Then add a tablespoon of Sriracha and give it a good whisk.
Add in the steak, toss to coat and let the steak marinate on the counter for 30 to 40 minutes. Meanwhile, I make the spicy peanut dipping sauce.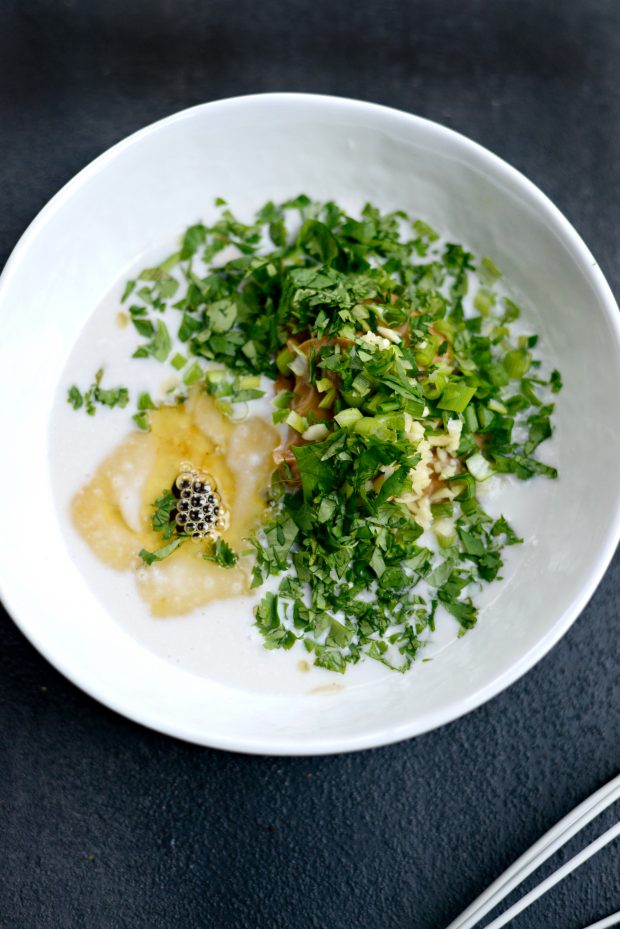 In a medium bowl, combine a 1/2 cup smooth peanut butter, 1/4 cup hot water, 1/3 cup coconut milk, 1 tablespoon toasted sesame oil, 1 tablespoon low-sodium tamari (low-sodium soy sauce may be substituted), 1/2 tablespoon fish sauce, 1/2 tablespoon sriracha, the juice from half a lime, 1 tablespoon dark brown sugar, 1 clove of garlic grated or squeezed through a garlic press, 1 tablespoon chopped fresh cilantro leaves and 2 thinly sliced green onions.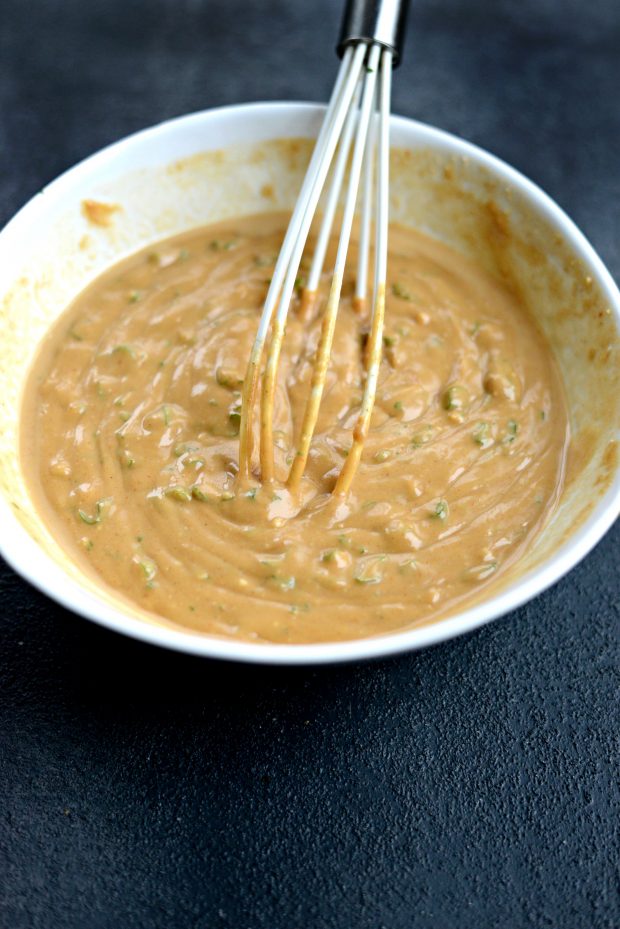 It's quite list of ingredients but it's SO good!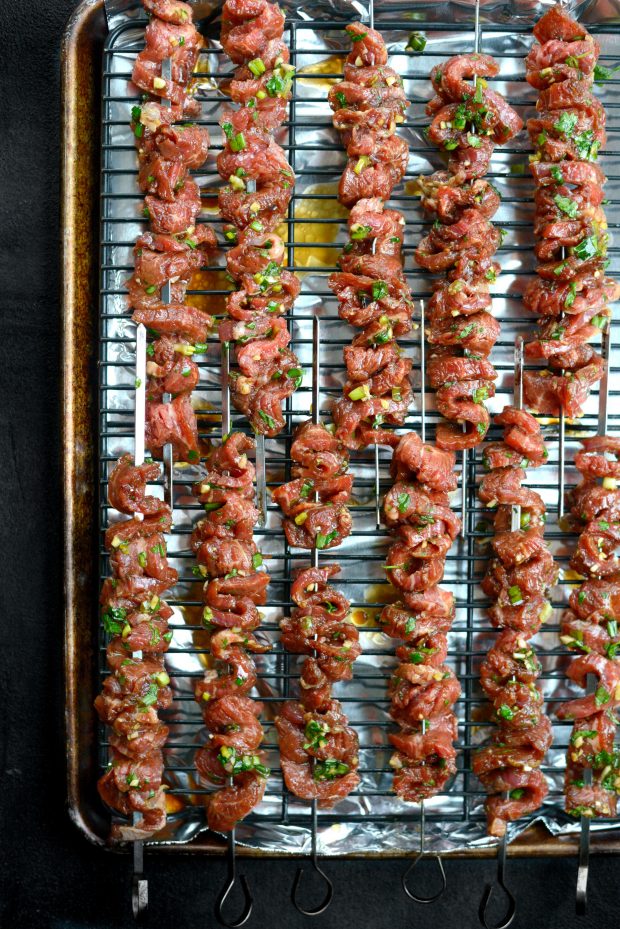 Once the sauce is made and steak is marinated, I thread the meat on to 10 to 12 skewers before placing them on a wire rack that's in a half sheet pan. Place the pan in a preheated 425° oven for 10 minutes; rotate the pan at the 5 minute mark. That's it.
Boom. Satay. Crispy and caramelized edges, tender, juicy and delicious pieces of steak.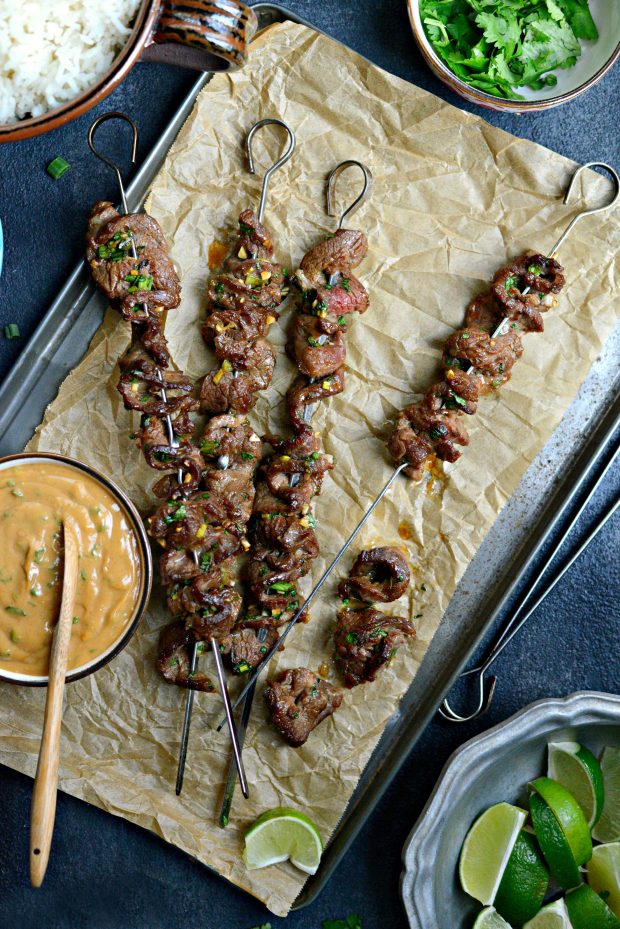 These skewers are only mildly spicy yet majorly delicious.
I serve these up either in lettuce wraps with a little rice and extra sriracha or I serve them in bowls atop rice with a drizzle or two of peanut sauce, chopped cilantro, green onions and, if it's my bowl, chopped peanuts. YUM!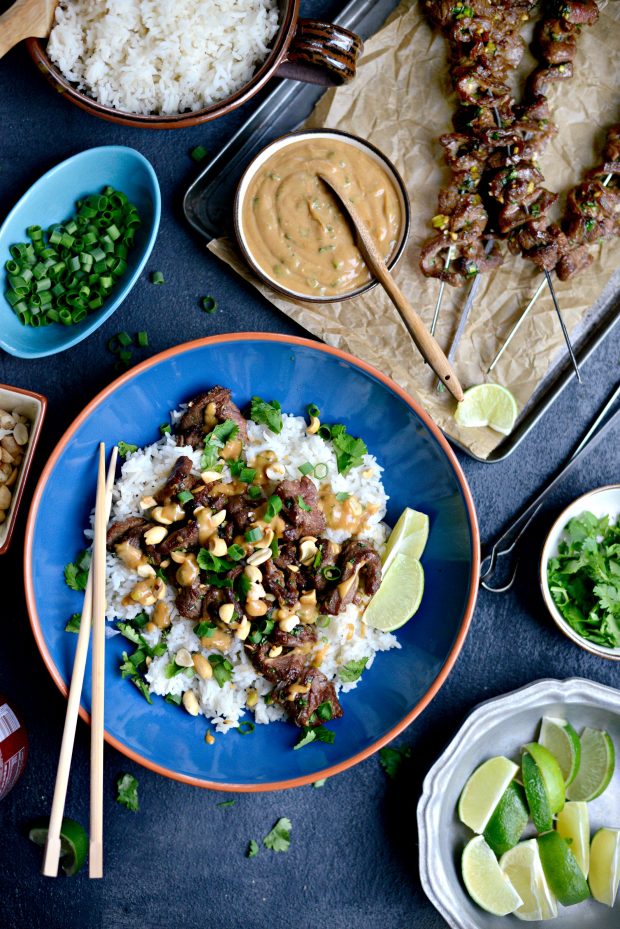 Amazing flavor, crazy easy.
Enjoy! And if you give this Beef Satay recipe a try, let me know by snapping a photo and tagging me on twitter or instagram!
My cookbook Simply Scratch : 120 Wholesome Homemade Recipes Made Easy is now available! CLICK HERE for details and THANK YOU in advance!
Beef Satay with Peanut Dipping Sauce
This is the best beef satay I've ever tasted! We serve it over jasmine rice, topped with the beef satay, drizzle it in peanut sauce and top with cilantro!
Yield: 10-12 skewers or about 4-6 skewers
Prep Time: about 35 minutes
Cook Time: 10 minutes
Total Time: about 45 minutes
Ingredients:
FOR THE SKEWERS
1-1/2 pounds flank steak
1/4 cup low-sodium tamari (or low-sodium Soy Sauce)
1/4 cup grapeseed oil (or any light, flavorless oil you like)
1 tablespoon sriracha
1/4 cup dark brown sugar, firmly packed
1/4 cup fresh cilantro leaves, chopped
2 garlic cloves, minced
4 green onions, sliced thin
FOR THE SPICY PEANUT SAUCE
1/2 cup creamy peanut butter
1/4 cup hot water
1/3 cup unsweetened coconut milk
1 tablespoon toasted sesame oil
1 tablespoon low-sodium tamari (or low-sodium soy sauce)
1/2 tablespoon fish sauce
1/2 tablespoon sriracha
juice from half a lime (about 1 tablespoon)
1 tablespoon dark brown sugar
1 garlic clove, grated, finely minced or pressed through a garlic press or minced really fine
1 tablespoon chopped cilantro leaves
2 green onions, sliced thin
a pinch of kosher salt
Directions:
For the skewers: Slice the flank steak in half, place onto a small, rimmed sheet pan or dish and pop it into the freezer for 20-25 minutes. Once frozen, remove the flank steak from the freezer and slice into 1/4 inch strips.
Meanwhile, in a bowl measure the brown sugar, cilantro, garlic and green onions. Add in the tamari, oil and the Sriracha stir to combine. Add in the sliced steak and toss to coat and marinate for 25-30 minutes and no longer than 45 minutes.
While the beef is marinated make the peanut sauce.
Thread strips of steak onto the skewers. Brush any remaining marinade over top and (keeping the handles out of the marinade) let them sit for no longer than 45 minutes on the counter.
Meanwhile preheat your oven to 425°. Place the skewers onto a oven-safe wire rack that's set into a rimmed sheet pan. Place on the middle rack of your oven and cook for 10 minutes, rotate the pan halfway through. Serve immediately.
For the peanut sauce: Whisk peanut butter with the hot water. Add in the rest of the ingredients and stir to combine. Serve.
[this post contains affiliate links.]