This homemade Shirley Temple is made with homemade grenadine for a delicious colorful drink! My favorite childhood beverage complete with sword toothpicks!
It's the weekend and you probably would get a kick out of making this a little sooner than later. So I've decided to give you a fun-little weekend recipe. A beverage with history, a childhood favorite that's simple and refreshing and one I happen to still love!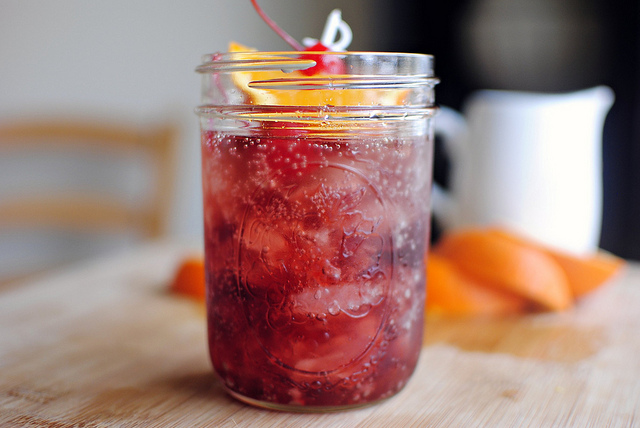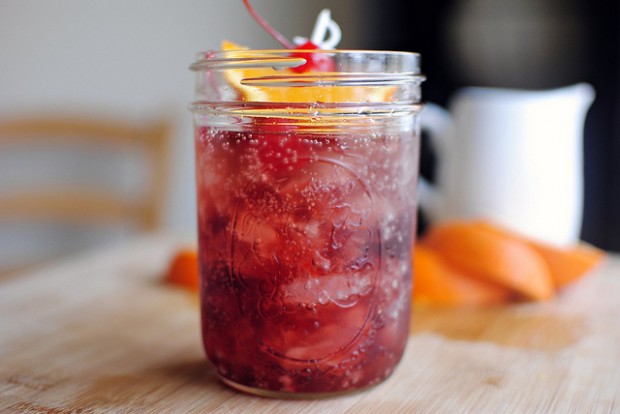 Shirley Temple's anyone?
I remember vividly. I was 6-ish, the place was Annie McPhee's. It was like the ONLY restaurant in my then small town of Ortonville, Michigan. My family would get a giant pizza which came with the most amazing house-made breadsticks I'd ever tasted. My sister Julie and I would kick back with a couple "Kiddie Cocktails" (aka Shirley Temples) with a orange slice and cherry as garnish.
I'd toss that orange slice aside and save the cherry for the very last. It was the forbidden fruit, that maraschino. I could easily sit on the couch and eat a whole jar, make no bones about it.
TO Make These Shirley Temples You Will Need:
all-natural cherry juice
granulated sugar
lemon-lime sparkling water or 7-up soda
orange slices, for garnish
maraschino cherries, for garnish
sword toothpicks
I like to use lemon-lime carbonated water, you definitely could use 7-up or Sprite but I think this doesn't make the drink overly sweet. My girls like these a lot and they're crazy easy to make! You could also make other flavors and jazz these up by using different juices like pomegranate, currant or even blackberry! yumz.
Measure 4 cups of cherry juice.
Pour the juice into a sauce pan.
Then bring the cherry juice to a simmer over moderate heat.
Reduce by half, which should take about 20-25 minutes.
Next, remove off of the heat and add in 2 cups of sugar. See? Who needs pop when you have all this sugar??
Give it a good stir and let cool completely.
Lastly, add some ice to a gigantic glass or wide-mouth jar.
Fill the glass 3/4 of the way with lemon lime soda.
Top with the cherry syrup.
How purrrrty!
Complete with maraschino cherries and an orange wedge speared with one of those swashbucklers-sword toothpick thingies. So, so fun and thirst quenching!
I hope you love this homemade Shirley Temple as much as we do!
Enjoy! And if you give this homemade shirley temple recipe a try, let me know! Snap a photo and tag me on twitter or instagram!
This post may contain affiliate links.
Buy the Cookbook: Simply Scratch : 120 Wholesome Homemade Recipes Made Easy Now available on Amazon »
THANK YOU in advance for your support!