Red, White and Blue Sangria is light and refreshing! White wine, cointreau, sparkling water and fresh berries for a crisp and festive adult beverage. Makes 1 pitcher serving 8+ depending on glass size.
As the weather starts warming up, I love a glass of chilled sangria. Red or white, doesn't matter. The thought of sitting on my front porch, glass of sangria in one hand and iPad in the other sounds like the perfect way to unwind. However this sangria is also a great adult beverage for serving a crowd.
In this festive white wine sangria, fresh berries are added to white wine, cointreau and sparkling water sangria for a festive touch and as a bonus, a snack after you've finished your glass.
Wine soaked berries, yes please.
Here's what you need for the red, white and blue sangria:
white wine – I like sauvignon blanc, especially Nobilo
Cointreau
lime sparkling water or lime soda if you want a sweeter sangria
fresh strawberries, raspberries, blueberries
ice
mint for serving
What is Cointreau?
Once called Curaçao Blanco Triple Sec, Cointreau is a orange flavored liquor. Typically consumed as an aperitif (before dinner) or digestif (after dinner) or mixed with other ingredients to make several different types of cocktails like margaritas, cosmopolitans and sidecars – and white wine sangrias 😉.
When I was shooting this, I did things a little backwards. It's not a huge deal if you add your berries first or last. But I prefer to add them after I stir, as to not break up those delicate raspberries.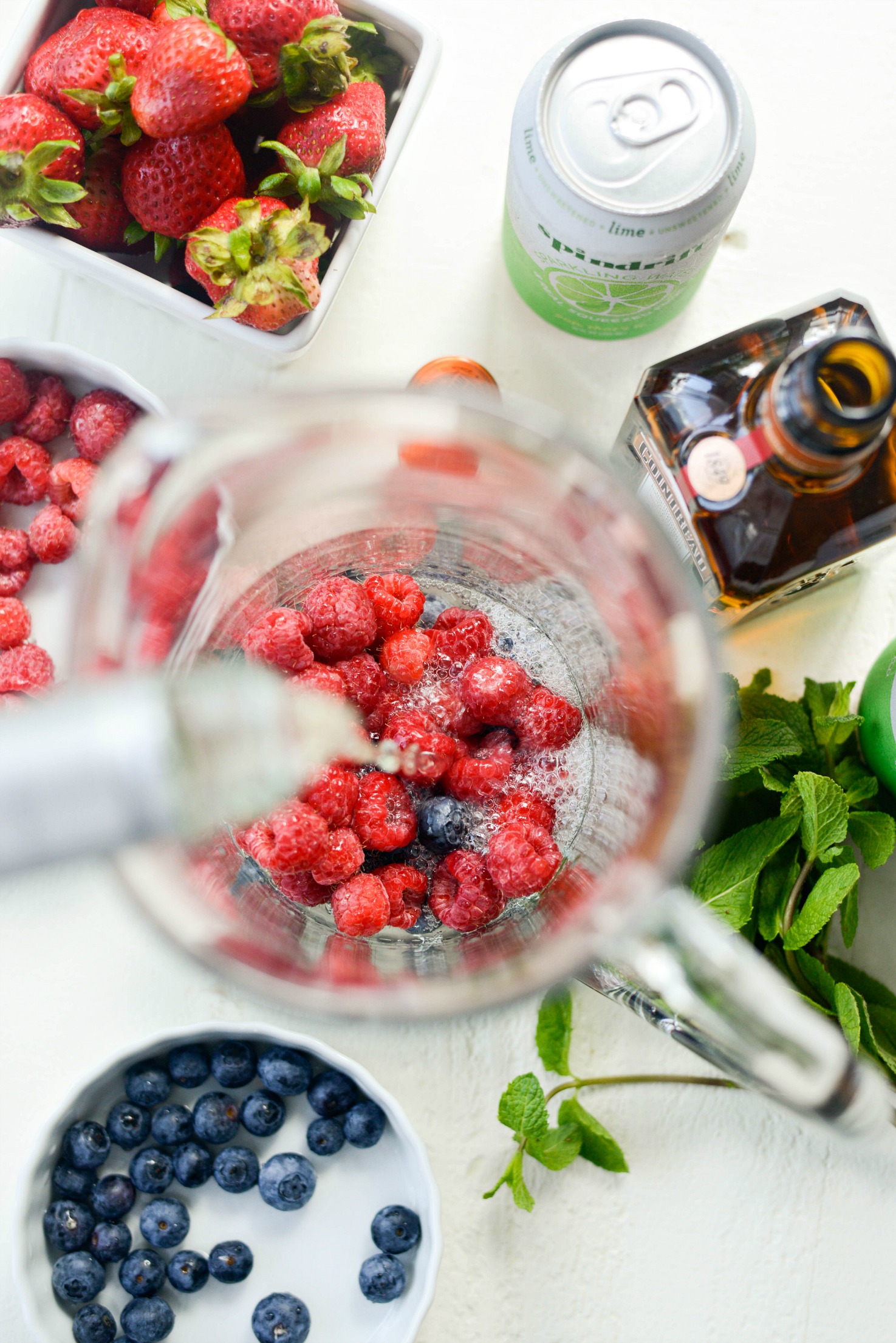 With that being said, in a large pitcher pour in the bottle of chilled white wine, 6 ounces cointreau and 2 cans (also chilled) lime sparkling water. Stir to combine.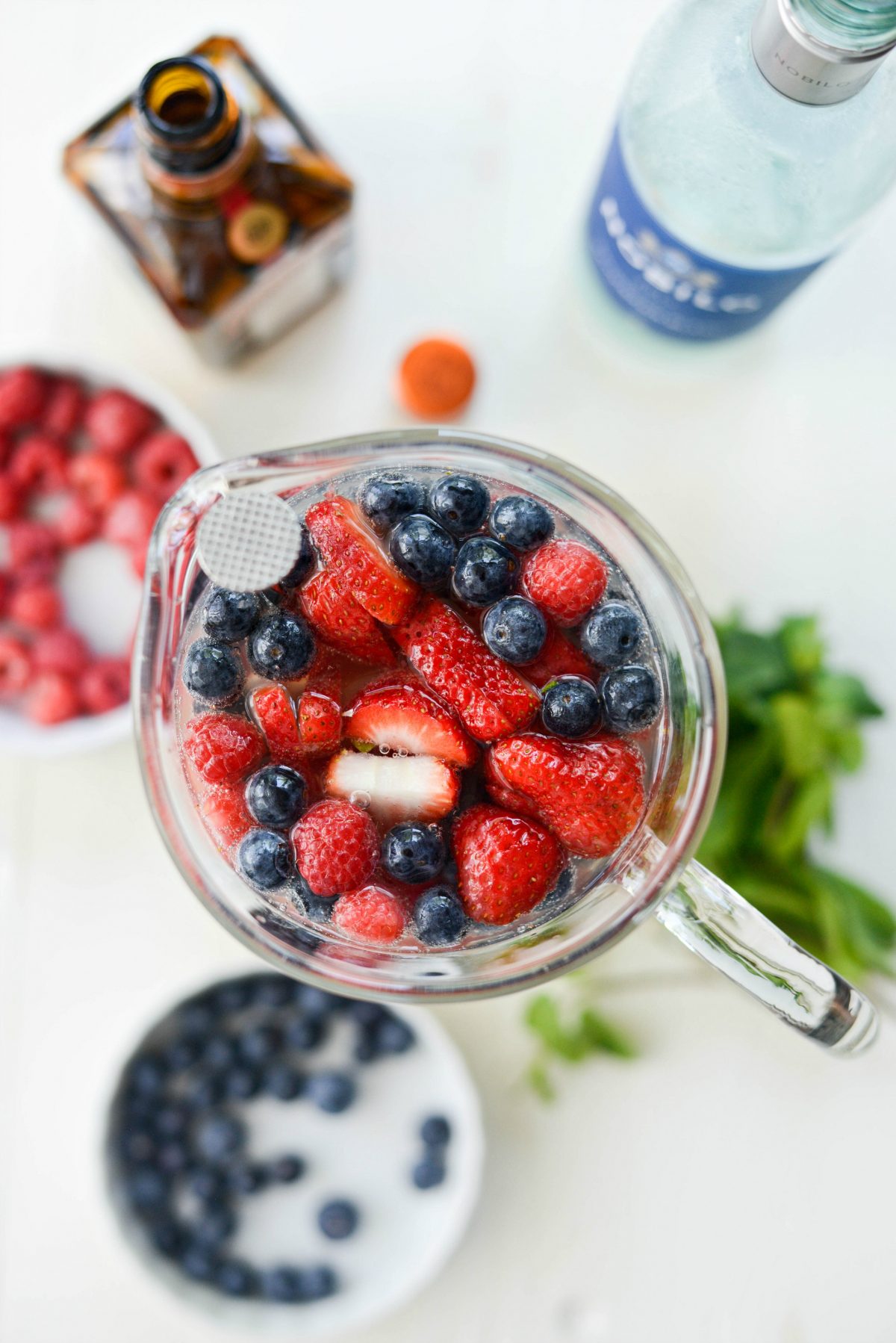 Now is when I would add in half of all the berries, if I was paying attention. 😂
Finally serve this gorgeous red, white and blue sangria!
To do that, fill glasses with ice and pour the sangria overtop. Then add a few of the extra berries and a sprig of fresh mint.
looking for more adult beverages click here!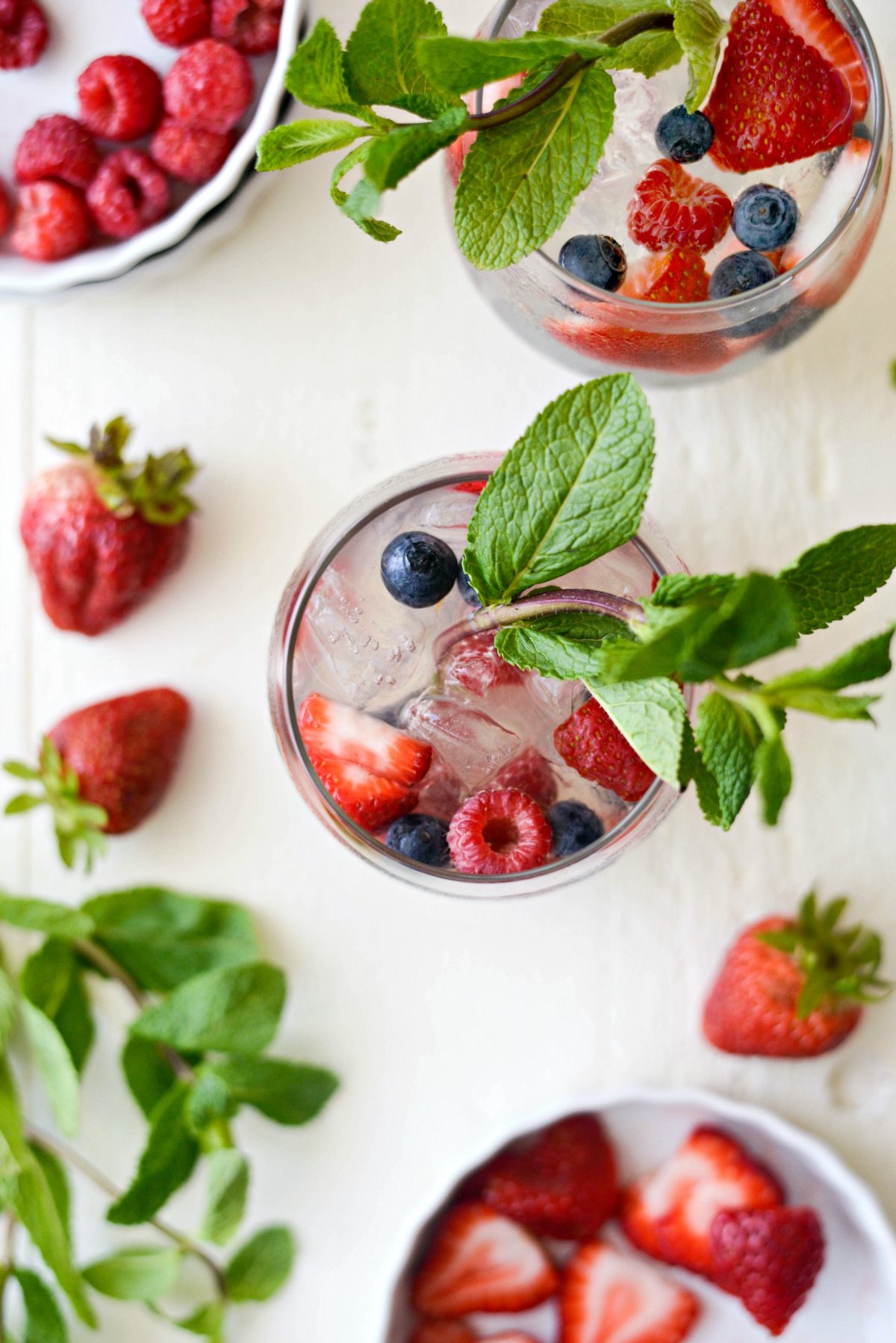 Enjoy! And if you give this Red, White and Blue Sangria recipe a try, let me know! Snap a photo and tag me on twitter or instagram!
This post may contain affiliate links.
Buy the Cookbook: Simply Scratch : 120 Wholesome Homemade Recipes Made Easy Now available on Amazon »
THANK YOU in advance for your support!