In these Homemade Mulling Spice Sachets; cinnamon sticks, cardamom pods, whole cloves and citrus zest are tightly bound with a double layer of cheesecloth and kitchen string. Infuse cider and wine with these spices for a delicious mulled beverage.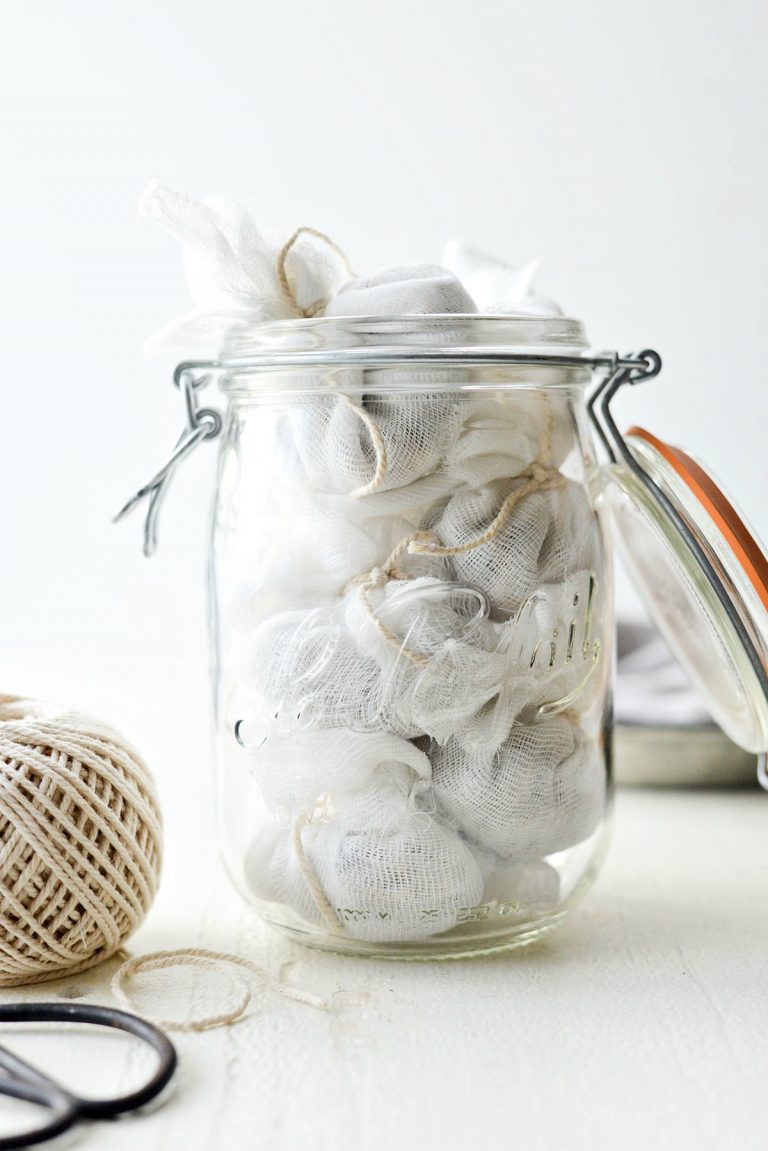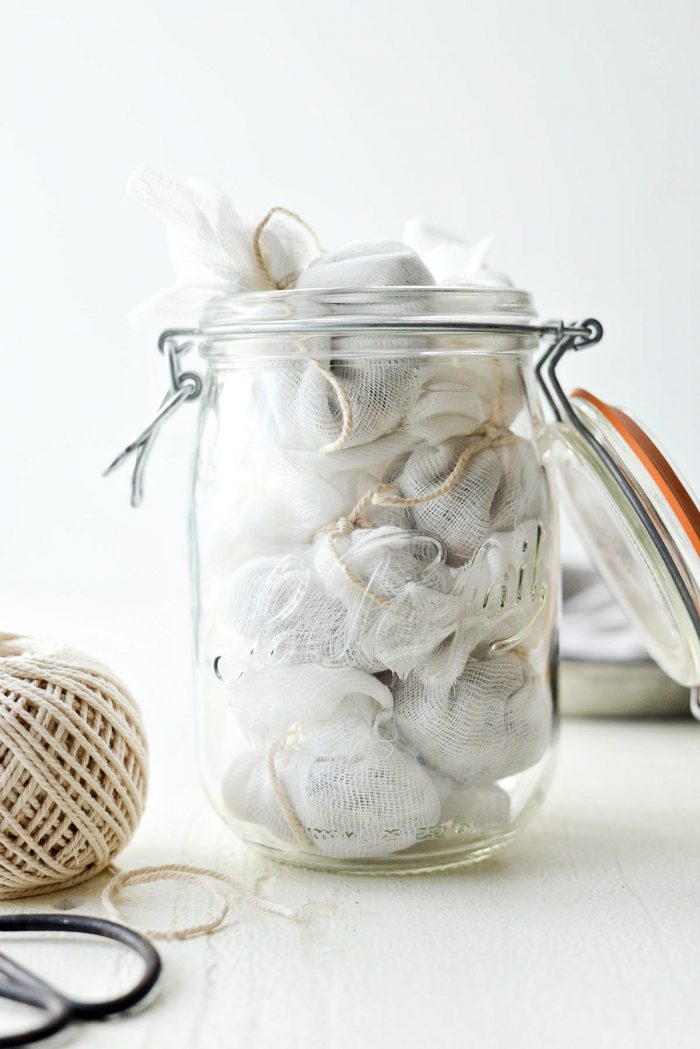 What is Mulling Spice?
Mulling spices is a spice blend used in beverages. The combination of spices varies but usually consist of cinnamon, cloves, allspice and nutmeg. Sometimes cardamom, black pepper and star anise are used as well. It's these particular spices that make the beverage "mulled". Common fall and winter beverages that use these spices are mulled cider, mulled wine, wassail and hippocras. (thank you wikipedia)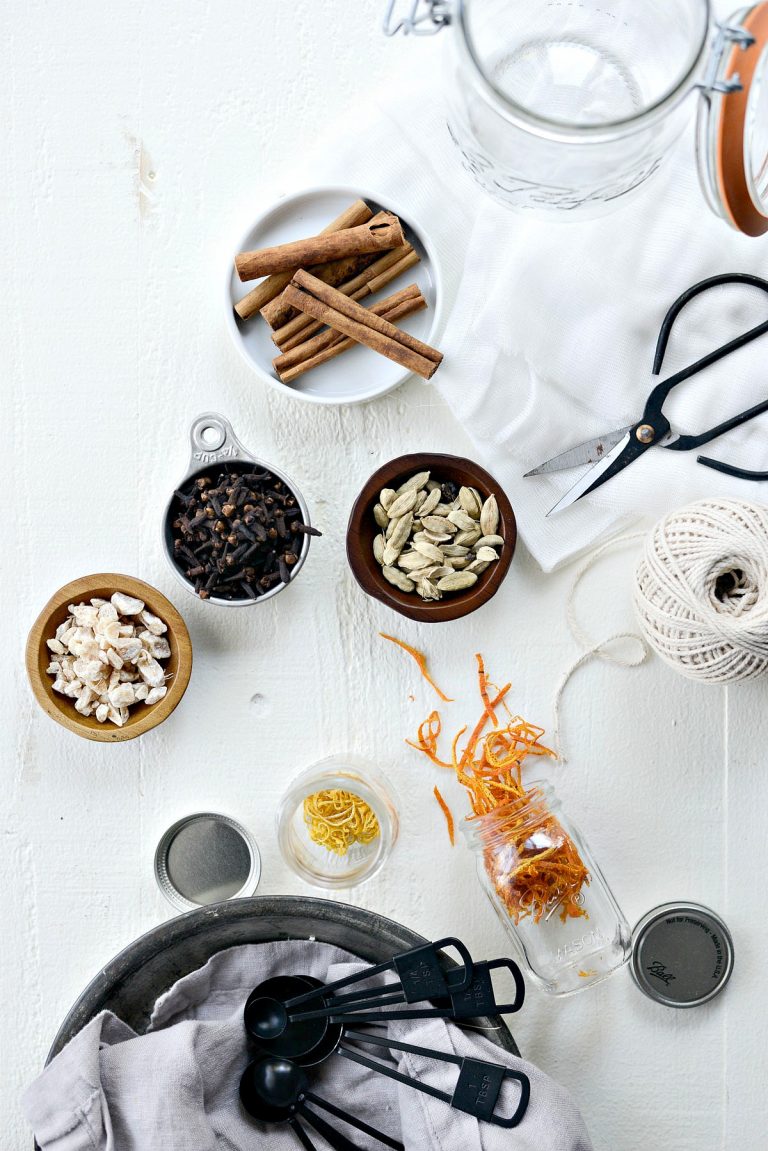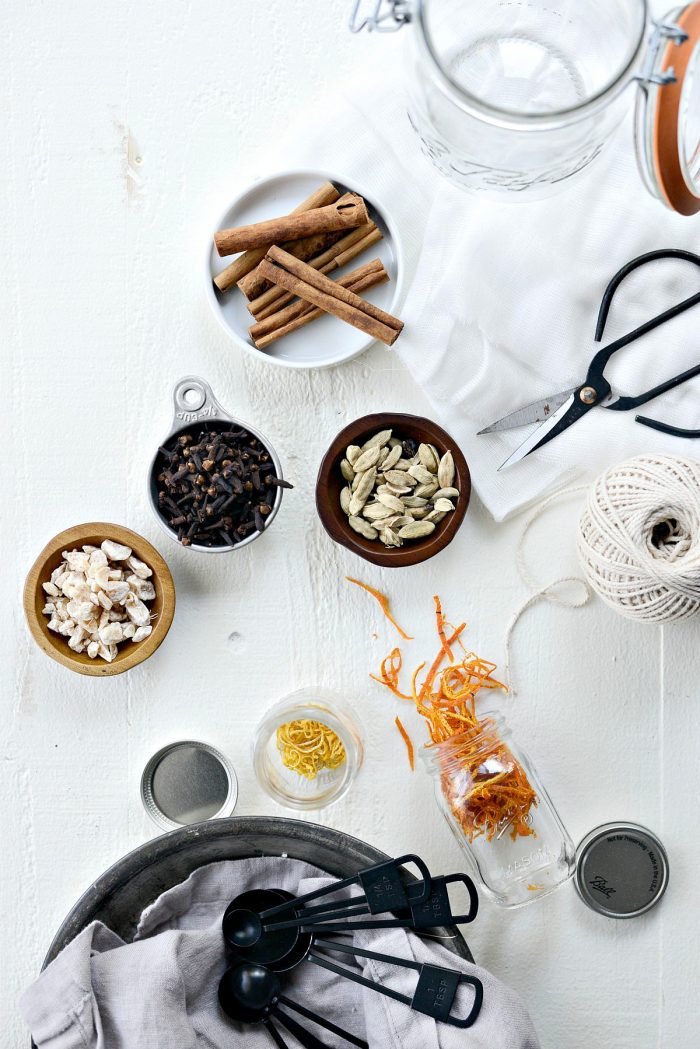 To Make Homemade Mulling Spice Sachets You Will Need:
cinnamon sticks
cloves (whole)
crystalized ginger
orange peel (dried)
lemon peel (dried)
cardamom pods (whole)
cheesecloth
kitchen string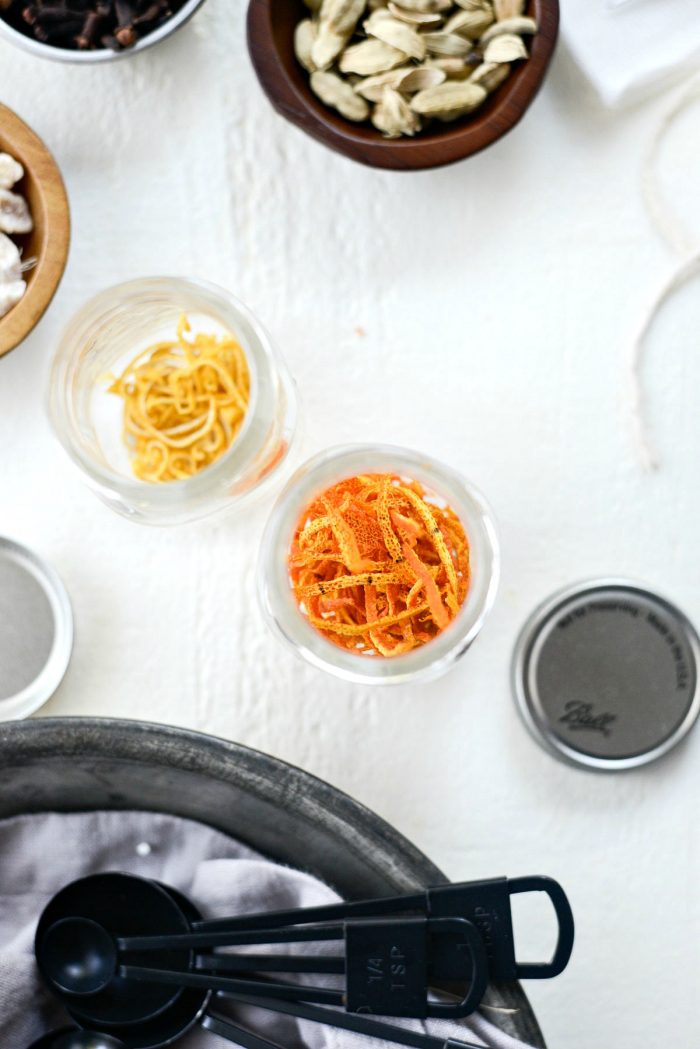 Did you know you can easily make your own dried citrus peels? YOU CAN! There's two ways to do it. The first, is to use a vegetable peeler, I like using a julienne peeler to peel off the rind (avoid the pith because it's bitter) and place on paper towel and allow it to dry over a couple of days.
The second is by using your microwave. I know there's some hardcore anti-microwave peeps out there and believe me, I avoid it if I can. However, I didn't have time to let them dry out on their own for a few days. SO for as HOW you make dried citrus peel in the microwave you need to follow the same instructions as written above (peel and avoid the pith) then microwave between sheets of paper towel at 50% power for 2 to 5 minutes, carefully flipping every minute or so.
Next place 1-1/2 tablespoons cardamom pods into a resealable baggie. Use the flat side of a meat tenderizer or a rolling pin to bust them up a bit.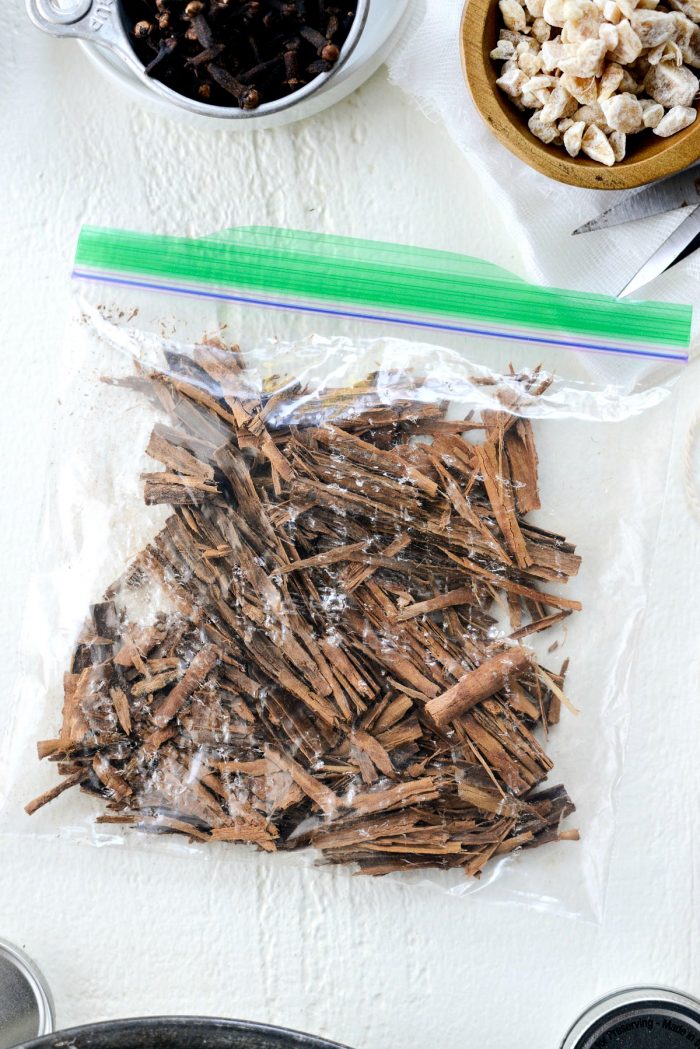 Do the same with 8 cinnamon sticks.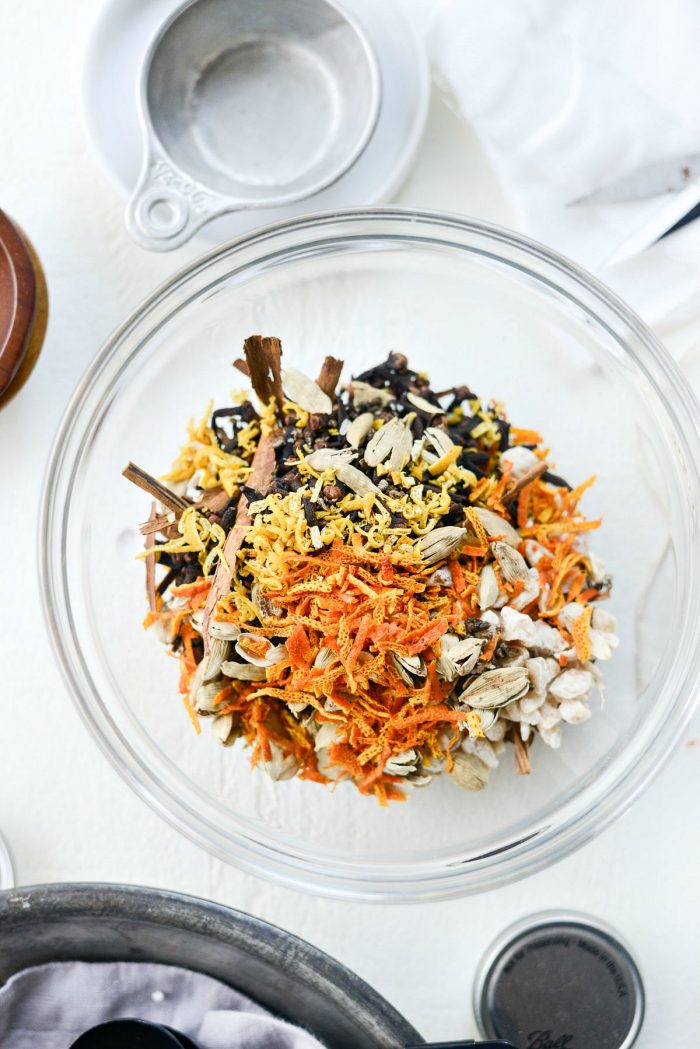 In a bowl, add the crushed cinnamon sticks, cardamom pods, 1/4 cup whole cloves, 2 tablespoons crystalized ginger, 1 tablespoon minced dried orange peel, 2 teaspoon minced dried lemon peel.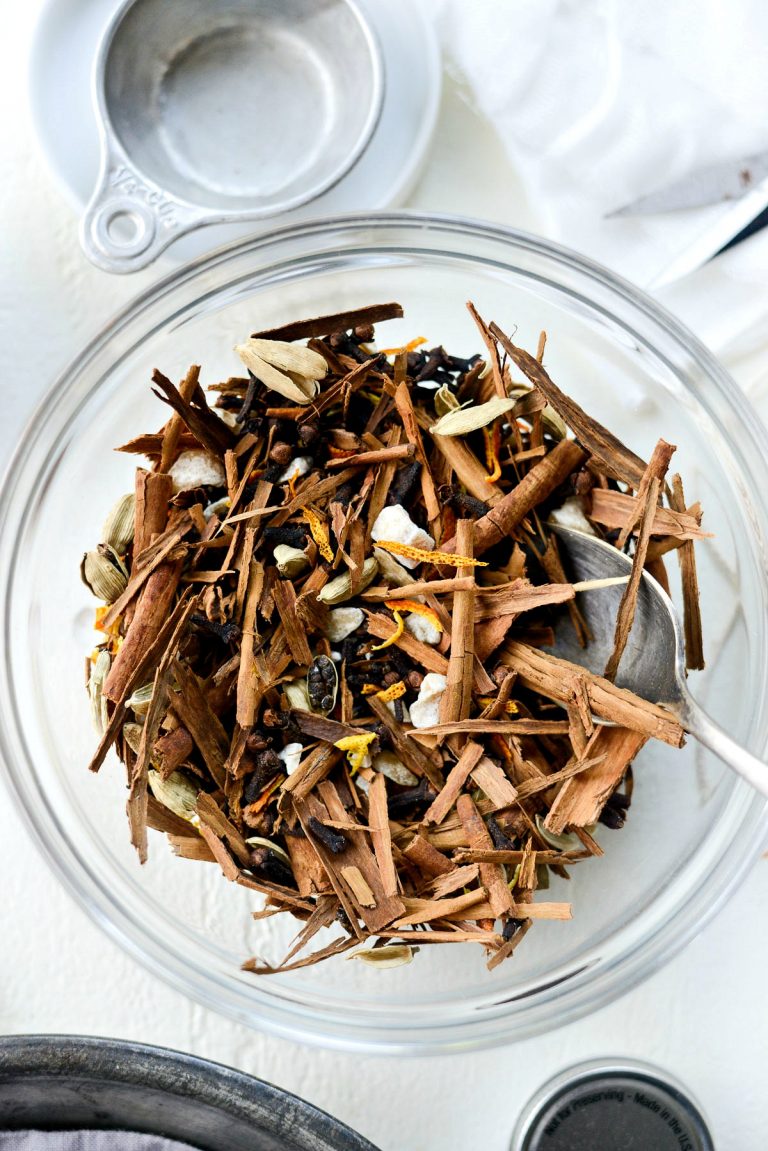 Toss to combine.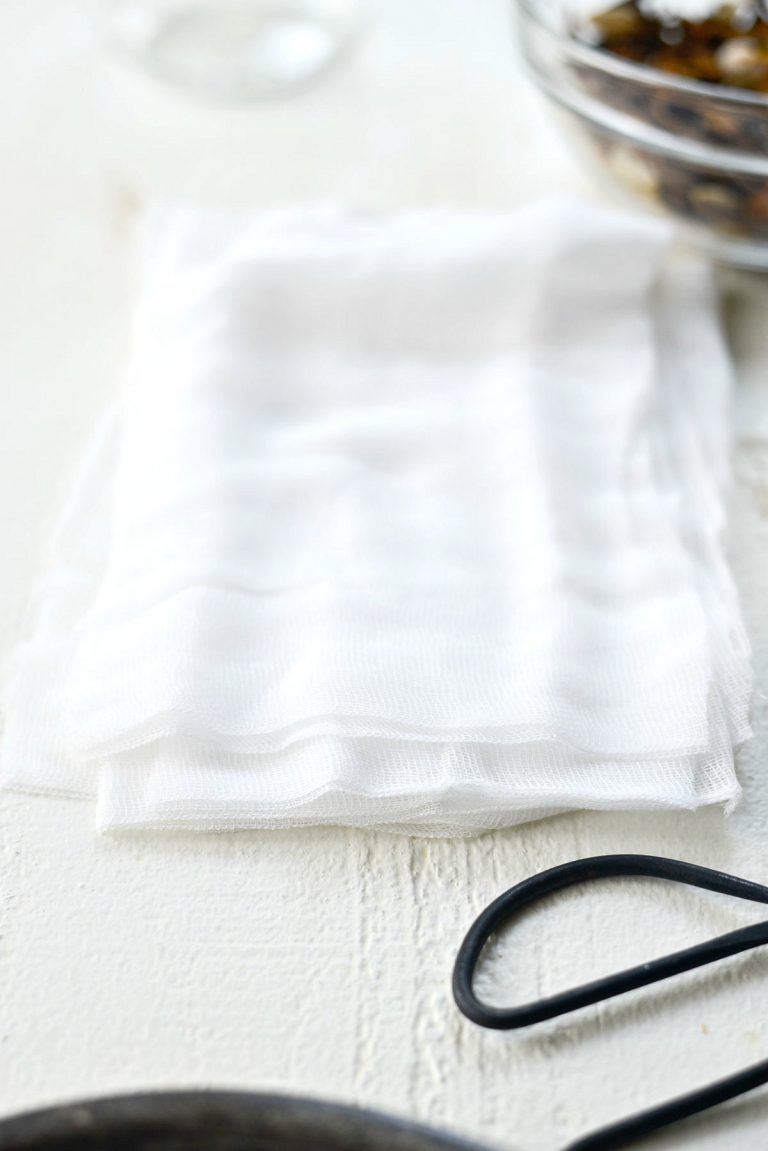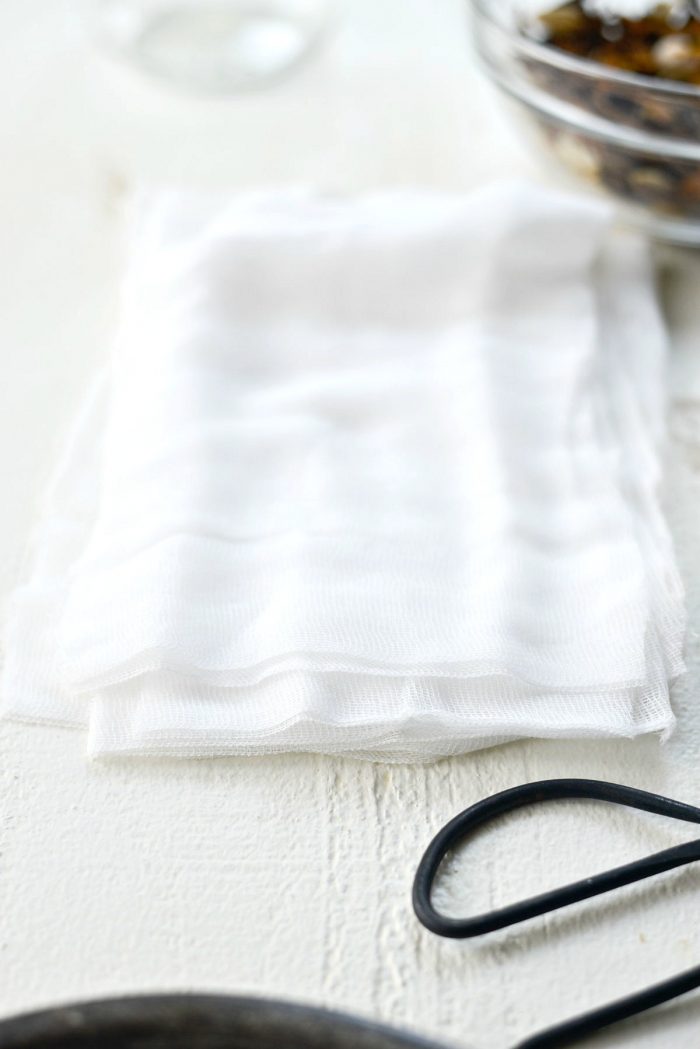 Cut the cheese cloth into 8 strips about 4×6 inches.
A fun fact about using sachets:
Did you know that if you were to add these spices in loosely, they would cloud your cider. Using the sachets will keep you apple cider clear.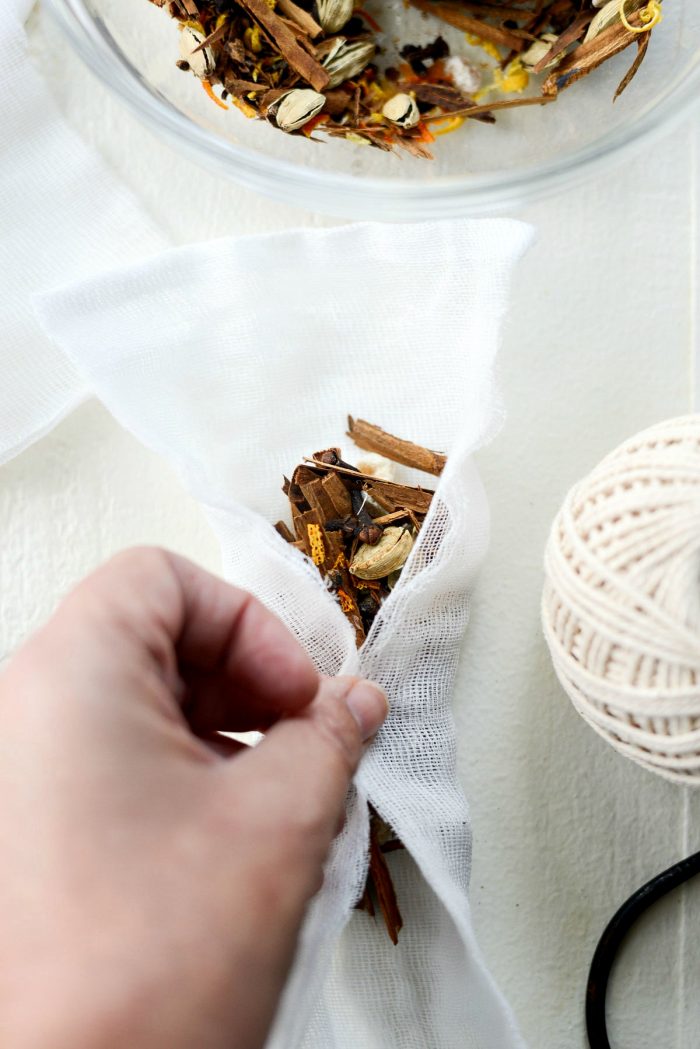 Place a couple spoonfuls of the homemade mulling spices and bring the shorter sides together.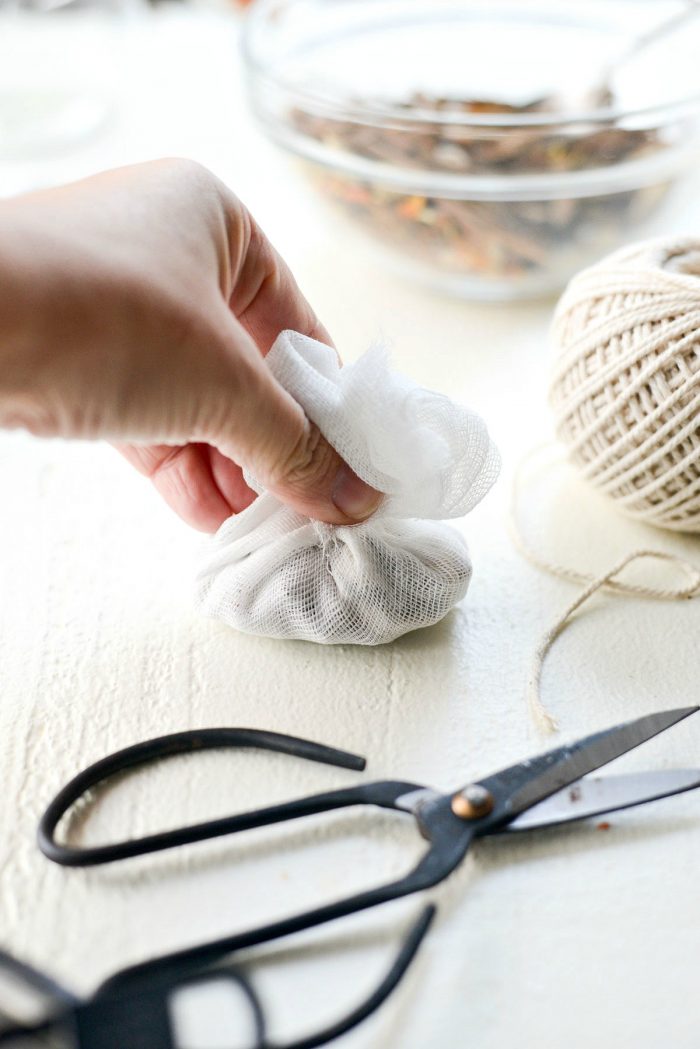 Grab the longer two sides and pull and twist them together.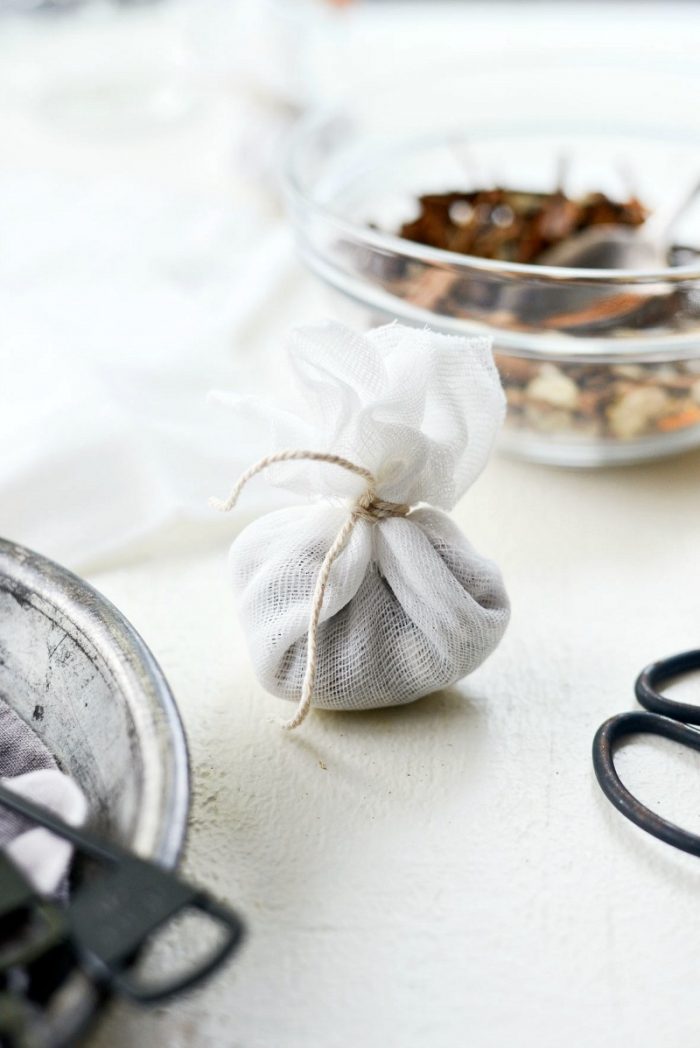 Tie a few times with a piece of kitchen string and repeat with the remaining sachets.
You should end up with 8 sachets.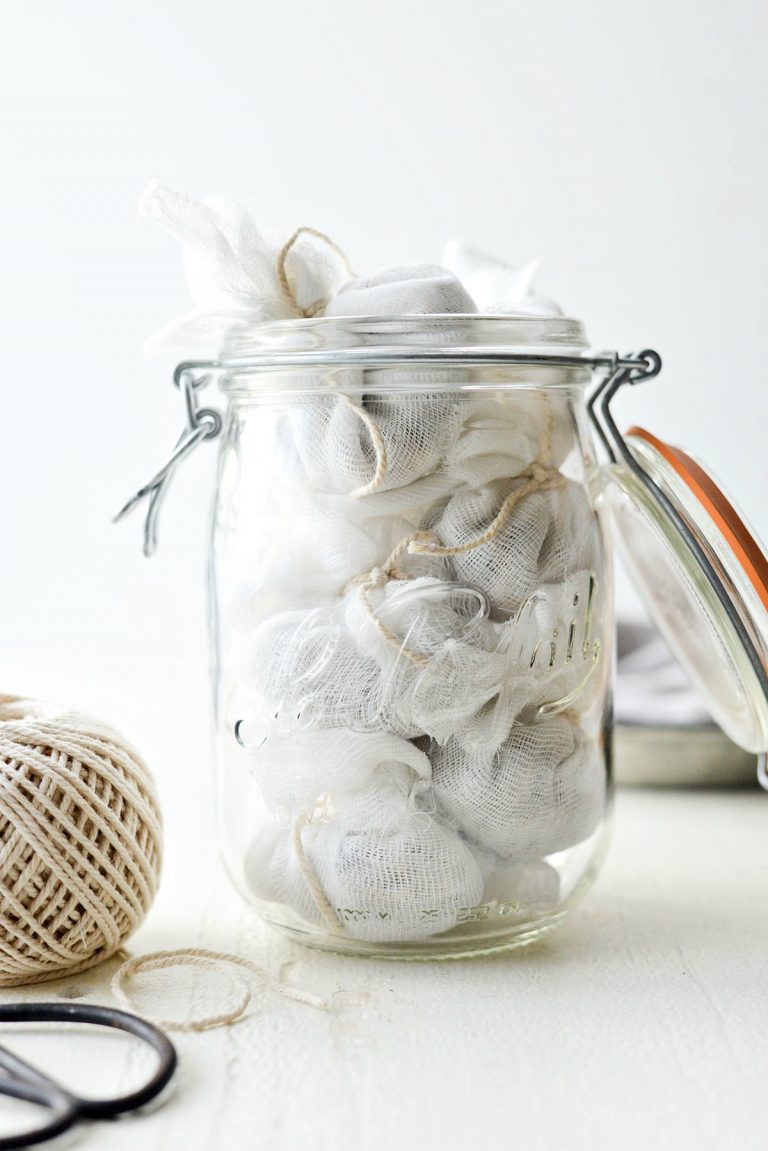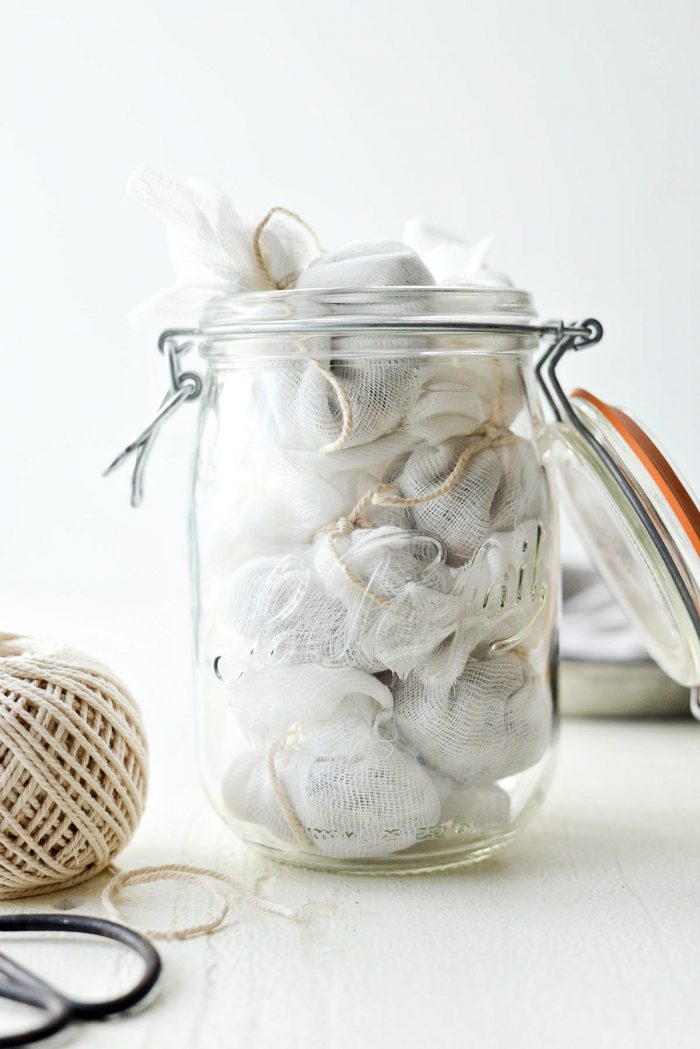 I store them in a large jar in my pantry. However they would make for an excellent hostess gift! A bottle of wine or gallon of apple cider with how-to directions on a cute recipe card (!!!)… it's just a thought.
For more homemade seasonings or spice blends click here.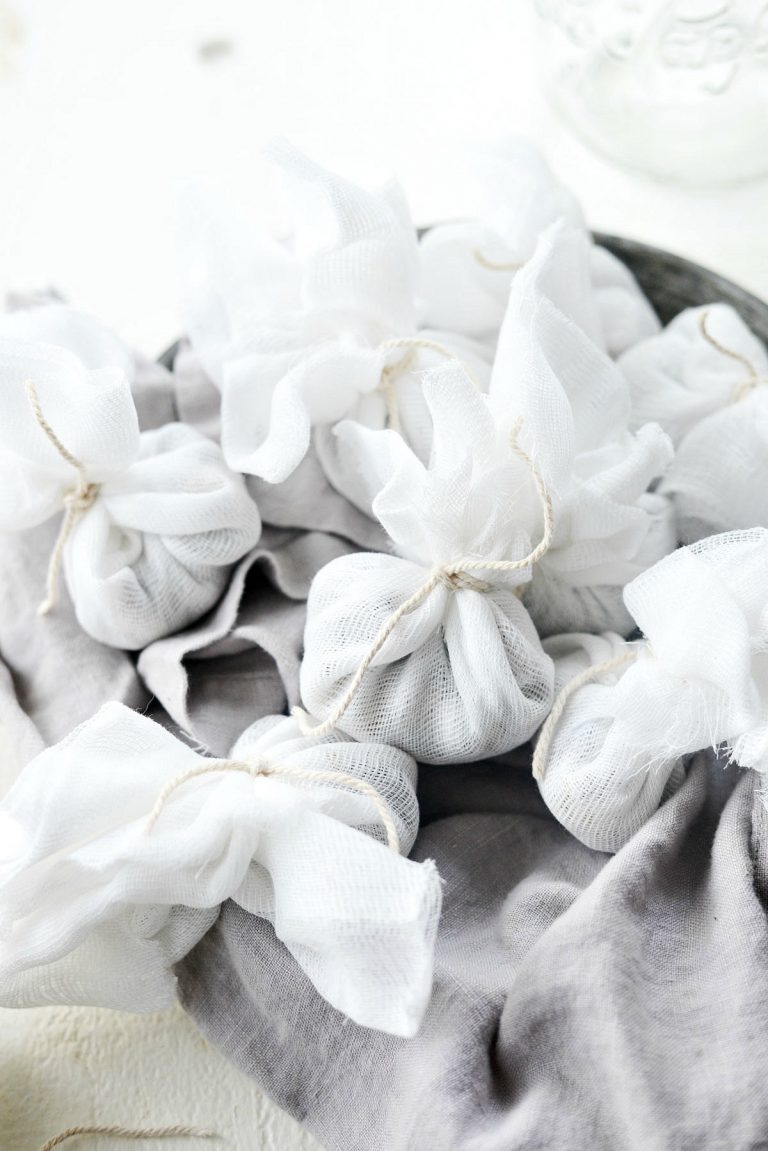 Enjoy! And if you give this Homemade Mulling Spice Sachets recipe a try, let me know! Snap a photo and tag me on twitter or instagram!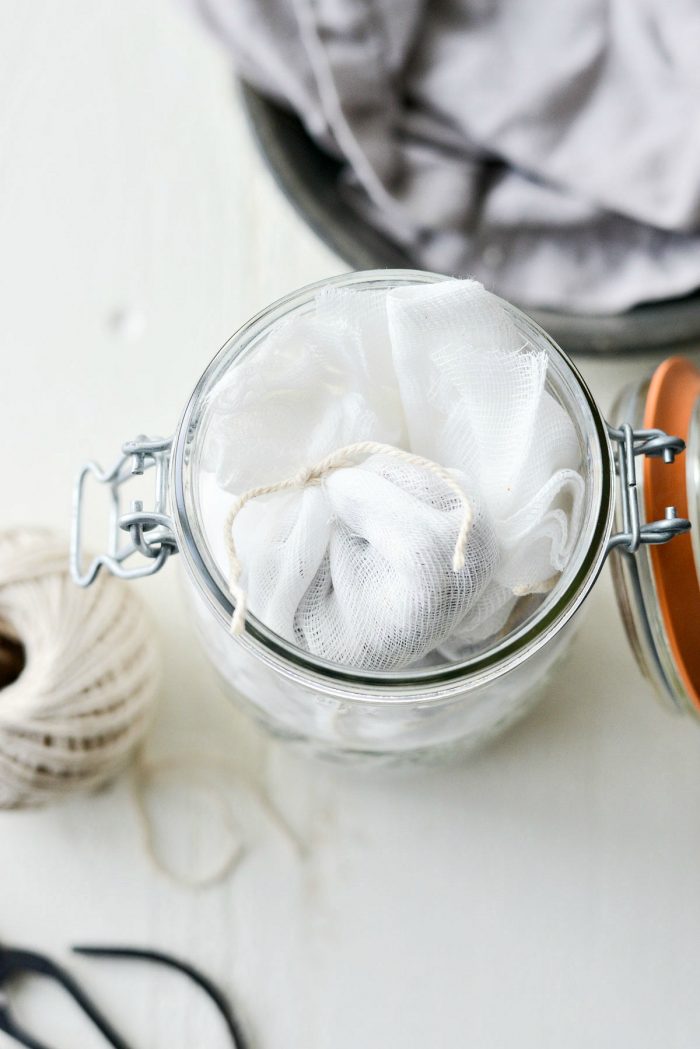 This post may contain affiliate links.
Buy the Cookbook: Simply Scratch : 120 Wholesome Homemade Recipes Made Easy Now available on Amazon »
THANK YOU in advance for your support!