I'm in love with this grilled red snapper with warm fiesta olive topping. Quick and easy is the name of the game.
I can't express how glad I am to see summer. The last week of school always is always hectic with end-of-the-year open houses, sport banquets and half days. This year it was mixed in with both Haileigh and Malloree's summer softball league games. Now it's just softball 6 out of 7 nights this week but heyyy my days are still pretty much free and I can think of no better way to spend my evenings. Unless I'm on the lake with Pat fishing and sipping a rum and coke or relaxing on the couch watching the first season of Bloodline- which I'm still deciding on how and why I like it.
So with this crazy evening schedule we have for the next few weeks, I know that this grilled red snapper recipe will make an appearance again. It's quick to make and reheats nicely. And that fiesta olive topping? I could eat that on anything!
When my friends at STAR shipped me some of their olives to try and recipe develop with, the fiesta blend caught my eye. These aren't your typical olives. Inside the jar, along with the olives, was black beans, corn and pieces of jalapeno- whether for snacking or for whipping up a warm topping, these olive are so delicious.
I was inspired by these fiesta olives, so I expounded on those ingredients; sauteeing onions and garlic then cooking down fresh cherry tomatoes and mixing in more black beans and sweat yellow corn. Because the fish is perfectly seasoned, I just added a little cumin and fresh cilantro into the mix. Once you top the grilled red snapper all that's needed is a squeeze of fresh lime.
First, of course, you will need STAR's Fiesta Blend Marinated Olives.
Drain the liquids through a mesh strainer. Pick out the olives and cut in half horizontally.
Drizzle olive oil in a large, 12-inch skillet and heat on medium. Add in 2 cloves minced garlic and cook for 1 to 2 minutes.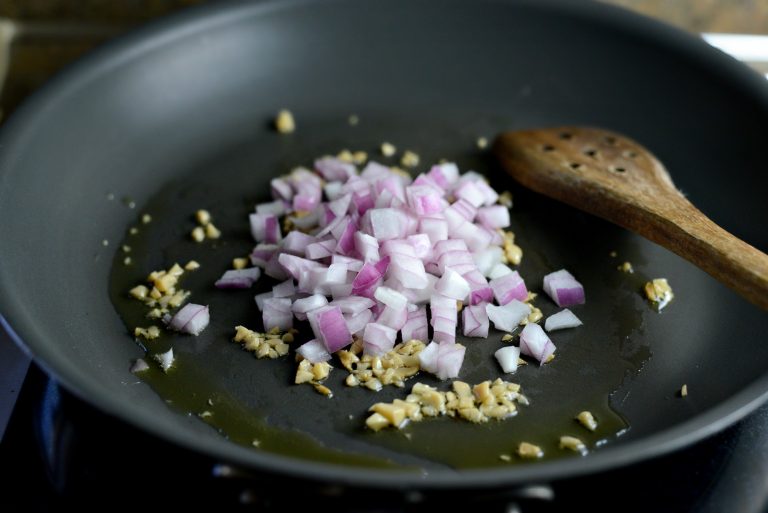 Add in the diced red onion…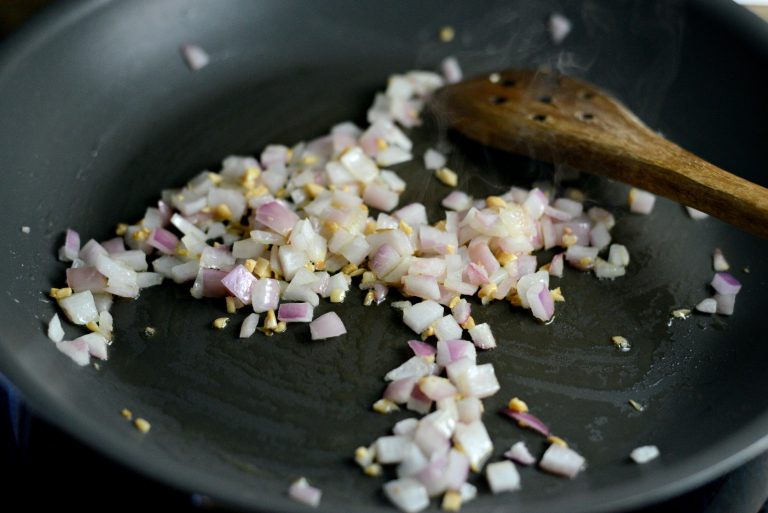 …and saute until tender and translucent.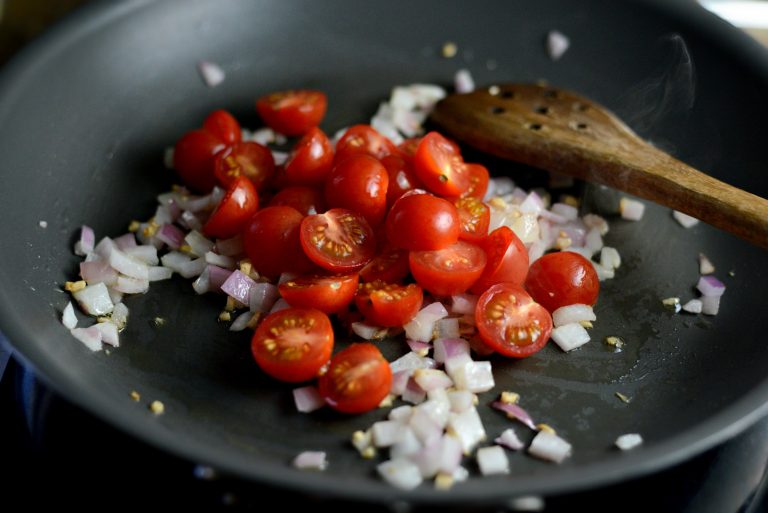 Next, add in the halved cherry tomatoes…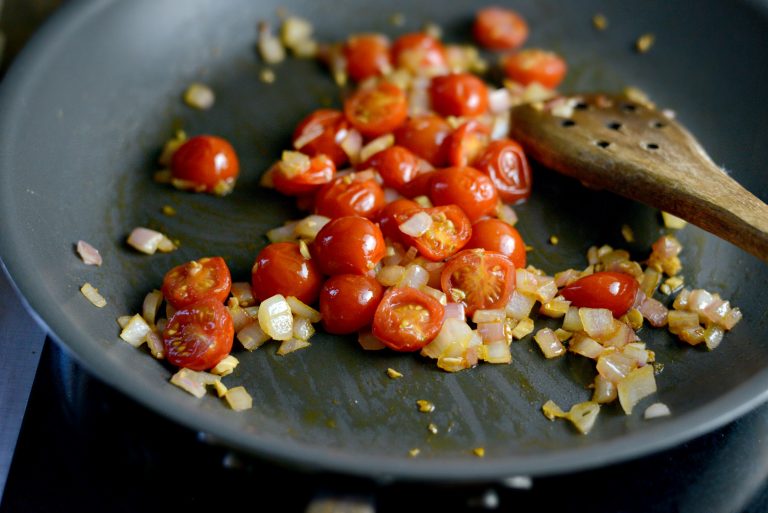 …stir and cook until the juices start to release and the skin of the tomatoes start to wrinkle.
Next add in 1 (15 ounce) can of black beans, 3/4 cup of sweet yellow corn and the halved olives.
Season with 1/2 teaspoon cumin…
…and 1 to 2 tablespoons chopped fresh cilantro.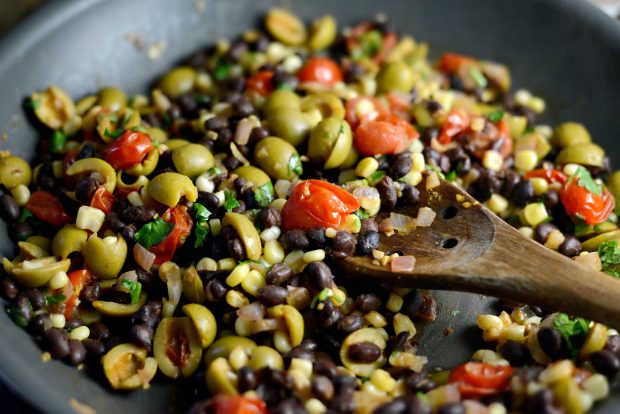 Keep warm on low heat until ready to serve.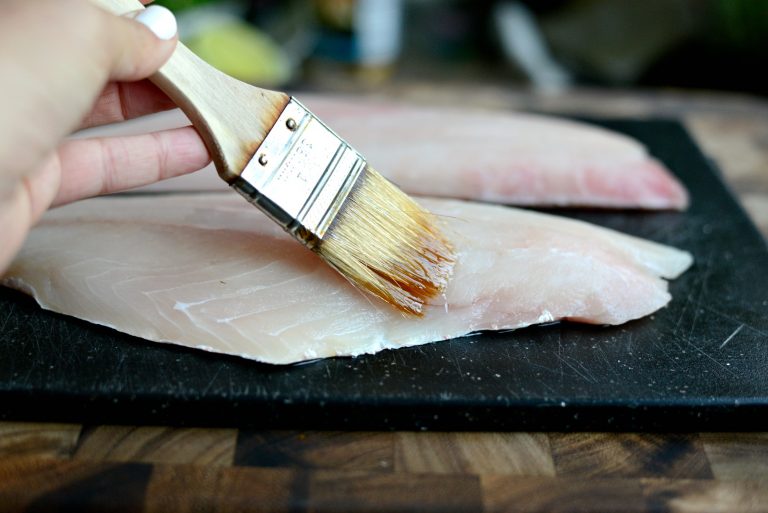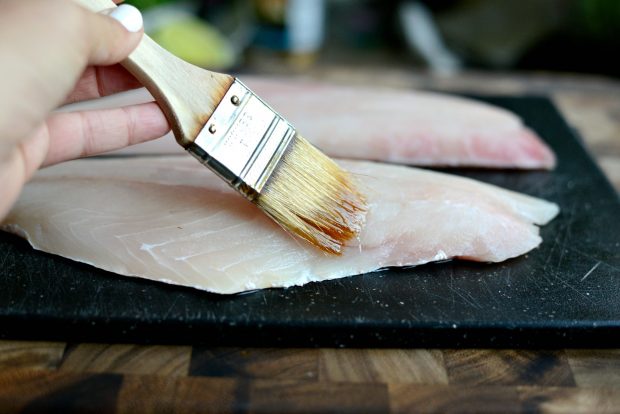 Meanwhile, brush both sides of the snapper generously with extra light olive oil.
Grilling fish always gives me a little anxiety. Tender fish + grill grates could = a disaster. However if you oil the grates generously before preheating (and the fish as well) the likeliness of that happening decreases. Also, make sure your grill is hot!
Season the fish with cumin, chili powder and smoked paprika. I just shake it on and skip precise measurements altogether.
Use your fingers to rub the seasoning onto the fish.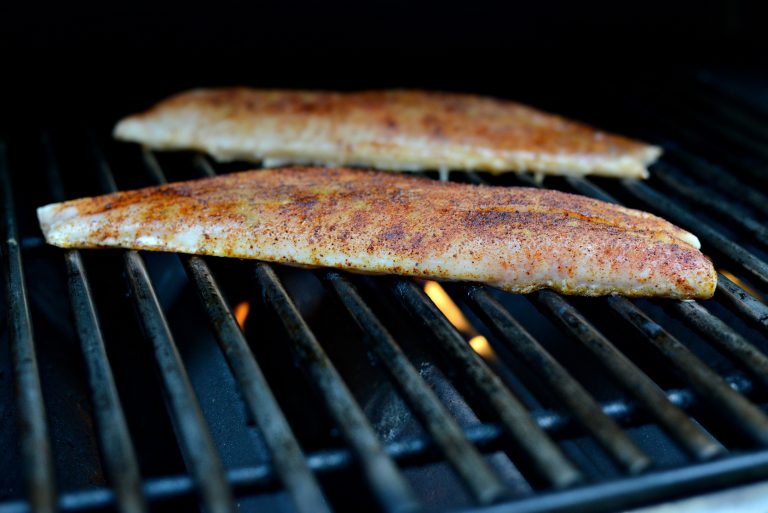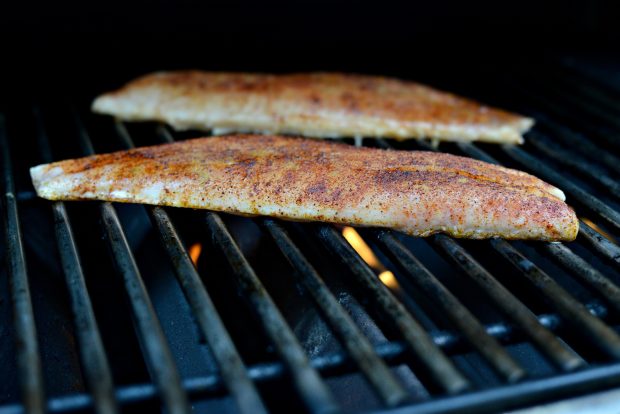 Place the snapper on the well oiled grill grates. Cook for 4 to 6 minutes per side. You will know when the fish is cooked through as it should be opaque and flake easily.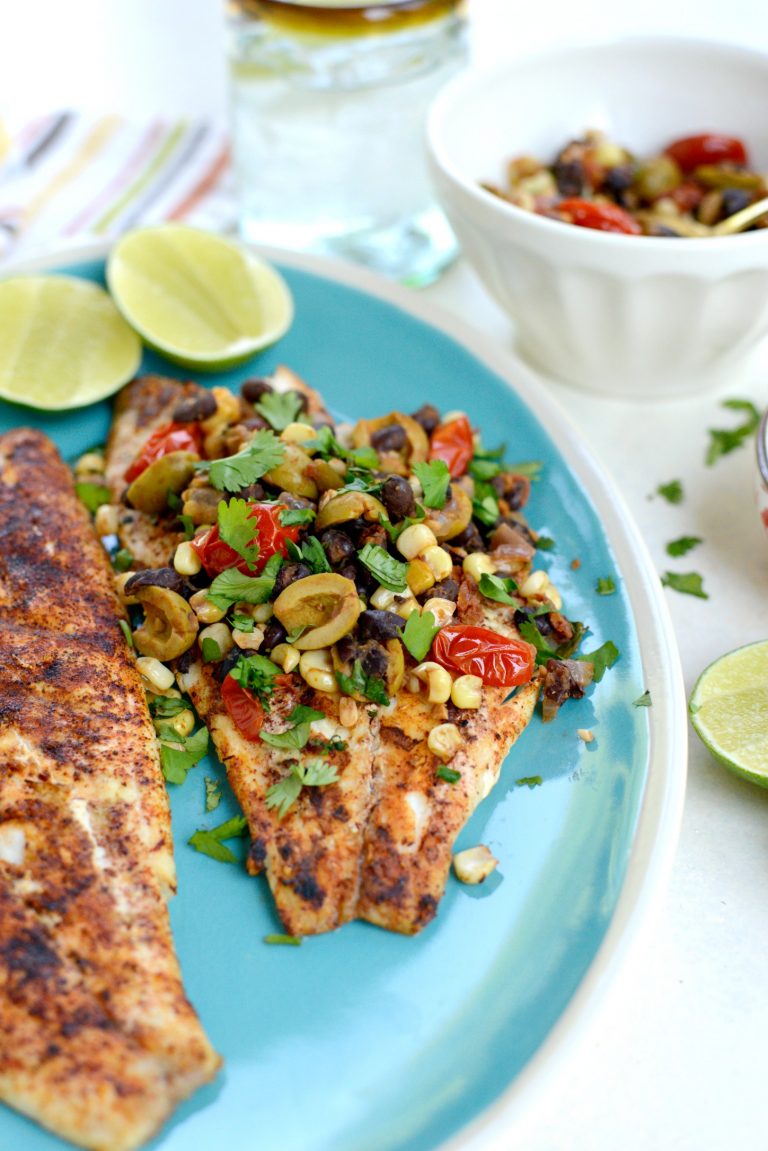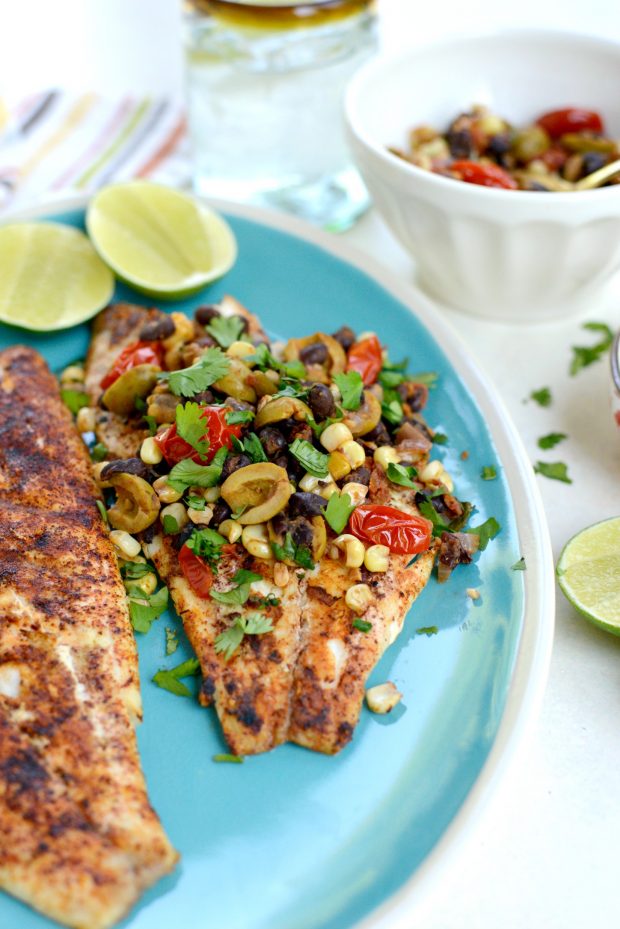 Serve the grilled red snapper with the warm fiesta olive topping over top and squeeze fresh lime juice over it all.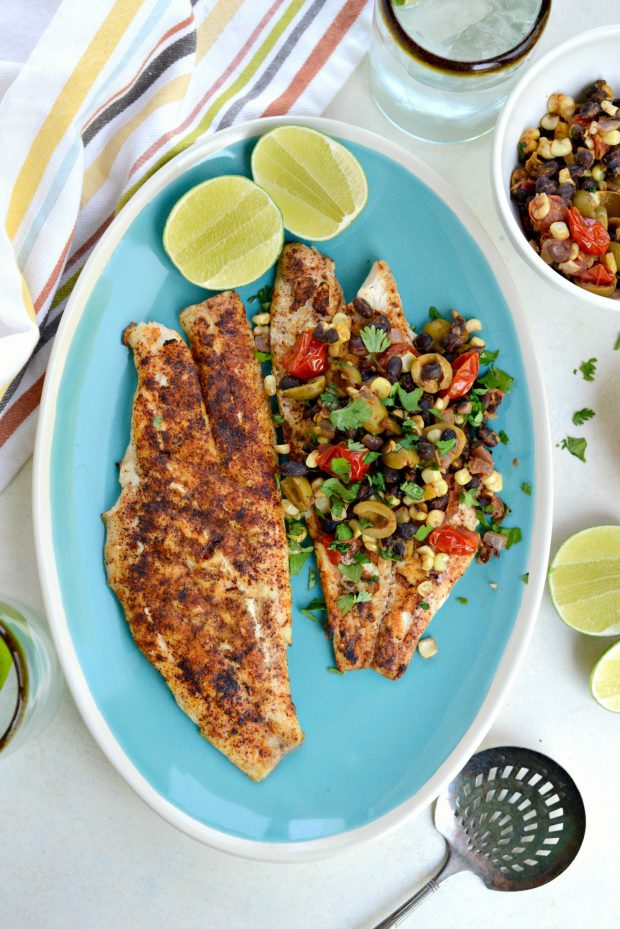 It's colorful, easy and SO flavorful! The perfect summer meal!
Enjoy! And if you give this Grilled Red Snapper recipe a try, let me know! Snap a photo and tag me on twitter or instagram!
My cookbook Simply Scratch : 120 Wholesome Homemade Recipes Made Easy is now available! CLICK HERE for details and THANK YOU in advance!
[this post contains affiliate links.]
This post may contain affiliate links.
Buy the Cookbook: Simply Scratch : 120 Wholesome Homemade Recipes Made Easy Now available on Amazon »
THANK YOU in advance for your support!