Healthy and light, this Chicken Satay with Thai Peanut Sauce is also flavorful and easy! In this recipe, sliced chicken breasts soak in a simple marinade before being skewered, grilled to perfection and dipped into a delicious Thai infused peanut sauce. Serves 4 in under an hour.
Looking for a easy dinner idea? Sick of the same old thing? Love Thai flavors?? The answer to these questions is this grilled chicken satay recipe!
We're weeks away from summer officially starting and our grill has been used most nights of the week. Grilled wings, burgers and brats, and today it's satay. I'm a huge satay fan. What is it about grilled meat on sticks that you get to dip into a creamy peanut sauce that's so satisfying? And one of my favorite recipes is this beef satay, but it's made by cooking in a hot oven. However it's about to be too hot to turn on the oven and grilled chicken skewers not only look more appetizing, but the kiss of the grill only adds another layer of flavor.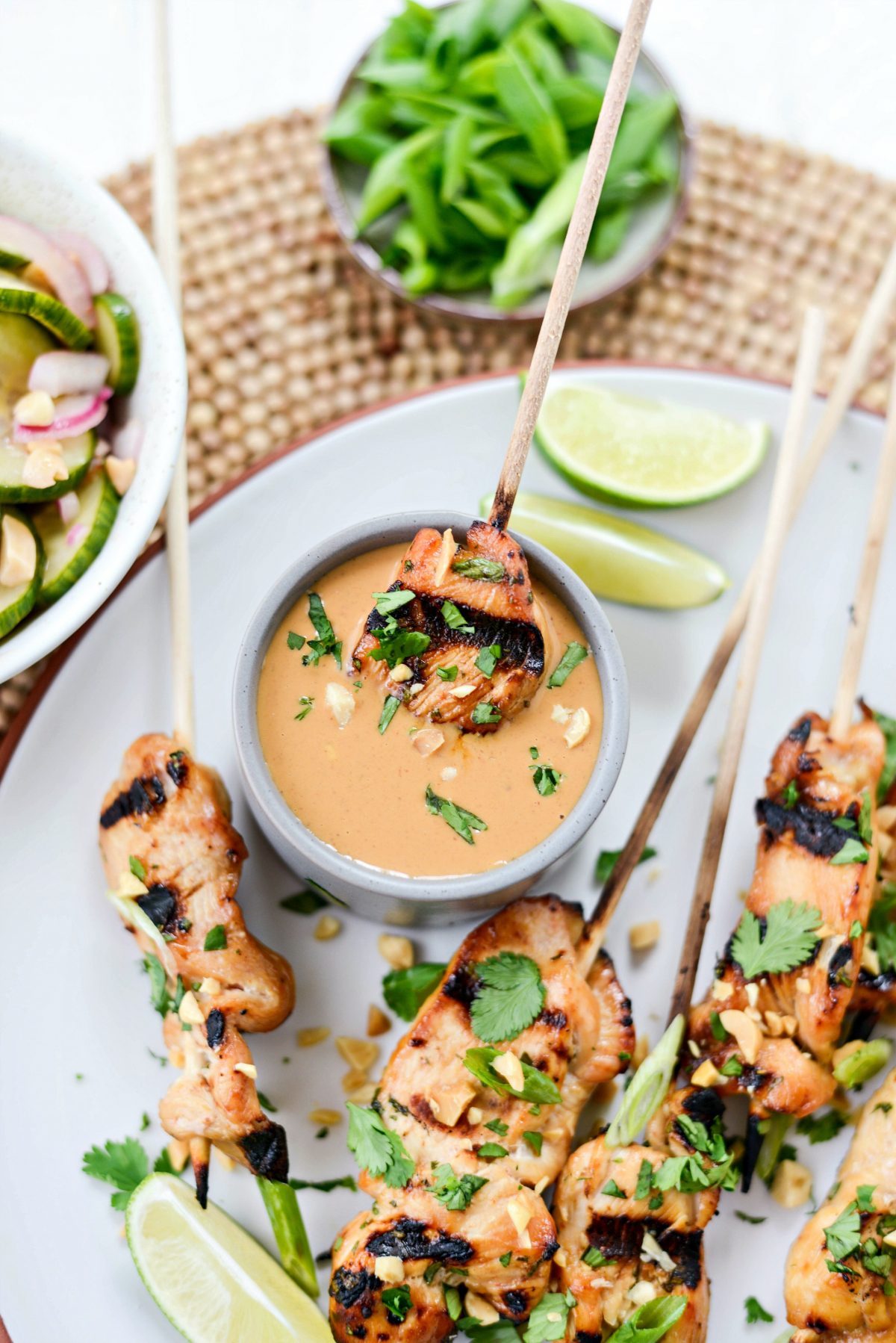 These skewers make for an excellent dinner, appetizer and even for meal prep!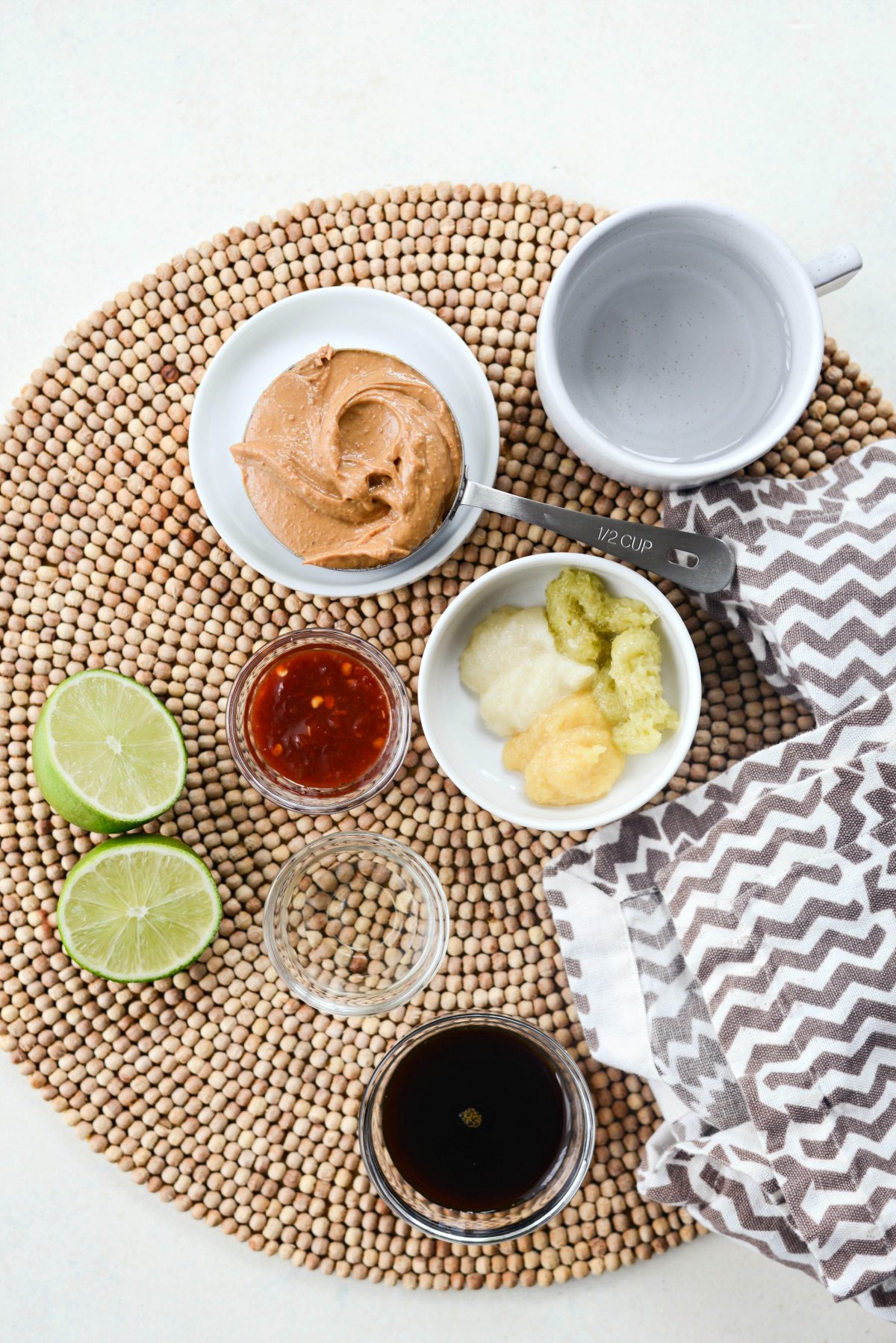 To make the thai peanut sauce you will need:
smooth peanut butter – use your favorite!
coconut aminos (or low-sodium tamari)
lime juice
rice vinegar
sambal oelek [chili garlic paste]
garlic, grated
ginger, grated
lemongrass, grated
hot water
Refrigerated tubes of grated ginger, garlic and lemongrass are so handy for recipes like this.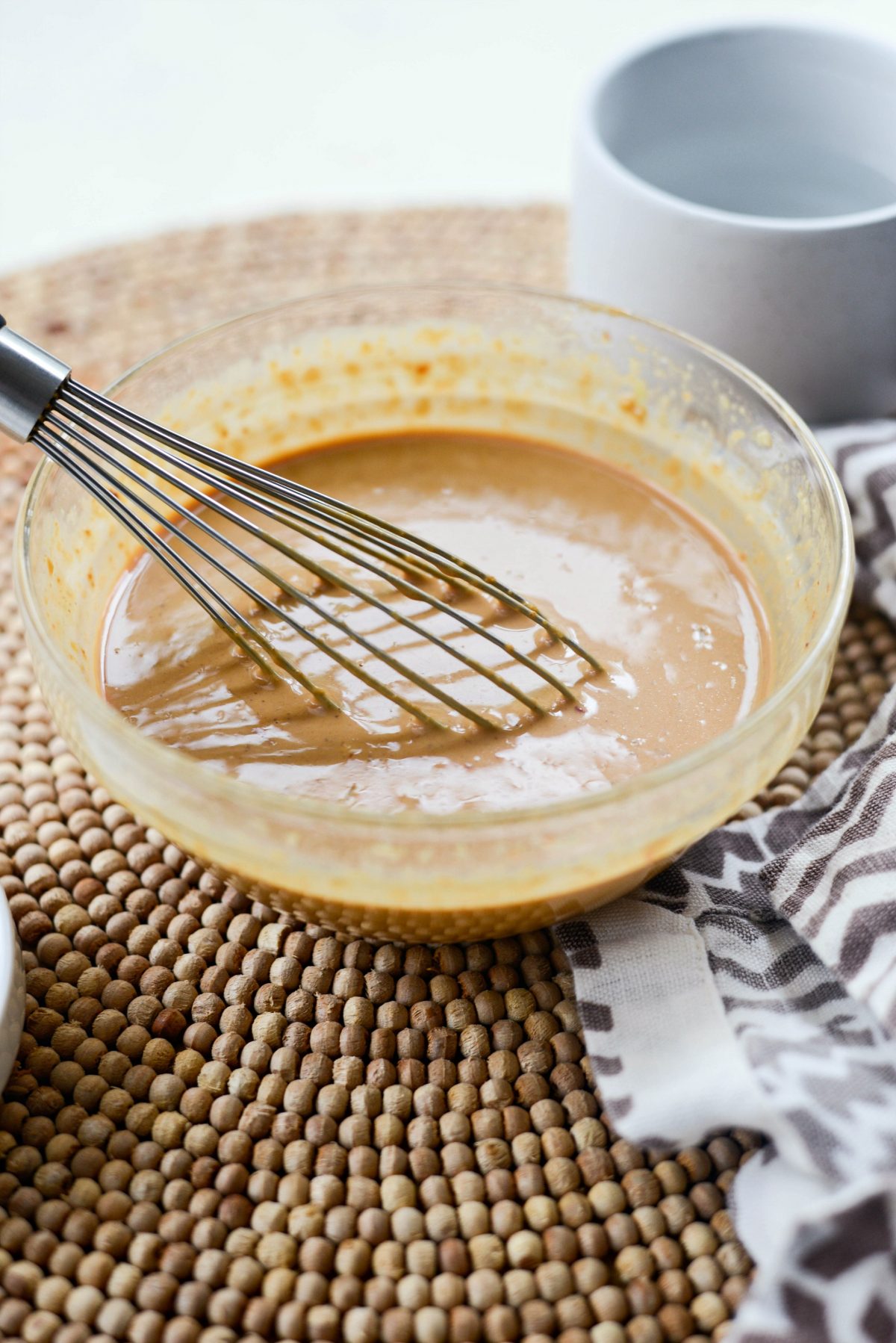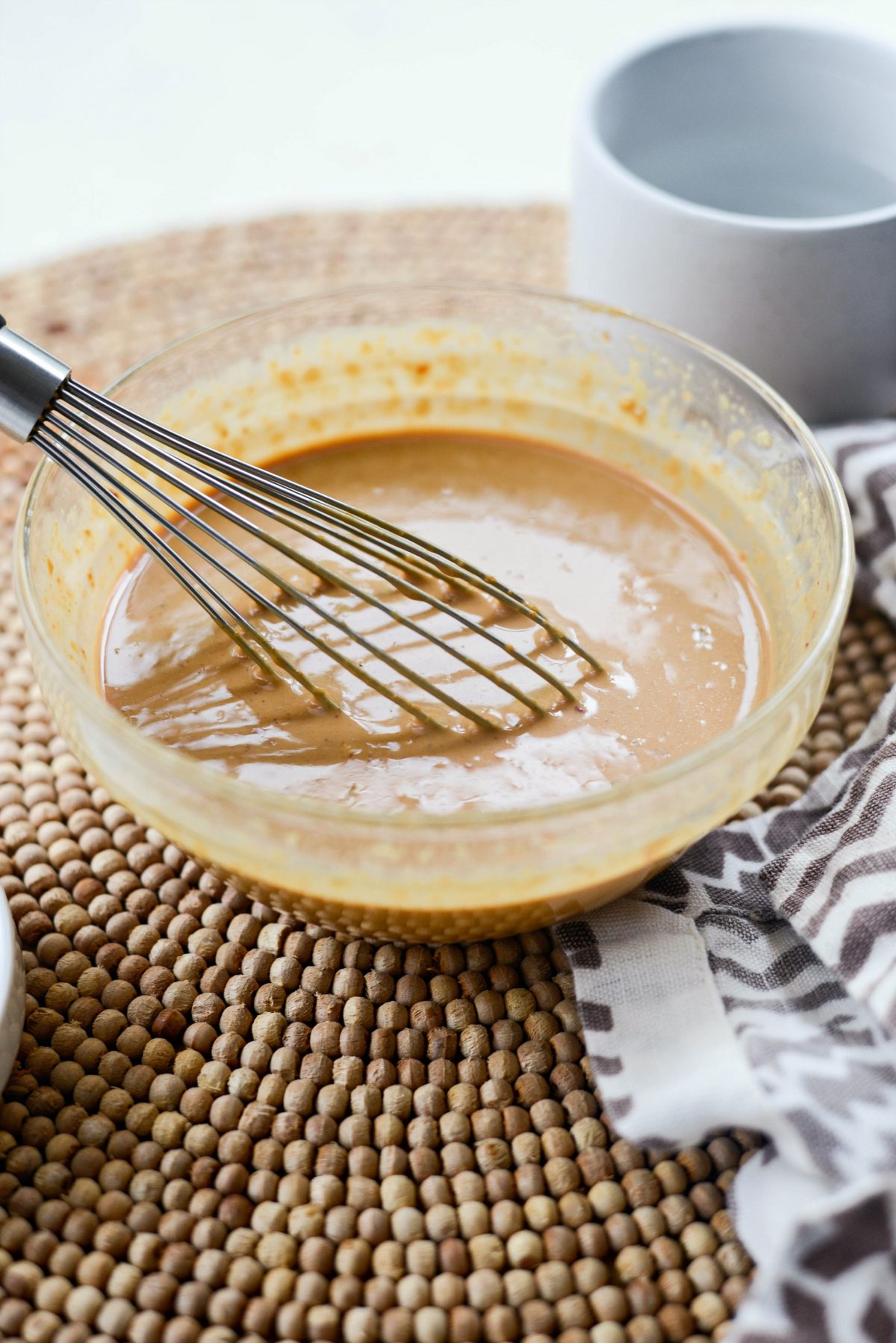 In a mixing bowl, add 1/2 cup smooth peanut butter – use your favorite, 2 tablespoons coconut aminos (or low-sodium tamari), juice of 1/2 a lime, 1 teaspoon rice vinegar, 1 tablespoon sambal oelek [chili garlic paste], 1 teaspoon grated fresh garlic, 2 teaspoons both grated fresh ginger and lemongrass, 1 to 2 tablespoons hot water. Mix until combined throughly, only thinning out with enough hot water until it reaches a desired consistency. And then set it off to the side.
What Is Coconut Aminos?
Coconut aminos is a flavorful and salty sauce made from the fermented sap of coconut palm and sea salt, yet it does not taste like coconut at all. Its consistency and deeply brown color is similar to soy sauce. It's also happens to be soy, gluten and wheat-free too. With that said, coconut aminos is a healthy substitute for those with a restrictive diet.
To make the grilled chicken satay you will need:
thin-cut boneless, skinless chicken breasts
coconut aminos or low-sodium tamari
light olive oil
sriracha
lime juice
dark brown sugar
minced fresh cilantro
grated garlic (or about 2 cloves)
It's also a good idea to soak wooden skewers on water for at least 30 minutes before grilling. By doing this, your skewers won't burn as fast while on the grill.
First slice 1-1/2 pounds of thin-cut chicken breasts into 1-inch strips and then place it into a shallow bowl and set off to the side.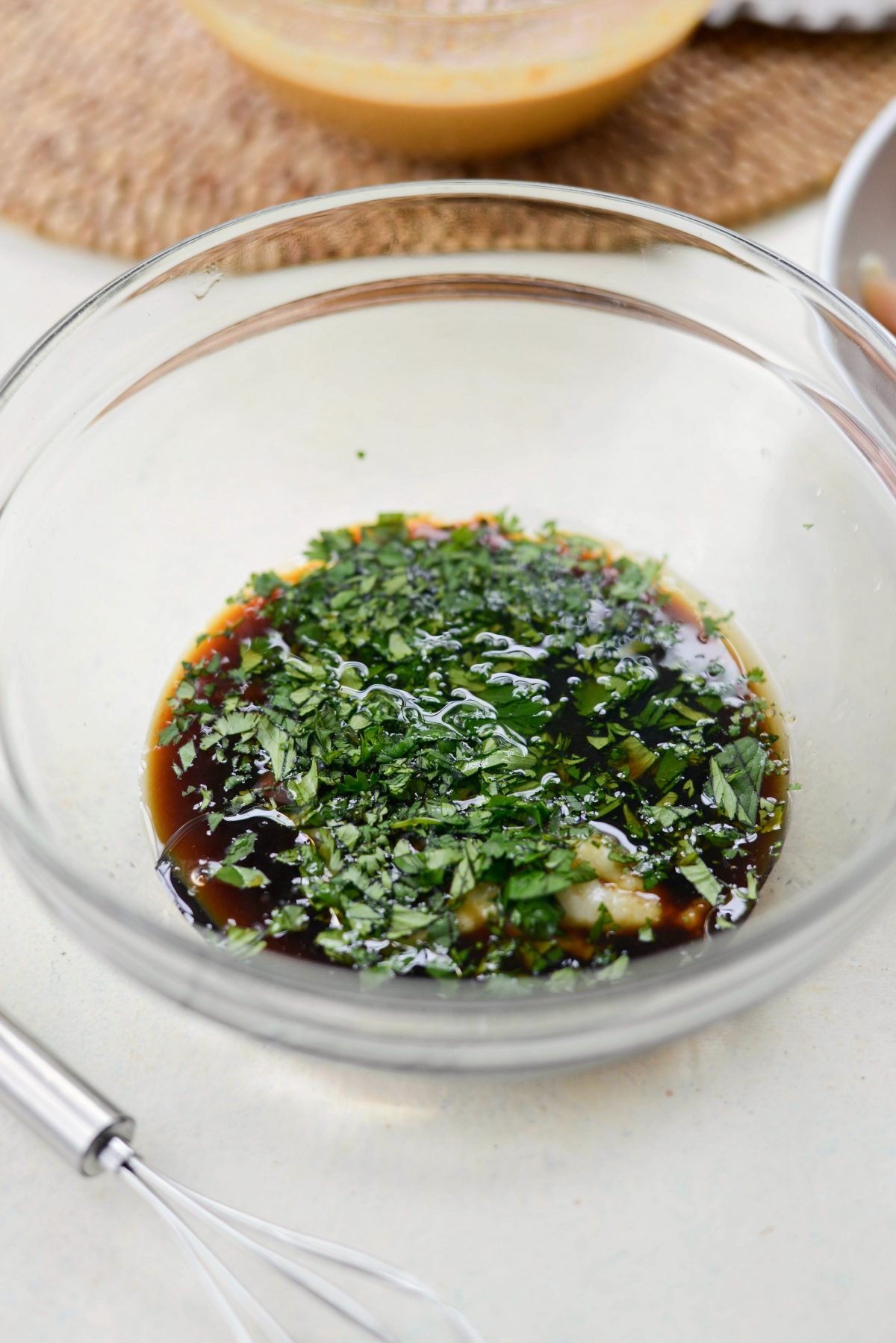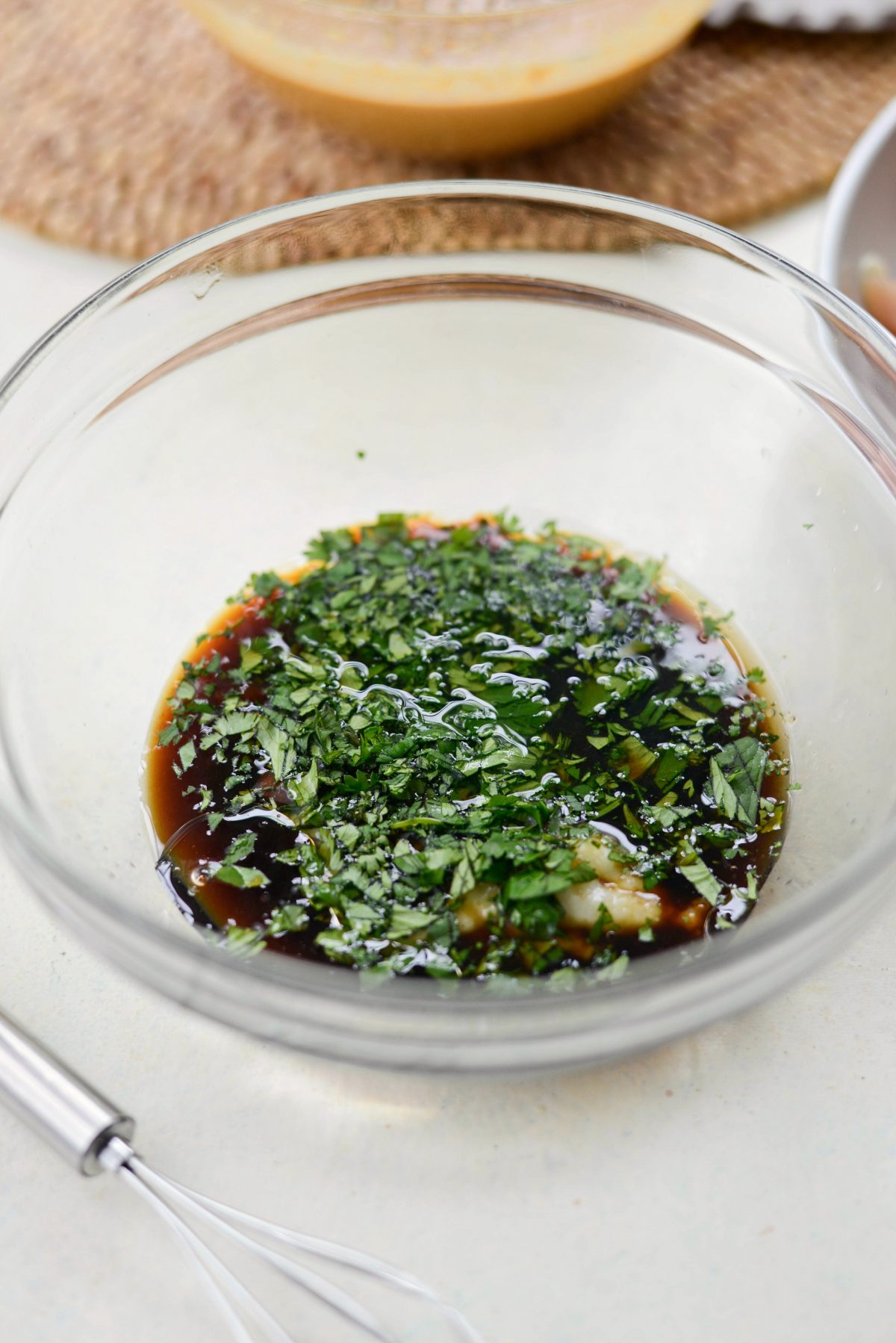 In a separate bowl, measure and add 3 tablespoons coconut aminos (or low-sodium tamari), 1 teaspoon light olive oil, 1 tablespoon sriracha, the juice of 1/2 a lime, 2 tablespoons dark brown sugar, 2 tablespoons minced fresh cilantro and 2 teaspoons grated garlic (or about 2 cloves).
Mixing well to combine.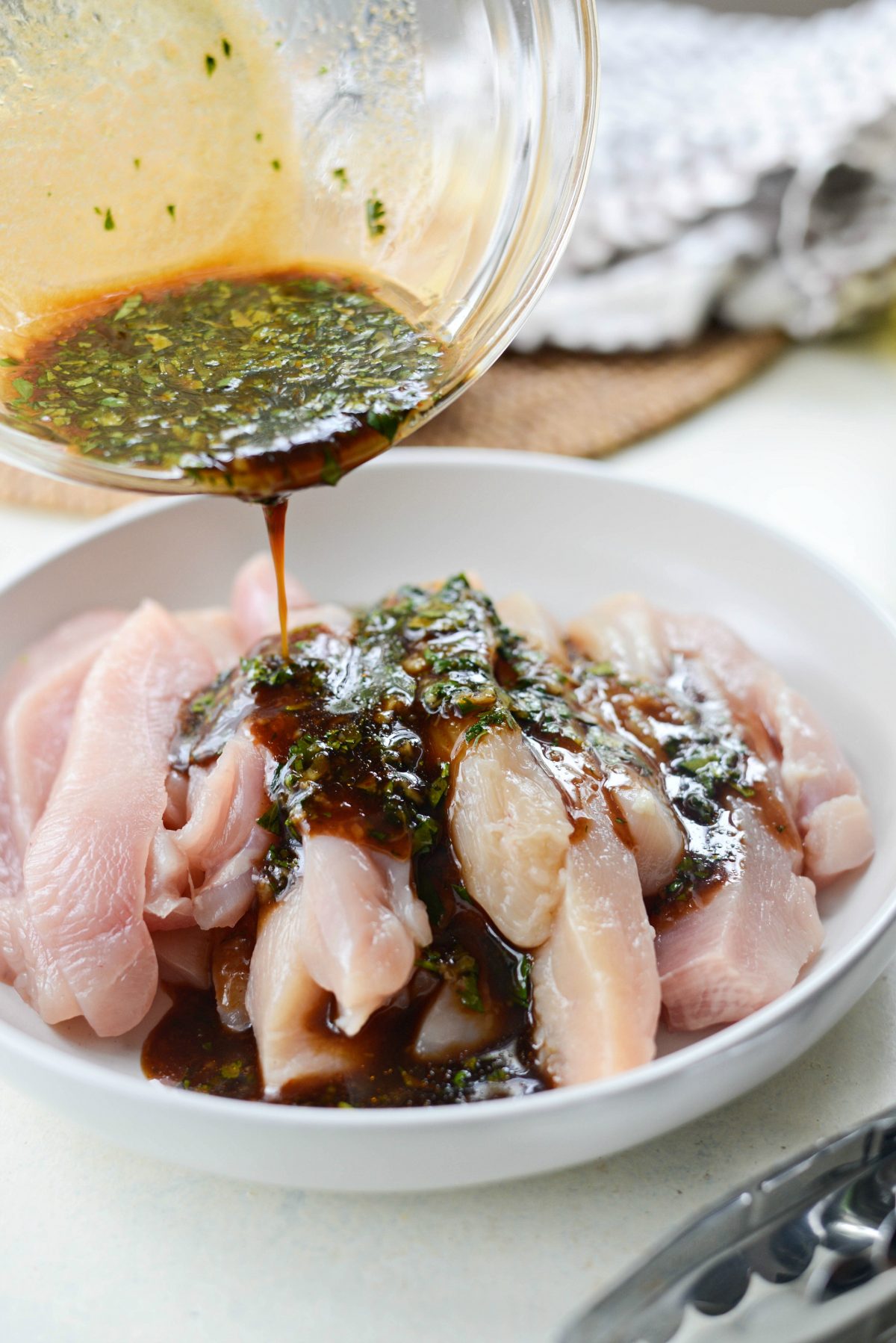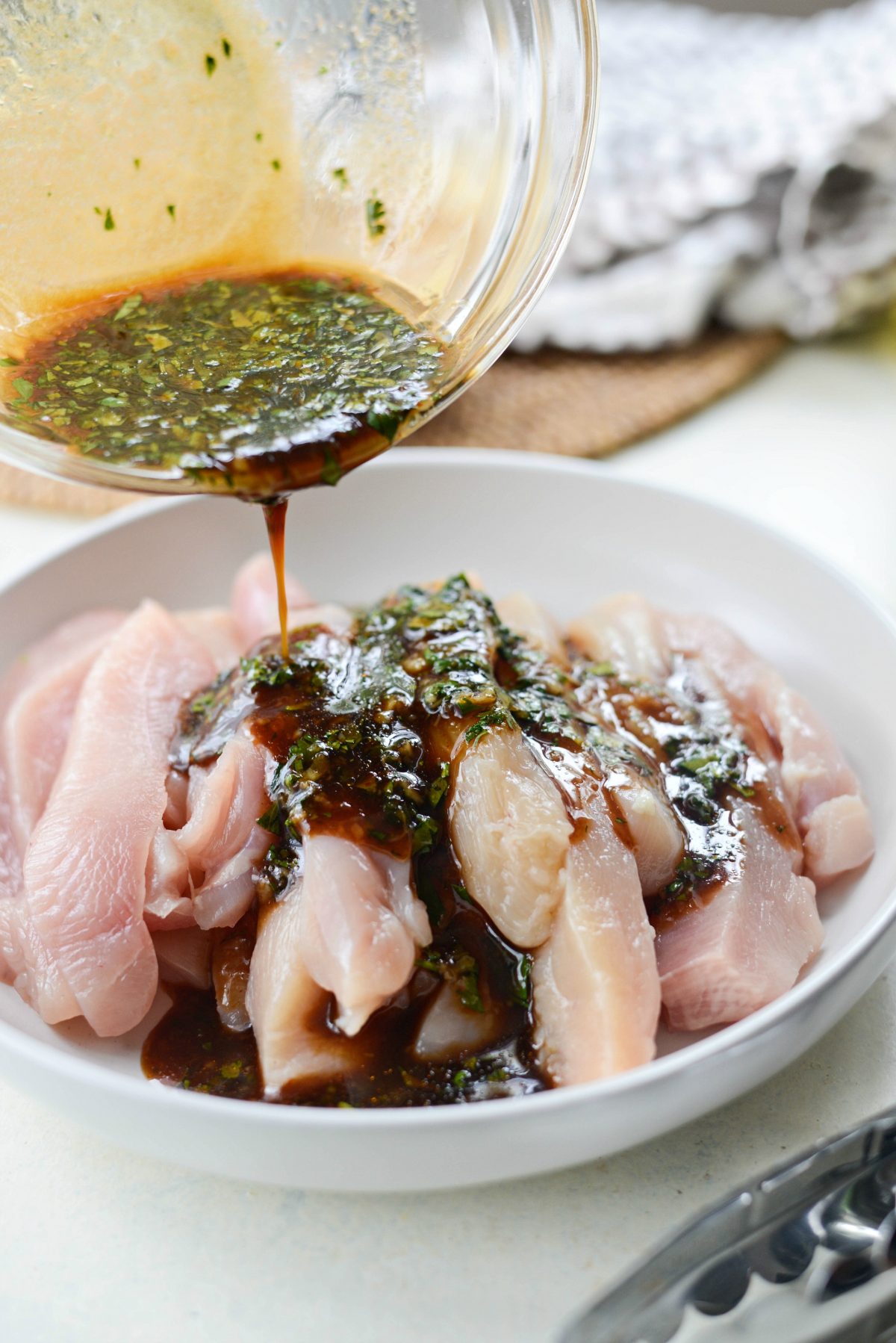 Pour the marinade over the strips of chicken and toss to coat.
Allow the chicken to marinated for 15 to 30 minutes. Meanwhile preheat your grill to 400-450°.
Don't forget to soak your wooden skewers!
Once the chicken is marinated, thread 1 to 2 pieces of chicken onto the soaked skewers and then lightly mist with olive oil spray. This will help the chicken from sticking to the grill.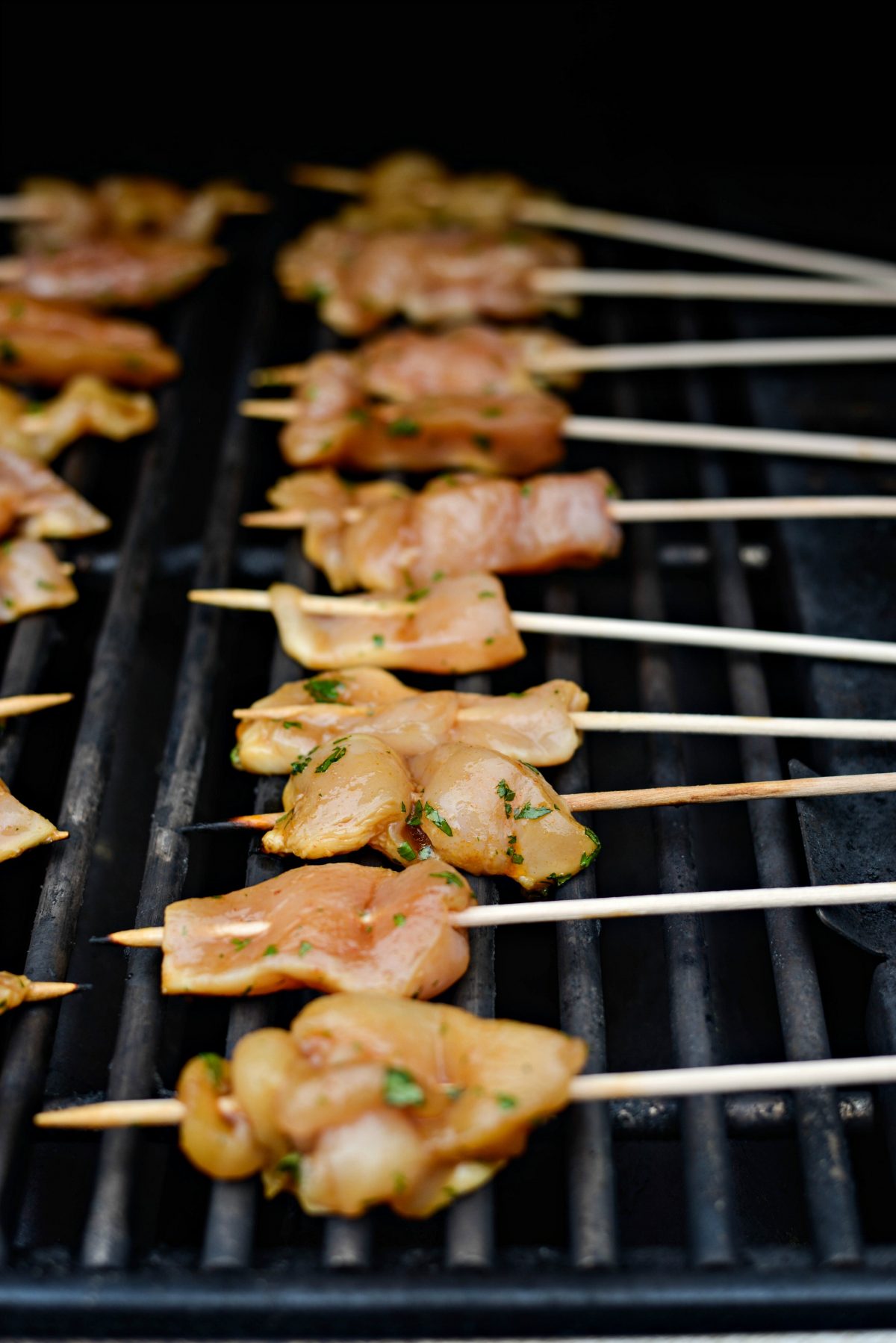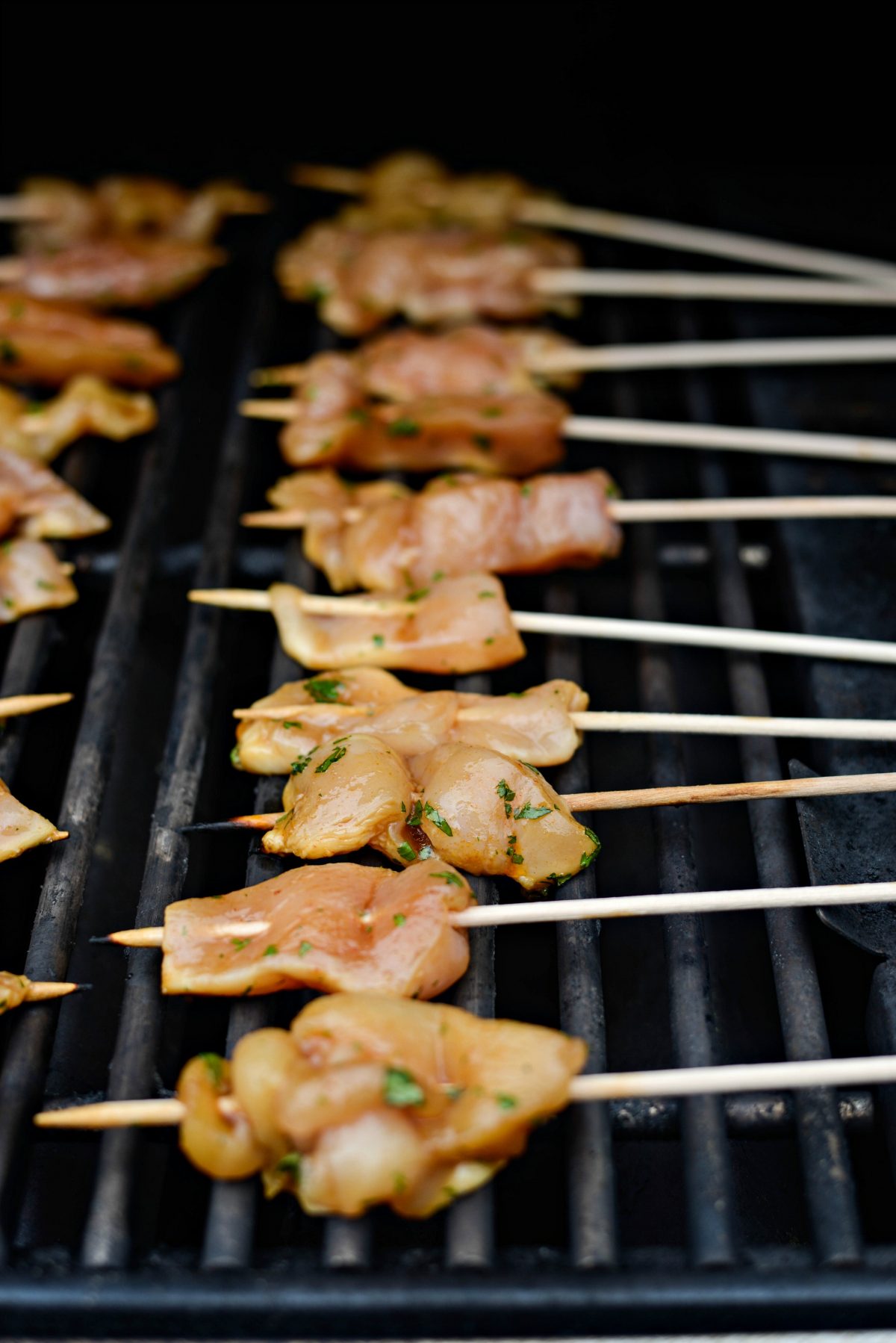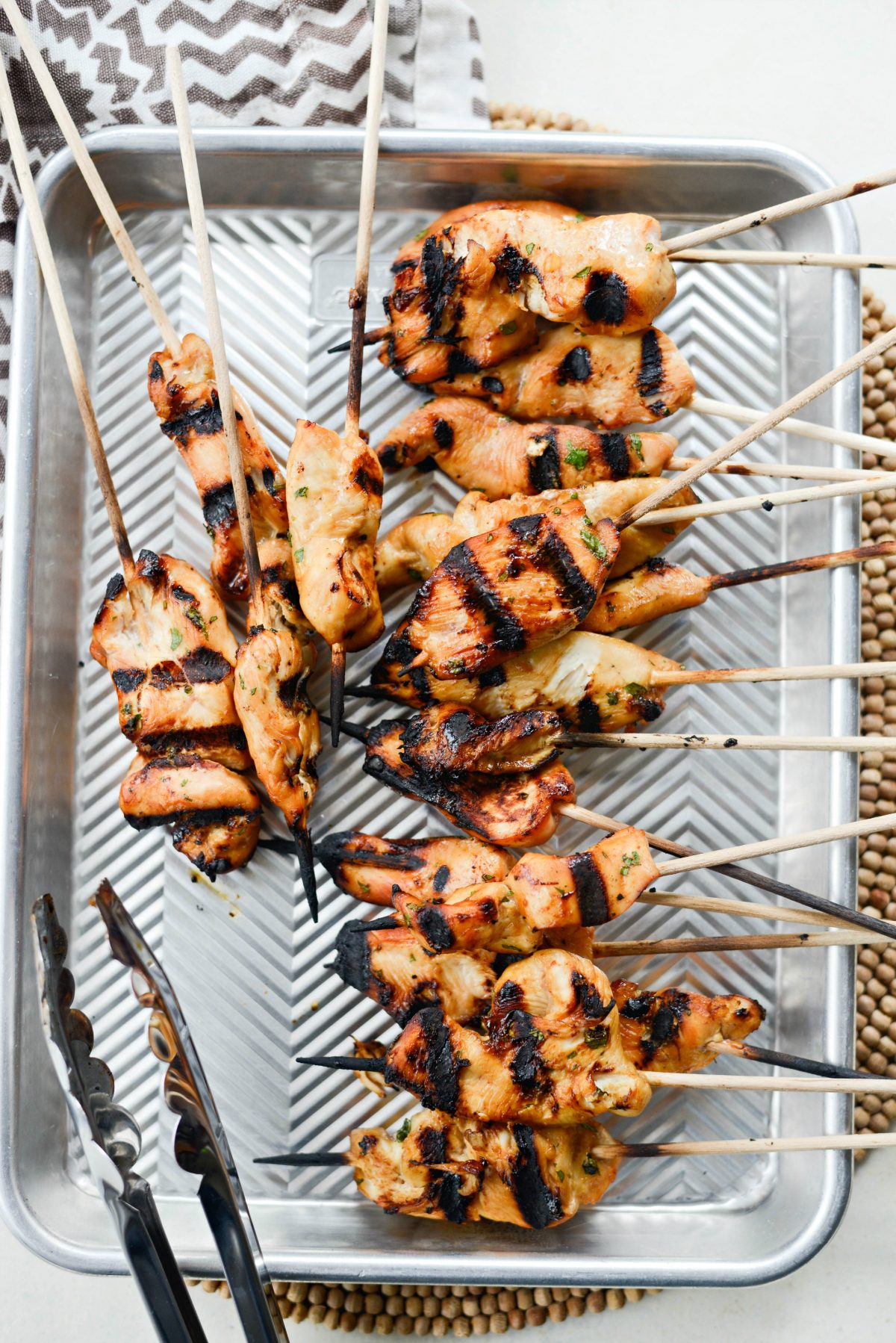 Next, once your grill has preheated, place the chicken skewers on the grill grates. Cook for 3 to 4 minutes a side or until fully cooked. As a result the chicken should have beautiful grill marks.
Finally, serve the chicken satay on a platter with that delicious Thai peanut sauce and sprinkle with finely chopped peanuts, cilantro and sliced green onions.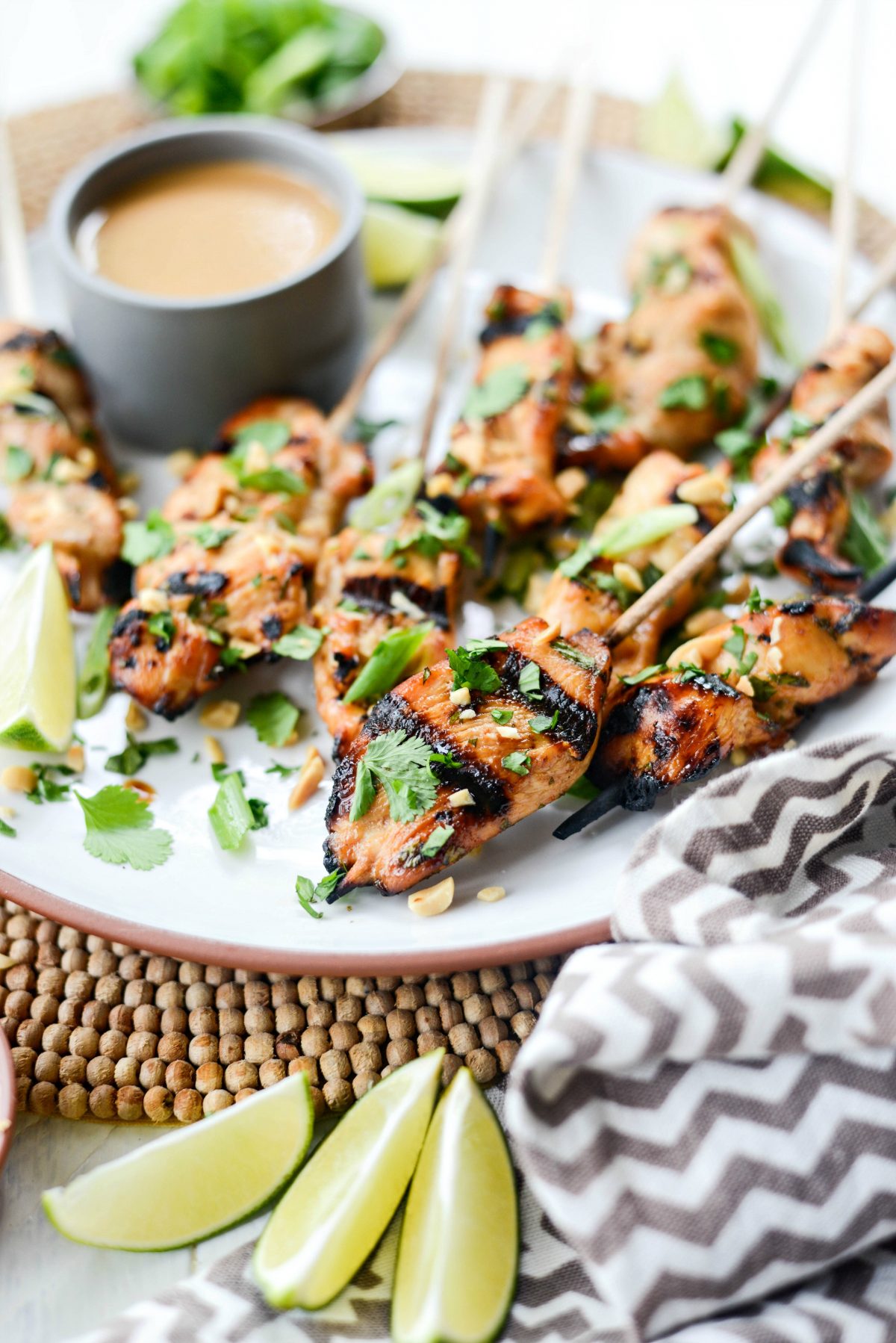 Lastly, squeeze fresh lime over top and start dipping!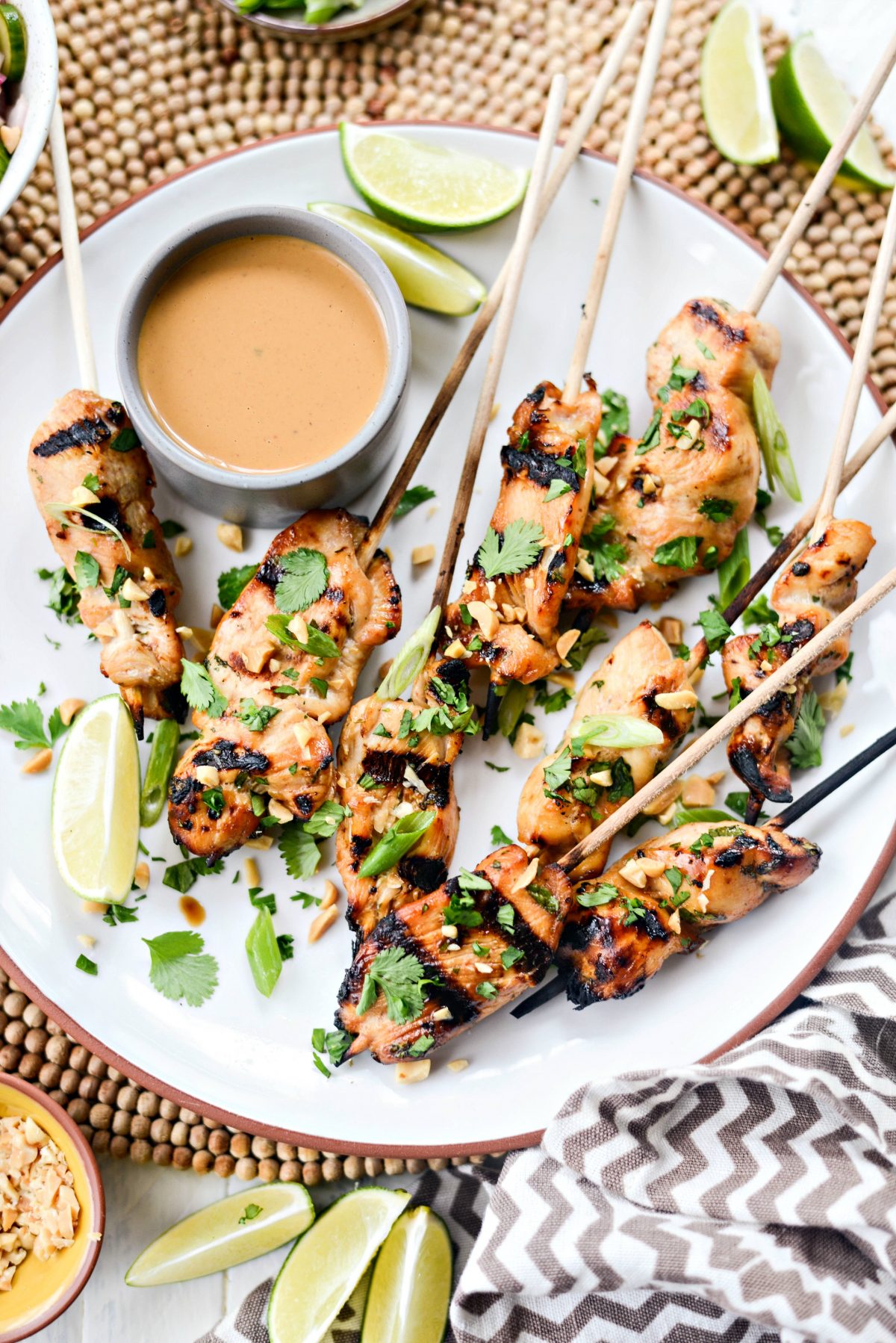 Alone, the chicken satay is INCREDIBLE and exploding with flavor. Yet once you dip it into that creamy Thai peanut sauce, your tastebuds are met with nuttiness from the peanut butter and brightness from the garlic, ginger and lemongrass, and it's a perfect match.
So quick and easy! This chicken satay with Thai peanut sauce recipe is quickly becoming a weekly occurrence. Serve with coconut rice and Thai cucumber salad – which I'll be sharing my recipe for this week!
Enjoy! And if you give this Chicken Satay with Thai Peanut Sauce a try, let me know! Snap a photo and tag me on twitter or instagram!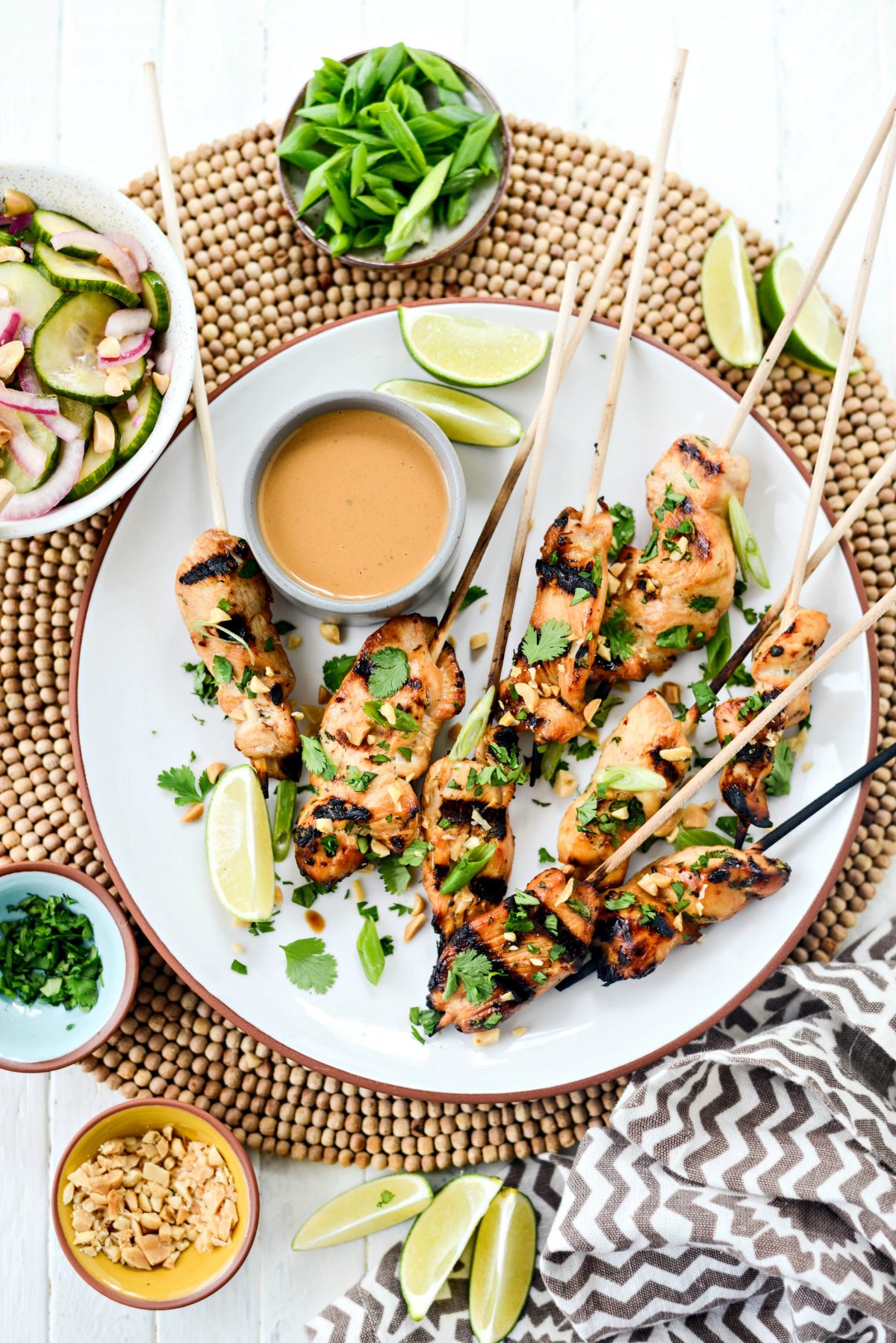 This post may contain affiliate links.
Buy the Cookbook: Simply Scratch : 120 Wholesome Homemade Recipes Made Easy Now available on Amazon »
THANK YOU in advance for your support!