Banana Walnut Breakfast Doughnuts are everything you love about banana bread in a baked doughnut. Dipped into a cream cheese glaze and topped with a sprinkle of chopped walnuts. A delicious breakfast on busy (or not busy) mornings.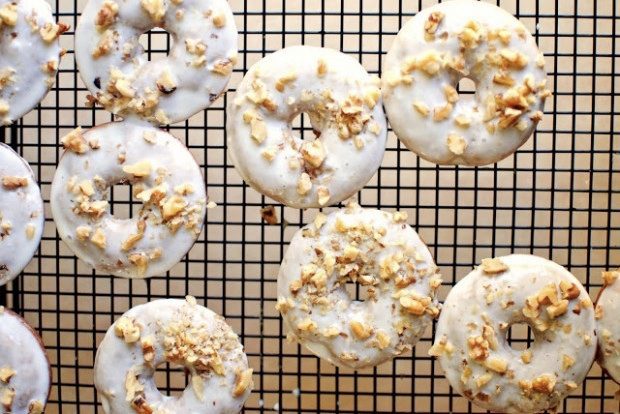 Banana. Walnut. Breakfast. Doughnuts.
I was staring at a bunch of ripe bananas and thought to myself how badly I need to use them up before the fruit flies arrive. And my girl's lovelovelovelove muffins for breakfast. They're easy and can be a healthy start to the day. So as my eyes bounce from ripened bananas to this doughnut pan I had recently purchased and then back to the bananas while thinking about my daughter's breakfast when it hits me. Breakfast doughnuts! Can it be done?
You know how they say kids will eat anything on a stick. Not true. I put veggies on a stick and they rolled their eyes at me, they were not going to fall for that trick. So I'm starting a new rumor: kids will eat anything that looks like a doughnut!
To Make These Banana Walnut Breakfast Doughnuts You Will Need:
nonstick baking spray
light brown sugar
all-purpose flour
baking soda
kosher salt
baking powder
cinnamon
nutmeg, freshly grated
ripe bananas
a large egg
unsweetened applesauce
pure vanilla extract
Into a mixing bowl, add 3/4 cup light brown sugar.
To the brown sugar, sift in the 1-1/2 cups flour, 1/2 teaspoon kosher salt, 1/2 teaspoon baking soda and 1/4 teaspoon powder, 1/2 teaspoon ground cinnamon and 1/4 teaspoon fresh nutmeg. Now just set that aside for a sec.
Mash 2 ripe bananas with your potato masher or a fork. I kept the banana really chunky.
Add the 1/2 cup applesauce, 1/2 teaspoon pure vanilla extract and 1 whole egg to the banana.
Mix until combined.
Combine the banana mixture to the dry ingredients and mix.
My rule of thumb: if the batter tastes good, then it will taste even better when baked.
Grease the doughnut pan with coconut oil or use a nonstick baking spray.
Fill each of the doughnut spaces up 3/4 of the way. Slide into a preheated 325° oven and bake for 17-20 minutes. I found mine to be perfect at the 17 minute mark, but everyones oven is different.
Let cool for 5 minutes before turning out onto a cooling rack. Wait for the pan to cool down significantly before re-greasing and adding more batter. Or just buy two pans instead of one.
Let doughnuts cool completely while you make the cream cheese glaze.
For The Glaze You Will Need:
cream cheese
powdered sugar
vanilla
milk
You didn't think I was going to leave them naked did you?
Whisk and combine the softened cream cheese with the powdered sugar and vanilla.
Continue whisking while gradually adding in the whole milk until you reach a consistency that you like.
Roughly chop up some walnuts.
Dip the doughnut into the glaze.
And then repeat.
Lastly, sprinkle with chopped walnuts.
These Banana Walnut Breakfast Doughnuts are like banana bread, meets muffin, meets doughnut! So delicious!
I had all the intentions of saving these for my daughter's breakfast. But my bff stopped by with Starbucks and before you know it four were gone.
Enjoy! And if you give this Banana Walnut Breakfast Doughnut recipe a try, let me know! Snap a photo and tag me on twitter or instagram!

This post may contain affiliate links.
Buy the Cookbook: Simply Scratch : 120 Wholesome Homemade Recipes Made Easy Now available on Amazon »
THANK YOU in advance for your support!