If you're looking for a simple yet flavorful dinner, this Skillet Beefaroni is easy and delicious. And BONUS it's all made in one skillet, topped with cheese and slipped under the broiler. Serves 6 to 8 in under an hour.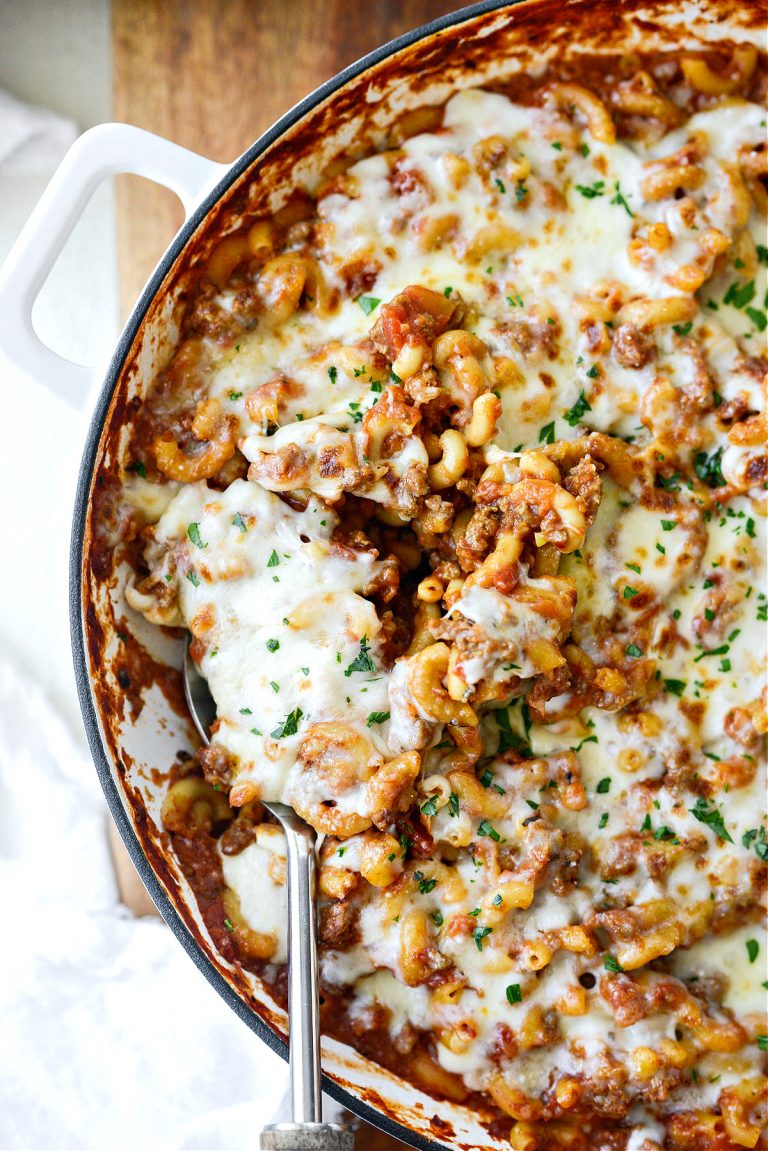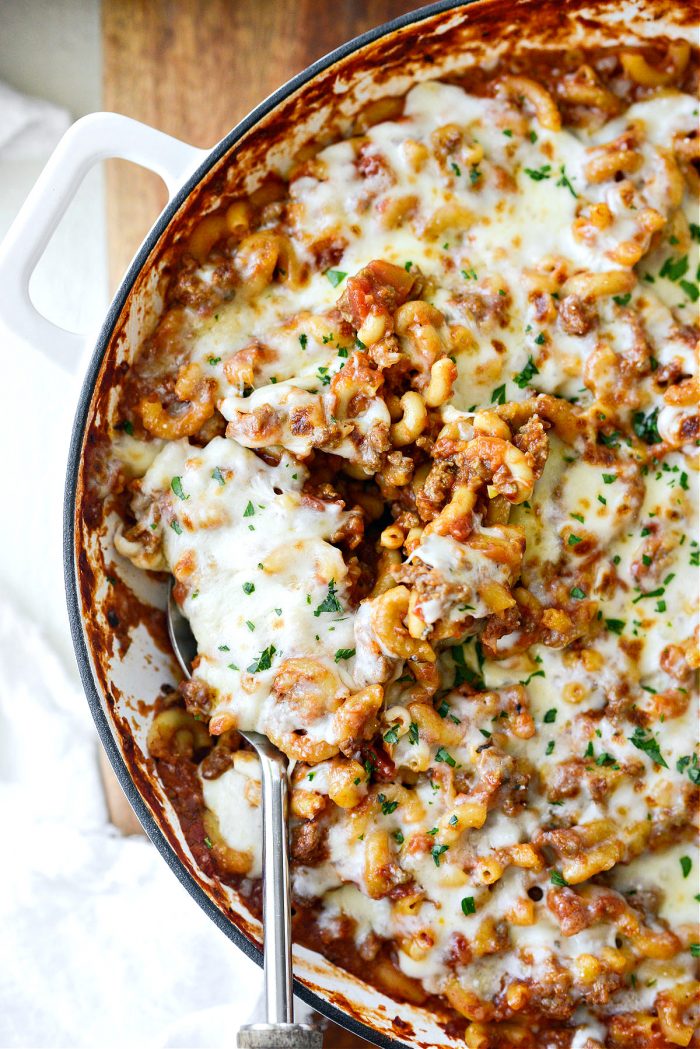 The weather is cooling and I'm in the mood for comfort food.
Technically it's still summer, however once it's September and the temperature dips even a little, I'm ready to cozy up with a bowl of cheesy, saucy pasta. Like this one-pan dream dinner!
I quickly pulse veggies in the food processor before sautéing them with ground beef. Doing this will lend flavor without big pieces of vegetables throughout the sauce. Then just sauté, add ground beef and mix with crushed tomatoes, pasta and broth and let that simmer. The pasta will absorb some of the sauce, but not all of it, so it's still plenty saucy. Sprinkle with cheese and broil until golden and melty.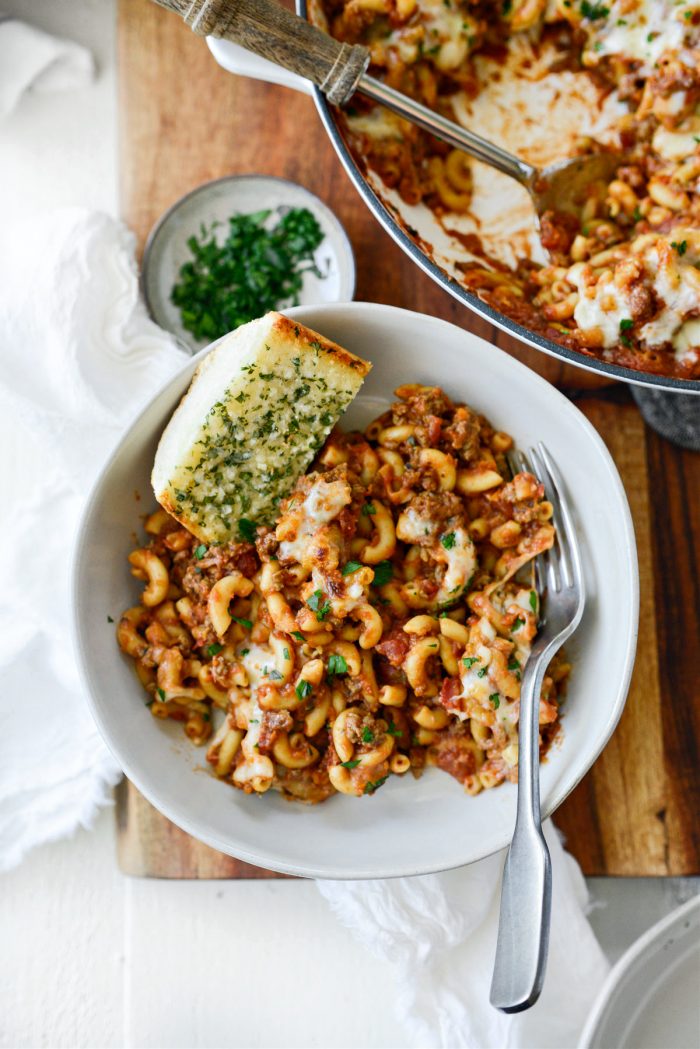 Serve with garlic bread and prepare to fall in love.
To Make This Skillet Beefaroni You Will Need:
yellow onion
carrot
celery
garlic
lean ground beef
oregano (dried)
marjoram (dried)
basil (dried)
red pepper flakes
tomato paste
low-sodium chicken broth
crushed tomatoes
Worcestershire sauce
dried macaroni noodles
kosher salt
parmesan cheese
mozzarella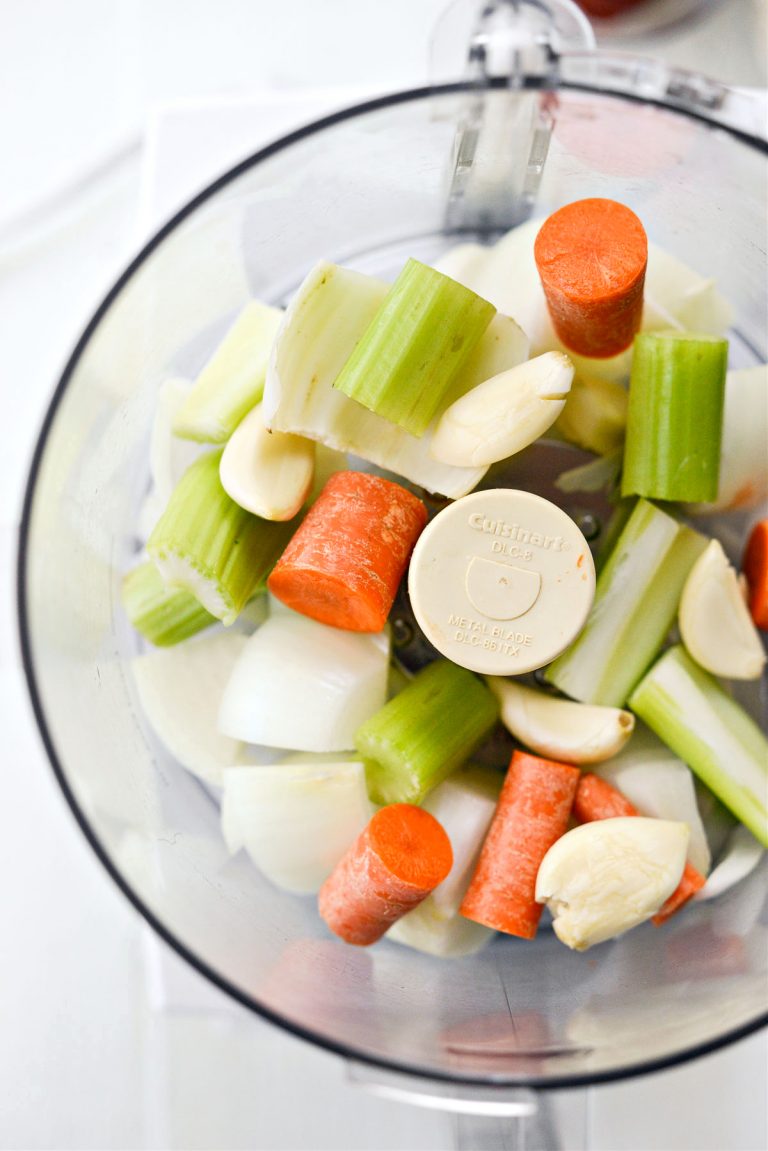 In the bowl of your food processor fitted with the blade attachment add; 1 small yellow onion, 1 medium carrot, 1 short celery stalk and 6 cloves of garlic.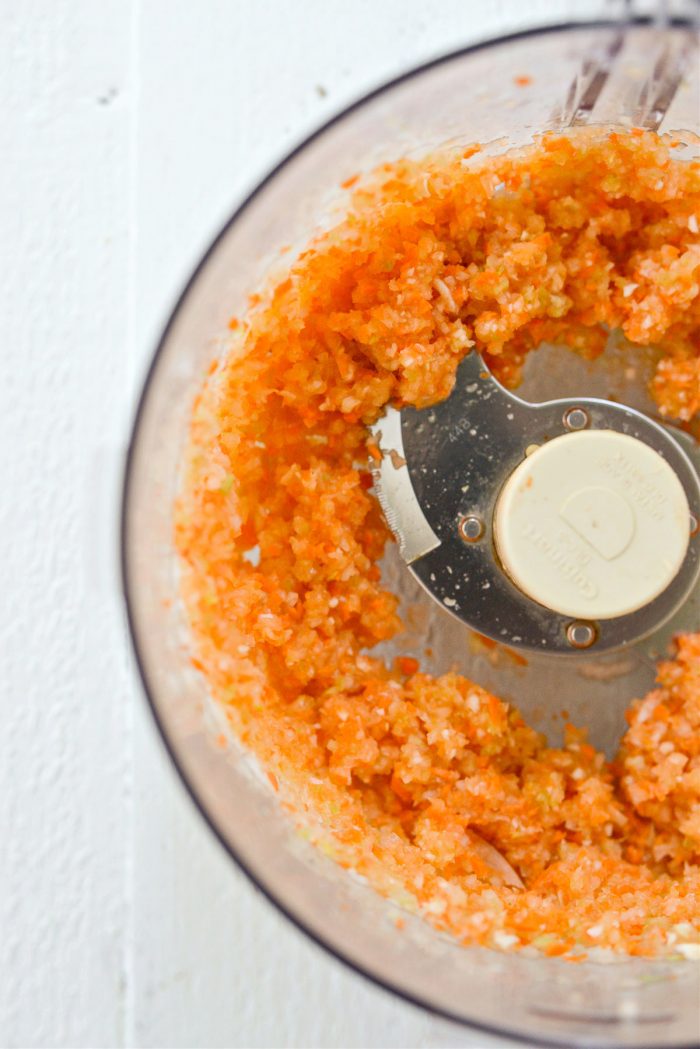 Secure the lid and pulse until finely minced.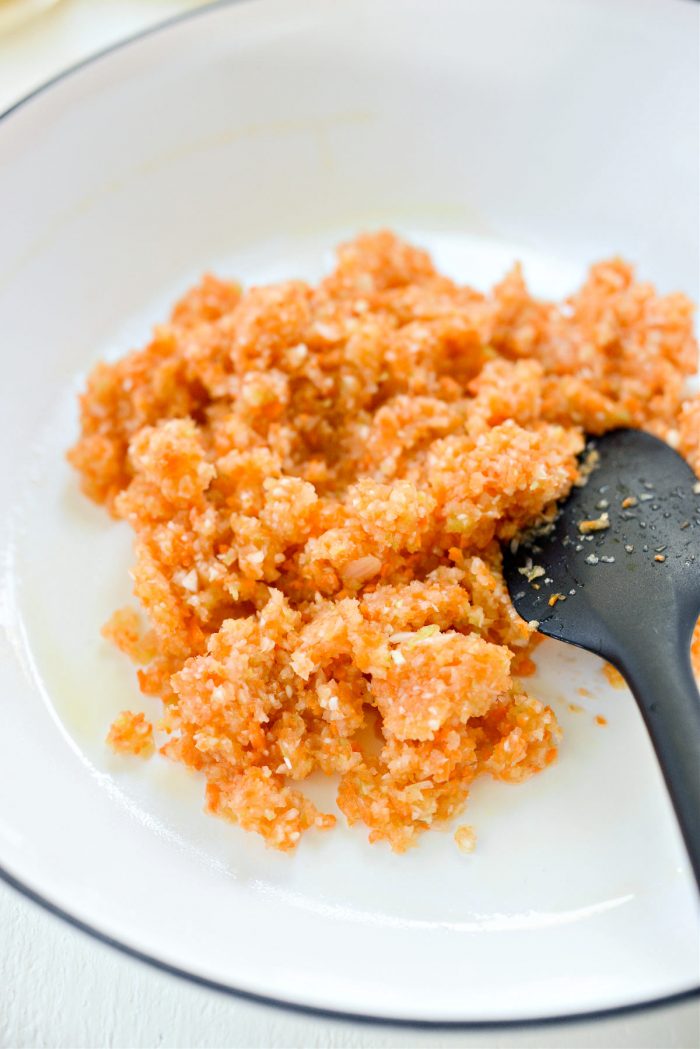 Spray a deep skillet with olive oil spray and heat over medium to medium-low, add the minced vegetable mixture and a pinch of kosher salt.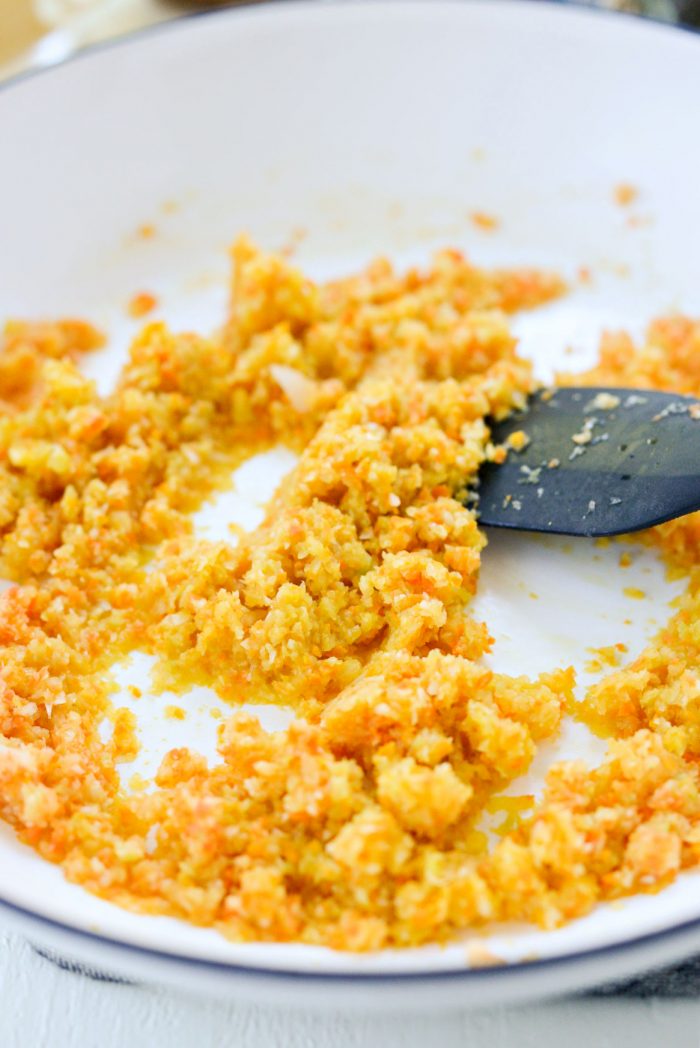 Cook 5 to 6 minutes, stirring occasionally or until the vegetables soften.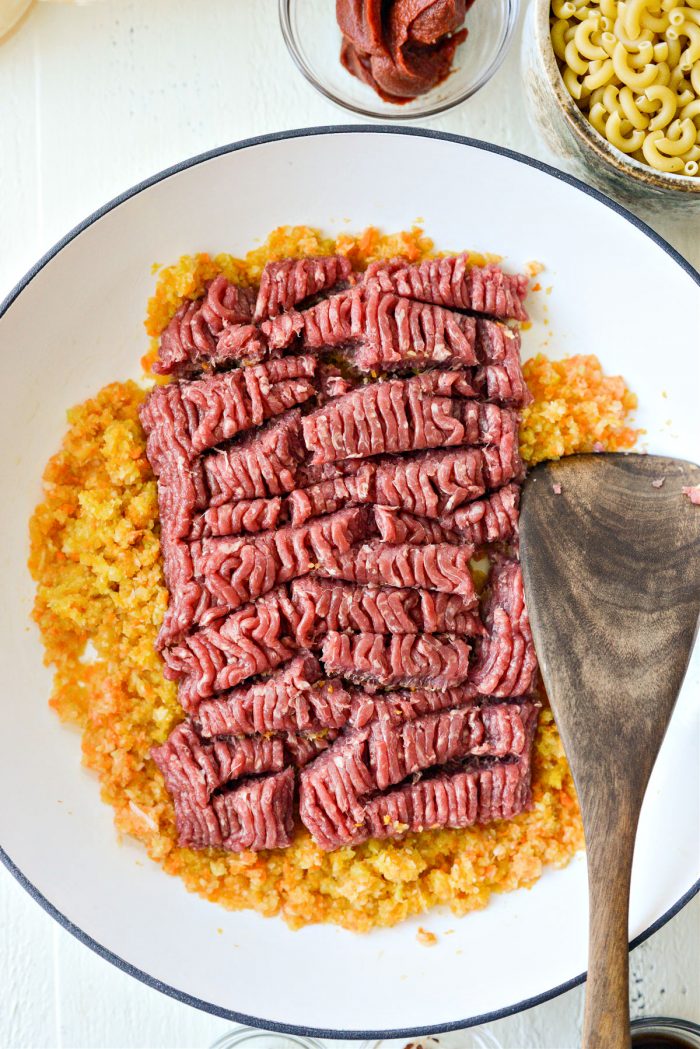 Add in 1 pound (96%) lean ground beef.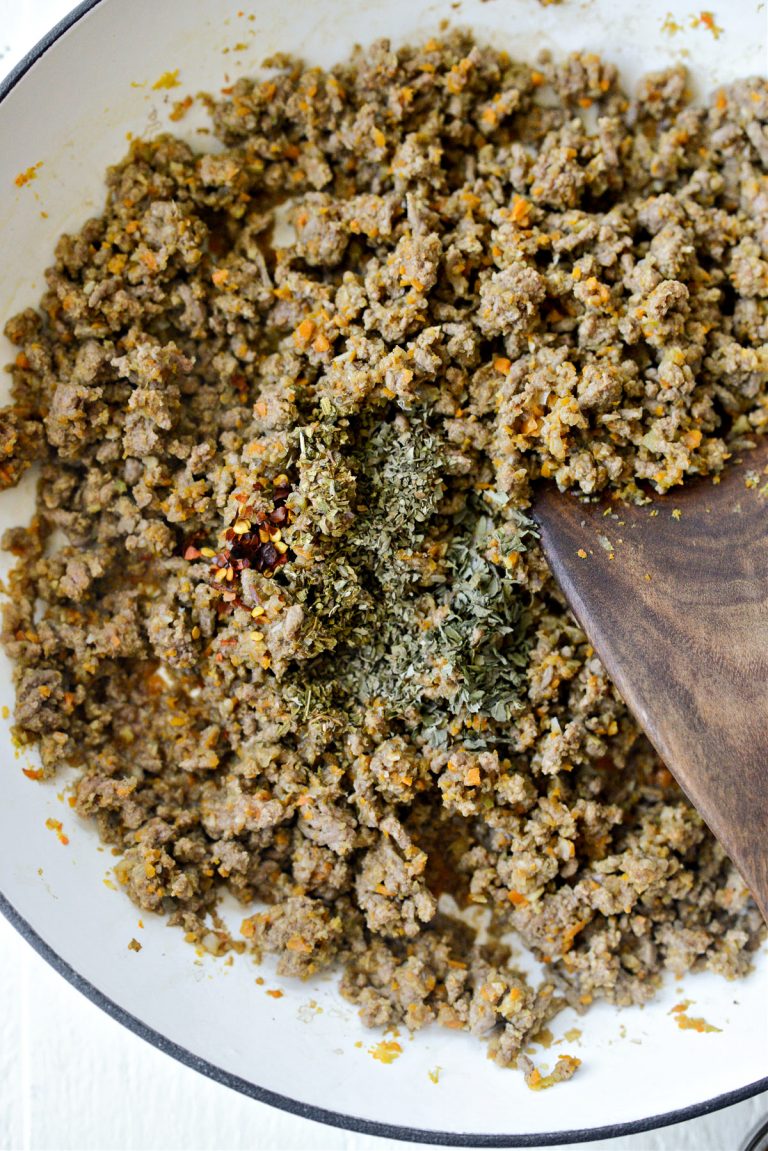 Use a wooden spatula to break it up and cook until no longer pink. Next, add in 1 teaspoon oregano, 3/4 teaspoon marjoram, 3/4 teaspoon basil and 1/2 teaspoon red pepper flakes. Red pepper flakes are totally optional, so feel free to omit if you would like. Stir to combine.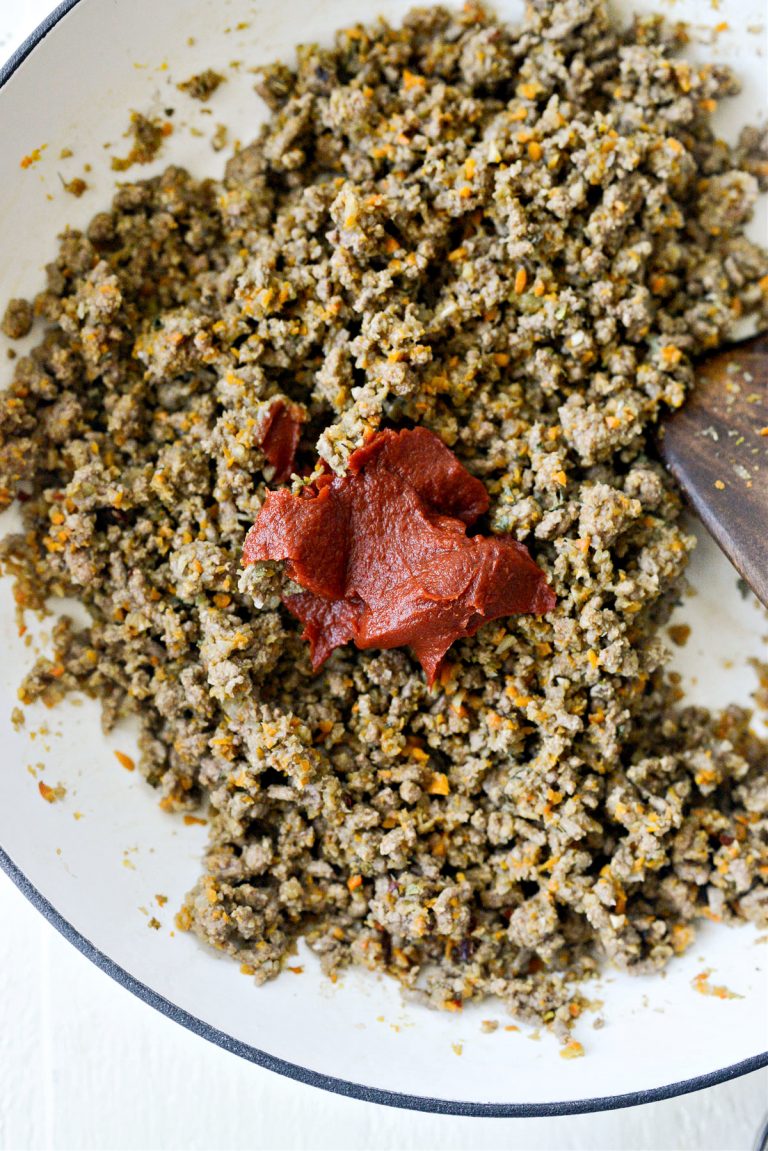 To the meat mixture, measure and add in 2 generous tablespoons tomato paste.
Continue to stir and cook 1 to 2 minutes.
Then add in 1 (28 ounce) can crushed tomatoes, 3 cups low-sodium chicken broth, 16 ounces (1 pound) dried macaroni noodles and 1 tablespoon Worcestershire sauce. Stir and bring to a simmer over medium to medium-high heat stirring often as the noodles do like to stick. Once simmering, reduce to low and stir, scraping the bottom often to avoid sticking.
Meanwhile, move your oven rack to the highest spot in your oven and preheat your broiler on high.
After about 12 to 14 minutes, test the noodles should be tender. Remove the skillet from the heat. Season with 1 teaspoon kosher salt or to taste.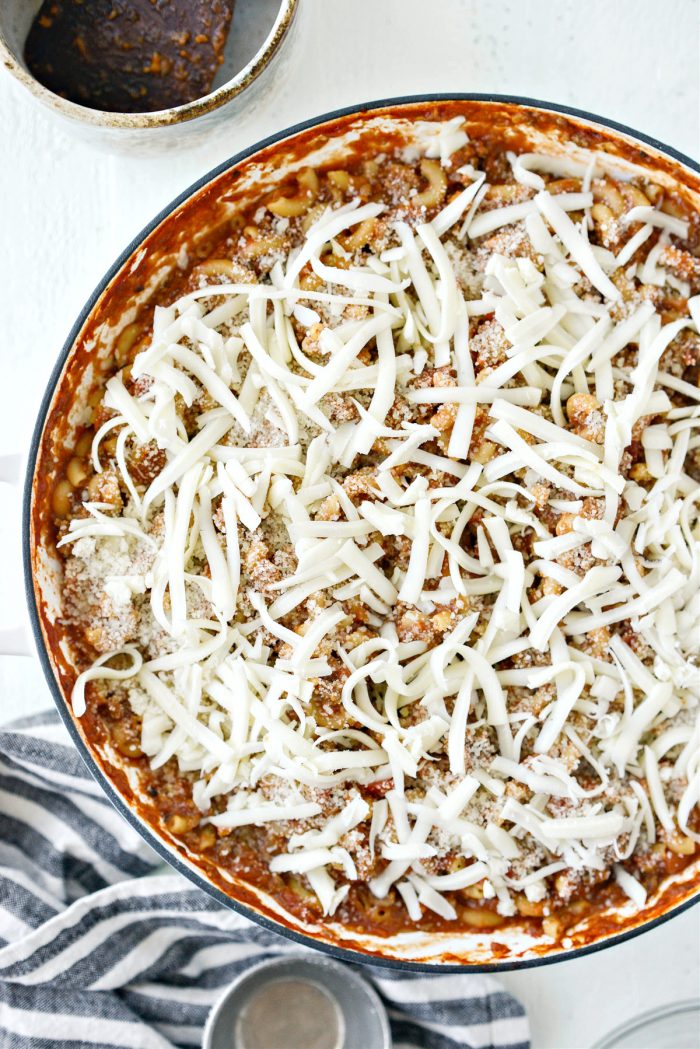 Sprinkle the top of your skillet beefaroni with 1/3 grated parmesan cheese and 1 cup shredded mozzarella.
Slip the skillet under the broiler for a minute or two or until the cheese has melted and is golden brown in spots.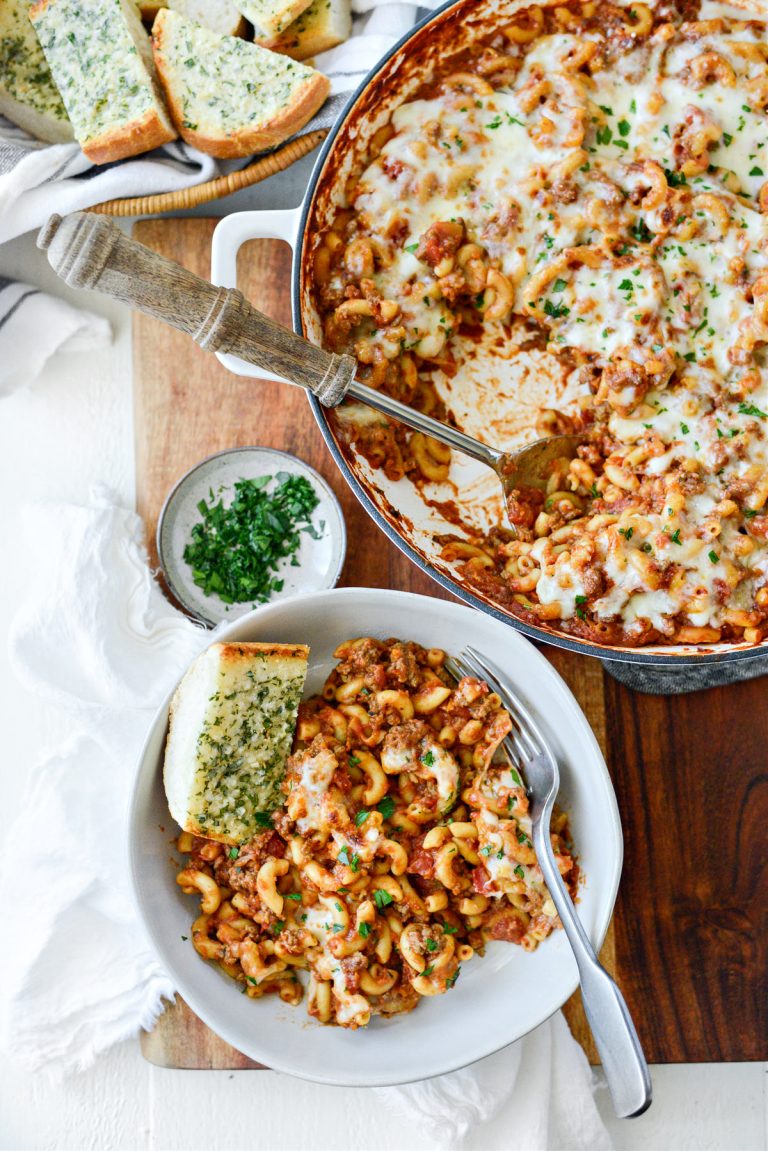 Serve in bowls, sprinkled with minced fresh parley. And garlic bread.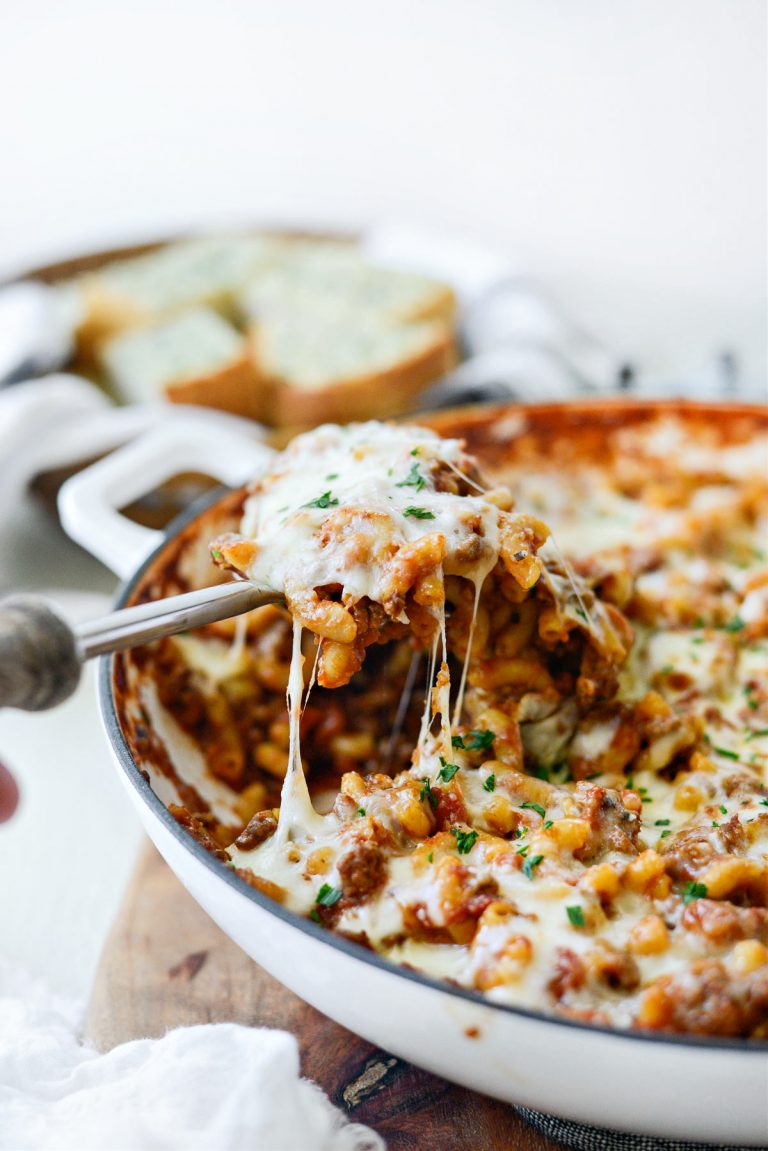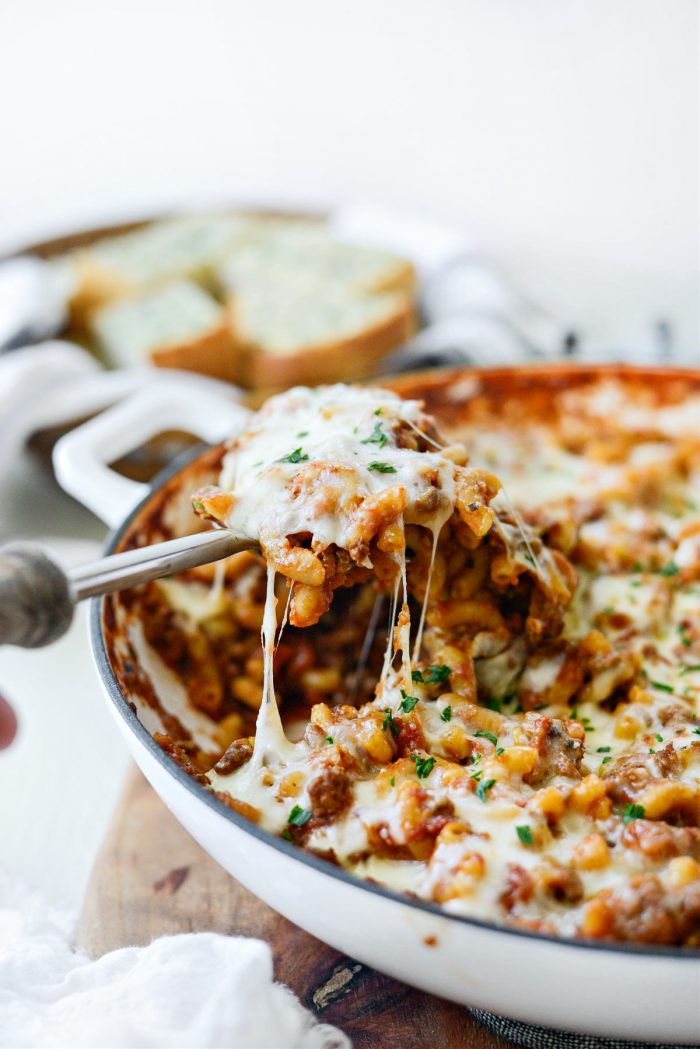 Deliciously saucy and cheesy and EASY!
Enjoy! And if you give this Skillet Beefaroni recipe a try, let me know! Snap a photo and tag me on twitter or instagram!
This post may contain affiliate links.
Buy the Cookbook: Simply Scratch : 120 Wholesome Homemade Recipes Made Easy Now available on Amazon »
THANK YOU in advance for your support!