Roasted Cauliflower Tabbouleh is a grain-free version of a classic Mediterranean salad. Riced cauliflower is roasted and combined with minced herbs, green onion, garlic, diced tomato and cucumber. Drizzled with fresh lemon juice, olive oil and seasoned with salt and pepper. SO simple and delicious!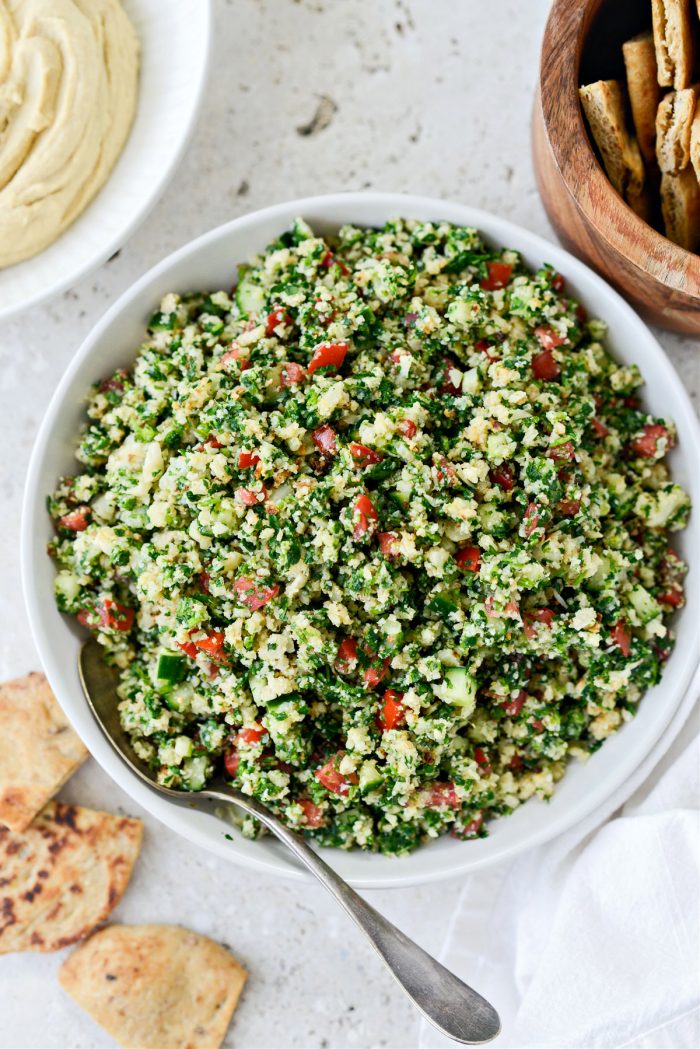 This light and healthy salad is easy, healthy and delicious!
One summer I had my sisters over for a Mediterranean themed dinner. I made fattoush and topped with with grilled za'atar chicken and I also served hummus and pita with this cauliflower tabbouleh.
Since a couple of my sisters avoid gluten, I decided to make a cauliflower version, however this time, I roasted the cauliflower instead of leaving it raw. It was a huge hit. We had little side plates of hummus topped with this tabbouleh with veggies and toasted pita for those who eat bread.
It's so simple and the perfect light salad, especially during the summer season.
To Make This Roasted Cauliflower Tabbouleh You Will Need:
cauliflower
olive oil spray
kosher salt
parsley
mint
green onions
garlic
roma tomatoes
cucumber
lemon juice
olive oil
black pepper
Preheat your oven to 450°.
Meanwhile, break down the head of cauliflower into florets. Try to keep them similar in size – not too large and not too small. In the bowl of your food processor, fitted with the blade attachment, work in batches adding pulsing until the cauliflower resembles rice.
Spray a rimmed metal baking sheet with olive oil. Spread the riced cauliflower out evenly and lightly spray with olive spray and season with a few pinches of kosher salt.
Roast on the middle rack of your preheated oven for 30 minutes, tossing the rice and spreading it back out every 10 minutes.
Next add 1 bunch parsley tops, 1 small bunch fresh mint, the light and dark green parts of 4 green onions and 1 clove garlic into the food processor.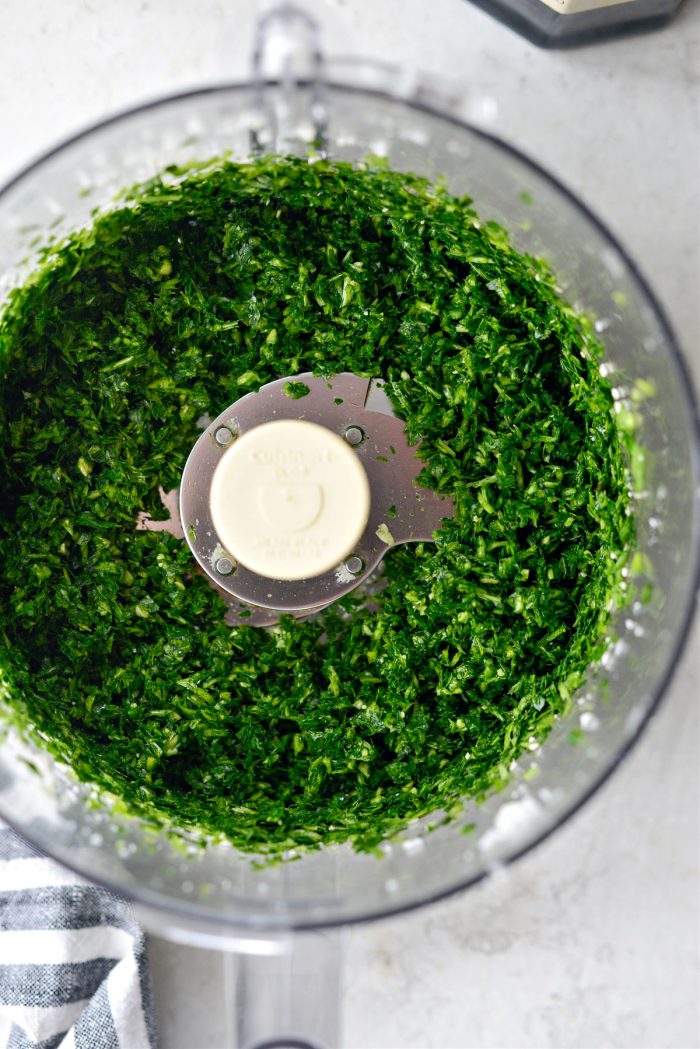 Secure the lid and pulse until finely minced.
Once the cauliflower is roasted, remove and let cool slightly.
In a large mixing bowl, add the cooled, roasted cauliflower rice, parsley mixture, 2 small Romas that were seeded and diced small and 1/2 an English cucumber, seeded and diced small.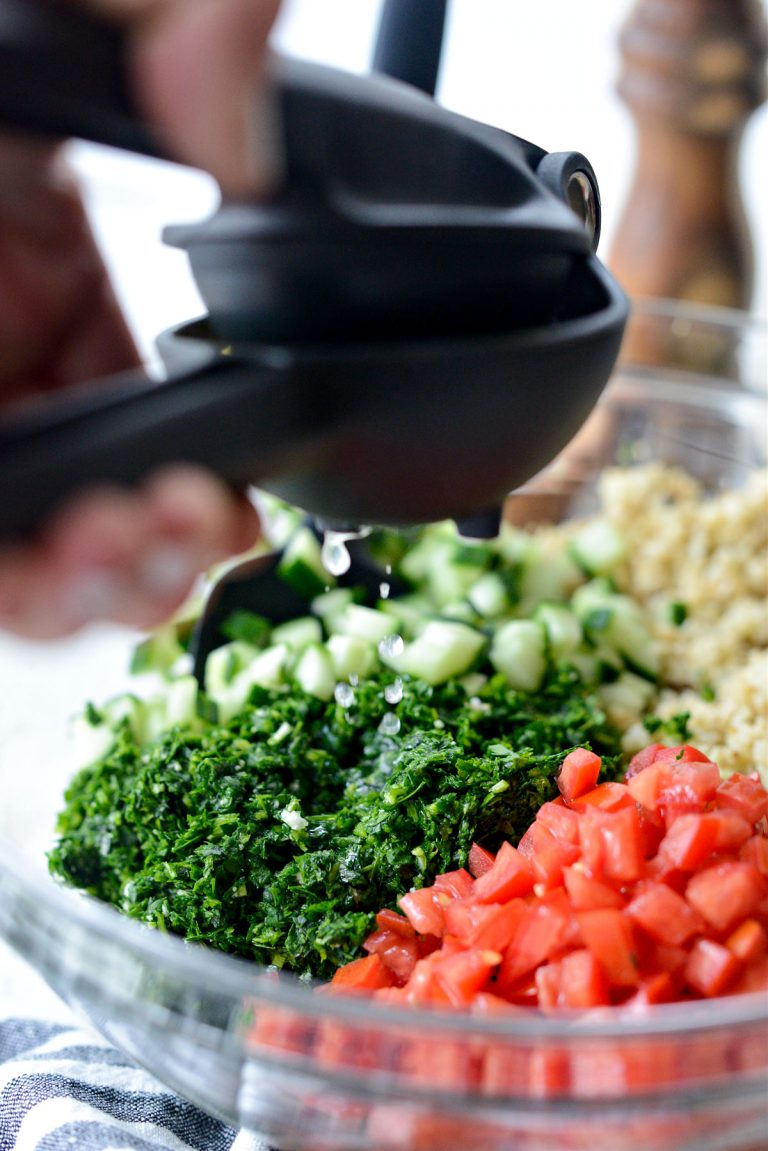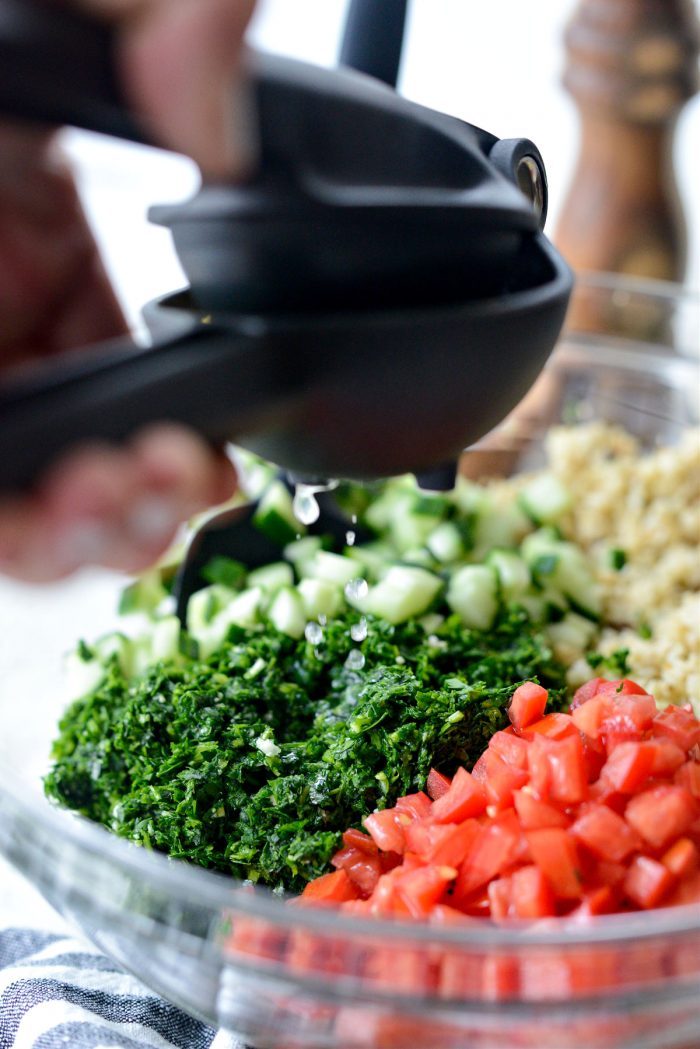 Squeeze in the juice of 1/2 a lemon.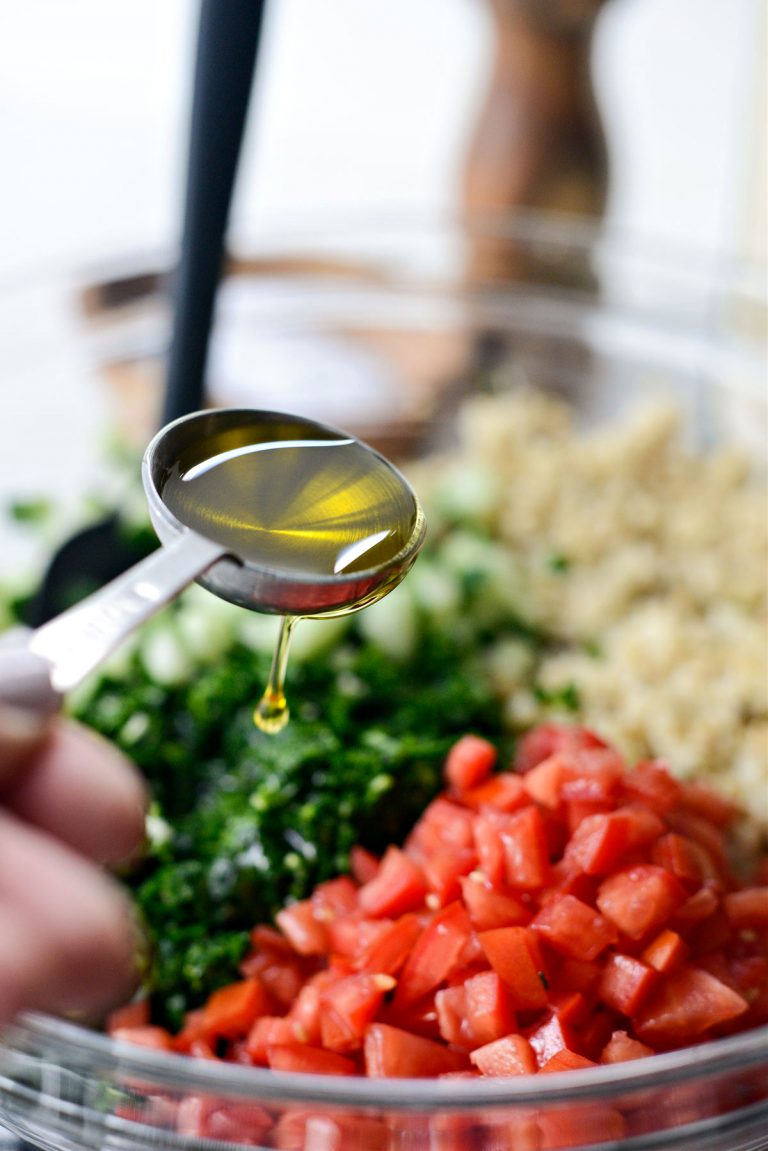 Pour in 2 tablespoons olive oil.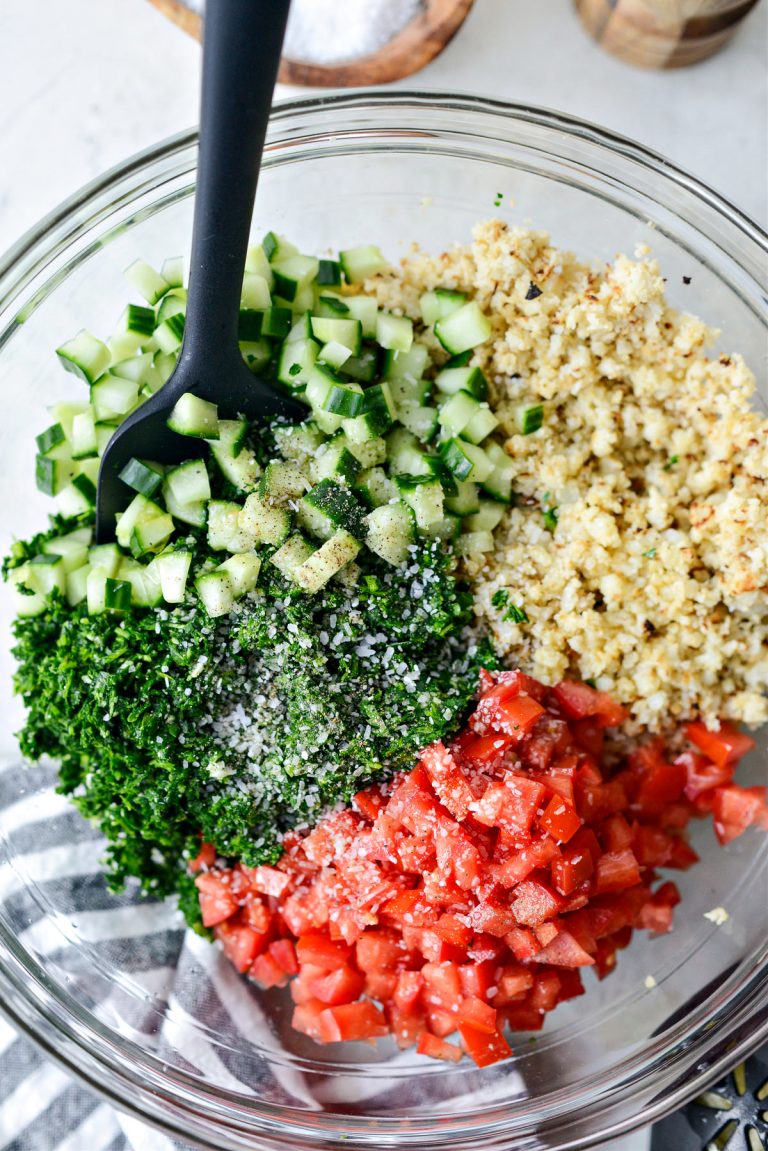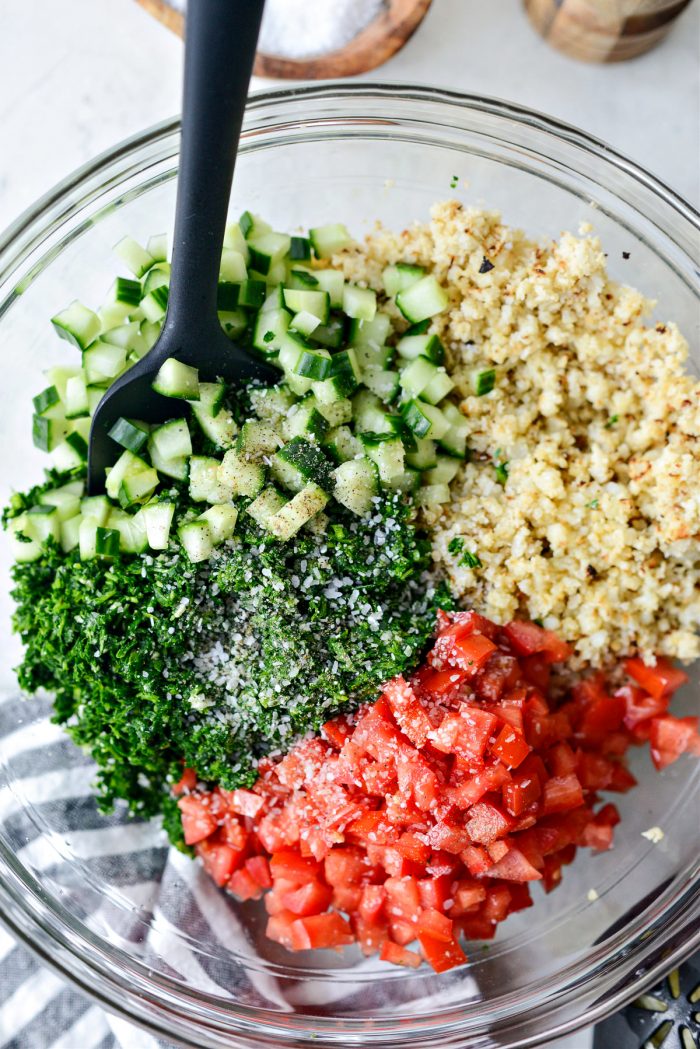 Lastly, season with kosher salt and freshly ground black pepper to taste.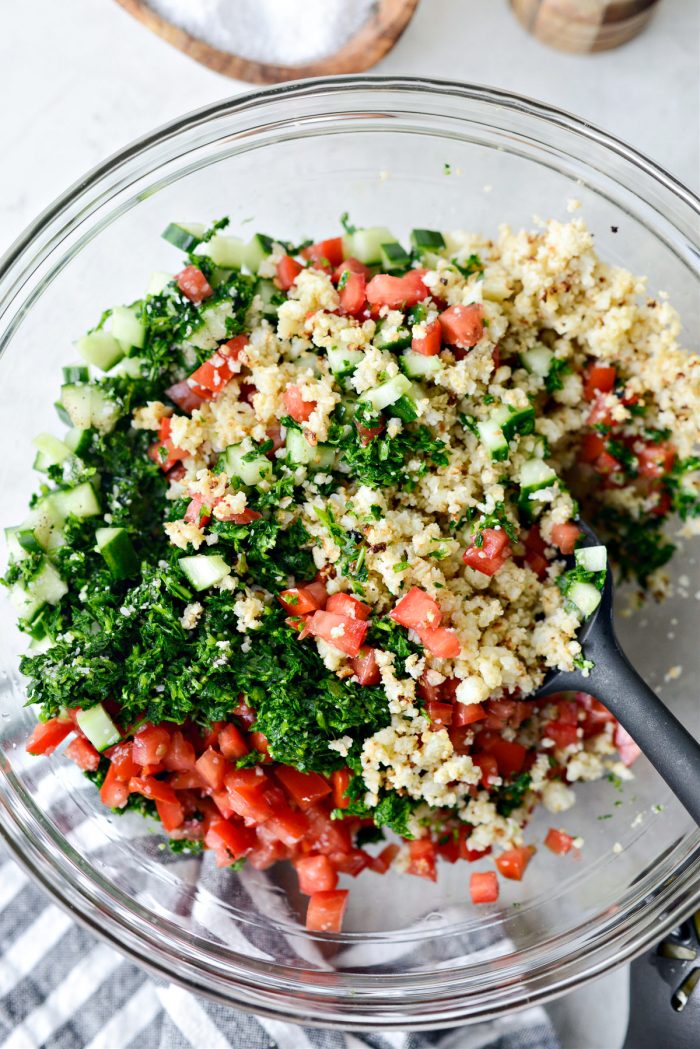 Toss well to combine.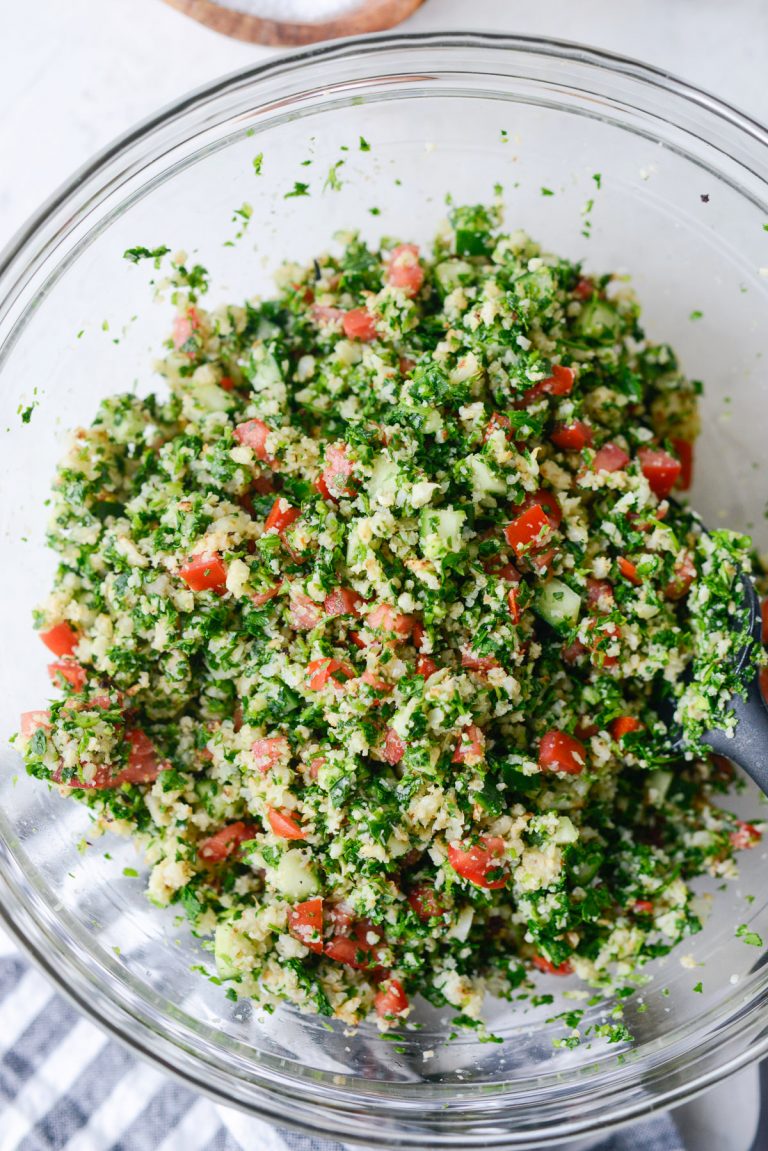 Taste test and add salt and pepper if needed.
Serve immediately or chill until ready to serve.
Fresh.
Healthy.
Delicious.
What more could you ask for?
Enjoy! And if you give this Roasted Cauliflower Tabbouleh recipe a try, let me know! Snap a photo and tag me on twitter or instagram!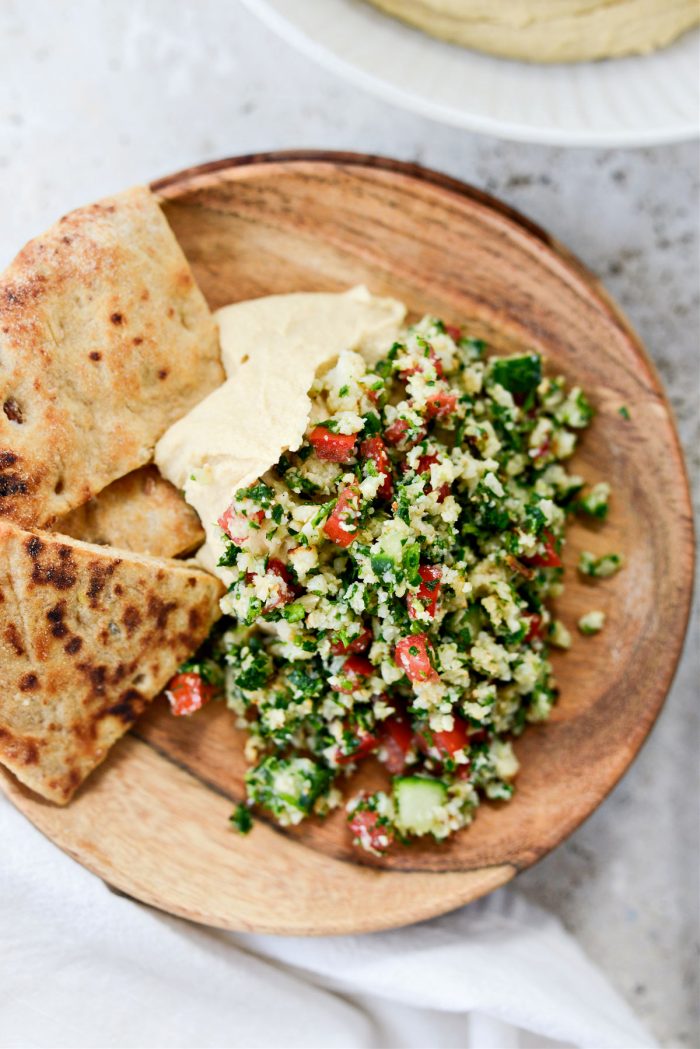 This post may contain affiliate links.
Buy the Cookbook: Simply Scratch : 120 Wholesome Homemade Recipes Made Easy Now available on Amazon »
THANK YOU in advance for your support!