Mango Mezcal Margarita Slush is an incredibly delicious icy adult beverage. The combination of a chili lime salt rim and frosty spiked mango cocktail will tantalize your taste buds. This recipe makes 3 cups and will serve 2 to 4 depending.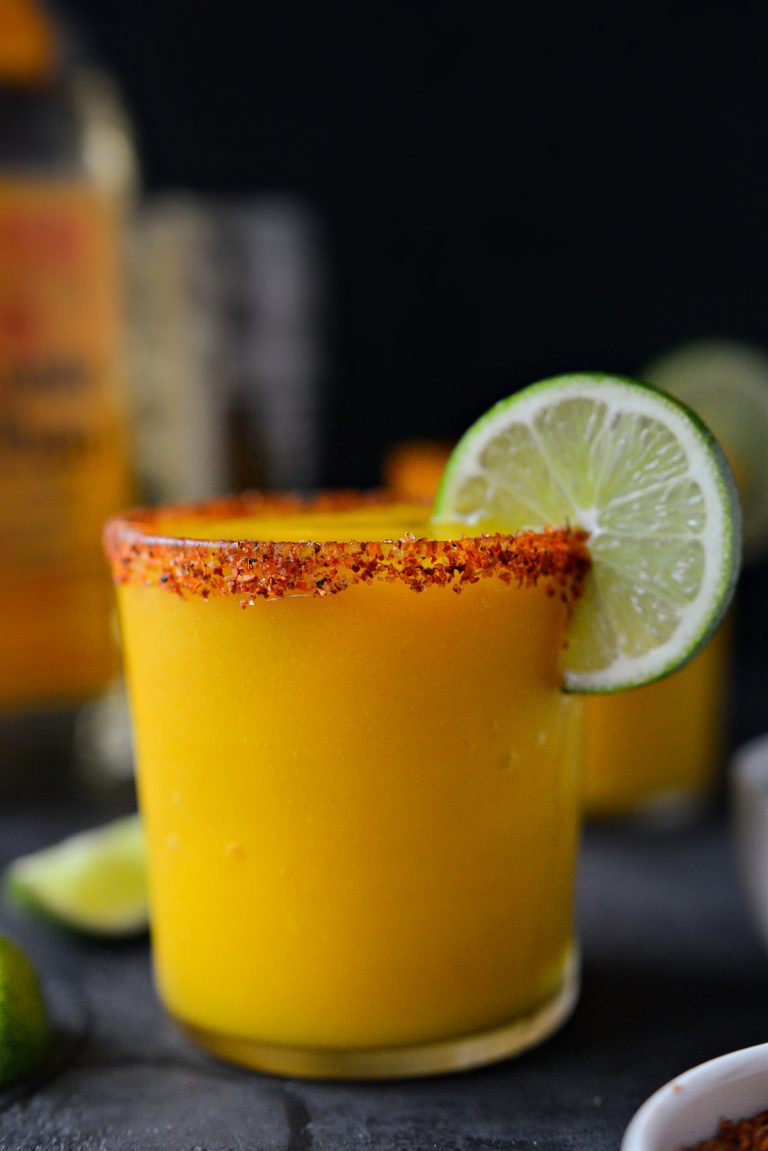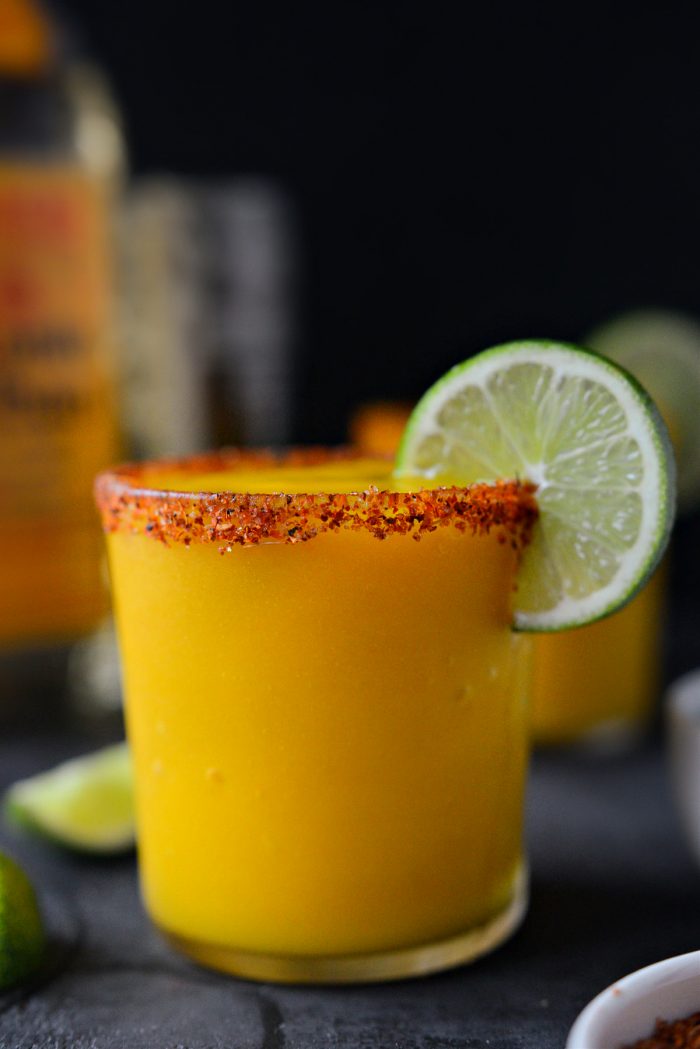 Another Friday and another margarita!
This time I'm serving up an icy mango mezcal slush. The whole drink is an experience. It starts with a punch from chili lime salt rim and mellows out into the this sweet mango marg.
This recipe sort of happened by accident. Mango sorbet in the fridge, bottle of mezcal that I've had for what seems like ages and who doesn't have tajin in their spice drawer? All seemed like they would be incredible together so on the rainiest of days, I made this dream a reality.
And I may or may not have gotten day drunk. Zero regrets.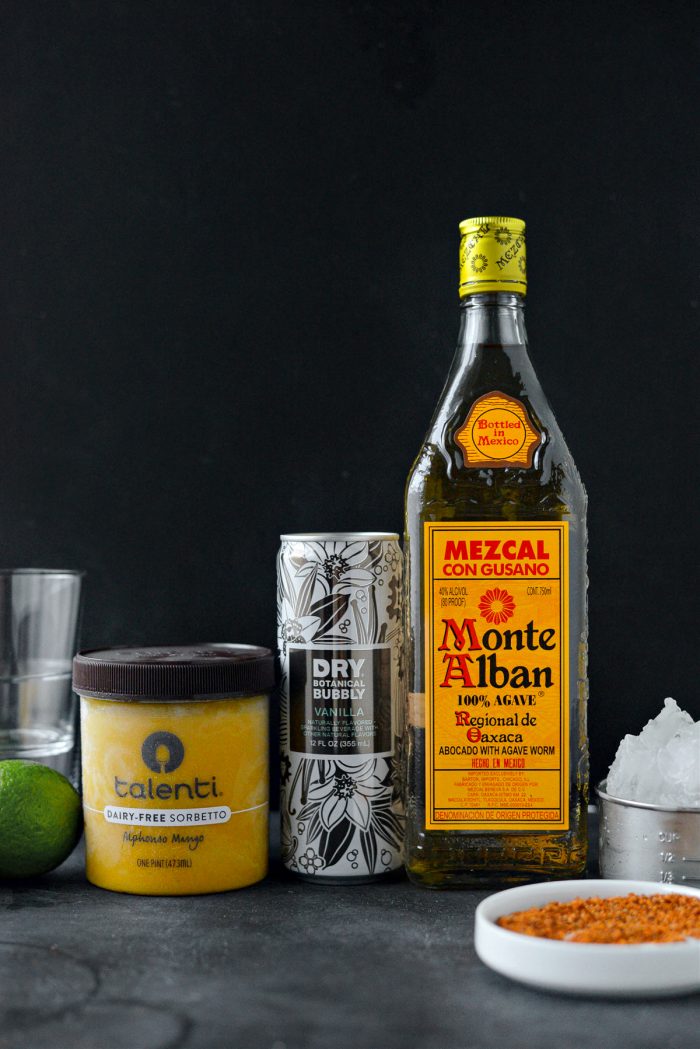 To Make This Mango Mezcal Margarita Slush You Will Need:
lime wedges and slices
tajin seasoning
ice
dairy-free mango sorbet
mezcal
lime juice
non-alcoholic bubbly -like vanilla (above) or lemon-lime soda
What is Mezcal?
Like tequila (which is a type of mezcal), mezcal is made from the harvested core of the agave plant. Sure there are more current ways to produce mezcal, however traditionally the agave cores are cooked in earthen pits lined with lava rocks and filled with wood and charcoal. Which is how it gets its smokiness. Afterwards it is distilled in clay pots and aged in oak barrels. Thank you food & wine.com 😉
Ps. there are a lot of great mezcals out there. This is the only brand I could locate in my area. Use one that you like or read reviews to make your decision. This brand didn't have the best reviews, and I thought it wasn't that smoky at all. But it wasn't terrible either.
And yes, it has the agave worm in the bottle.
Like with any marg, it starts with a good rim. Add a few spoonfuls of tajin to a small plate.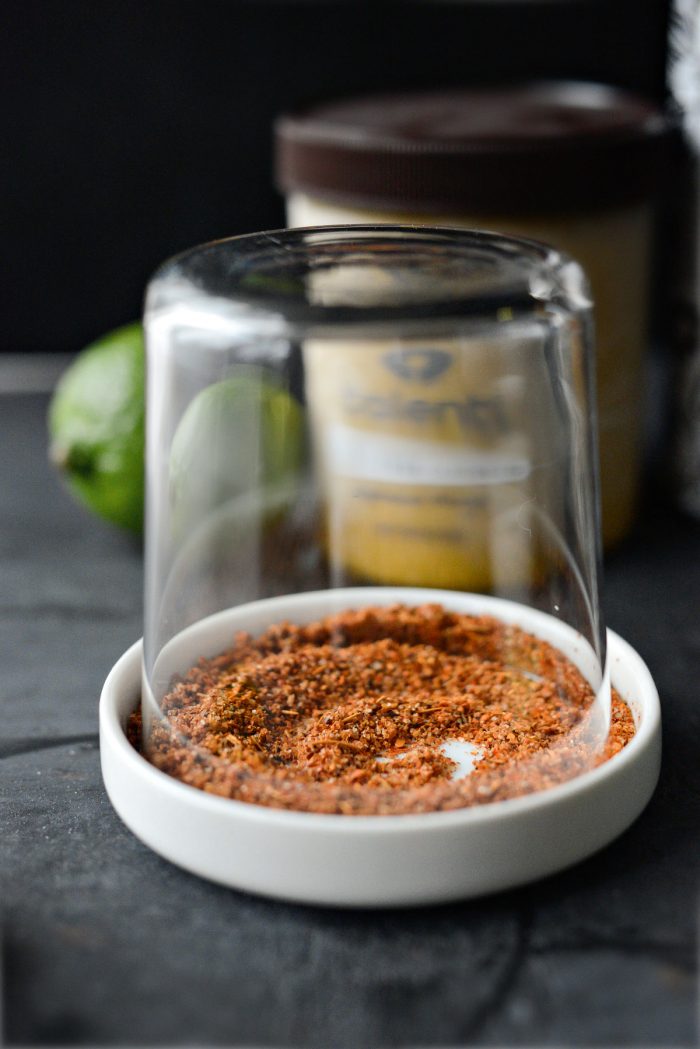 Generously rim each glass with a juicy wedge of lime and dip into the tajin.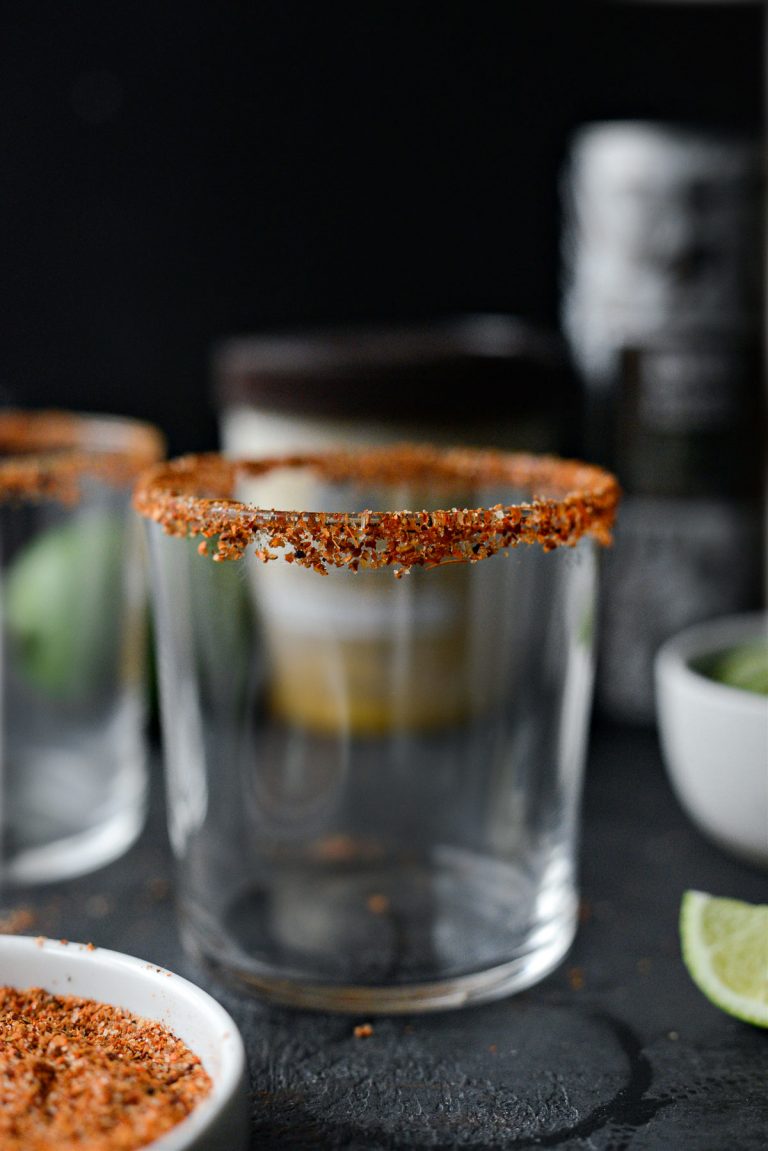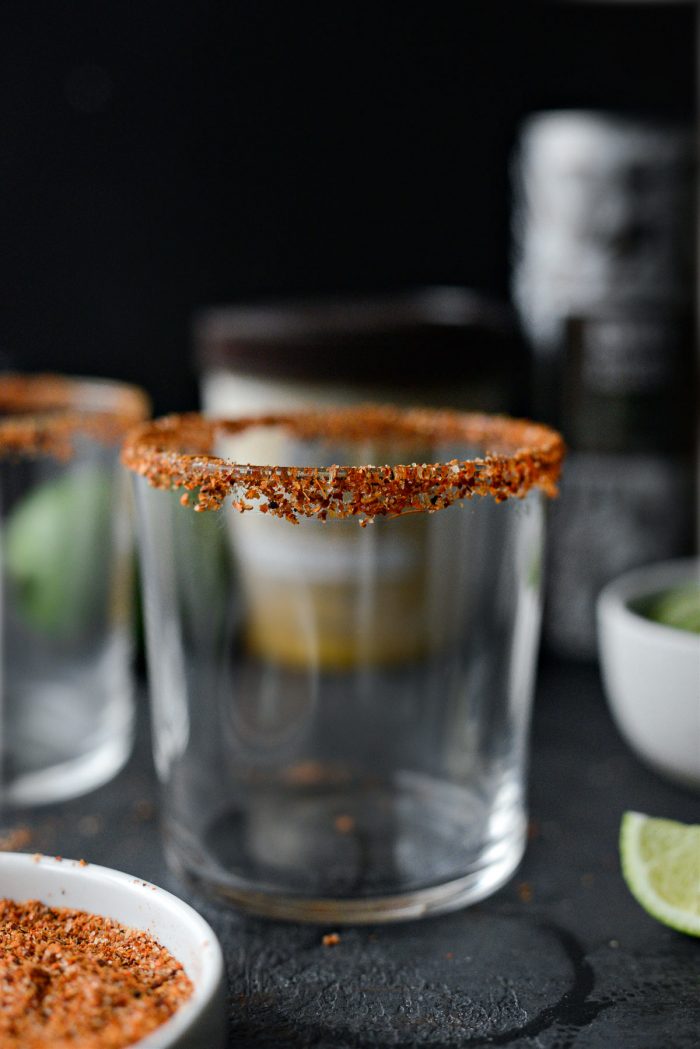 Tajin is a chili lime salt and it's incredible. Especially when paired with sweetness of mango!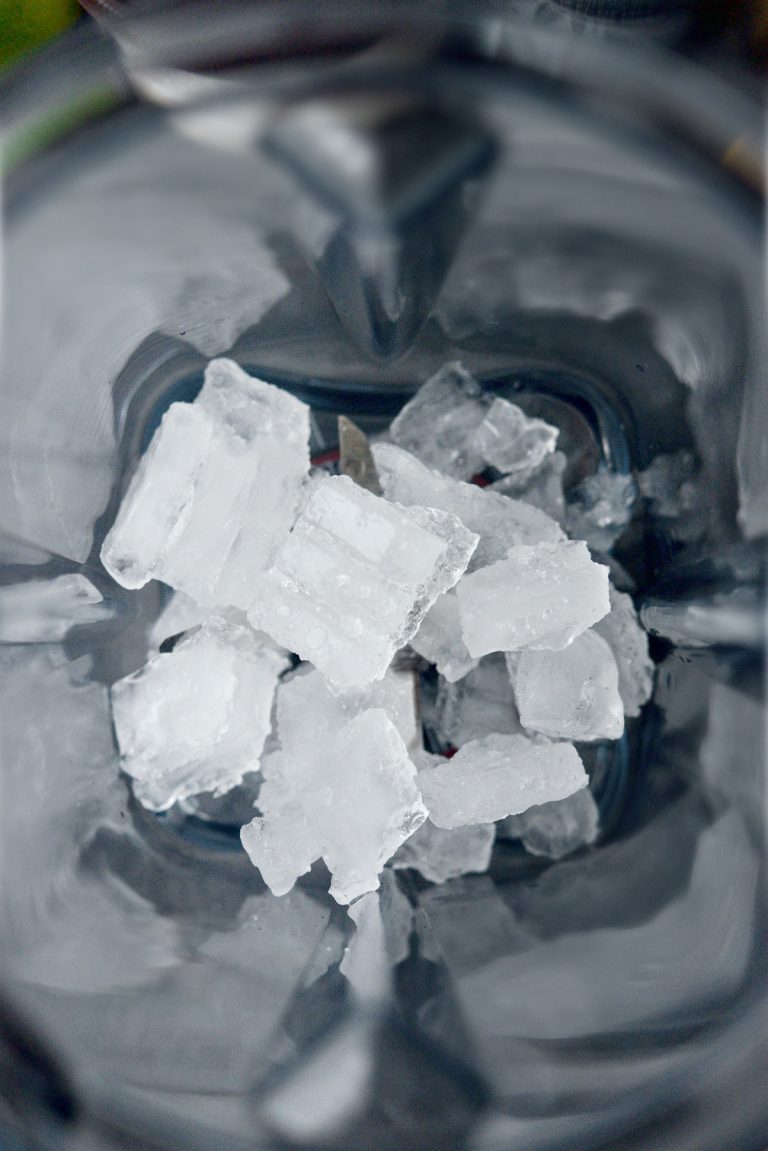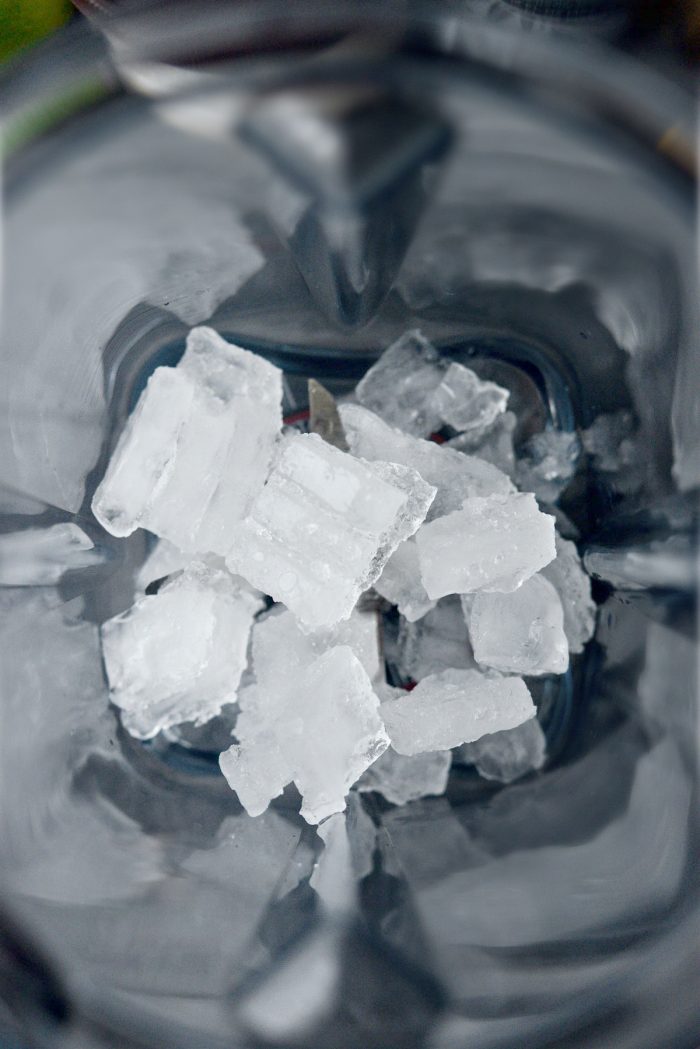 Next add 1 generous cup of ice to a blender.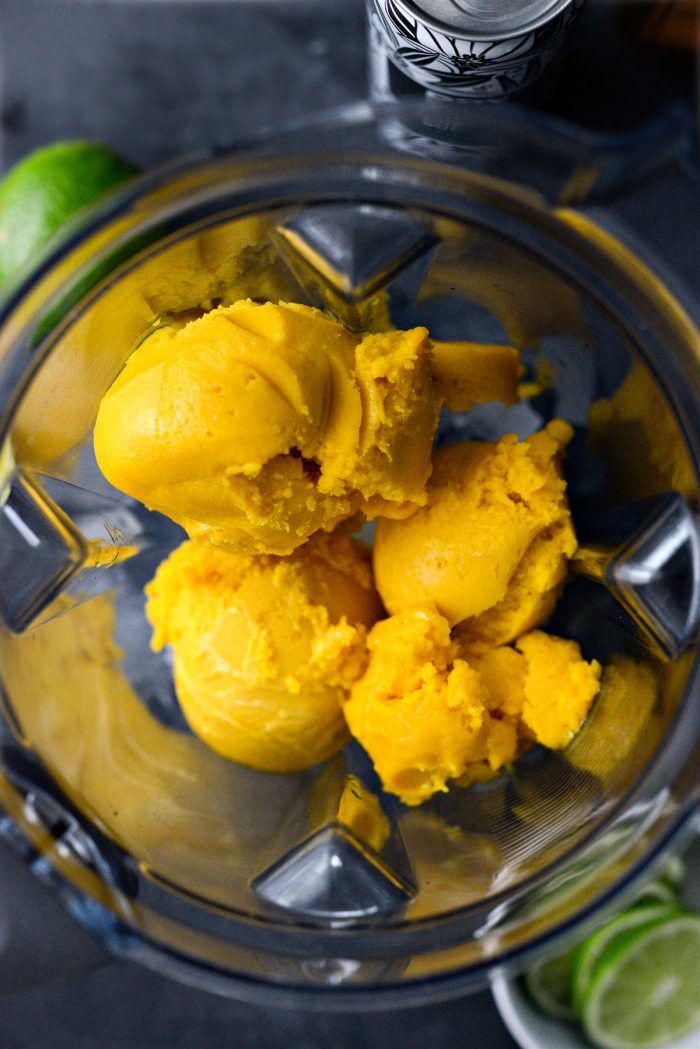 Then add 1 pint (2 cups or 16 ounces) dairy-free mango gelato.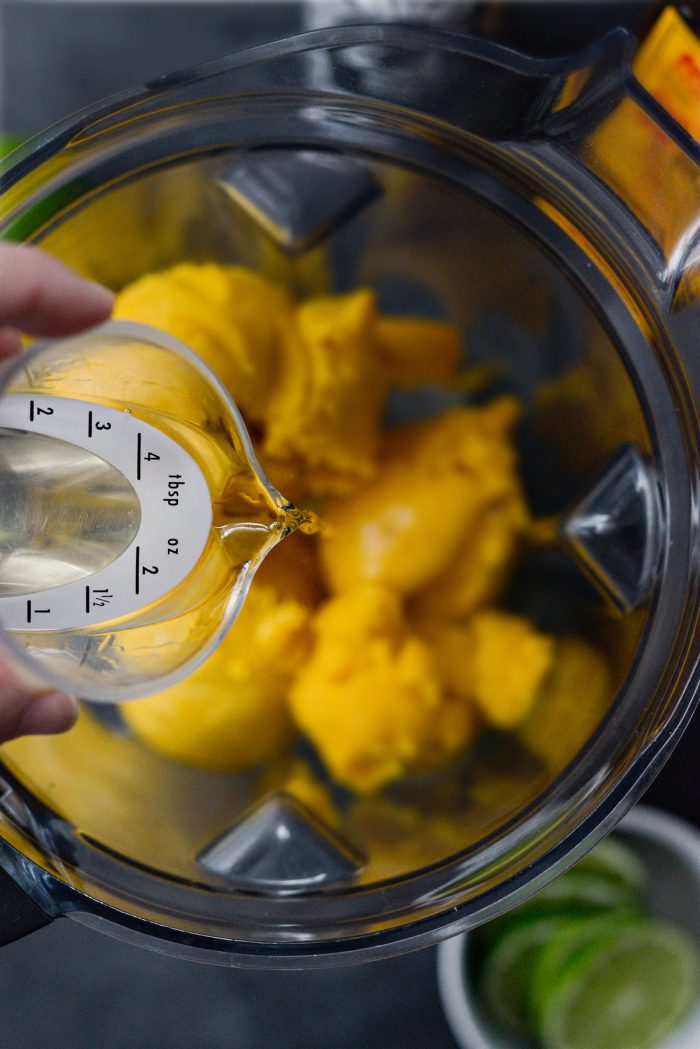 Depending on how boozy you want it to be, pour in 2 to 3 ounces of mezcal
I found these sweetened non-alcoholic mixers at our local grocery store. I picked them up without any plans until I thought it would be great in this icy beverage. If you can't find these vanilla dry botanical bubbly then go for a lemon lime soda.
Pour in about 1/4 cup to 1/3 cup. I eyeball it.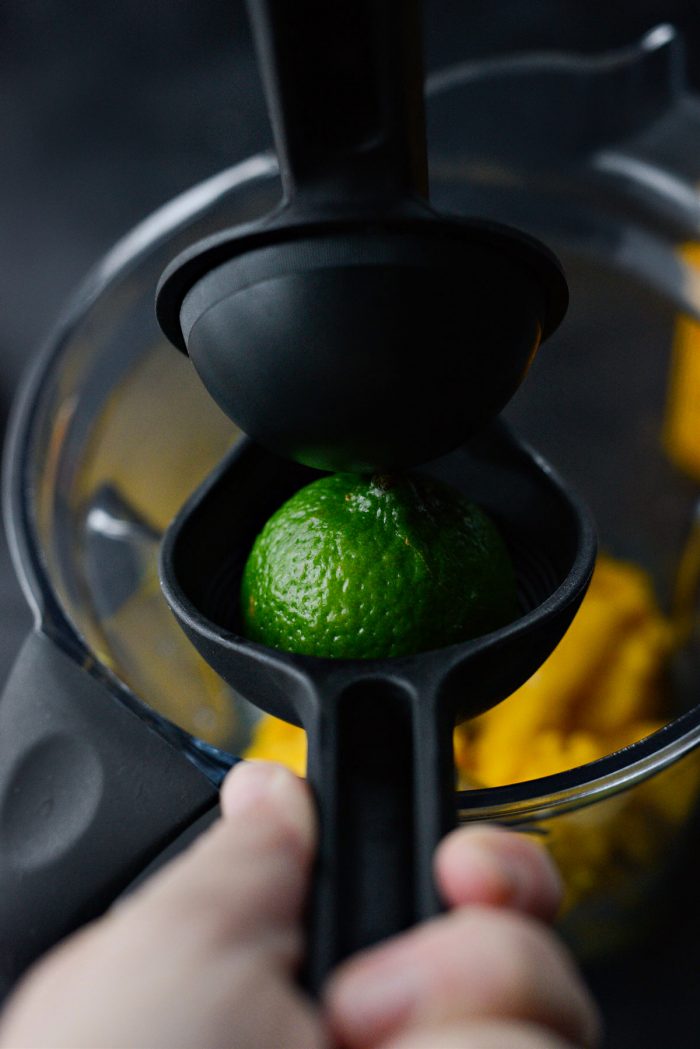 Lastly squeeze in the juice of 1/2 a juicy lime.
Secure the lid and puree until smooth.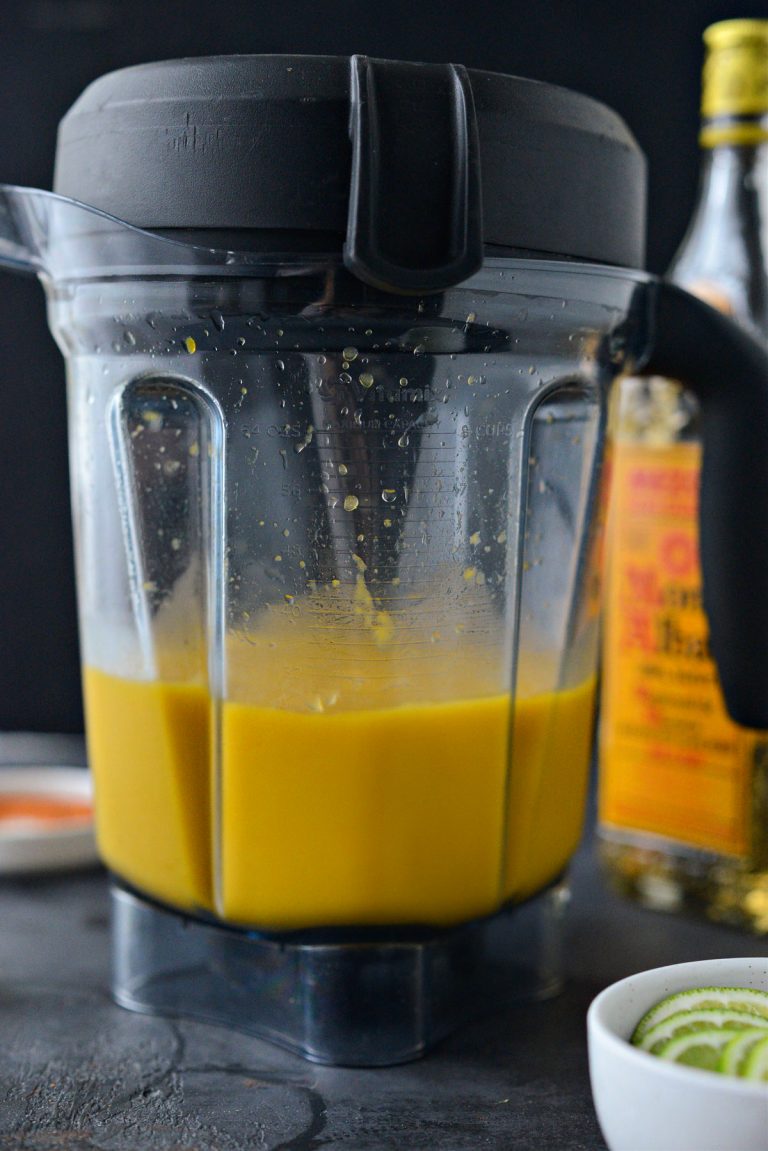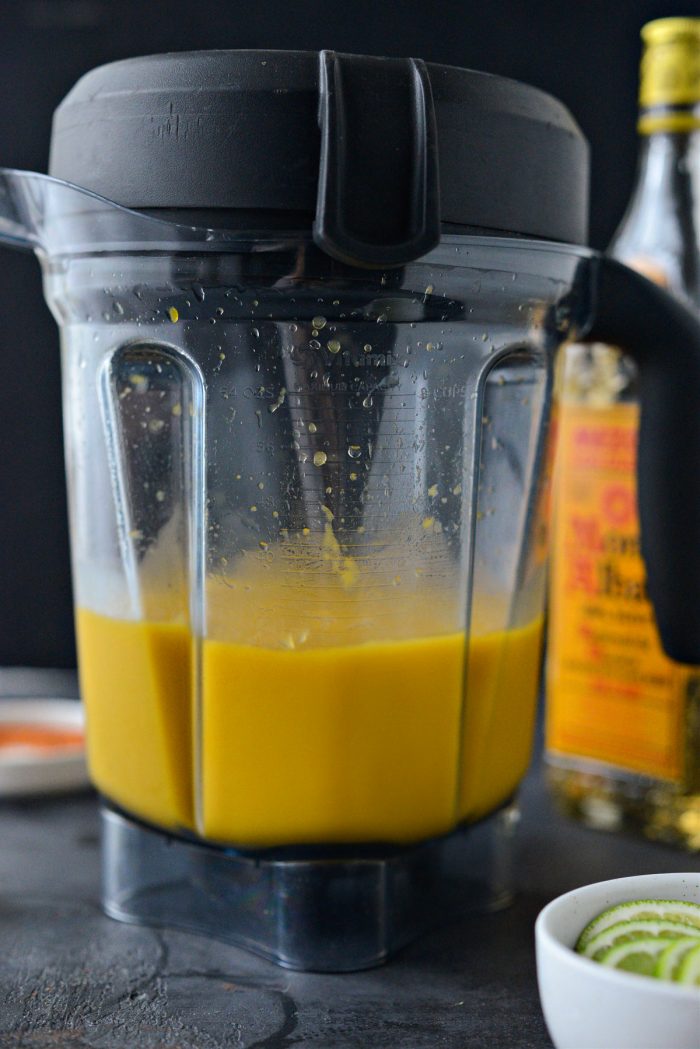 Perfection.
If I wasn't shooting this recipe for the blog, I would have inserted a straw straight into this pitcher.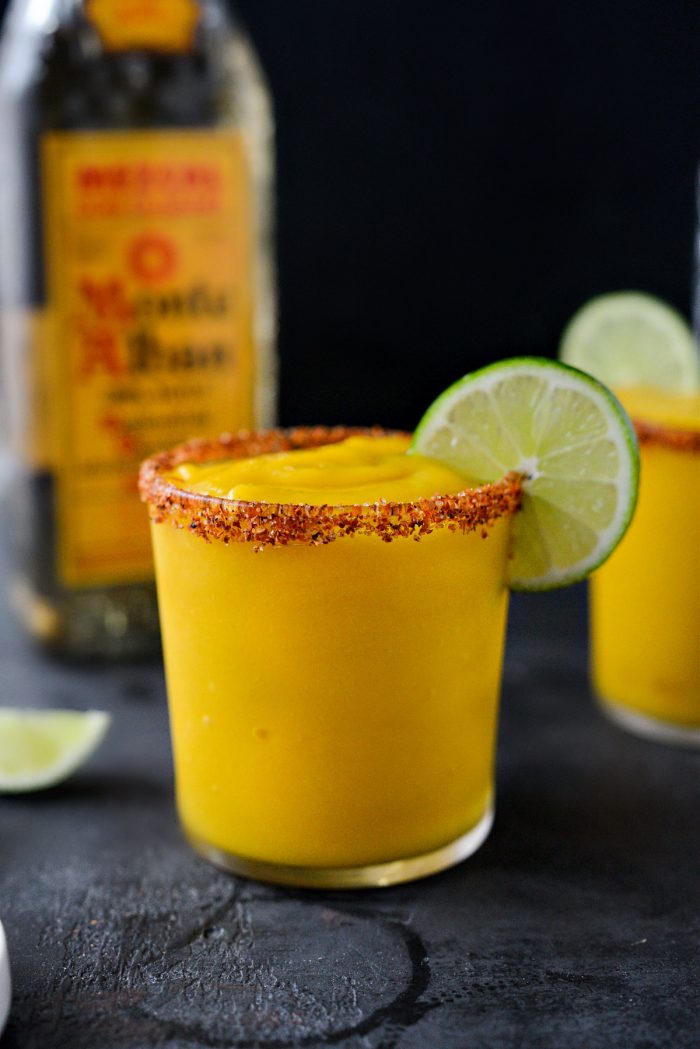 Divide the mango mezcal margarita slush among glasses. This recipe yields 3 cups, so it's perfect for 2 or divvied up among 4 small glasses for a pre-evening cocktail.
The color alone is stunning, but I think you'll absolutely love the chili salt rim paired with the boozy, sweet mango margarita slush. And it also happens to be the perfect cocktail for Cinco de Mayo!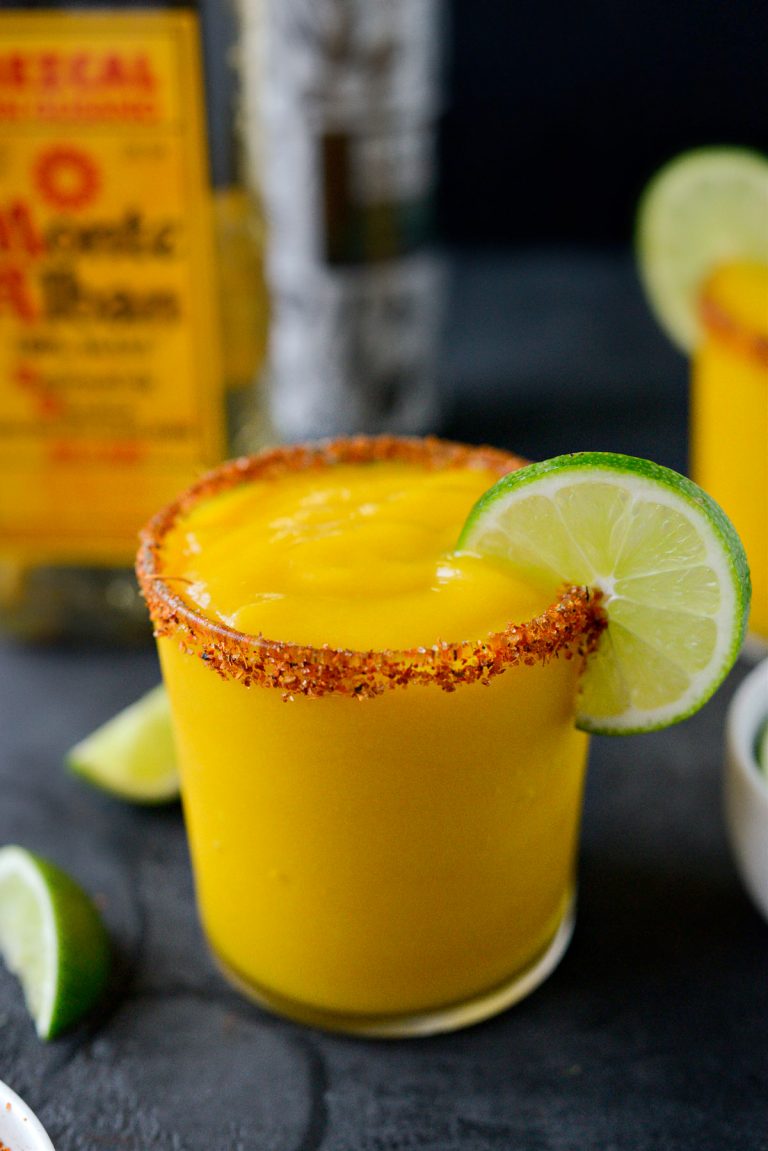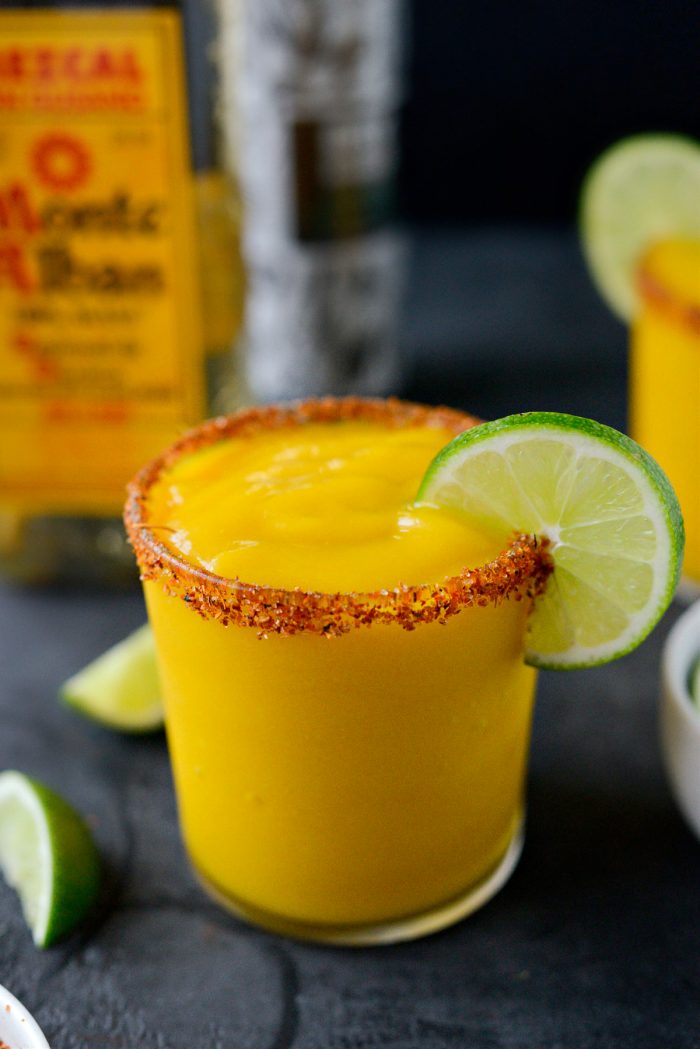 Enjoy! And if you give this Mango Mezcal Margarita Slush recipe a try, let me know! Snap a photo and tag me on twitter or instagram!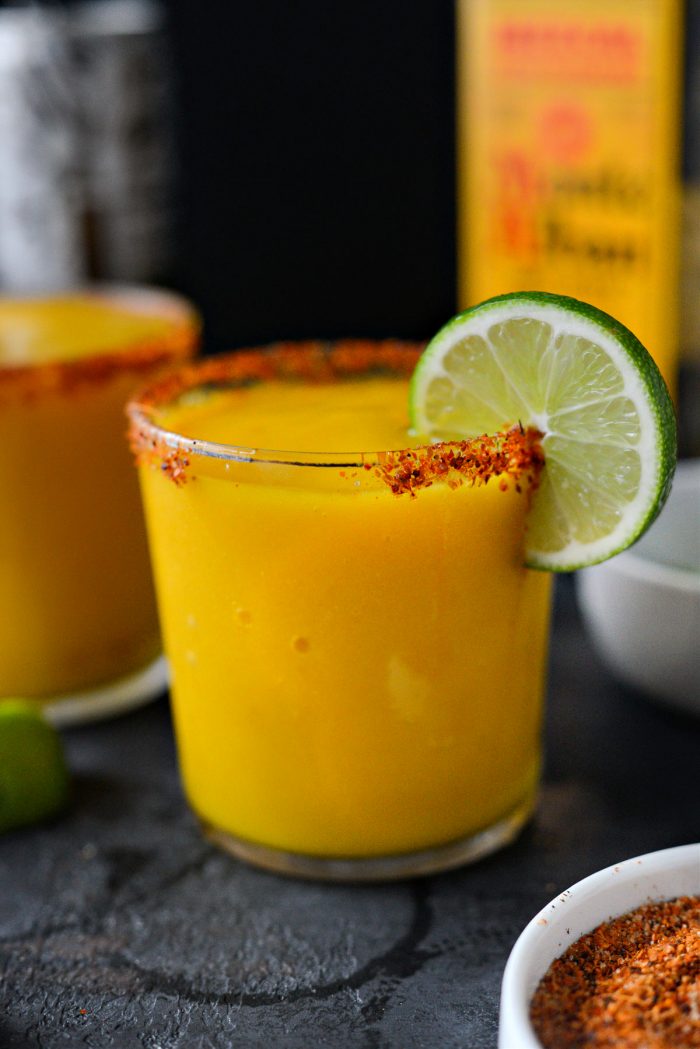 This post may contain affiliate links.
Buy the Cookbook: Simply Scratch : 120 Wholesome Homemade Recipes Made Easy Now available on Amazon »
THANK YOU in advance for your support!