Garlicky Lobster Fettuccine Alfredo is deliciously simple. Tender lumps of lobster tossed with fettuccine noodles in a garlicky white wine, parmesan cream sauce. Serves 6 (or more) depending.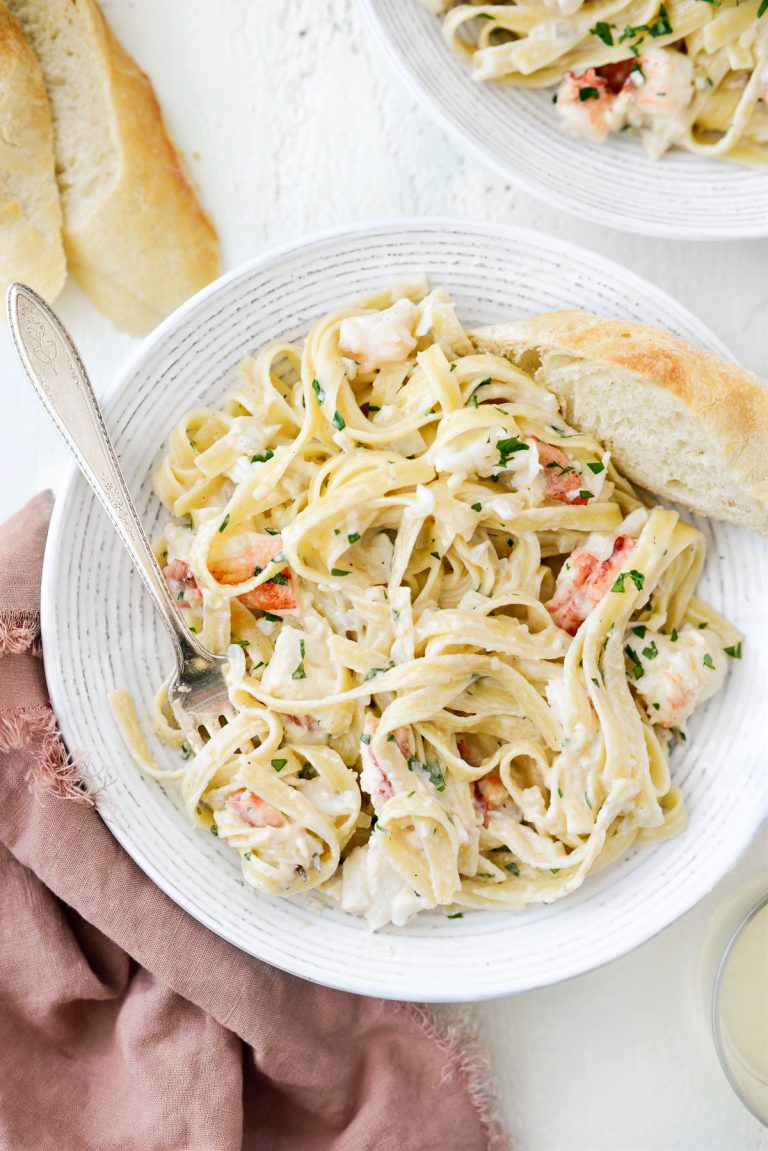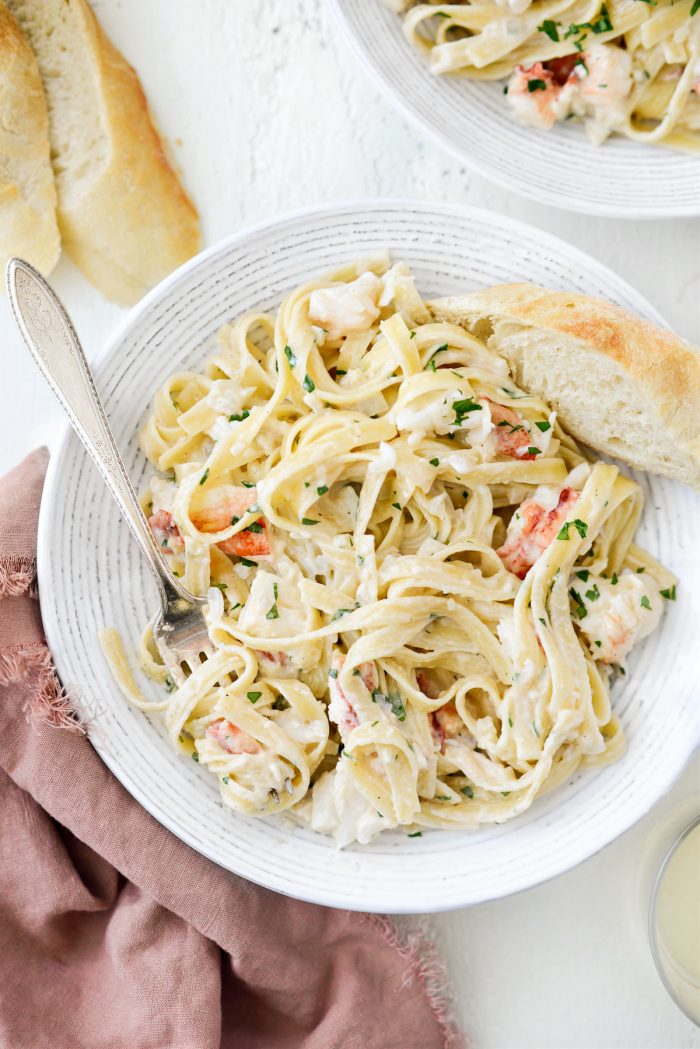 You know it's real love when you both can enjoy a garlicky dish on Valentine's Day.
And this garlicky lobster fettuccine alfredo is the perfect romantic dish for such an occasion. Normally Pat and I don't really celebrate Valentines Day – we've been married nearly 20 years and together for even longer than that, and both agree we do not need gifts. Instead, we focus on food. Obviously.
Since Pat isn't a fan of lobster (although he wishes he was) I decide to treat my self to a little early Valentine's Day meal via seafood, carbs and cheese. It was absolutely dreamy. Garlicky but not too garlicky. Creamy, cheesy and with the most delectable lumps of tender lobster.
Safe to say I'll be dreaming of this dish in the weeks to come.
Fettuccine Alfredo isn't difficult by any means. However it does move quickly so it's very important to have everything prepped and pasta water near boiling before starting the sauce.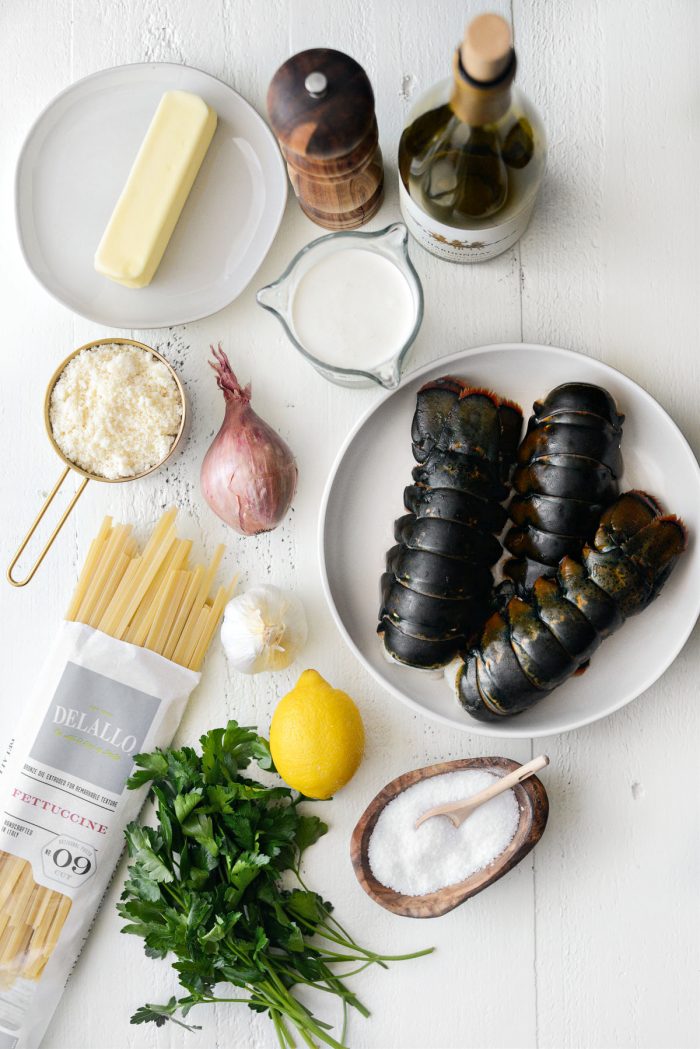 To Make This Garlicky Lobster Fettuccine Alfredo You Will Need:
unsalted butter
shallot
garlic
lobster tails (thawed completely if frozen)
dry white wine
fine sea salt (for pasta water)
dried fettuccine noodles
heavy whipping cream
freshly grated parmesan cheese
kosher salt
ground black or white pepper
parsley
lemon juice
crusty bread for serving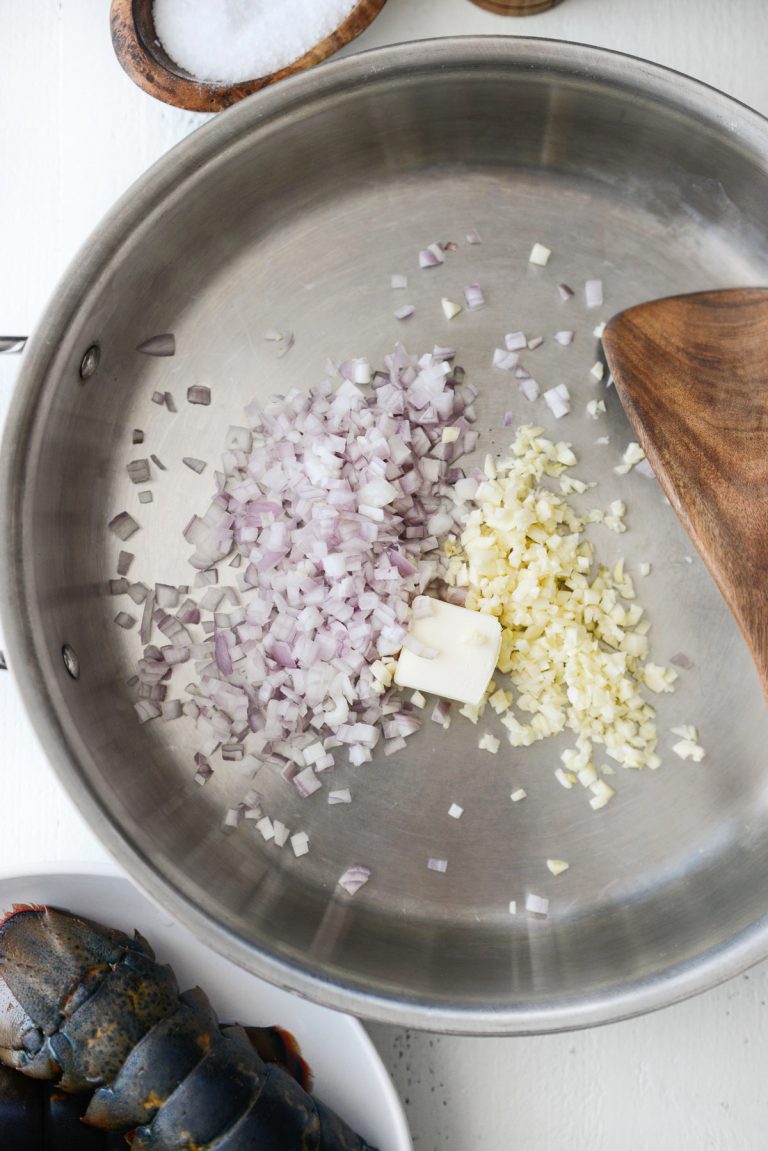 First, bring a large pot of salted water to boil. It's a good idea to have this already going, before starting the sauce, as this recipe moves quickly and you will need to drop in the pasta halfway through steaming the lobster.
Heat a large 12-inch deep sided pan on medium to medium-low, satuéeing the shallot and garlic in 2 tablespoons of butter until tender.
Once shallots are tender, place the lobster tails (roughly 18 ounces total) into the pan.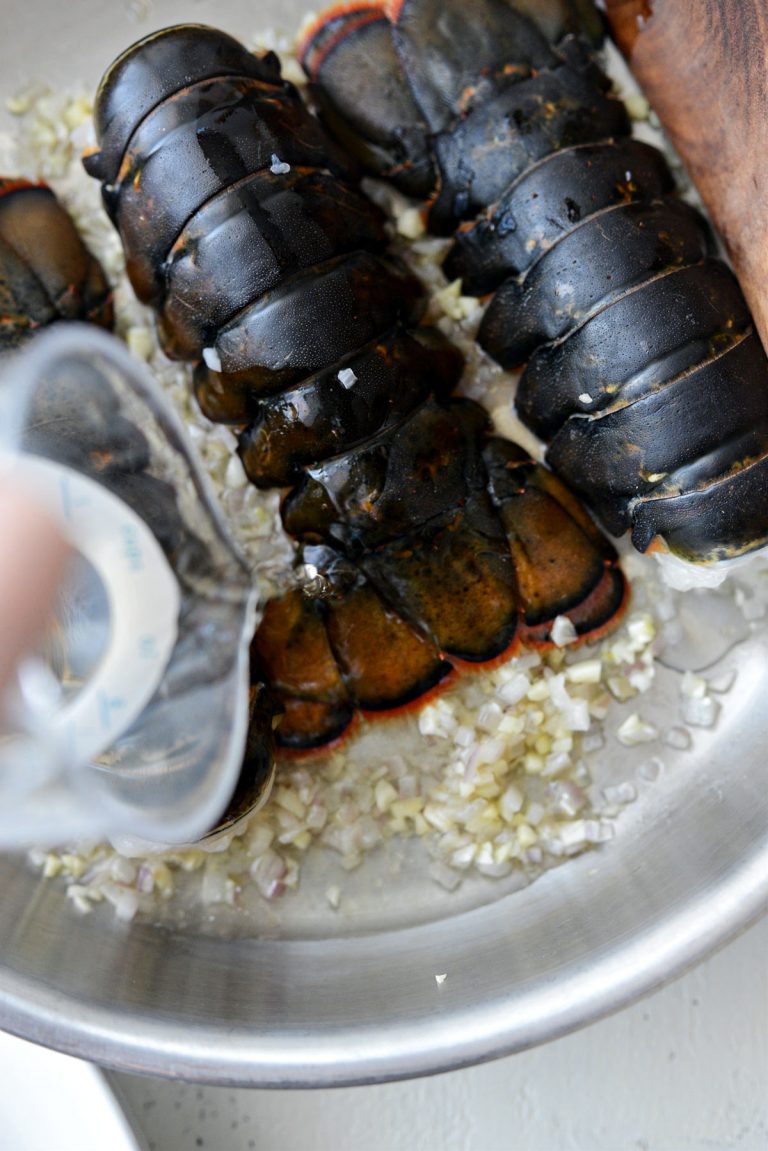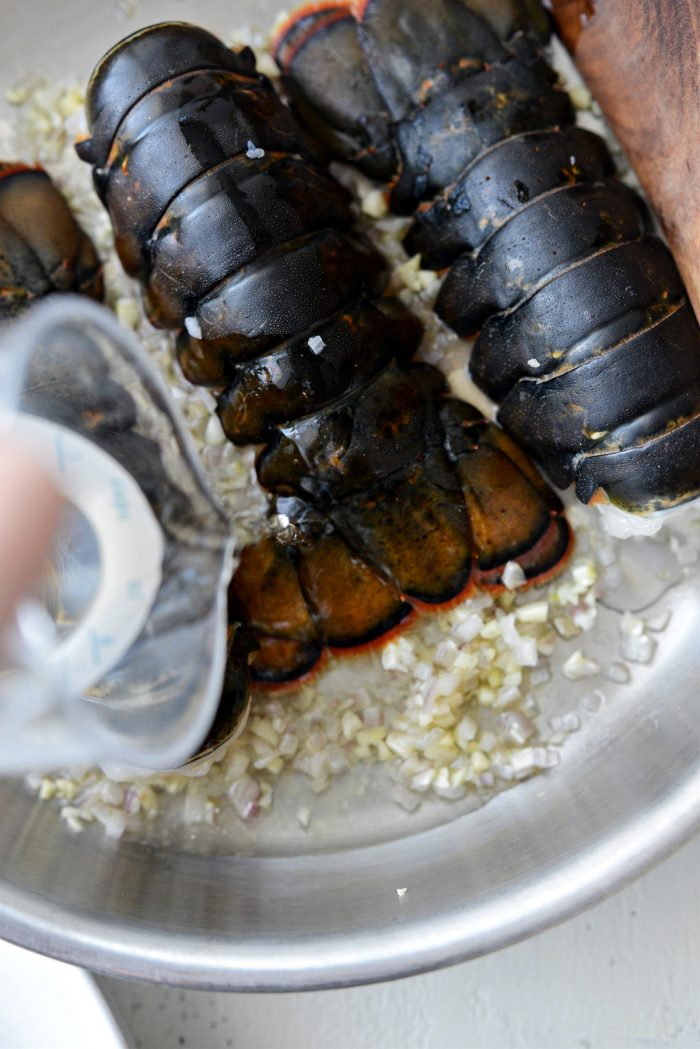 Pour in 1/3 cup dry white wine. I used chardonnay but Sauvignon Blanc would work just as well. Make sure to use a wine you enjoy to drink.
Immediately cover and steam the lobster for 6 to 8 minutes.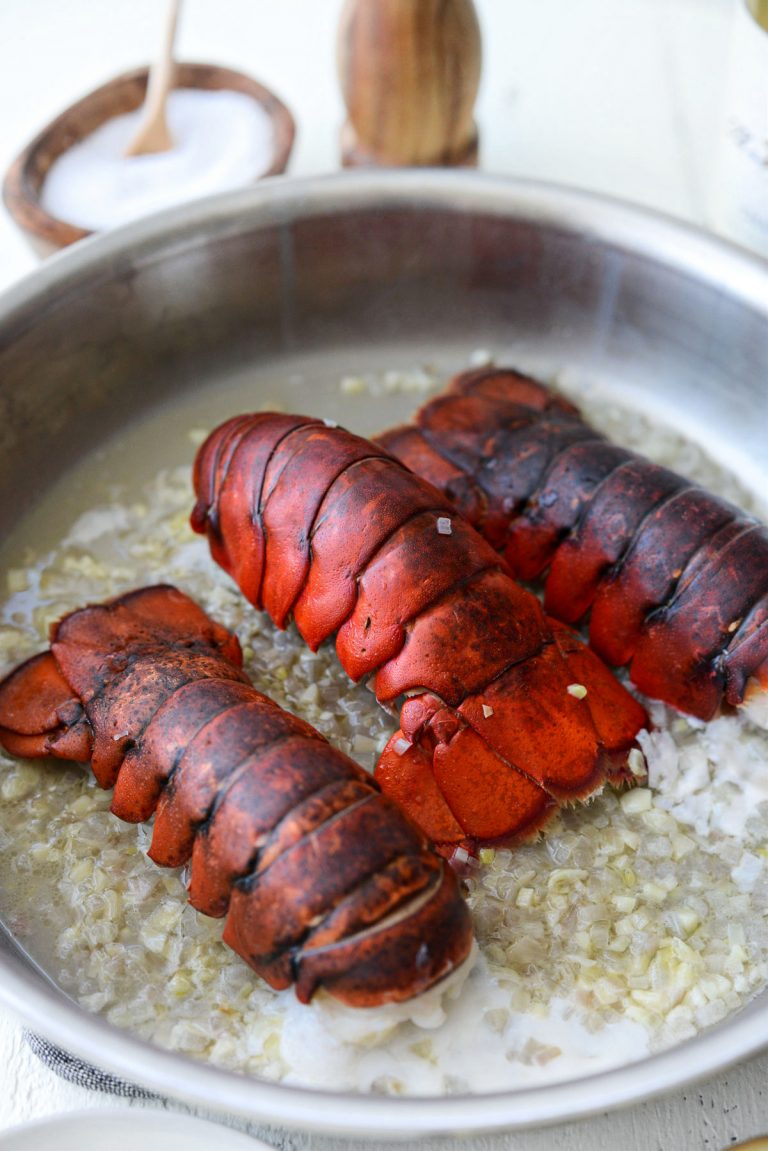 Fully cooked, the shell should be a bright reddish orange and the lobster meat opaque.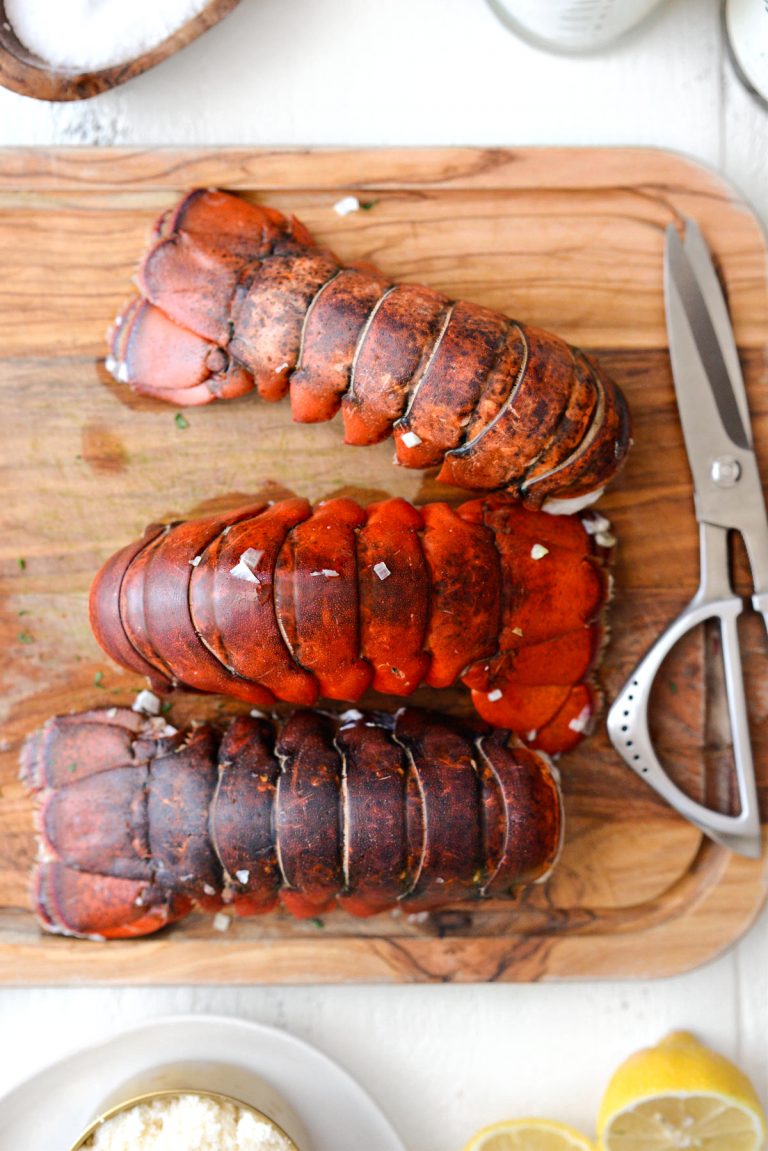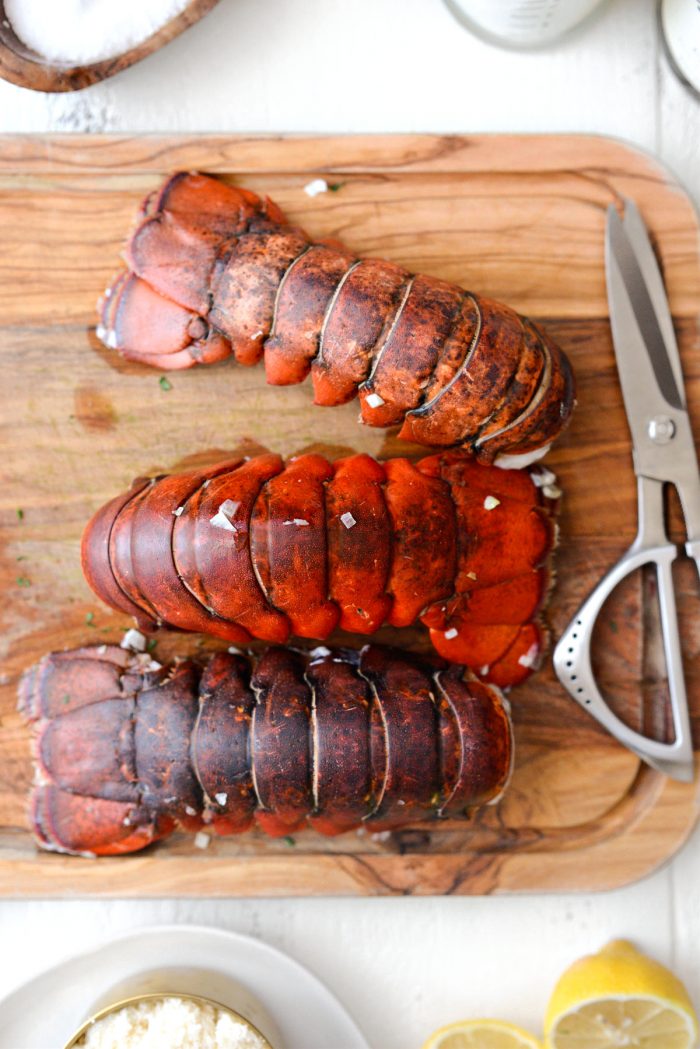 Remove the pan off of the heat and transfer the cooked lobster tails to a cutting board to cool slightly.
Use a clean kitchen towel to protect your hands and to hold the tails while you use sharp kitchen shears to cut the shell down the middle on both the top and bottom. I stop right before the end of the tail and pull the meat out. Dice the cooked lobster into bite-size pieces.
NOTE:Halfway through the lobster steaming, I drop the pasta into the boiling water. If not experienced with removing lobster meat from the shell, drop in the pasta after the lobster is done steaming to give yourself time.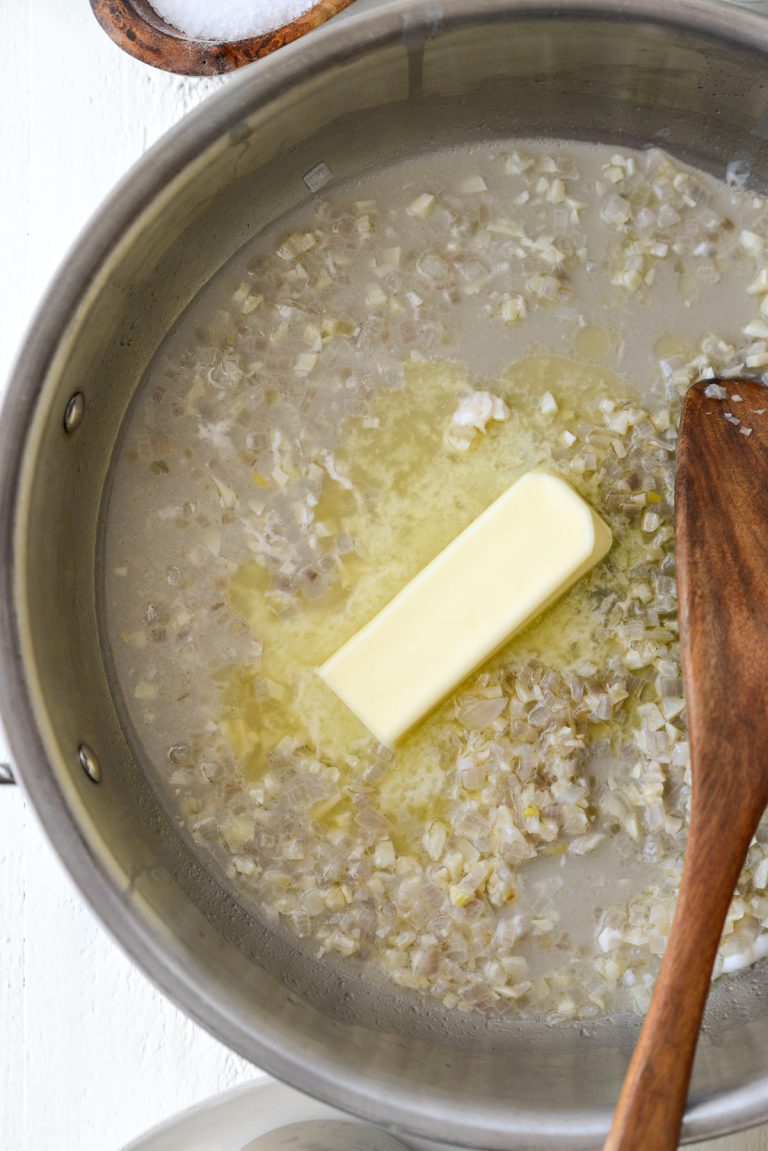 Return the pan to the heat and add in the remaining 6 tablespoons of butter.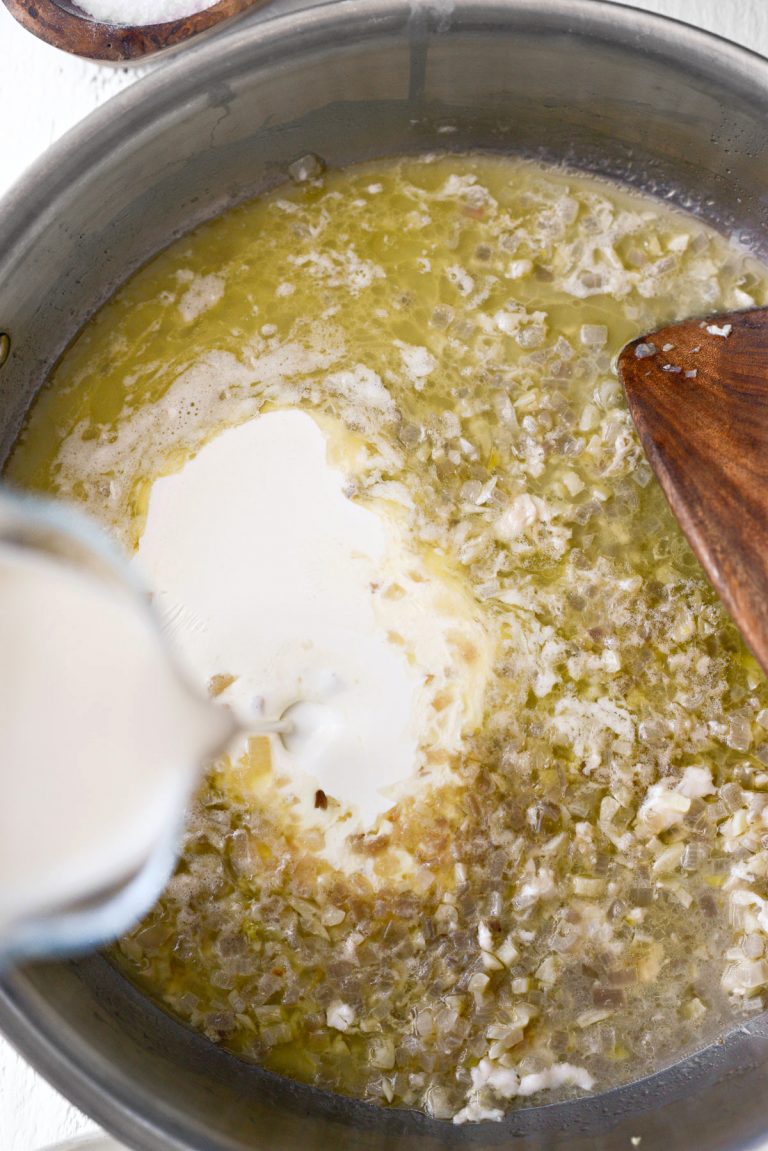 When the butter has melted pour in 1 cup heavy cream.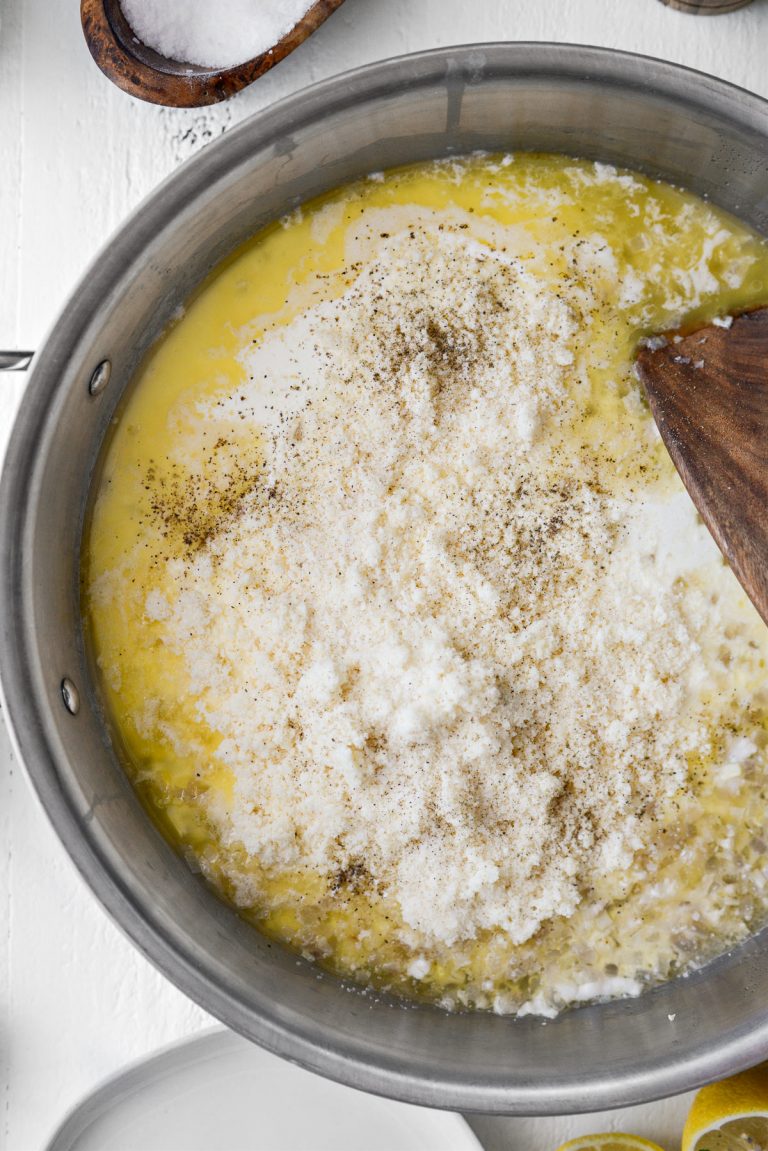 Now measure and add 1 cup grated fresh parmesan and season with a couple pinches kosher salt and some black or white pepper, to taste. Give it a good stir and remove off of the heat once the cheese has mostly melted.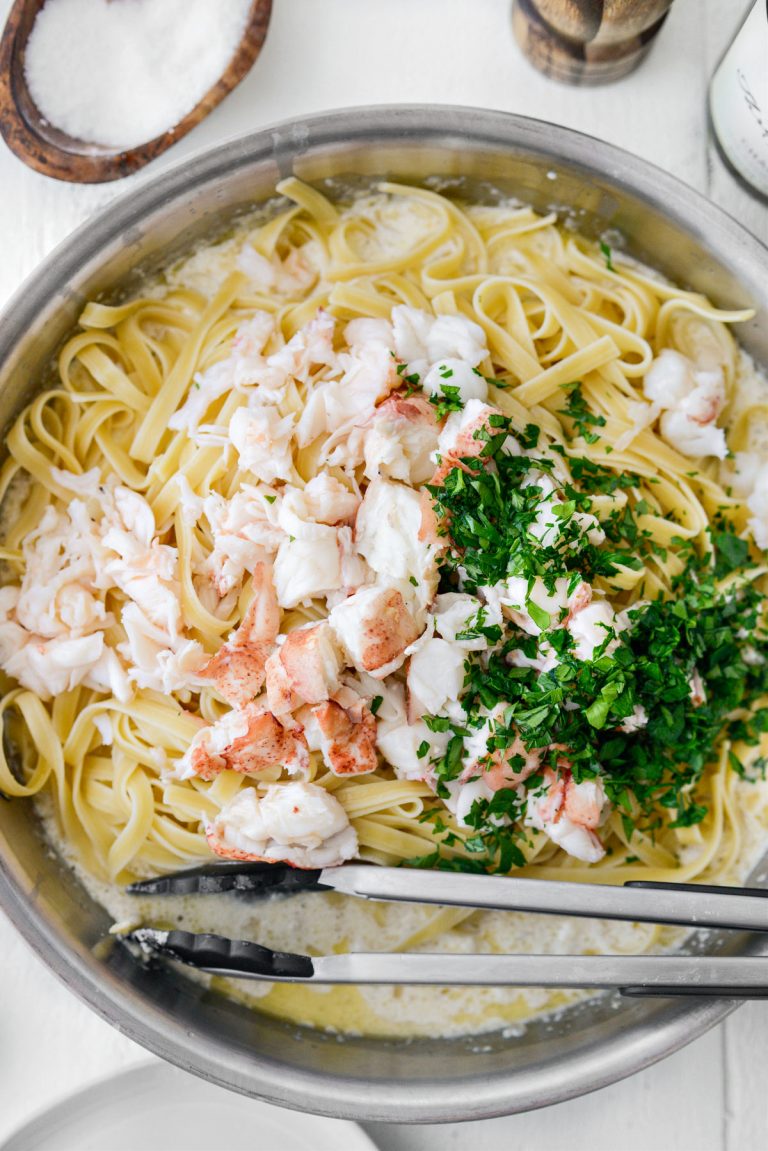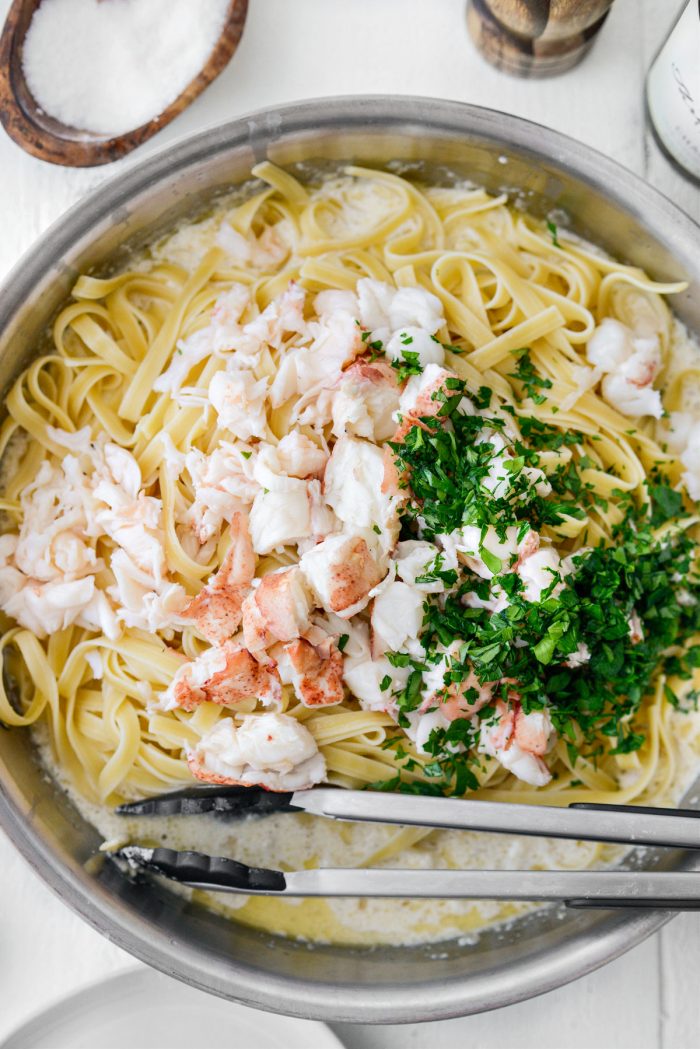 Reserve some pasta water before draining the fettuccine.
Immediately add the hot cooked fettuccine noodles to the sauce along with the chopped lobster meat, 2 tablespoons minced parsley and the juice of 1 small lemon – about 1 to 2 tablespoons.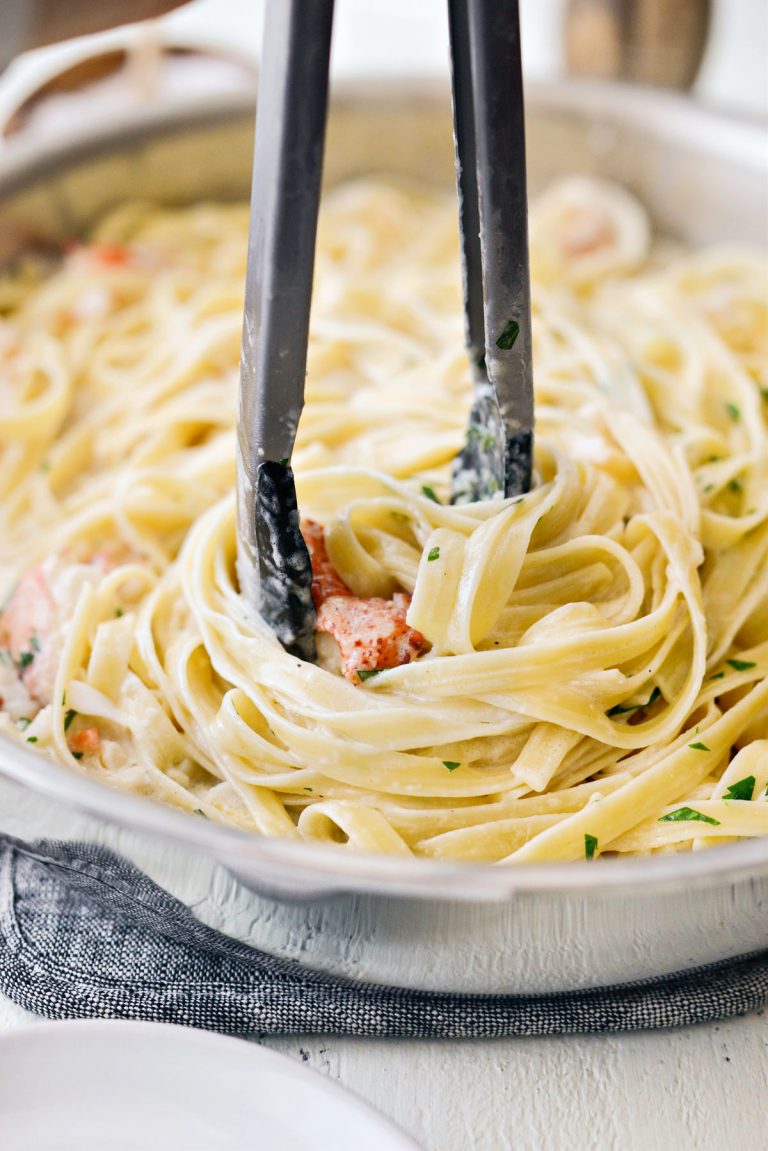 The hot pasta will melt the cheese even further. Add splashes of pasta water if needed to thin the sauce.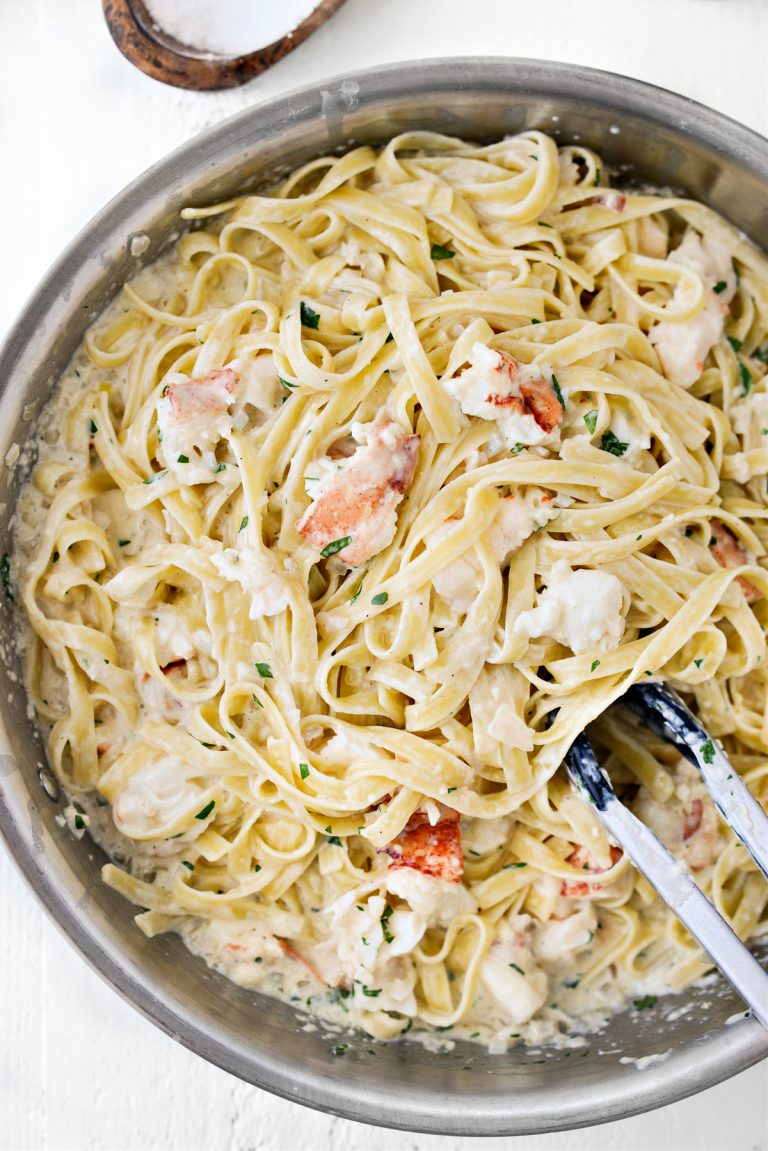 Toss well to combine.
Immediately serve with crusty bread and top with more parsley and parmesan cheese.
Click Here For More Lobster Recipes!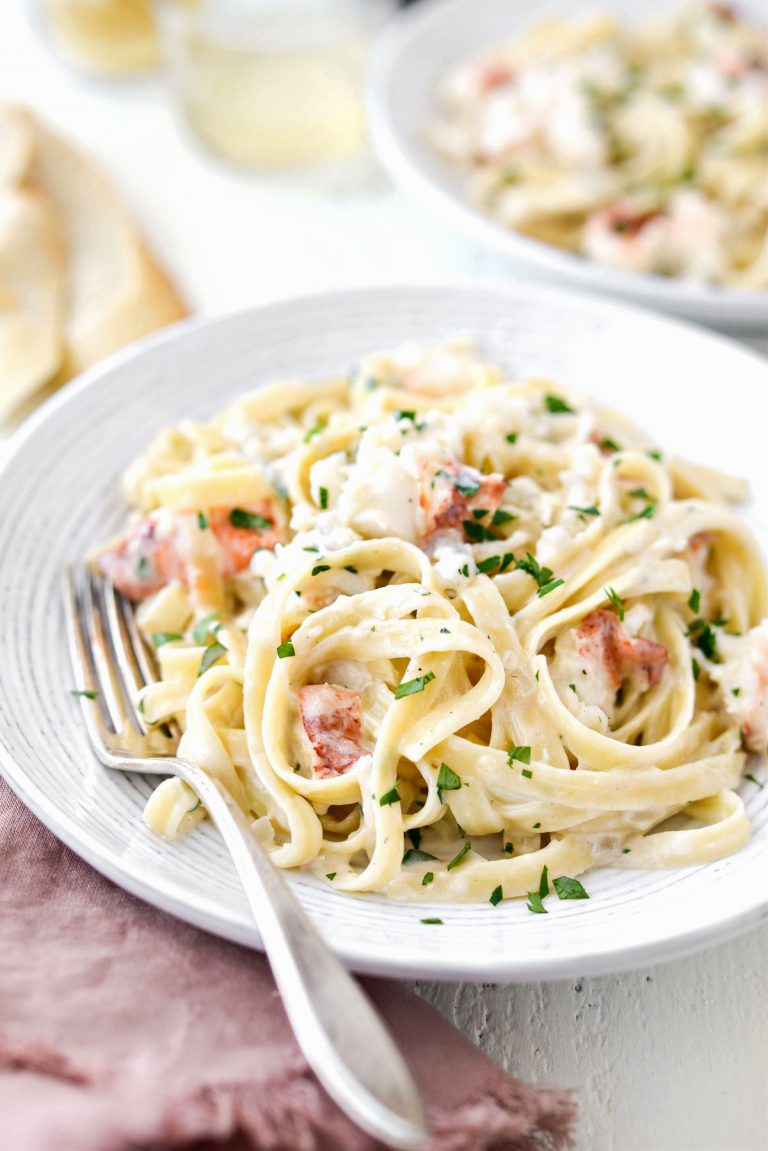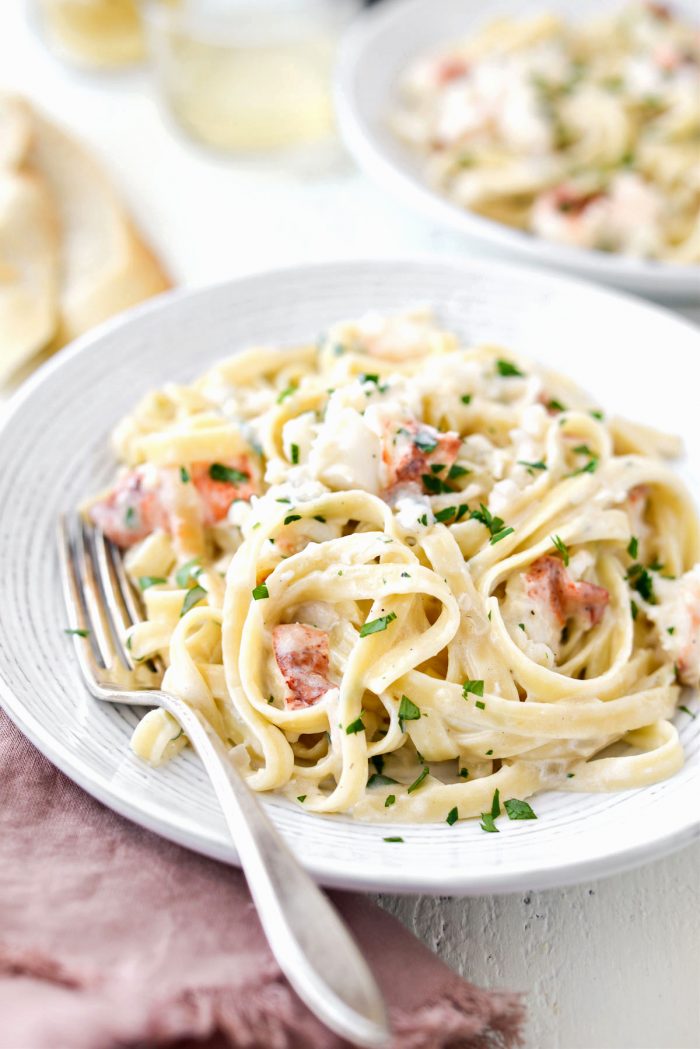 Creamy, cheesy and deliciously garlicky. The lumps of lobster are delicate yet delicious in this flavorful parmesan cream sauce.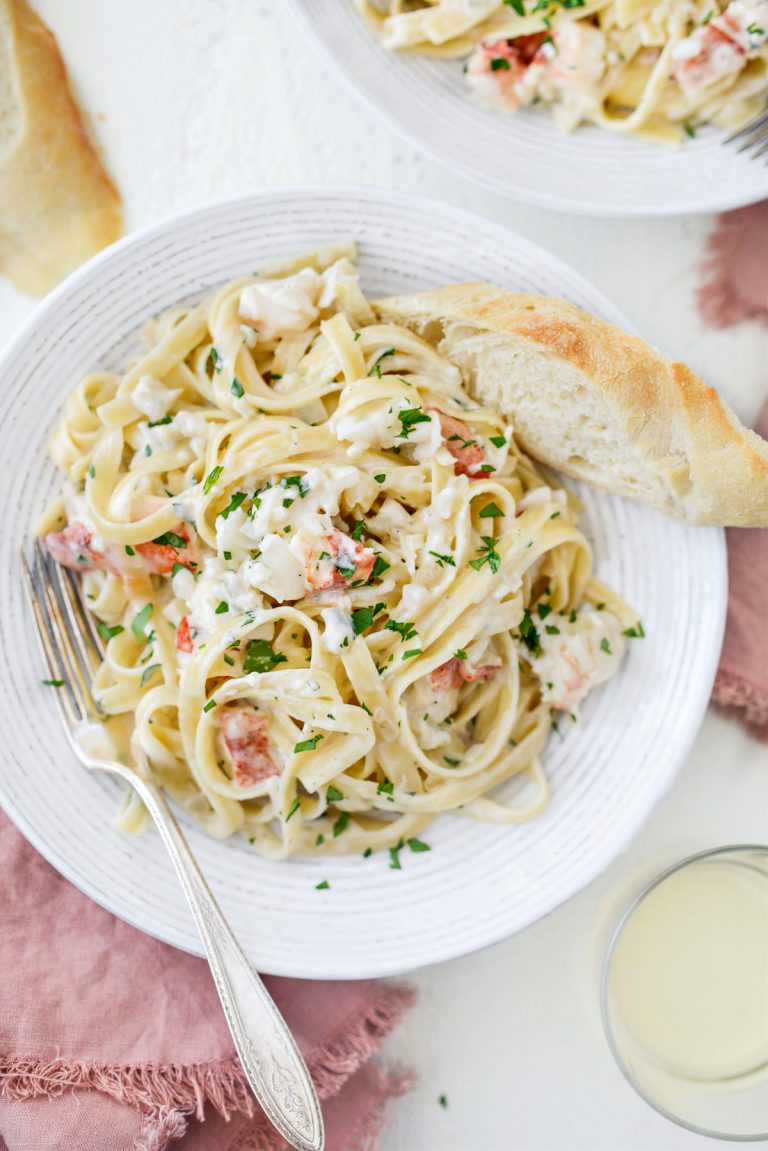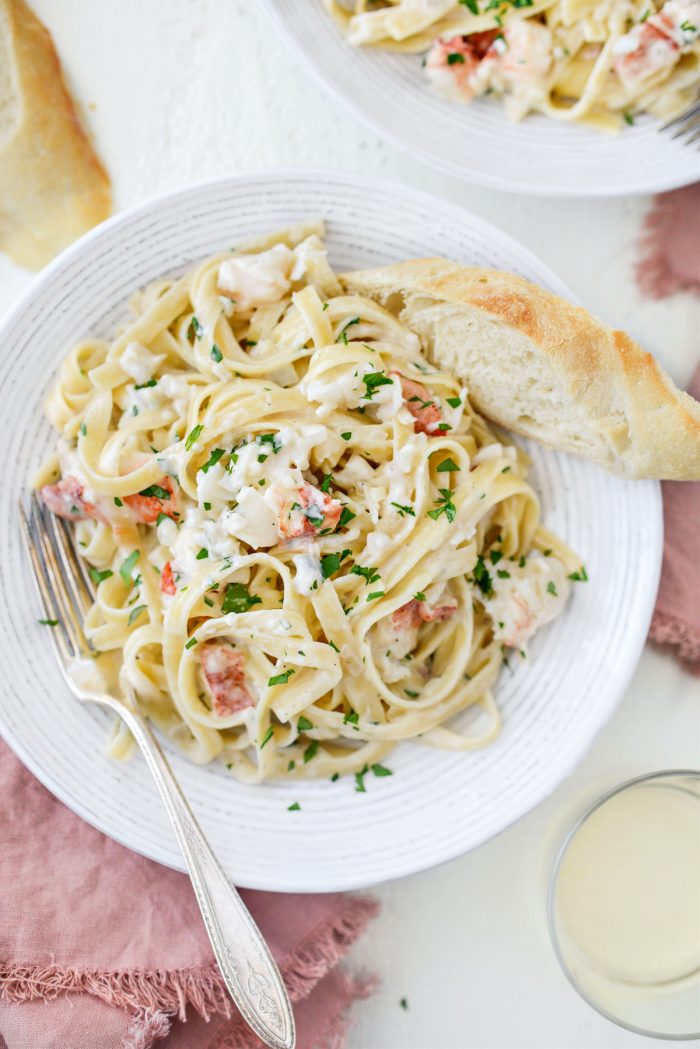 Enjoy! And if you give this Garlicky Lobster Fettuccine Alfredo recipe a try, let me know! Snap a photo and tag me on twitter or instagram!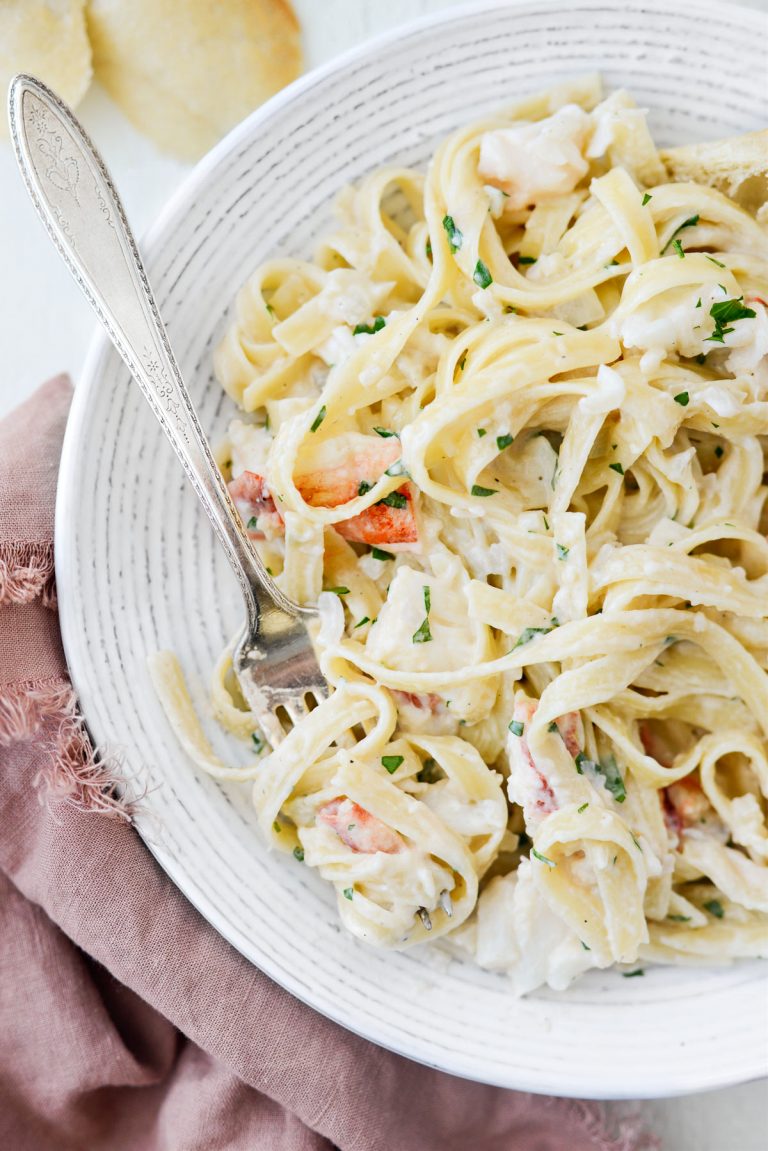 This post may contain affiliate links.
Buy the Cookbook: Simply Scratch : 120 Wholesome Homemade Recipes Made Easy Now available on Amazon »
THANK YOU in advance for your support!