This Cherry Winter Wheat Berry Salad is amazing! Both fresh and dried cherries, tender red winter wheat berries, blue cheese, toasted sliced almonds, crisp celery, sautéed onions and thyme and diced leftover cooked chicken breast are tossed with a power mix of salad greens. A delicious, nutritious and wholesome salad. This salad will serve 4 to 6.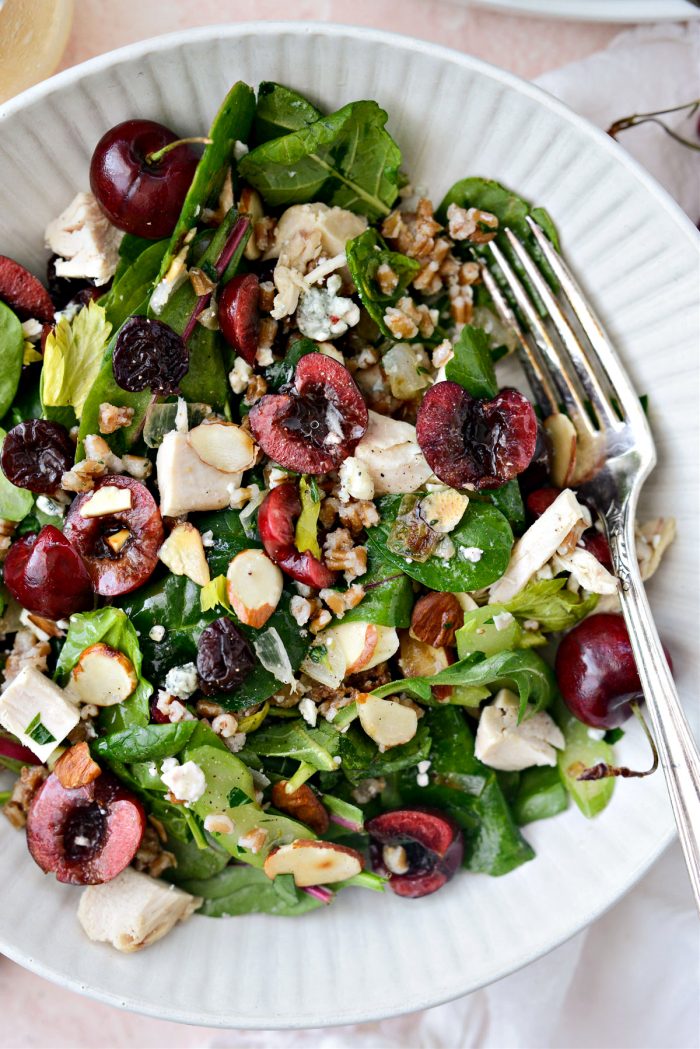 I love a beautiful salad.
I have a few rules when making a salad. It needs to be colorful, multidimensional in texture and with flavors that compliment each other. This salad has all that and then some.
And although cherries aren't really in season, I happened to find some at my local grocery store. Standing there I envisioned a bright leafy salad with pops of red contrasting with whites and browns, with fresh herbs, and of course, with a simple classic vinaigrette.
This particular salad has a bit of prep work, however it's SO totally worth it. Most of it can be done while cooking the winter wheat.
To Make This Cherry Winter Wheat Berry Salad You Will Need:
apple cider vinaigrette
cooked red winter wheat berries
butter
yellow onion
fresh thyme
celery
dried cherries
toasted sliced almonds
parsley
blue cheese
fresh cherries
leftover cooked chicken breast
power greens mix
In a small jar, measure and add 1/4 cup apple cider vinegar and 1/4 teaspoon kosher salt. Whisk this until salt is dissolved.
I learned this little trick and now I do this will all my homemade salad dressings.
Then add in 1 teaspoon maple syrup, 1 small clove garlic – grated on a microplane, 1/4 teaspoon dijon mustard, some freshly ground black pepper and 1/4 cup light olive oil.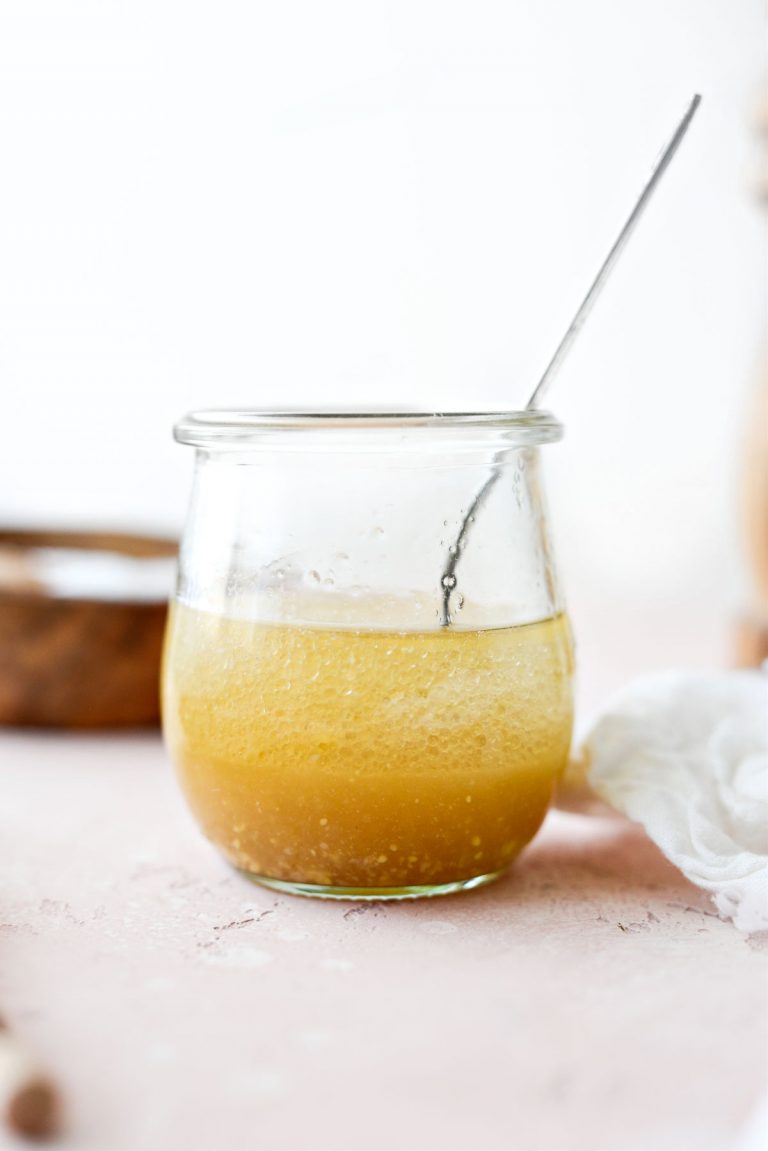 Whisk until all ingredients are incorporated and set off to the side.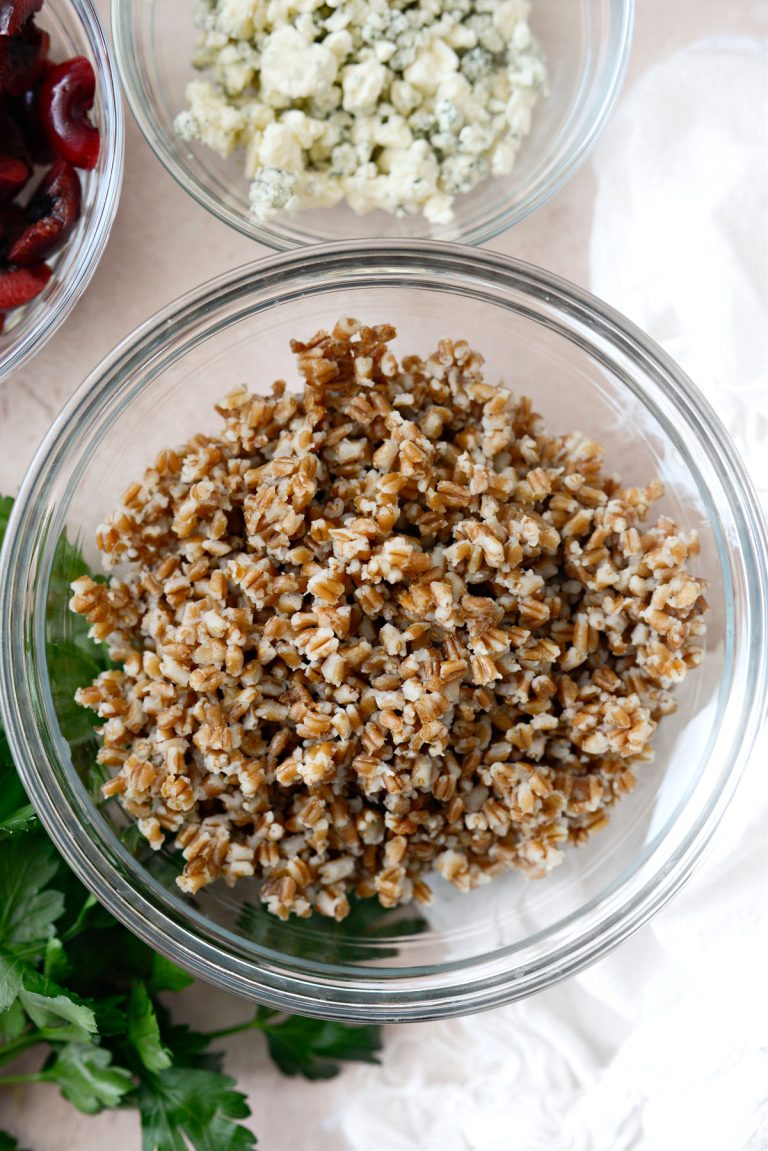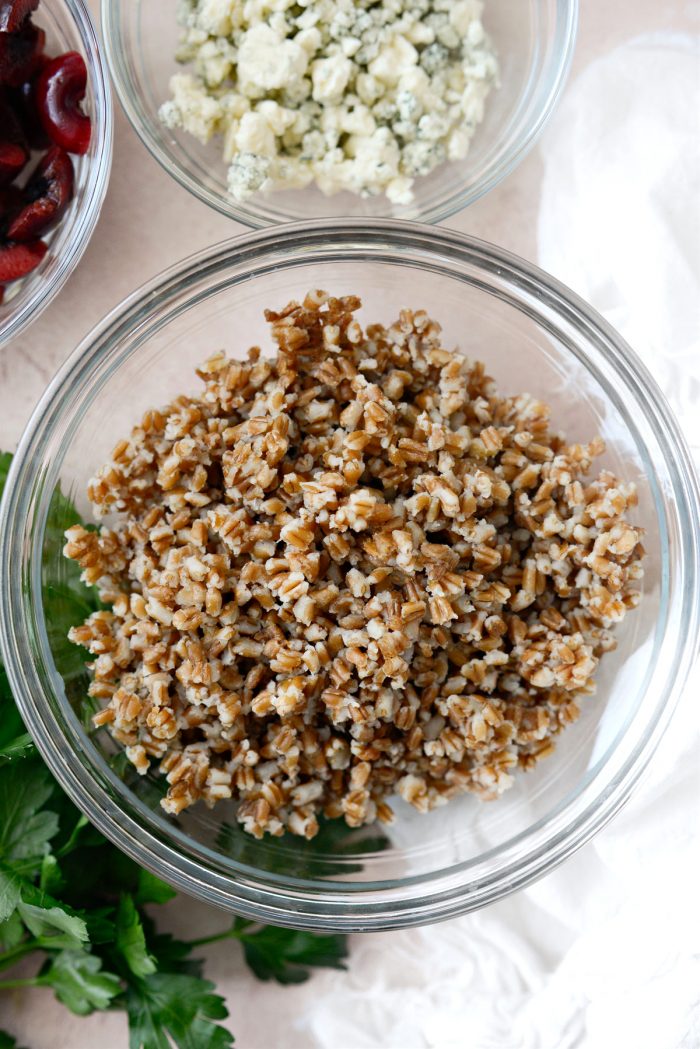 I used my rice cooker to make the red winter wheat berries. It's so easy! I added 1 cup winter wheat berries along with 2-1/2 cups water to my rice cooker and hit the brown rice button and forgot about it. Once it was cooked, I removed it to a large platter to cool. If you don't have a rice cooker, the package usually gives stove top directions.
While the winter wheat is cooking, I prep all the other ingredients.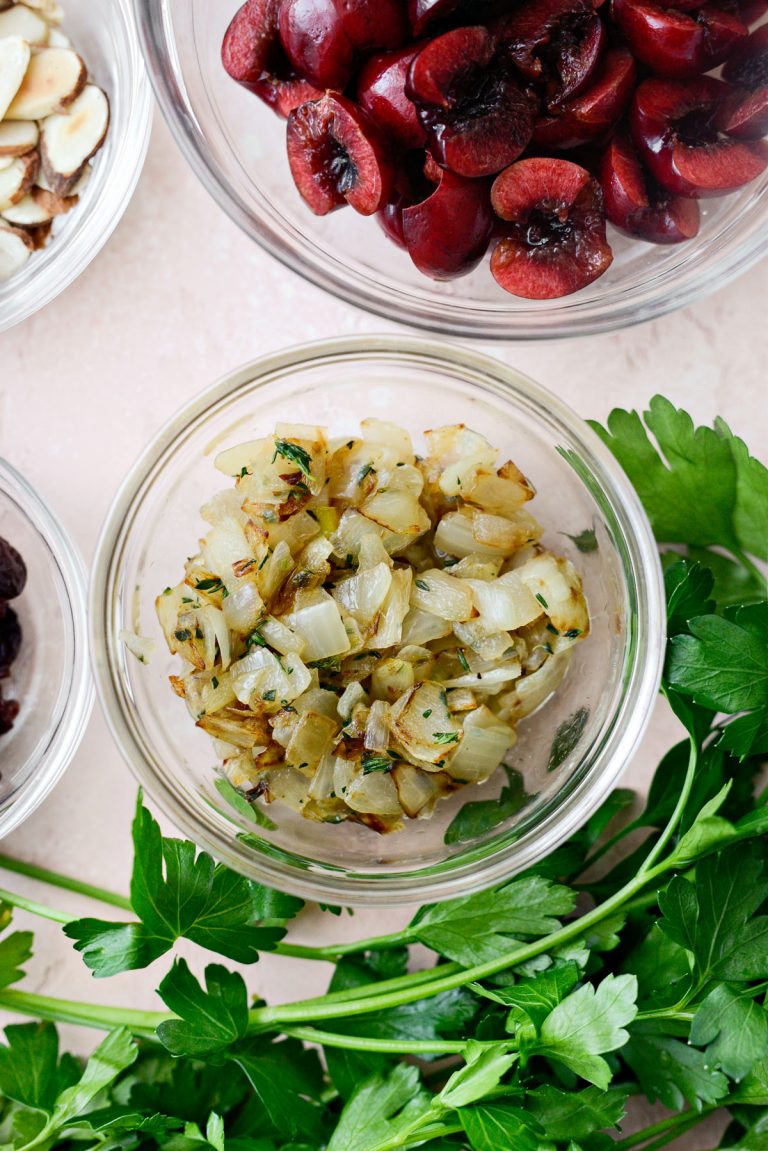 Toast 1/3 cup sliced almonds in a dry skillet over medium to medium-low until golden. Stir often to avoid burning. Then transfer to a clean dish
After toasting the almonds, add 1 tablespoon butter to the same skillet with 1 medium diced yellow onion and a pinch of kosher salt. Cook, stirring occasionally until the onions are tender and getting golden around the edges. Add in 1 teaspoon chopped fresh thyme leaves and cook 1 more minute. Remove off of the heat and let cool.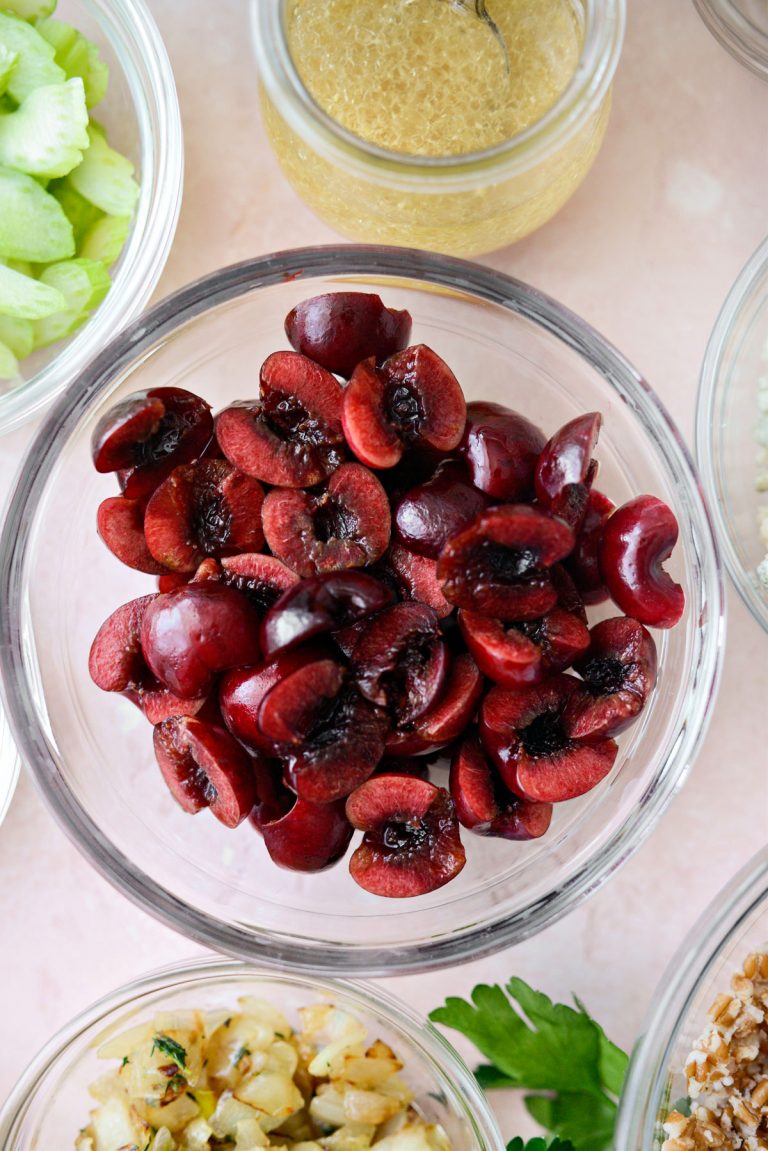 Next Pit and halve 1 heaping cup of fresh cherries.
This year I finally bought a cherry pitter. >insert a million !!!< It is SO much easier than using a wooden skewer or straw as I've done in the past. So. Worth. It. I'll link the one I have down in the recipe printable.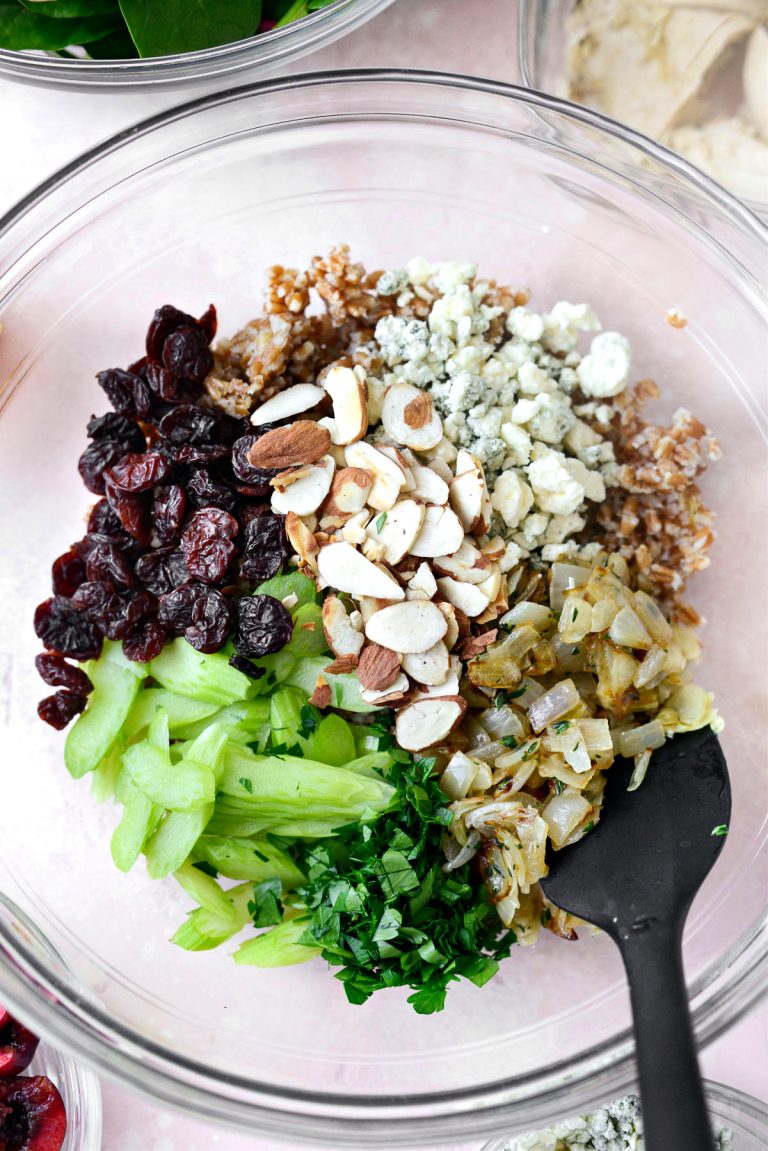 Finally! Let's make the salad. In a large mixing bowl, add in 1-1/2 to 2 cups cooked (and cooled) winter wheat berries. Once measured, you might have some leftover. I find a way to use them in another recipes. Then add the sautéed onions and thyme, 1/2 cup thinly sliced celery, the toasted sliced almonds, 1/3 cup dried cherries, 2 ounces crumbled blue cheese and 2 tablespoons chopped fresh parsley.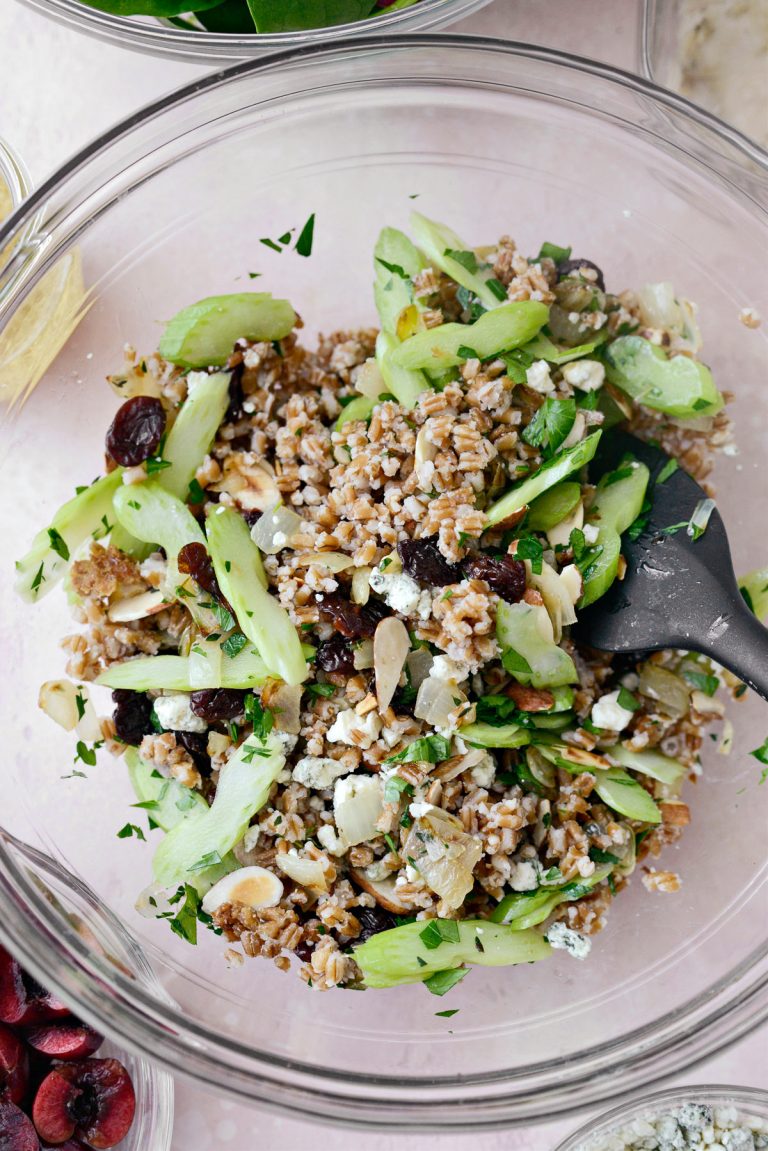 Give it all a quick toss.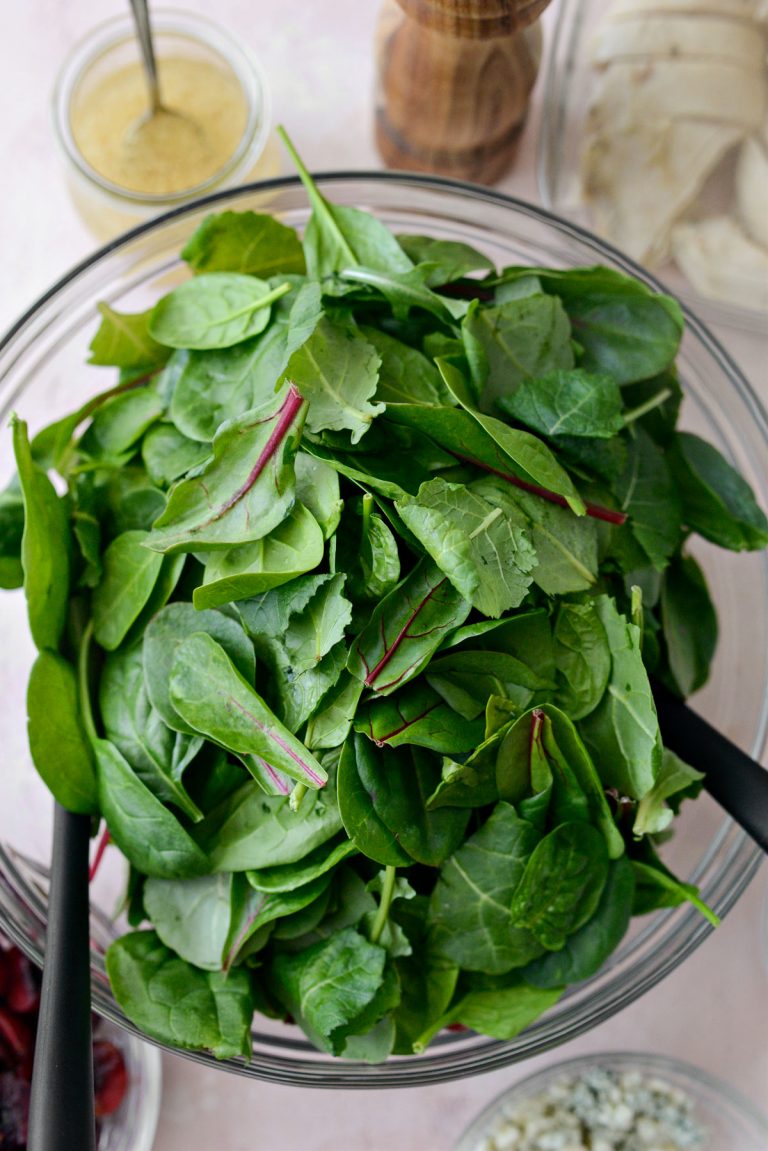 Next, add in 1 (5 ounce) package power greens. This blend has baby kale, spinach, mizuna and chard.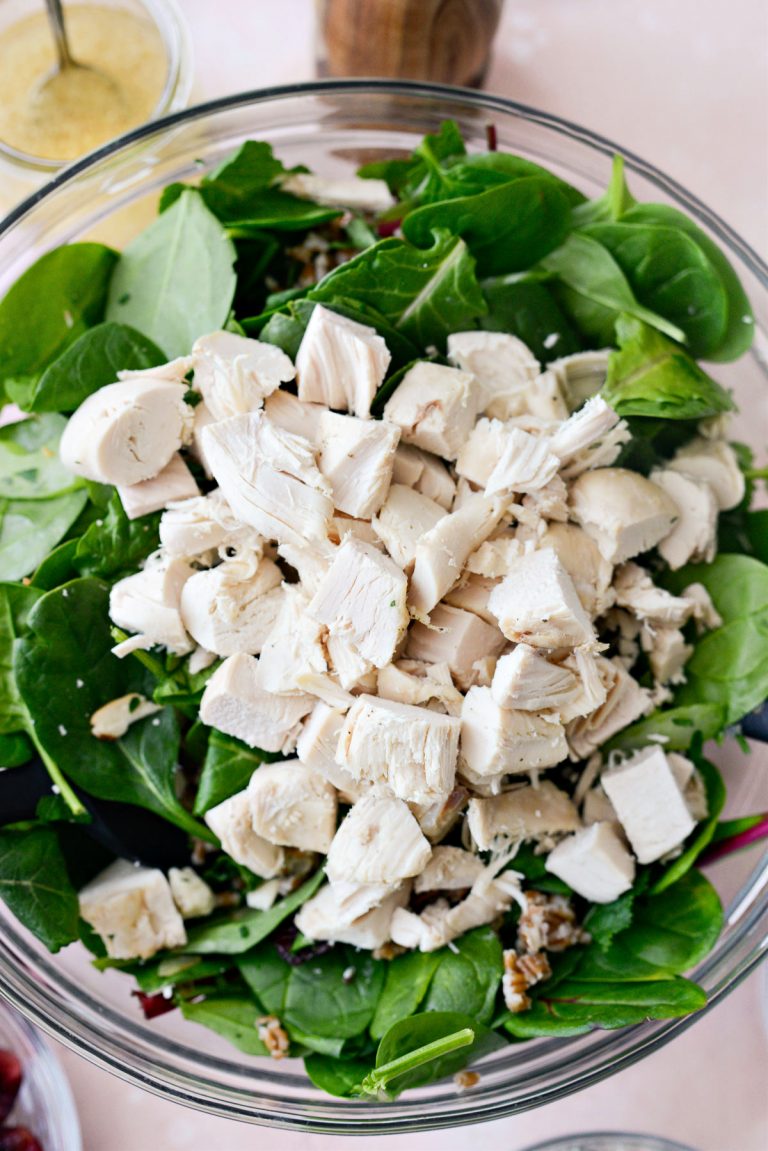 Then add in roughly 1-1/2 to 2 cups chopped chicken breasts.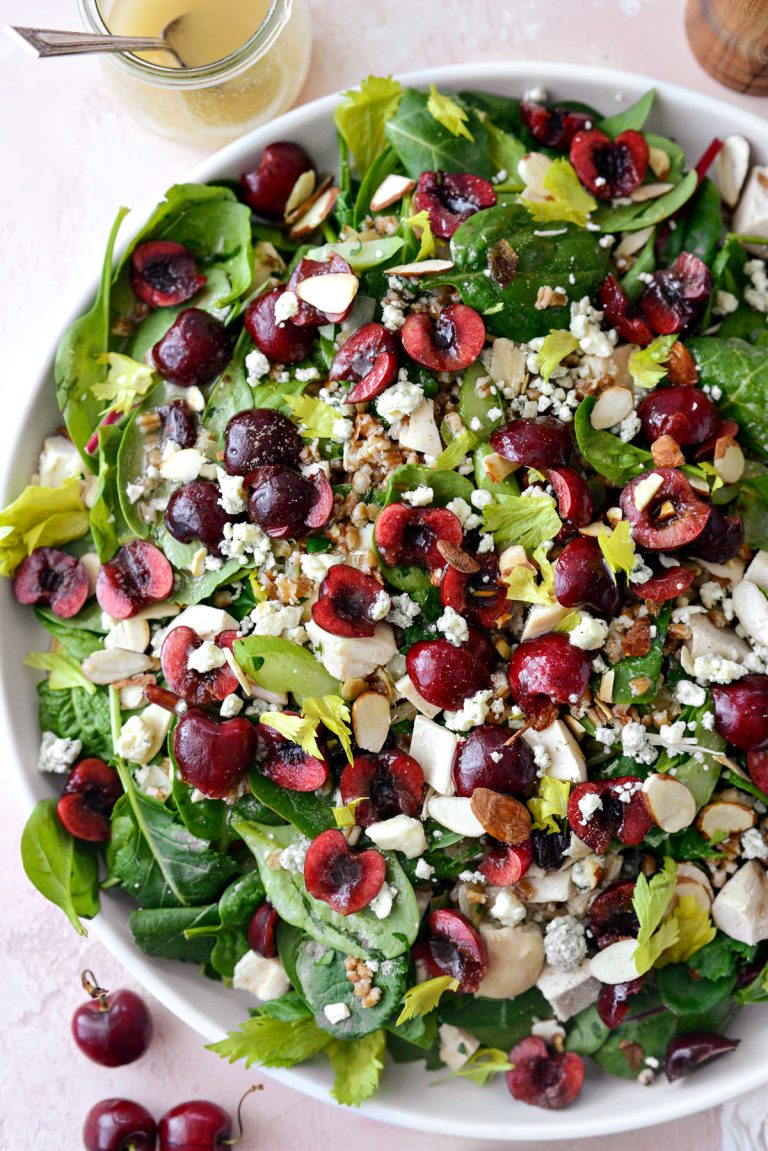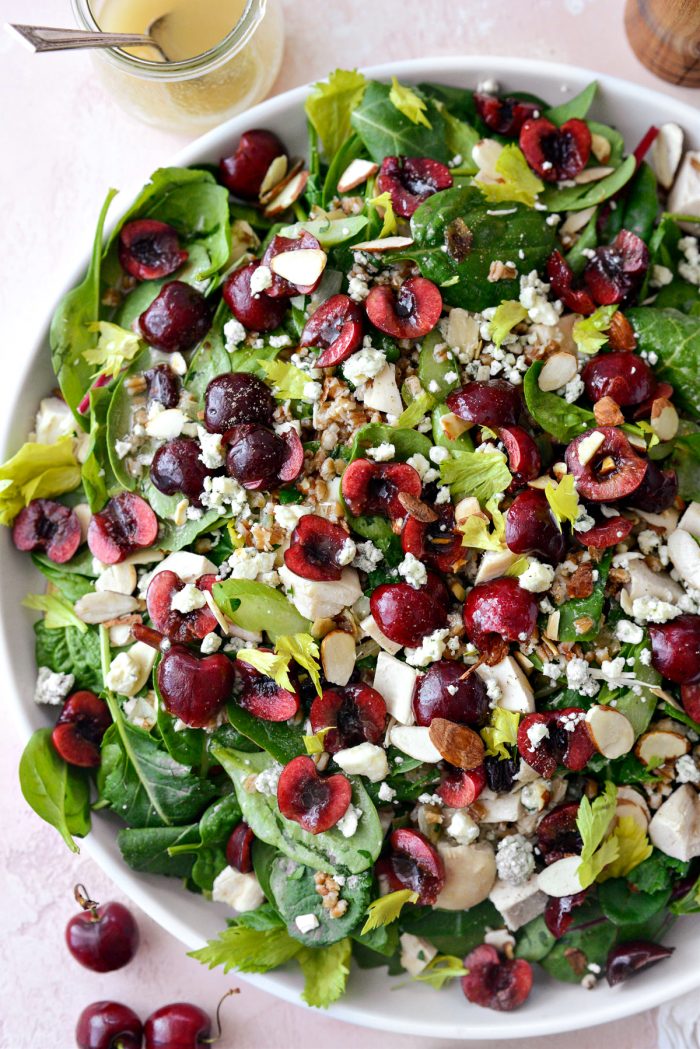 Toss to combine before turning it out onto a platter or in a serving bowl. Lastly top with pitted and halved cherries.
I personally think halved cherries look like hearts!
Drizzle a desired amount of the apple cider vinaigrette over top.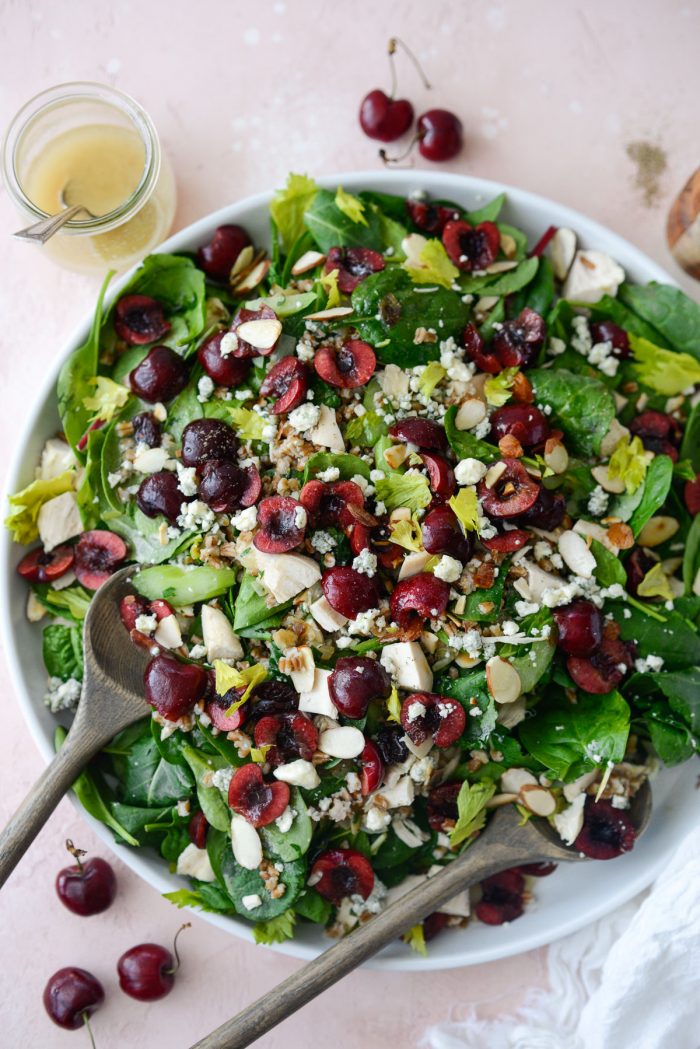 And serve!
Perfect balance of sweet and tart, toasted nuttiness and funk (thank you, blue cheese). Fresh and earthy. And the texture in this salad is incredible.
Click Here For More Salad Recipes!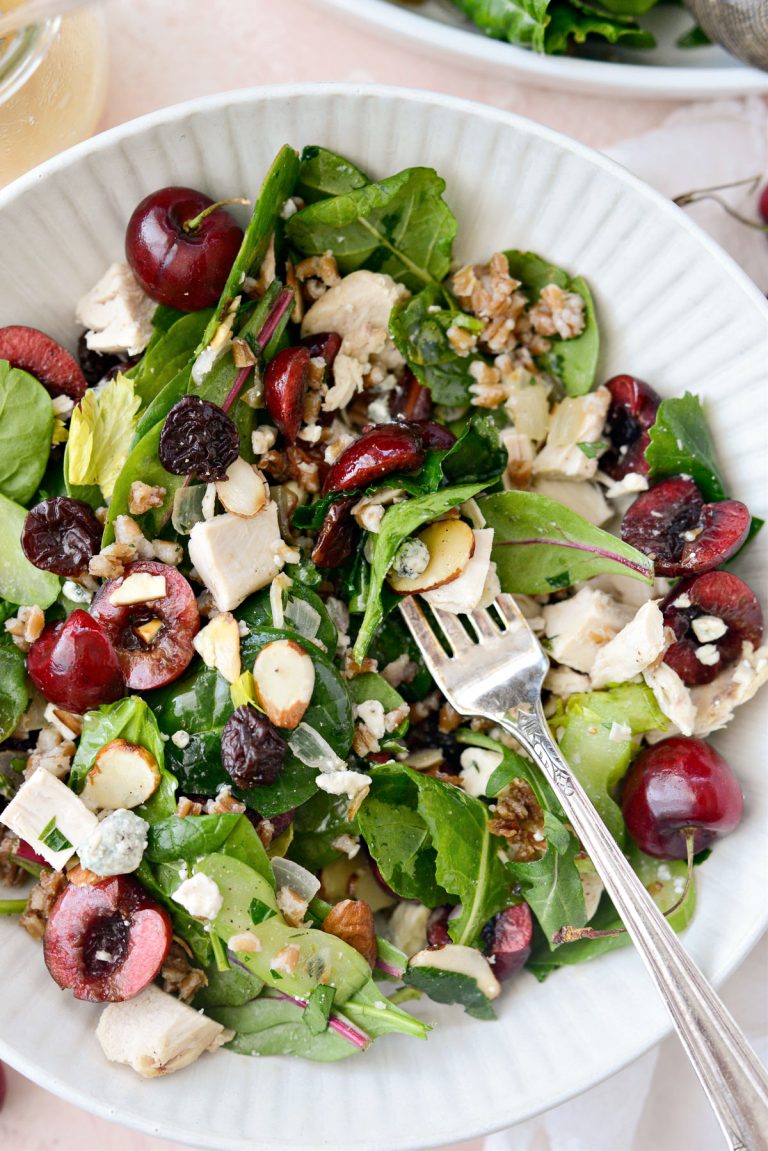 Enjoy! And if you give this Cherry Winter Wheat Berry Salad recipe a try, let me know! Snap a photo and tag me on twitter or instagram!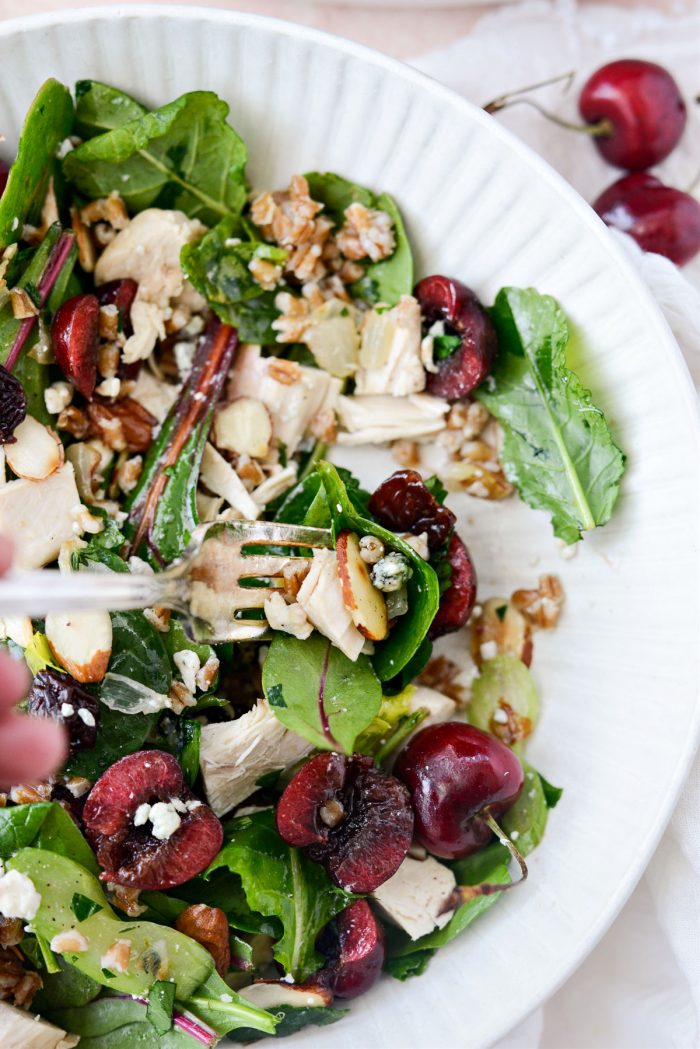 This post may contain affiliate links.
Buy the Cookbook: Simply Scratch : 120 Wholesome Homemade Recipes Made Easy Now available on Amazon »
THANK YOU in advance for your support!