Blistered Sesame Shishito Peppers is one of the easiest (and delicious!) appetizers to make. Shishito peppers are tossed with toasted sesame oil and blistered in a hot skillet under the broiler. Sprinkle with sesame seeds, flakey salt and dip in a garlicky lemon aioli. This recipe will serve 6.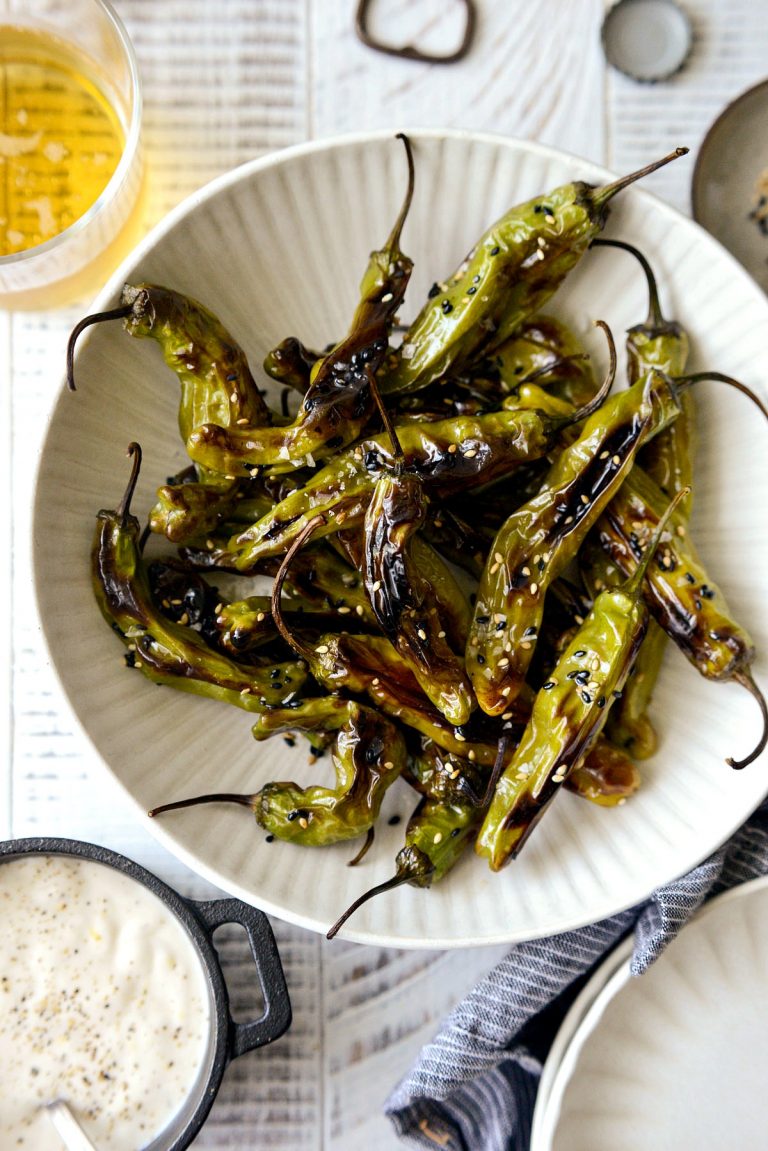 I get so excited whenever I find shishito peppers at the store.
For me, they definitely start popping up on produce shelves late summer and early fall and you bet your life that I snatch up a bag. And then go back and buy 3 more the next day.
Shishito peppers can be stuffed, kebab'd, or roasted and pureed into a sauce. However, the most delicious way is blistered. I was first introduced to charred shishito peppers back in 2013 when I was at a food blogger conference in Austin, Texas. A bunch of as was at evening event and a platter of these just appeared right in front of me and I couldn't stop eating them.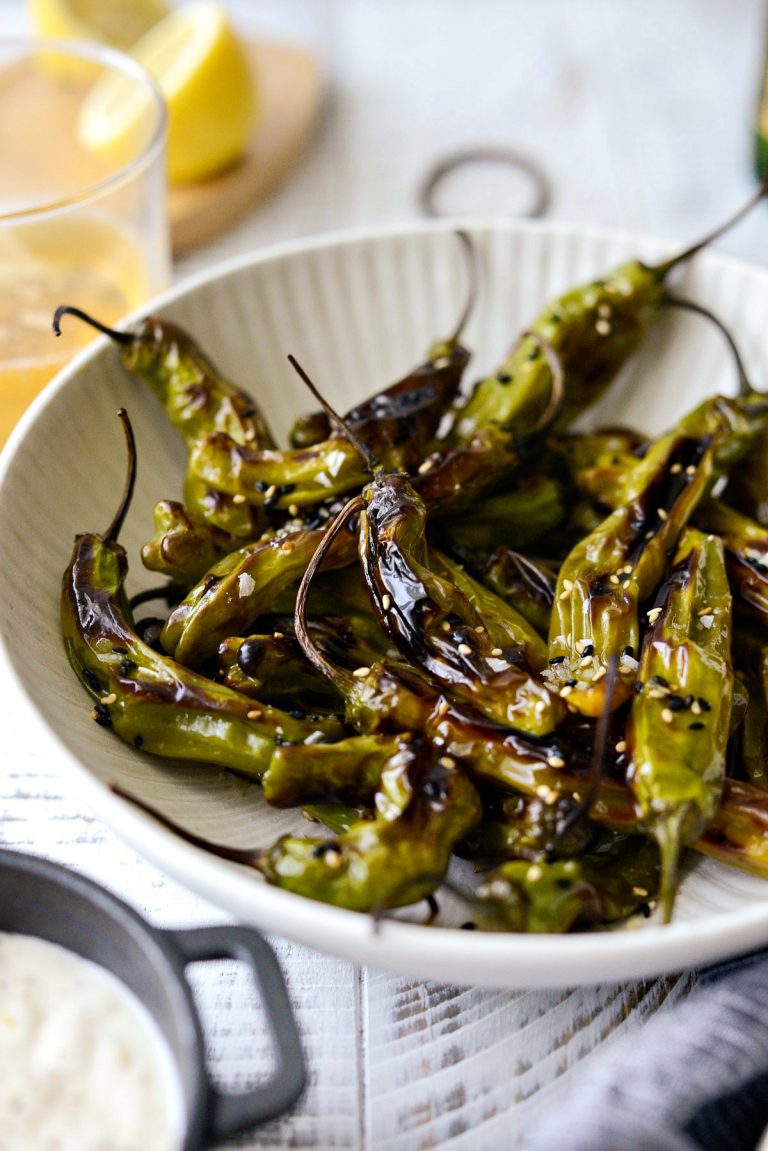 What to Shishito Peppers Taste Like?
Shishito peppers are mostly sweet and taste fresh (like most peppers) and are very mild in heat. In fact, you eat the entire pepper and seeds (just not the stem) without setting your mouth on fire. However, every once in a while you will find one a little more spicier than the rest. But it's a delicious heat that your tastebuds will welcome.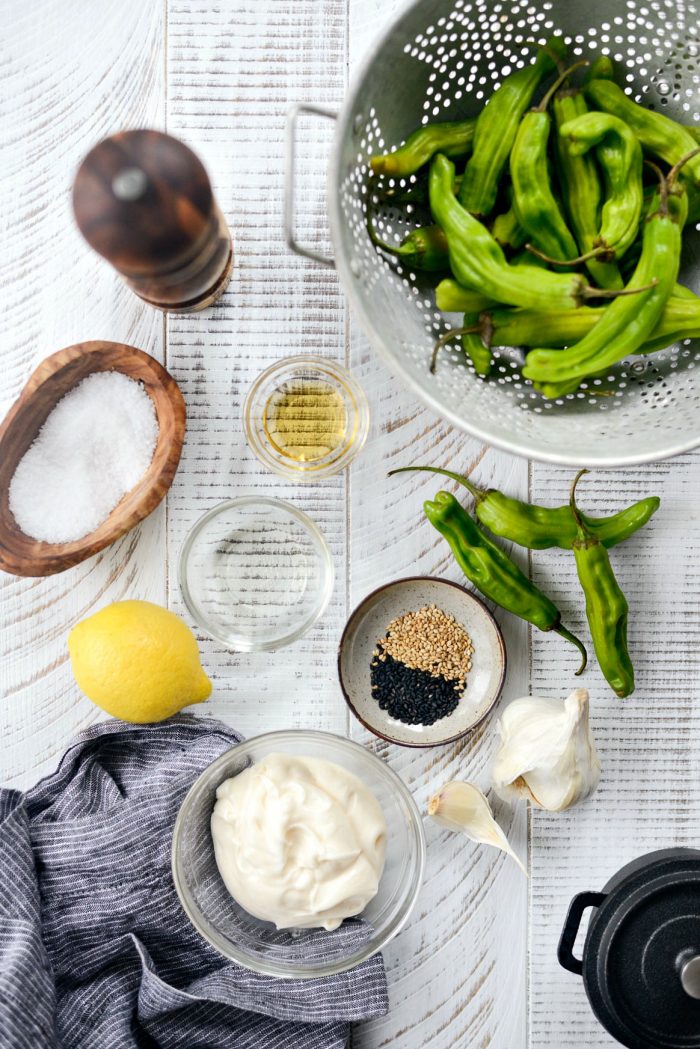 To Make Blistered Shishito Peppers with Lemon Garlic Aioli You Will Need:
(for the aioli)
mayonnaise
lemon zest
lemon juice
garlic
kosher salt
black pepper
(for the sesame shishito peppers)
shishito peppers
toasted sesame oil
kosher salt or flakey sea salt
Meanwhile, in a bowl measure and add 1/2 cup mayonnaise, 1/2 teaspoon lemon zest (or more if desired), juice of 1/2 a lemon, 1 clove garlic – grated, and season with kosher salt and freshly ground pepper to taste.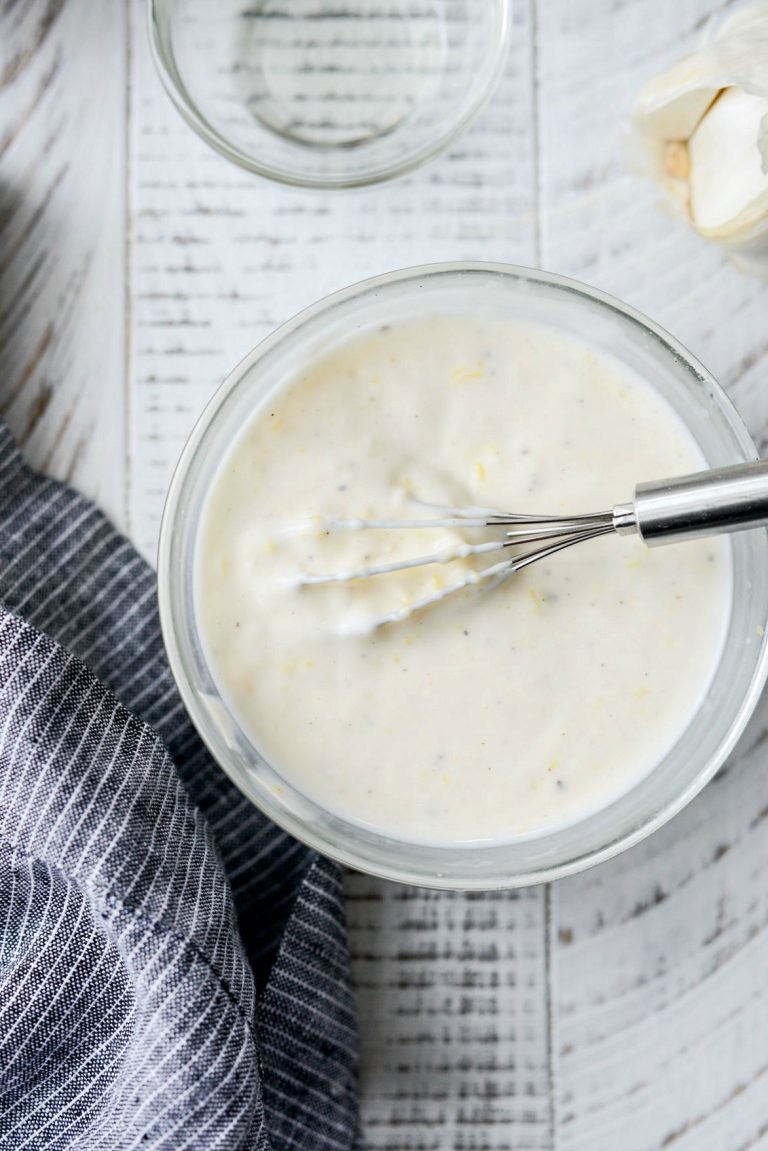 If you desire a thinner consistency just add a few splashes of water.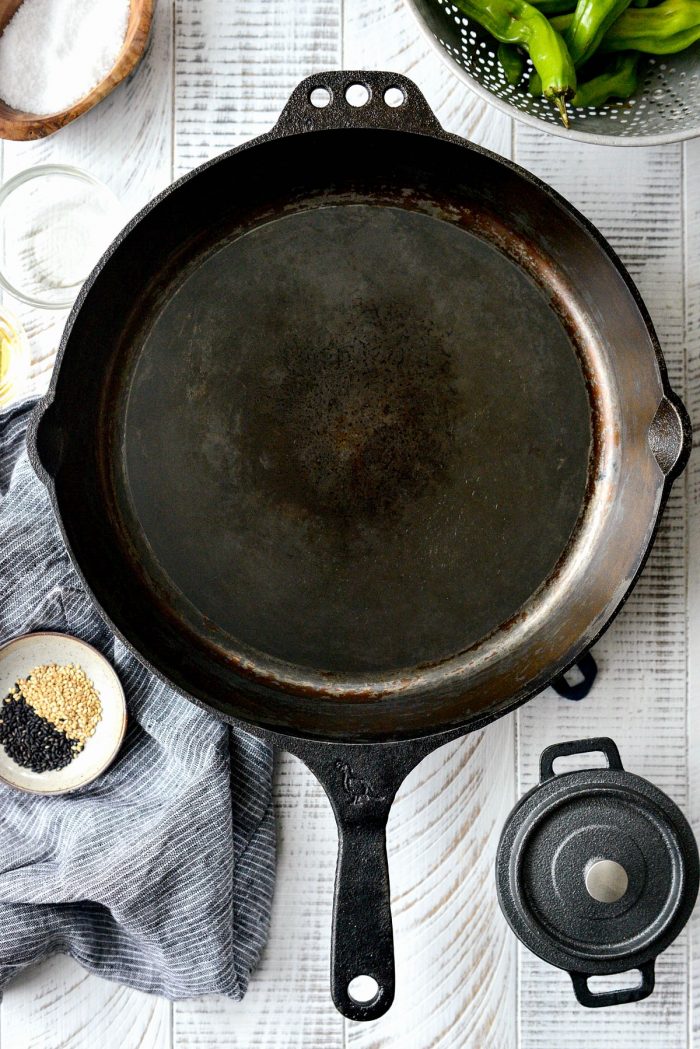 Grab a large cast iron skillet.
Slip it into your oven and preheat your oven (with the skillet) to 500°.
Rinse 8 ounces of shishito peppers and pat dry with a clean kitchen towel.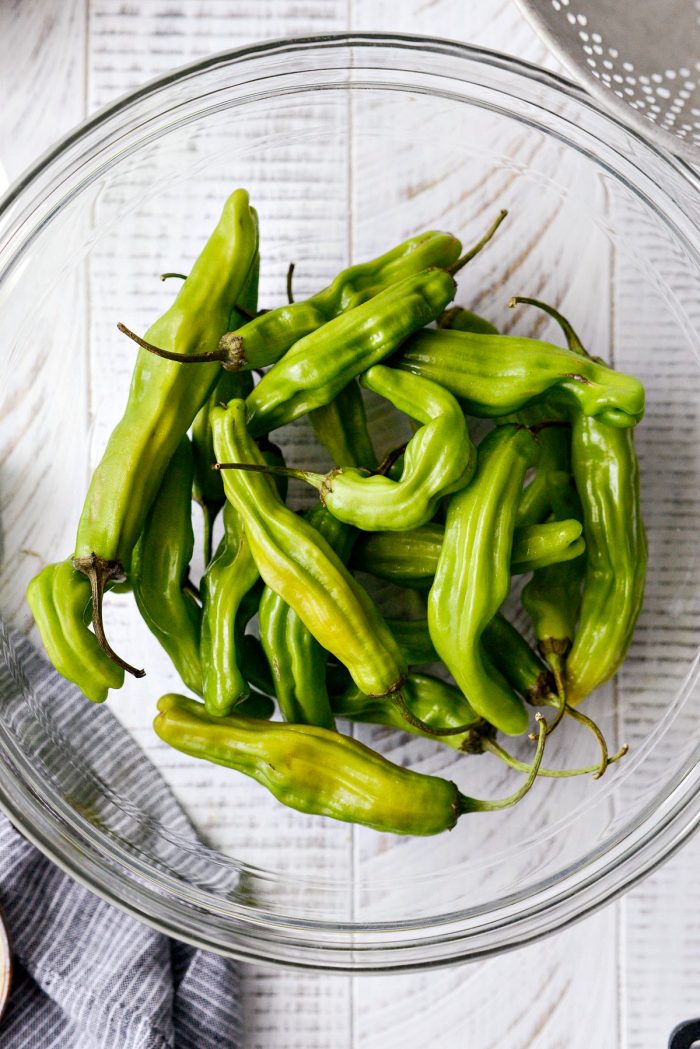 Add the clean shishito peppers into a mixing bowl.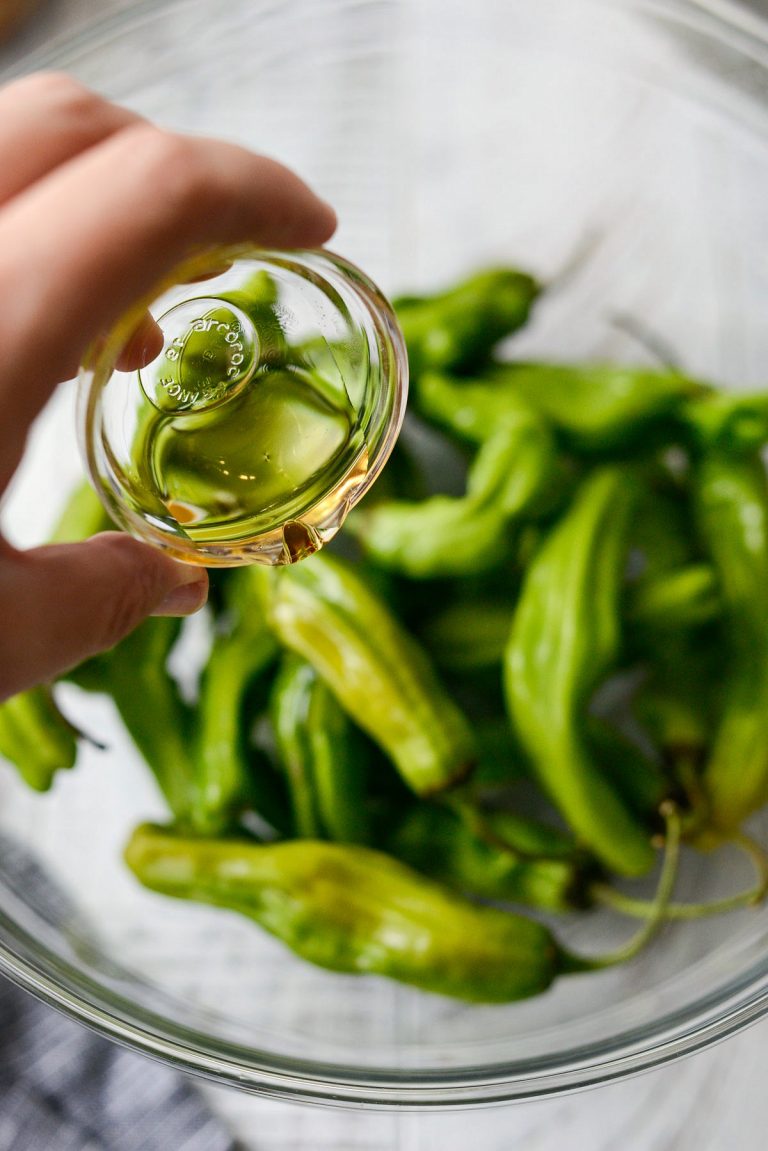 Drizzle with 2 teaspoons toasted sesame oil.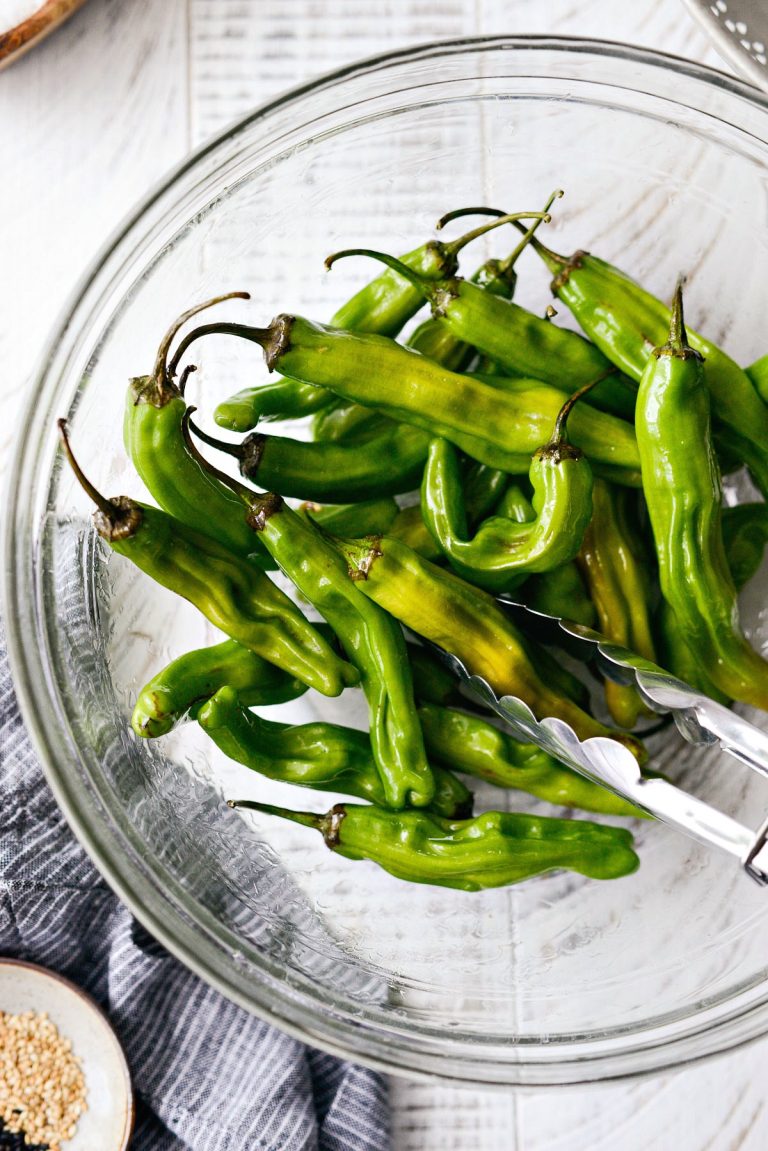 Use tongs to toss the peppers until evenly coated in the oil.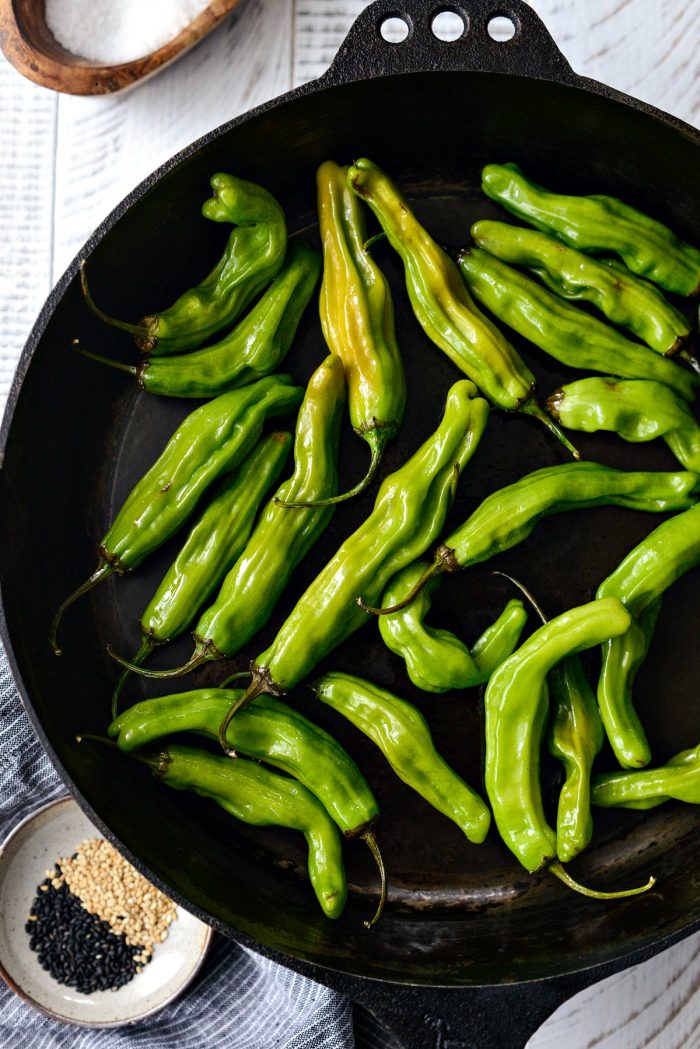 Once the skillet is screaming hot, use oven mitts to safely remove the pan to your stove top or a trivet. Add the shishito peppers in an even layer to the skillet. They should sizzle!
Work quickly to switch the oven to broil and (while still using oven mitts) move the oven rack to the highest position. Slide the peppers under the broiler for 1 to 2 minutes.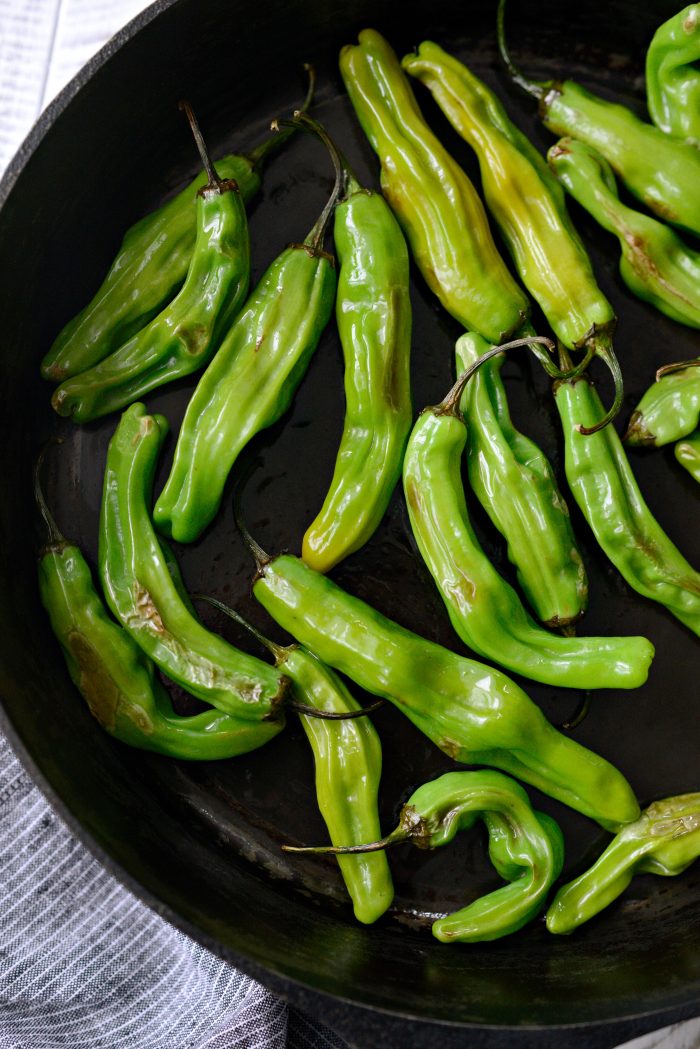 Turn the peppers over, you should notice some light charring. That's good! This will crisp up beautifully. Once you've finished turning all the peppers, slide the pan back under the broiler for 1 to 2 minutes more.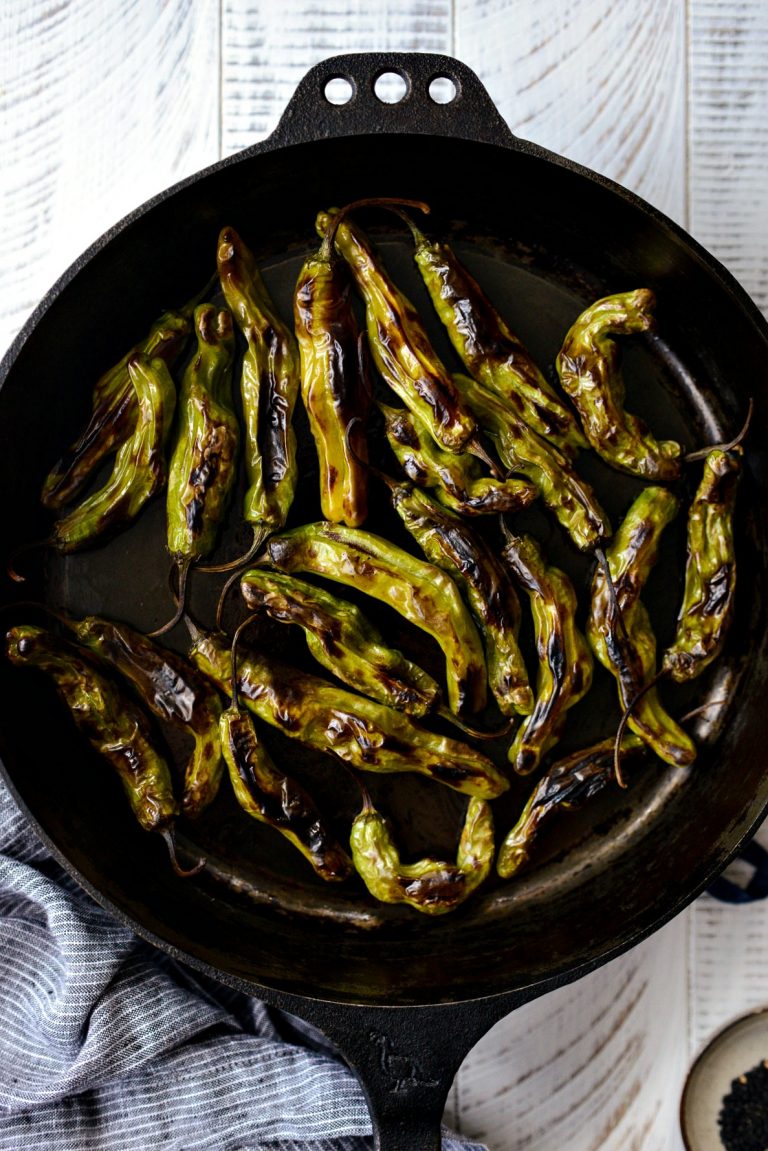 Repeat if necessary until the peppers are charred on both sides.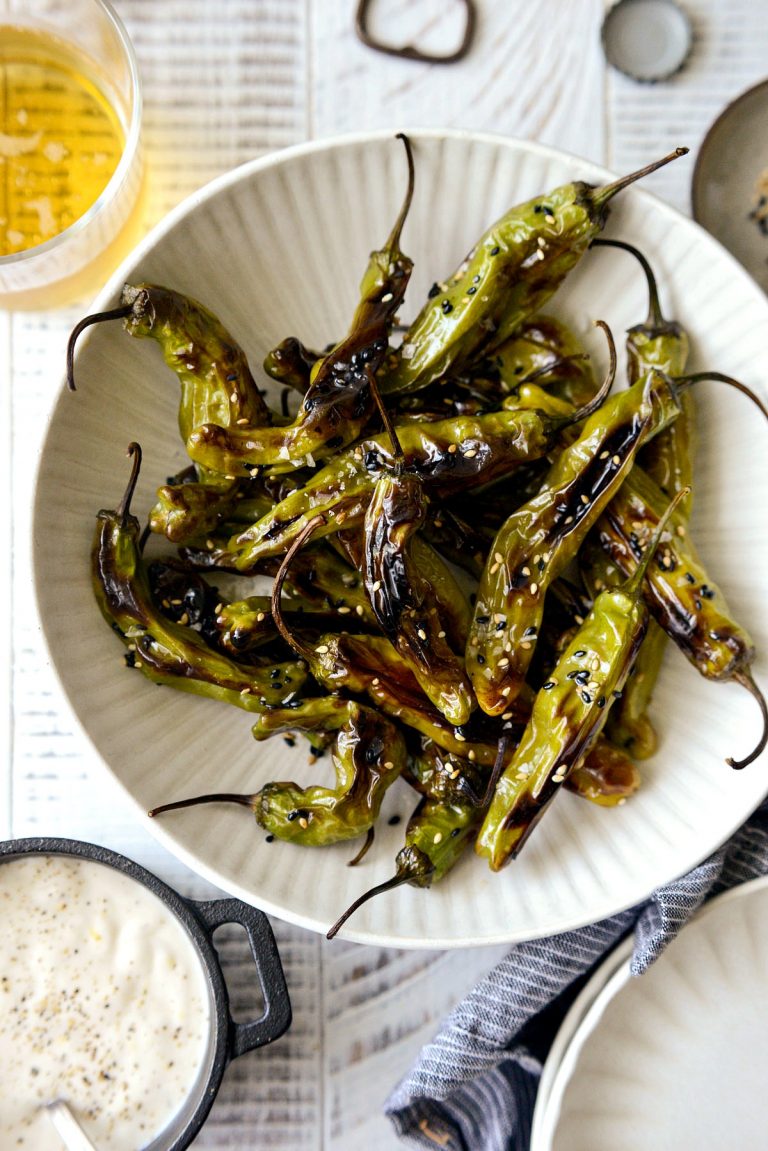 Serve in a bowl, drizzle with any leftover oil in the mixing bowl and sprinkle with flakey sea salt (or kosher) and both black and toasted sesame seeds.
I really wish you could smell this through your screen right now!
Dip the peppers into the lemony garlic aioli and prepare to become addicted.
For more Shishito Pepper Recipes Click Here!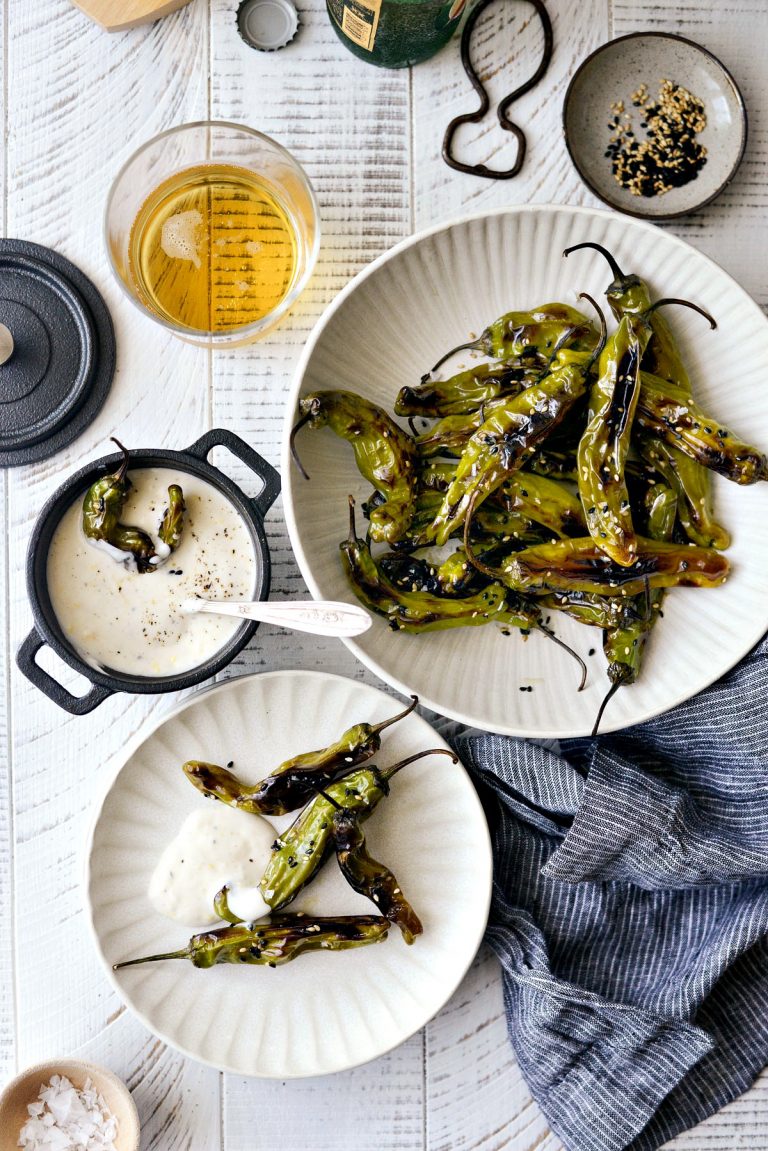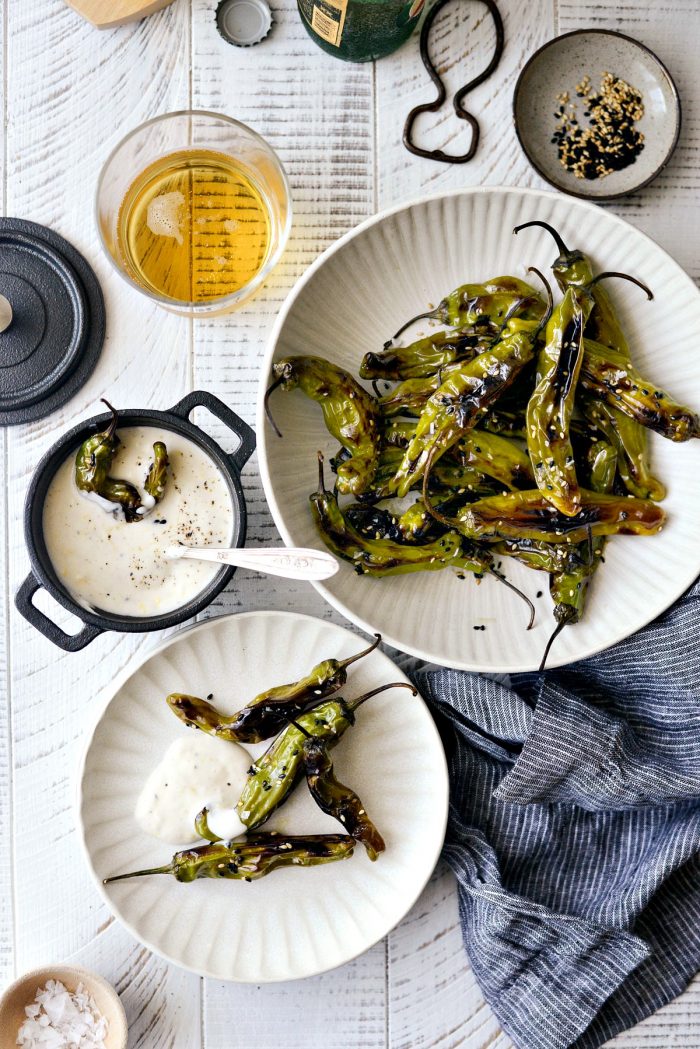 Enjoy! And if you give these Sesame Blistered Shishito Peppers a try, let me know! Snap a photo and tag me on twitter or instagram!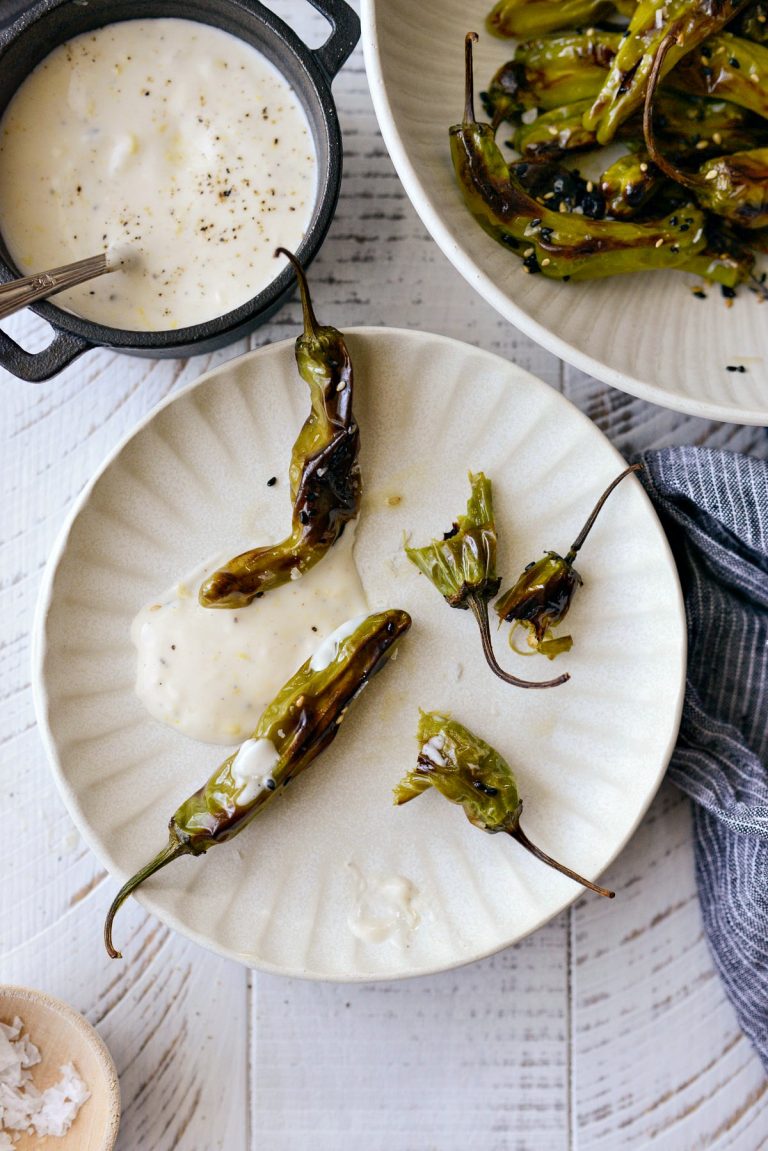 This post may contain affiliate links.
Buy the Cookbook: Simply Scratch : 120 Wholesome Homemade Recipes Made Easy Now available on Amazon »
THANK YOU in advance for your support!