Baked Maryland Crab Cakes are light and packed with jumbo lump crab, old bay and served with a yogurt tartar sauce. This recipe yields 8 mouth watering crab cakes and will serve 4 (2 each) for an entree or 8 as a light appetizer.
Hello, buttery, crisp and delicious crab cakes!
Last year I flew out to Maryland for a long weekend and never once had a crab cake. WHY? Who knows but it's one of my life's biggest regrets. Luckily I make them at home all the time and can easily whip the up to scratch the itch. Although the vibe is not the same as sitting at the Chesapeake Bay with a glass of wine and a plate of crab cakes. However the neext time I'm in Maryland, this will be a reality.
To Make These Crispy Baked Maryland Crab Cake You Will Need:
Tartar Sauce:
mayonnaise
plain nonfat greek yogurt
sweet pickle relish
dijon mustard
minced shallot
lemon juice
parsley
kosher salt black pepper
Crab Cakes:
jumbo lump crab meat
mayonnaise
plain nonfat greek yogurt
egg
hot sauce
dijon mustard
old bay seasoning
crackers (crushed)
lemon zest and juice
kosher salt
white pepper
parsley
melted butter
lemon wedges, for serving
cocktail sauce, for serving
butter lettuce leaves, for serving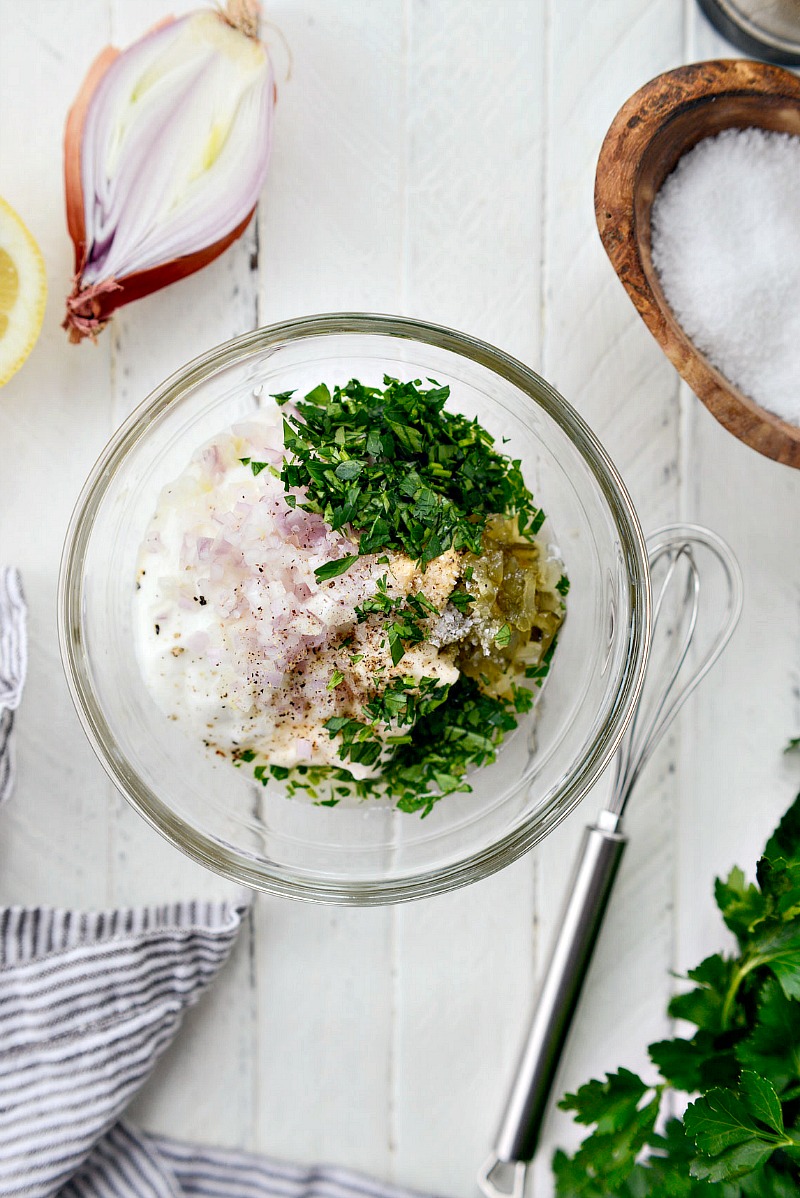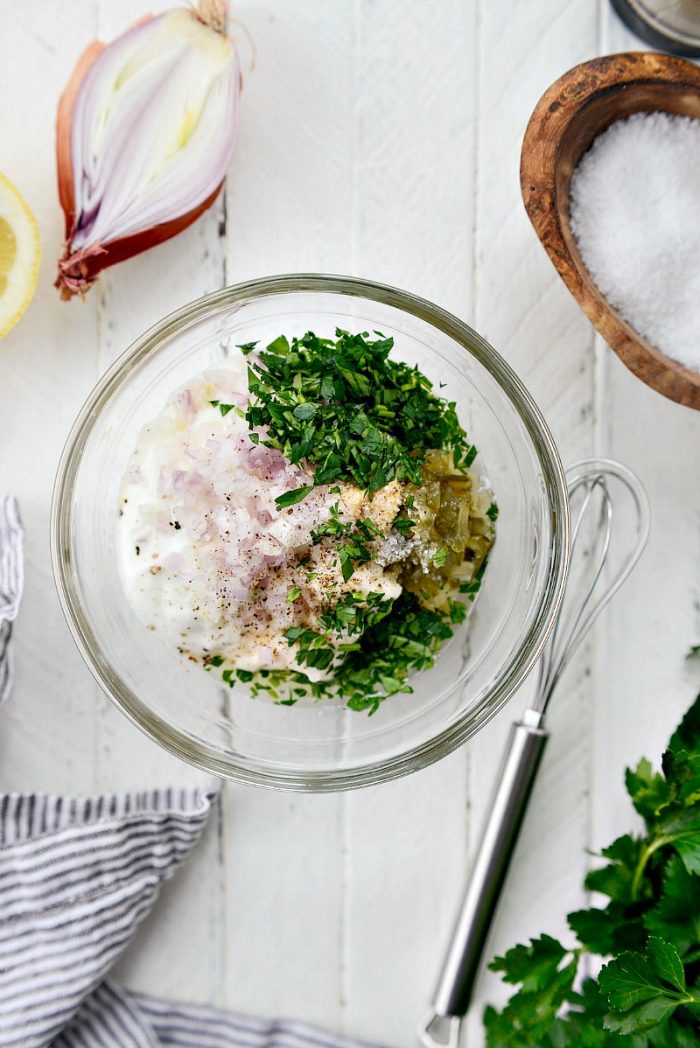 Start by making the tartar sauce first so it has time to chill and the flavors can meld.
In a medium mixing bowl, measure and add; 1/4 cup mayo, 1/4 cup plain nonfat Greek yogurt, 1 tablespoon sweet pickle relish, 1 teaspoon dijon mustard, 1 tablespoon finely minced shallot, 2 teaspoons minced parsley and season with kosher salt and black pepper to taste.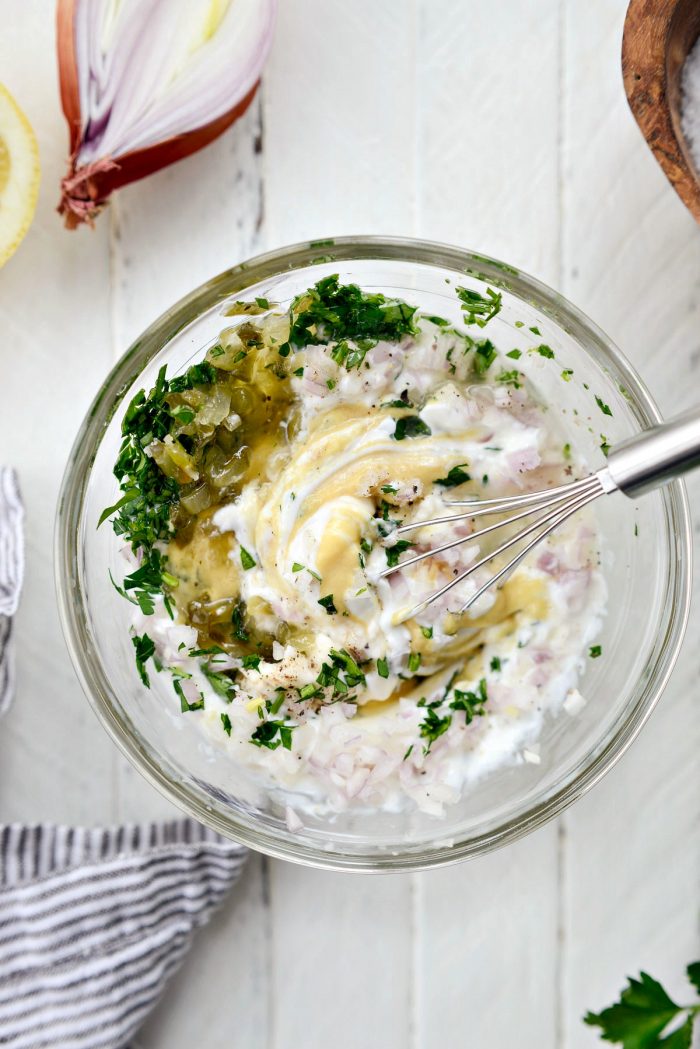 Whisk well to combine.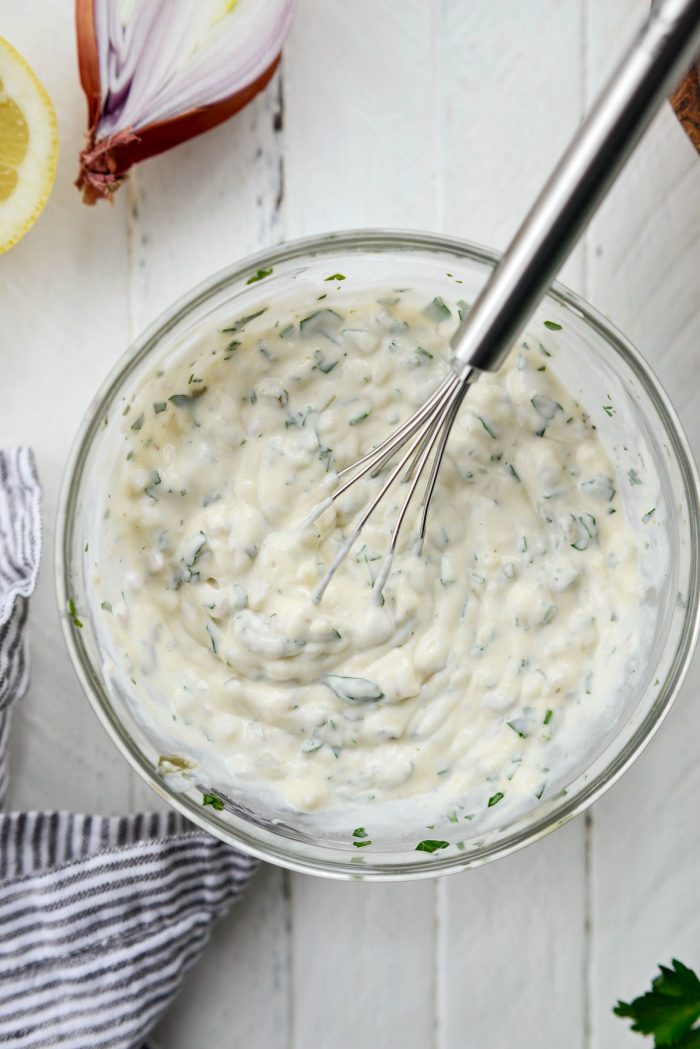 Cover and refrigerate until ready to serve.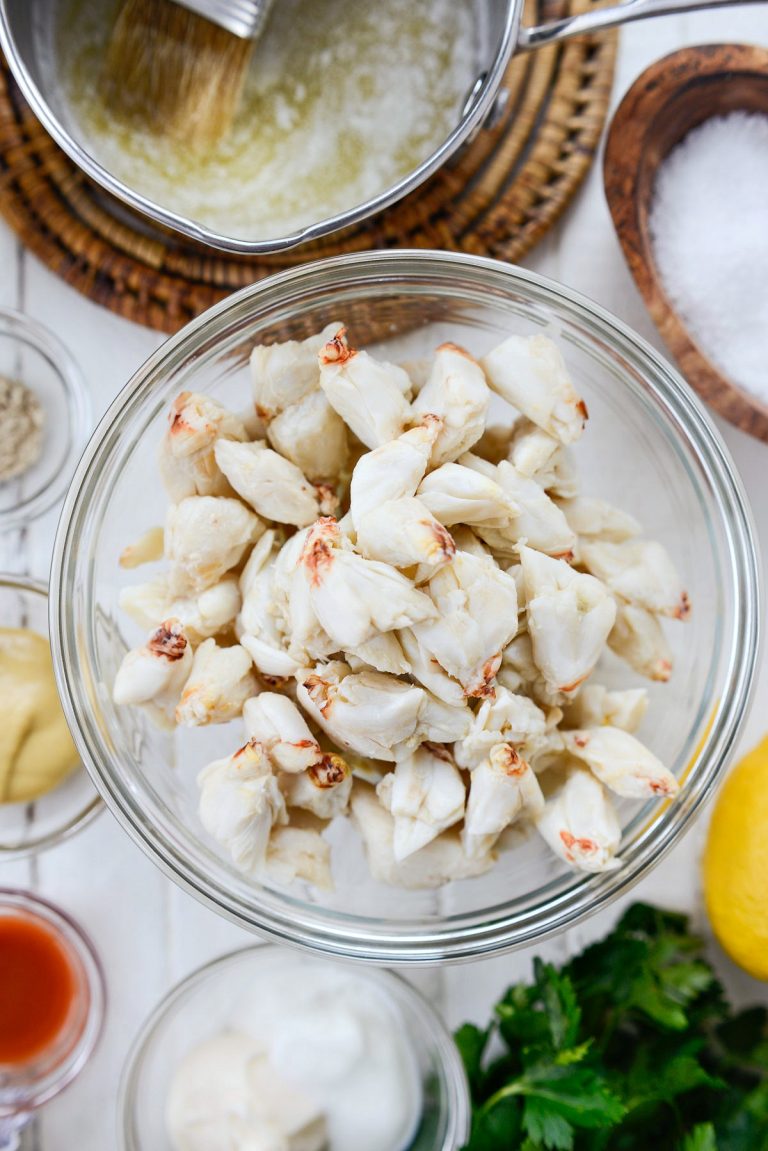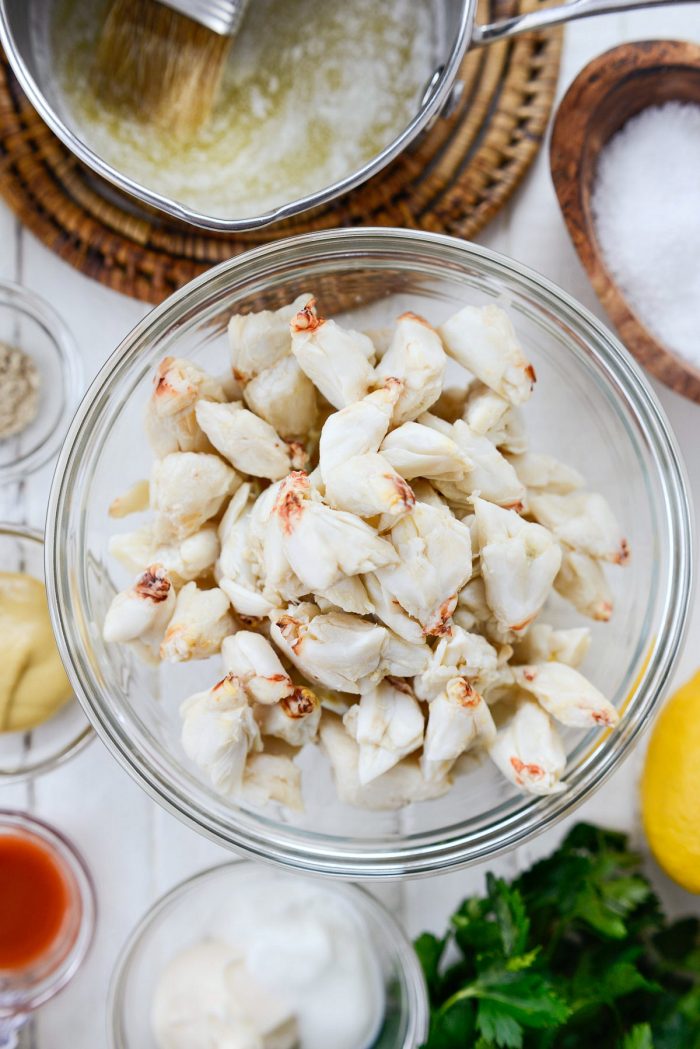 There's one key "rule" when making Maryland Crab Cakes and that is to splurge on jumbo lump crab meat. However if you can only find lump or a combination of lump and backfin, you're fine to use those as well.
Why Jumbo Lump Crab Meat is best?
Jumbo lump crab meat is whole lumps of crab meat that is white in color and sweet in flavor. This meat comes from 2 mussels located in the body of the crab. Since this meat is considered premium, it tends to be more expensive. Expect to pay anywhere from $40-$50 per pound – but is so worth it.
Other types of crab meat include:
Lump: is smaller pieces of lump crab. It's still sturdy body meat that can be used in crab cakes or salads.
Backfin: is flakey crab meat that is a mixture of the broken bits of lump crab and smaller pieces of body meat. While it can be used in crab cakes, back fin is also great in baked dishes and casseroles.
Claw: tends to be darker in color and stronger in flavor compared to jumbo lump. As you know, it's great dipped in butter but can also be used in soups or to stretch out lump crab in a recipe.
Cocktail Claw: is the segment of the claw in which the most of the shell has been completely removed except for a little bit at the end. This acts as a handle for dipping the crab meat in sauces.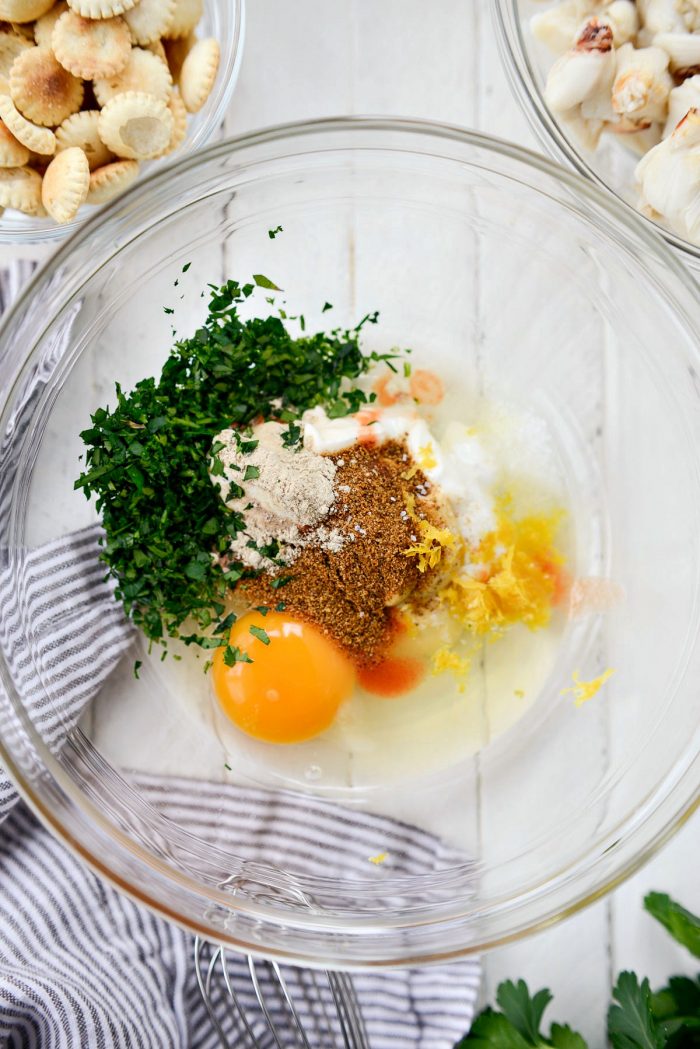 In a large mixing bowl add; 1 tablespoon mayonnaise, 1 tablespoon plain nonfat Greek yogurt, 1 large egg, 1 teaspoon hot sauce, 2 teaspoons dijon mustard and 1 teaspoon old bay seasoning.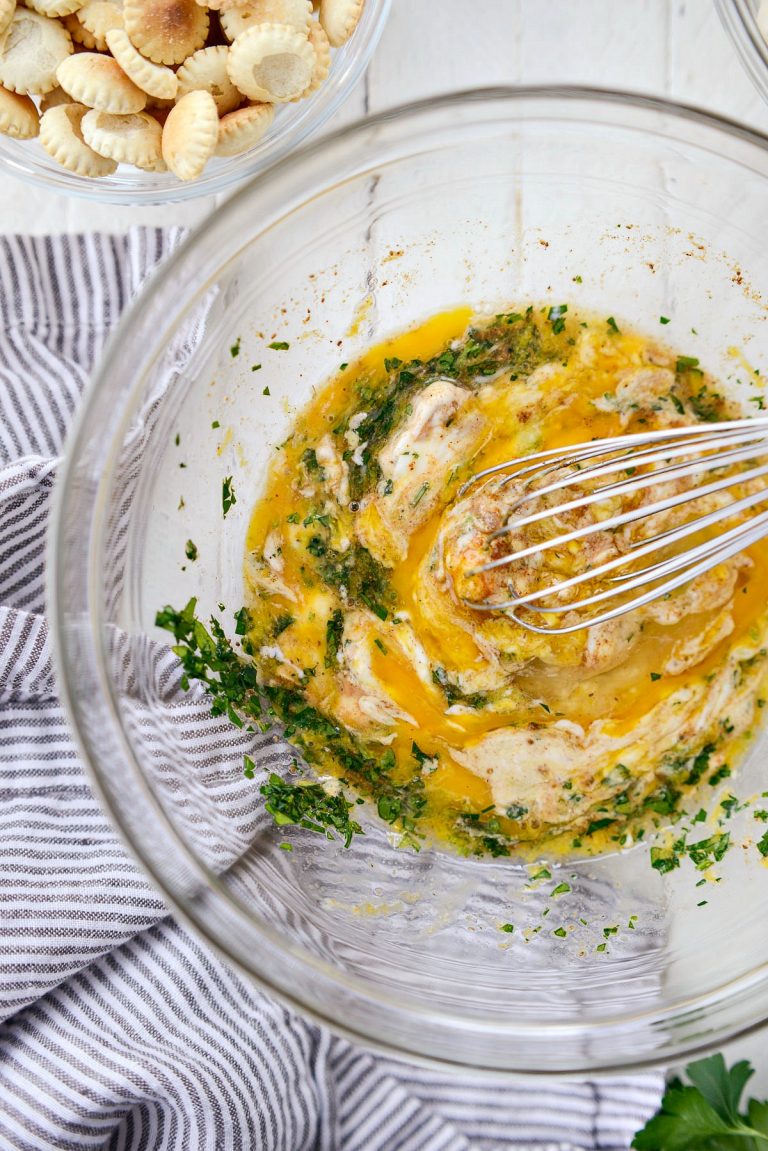 Whisk to combine.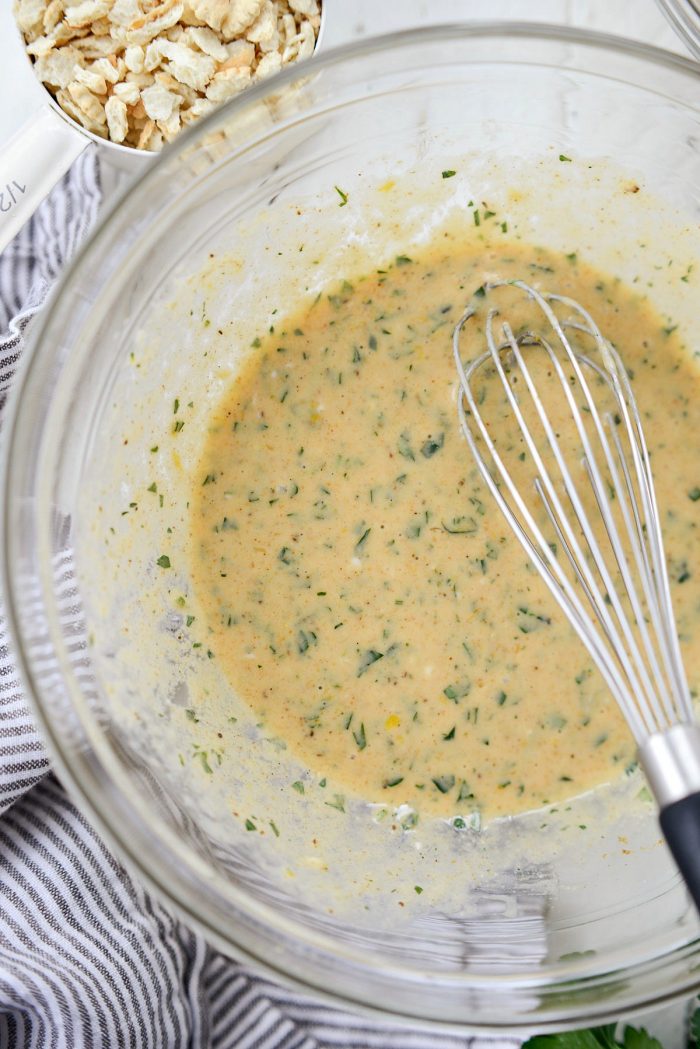 Smells incredible already!
To the wet ingredients add 1 pound jumbo lump crab meat and 1/2 cup crushed crackers.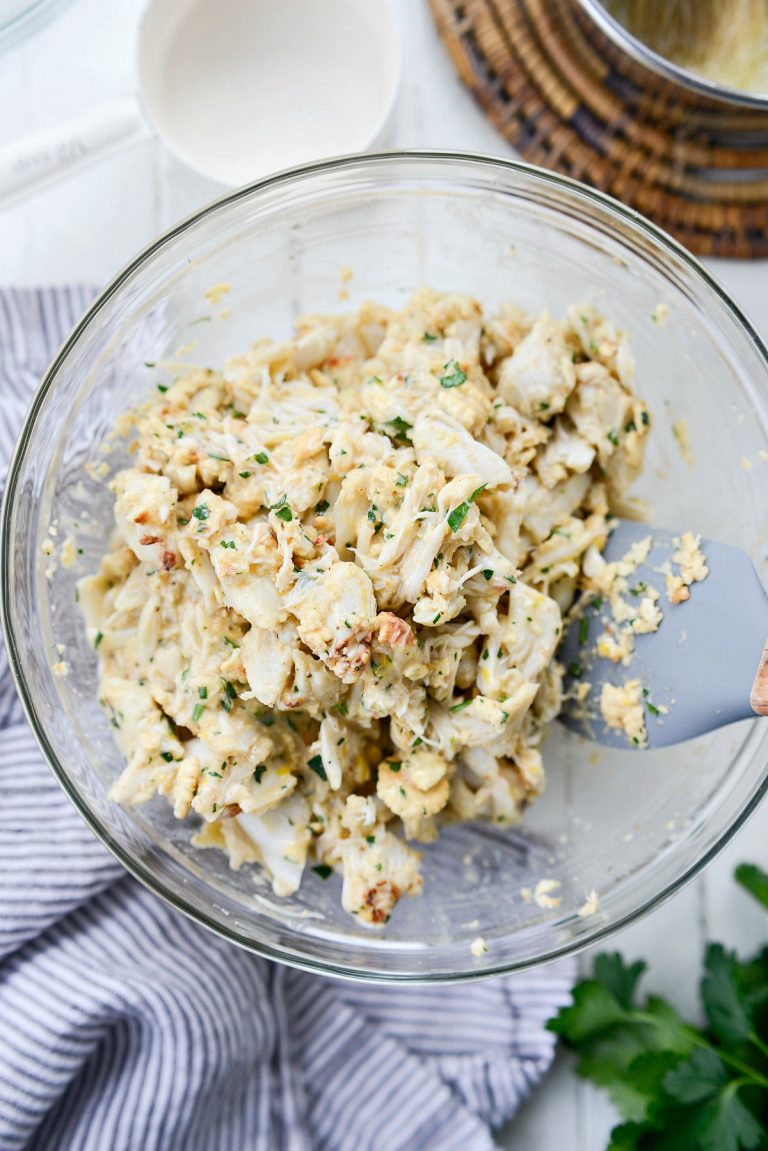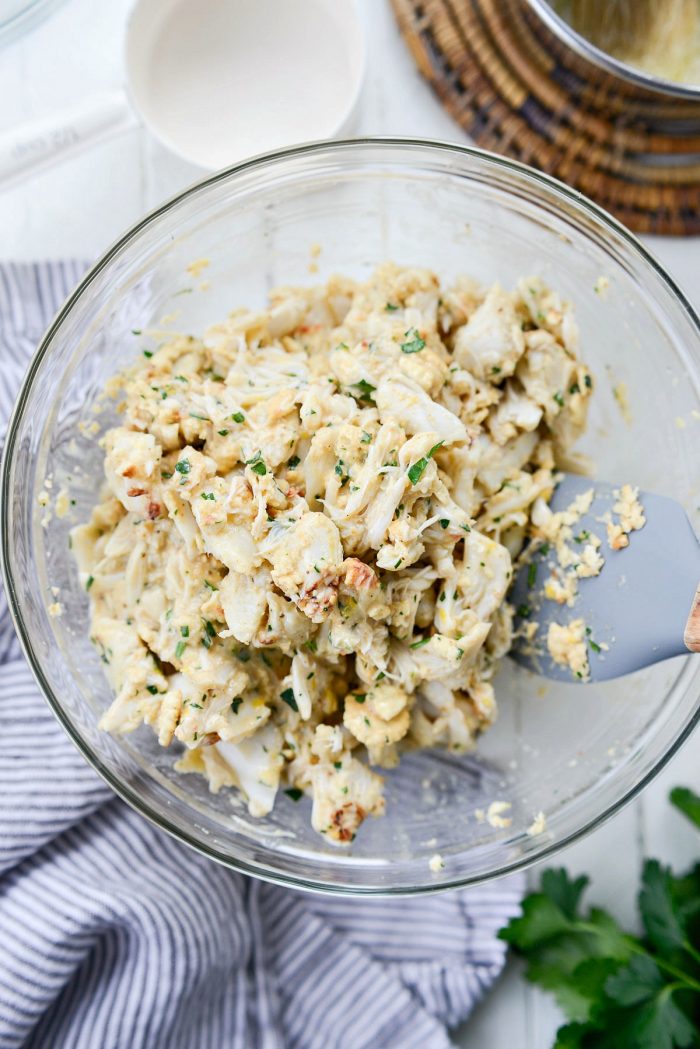 Use a rubber spatula to combine.
Use a half cup dry measuring cup to measure out each crab cake.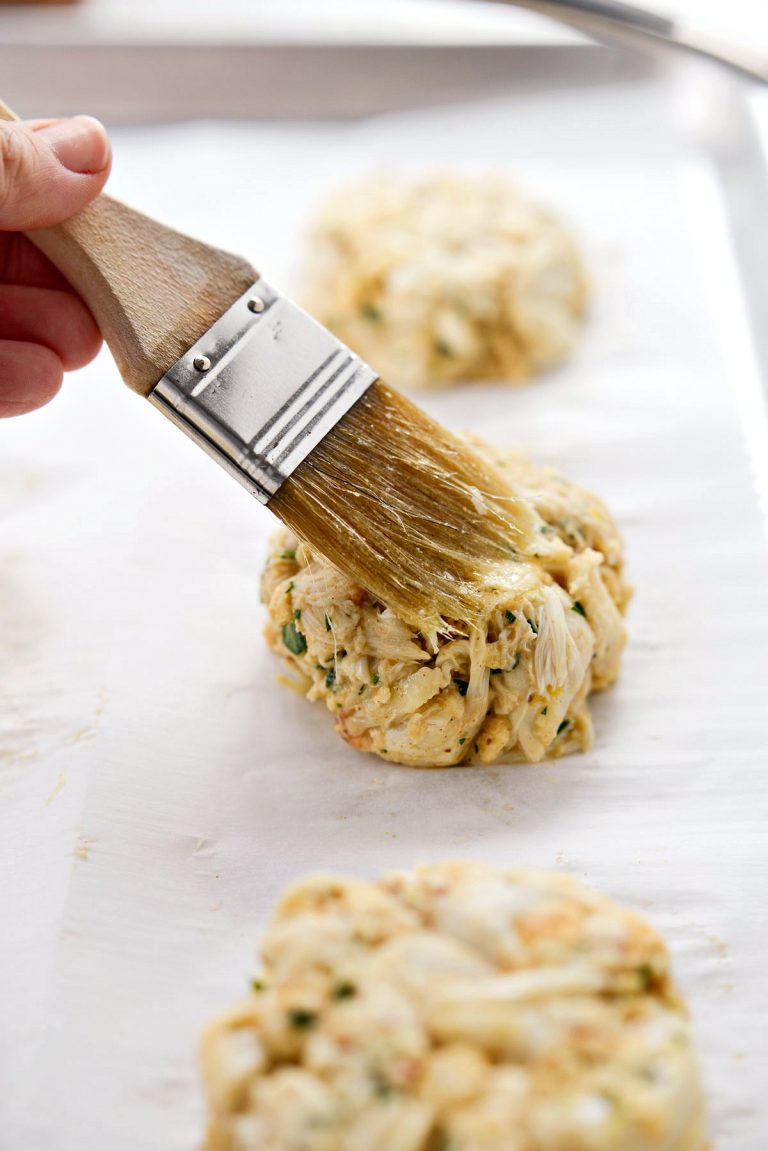 Place the crab cakes onto a parchment lined baking sheet and use your finger tips to form each crab cake but do not flatten. Brush with a little melted butter.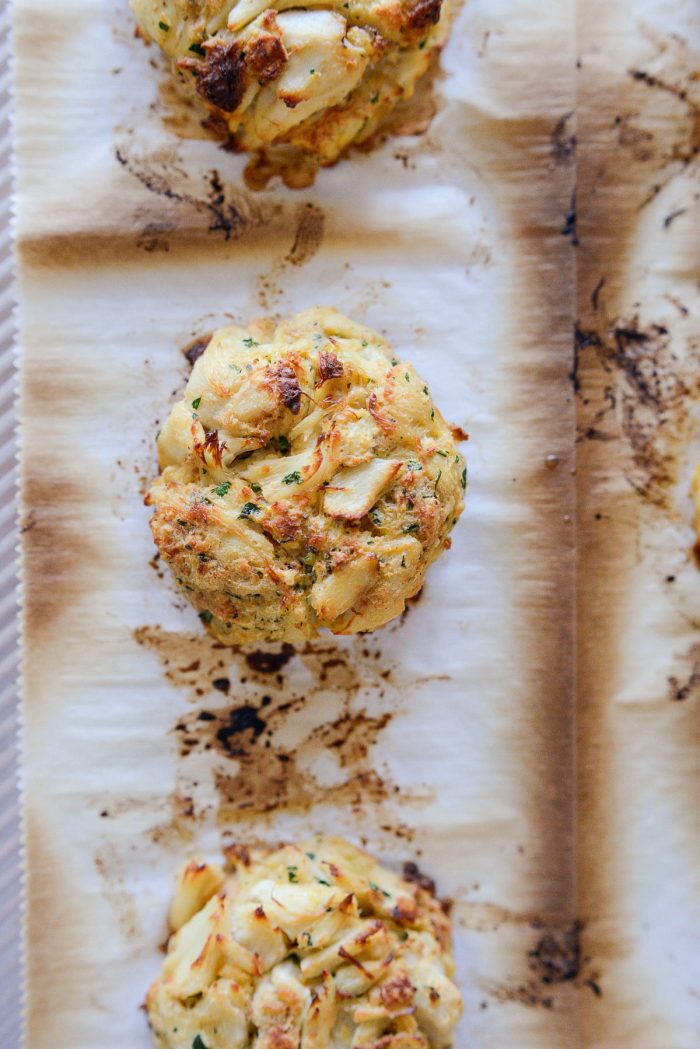 Bake at 450° for 12 minutes.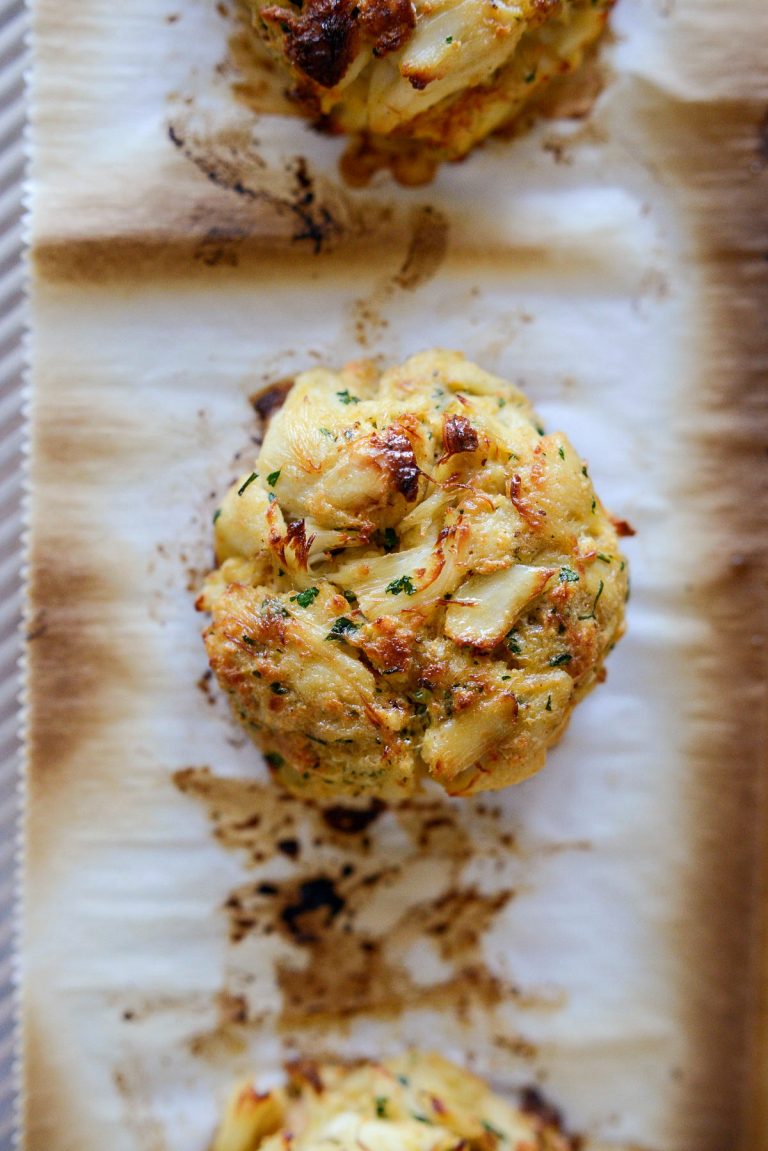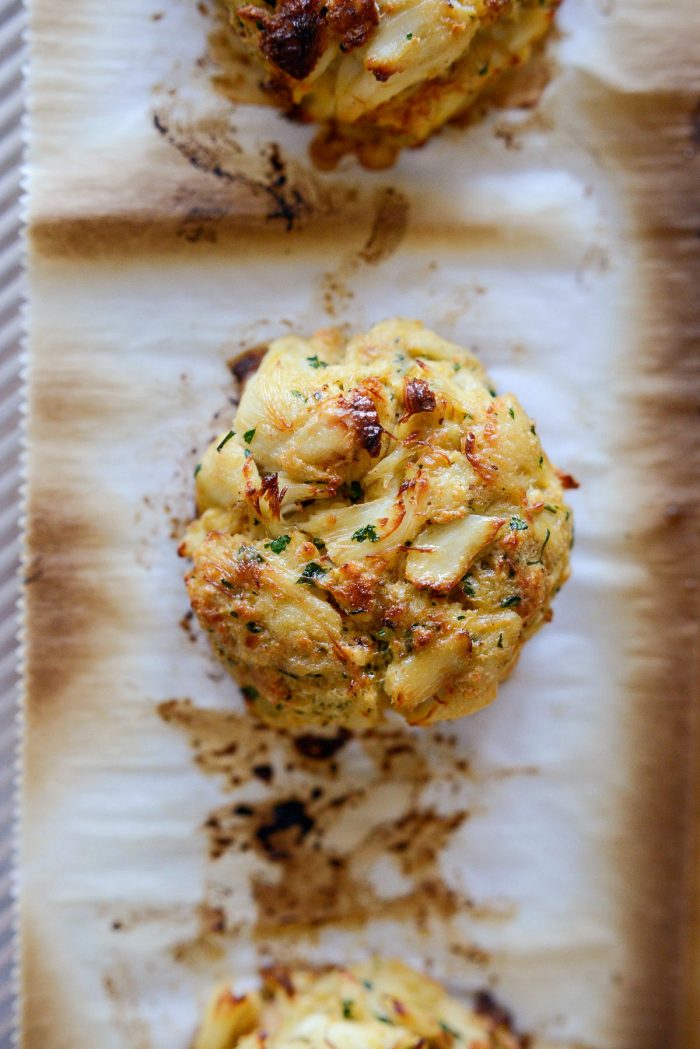 Using oven mitts, remove the crab cakes and position the oven rack 3 inches from the heating element. Preheat the broiler. Meanwhile, brush the crab cakes again with the remaining butter before broiling for a minute or 2. This way they get extra crispy and golden.
Watch carefully to avoid burning.
Serve with homemade tartar sauce, cocktail sauce and fresh lemon wedges.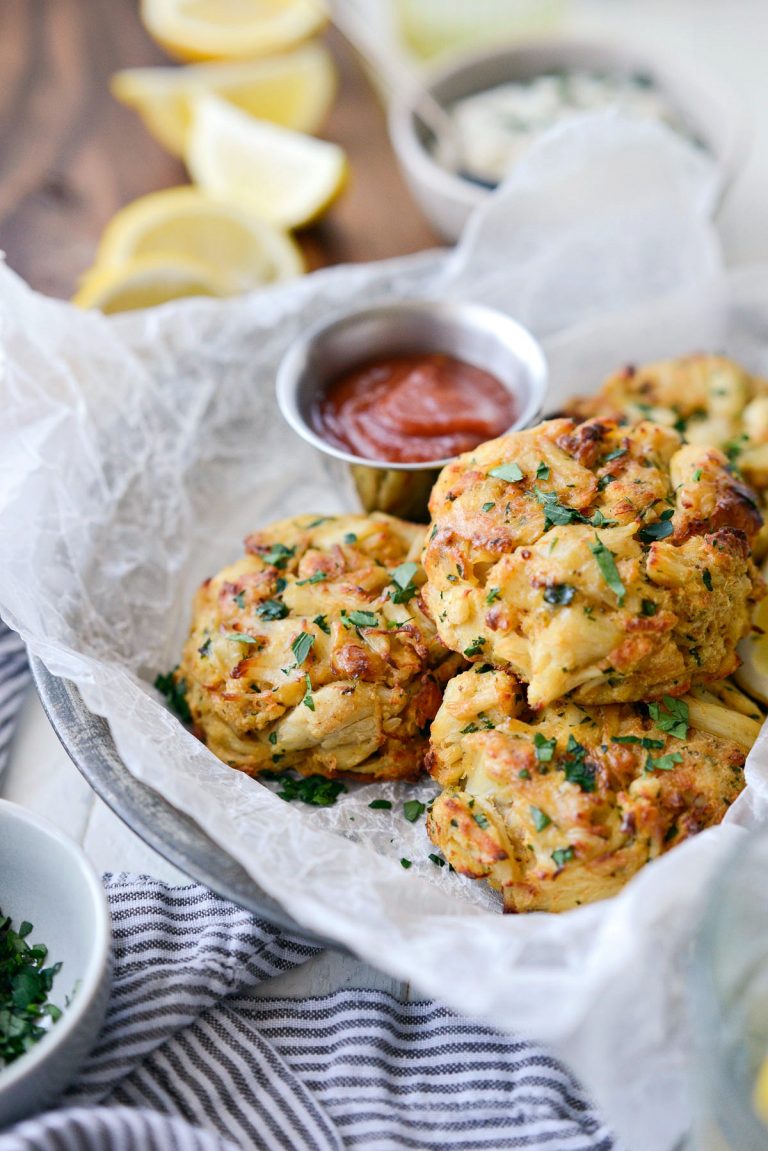 The homemade tartar sauce is perfect and creamy and goes perfectly with the crispy crab cake.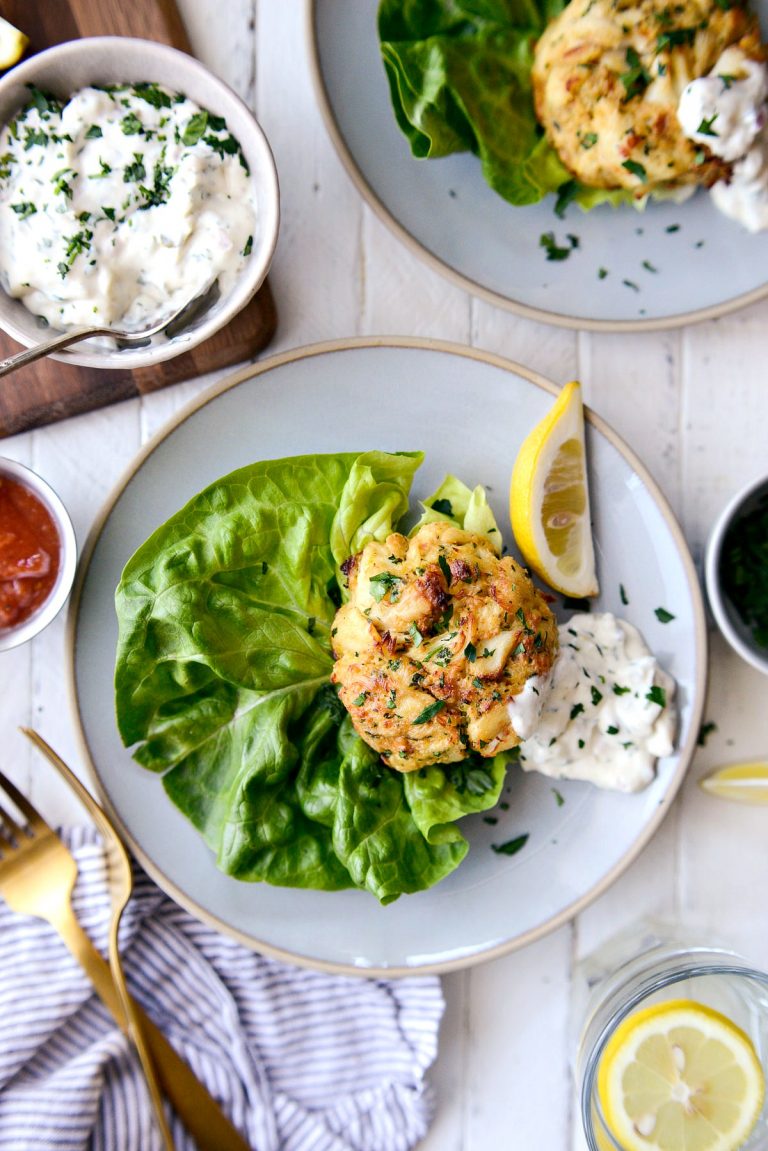 Light, healthy and packed with lots of delicious flavor. You will fall in love with the crisp exterior and buttery interior of these baked Maryland crab cakes!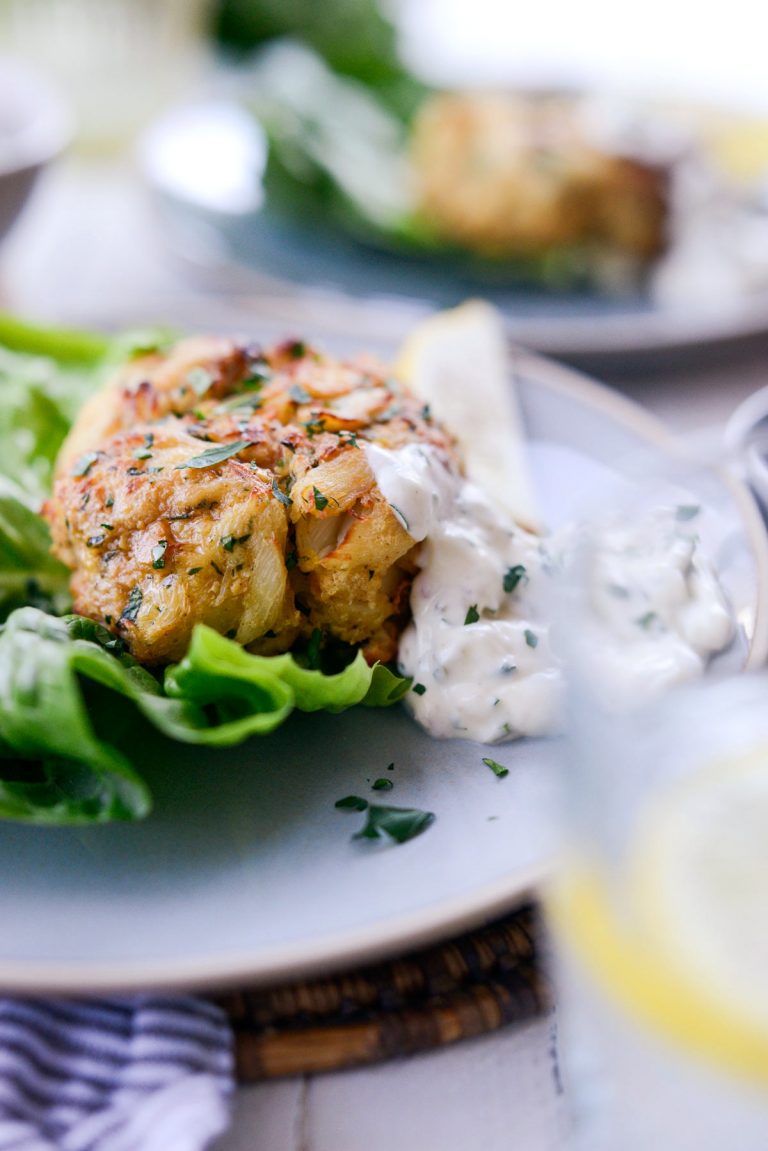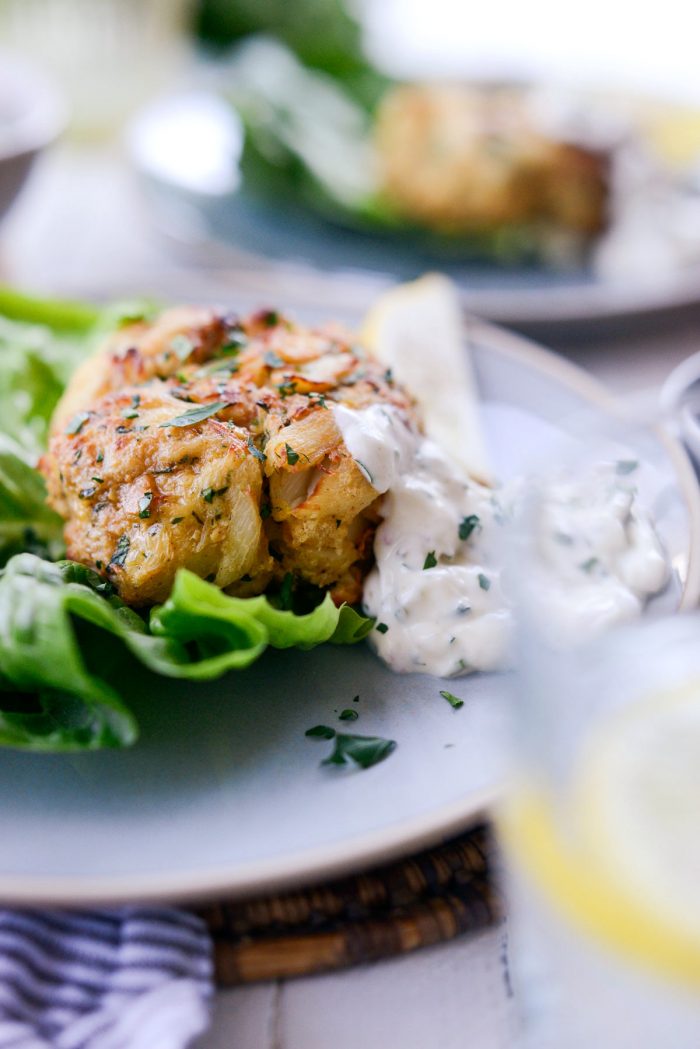 Enjoy! And if you give this Crispy Baked Maryland Crab Cakes recipe a try, let me know! Snap a photo and tag me on twitter or instagram!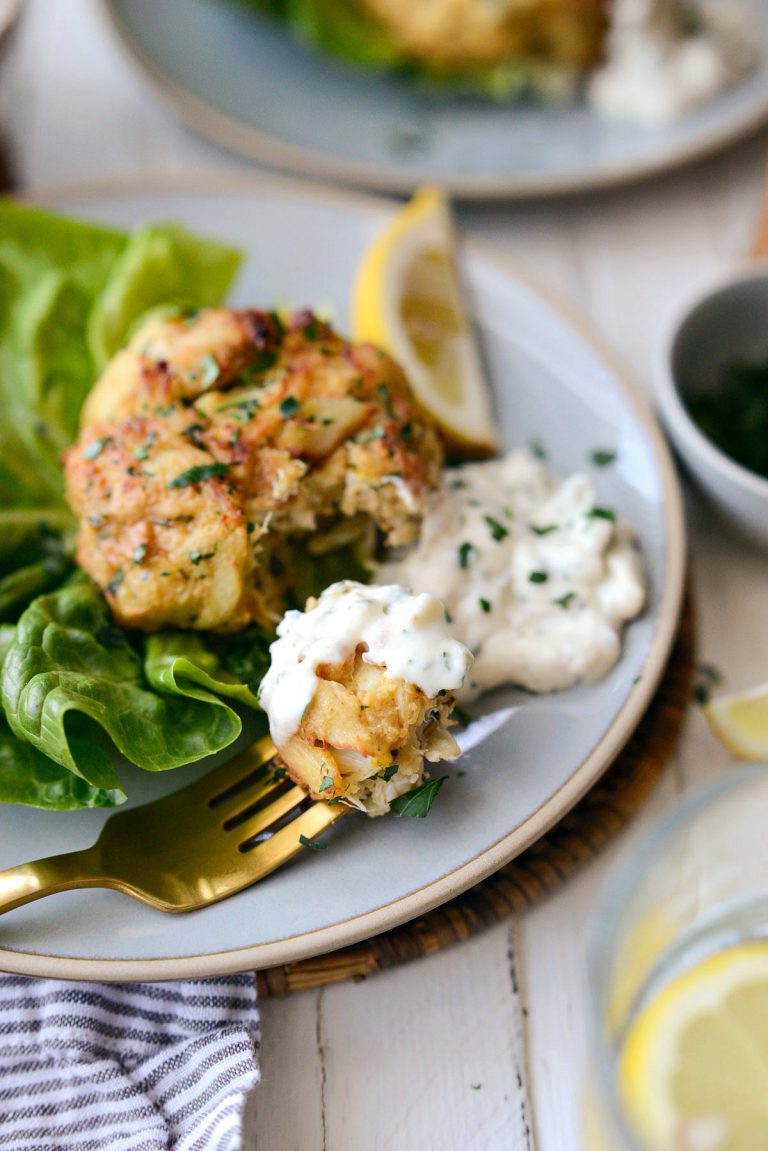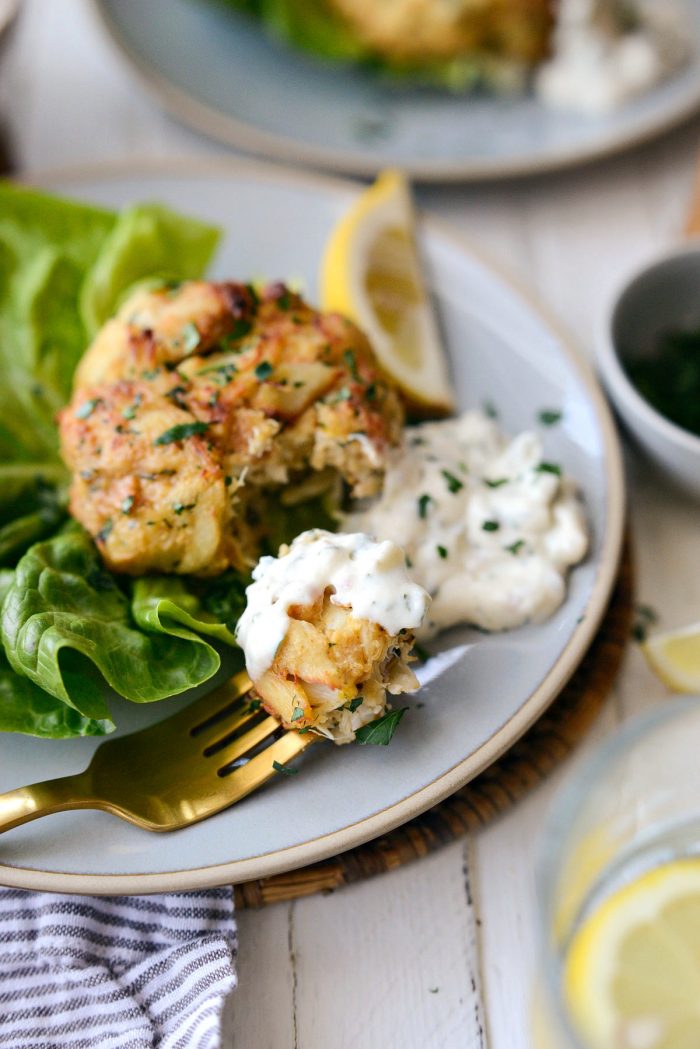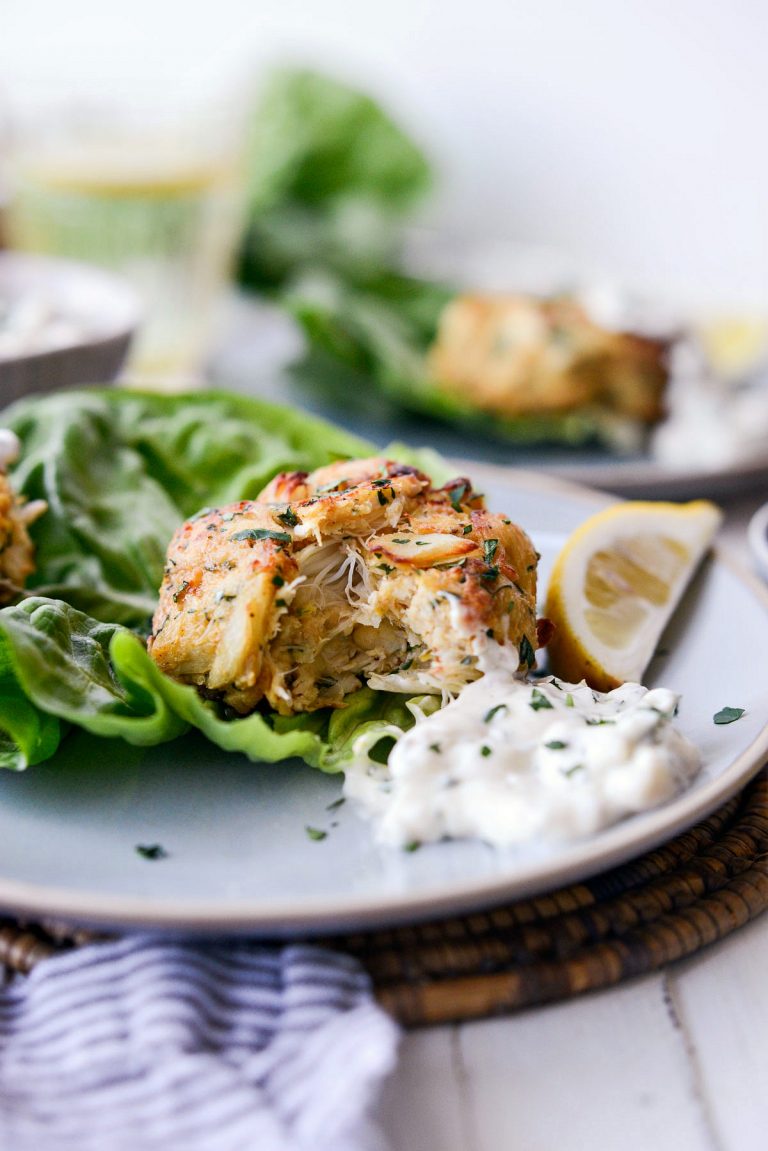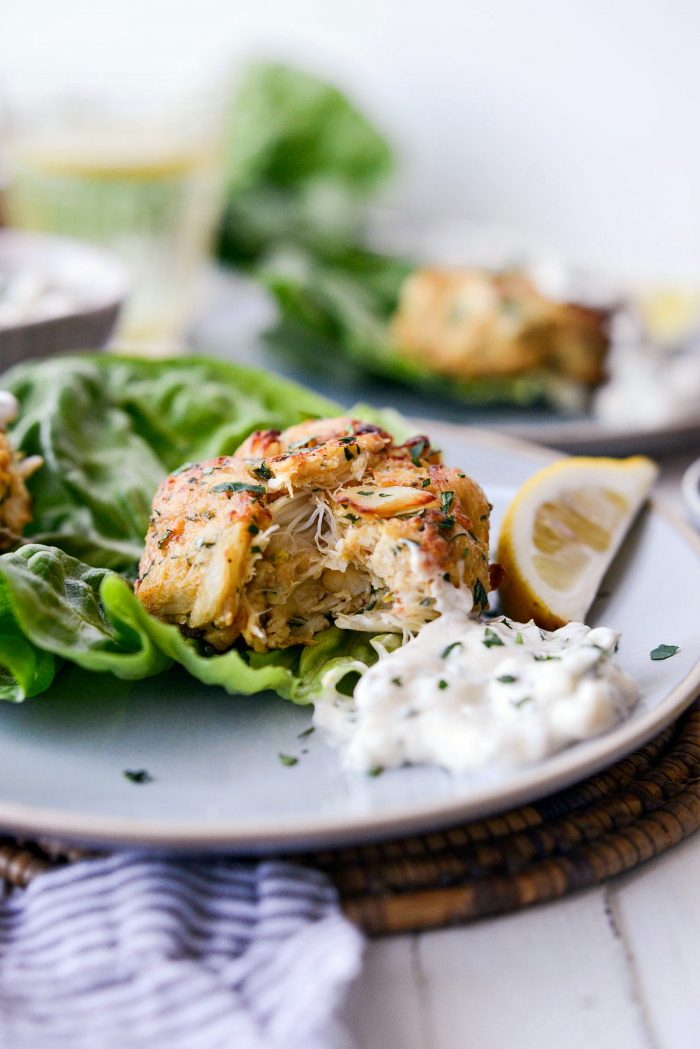 This post may contain affiliate links.
Buy the Cookbook: Simply Scratch : 120 Wholesome Homemade Recipes Made Easy Now available on Amazon »
THANK YOU in advance for your support!