Jewel-toned and festive! This Roasted Grapefruit Beet Salad has power greens topped with roasted beets and grapefruit, chickpeas, creamy avocado, tart pomegranate arils and a simple vinaigrette.
I don't think I've made a prettier salad.
This salad, inspired by an earlier beet salad, but with a winter citrus twist. It has earthy garlic roasted beets, roasted grapefruit and chickpeas. The whole thing sits on a bet of power greens (a blend of baby chard, kale and spinach) and is adorned with toasted almonds, pomegranate arils and honey goat cheese.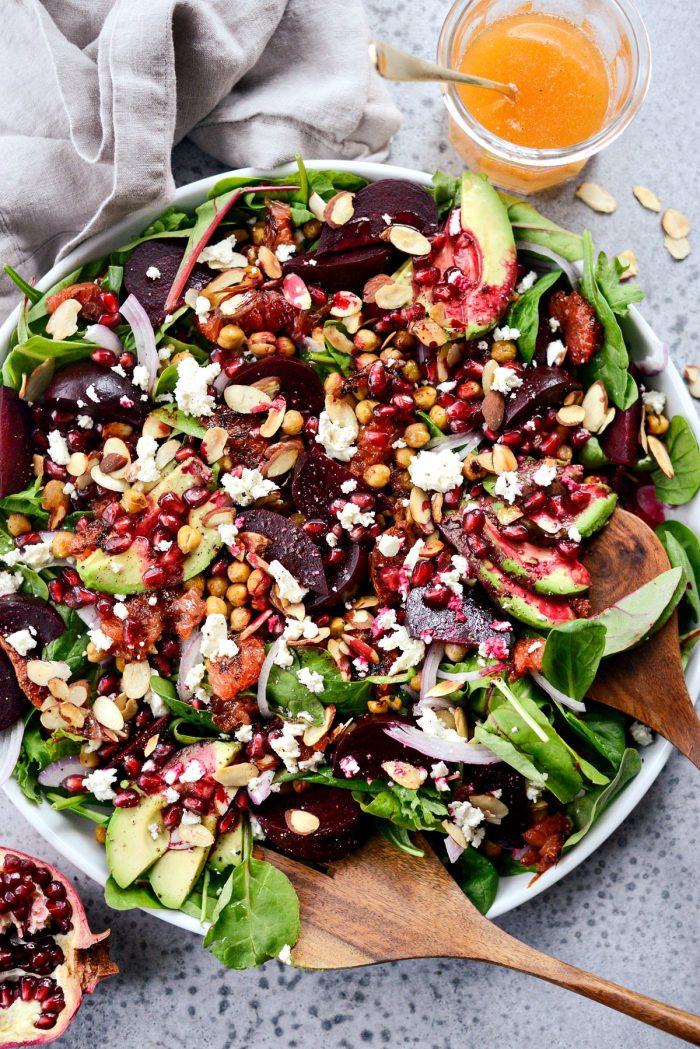 And since the salad is a little more involved, the dressing is SO simple. Save some of the juices when segmenting the grapefruit and combine it with olive oil, vinegar and sweeten it with maple syrup.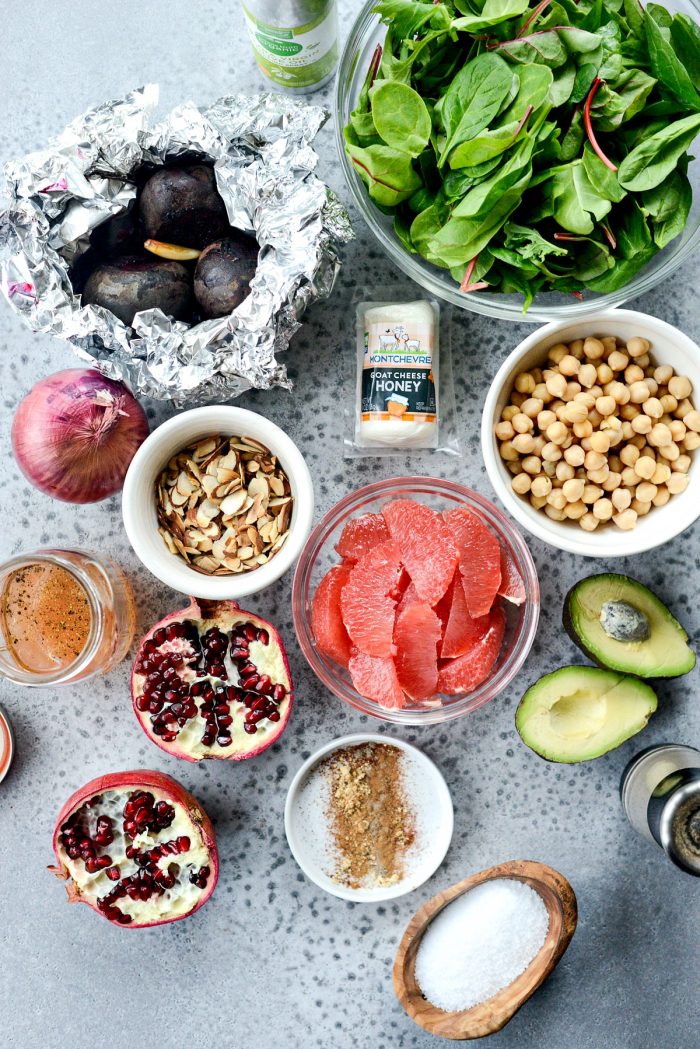 To Make This Roasted Grapefruit Beet Salad You Will Need:
beets
garlic
olive oil
grapefruit
chickpeas
kosher salt
black pepper
paprika
cardamom
ginger
cinnamon
power greens
red onion
avocado
pomegranate arils
toasted sliced almonds
fresh crumbled goat cheese (I like honey goat cheese!)
reserved fresh grapefruit juice
champagne or white wine vinegar
maple syrup
I know this looks like a lot. BUT most can be made in advance so the salad can be thrown together right before serving.
How To Roast Beets:
Preheat your oven to 400°. Stack 2 sheets of aluminum foil and place 1 bunch (about 3) trimmed beets and 2 garlic cloves in the middle. Drizzle with a teaspoon olive oil and fold up the sides, crimping to form a purse or pouch. Place the pouch directly on the middle rack of your preheated oven and roast for 1 hour.
Allow to cool before using paper towel to rub off the skin of the beets. Quarter if small or cut into sixths if larger.
Reserve those garlicky beet juices!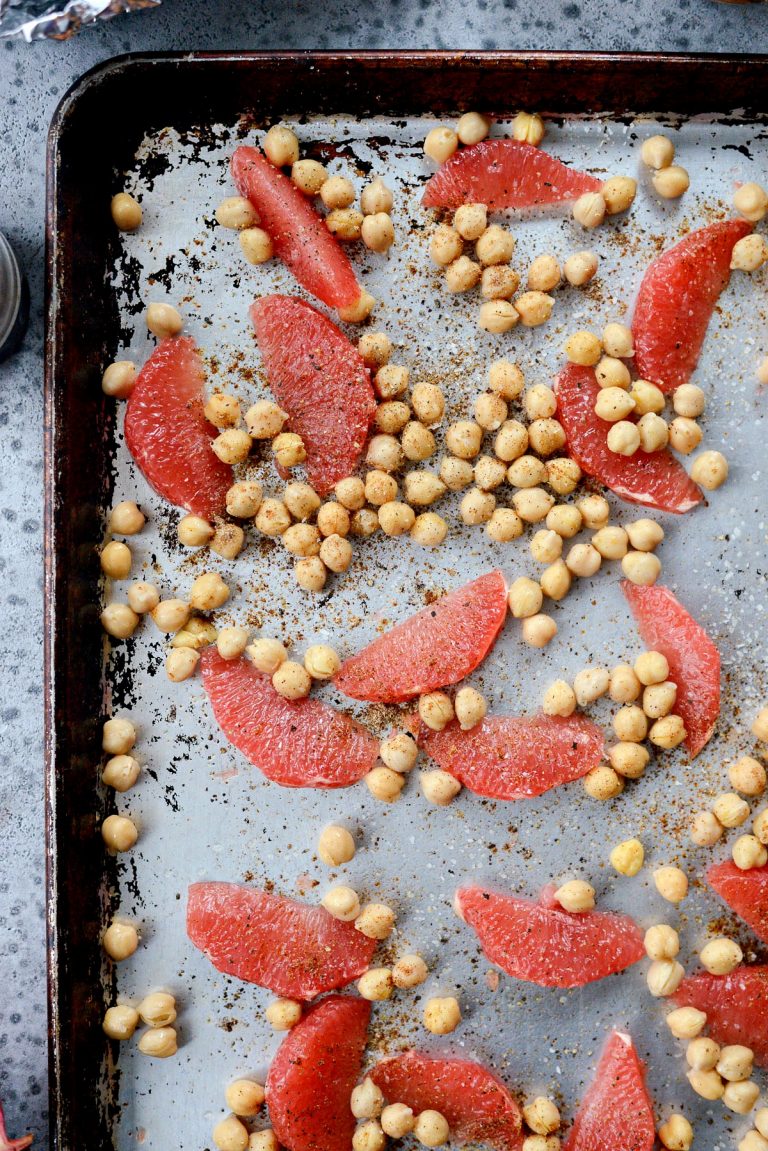 How To Roast Grapefruit:
Place a piece of parchment paper down on a rimmed metal baking sheet and spray with olive oil. I (obviously) forgot and my grapefruit stuck a little <—story of my life. Then arrange the grapefruit segments and the chickpeas (rinsed and patted dry) spray once more with olive oil and season with kosher salt, black pepper.
Cutting a grapefruit into segments is easy. Here is photos on how to do it form an earlier recipe when segmenting a blood orange.
For some subtle flavor, I measured and combined 1/2 teaspoon paprika, 1/4 teaspoon each cardamom, ginger and ground cinnamon and sprinkled it over the grapefruit and chickpeas.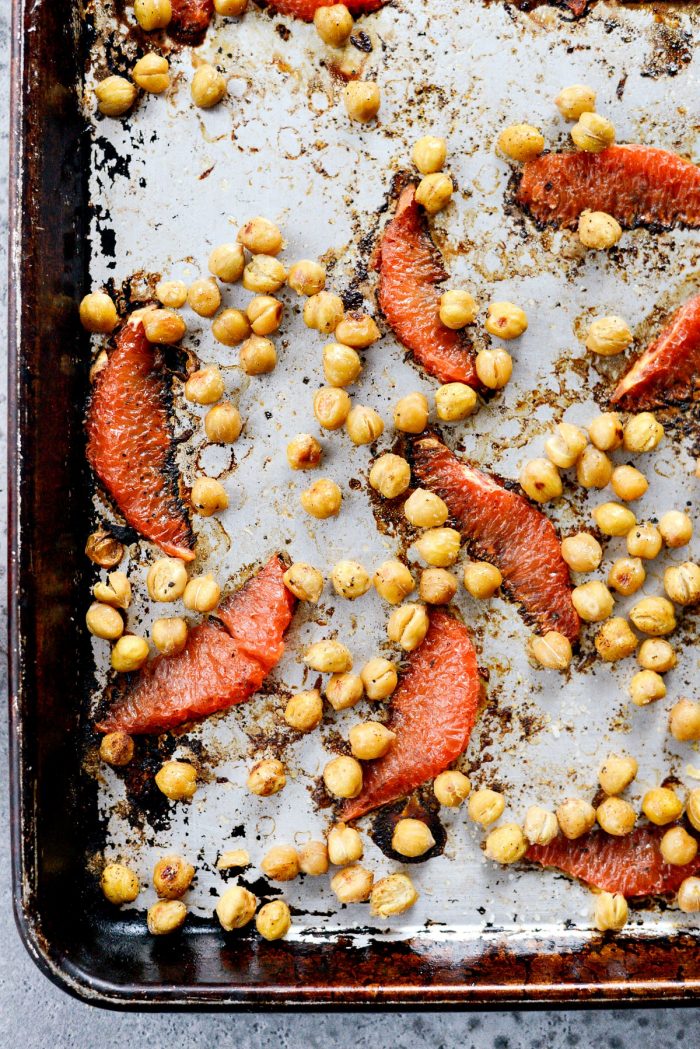 Roast on the middle rack of your preheated 400° for 15 to 20 minutes or until caramelized.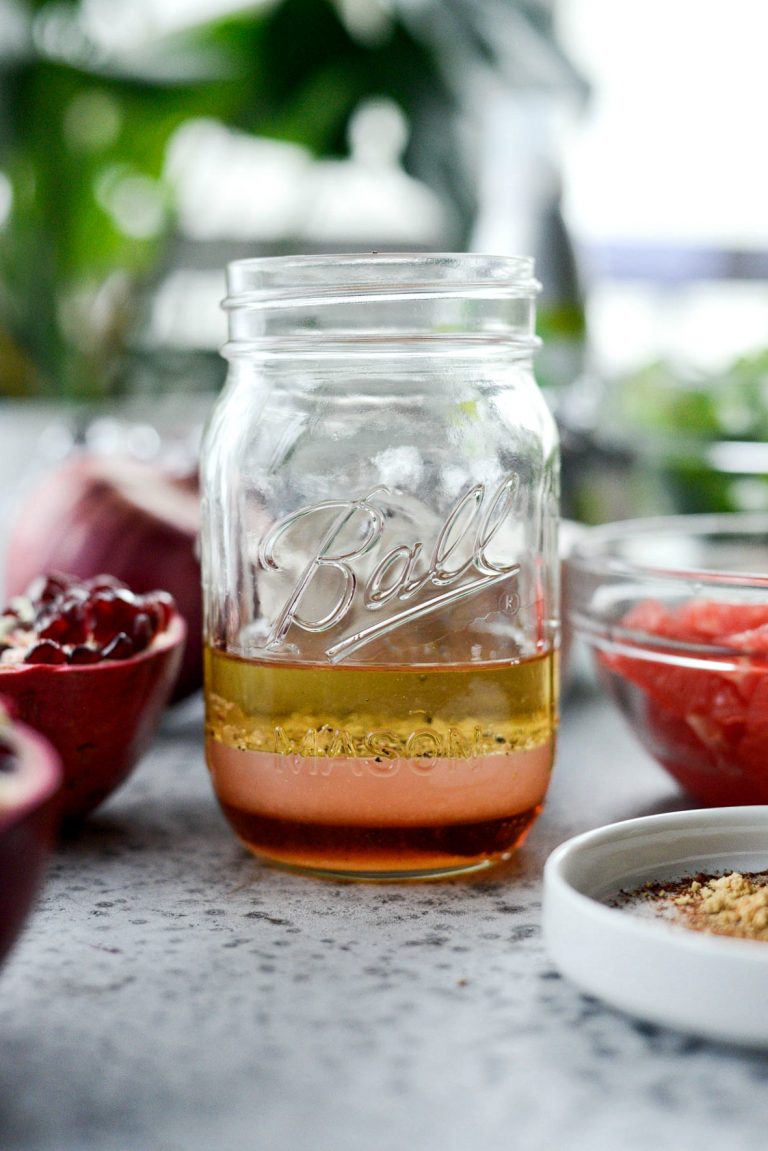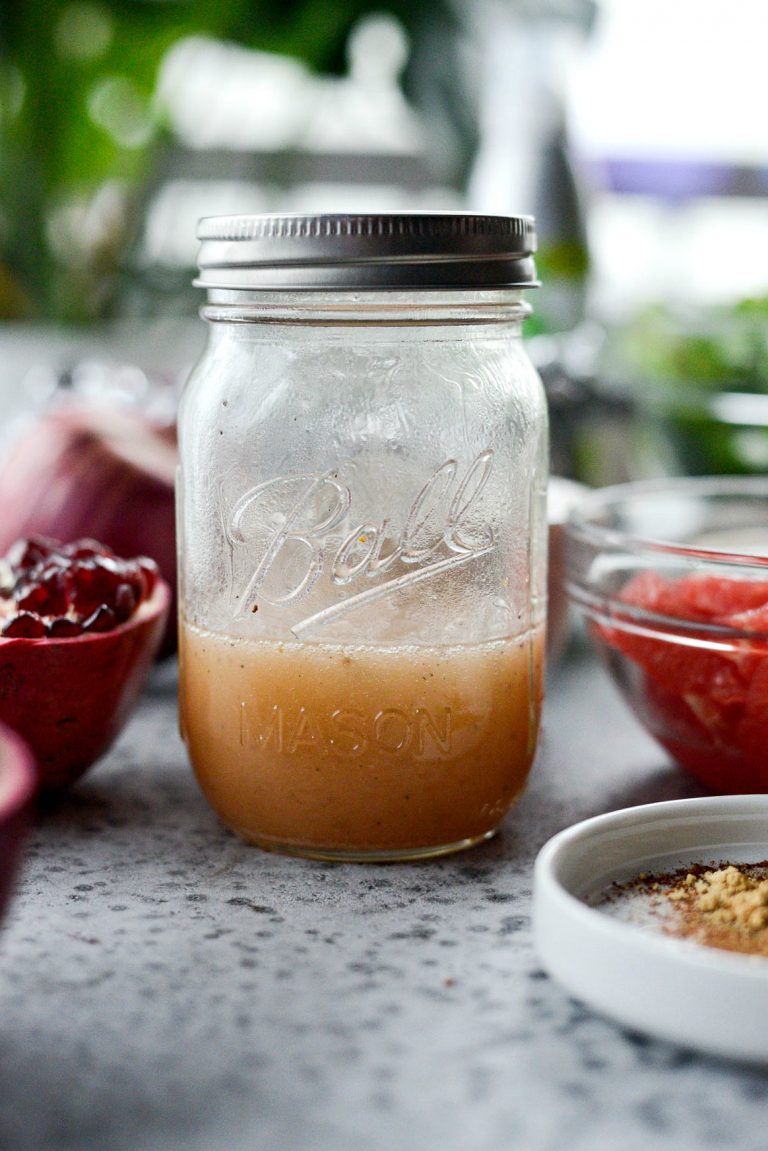 TO MAKE THE DRESSING:
Using a glass jar that has a tight-fitting lid combine; 6 tablespoons olive oil, 2 tablespoons reserved grapefruit juice, 1 tablespoon champagne or white wine vinegar. 1/2 teaspoon kosher salt and 1/4 teaspoon freshly ground black pepper.
In a large serving bowl or platter, add the power greens, shaved red onion, roasted beets, grapefruit, chickpeas, avocado, pomegranate arils, toasted almonds and goat cheese. Season with a few small pinches kosher salt and some freshly ground black pepper.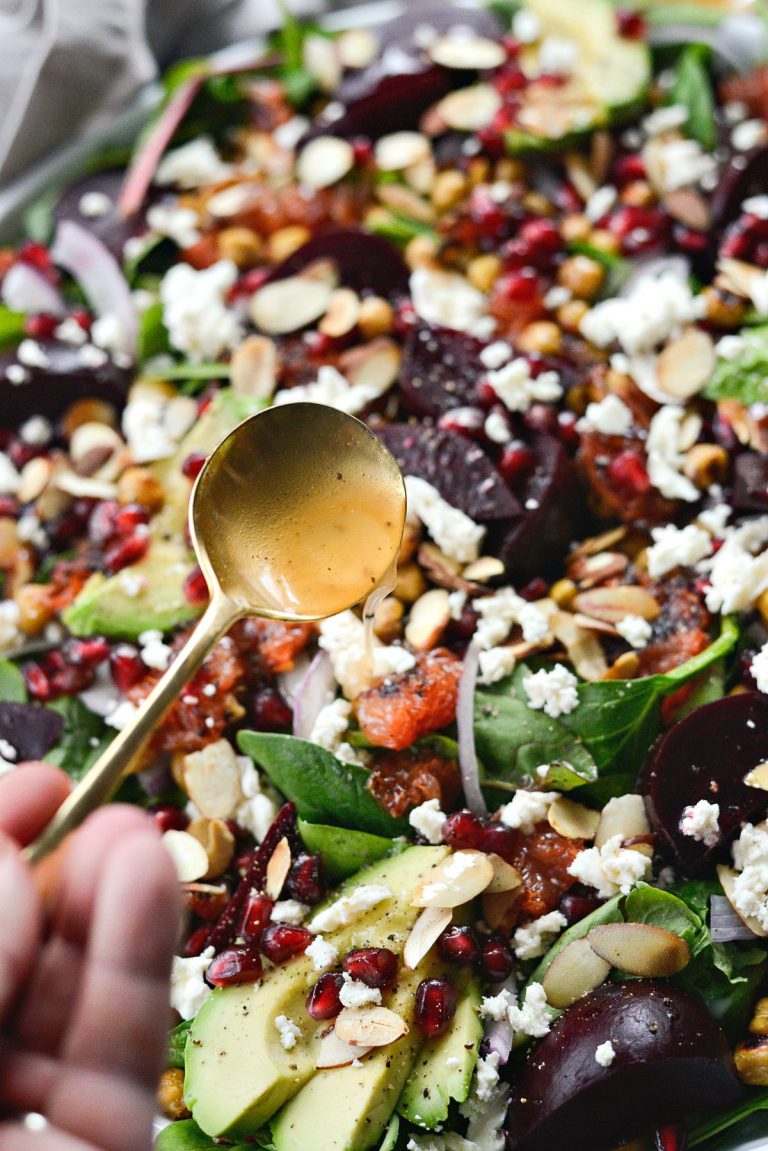 Next, spoon the dressing over top or serve on the side.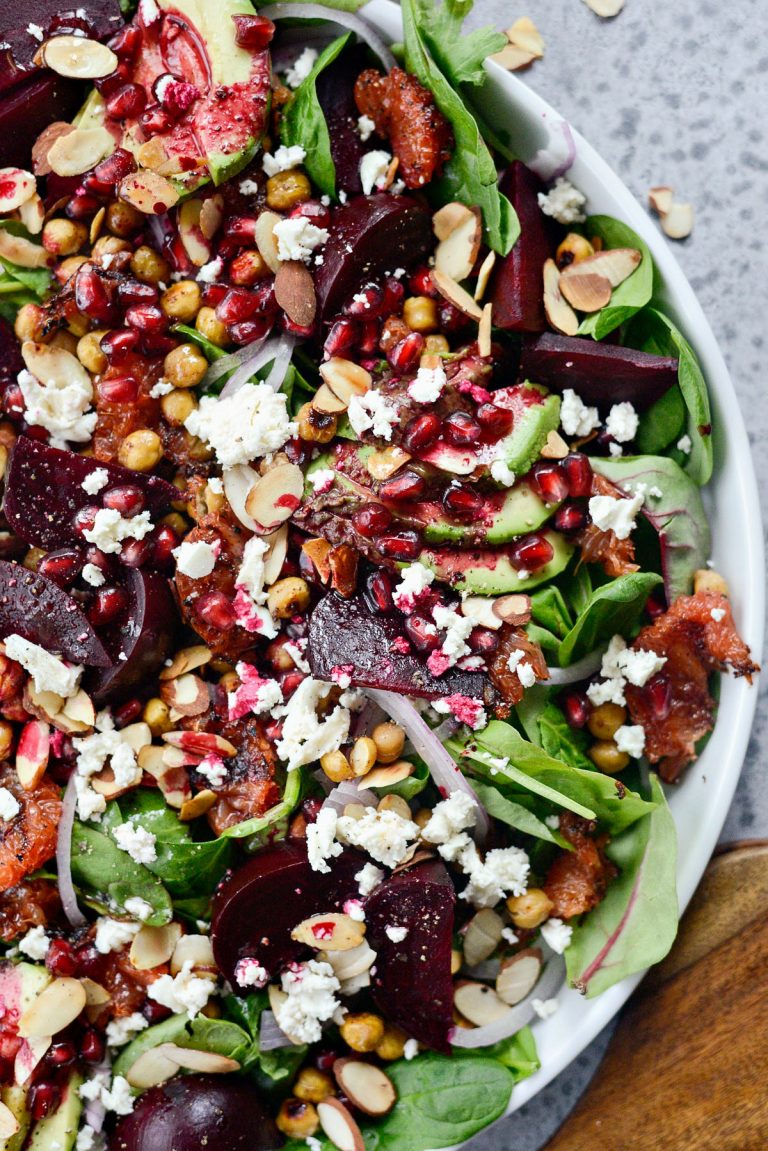 Use the reserved garlicky beet juices for a pop of color and added deliciousness.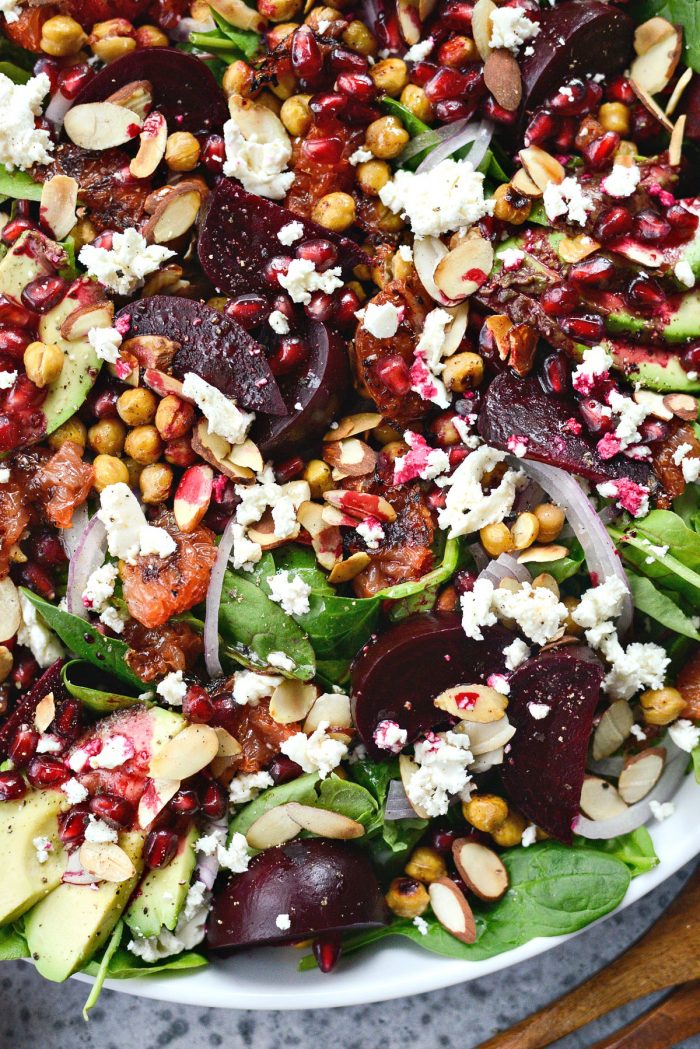 So much texture and flavor going on here! The earthy beets paired with the tart but mellow roasted grapefruit and tangy goat cheese is phenomenal.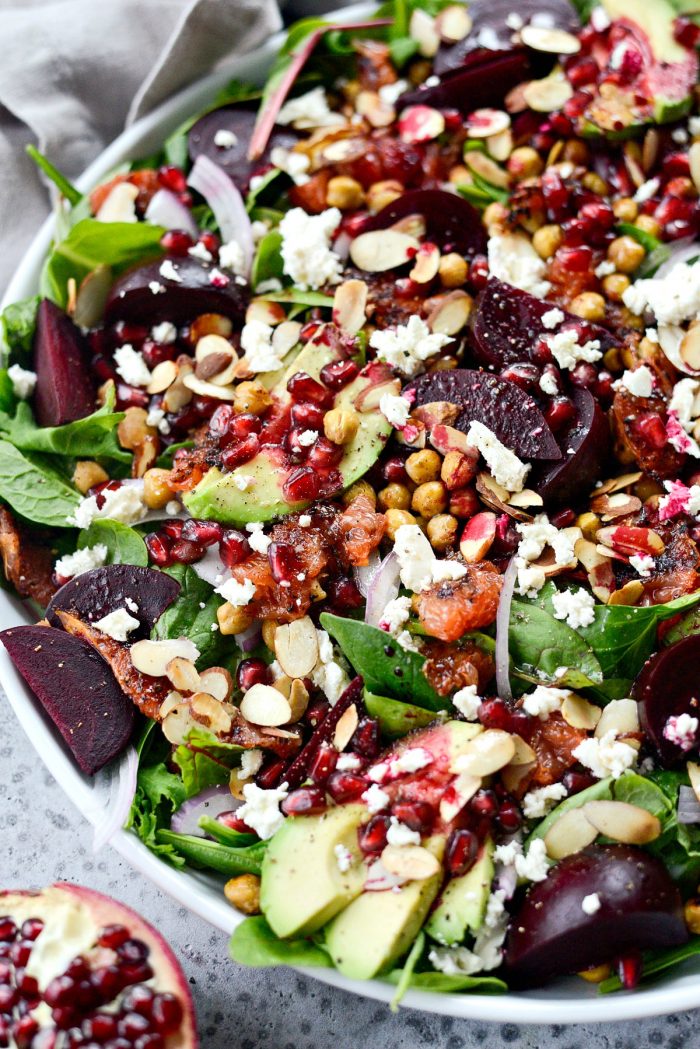 A total stunner of a salad.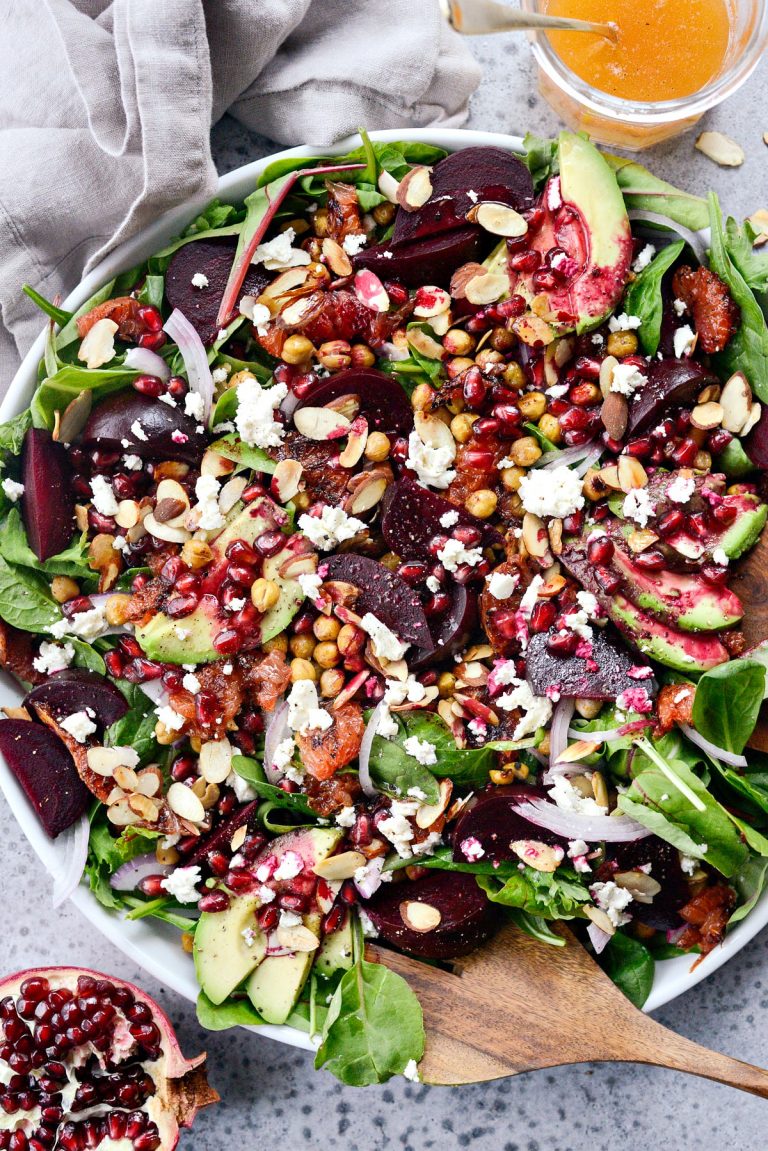 Enjoy! And if you give this Roasted Grapefruit Beet Salad recipe a try, let me know! Snap a photo and tag me on twitter or instagram!
This post may contain affiliate links.
Buy the Cookbook: Simply Scratch : 120 Wholesome Homemade Recipes Made Easy Now available on Amazon »
THANK YOU in advance for your support!