In this Chicken Bacon Jalapeño Spaghetti Squash, roasted spaghetti squash halves are stuffed with bbq sauced chicken and topped with, red onion, bacon and sliced jalapeño. Serves 4 in a little over an hour.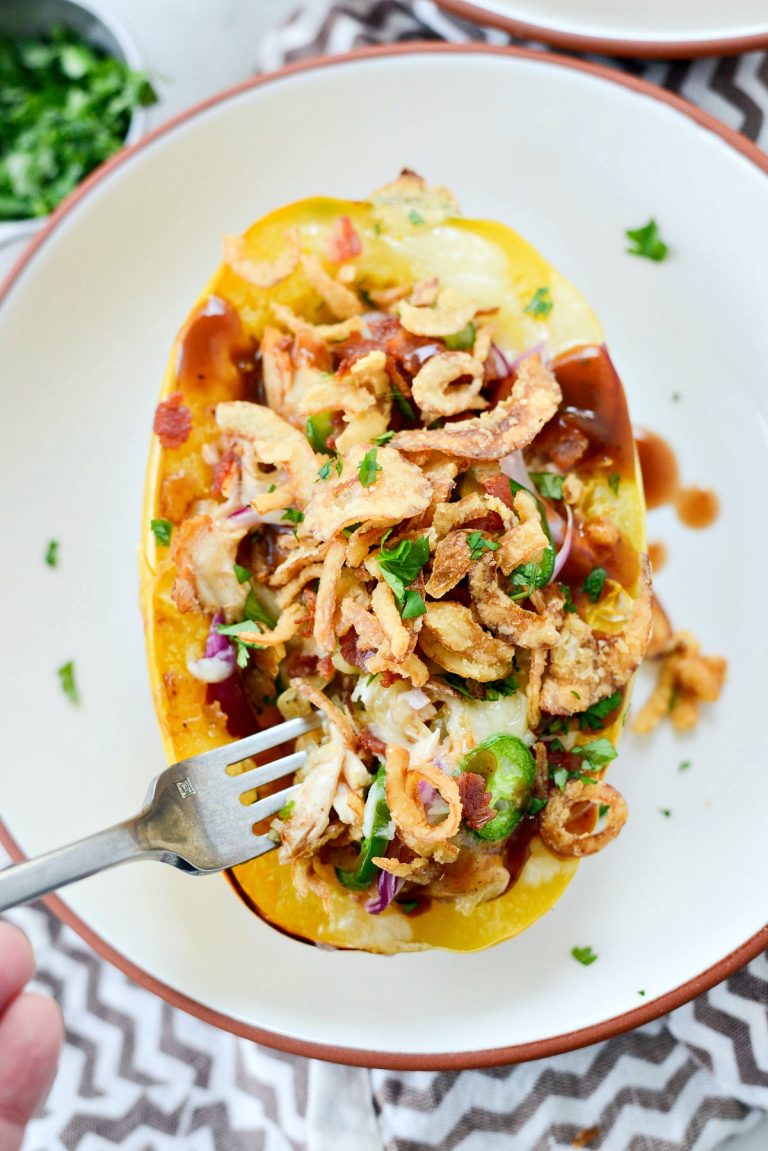 What a great weekend! Haileigh came home from college and we actually had zero plans, so we spent majority of the time all four of us together. On Friday I made tacos and we caught up before H headed out to spend time with her boyfriend. Then on Saturday I made a big feast of a breakfast before we headed out and did some shopping. For dinner I made a one of our favorite soups and grilled cheese for dinner and spent her last night home hanging out talking and laughing until 1 am.
It was amazing and my heart is so full!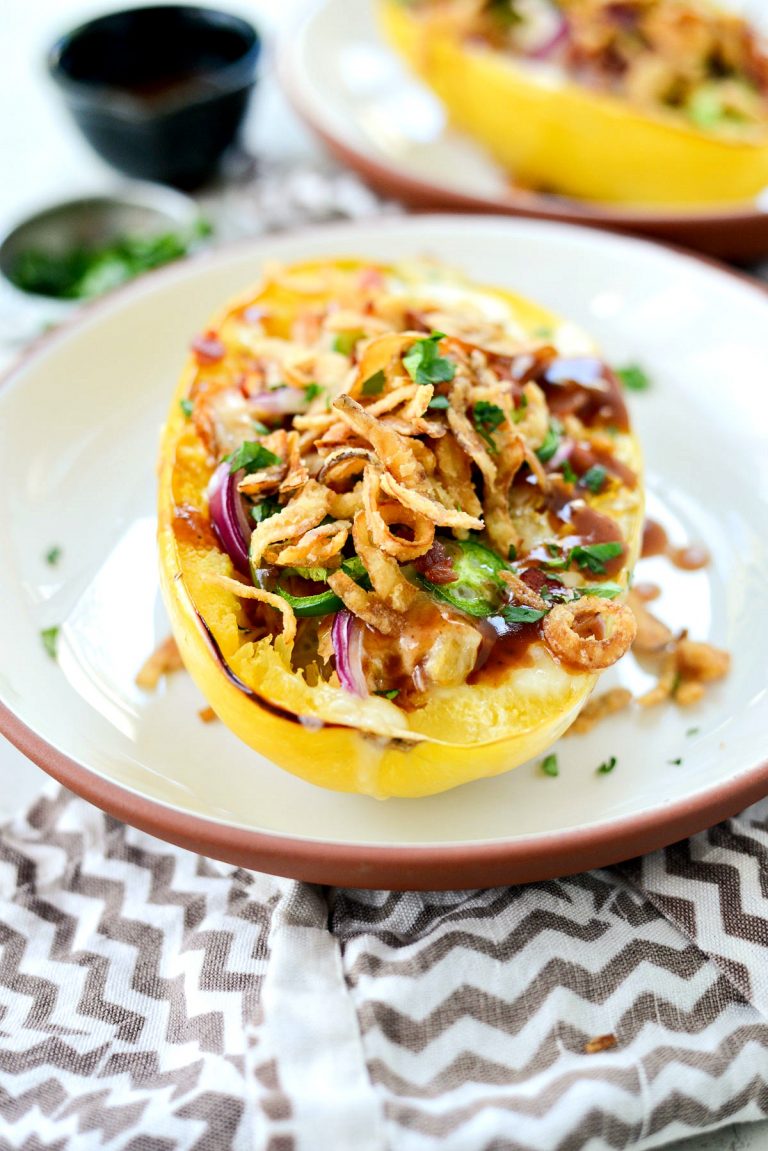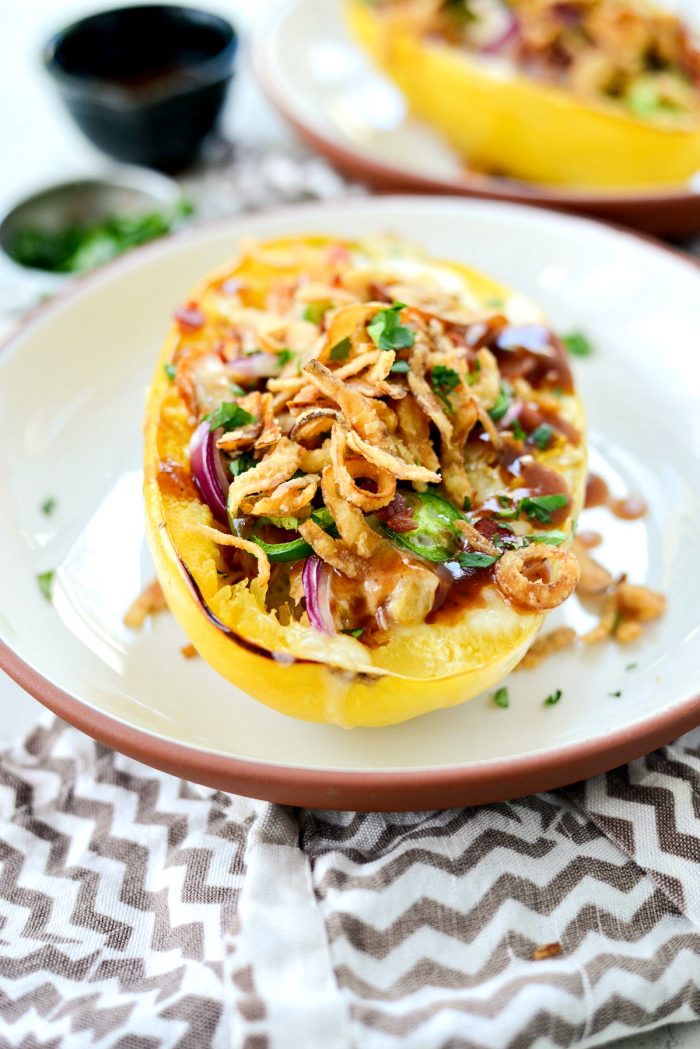 Before all the fun began, I ended my work week making these stuffed spaghetti squash. It's one of those bucket list sort of recipes and since I love spaghetti squash, stuffing it is such a creative way to use it. The strands of squash act like pasta and really bulk up the meal with a fraction of the calories. You can stuff a spaghetti squash with just about anything. Make a vegan with lots of vegetables, or a cheesy parmesan version. The sky is the limit.
In this version, leftover roast chicken is tossed with barbecue sauce, crispy bacon, sautéed onions and garlic and topped with red onion, sliced jalapeño and more bacon. For a delicious healthier dinner option.
To Make These Chicken Bacon Jalapeño Spaghetti Squash You Will Need:
spaghetti squash
olive oil spray
bacon
onion
garlic
leftover, shredded cooked chicken or rotisserie
barbecue sauce (homemade or store-bought)
monterey jack cheese
red onion
jalapeño
crispy fried onions, for serving (optional)
mince fresh cilantro, for serving
I like to use spaghetti squash that's on the smaller side for a personal serving size. Otherwise, larger ones can be halved again after the entire recipe has been prepared.
The Best Method For Roasting Spaghetti Squash:
Start by preheat your oven to 400°. Spray a roasting pan with olive oil spray and place two halved squash, cut-side down and roast for 30 to 40 minutes, or longer depending on their size. You will know they are done with a fork easily pierces through the outer flesh.
TIP: To make cutting the squash in half easier, you can microwave the whole squash for 4 minutes. The knife will cut into them easier this way, but is totally optional.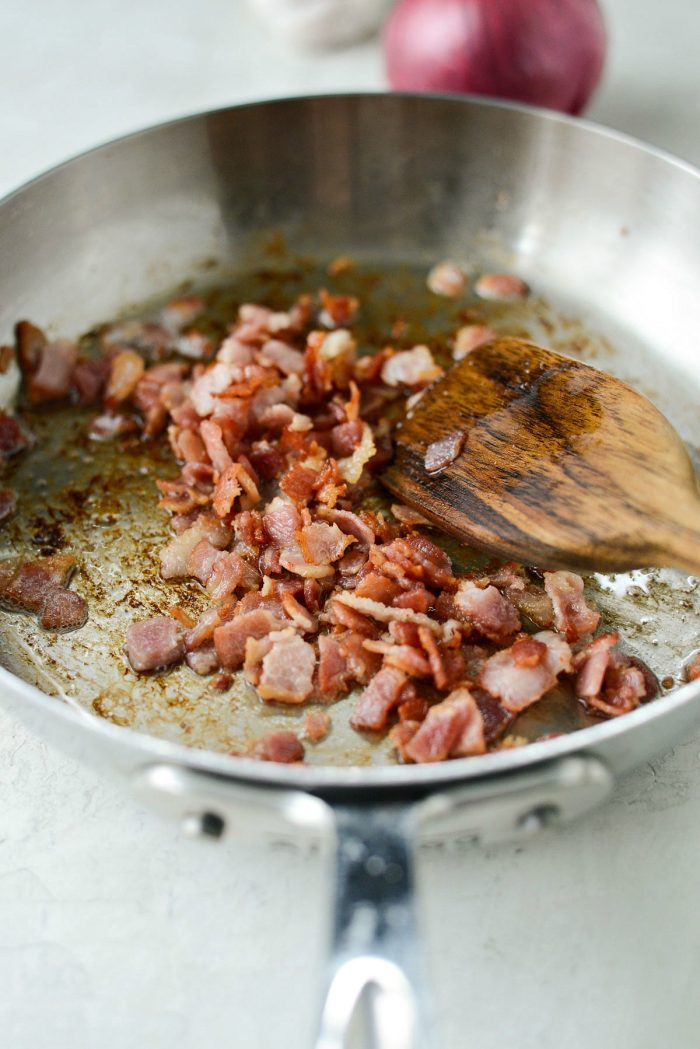 While the squash is roasting, dice 4 strips of bacon and add them to a small skillet. Sauté the bacon until crispy, then transfer them to a plate that is lined with paper towel.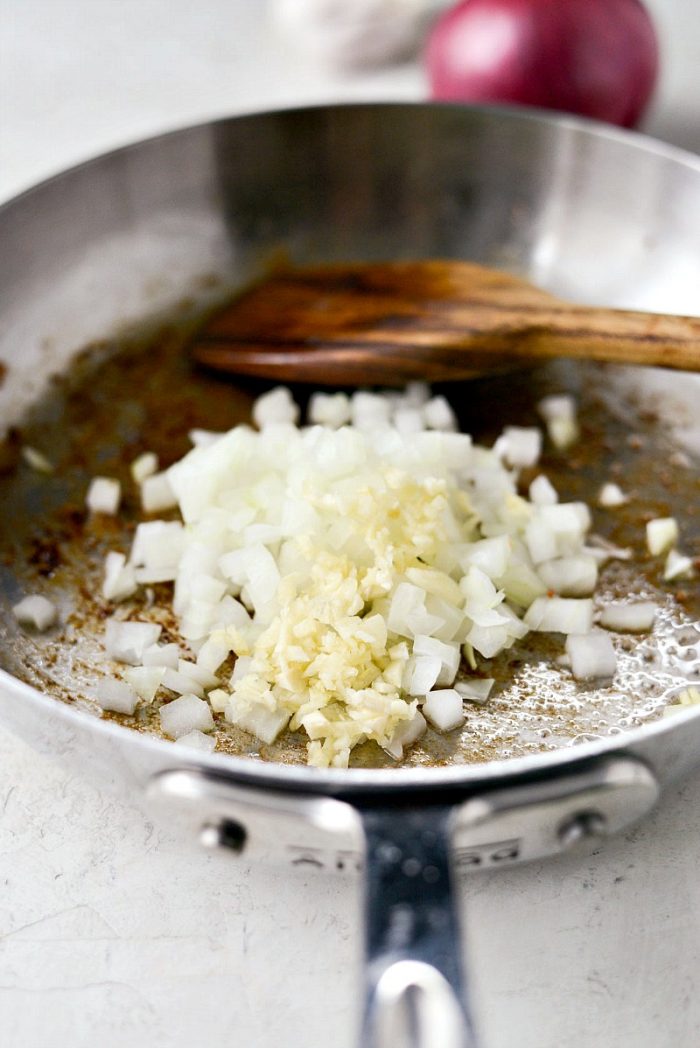 If there's an excess of bacon fat in the skillet, drain most of it and discard. Then add in 1/2 a diced yellow onion and 2 cloves of minced garlic with a pinch of salt. Stir and cook for 5 minutes or until the onions are soft and translucent.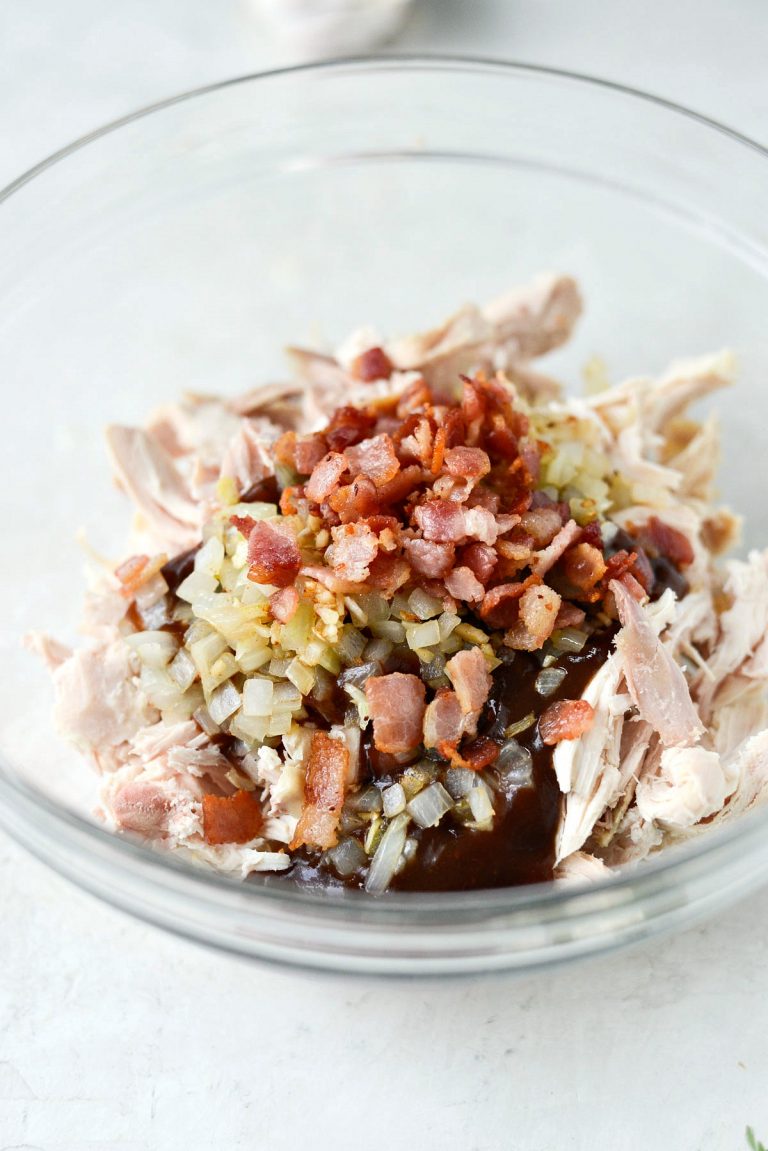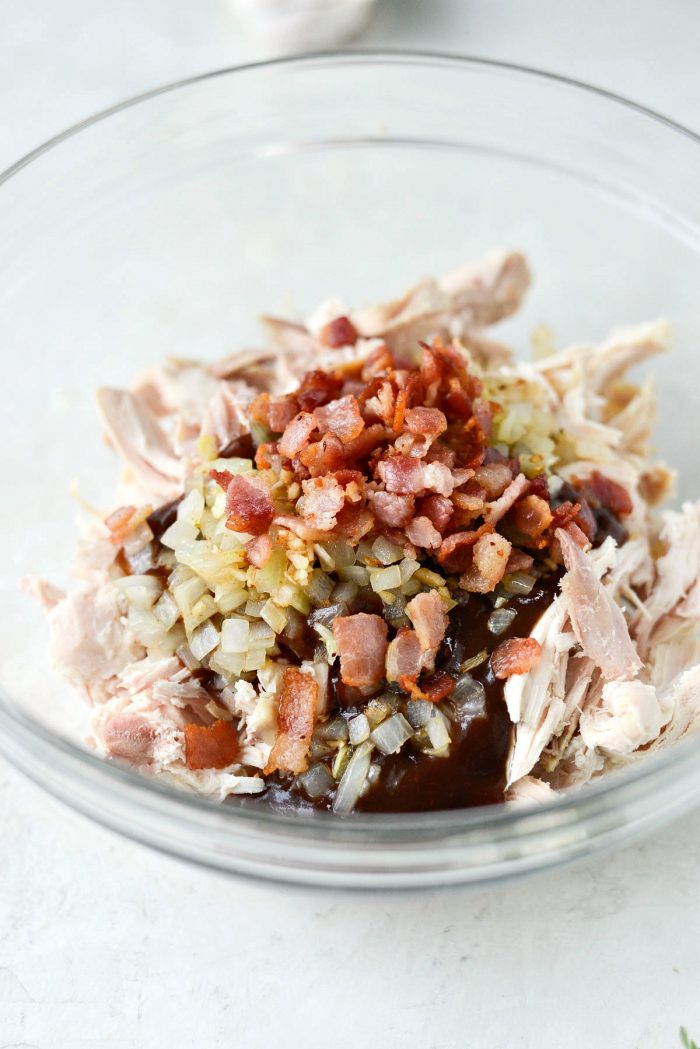 Meanwhile, add 3 cups of shredded cooked chicken into a bowl, add a heaping 1/3 cup of barbecue sauce, the sautéed onions and garlic with half of the crispy bacon.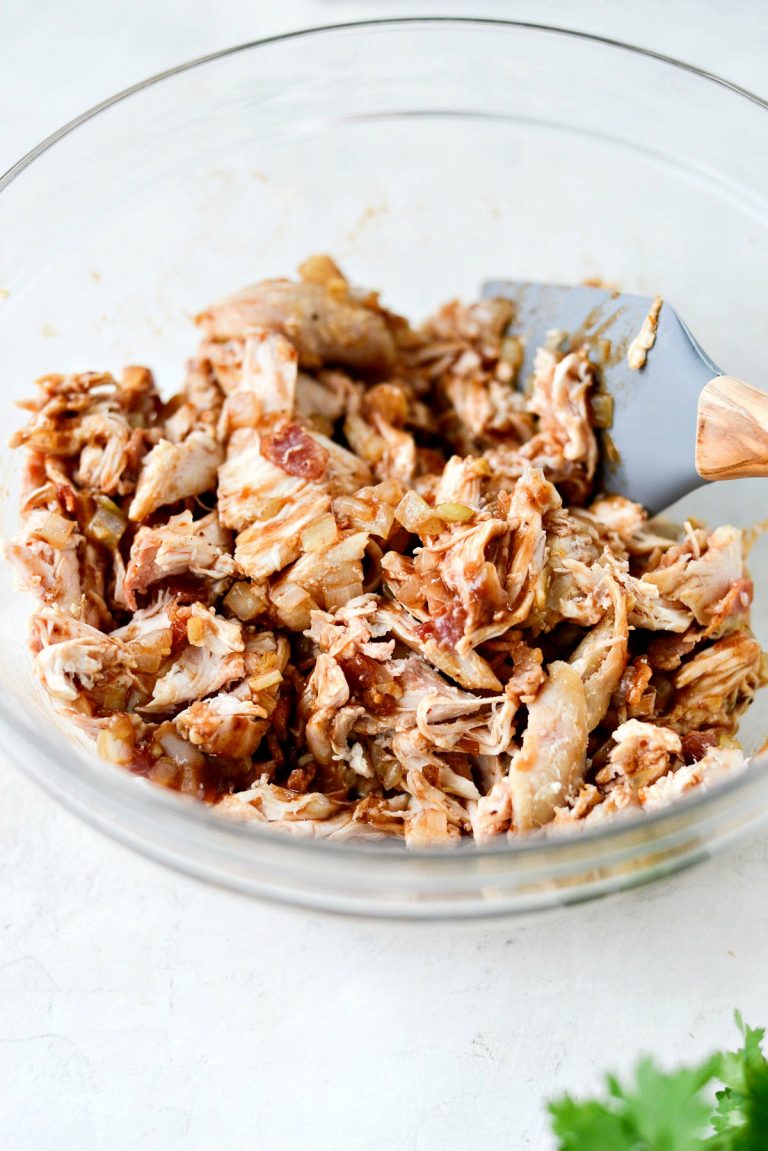 Stir until combined thoroughly.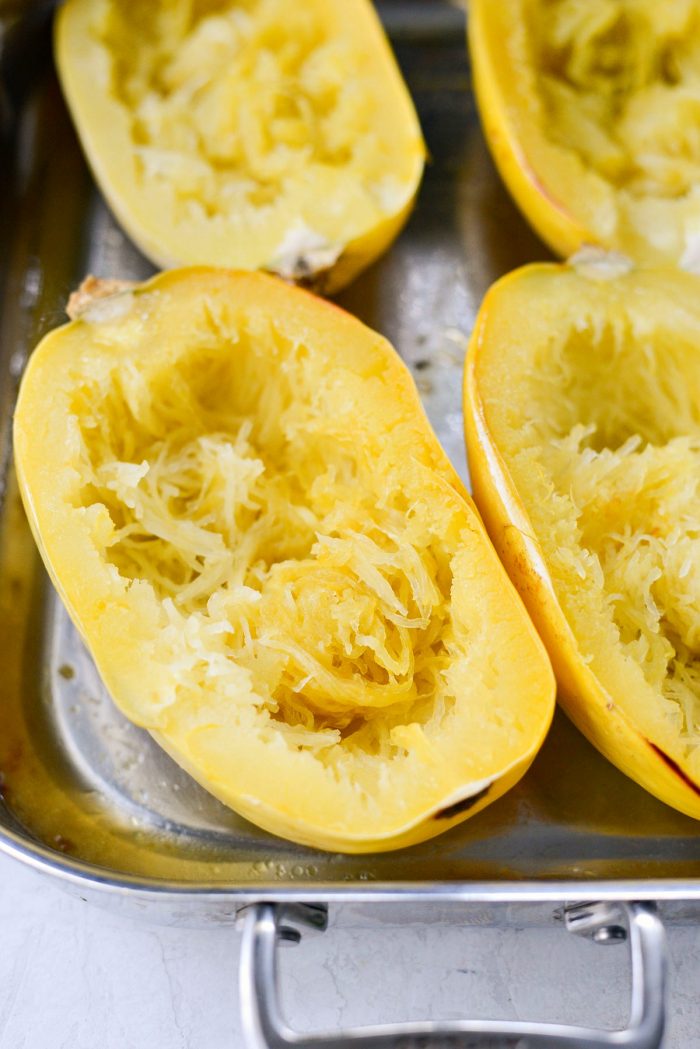 Once the spaghetti squash has roasted and is fork tender, sprinkle the inside of each squash with salt. Because the squash will be hot, use tongs to hold the squash in place while using a fork to scrape up some of the strands from each one.
Add them to the bowl with the chicken and toss until combined.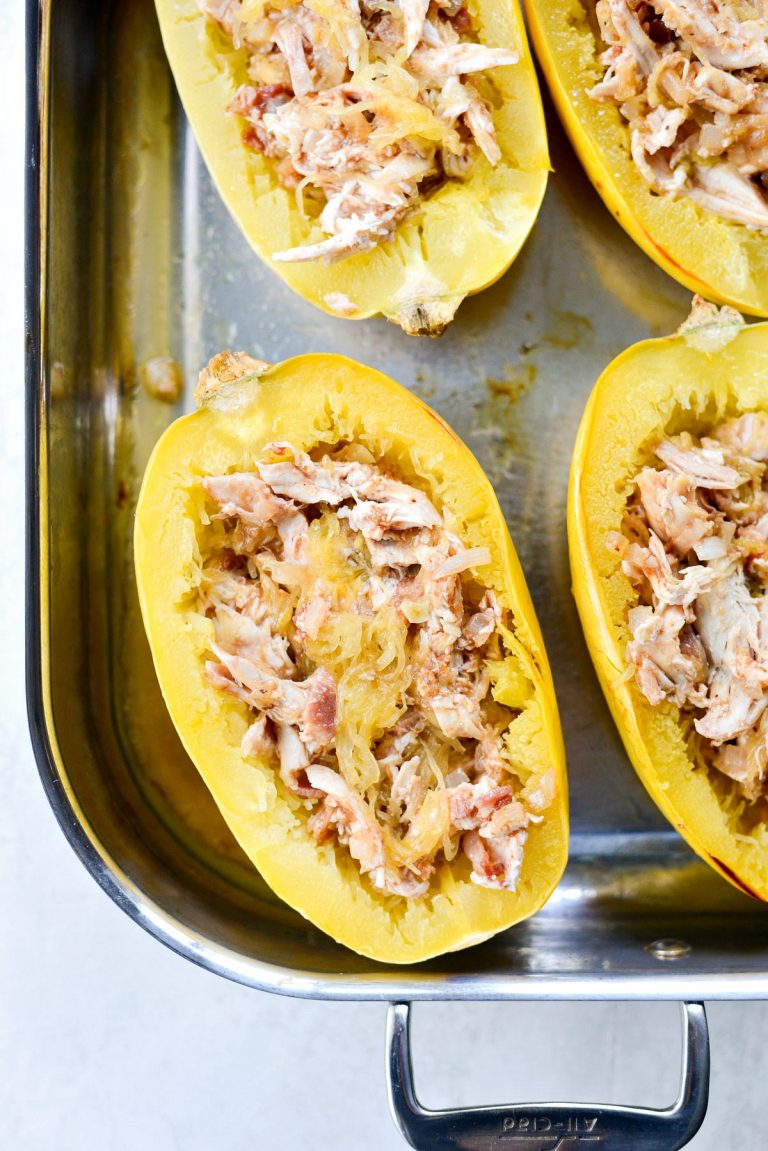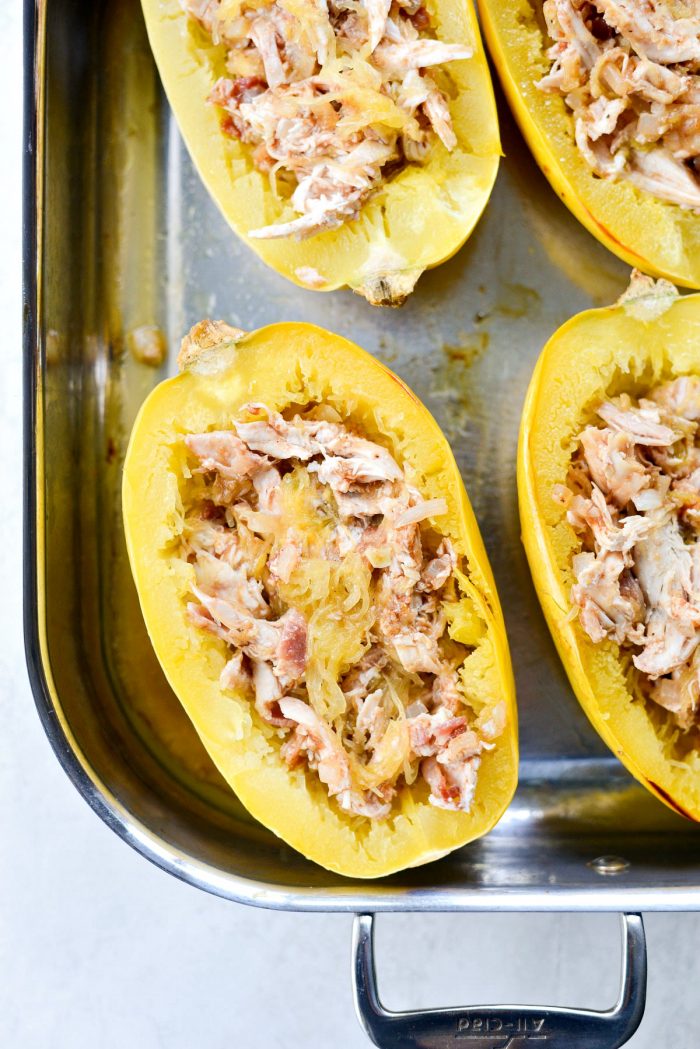 Divide the filling equally among the squash halves and reduce the oven temperature to 350°.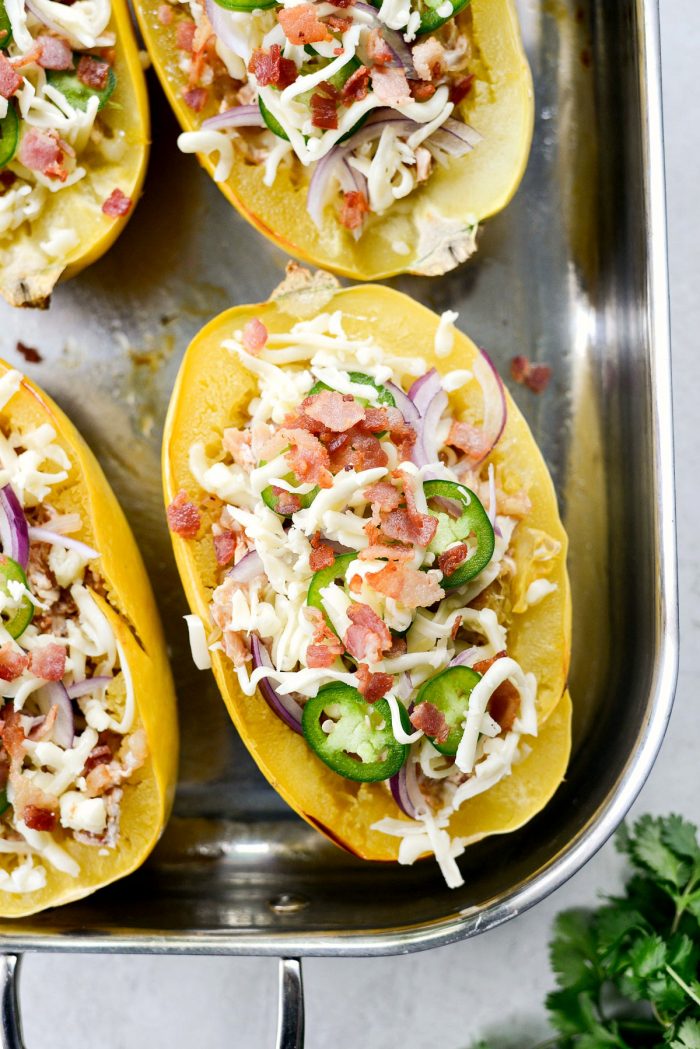 Top with cheese, red onion, sliced jalapeño and remaining crispy bacon.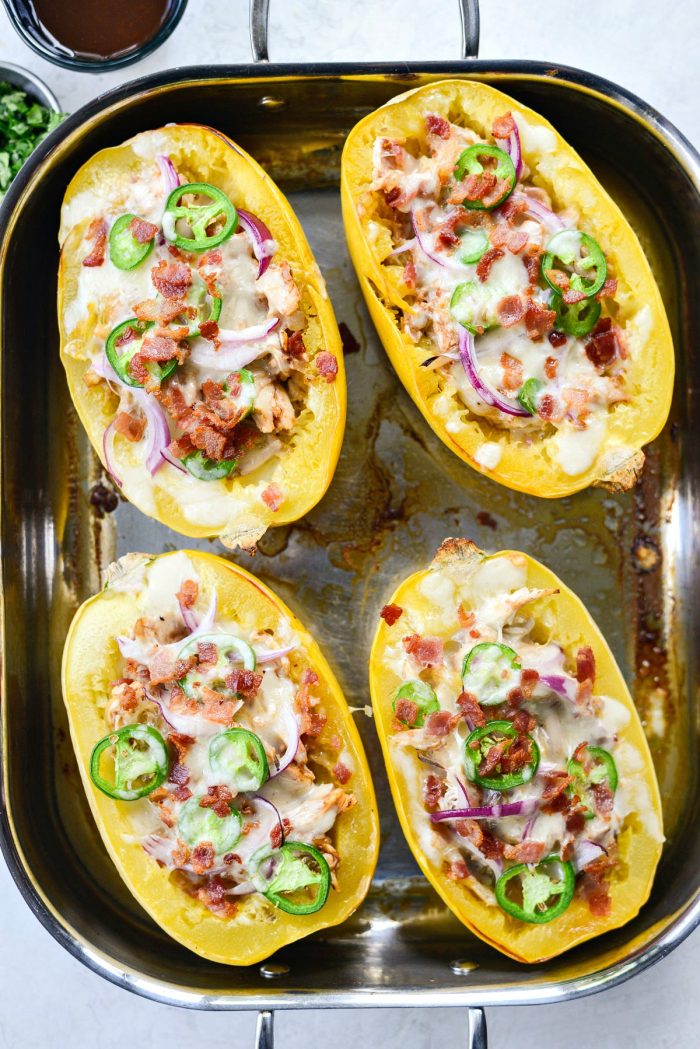 Bake on the middle rack of your preheated oven for 15 to 20 minutes or until the cheese is melted and golden in spots.
Should also smell heavenly.
Lastly, serve with a sprinkle of minced cilantro or parsley, a drizzle of barbecue sauce and crispy fried onions. The crispy onions add lots of crunch and flavor. Fresh Gourmet is a lighter option compared to French's. They can be found at most stores in the produce section. A reader turned me on to them along with the crispy beet too! So good!
#notsponsored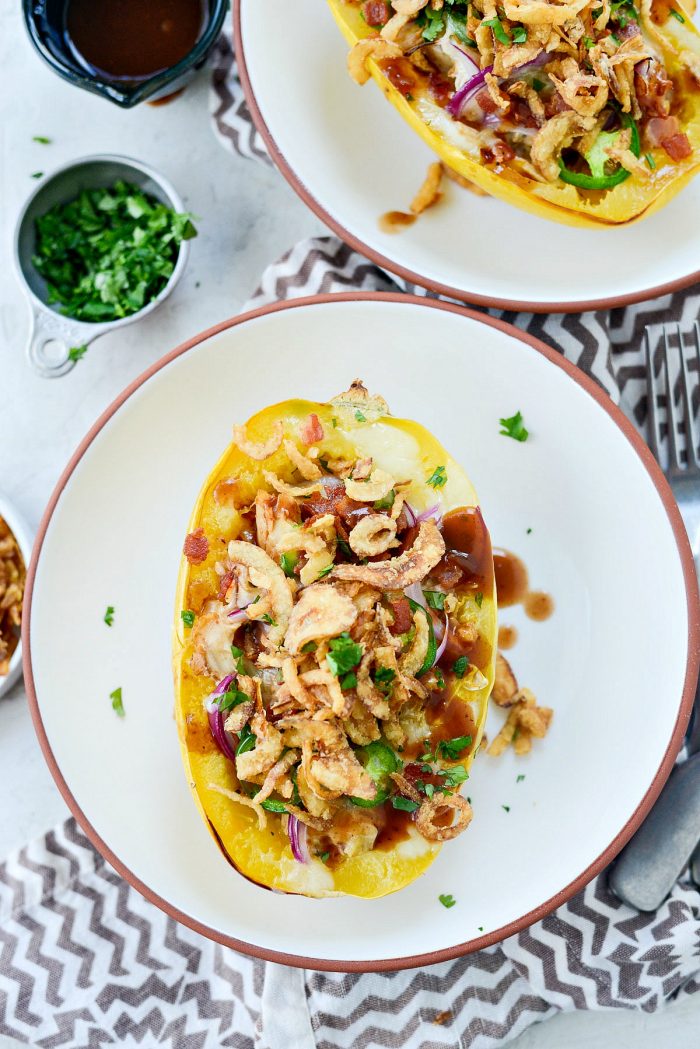 Alternatively you can fry up shallots in some olive oil and butter, like I did in this recipe.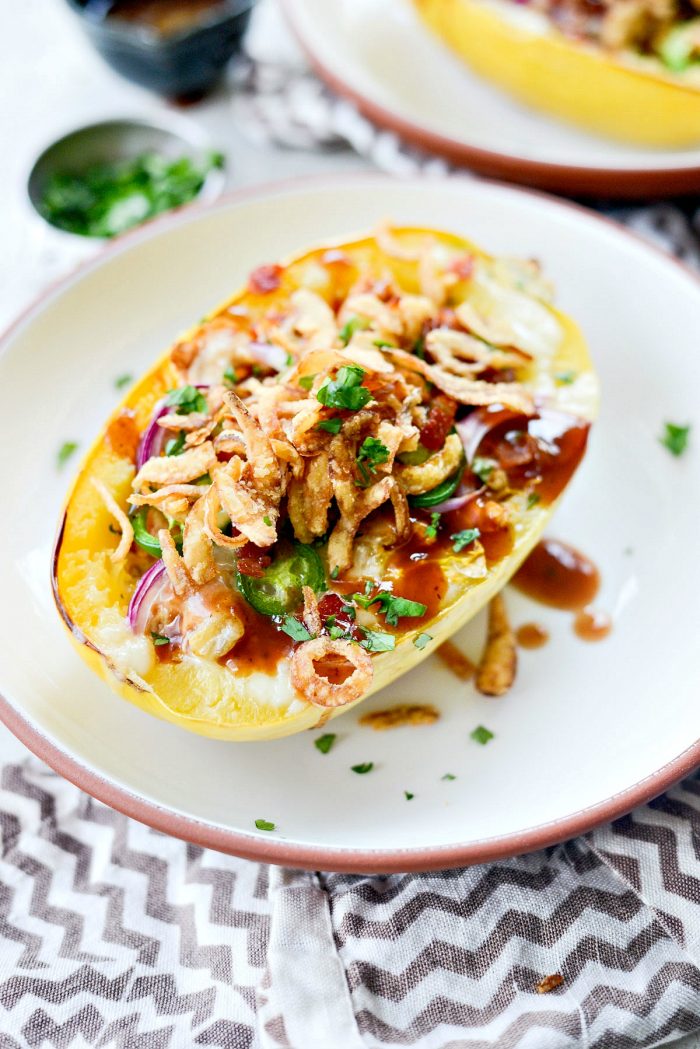 A delicious main dish that's colorful and bursting with delicious flavor. Therefore a meal you can feel good about!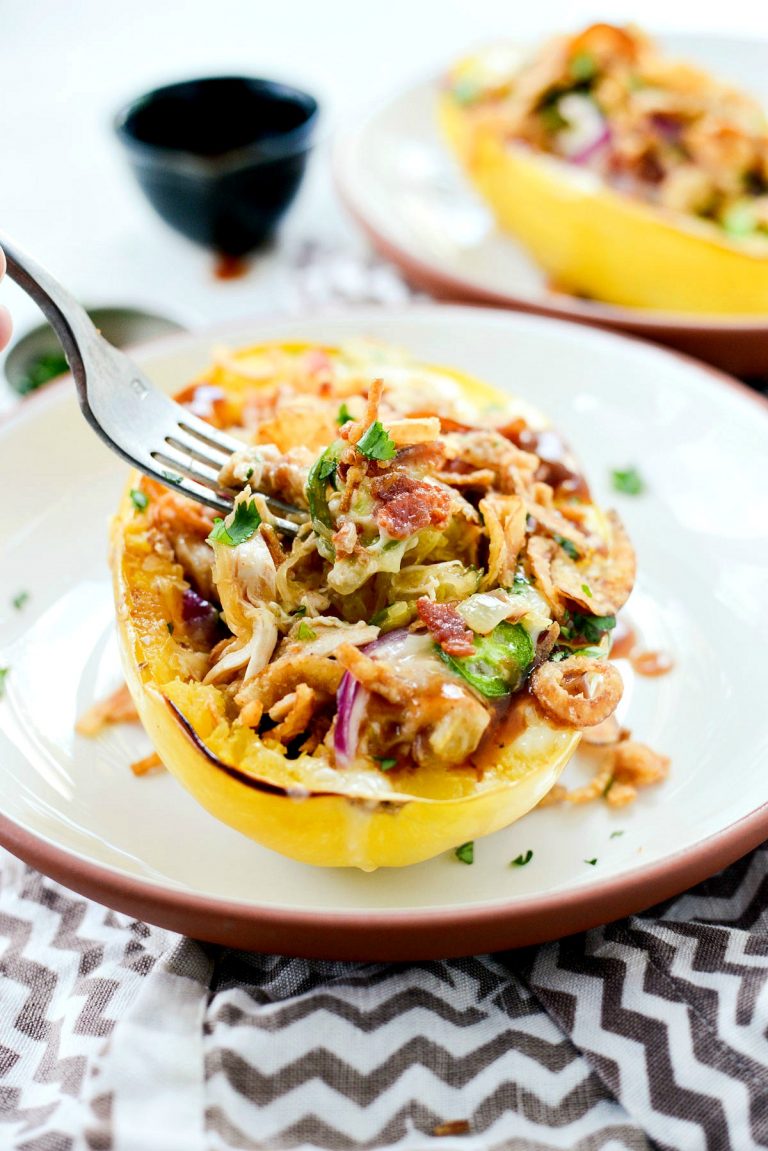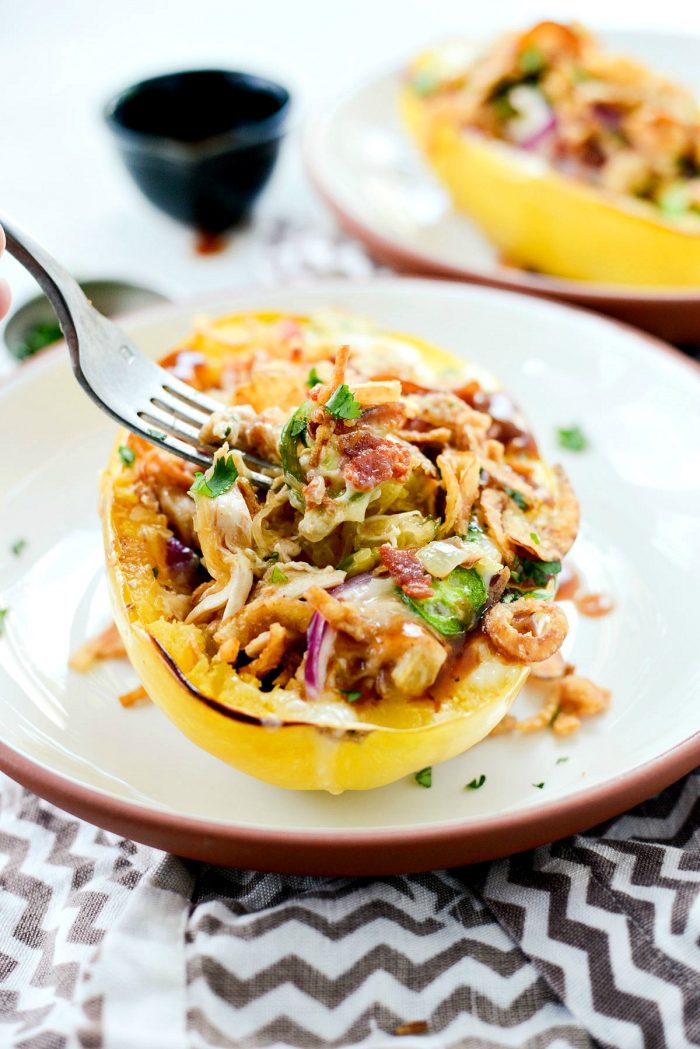 Enjoy! And if you give this Stuffed Spaghetti Squash recipe a try, let me know! Snap a photo and tag me on twitter or instagram!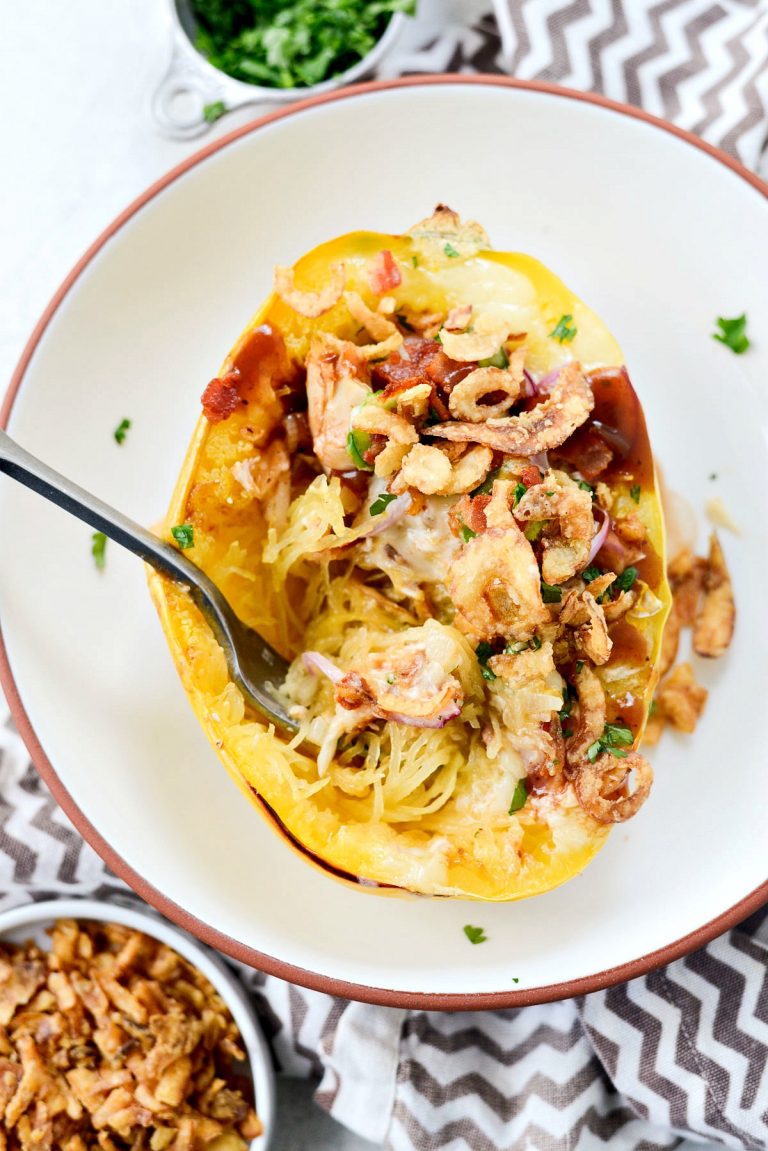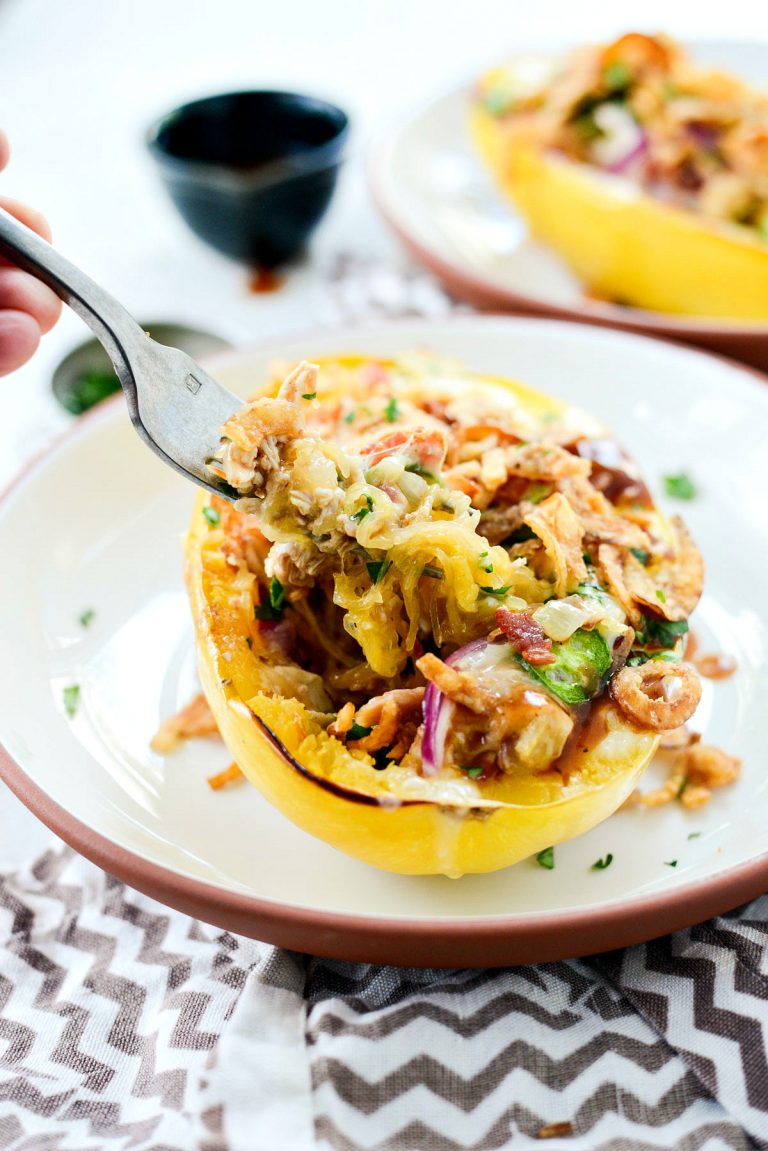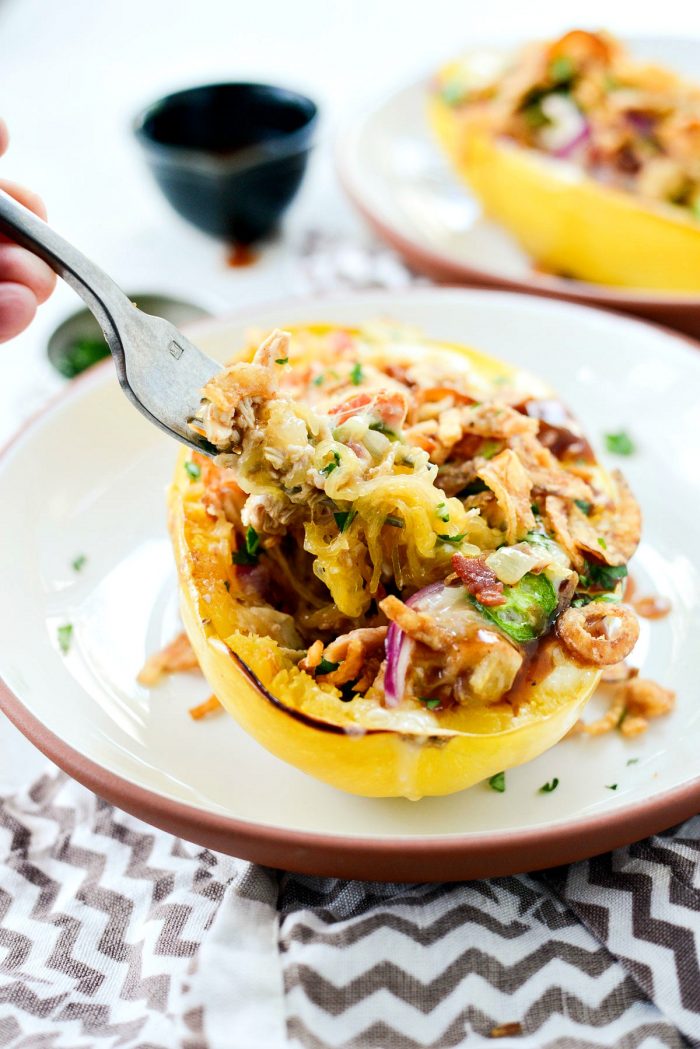 This post may contain affiliate links.
Buy the Cookbook: Simply Scratch : 120 Wholesome Homemade Recipes Made Easy Now available on Amazon »
THANK YOU in advance for your support!