This Watermelon Blueberry Feta Salad brings the red, white and blue to your dinner table! Cubed fresh watermelon is tossed with plump blueberries, sliced mint, feta and pistachios with a super simple champagne vinaigrette. Light and refreshing and will serve a crowd in 30 minutes.
Are you one that themes out your 4th of July party? Red, white and blue all the things so it's festively America? If so, you're awesome and in luck! This watermelon blueberry feta salad is deliciously festive and will not doubt look beautiful on your table.
Late last summer I shared this watermelon salad recipe and was inspired to do this red, white and blue version. So I jotted the recipe down in my trusty college rule notebook and slapped a sticky note at the top and wrote Summer 2018 on the top. And look, here we are!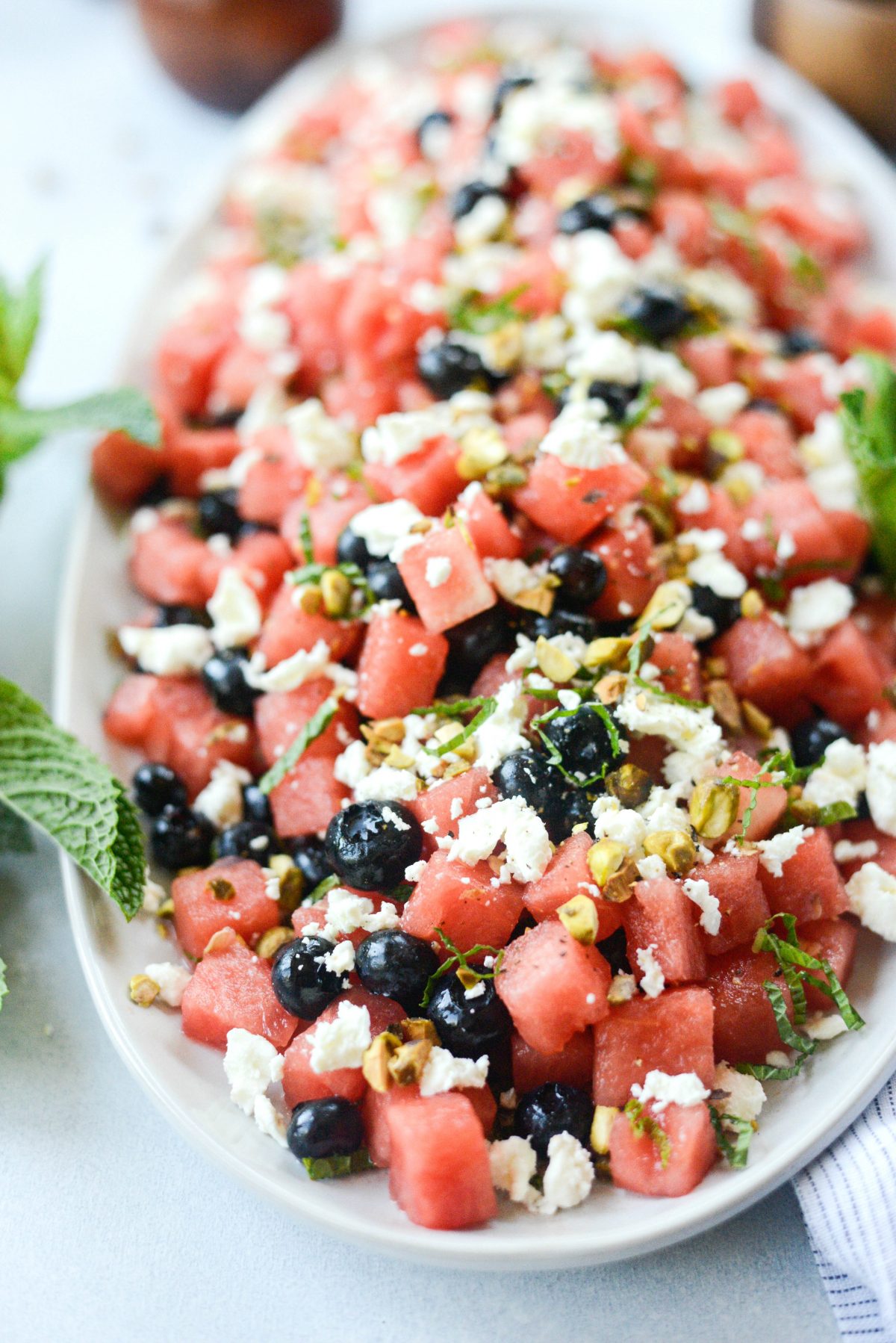 This watermelon blueberry feta salad covers all of my favorite flavor profiles: sweet and salty. The pistachios add crunch and the mint adds a fresh flavor.
To make this Watermelon Blueberry Feta Salad you will need:
1/2 a large seedless watermelon (sliced)
blueberries
champagne vinaigrette
fresh crumbled feta cheese
pistachios
mint
freshly ground black pepper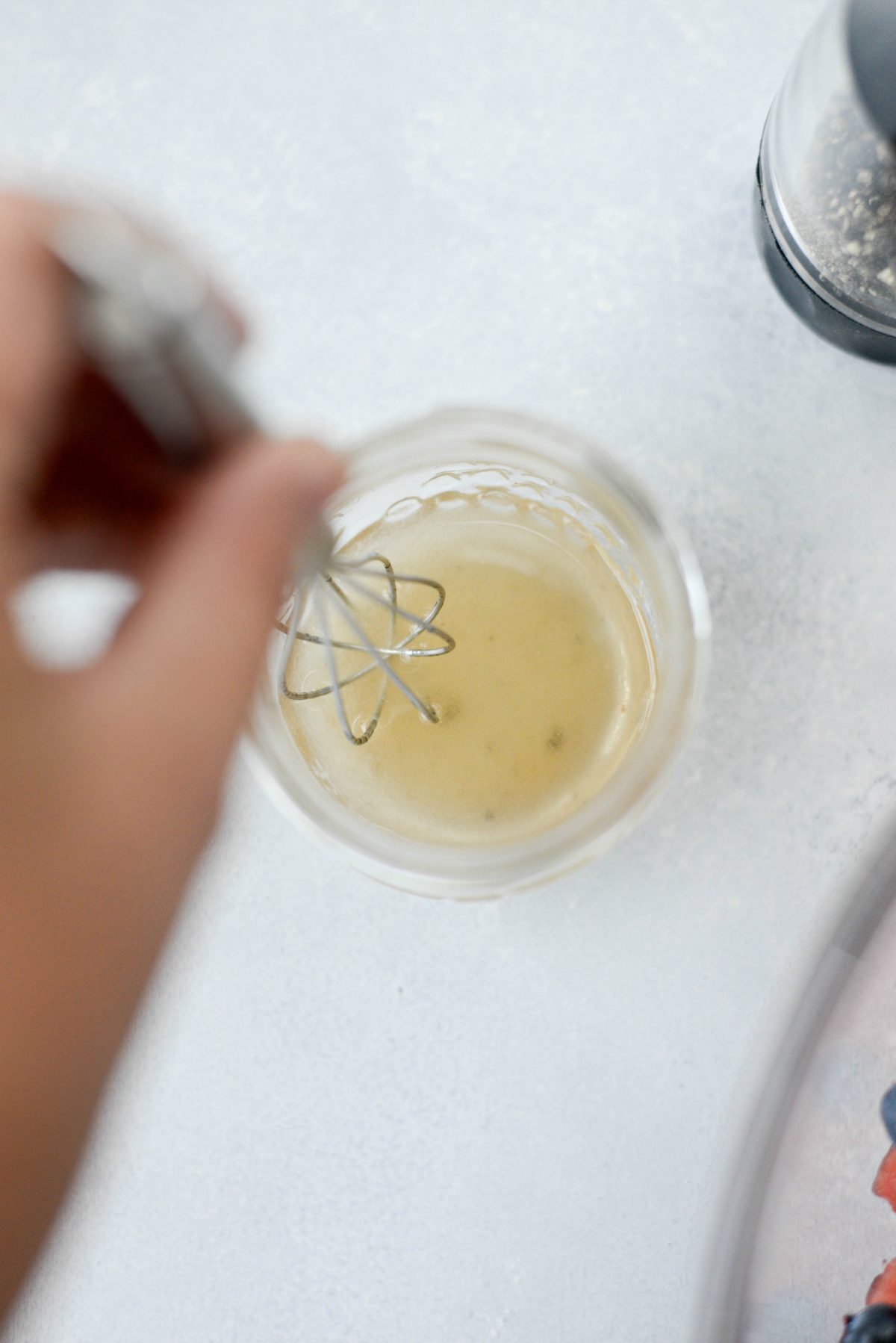 Start by making the champagne vinaigrette by adding 1 tablespoon of champagne vinegar and then a pinch of kosher salt and black pepper into a small jar. Whisk while pouring in 1 tablespoon light olive oil until combined. That's it!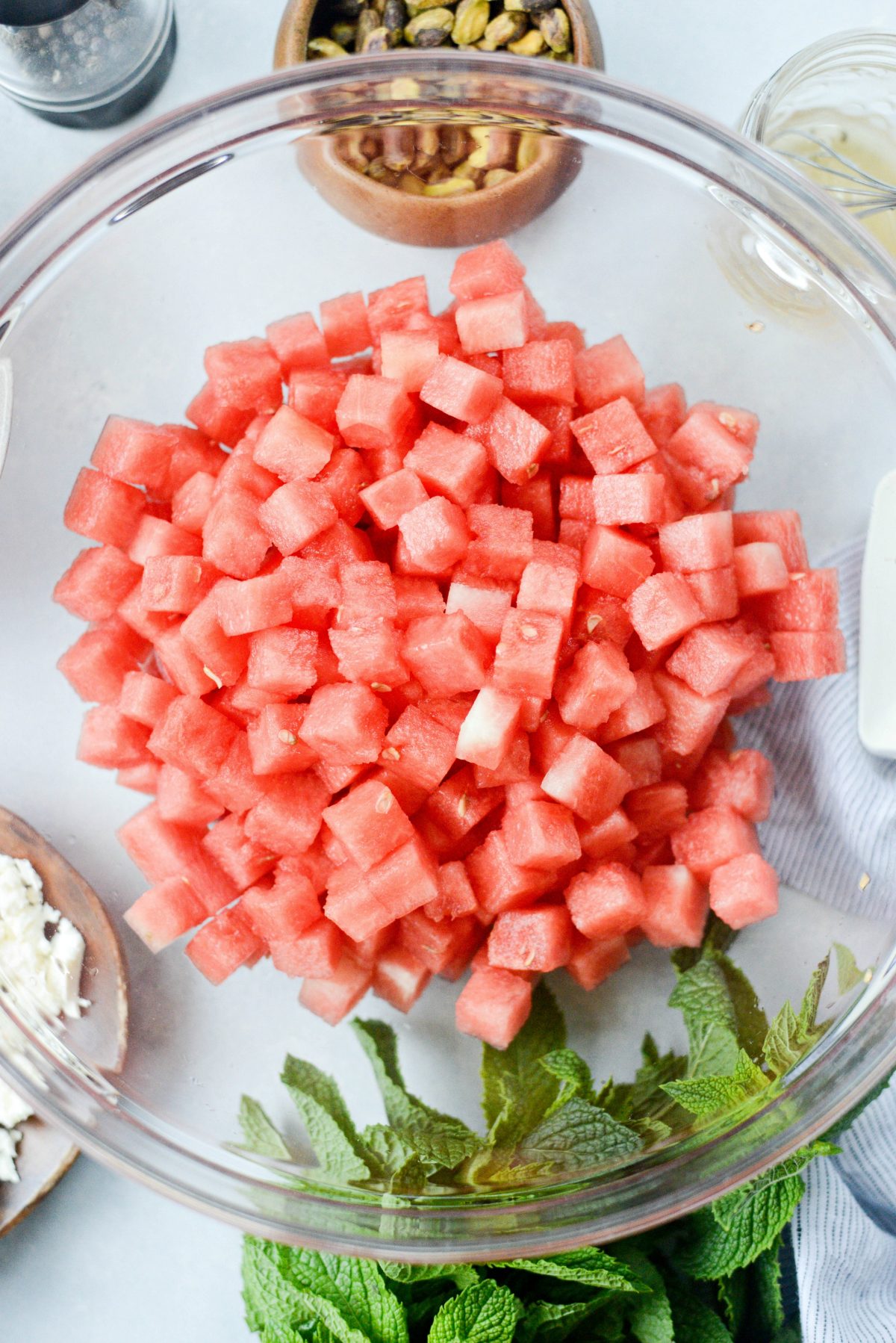 Next, in a large bowl, add roughly 6 cups diced watermelon and 1 pint rinsed fresh blueberries.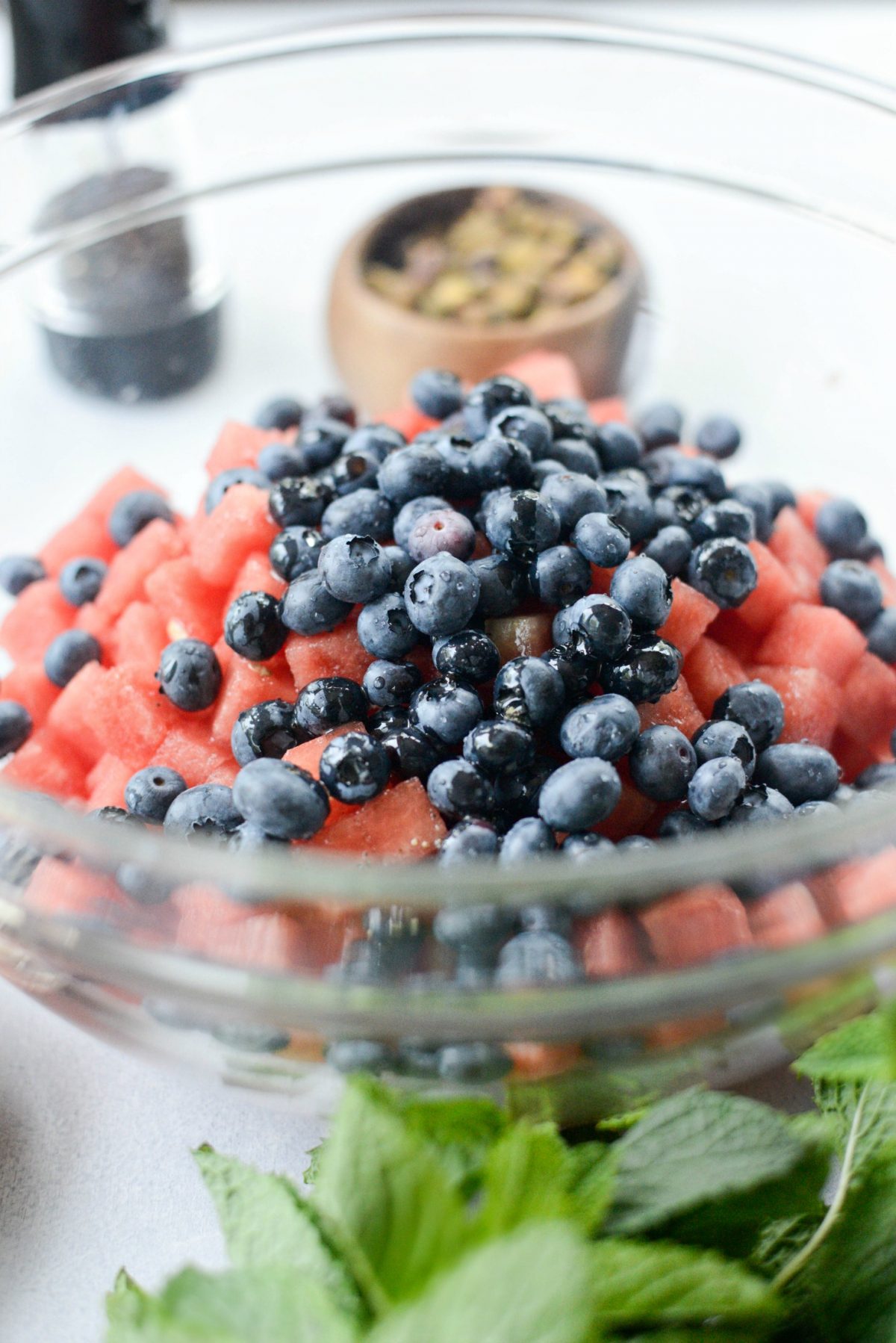 Then drizzle in all of the champagne vinaigrette and add in the thinly sliced fresh mint. Use a rubber spatula to gently combine.
FYI: to chiffonade, stack the mint leaves and then roll into a cigar shape. Use a sharp knife and slice thin.
Lastly, dish the salad onto a serving plate or serving bowl. Then top with about 3 ounces freshly crumbled feta cheese, 2 tablespoons finely chopped pistachios, extra black pepper and more sliced mint.
I like to use fresh feta as opposed to pre-crumbled because I like the texture a lot better. If you read the ingredient list of pre-crumbled cheese you'll see that they are typically coated in a non-caking ingredient. I try to avoid it.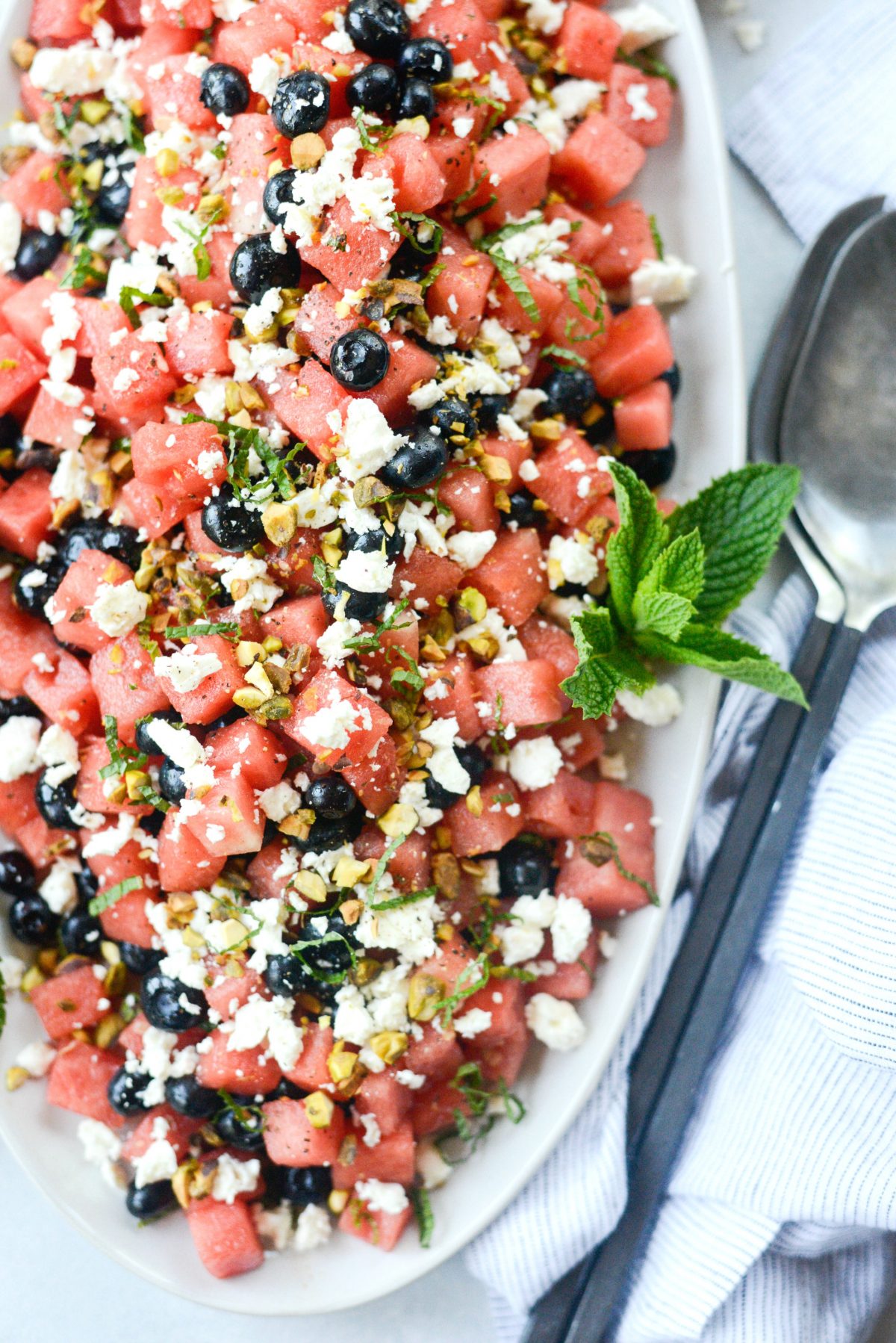 So pretty!
This red, white and blue salad will look gorgeous on your holiday table, don't you think?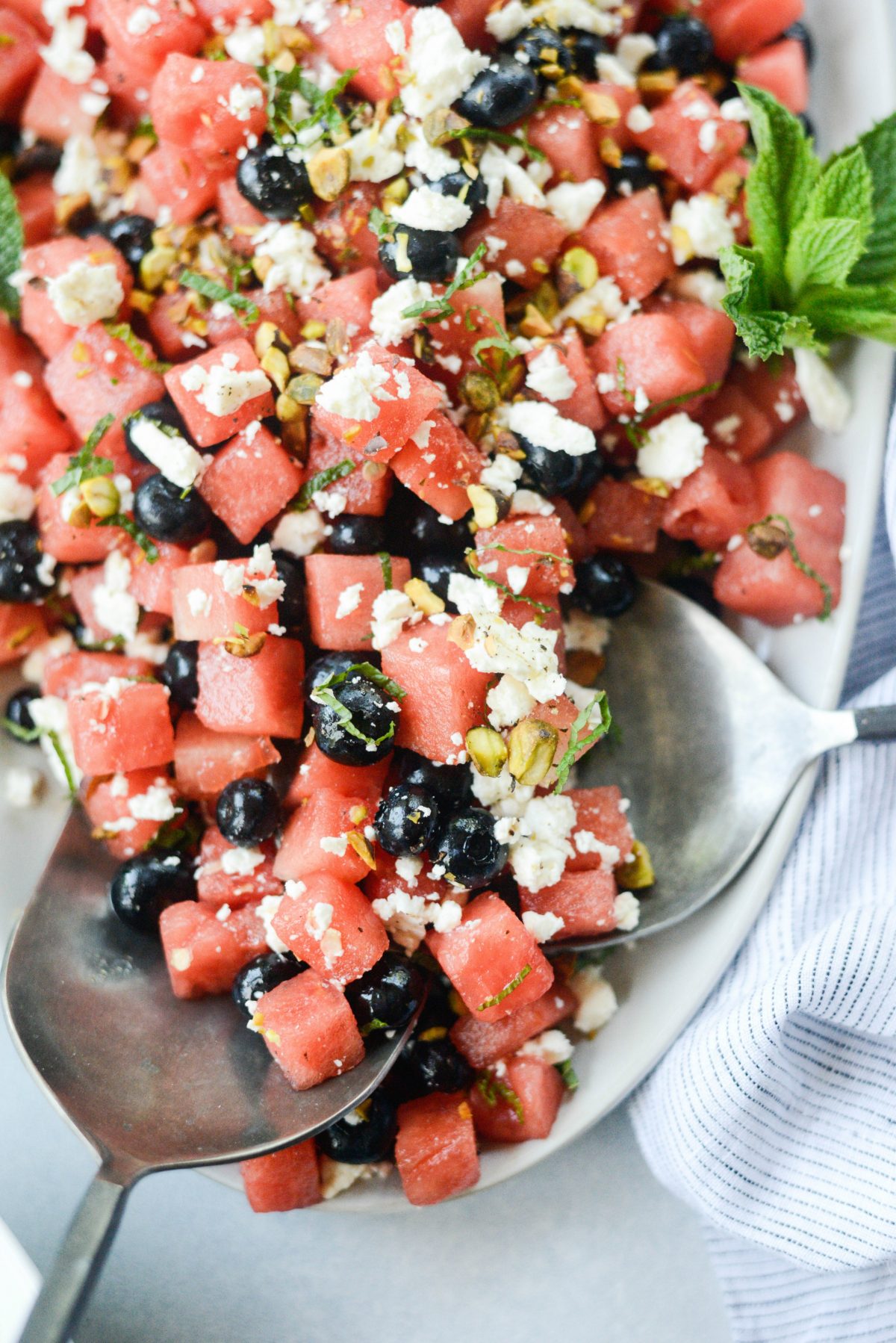 The salty feta works well with the sweet watermelon and blueberries is out of this world. The pistachio give this salad the textural crunch and but most importantly, the fresh mint brightens the whole thing up a notch.
This watermelon salad is refreshing and perfect for feeding a crowd! You certainly may cut this recipe in half for serving a smaller family or gathering.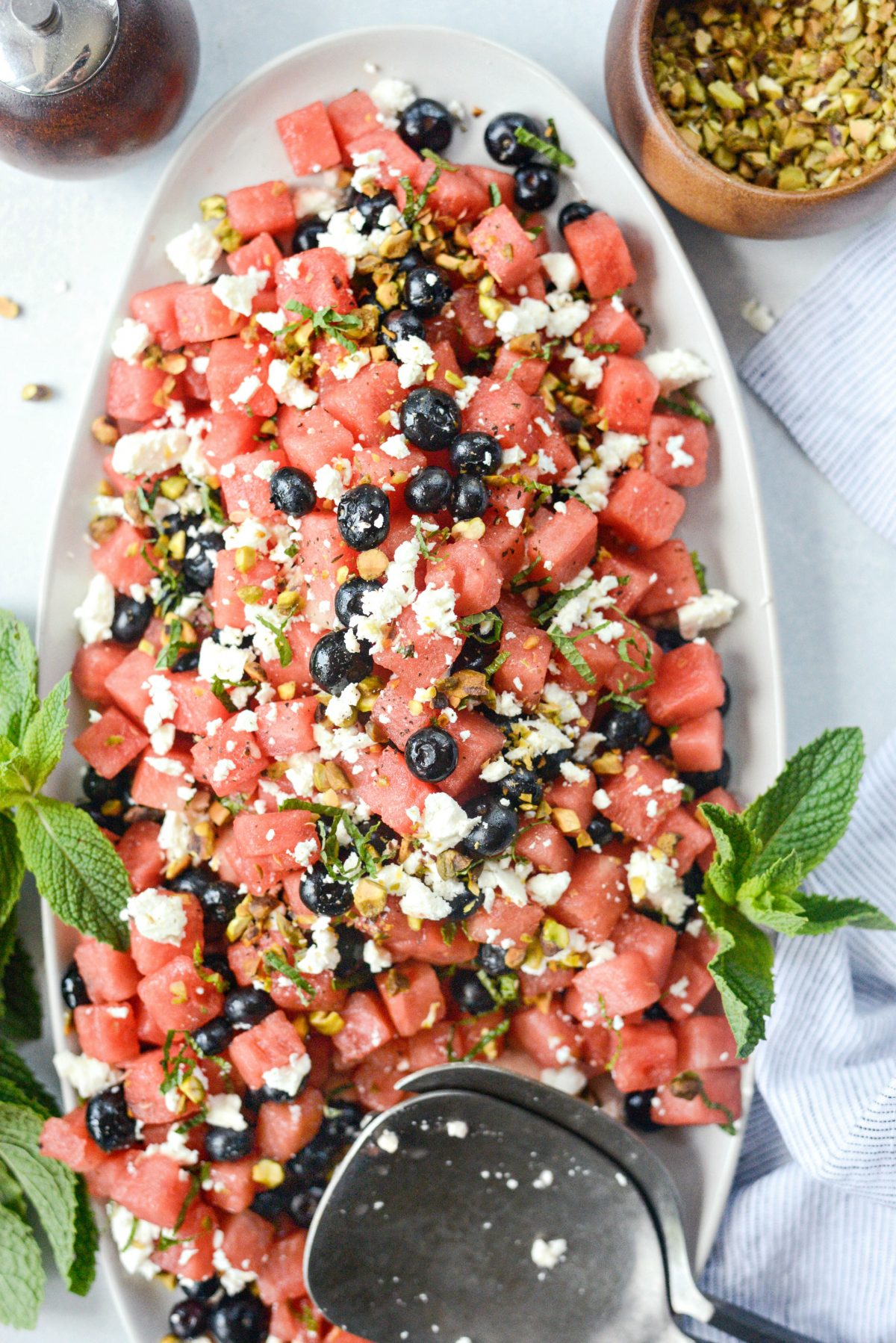 Enjoy! And if you give this Watermelon Blueberry Feta Salad recipe a try, let me know! Snap a photo and tag me on twitter or instagram!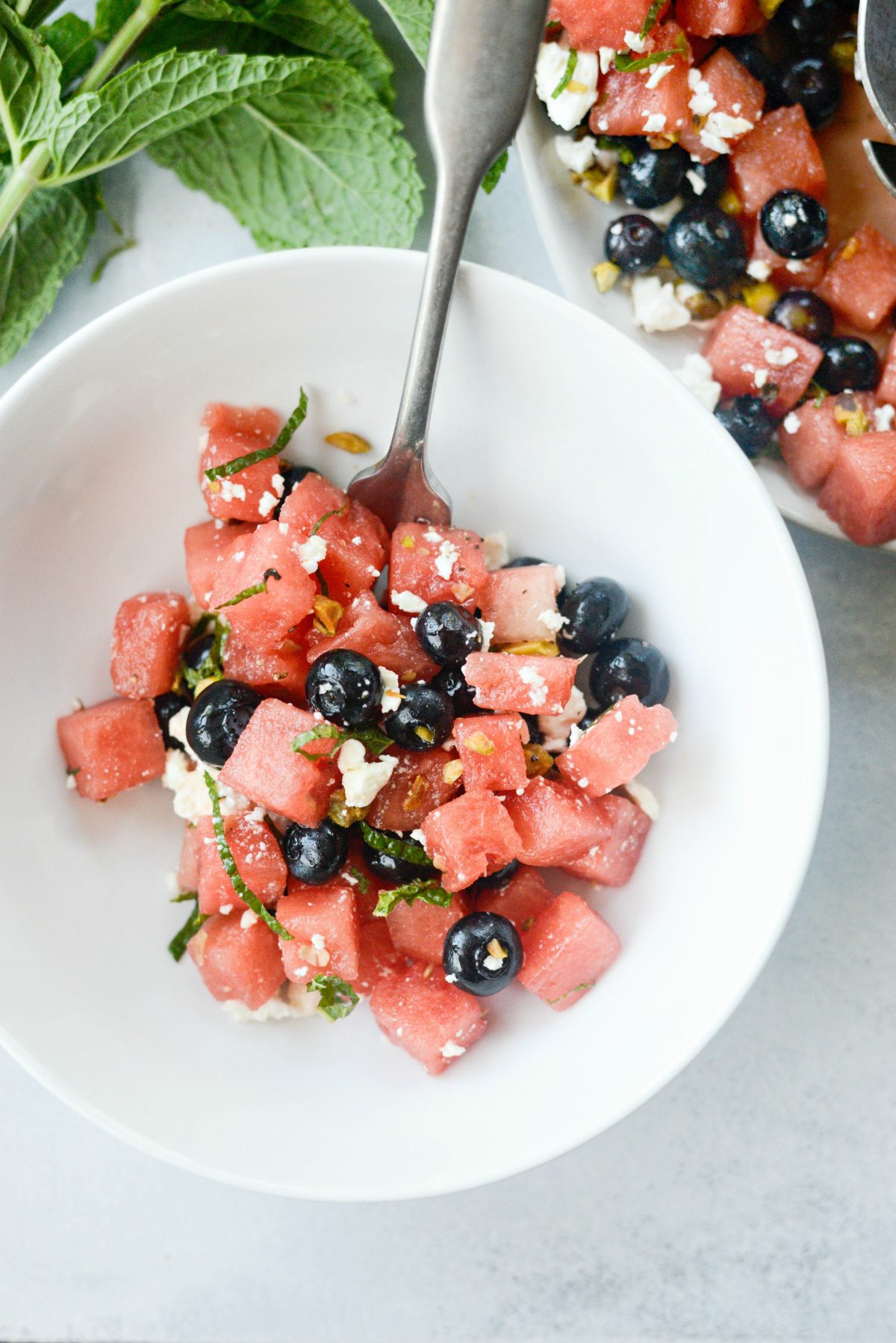 This post may contain affiliate links.
Buy the Cookbook: Simply Scratch : 120 Wholesome Homemade Recipes Made Easy Now available on Amazon »
THANK YOU in advance for your support!