Oven Tandoori Chicken is bursting at the seams with flavor. Skin-on, bone-in chicken drumsticks (or try it with thighs) marinate in a mixture of pureed onion, garlic with greek yogurt, lime juice, homemade tandoori and garam masala. Baked and continuously brushed with reserved marinade until a crust forms. Serve with rice, naan and the most amazing mint yogurt sauce!
I've been in a dinner rut. Who's with me? Like how many times can I get away with making tacos or chicken wraps before my family wants to choke me? The answer is 0. I blame daylight savings and the fact it's dark by 5:30-6pm. That and we're gone 3 nights a week with sports. By the time it's Friday I wanted something easy and with flavor. Punch you in the face flavor. This oven tandoori chicken fit the bill.
Have you ever had Tandoori chicken before? It's so good! Anytime chicken marinates in yogurt and spices it usually is. Add some char and you've got something magical. Since I don't own a tandoor in my kitchen, the closest thing I have is my oven. Like most people. It gets the job done.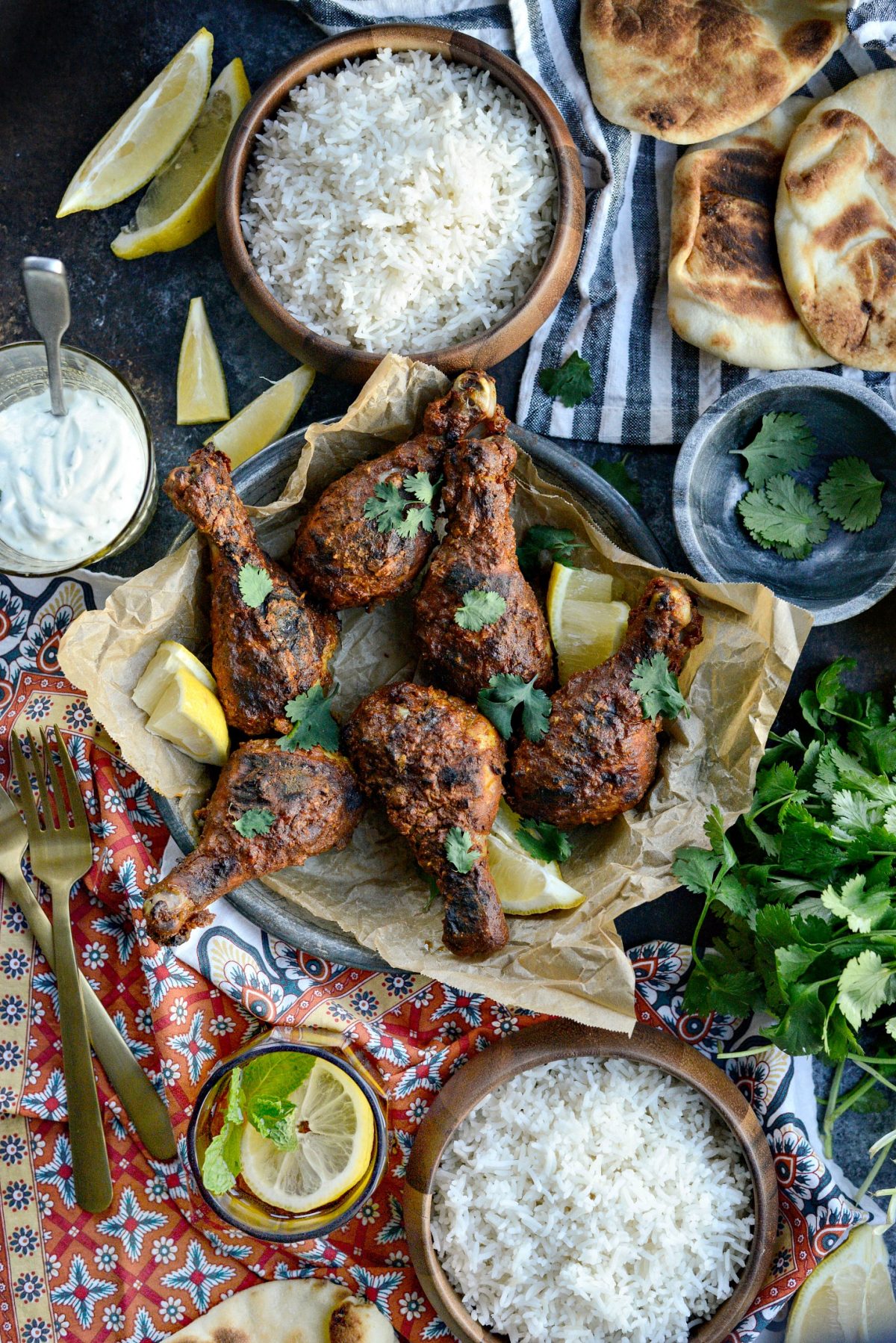 The prep is easy. Cooking is easy. Cleanup is easy.
Most of the work is done while the chicken marinates in your fridge. I really cannot think of a reason why you shouldn't to make this.
To Make This Oven Tandoori Chicken You Will Need:
1 package of bone-in, skin-on 6 to 8 drumsticks or thighs (or a combination of both)
a medium onion
4 large cloves of garlic
whole milk Greek yogurt
lime
homemade garam masala and tandoori spice
annatto [for color]
paprika
kosher salt
white pepper
cayenne.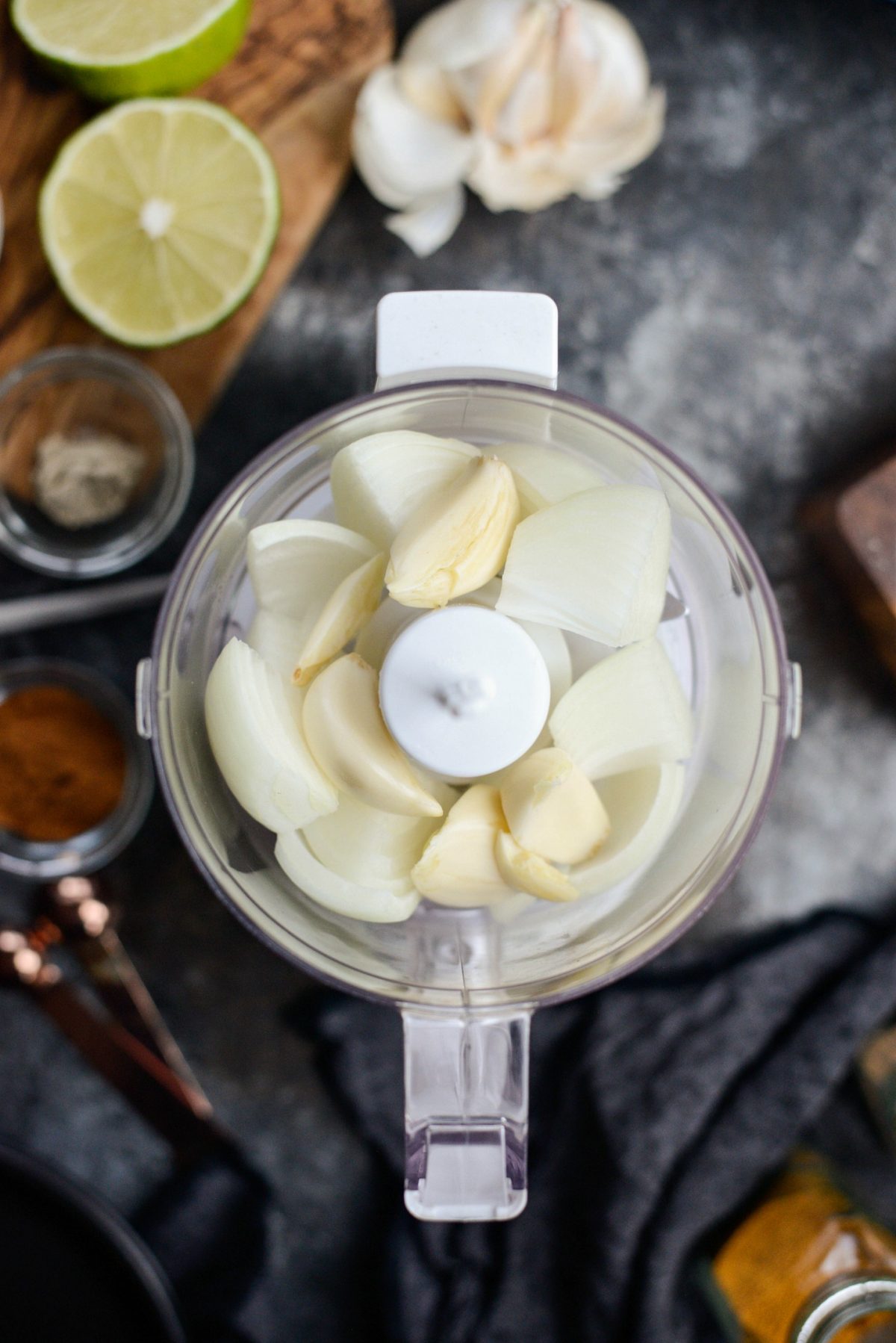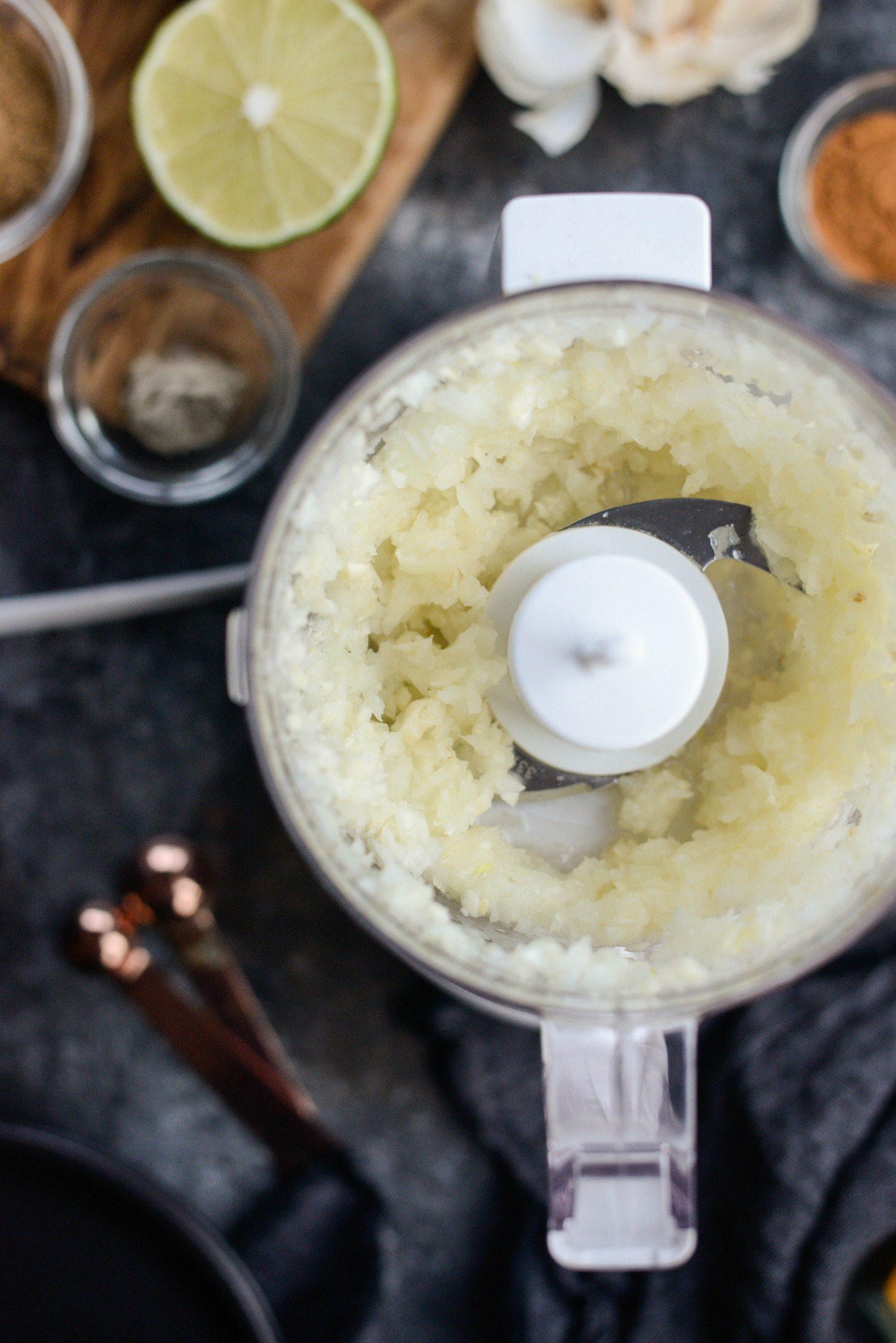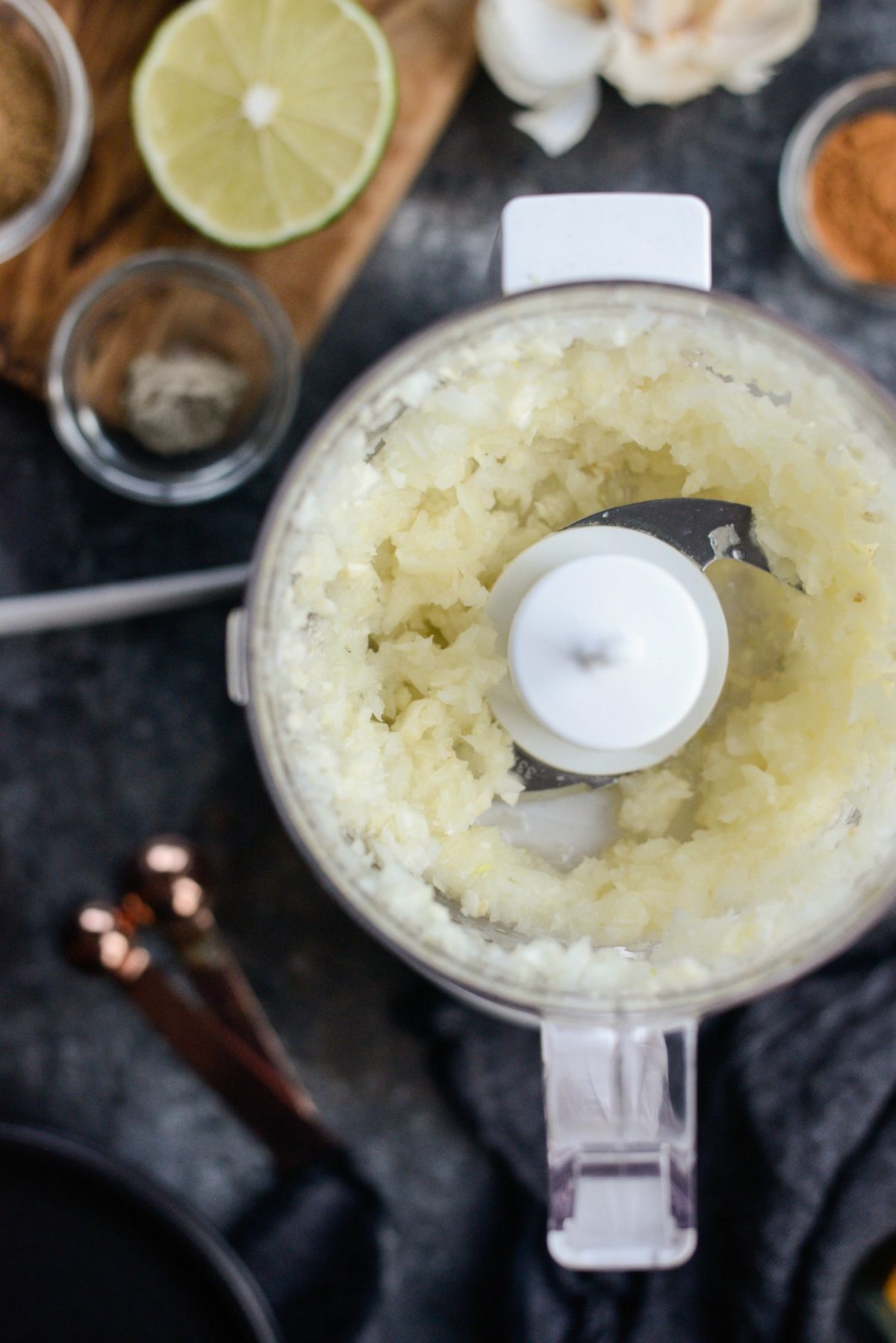 Next, throw the roughly chopped onion into a food processor along with the peeled garlic cloves and then pulse until finely minced.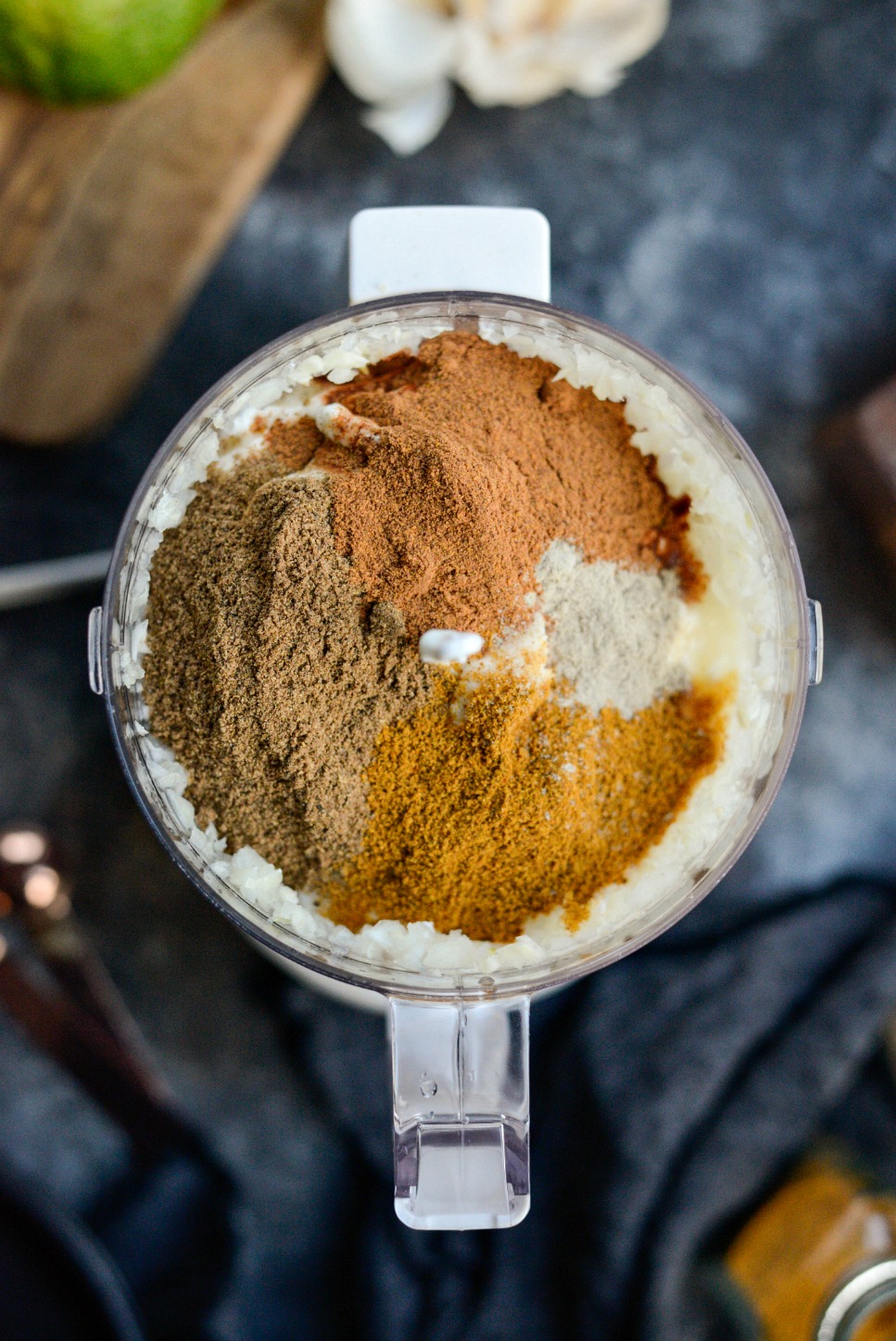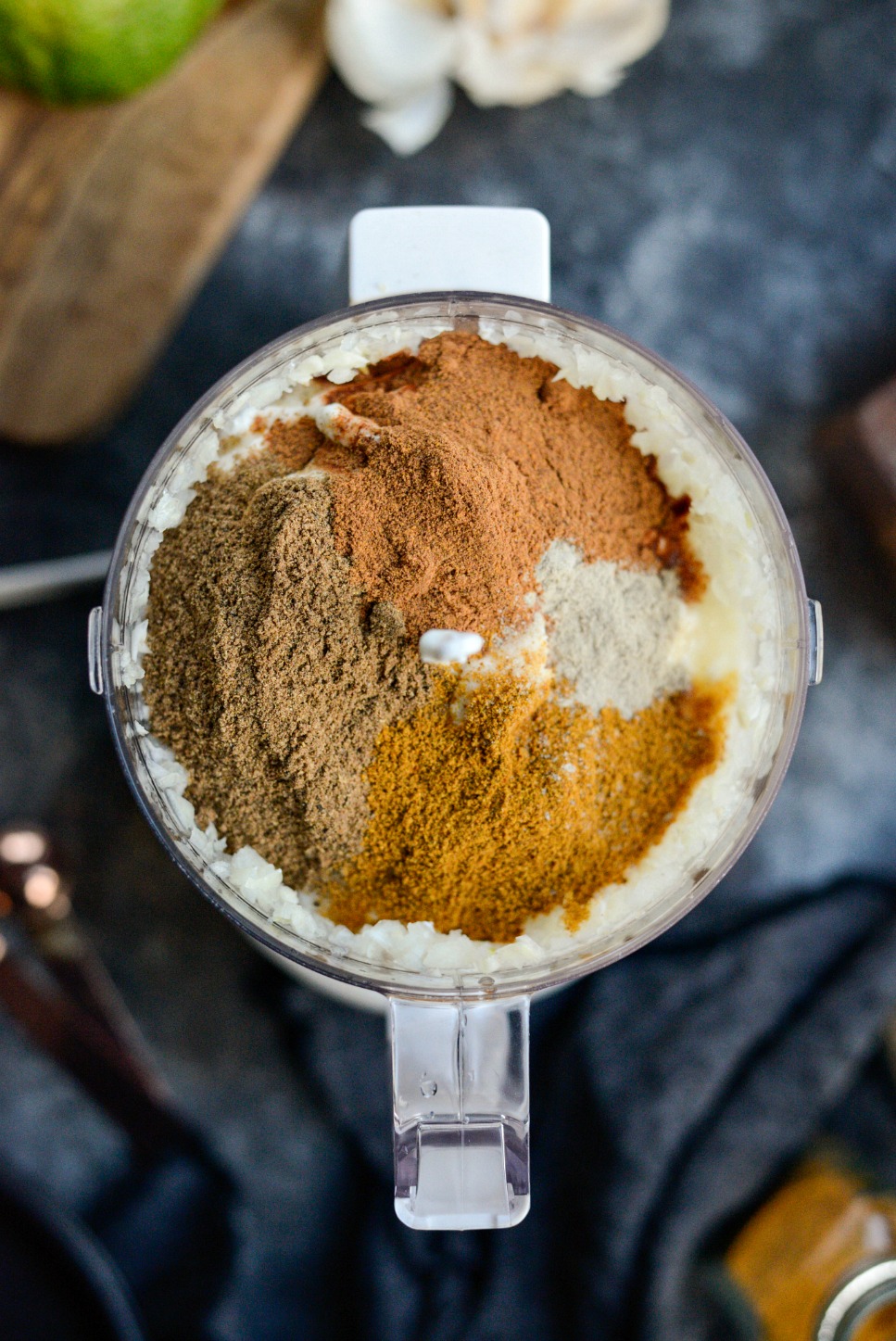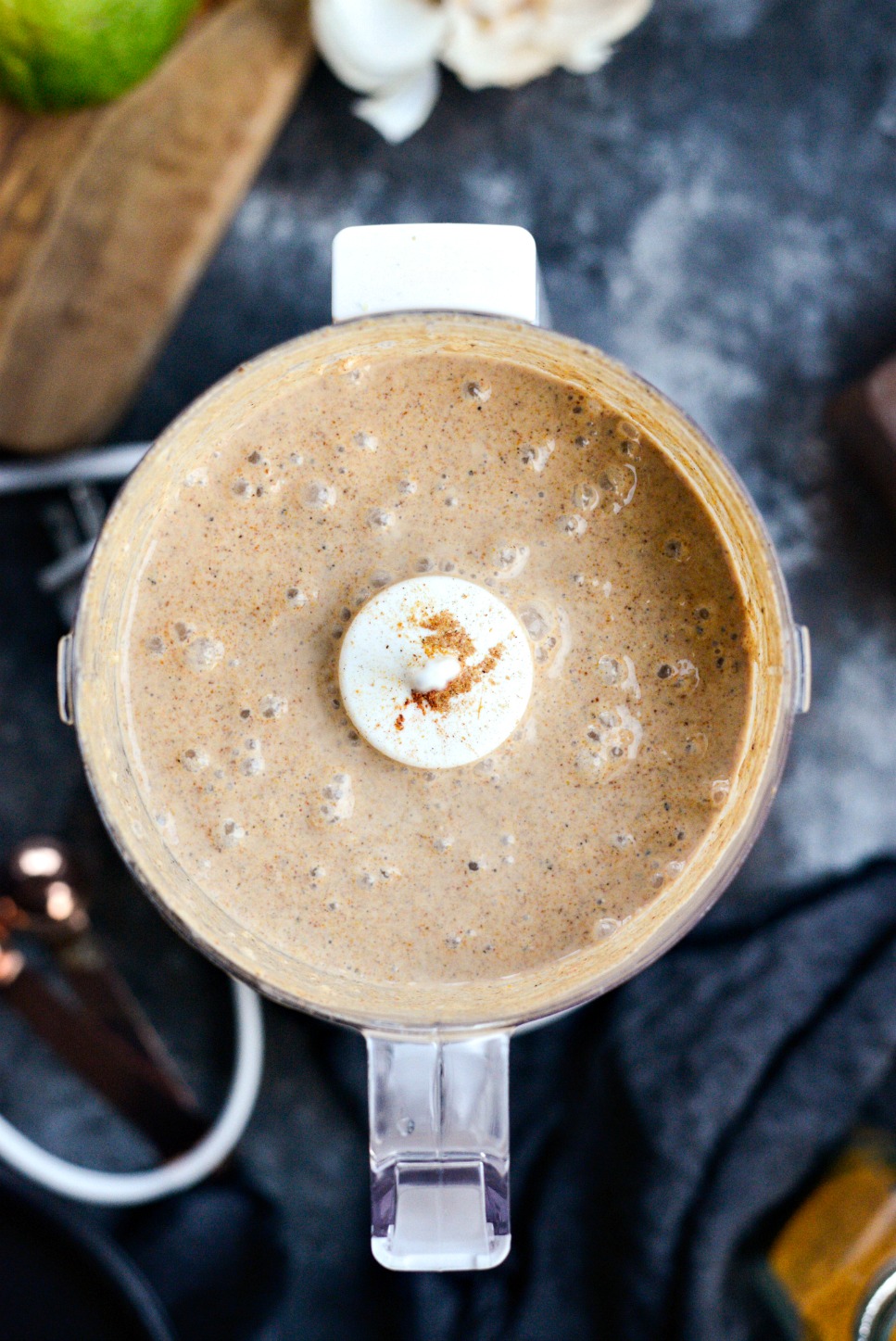 Measure and add in 1 cup of [whole milk] Greek yogurt, the juice from 1 lime, 2 tablespoons garam masala, 1 tablespoon each of the tandoori spice, annatto and paprika, and 1 teaspoon kosher salt and 1/2 teaspoon white pepper. For some heat, add anywhere from 1/4 to more cayenne pepper.
If you Google tandoori chicken it's typically a bright red, either from red chili powder or food dye. So feel free to add more of either to achieve that level of red. I like the earthy color it is, but that's me.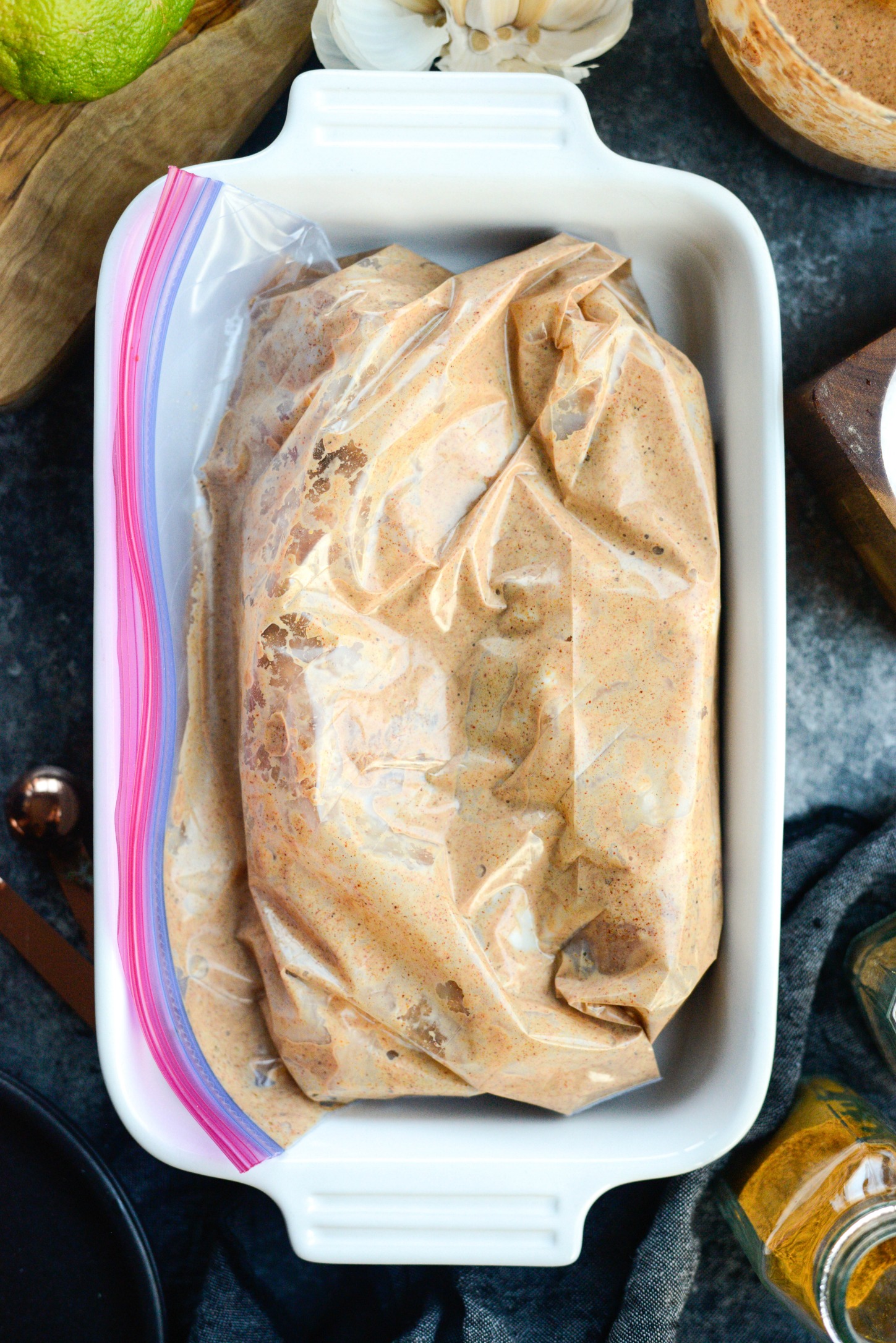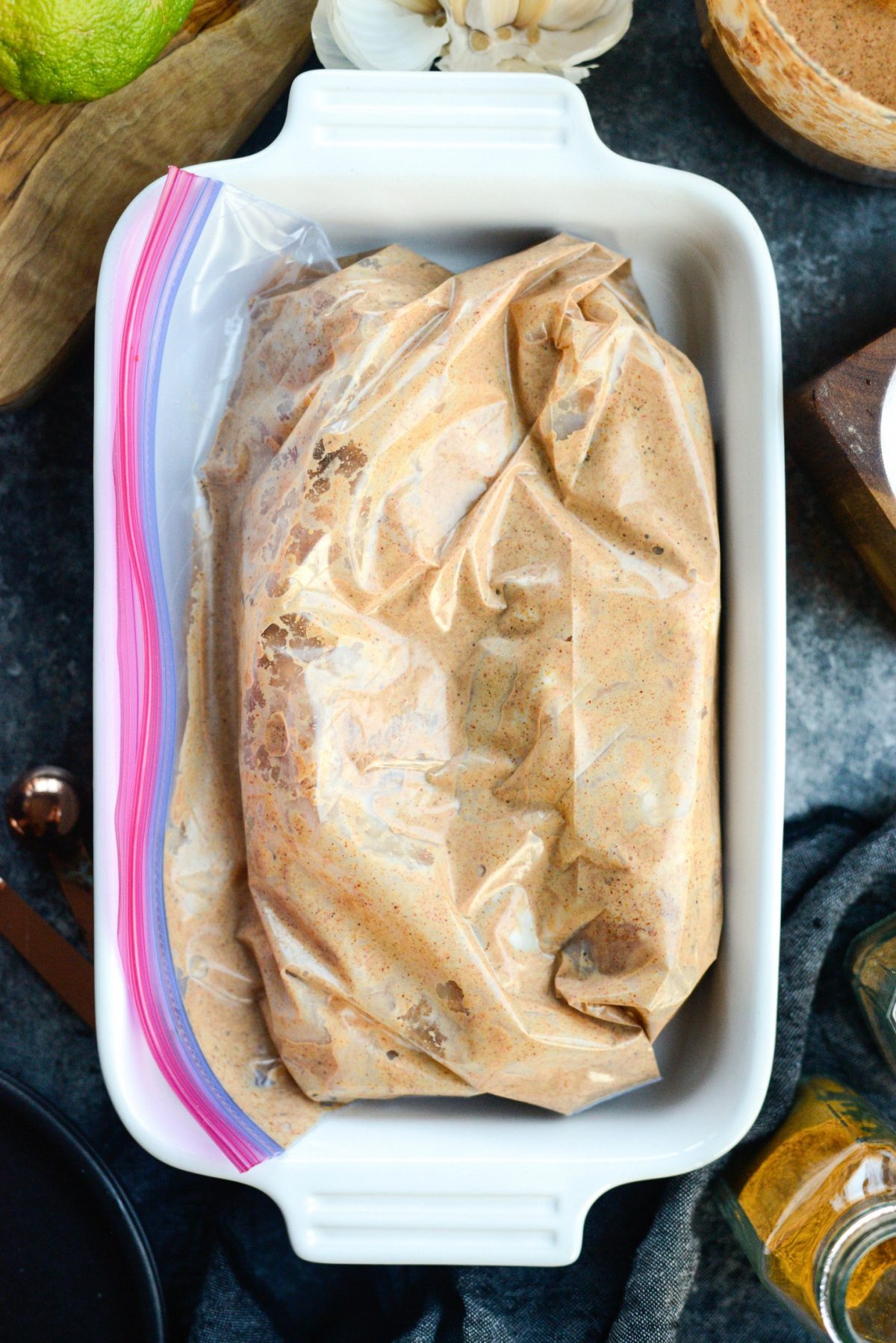 Pop the chicken into a resealable bag and pour half of the marinade over the chicken. Then reserve the remaining half of the marinade and pour it into a container and refrigerate both the chicken and marinade overnight.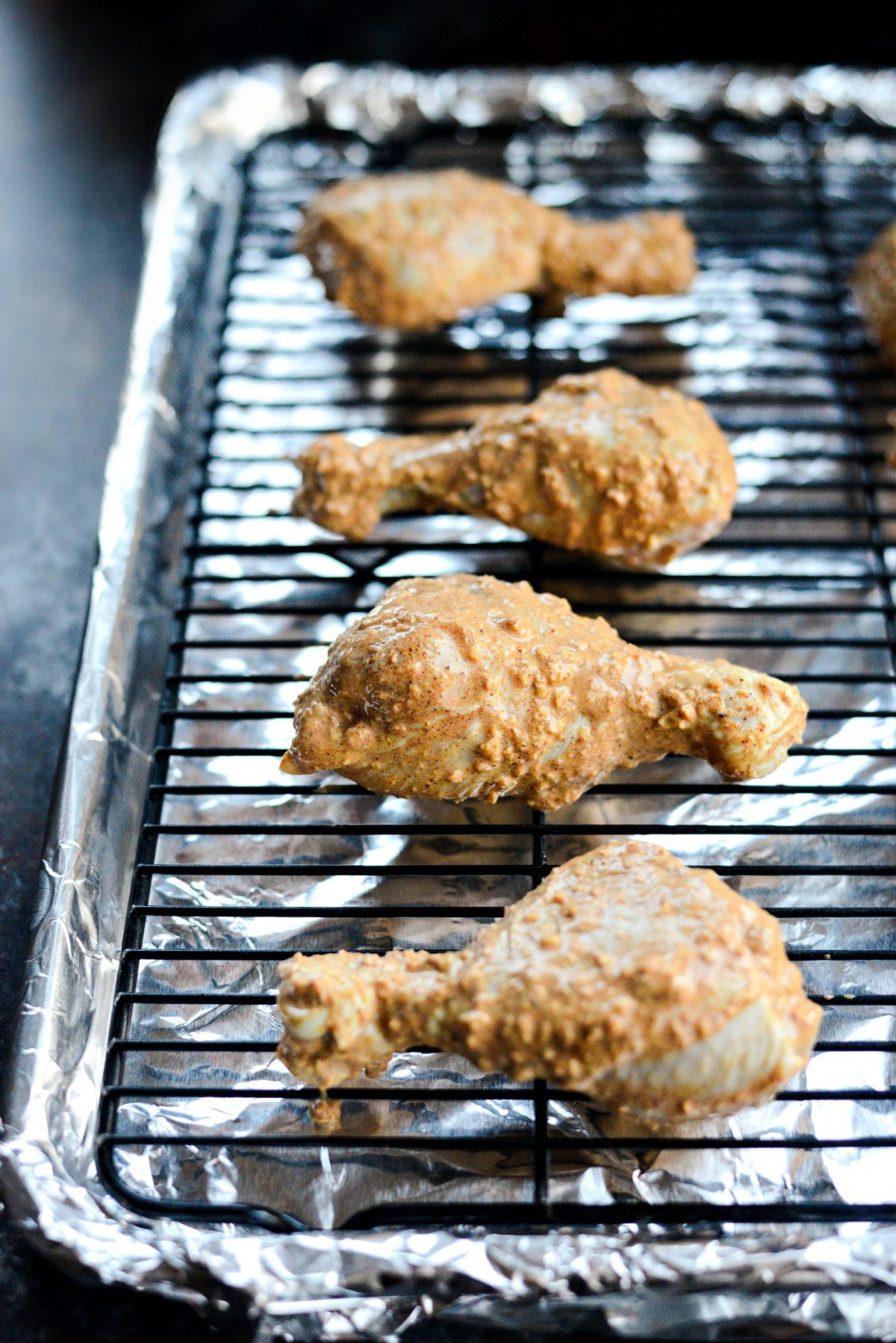 Then right before cooking, pull the chicken out 30 minutes out in advance.
Line a rimmed baking sheet with aluminum foil and place a oven-safe wire rack on top. Spray the rack with olive oil spray and arrange the chicken on the wrack and slide the whole pan into your preheated 375° oven for 10 minutes. Rotate the pan and bake for an additional 10 minutes.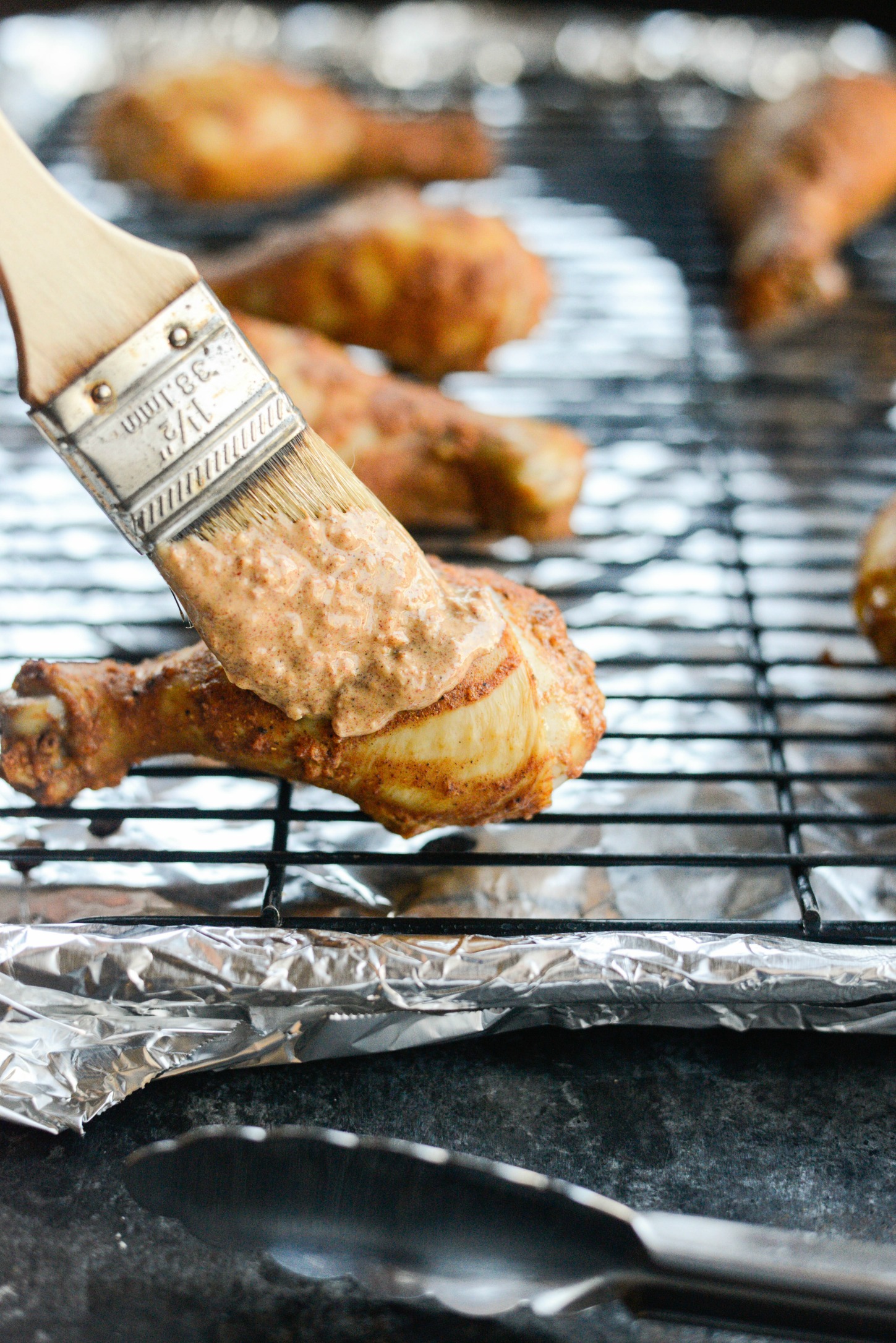 Remove the pan, baste the chicken with the reserved marinade. Use tongs to turn the chicken over (so the underneath side is facing up) and brush with more sauce, before baking for 10 minutes.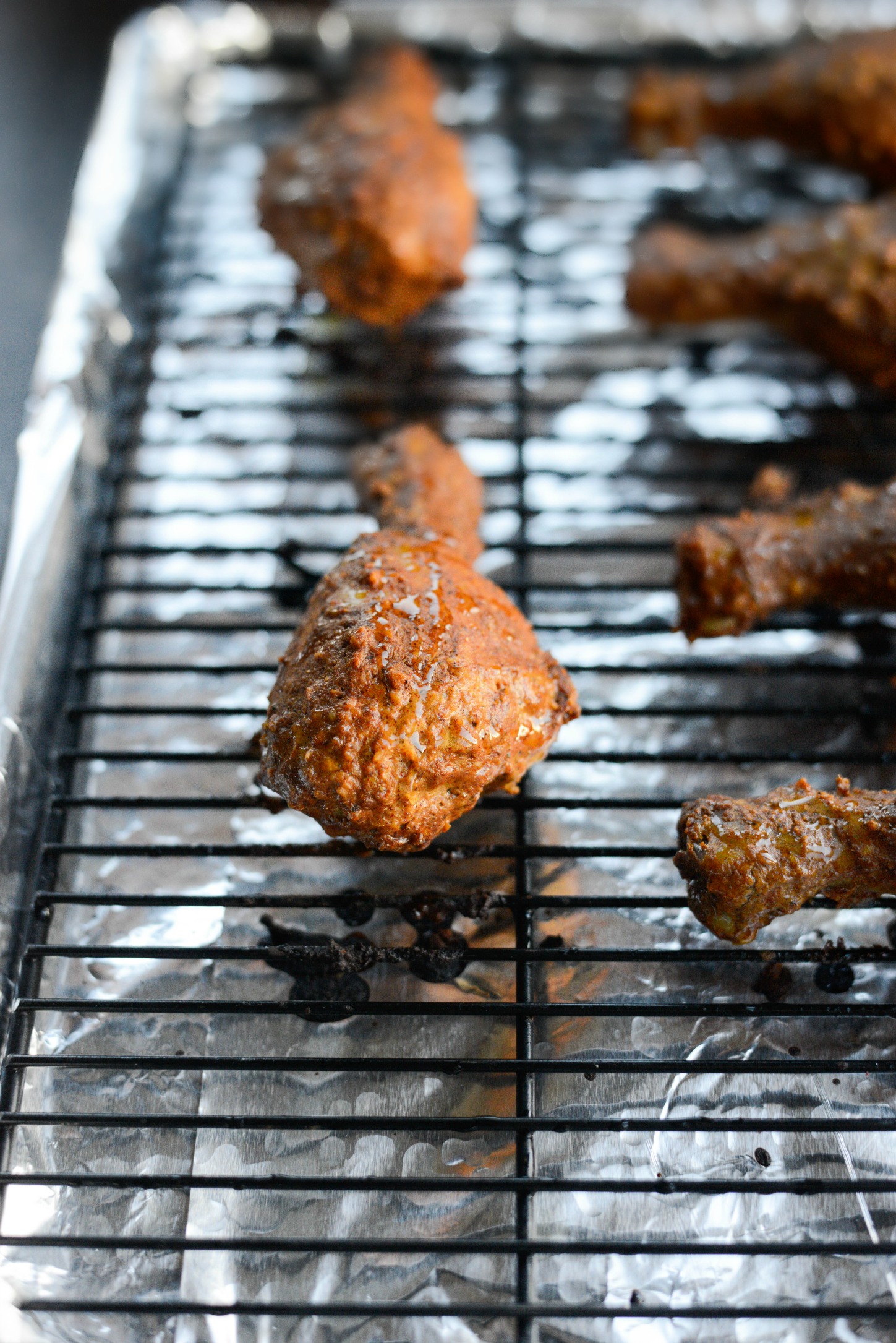 Do this one more time; baste, turn chicken (so top side is back to facing up), baste some more. Then spritz with olive oil spray and cook for 1o more minutes. Next, for some extra char, flick on the broiler and watch carefully so the crust on the chicken doesn't burn and rotate the pan for even browning, about 1 or so minutes.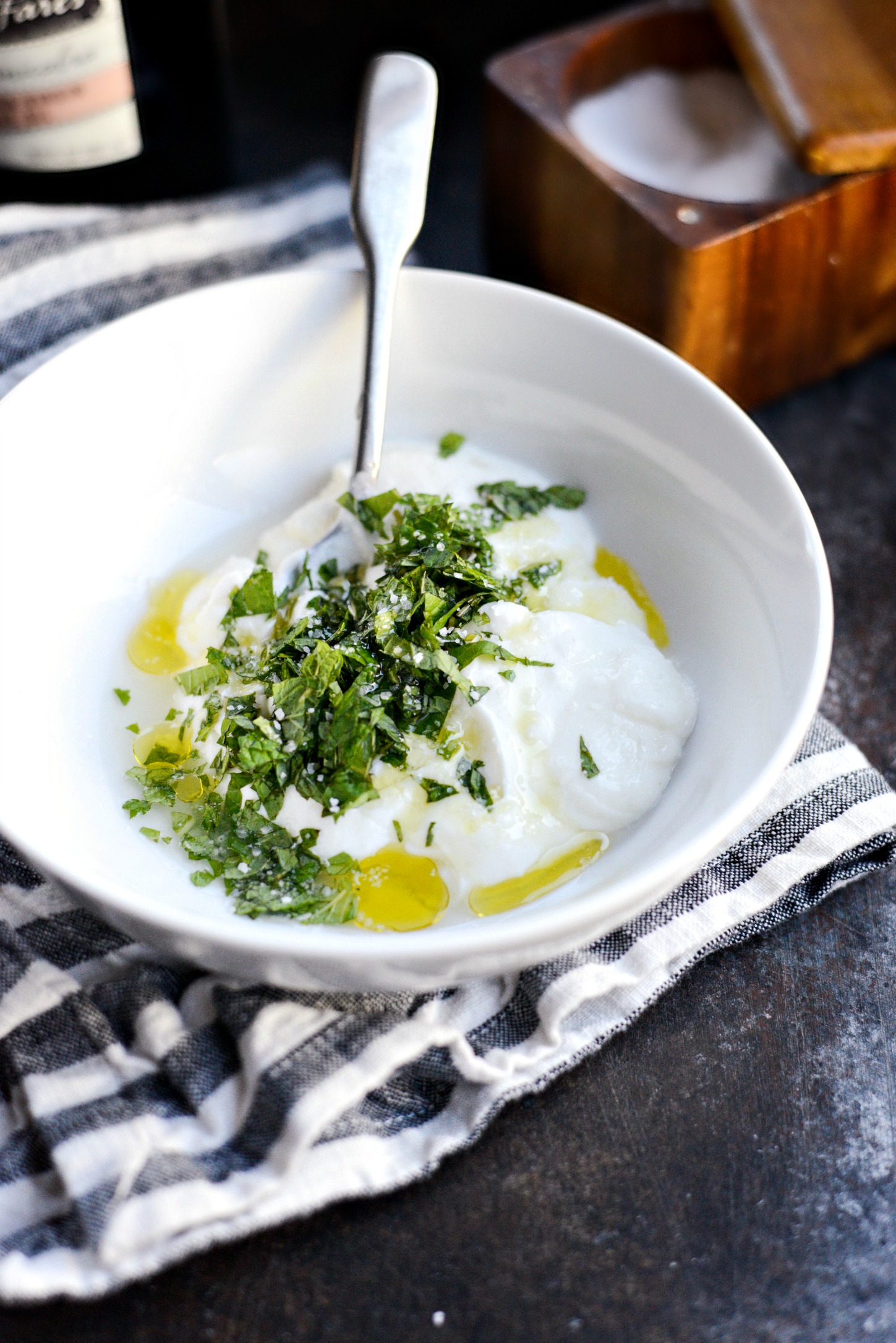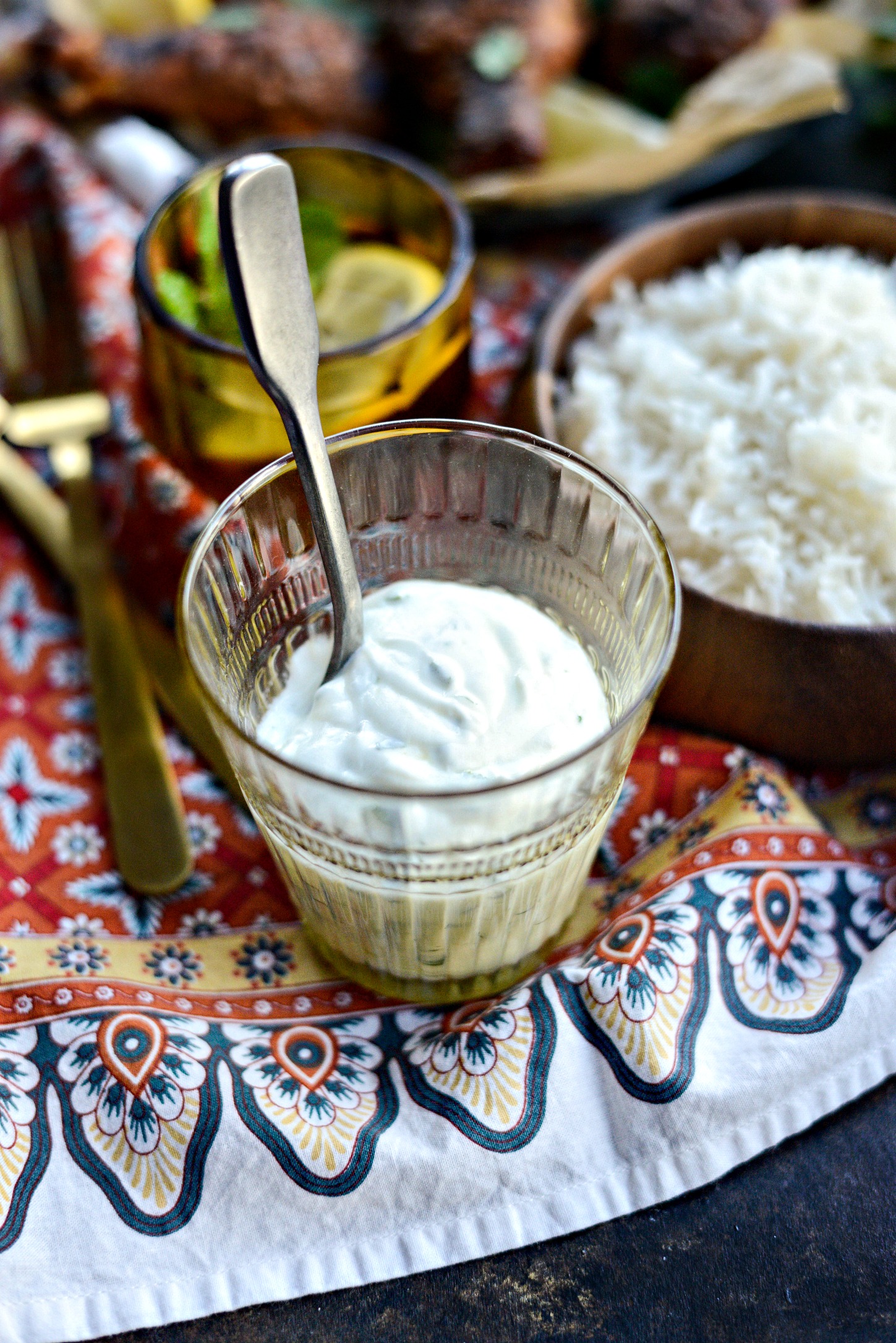 Lastly, to counterbalance the heat and for another added layer of delicious flavor, this mint yogurt sauce will tame the spice while adding a contrasting brightness to the robust spices of the chicken.
To make the Mint Yogurt Sauce You Will Need:
1/2 cup of yogurt
1 heaping tablespoon chopped fresh mint leaves (I eyeball it)
about a teaspoon of fresh-squeezed lemon juice (again, I eyeball it)
a little olive oil
kosher salt.
Add to a bowl, whisking until combined. This can be made and serve immediately, but does taste better if given time in the fridge to develop those flavors a bit.
Along with the mint yogurt sauce, serve the oven tandoori chicken with lemon or lime wedges, cilantro leaves, basmati rice and toasted naan bread.
As the oven tandoori chicken bakes, you slather the reserved sauce over it and a delicious crust (so to speak) of spice and yogurt develops. It's pure magic. And when I first made this I was a little leery about leaving the skin on and then basting it with the yogurt based sauce.
However trust me when I say it's amazing.
Of course, you can remove the skin and it would still be amazing. But give it a try with the skin on, as a chicken [and turkey] skin lover, it's my favorite part.
I'm not sure if or what the correct way to eat tandoori chickens. But I personally cut the chicken (and skin) away from the bone, then I top a hunk of naan with basmati rice and top with with chicken, yogurt sauce a small squeeze of lemon and a few cilantro leaves.
Prepare to fall in love.
Enjoy! And if you give this Oven Tandoori Chicken recipe a try, let me know! Snap a photo and tag me on twitter or instagram!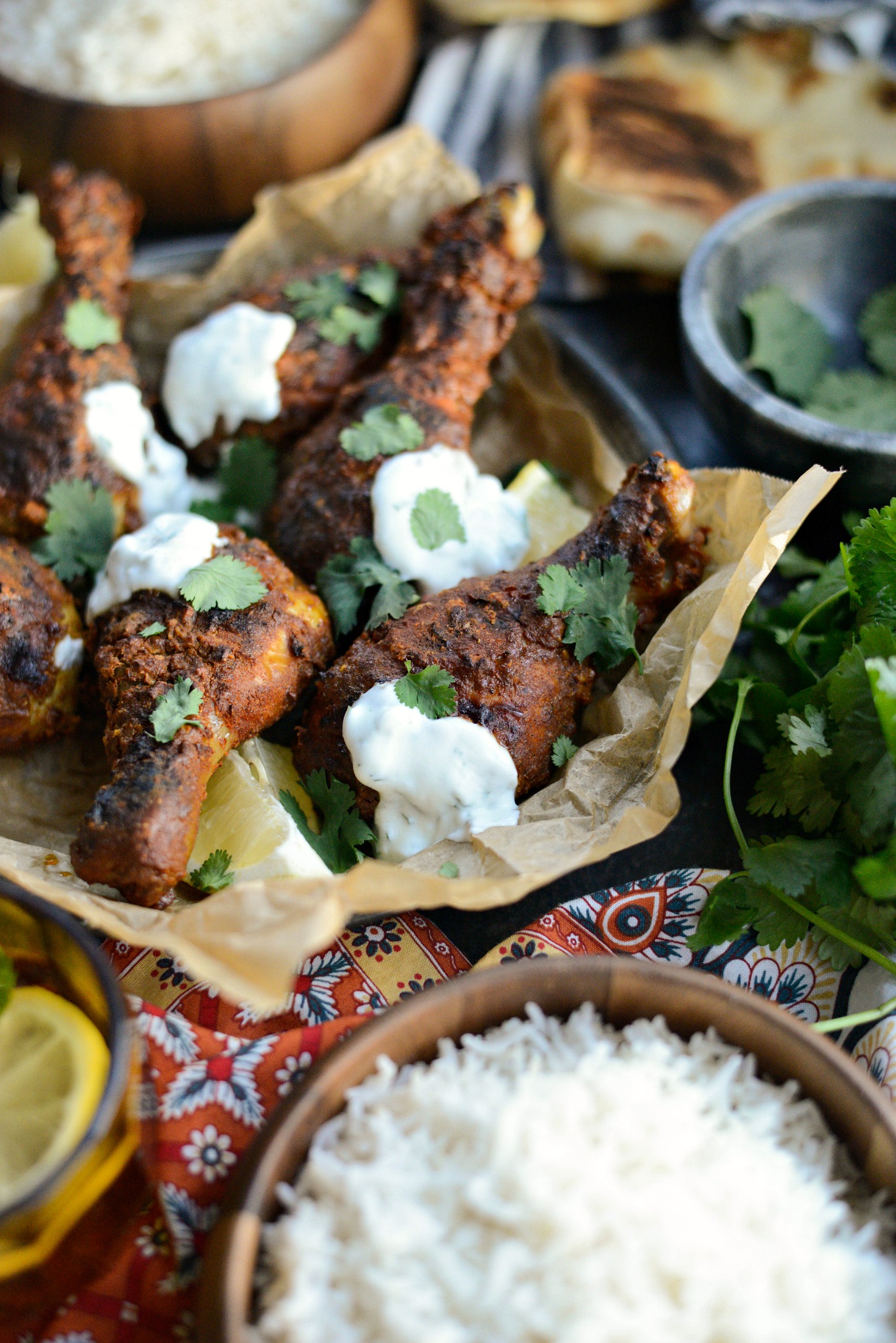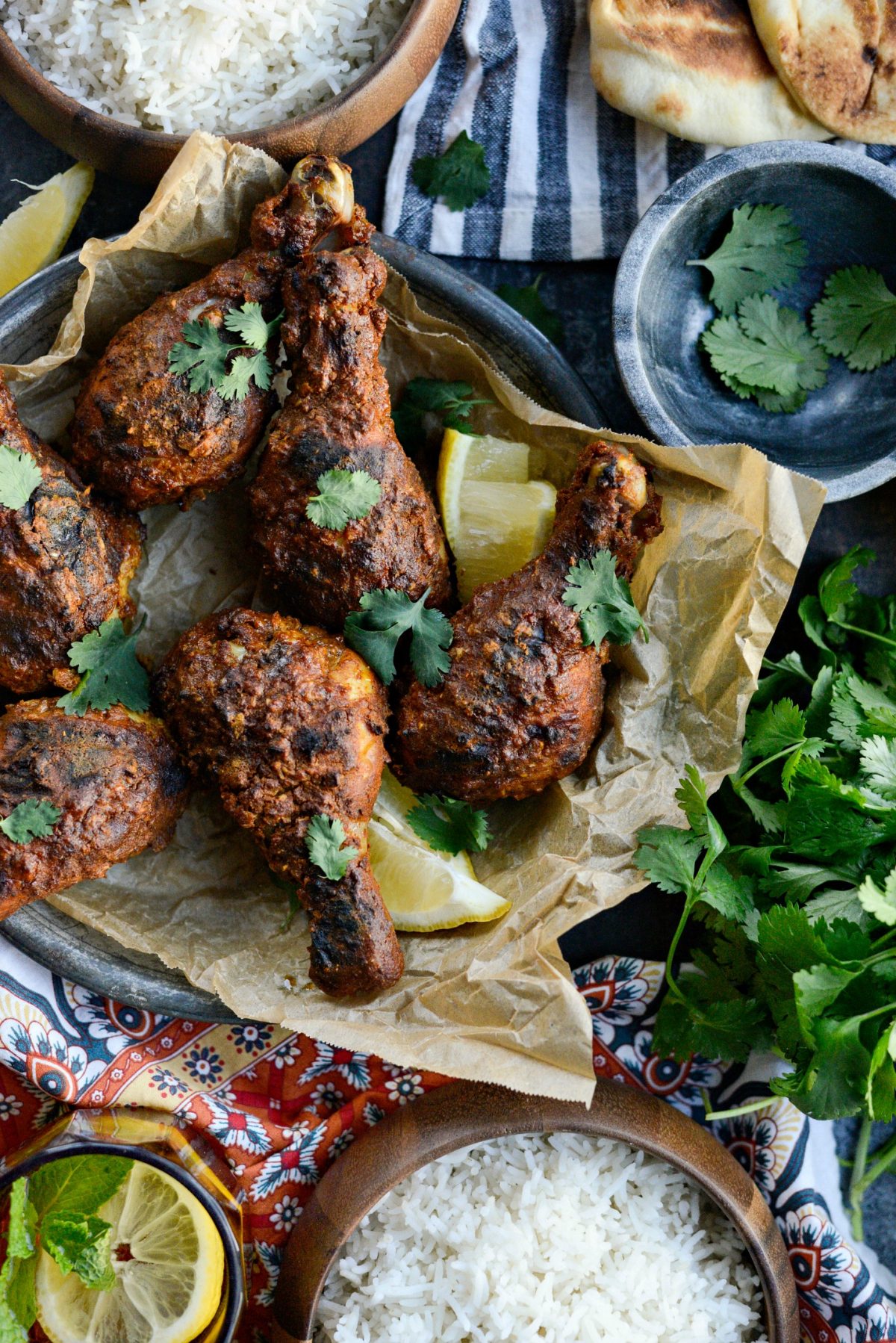 This post may contain affiliate links.
Buy the Cookbook: Simply Scratch : 120 Wholesome Homemade Recipes Made Easy Now available on Amazon »
THANK YOU in advance for your support!