In this Cider Mill Doughnut Bread Pudding, day old doughnuts are baked in a cinnamon custard until decadent and delicious. Serve in a bowl with a scoop or two of vanilla ice cream and a drizzle of the homemade butter rum sauce.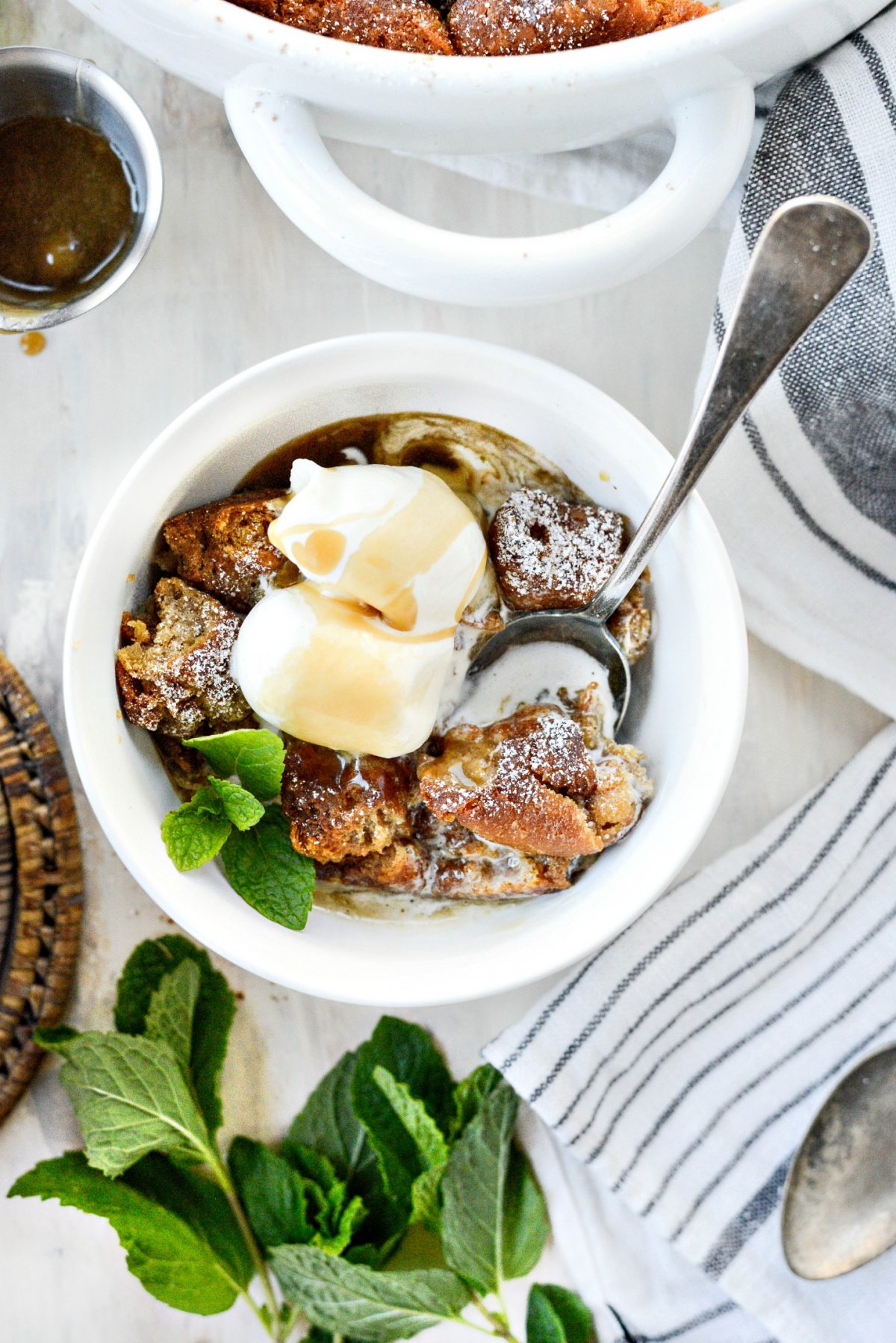 A few weeks ago, I dropped Malloree off with friends who were going through a haunted manor and spooky trail through woods. Pat was up north hunting, so Haileigh and I went out to dinner, just the two of us. After a 45 minute wait that turned into an 85 minute wait, we finally sat down. Starving, we both splurged and ordered the lobster shrimp fettuccine alfredo pasta, a side salad (her caesar, me Martha's Vineyard) and then we shared a dessert at the end of our meal. The pasta was fantastic and we talked as we ate and had quality mother-daughter time.
While we were going over the dessert menu, we couldn't decide between two desserts. The one was a indulgent brownie concoction and the other was a cider mill doughnut bread pudding. Obviously we went with the latter and as you can guess, is the inspiration for this dessert.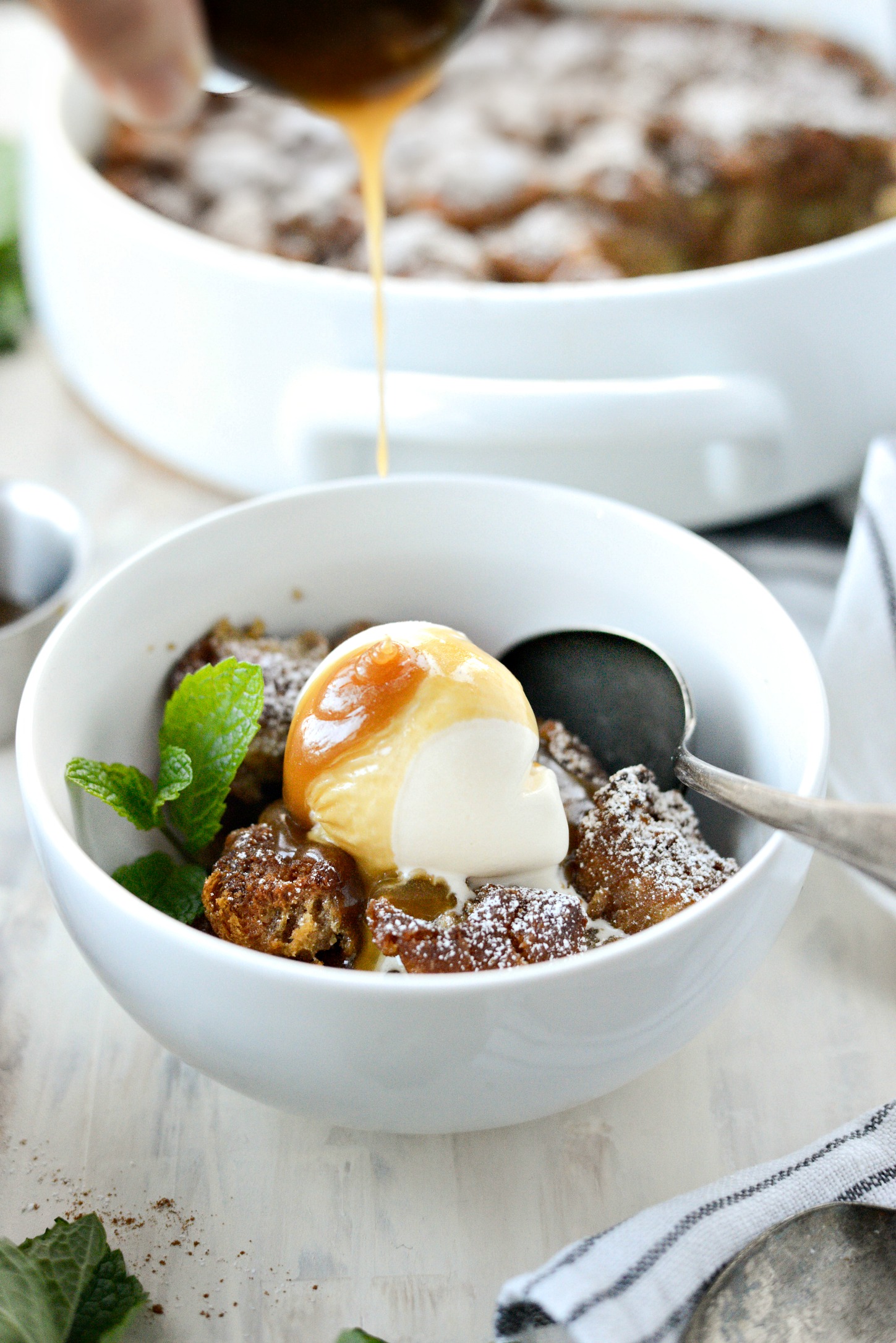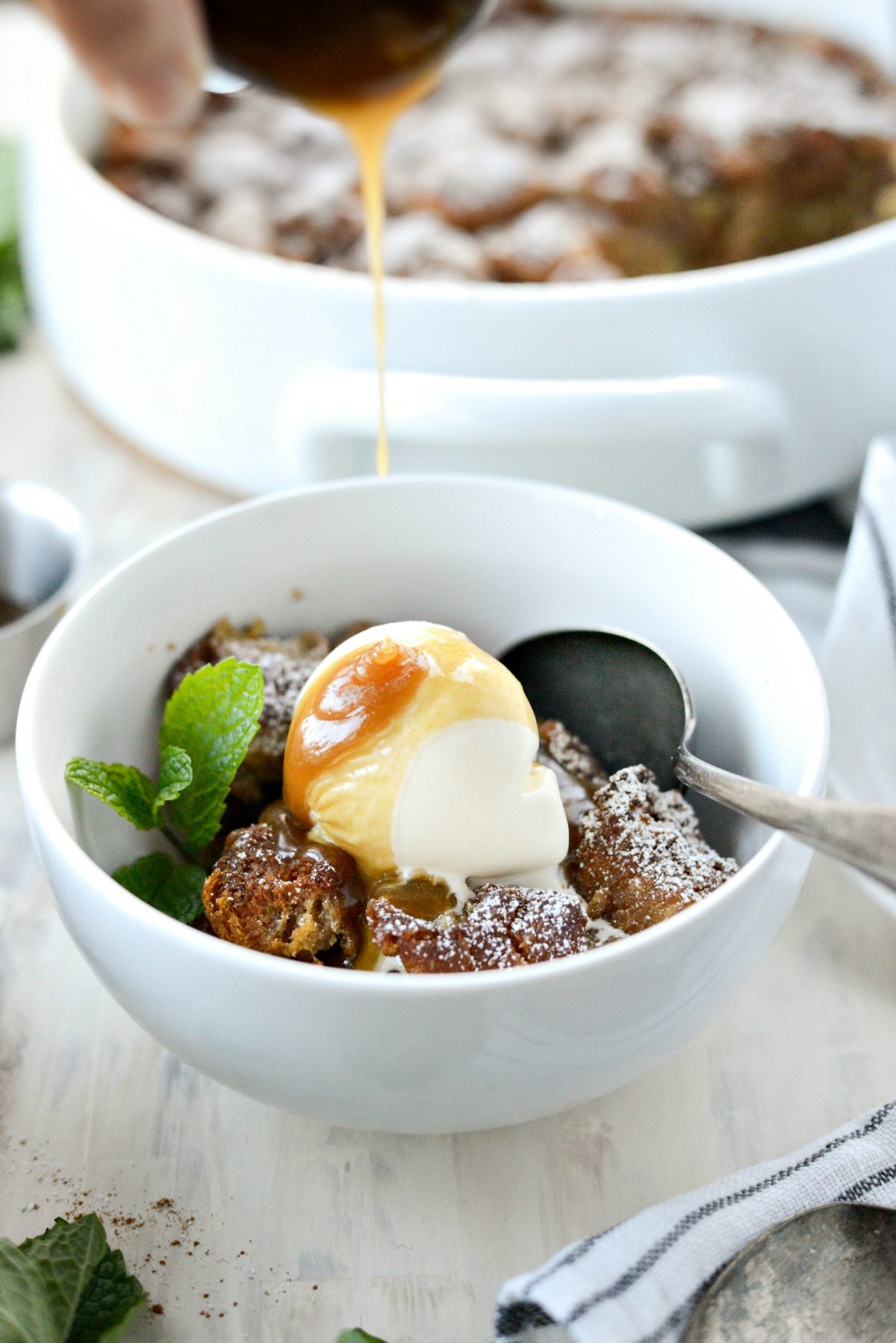 A piping hot ramekin of doughnut bread pudding with a scoop of ice cream in the middle and two spoons was delivered to us and on the side was a small cup of hot butter rum sauce.
It. Was. Heaven.
By the end of our meal, we were blissfully stuffed and in desperate need of a nap. But we both agreed it was the perfect night with the most delicious food.
Days later I was still thinking about that dessert. The use of doughnuts instead of bread was brilliant, and I knew that I needed to make this at home as soon as possible.
Luckily for me, there's a cider mill right around the corner from where I live. I picked up 2 dozen doughnuts, some for us and some I left out overnight to stale.
To Make This Cider Mill Doughnut Bread Pudding You Will Need:
day old (stale) plain cider mill doughnuts
eggs
sugar
vanilla
cinnamon
nutmeg
heavy cream
melted [cooled] unsalted butter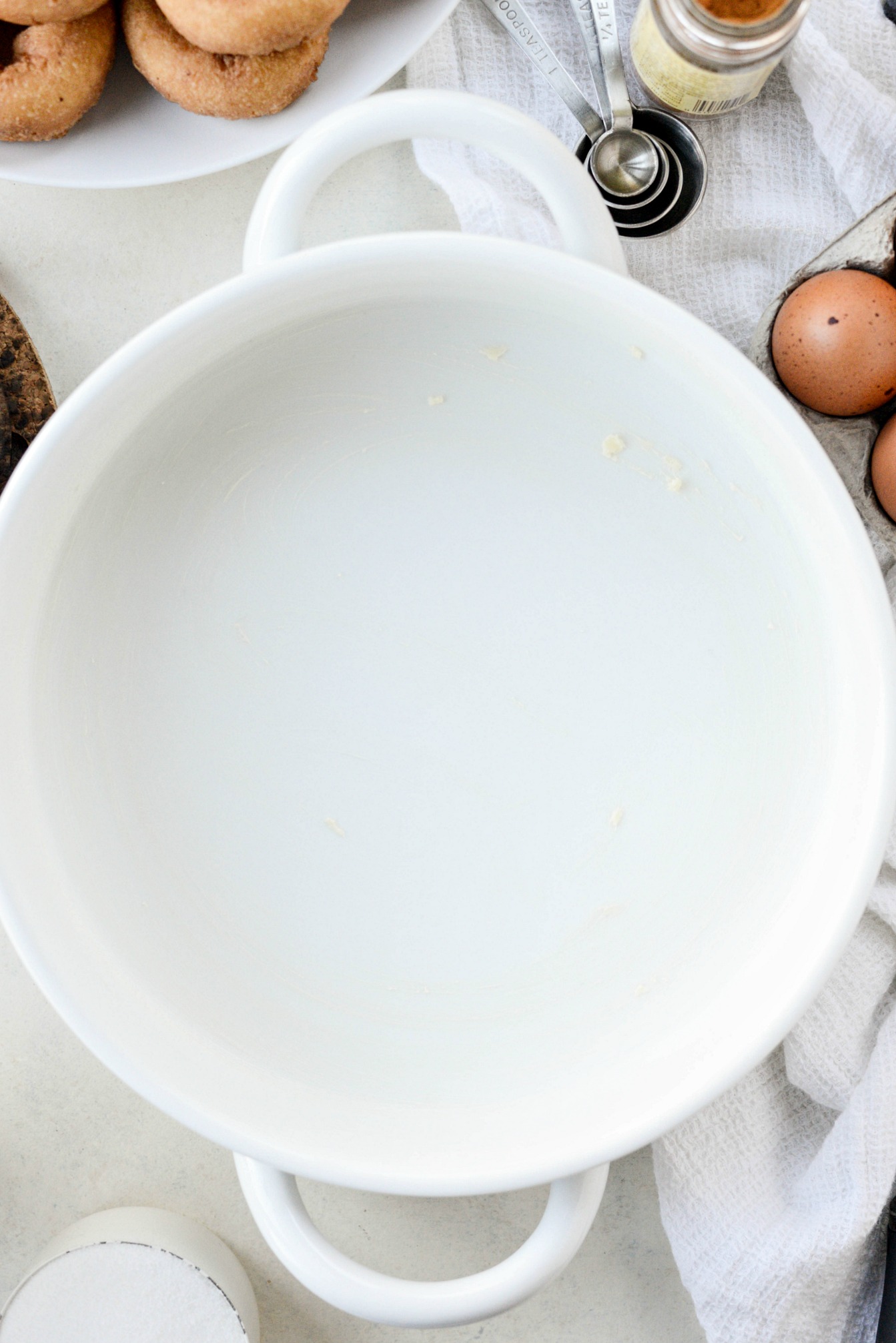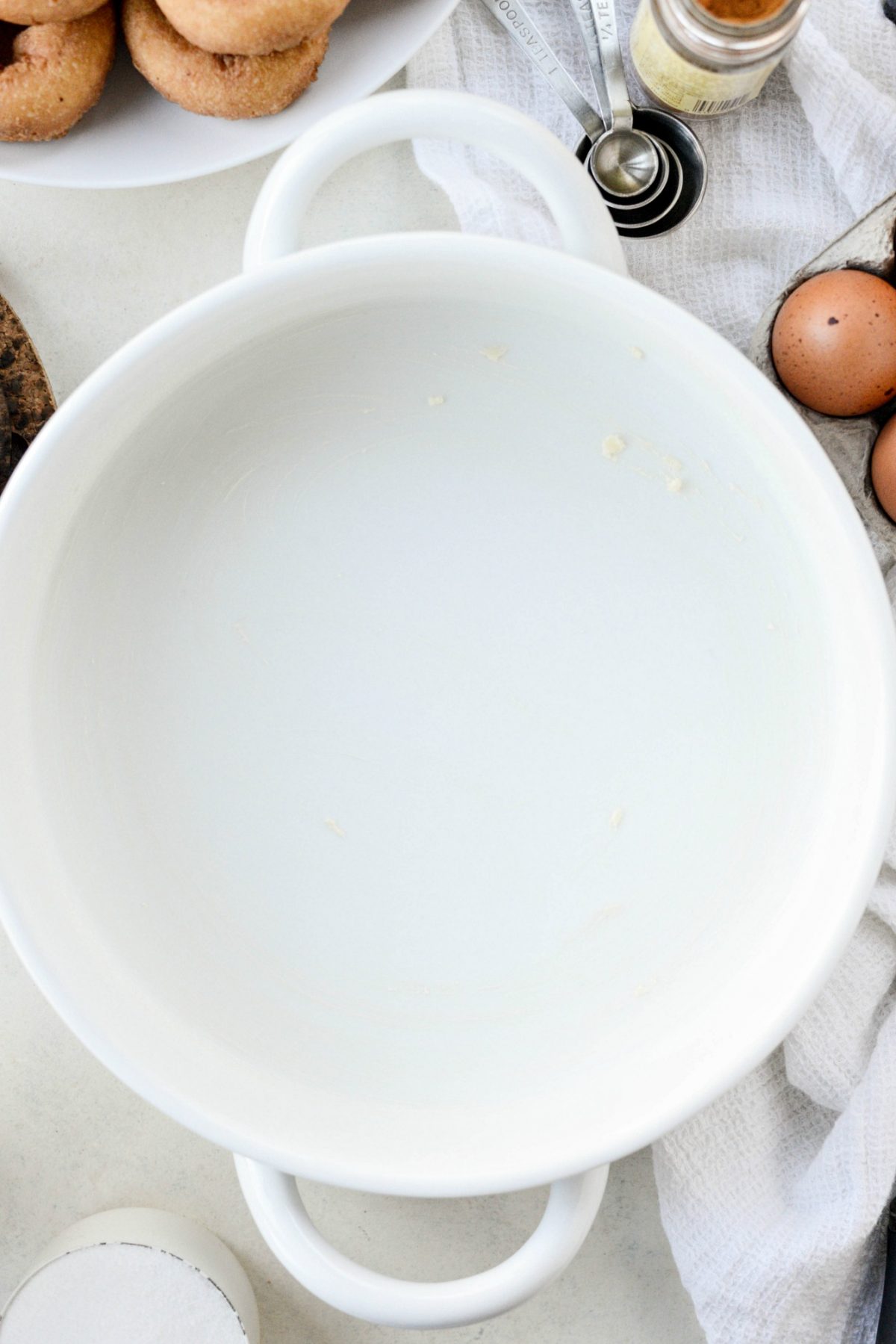 Butter a 3 quart baking dish with a little softened butter.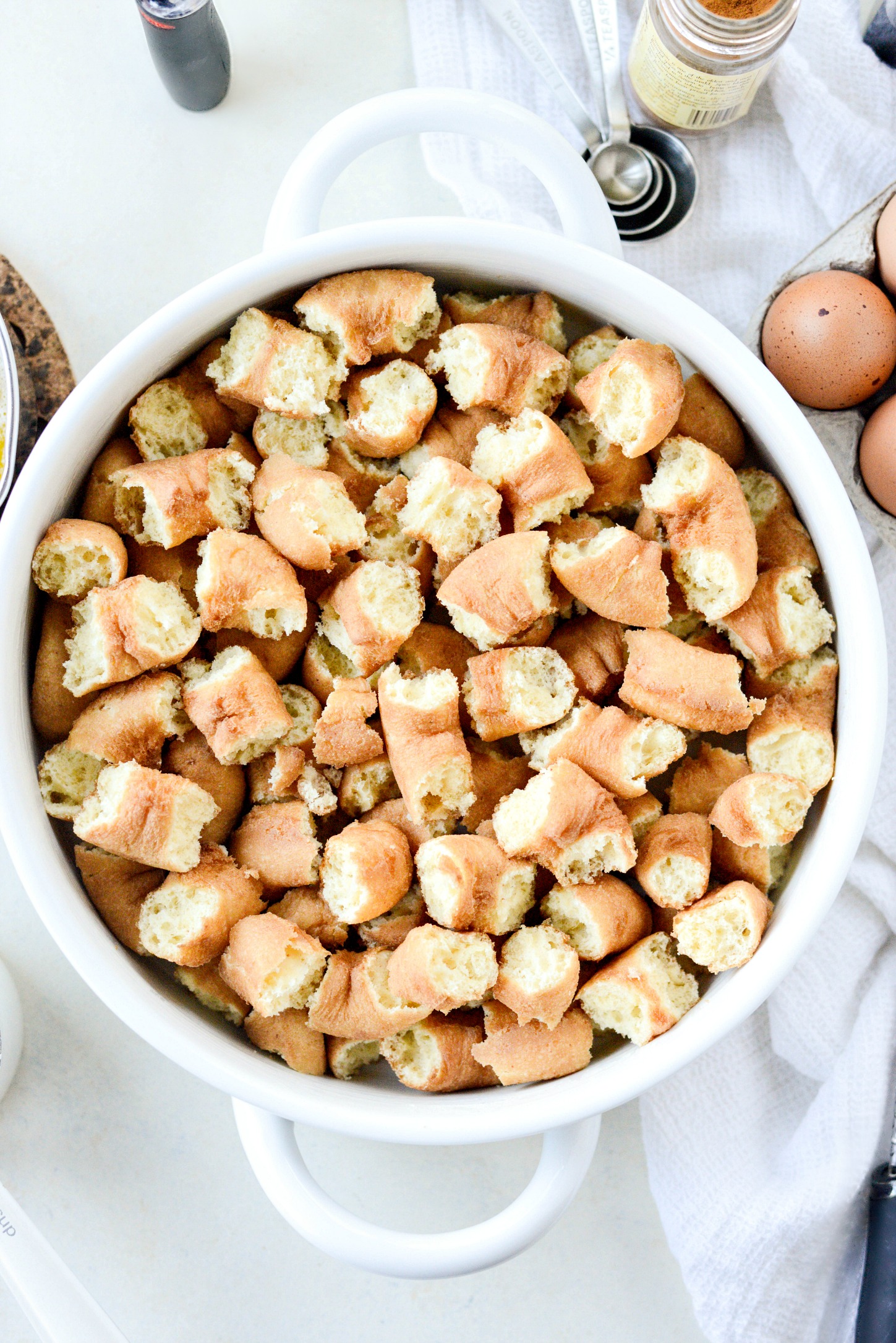 Then break the stale doughnuts into bite-size pieces and place into your prepared pan.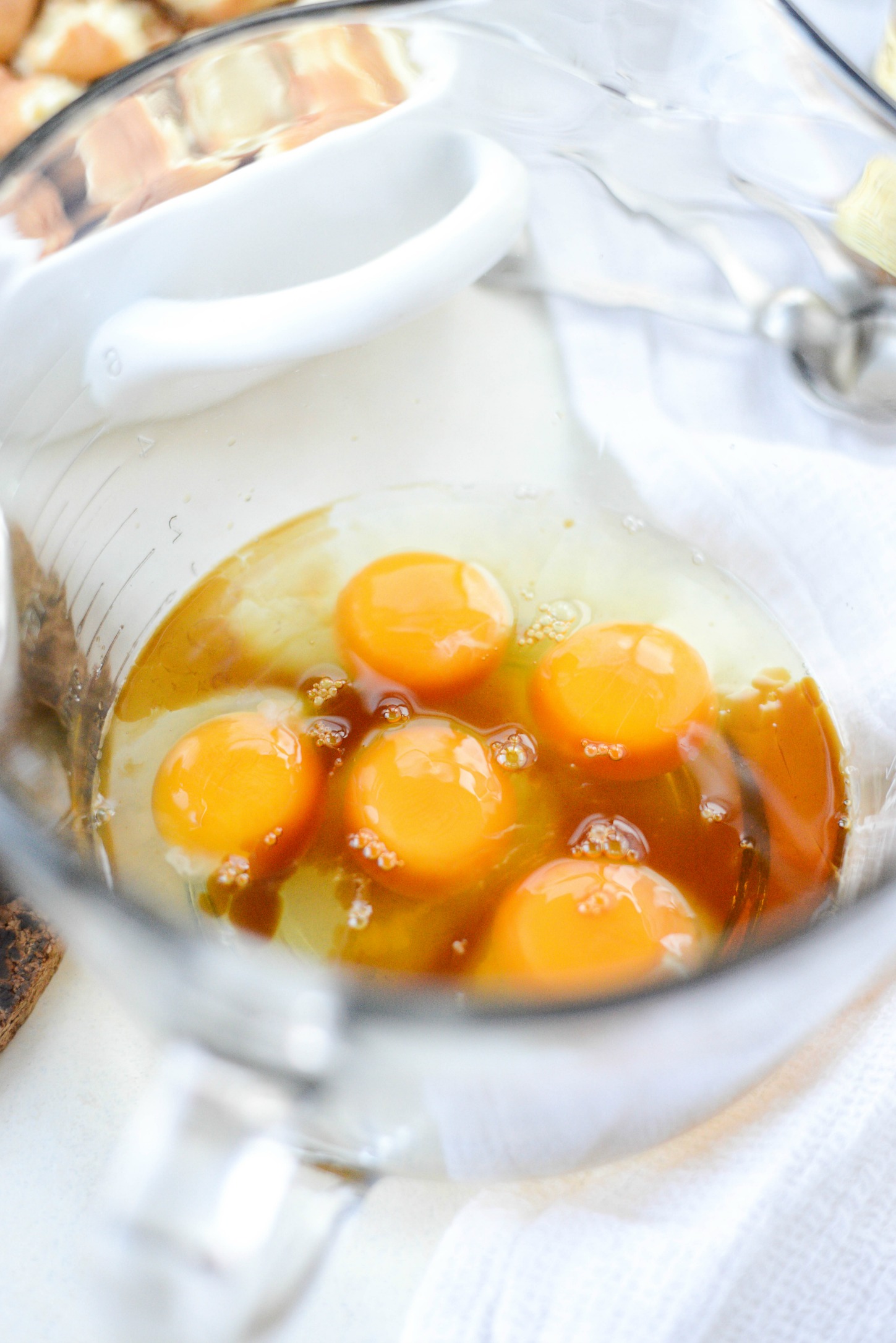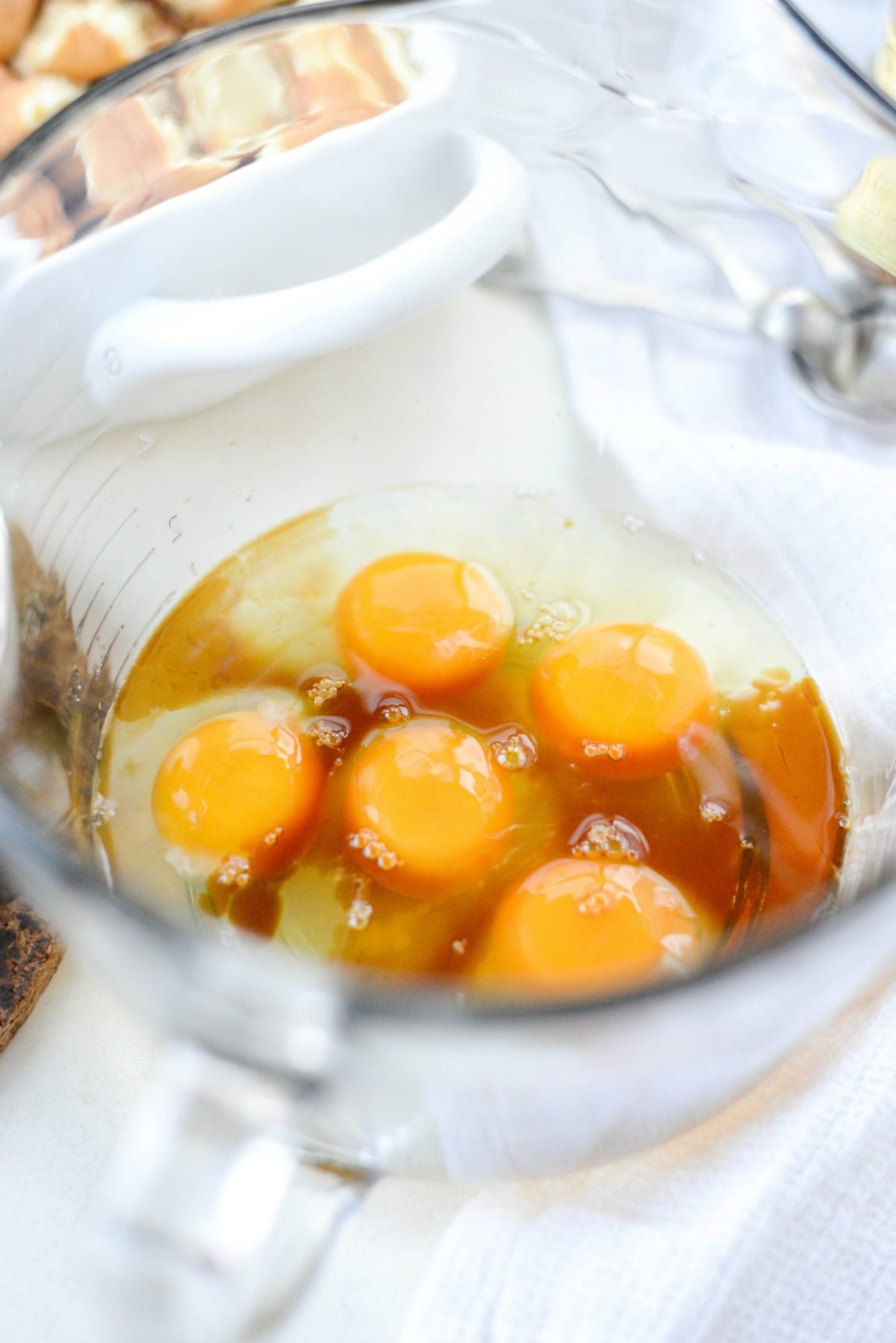 In a large bowl, crack in the 5 large eggs.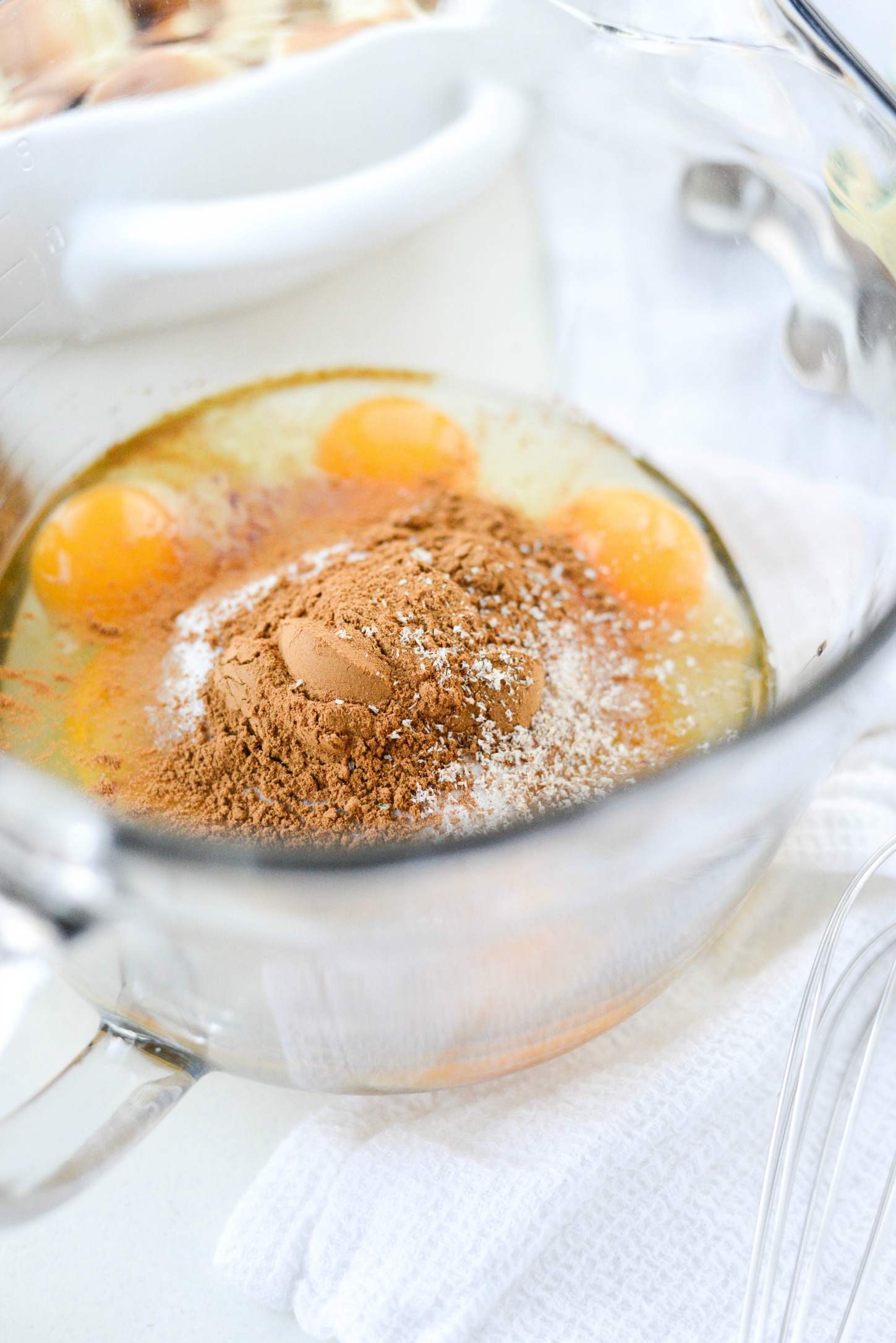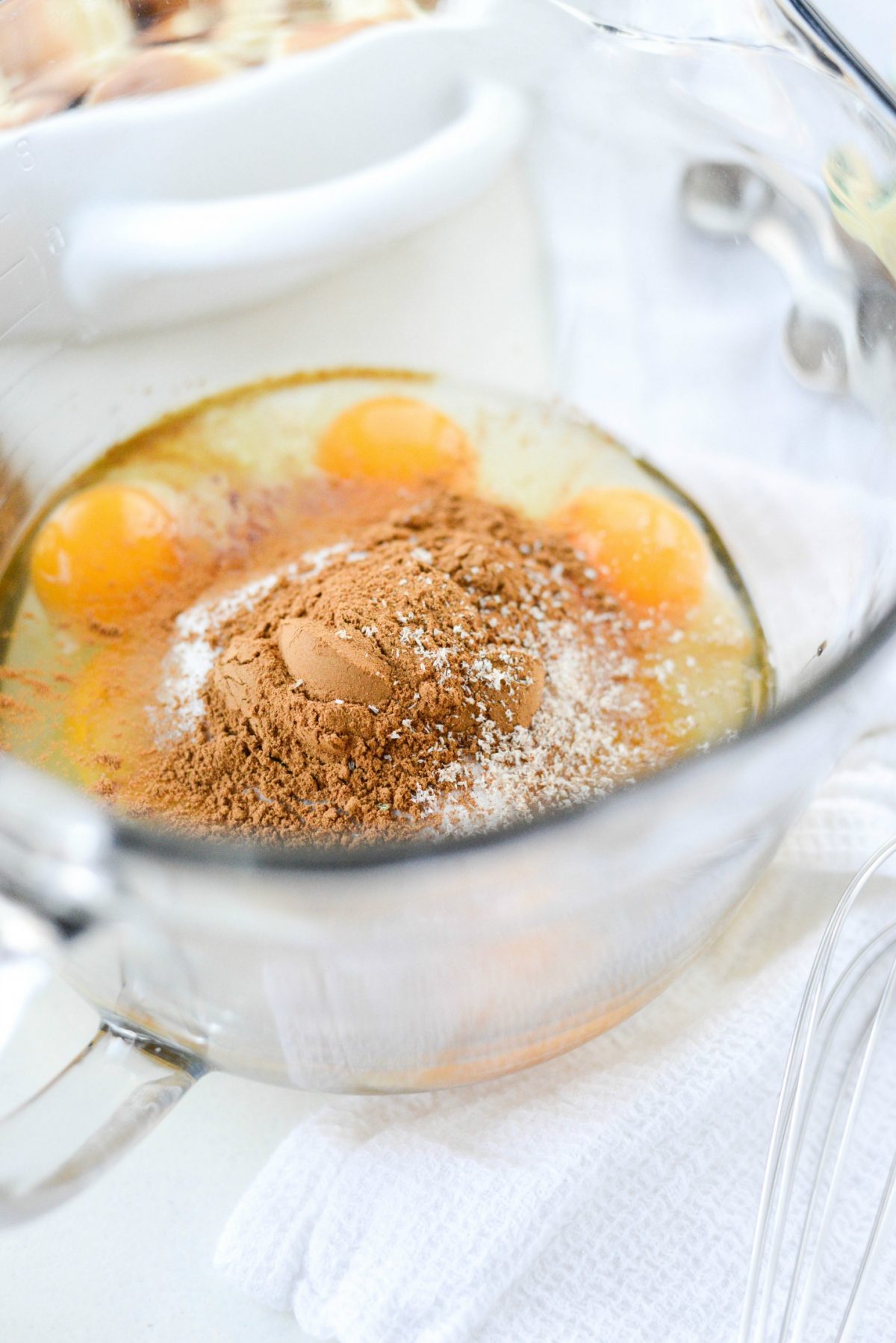 To that, add in 1 cup of sugar, 2 teaspoons vanilla, 2 teaspoons of cinnamon and grate in 1/4 teaspoon of nutmeg.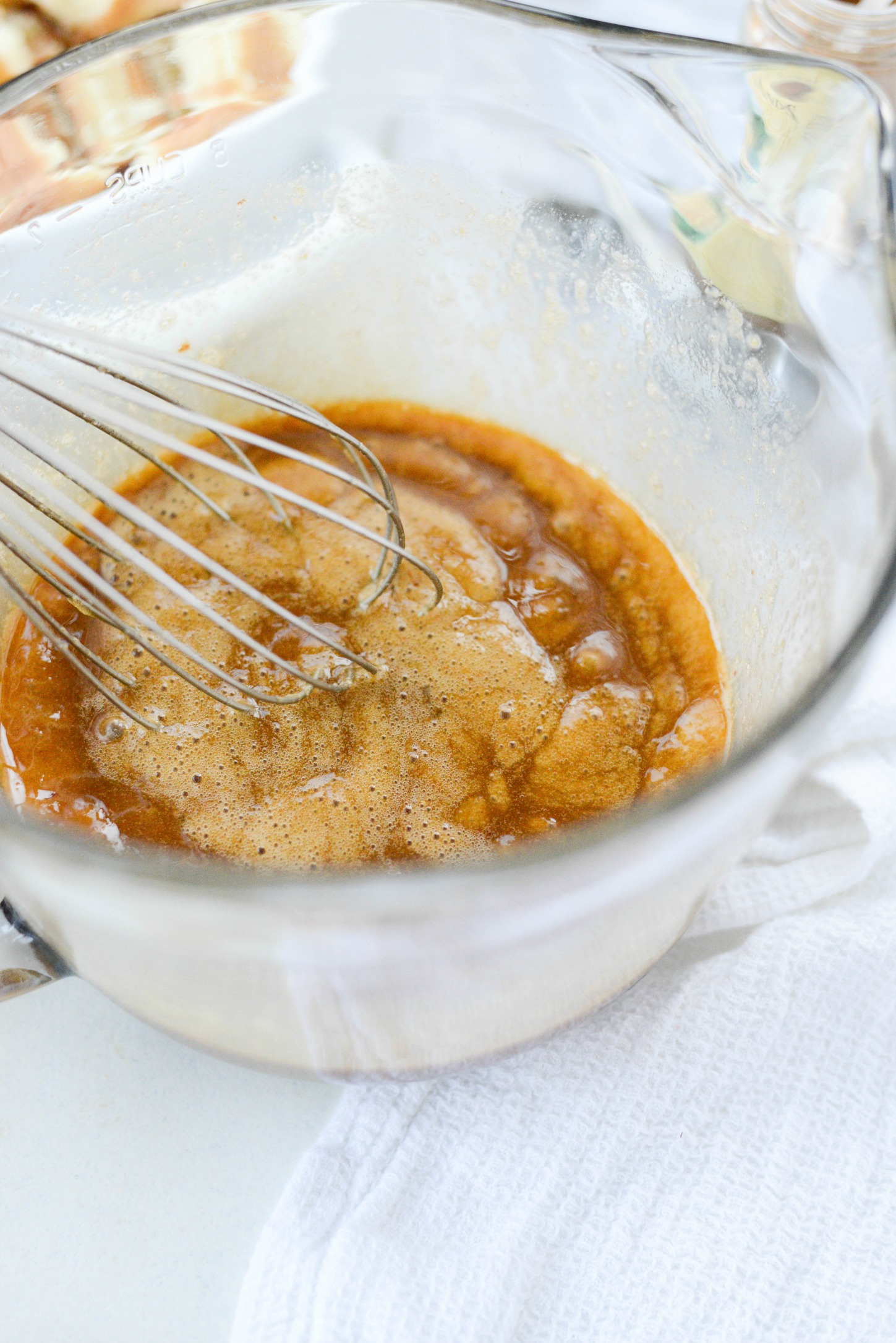 Whisk until all of the ingredients are blended.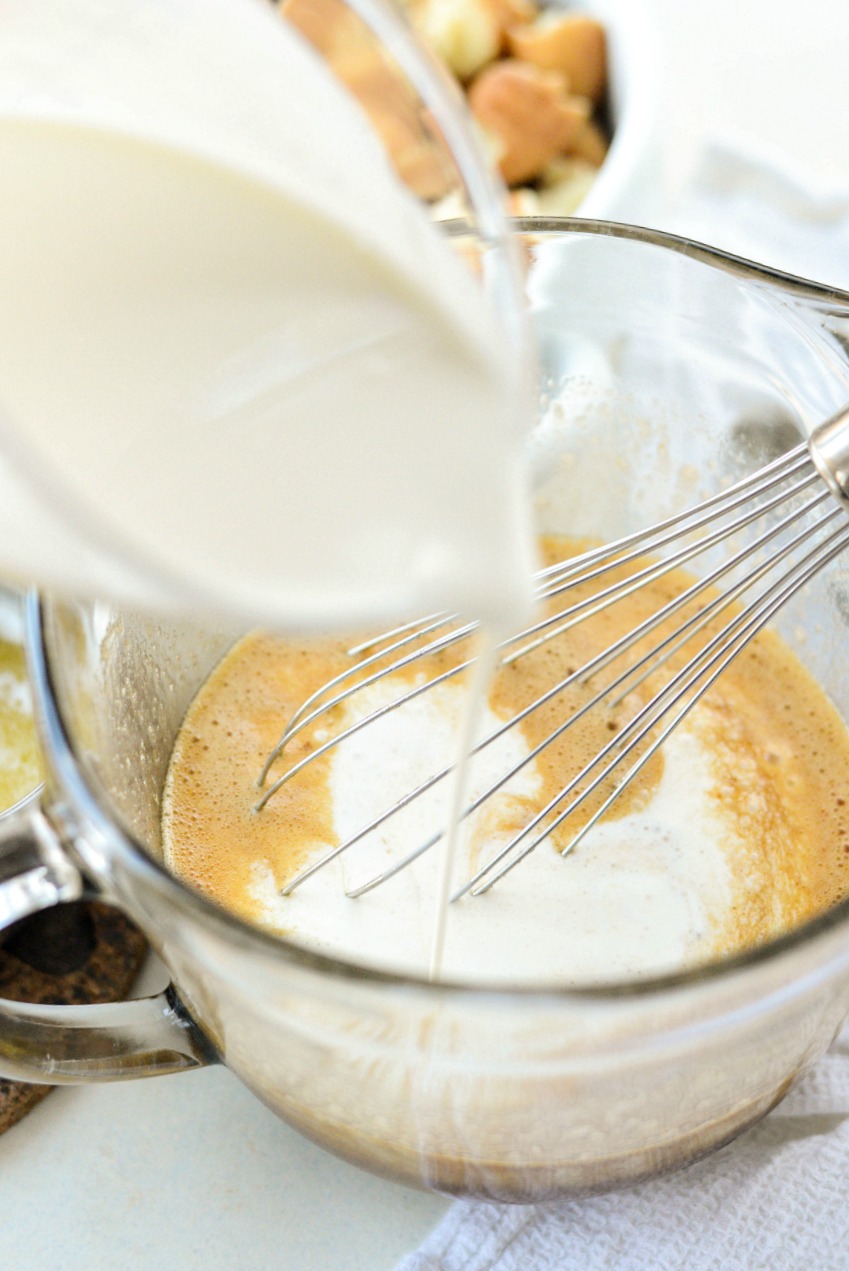 Next, pour in the 2 cups of heavy cream.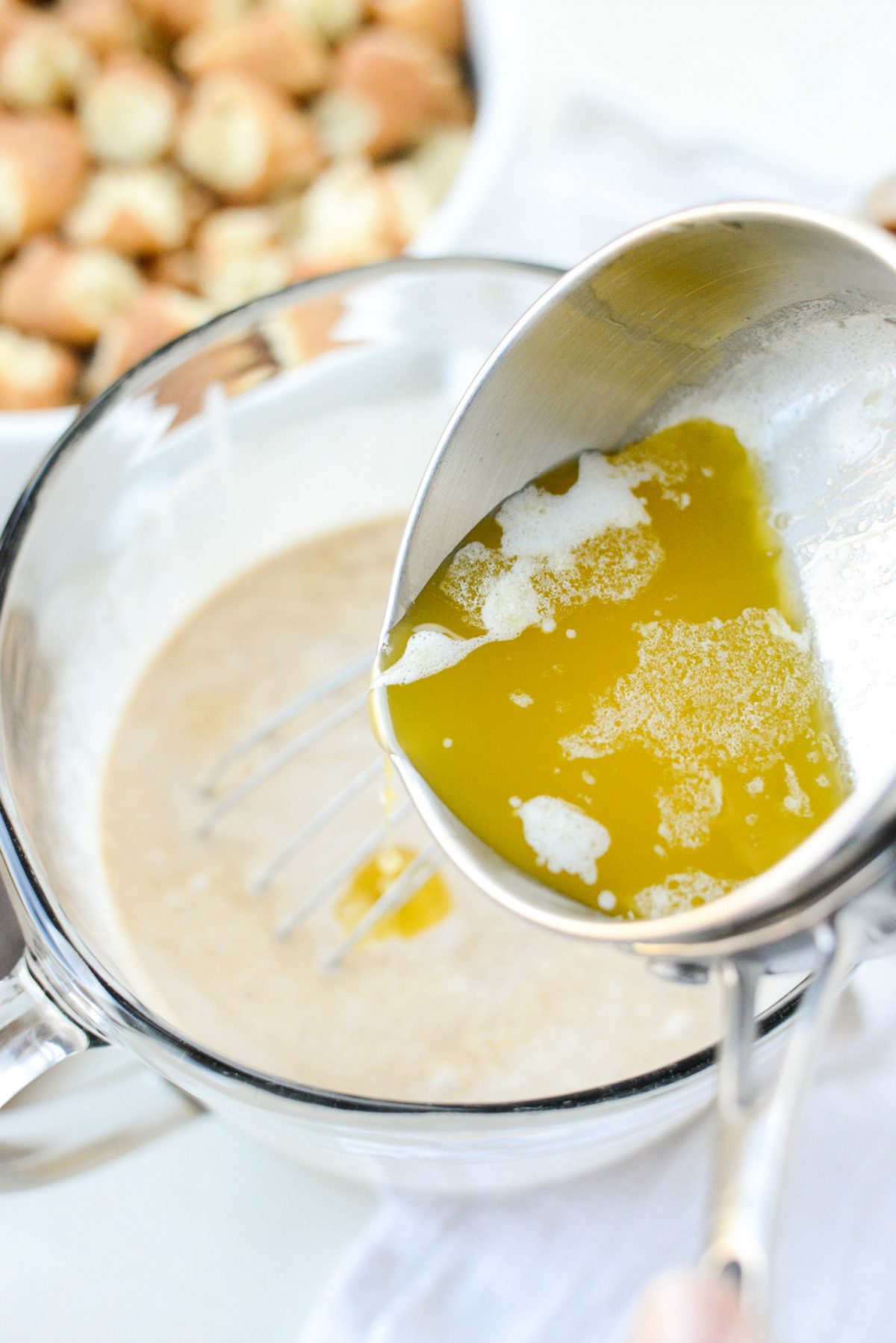 Then slowly pour in the stick of melted (cooled) butter.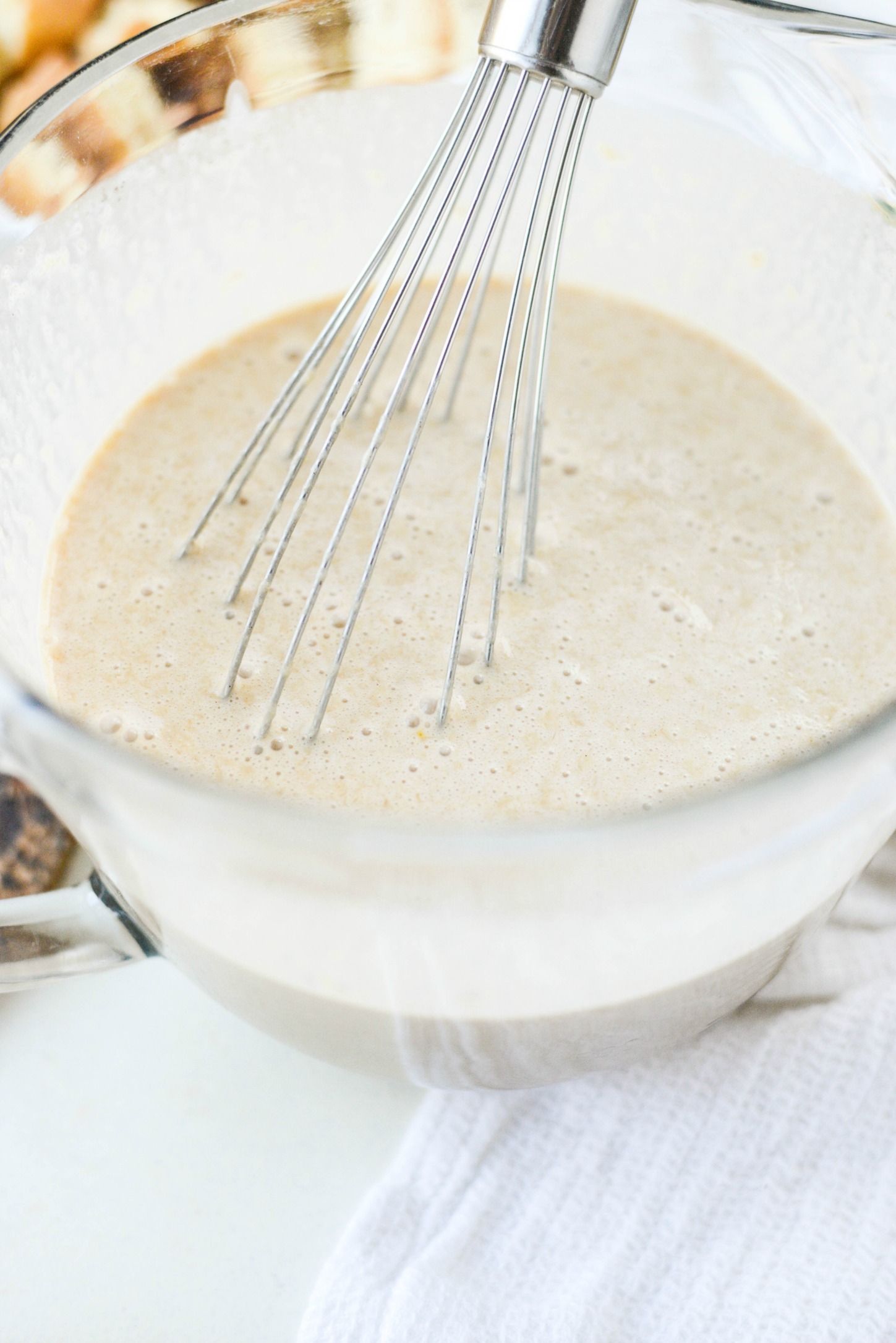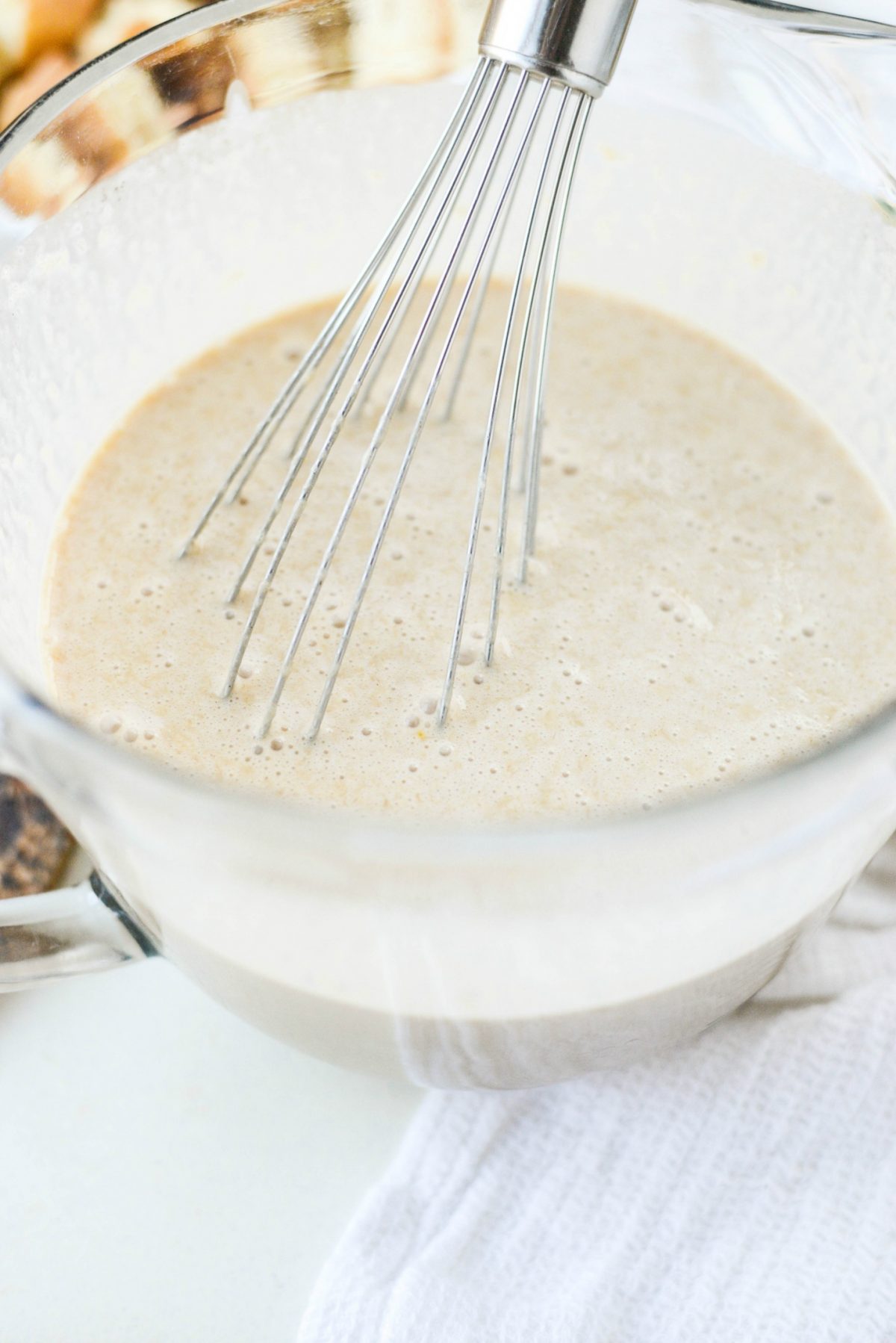 Whisk well to combine.
Next pour the egg and cream mixture over top of the broken doughnut pieces.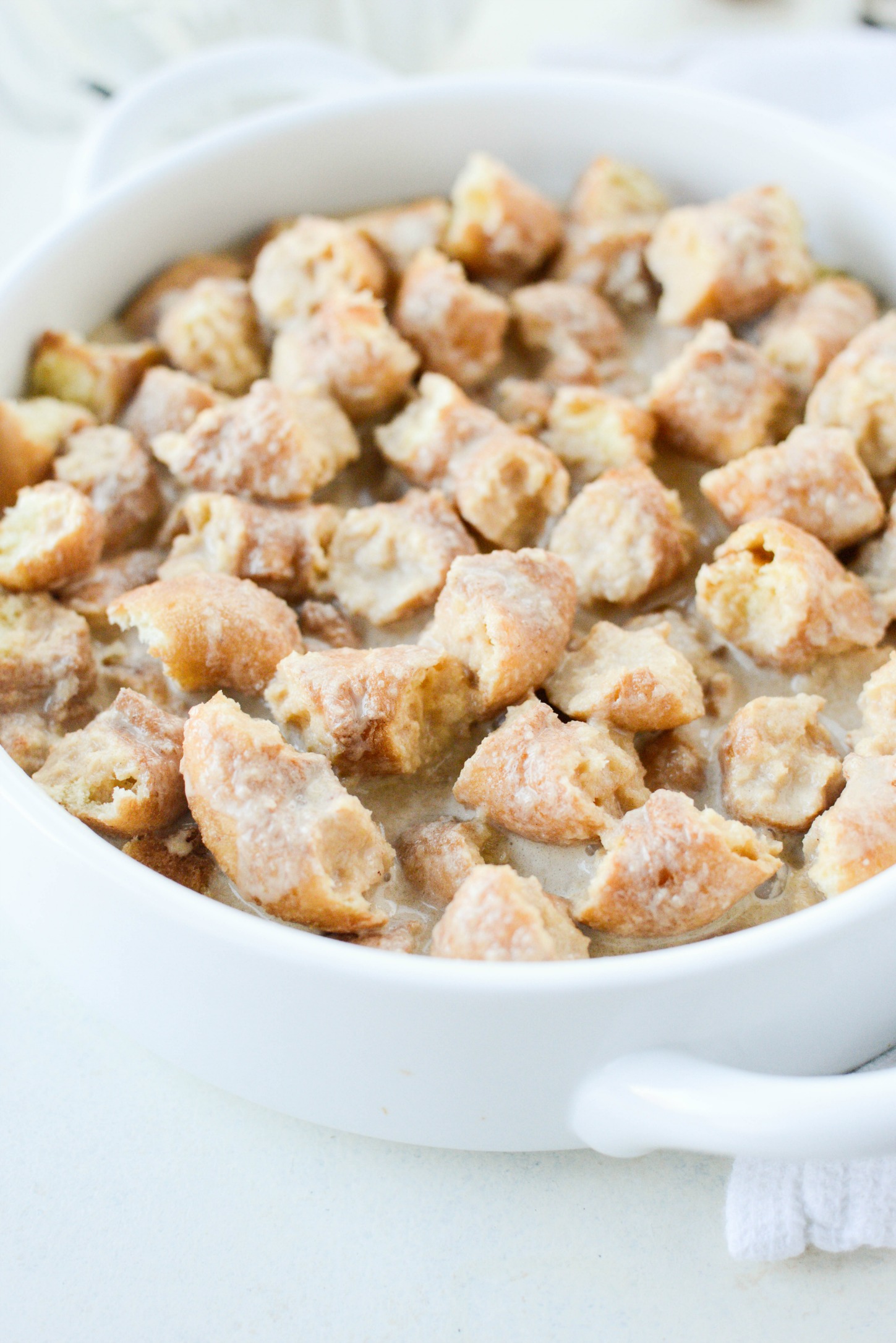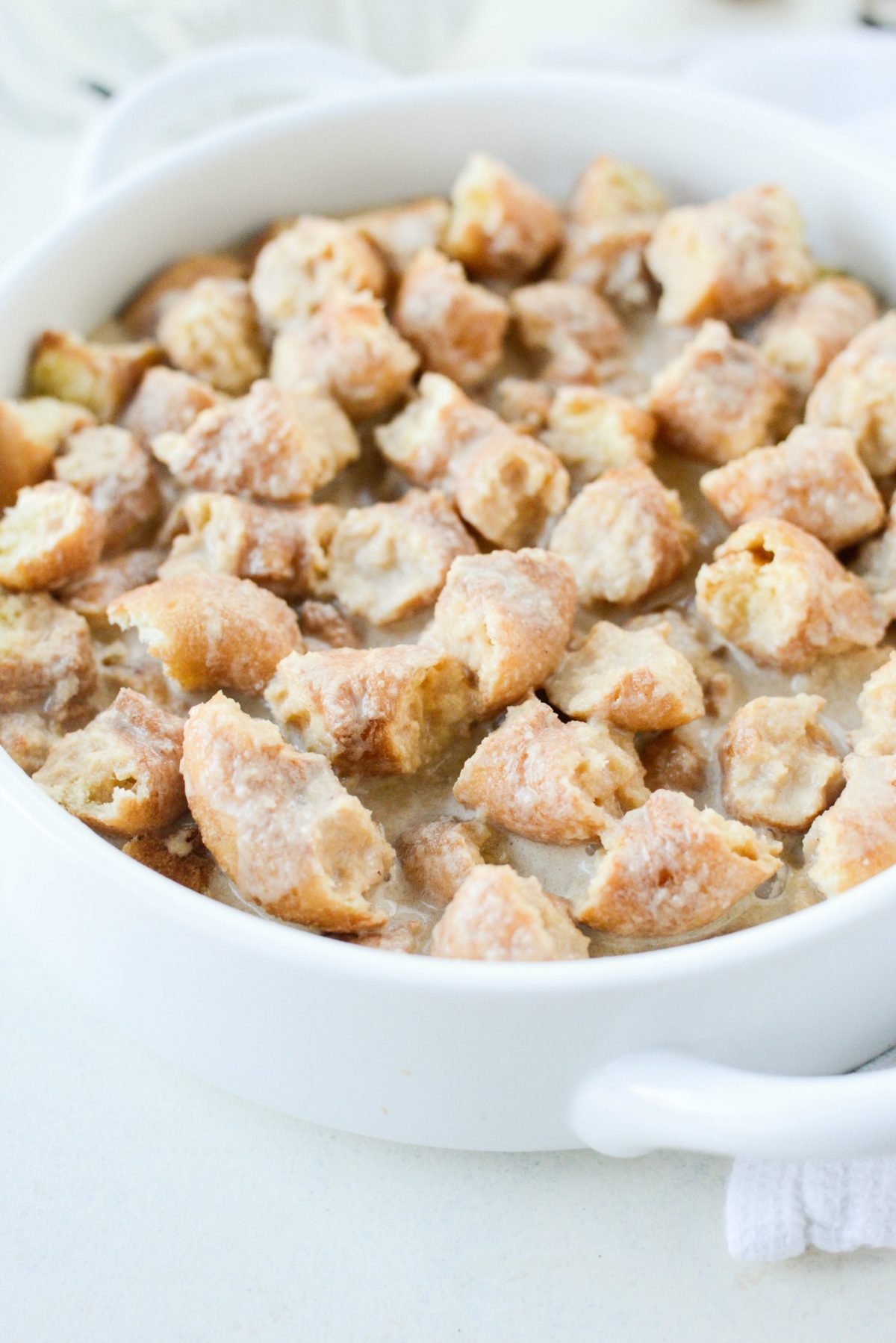 With your impeccably clean hands, press the doughnut pieces down so they can absorb as much of the cream mixture as possible. Allow the doughnuts to soak up the custard for 20 minutes before covering with aluminum foil.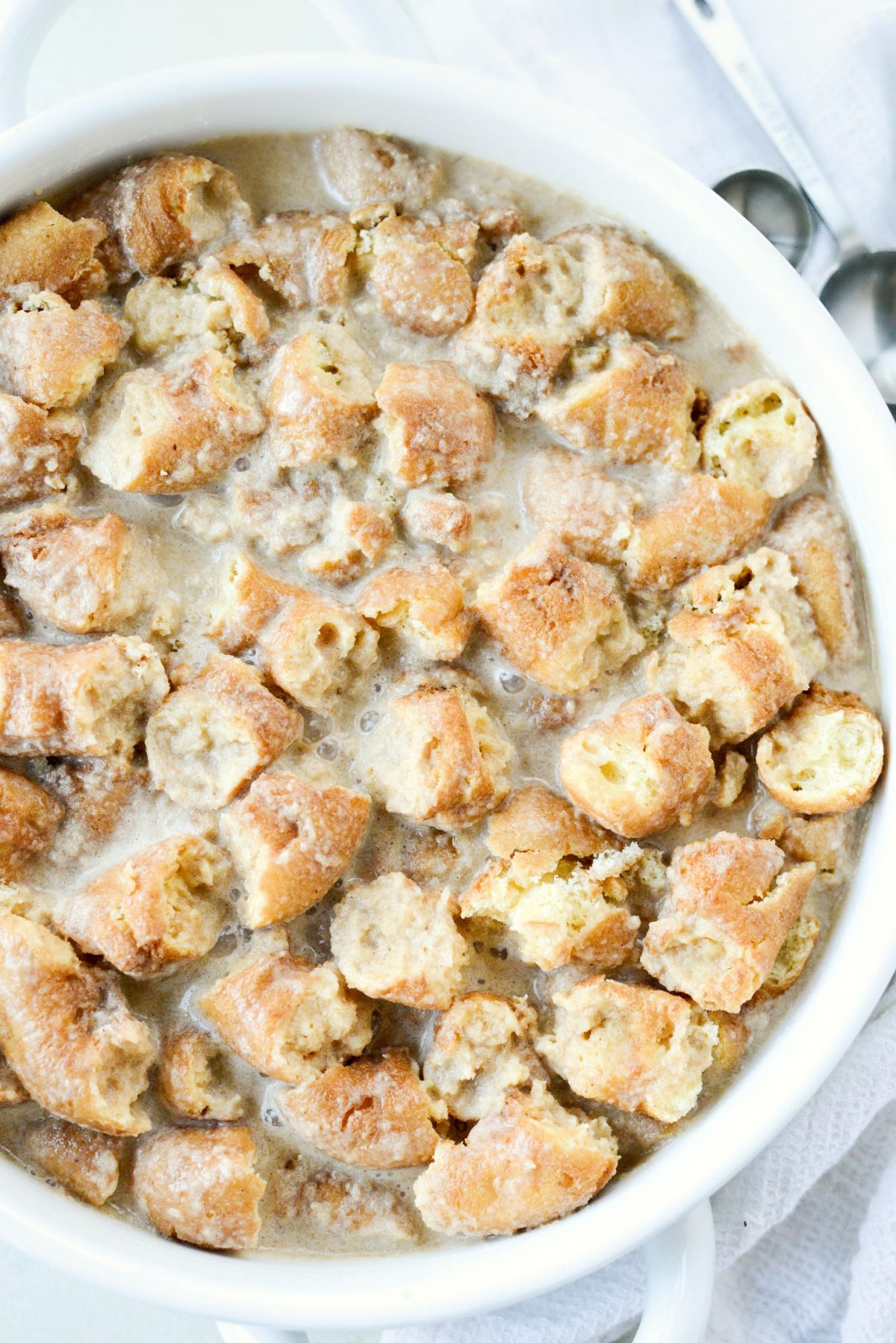 Bake for 35 minutes on the middle rack of your preheated 350° oven. Then uncover and continue to bake for 20 more minutes, until set and the top is crisp and golden brown.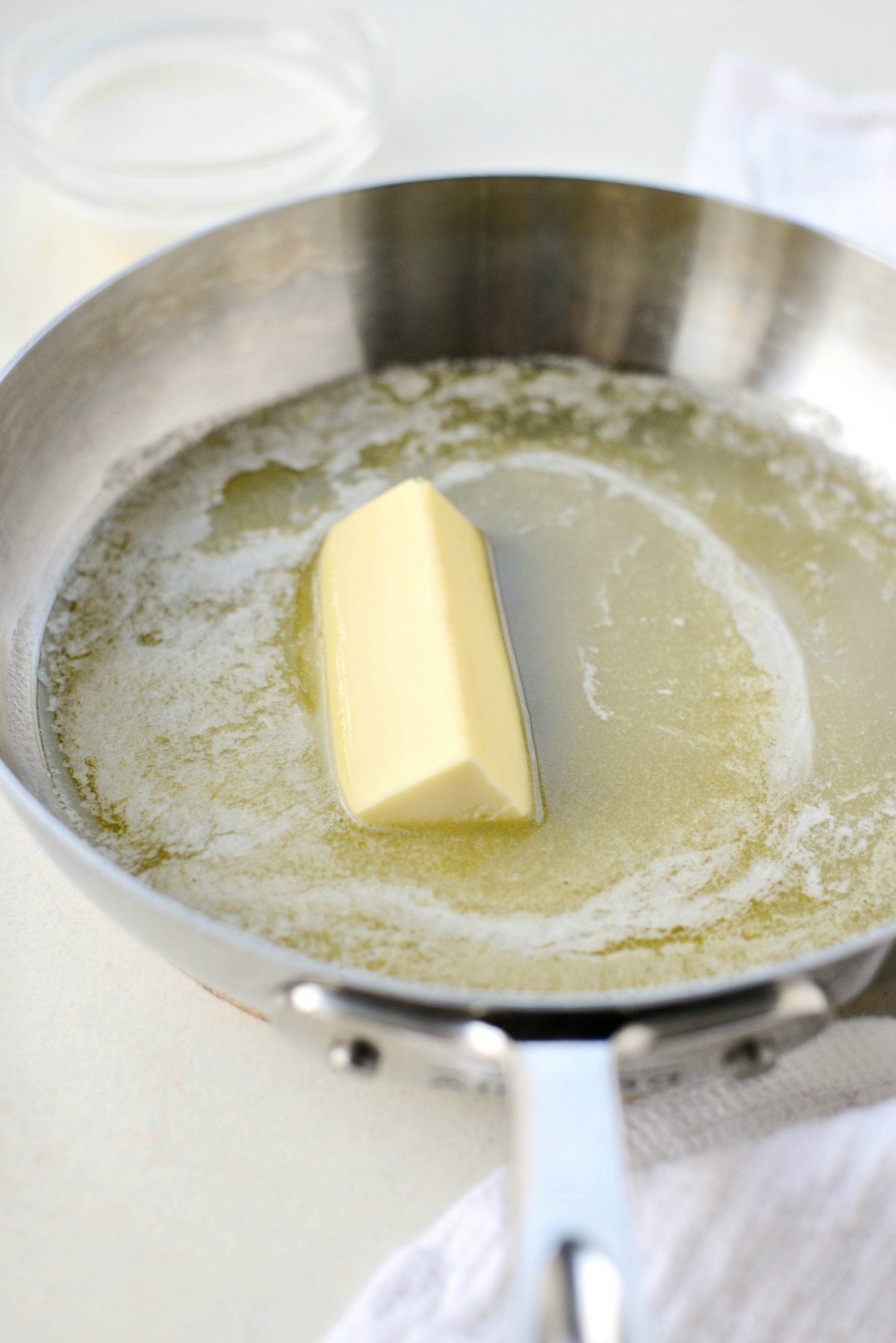 To Make The Butter Rum Sauce You Will Need:
unsalted butter
dark brown sugar
heavy cream
dark rum
In a small skillet, melt 6 tablespoons of unsalted butter.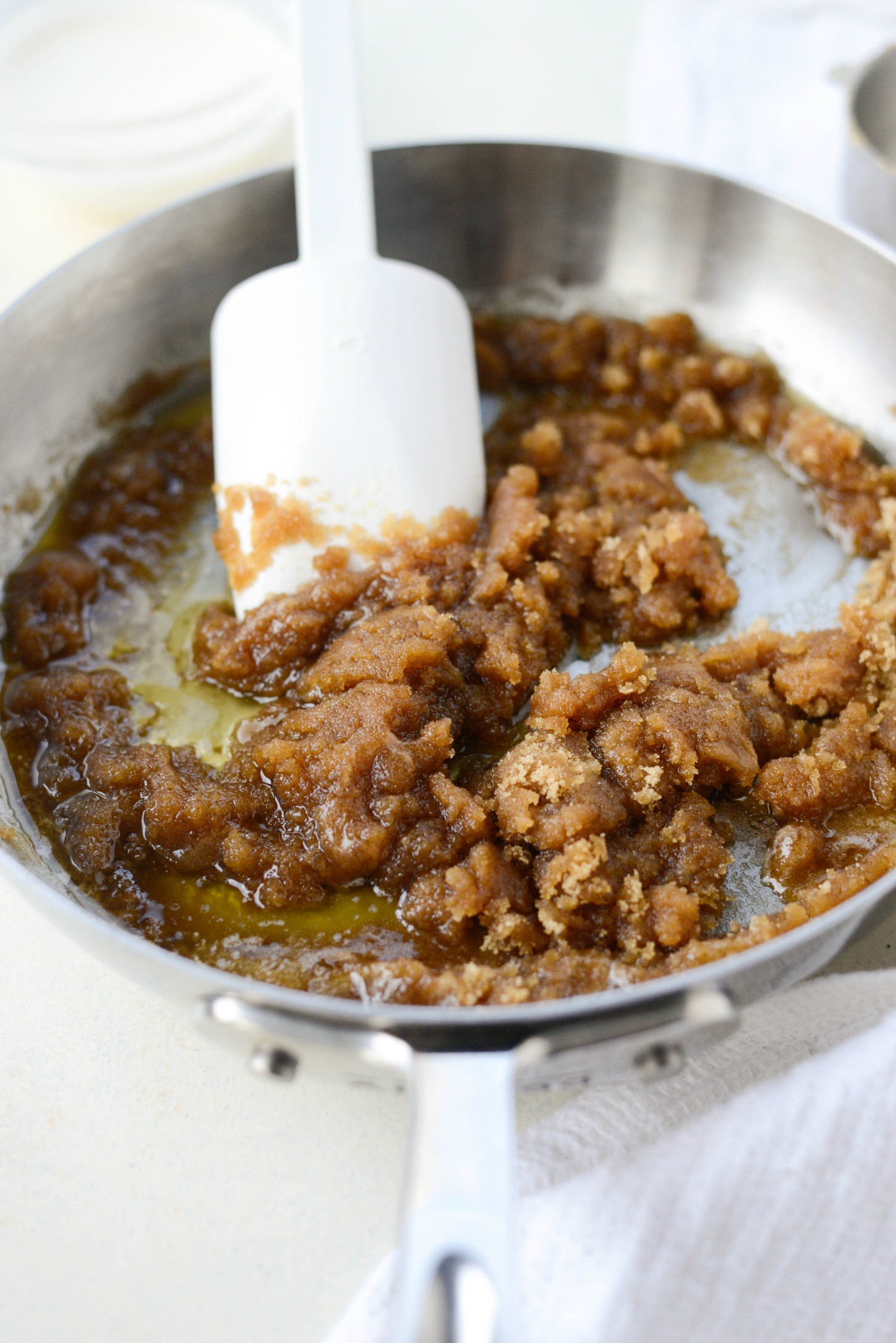 Add in 3/4 cup of light brown sugar.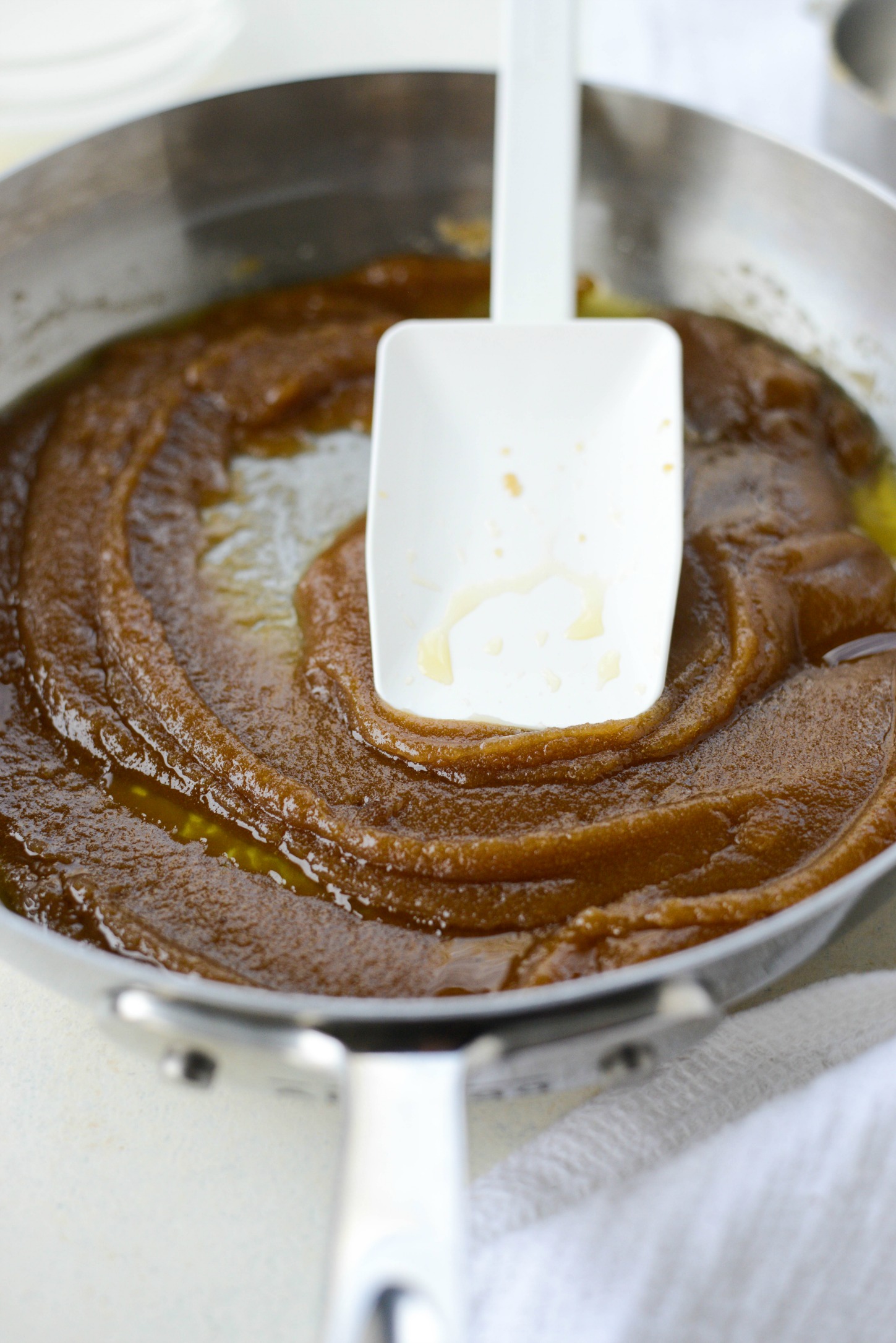 Stir until smooth.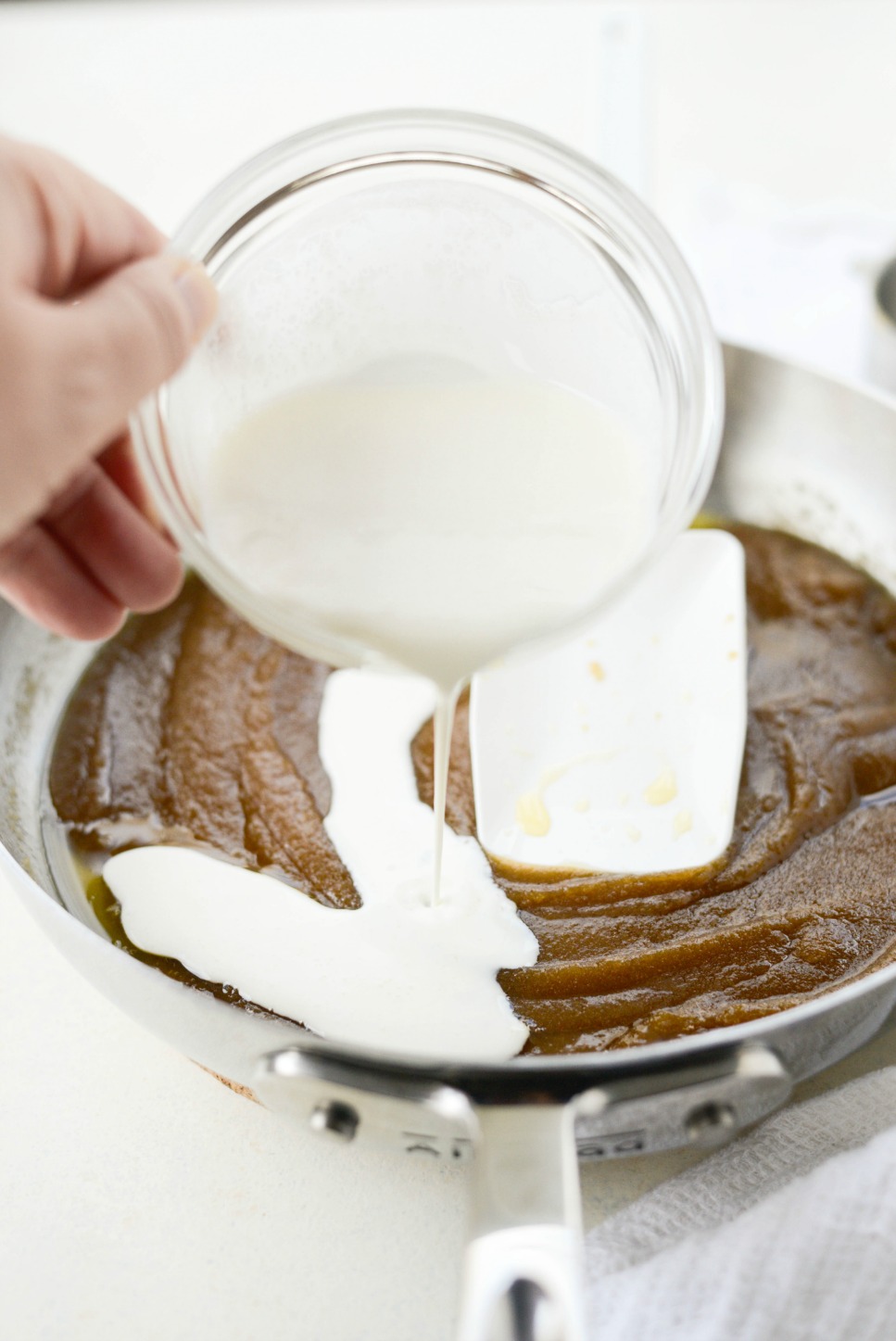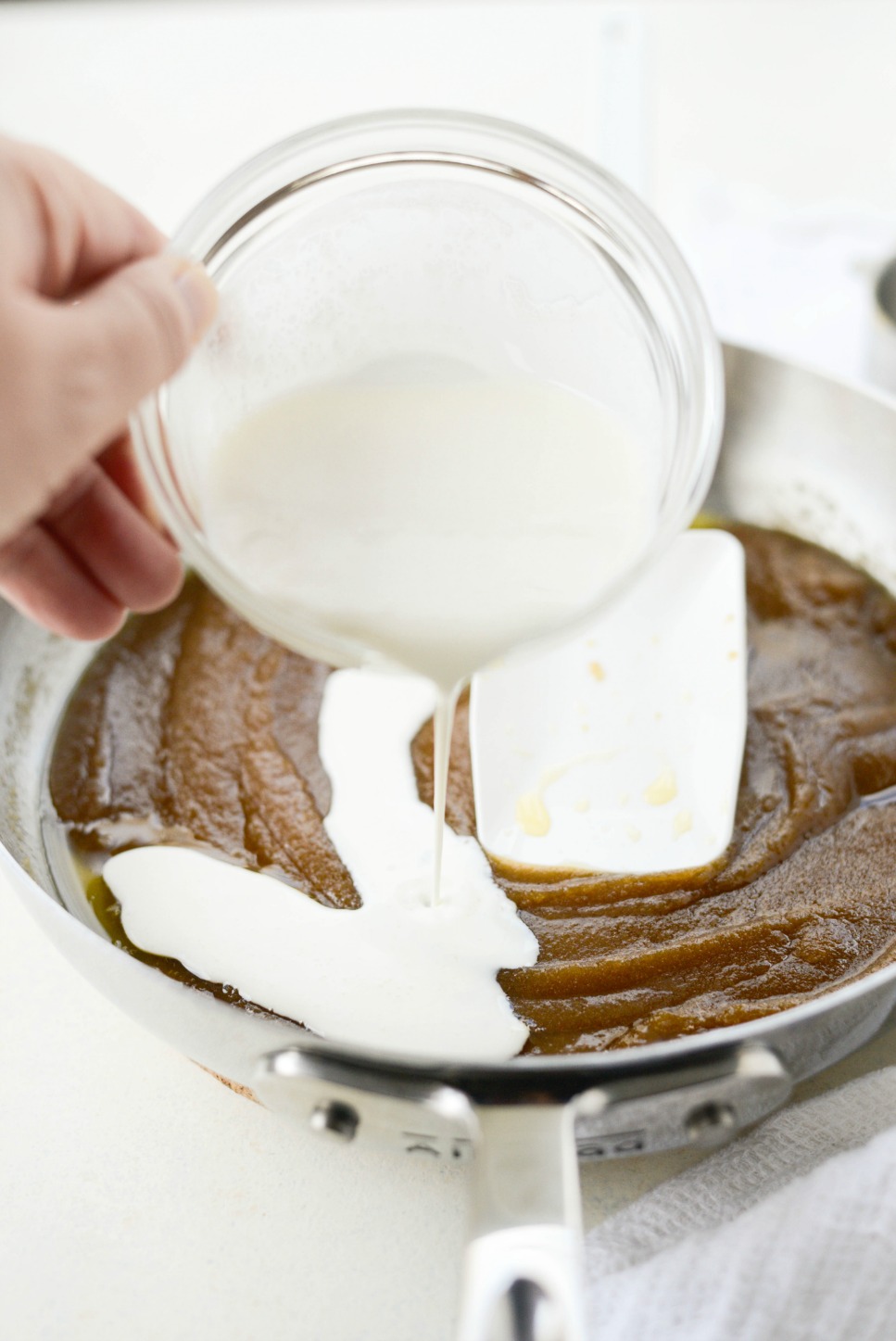 Next, add in 1/3 cup of heavy cream.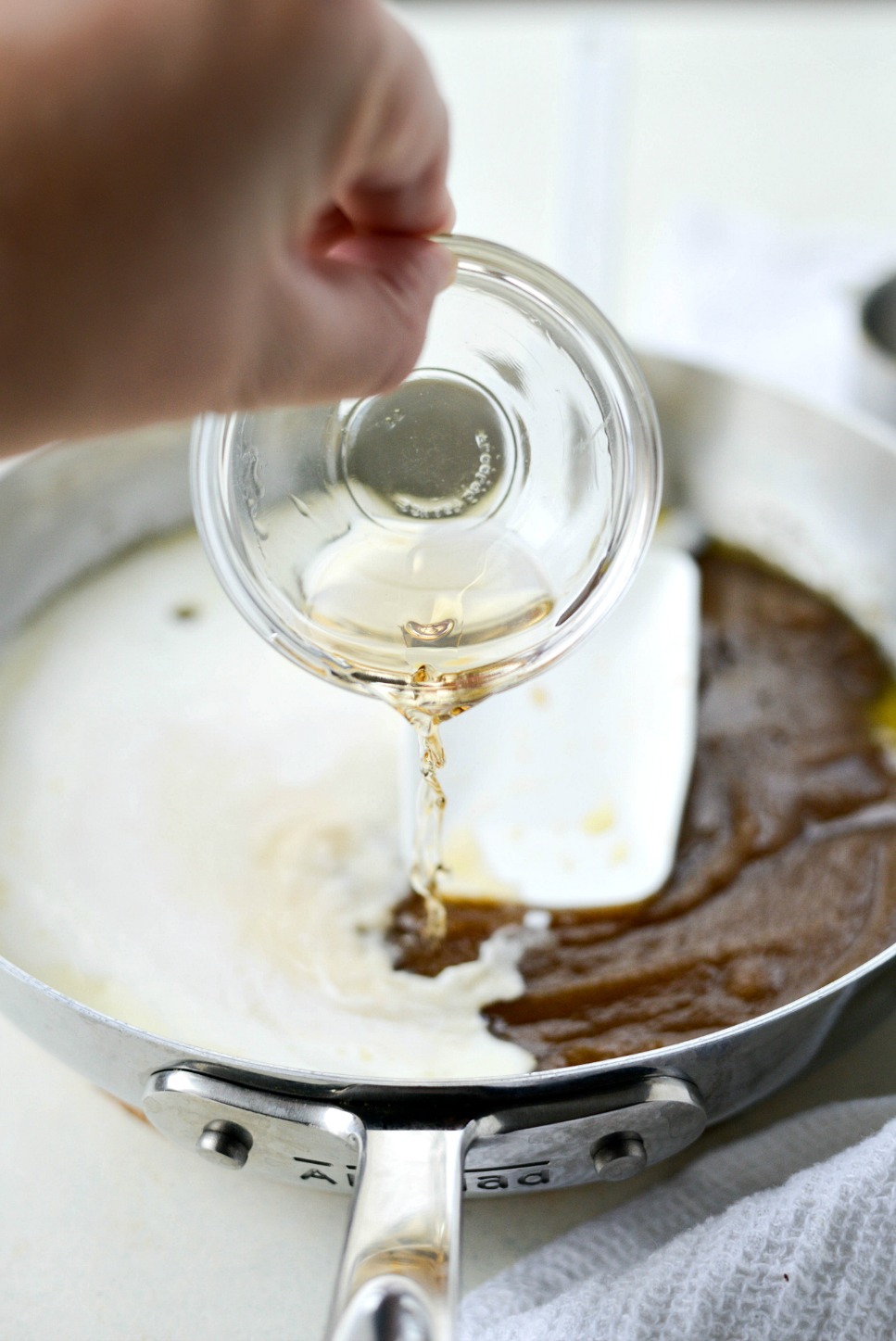 And 2 to 3 tablespoons of dark rum.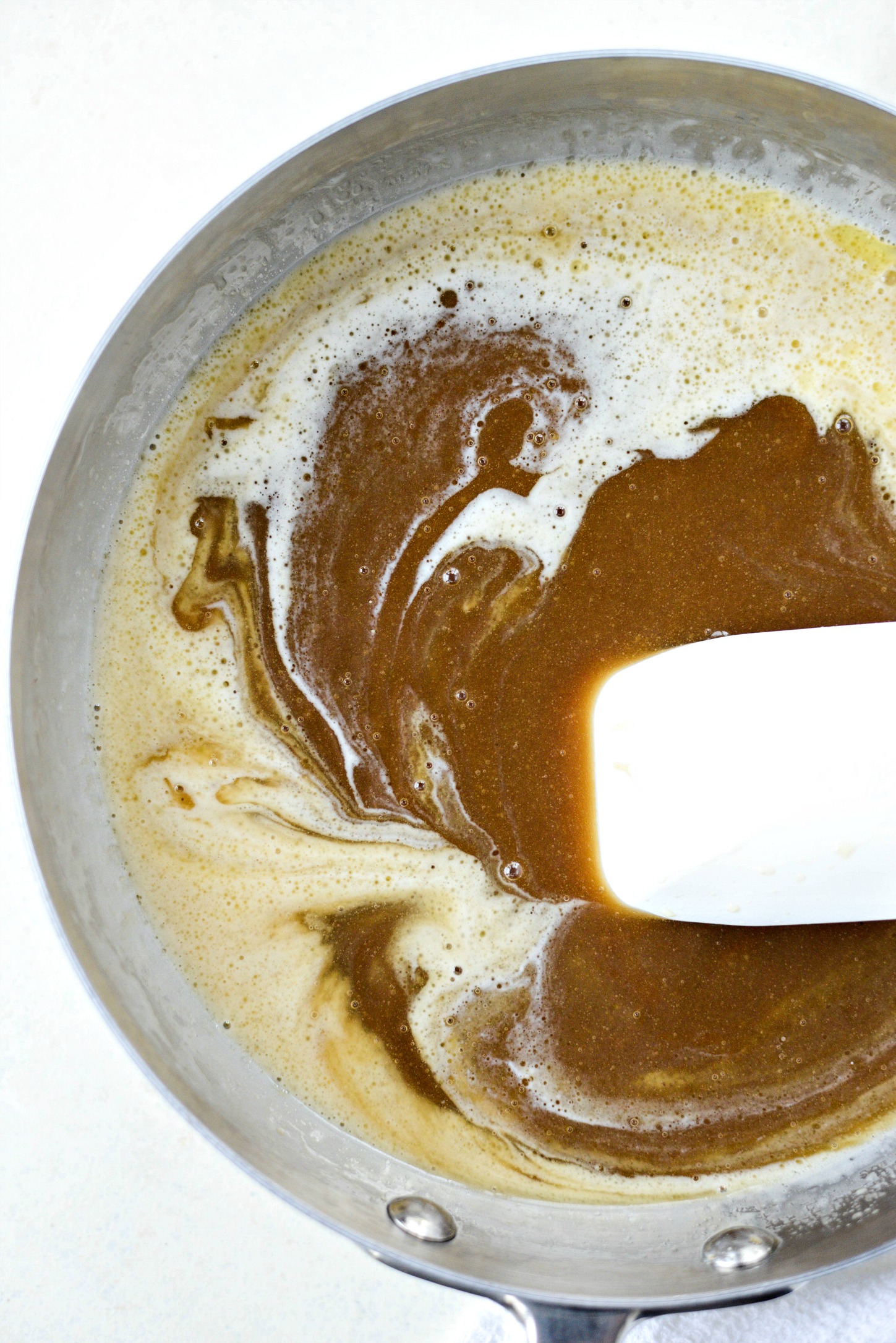 Stir everything together.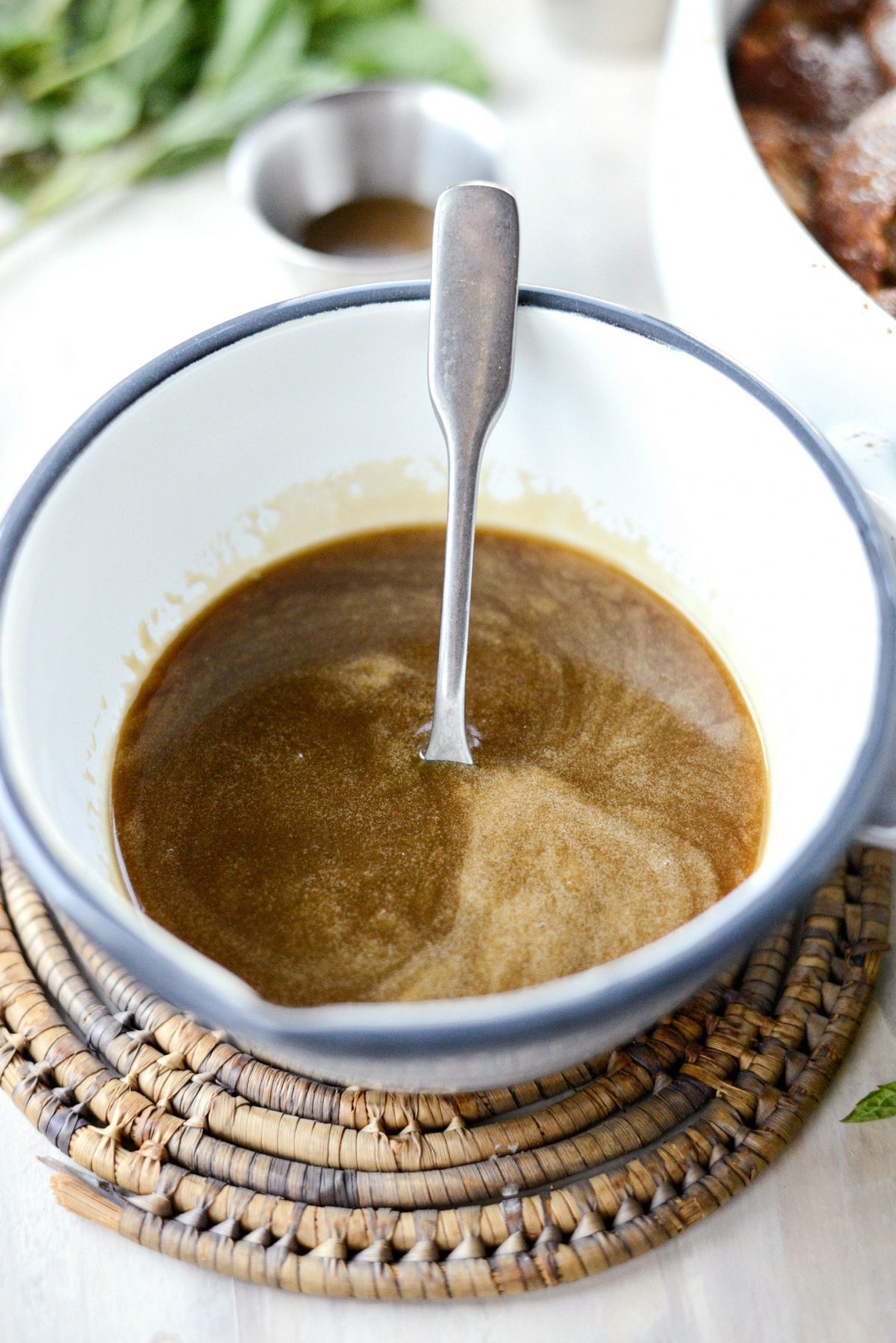 Keep the butter rum sauce warm on low heat.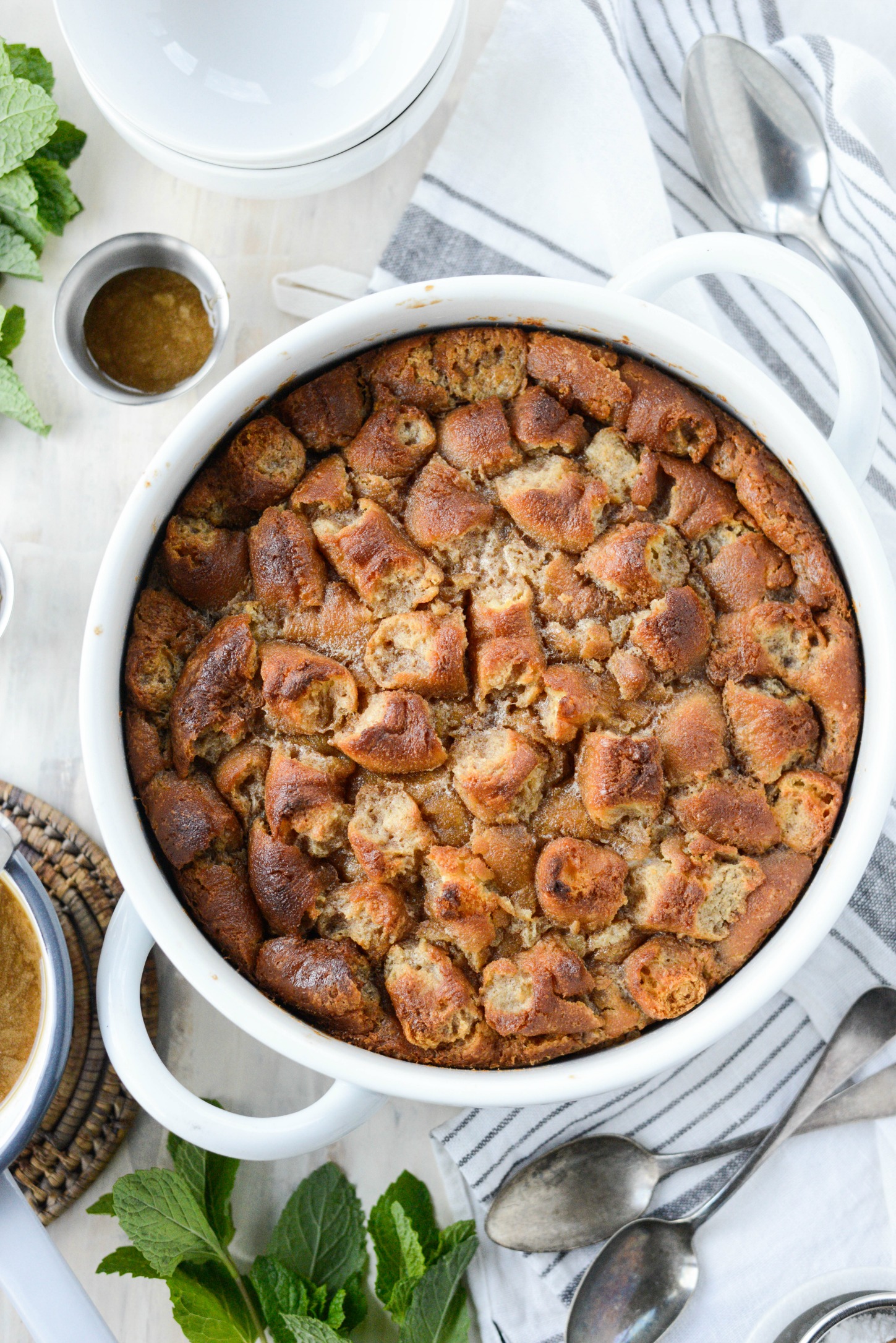 Gah! Look at that beauty! And it smells absolutely heavenly.
If you're wondering how you know the bread pudding is done, the center should register at 160° on an instant read thermometer and the middle should jiggle not wiggle.
Allow the cider mill doughnut bread pudding to cool for a few minutes before dusting with 2 teaspoons of powdered sugar and 1/2 teaspoon cinnamon.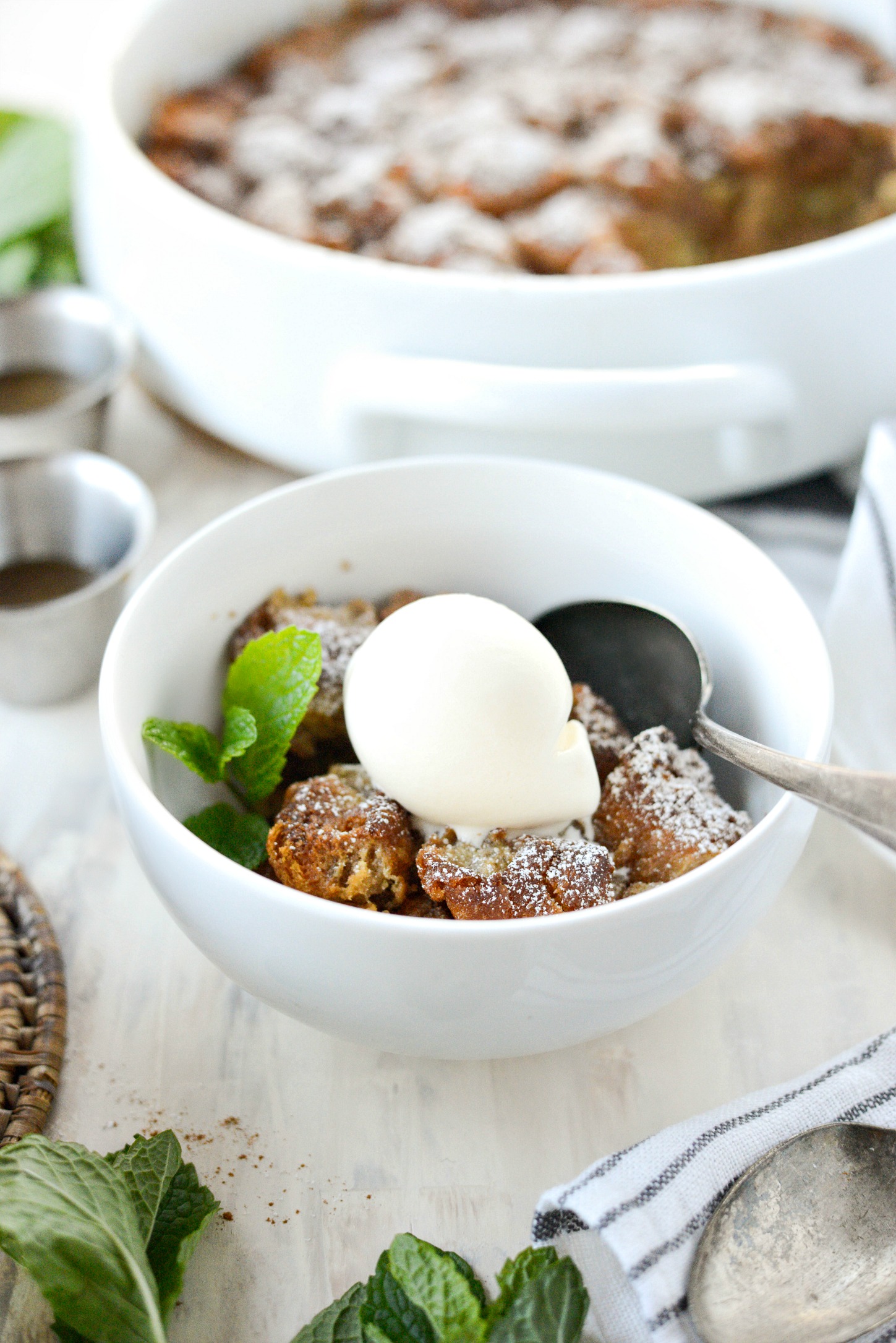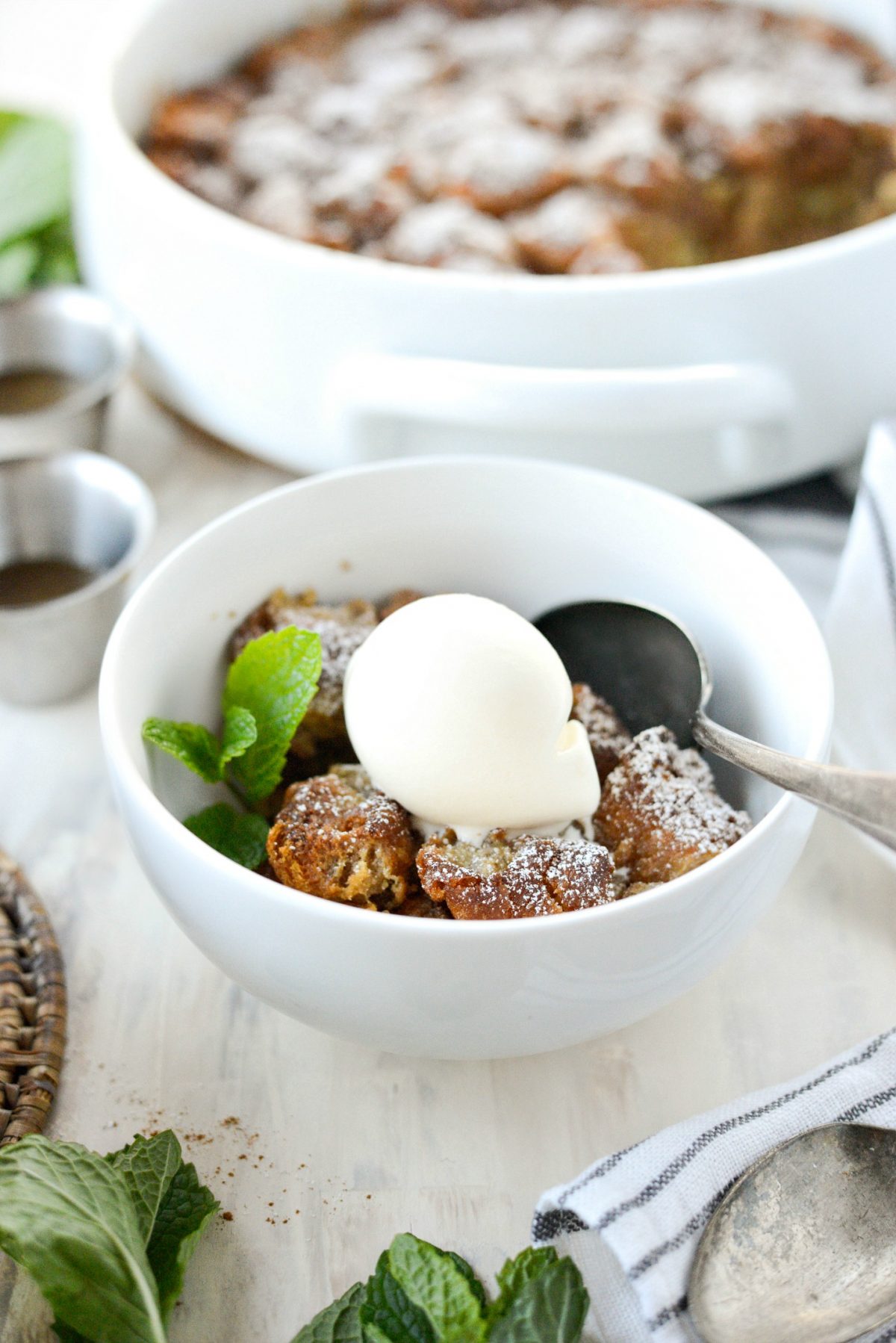 Now comes the fun part. Serve the still warm, cider mill doughnut bread pudding in bowls with a scoop [or two] of vanilla ice cream on top.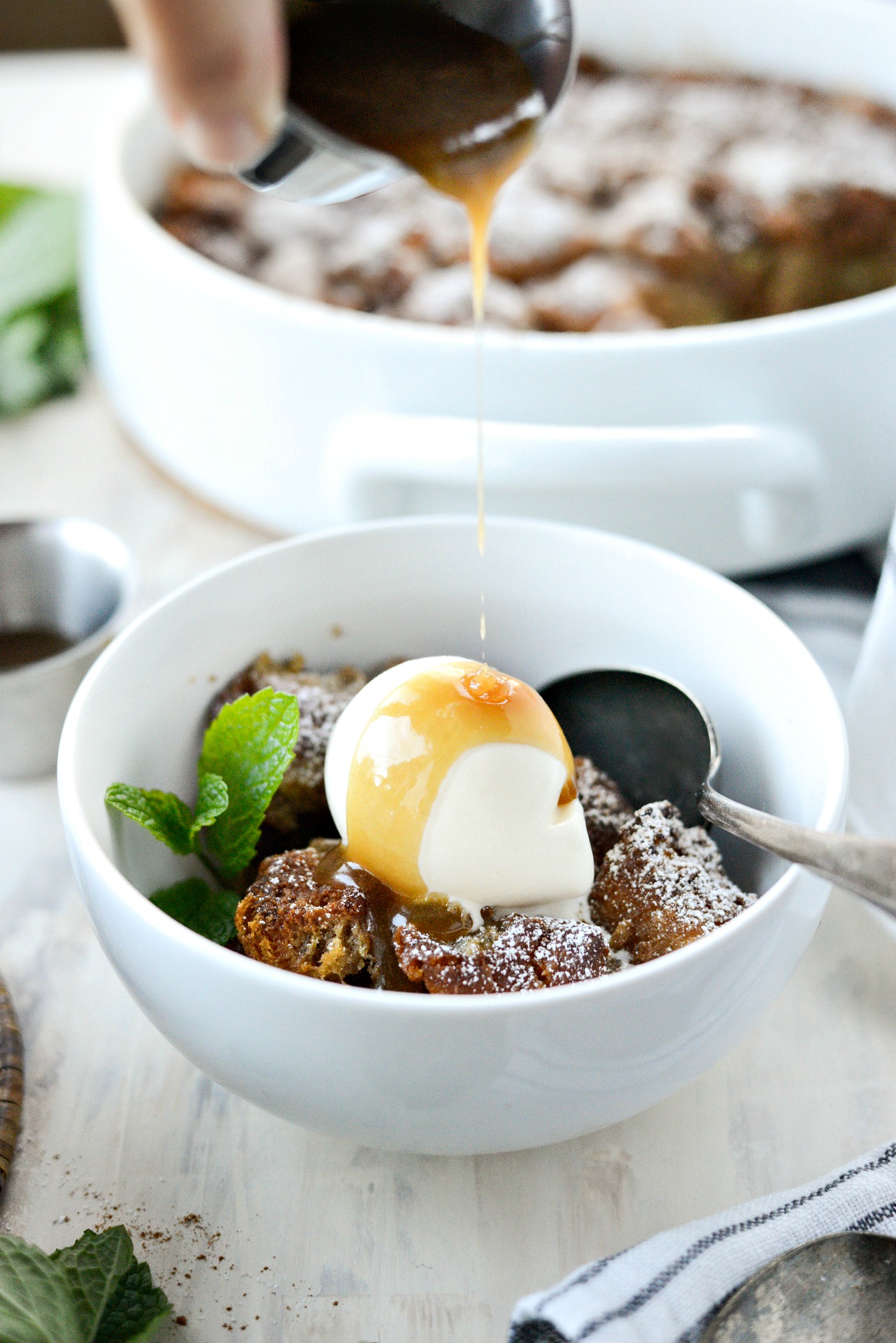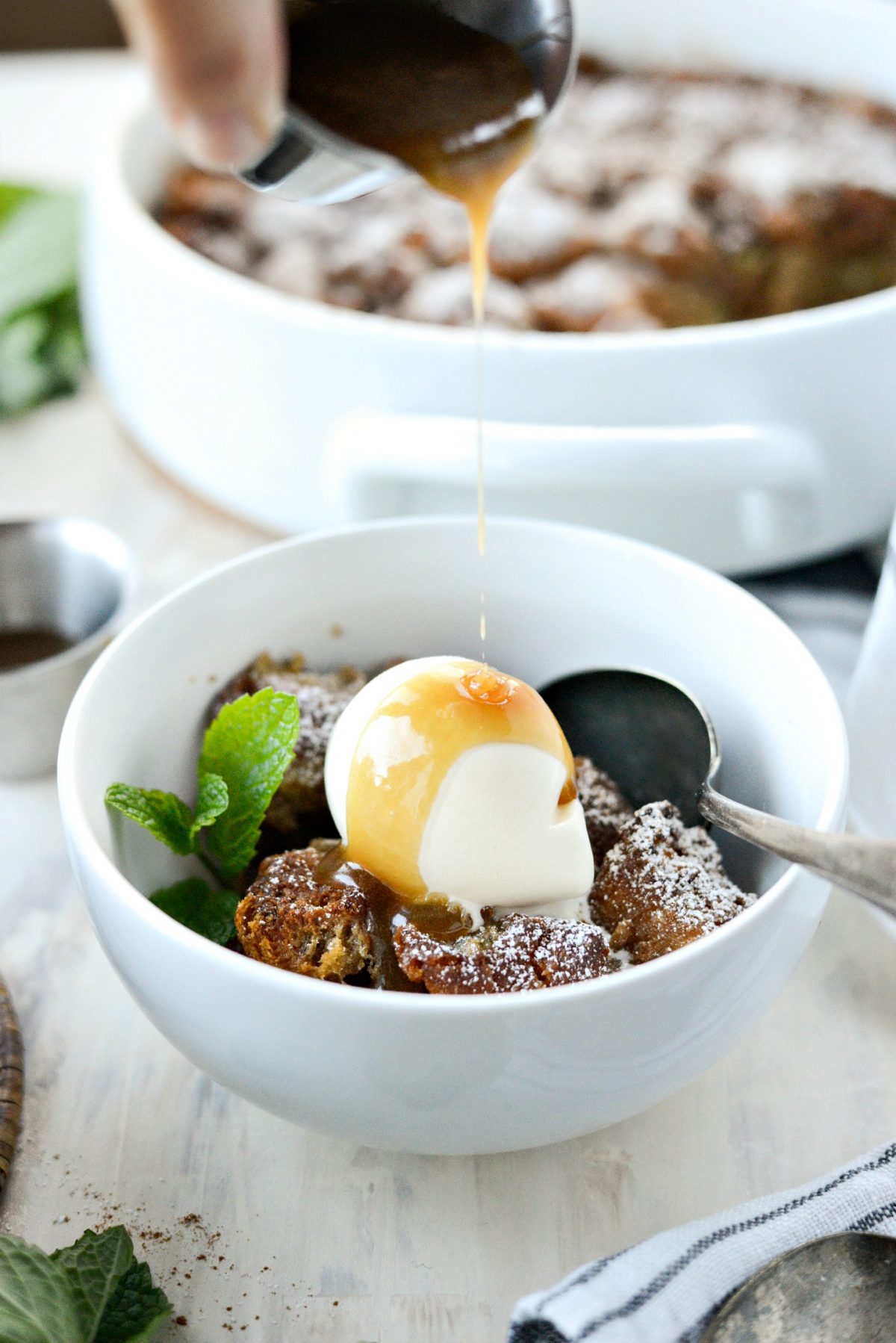 Then drizzle the warm butter rum sauce all over…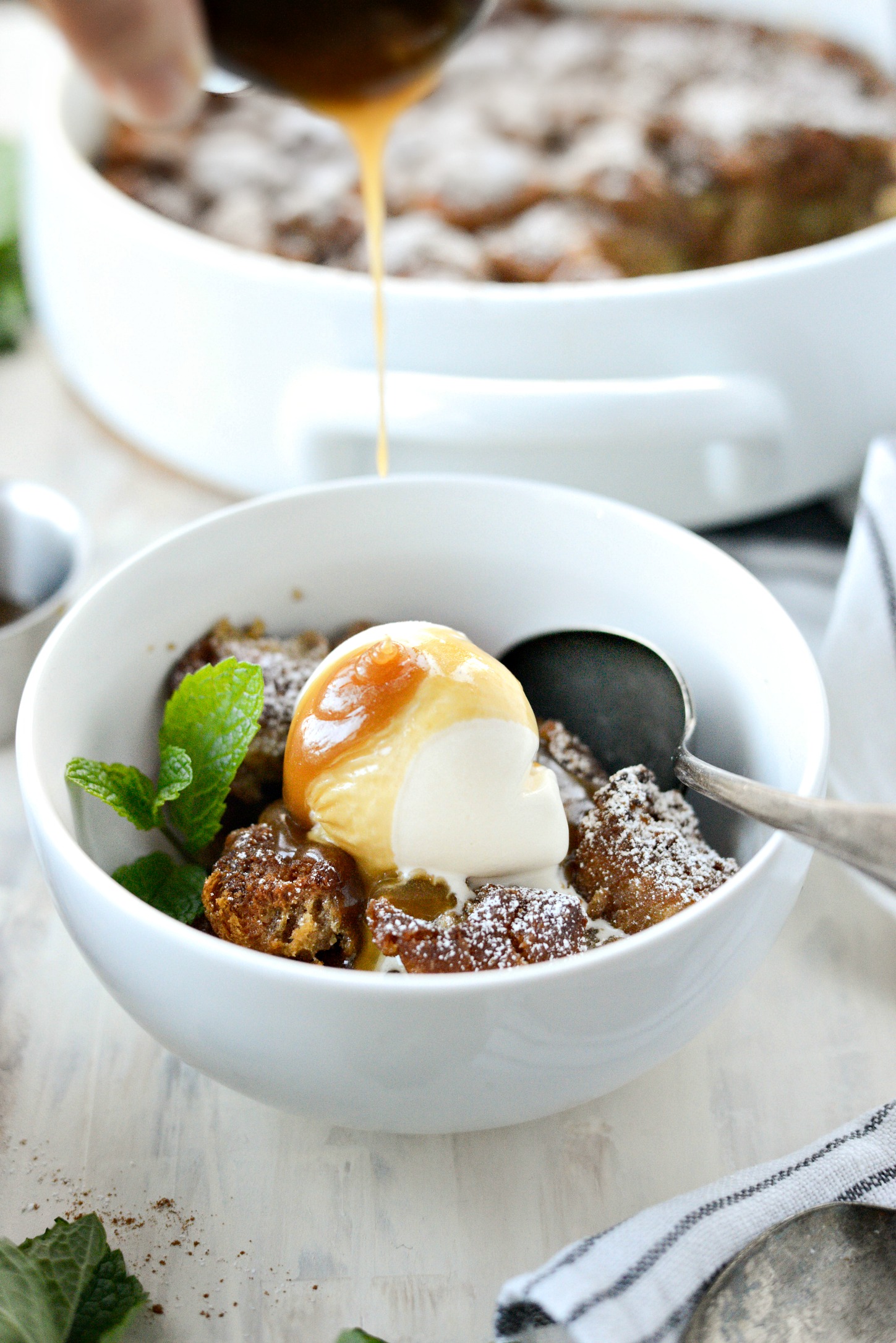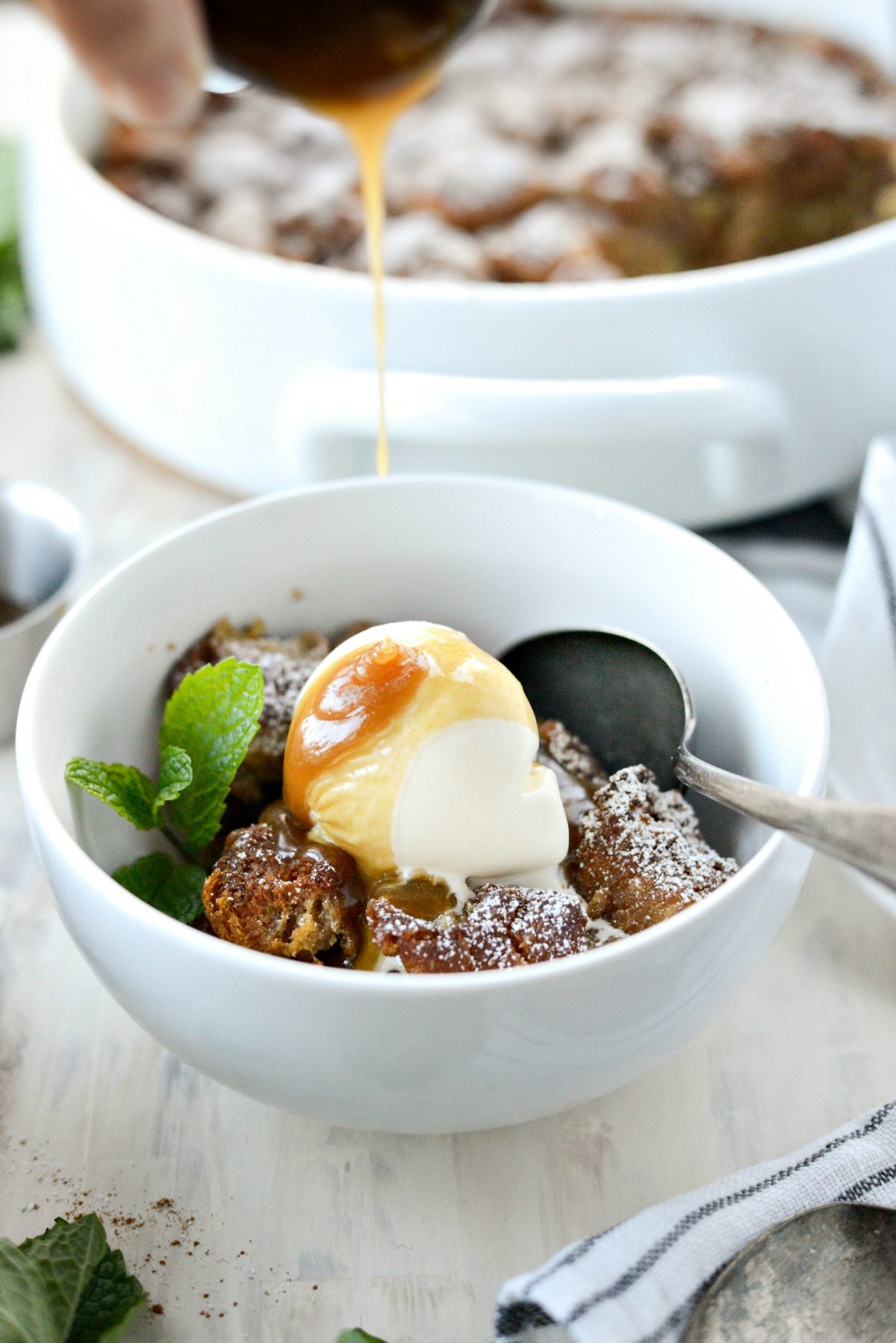 the top.
This dessert is deliciously decadent to say the least. I'm sure you figured that out when you saw all the butter and heavy cream, but isn't this what holidays are about? I love to serve this warm, with a scoop — okay two scoops of vanilla ice cream and then drizzle the warm butter rum sauce over top. As the ice cream melts from warmth of the warmth of the rum sauce it will seep into the nooks and crannies of the cider mill doughnut bread pudding.
This Cider Mill Doughnut Bread Pudding has crispy edges, decadent middle — this dessert is outstanding.
And you know I'm a sucker for those crispy tops and edges! And that butter rum sauce? Have mercy.
Enjoy! And if you give this Cider Mill Doughnut Bread Pudding recipe a try, let me know! Snap a photo and tag me on twitter or instagram!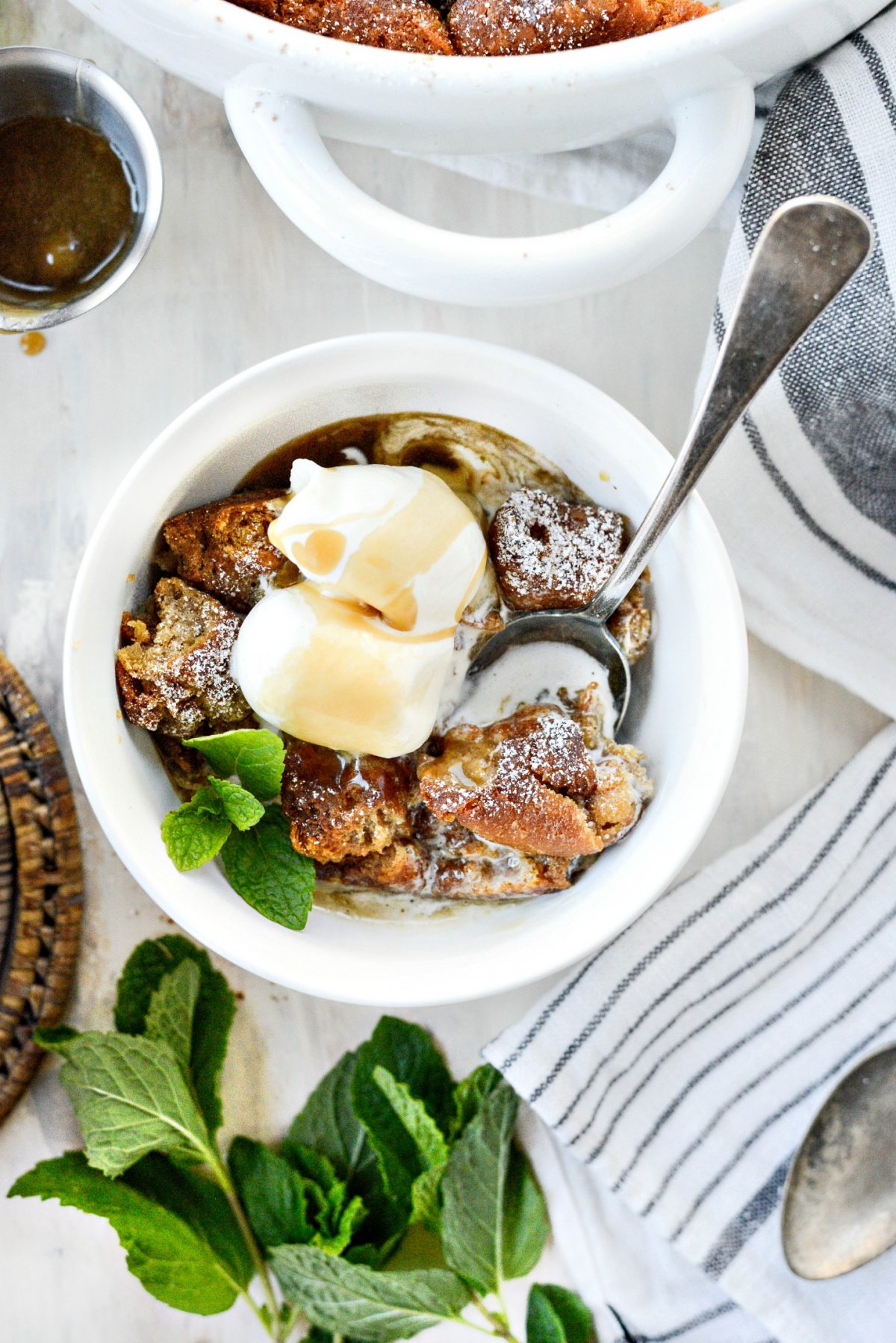 This post may contain affiliate links.
Buy the Cookbook: Simply Scratch : 120 Wholesome Homemade Recipes Made Easy Now available on Amazon »
THANK YOU in advance for your support!