This holiday season, step up your cheesecake game with this decadent Goat Cheese Cheesecake with Tahini Shortbread Crust! Same delicious cheesecake you know and love, but with a subtle goat cheese flavor. I topped ours with a ruby-red cranberry vanilla topping and it was incredible.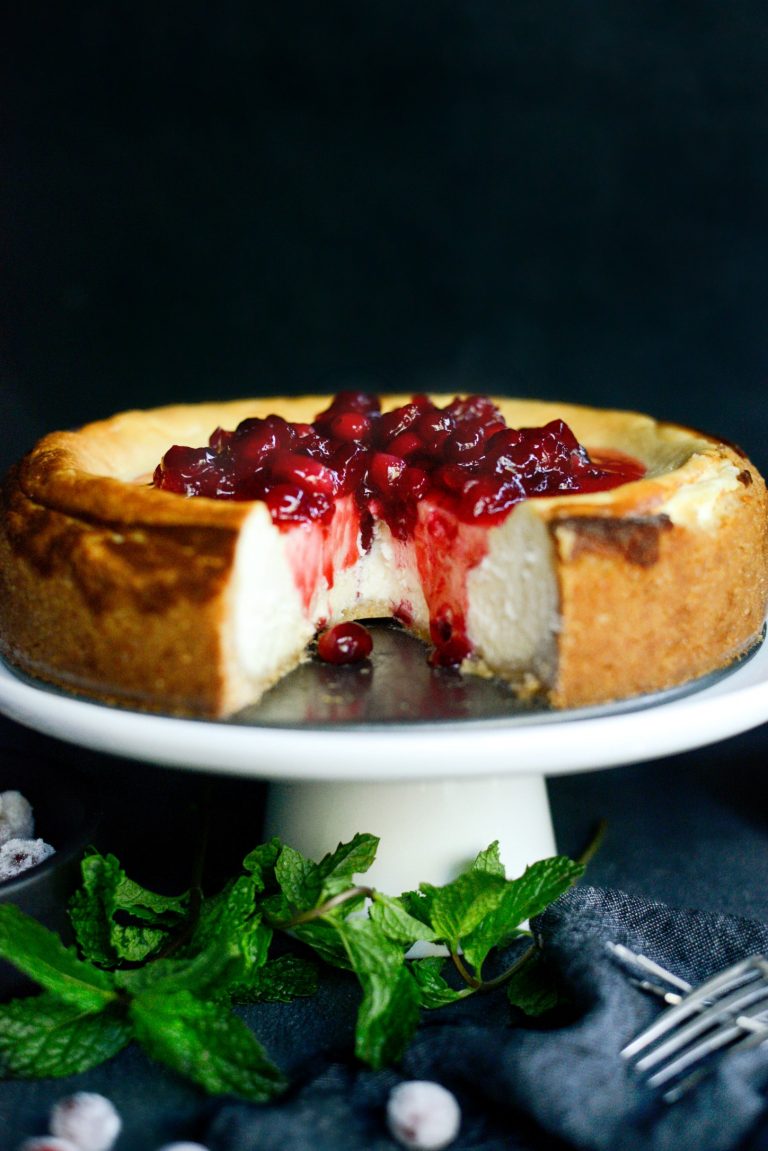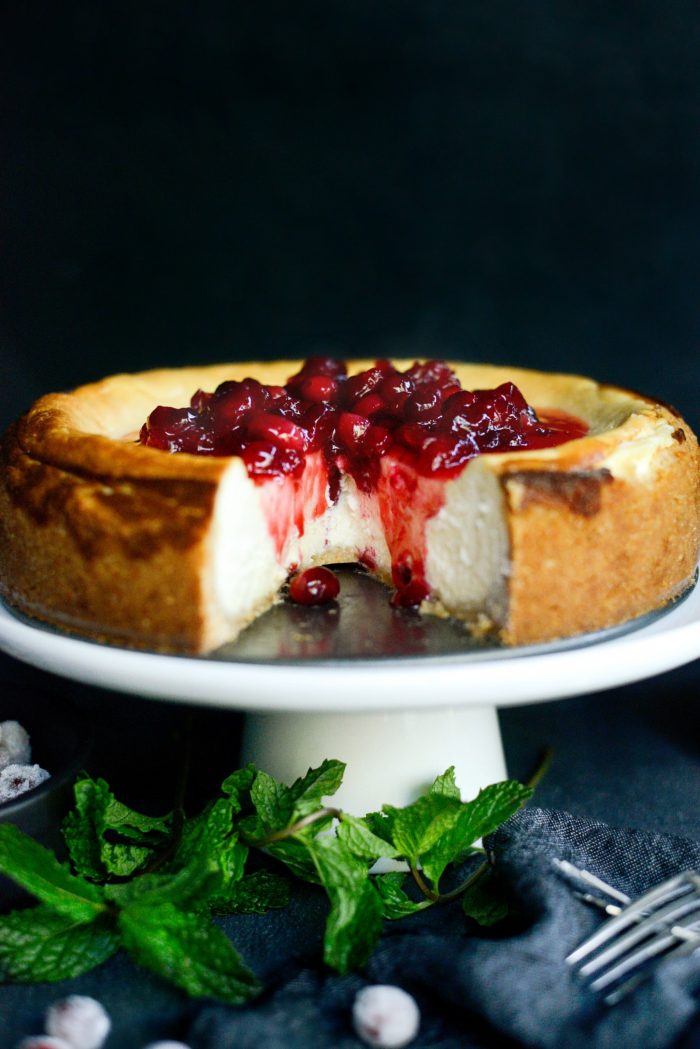 It's never to early to plan your holiday menu. And by holiday menu, I mean dessert! I love dessert and I love the holidays for the simple fact that there is usually a table designated to allthedesserts! And I just so happen to believe that this goat cheese cheesecake would look beautiful on any dessert table this year. But maybe I'm being a little bias.
So yes, I'm absolutely, 100%, irrevocably in love with this goat cheese cheesecake with tahini shortbread crust. Yup, you guessed it! I put those tahini shortbread cookies to good use (besides devouring them) and turned them into a crust for my cheesecake. So buttery and delicious!
The sweet, tart cranberry vanilla sauce goes perfectly with the creamy goat cheese cheesecake and the buttery tahini shortbread crust is amazing. This cheesecake was a labor of love. Truly. But totally worth it. I would definitely allot two to three days; one to make the cookies and then the next day to make the cheesecake and one to chill overnight.
So worth it and what a beauty!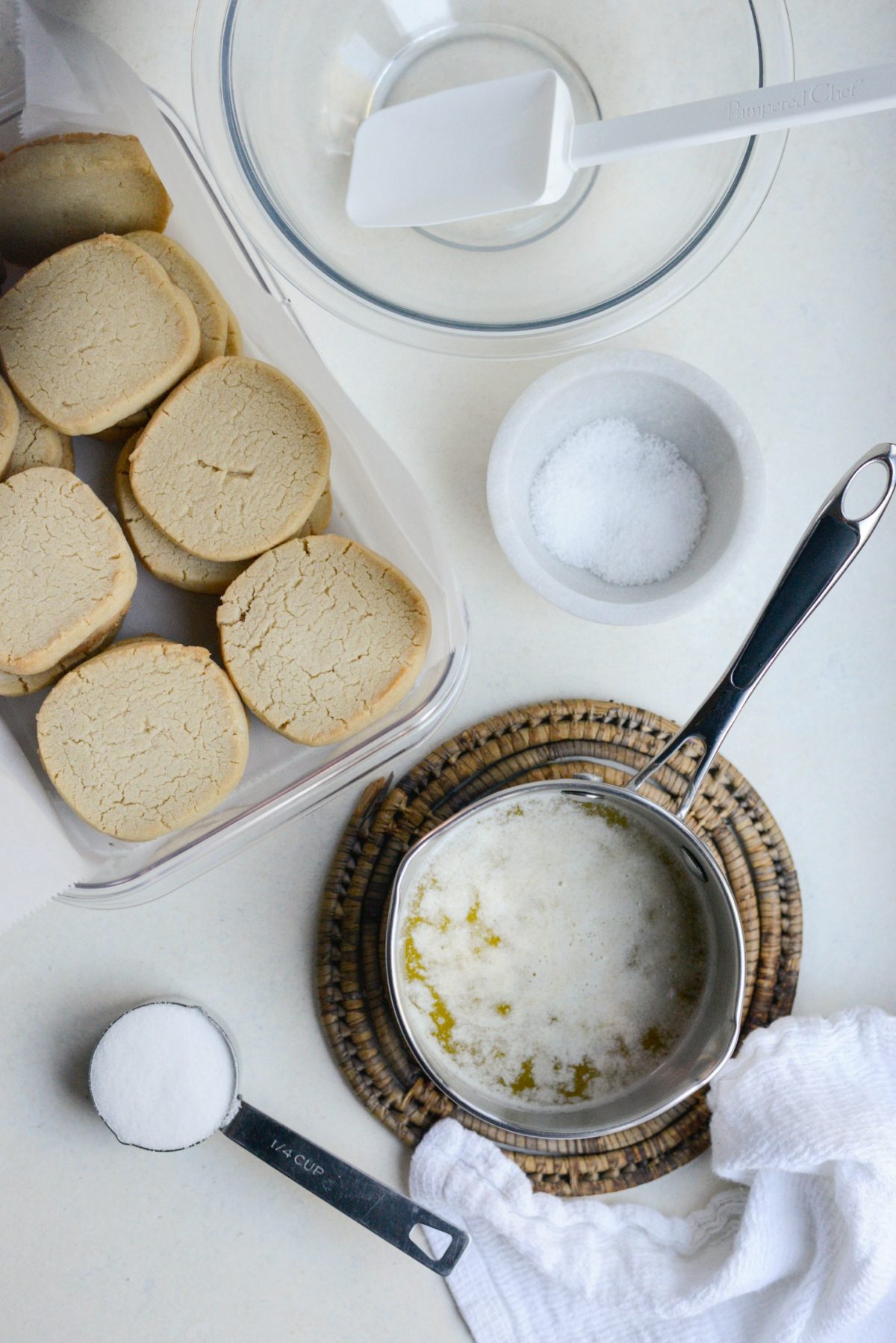 To Make the Tahini Shortbread Crust you Will Need:
1/4 cup sugar
2 to 3 tablespoons melted butter
a pinch of kosher salt
Okay. Back to business. To make the crust; place 8 tahini shortbread cookies into your food processor [fitted with the blade attachment] and process until fine crumbs form. You should have 2 cups of crumbs.
Transfer the crumbs to bowl and add in a pinch of kosher salt, 1/4 cup granulated sugar and 2 to 3 tablespoons of melted butter.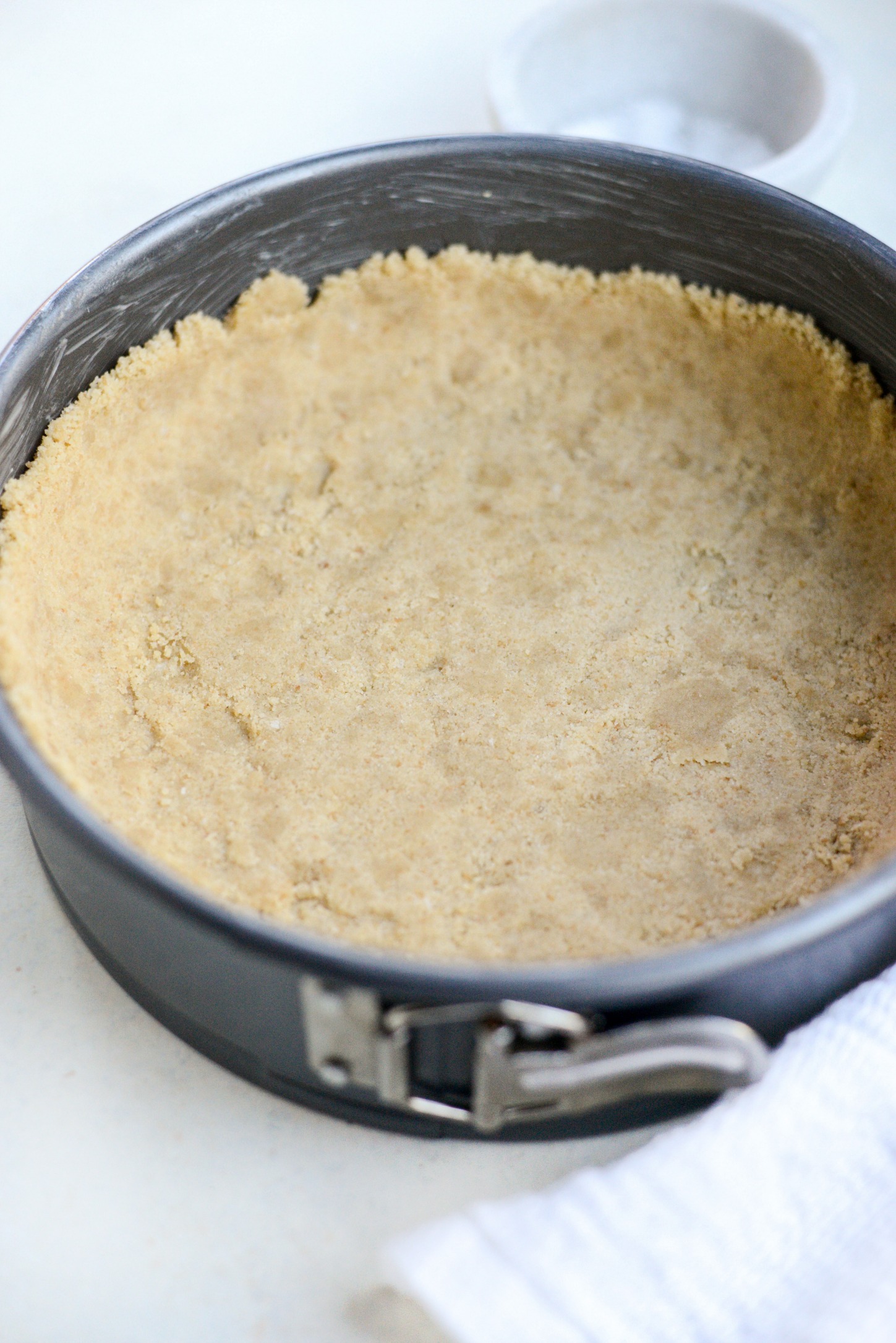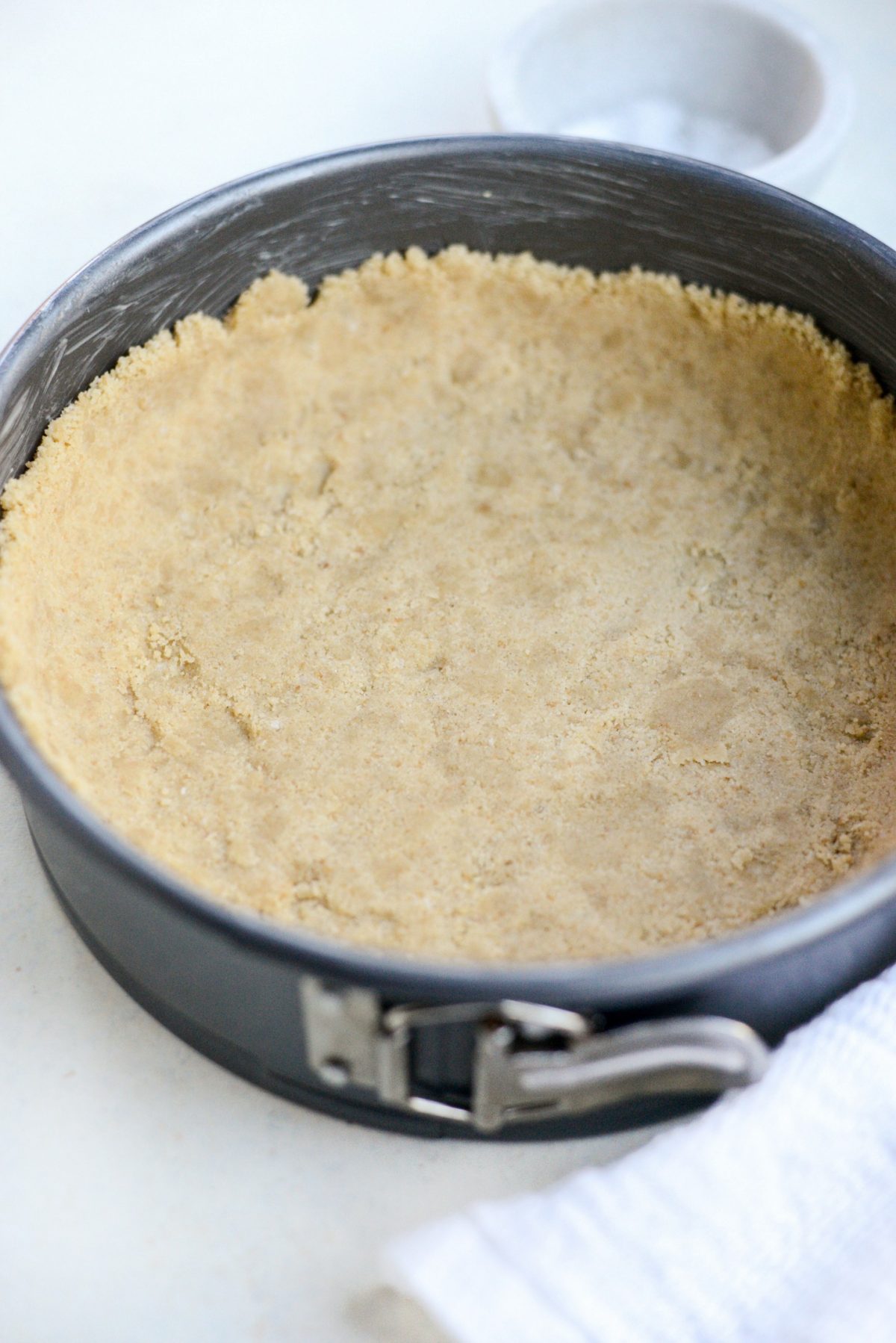 Use a fork to mix the crumb mixture and then dump the crumbs into a buttered 9-inch springform pan. Use your fingers to press the shortbread crumbs into the bottom and up the sides of a buttered 9-inch springform pan. Set a side.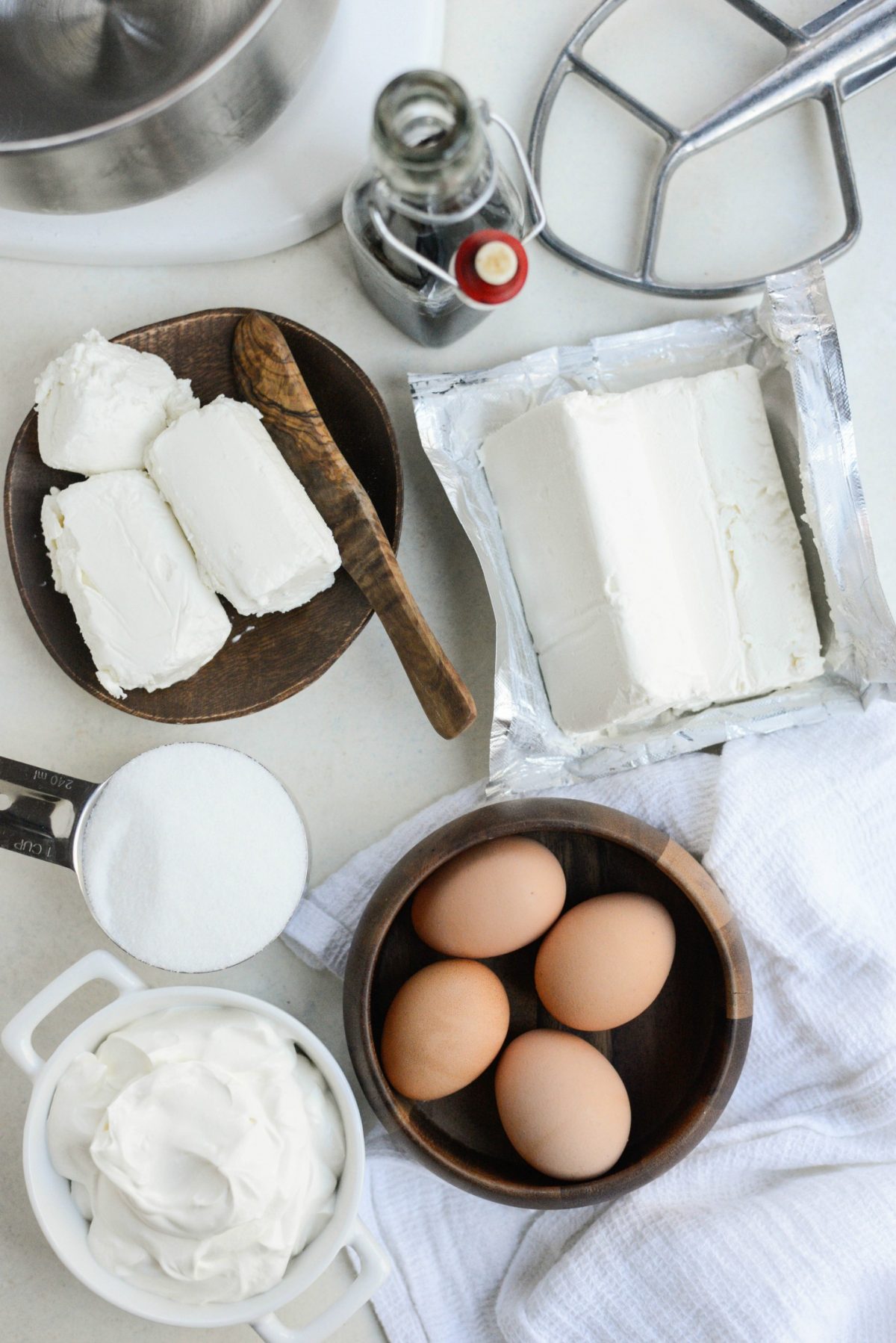 To Make The Goat Cheese Cheesecake You Will Need:
16 ounces softened cream cheese
10 ounces softened goat cheese
1-1/2 cups (12 ounces) sour cream at room temperature
4 large eggs
1 cup sugar
2 teaspoons pure vanilla extract
*Set the cream cheese, goat cheese, eggs and sour cream out on your countertop at least an hour in advance to soften and bring up to room temperature.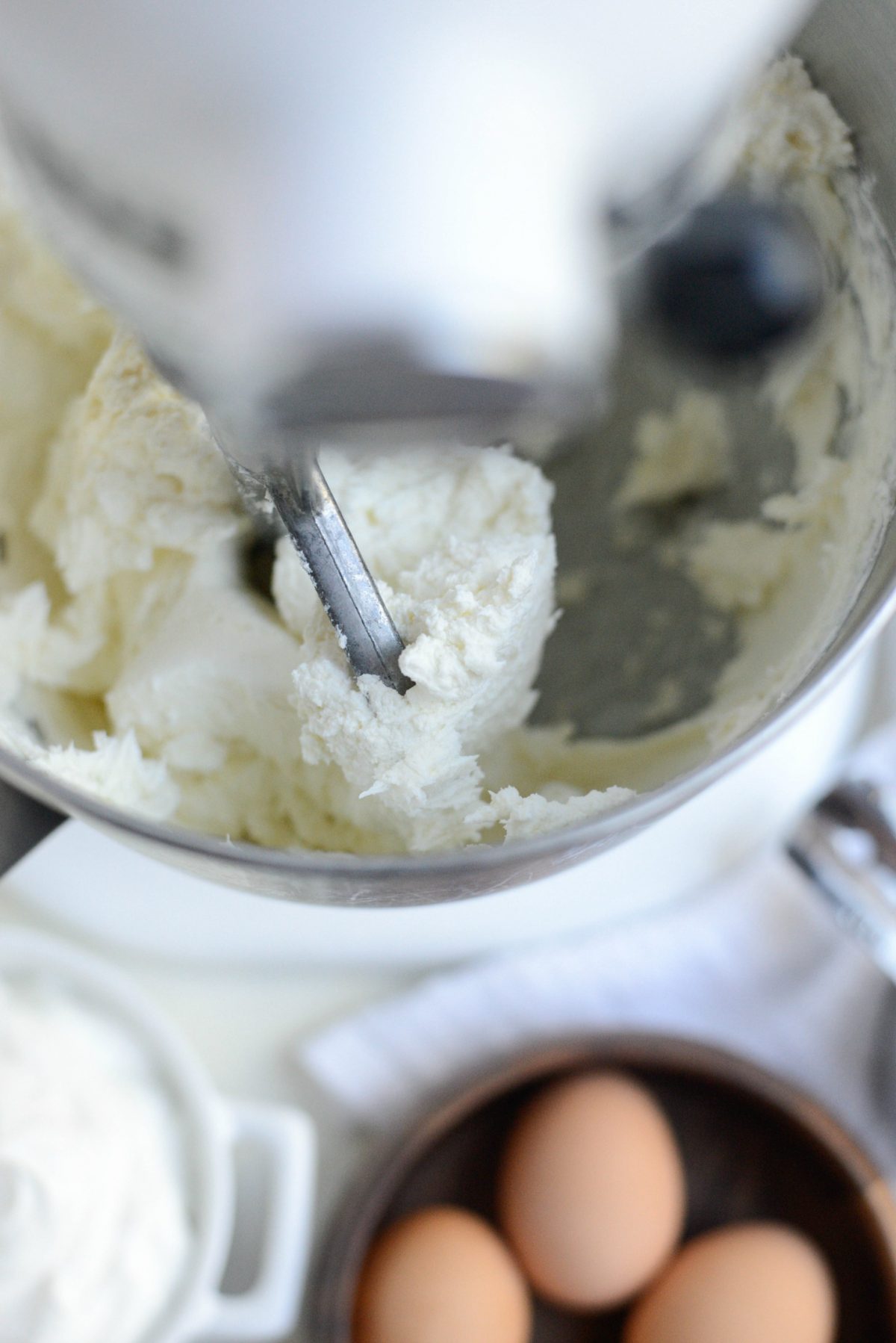 In the bowl of your stand mixer, fitted with the paddle attachment, beat 16 ounces of [softened] cream cheese and 10 ounces of goat cheese on medium speed until blended and creamy.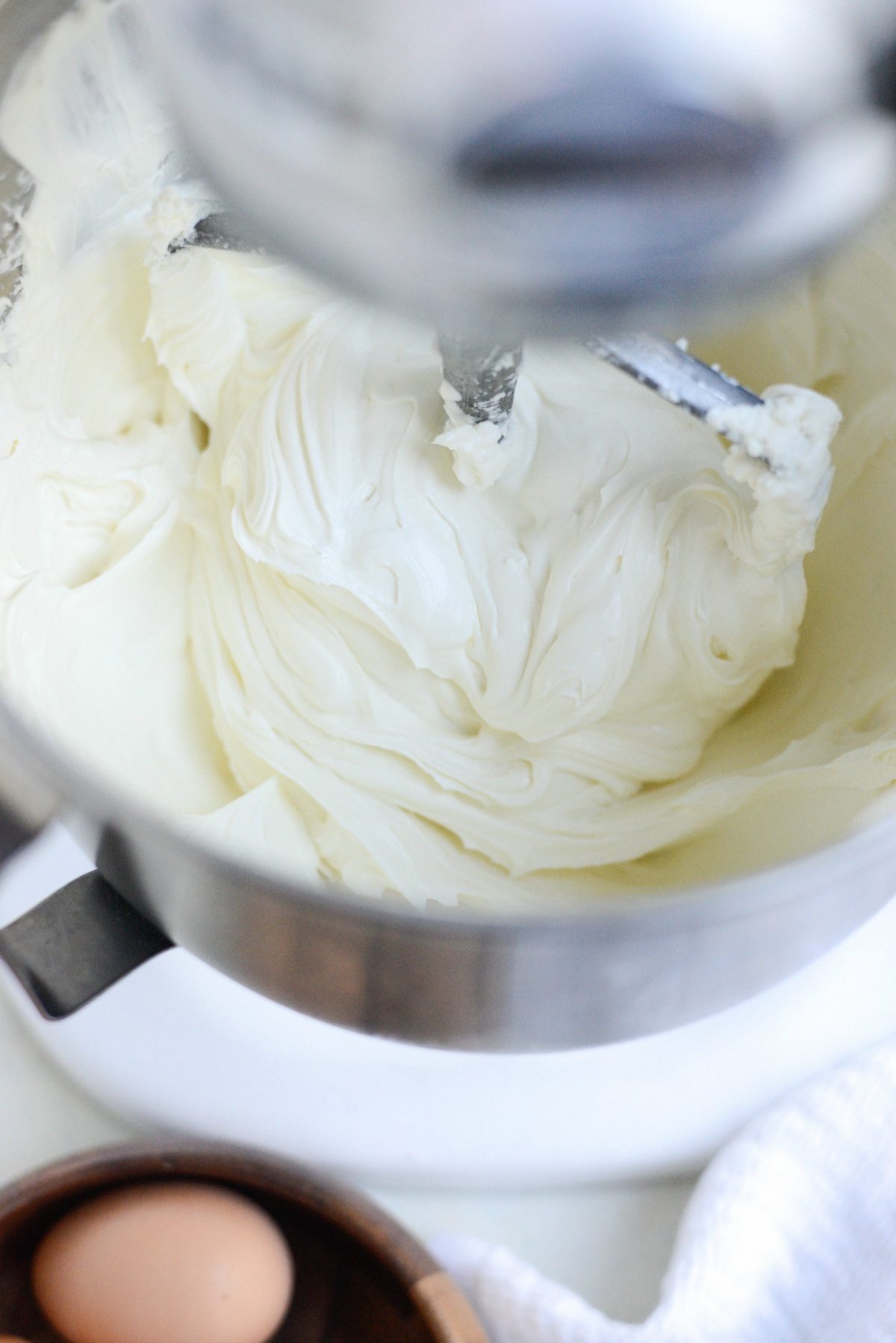 Add in the 1-1/2 cups of sour cream and mix until combined.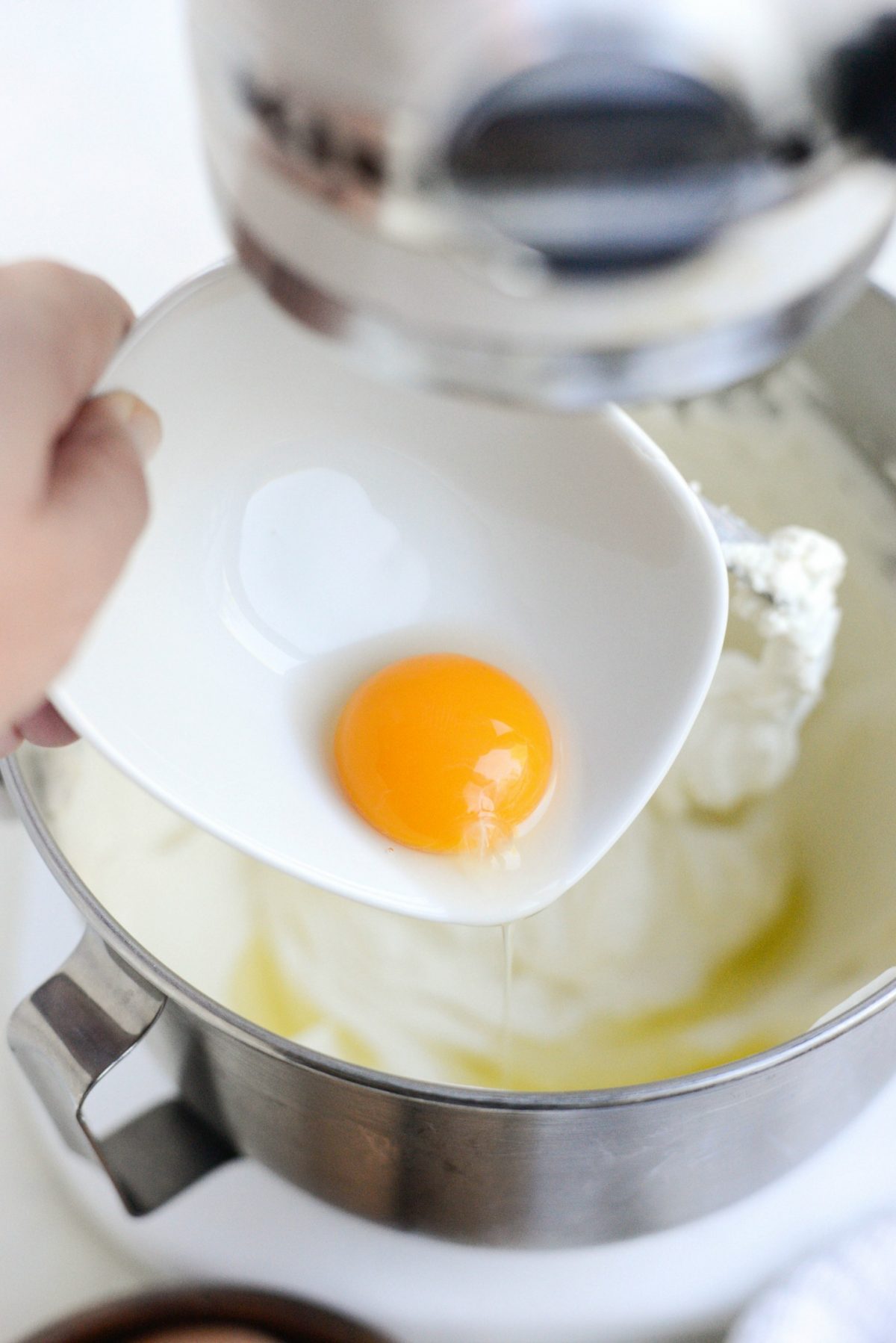 Next add in one egg at a time, mixing well after each egg is added.
Then mix in the cup of sugar and 2 teaspoons of pure vanilla extract.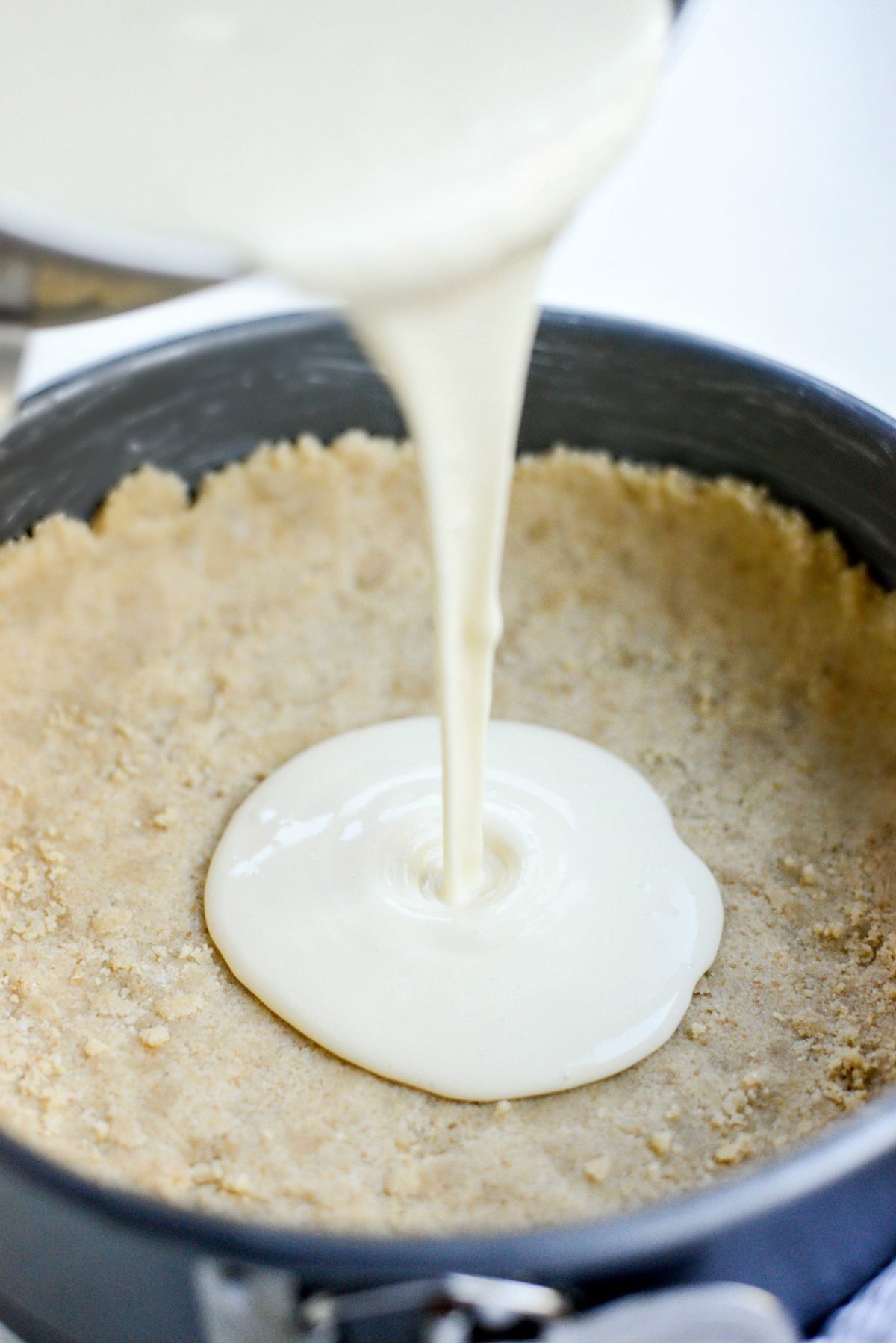 Preheat your oven to 350° and position your oven rack in the lower third of your oven.
Then place your cheese cake pan onto a rimmed metal sheet pan. Some butter may escape the springform pan (since those are buttery shortbread cookies in that crust) so it's a good idea to have a sheet pan underneath your cheesecake as it bakes.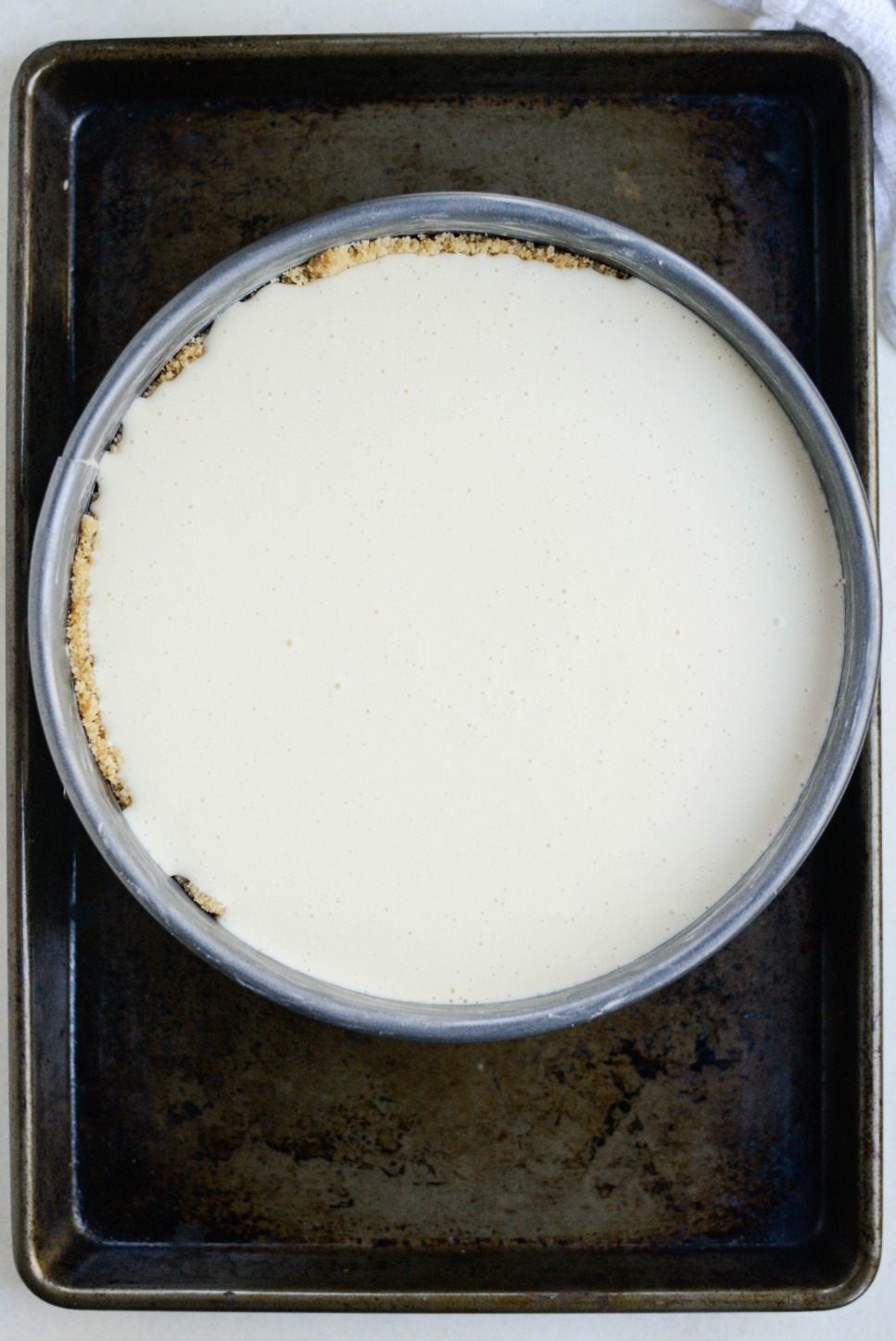 Pour the goat cheese cheesecake filling into the prepared crust and slide it into your [preheated] oven and bake for 55 to 60 minutes. If the top of the cheesecake is browning quickly, you should tent with aluminum foil.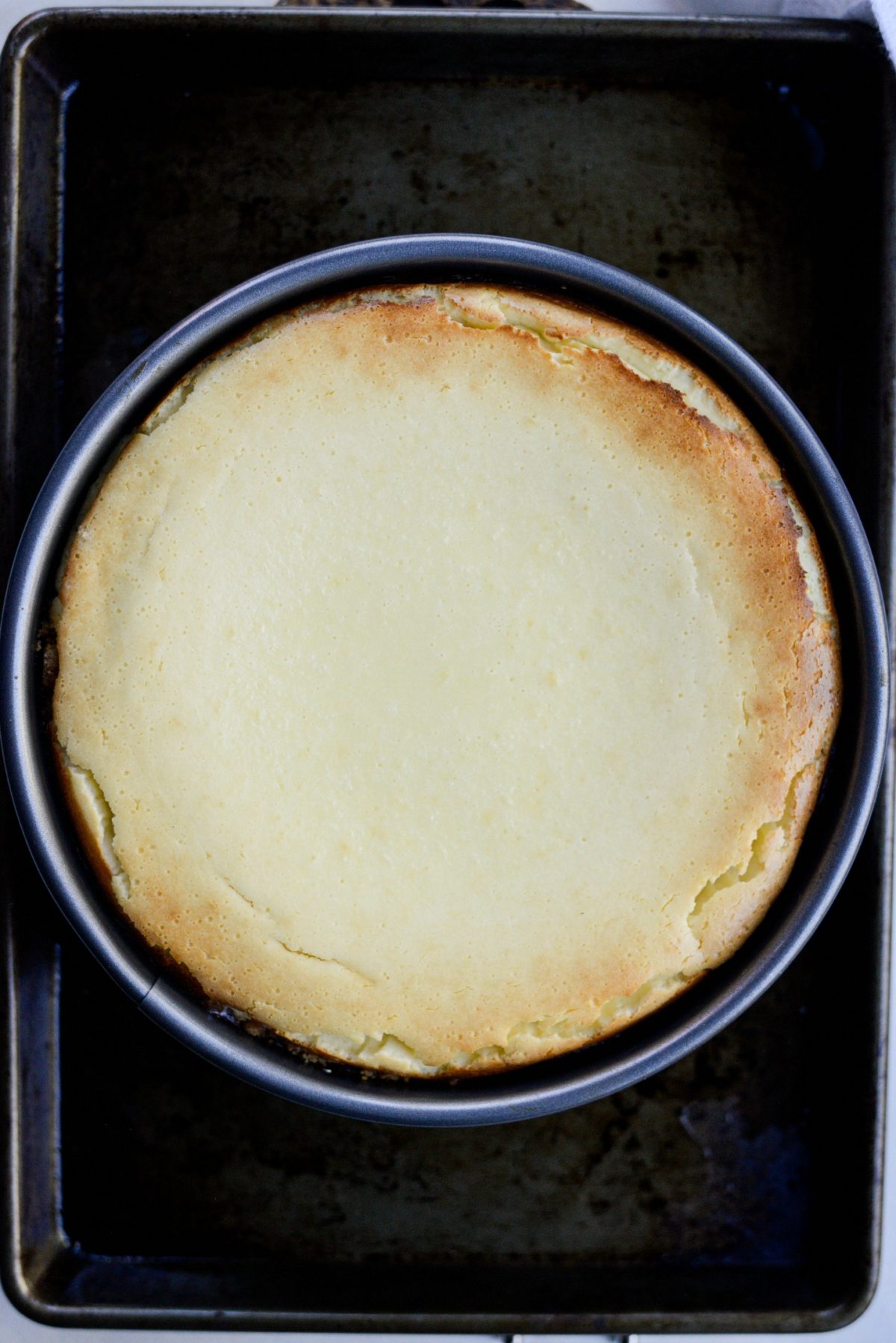 I personally like a little brown edge and even a few cracks in my cheesecake, especially around the edges.
They give a cheesecake character.
After about 10 minutes of cooling, my goat cheese cheesecake did form a small crack in the middle. But that's nothing a little fruit topping can't hide.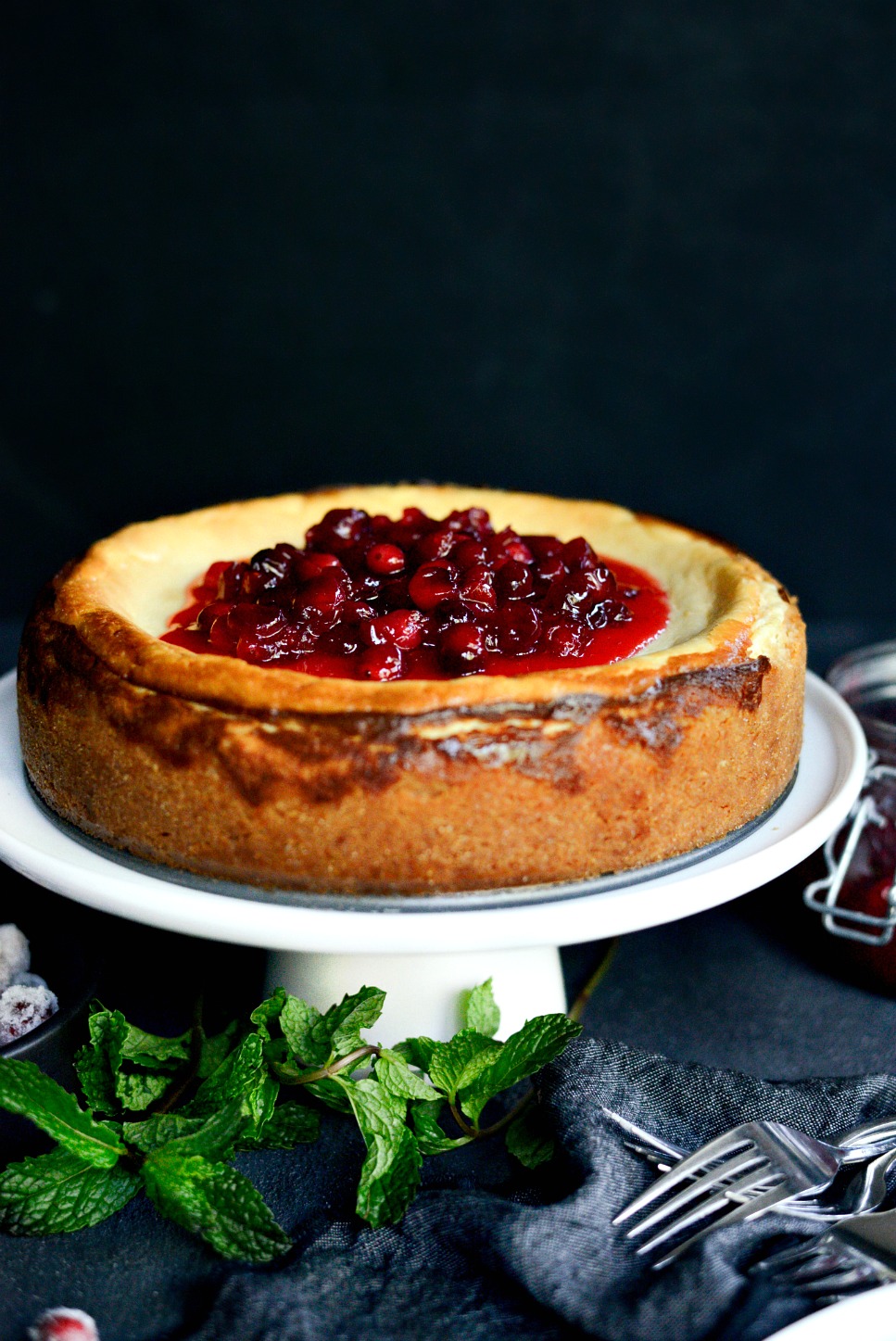 You would honestly never know that there once was a crack there.
Serve as is, or top with your favorite fruit topping. Don't worry! I've included the recipe for this beautiful, bright red cranberry vanilla topping in the printable instructions below.
Can we take a moment and admire that shortbread crust!?
Everything about this goat cheese cheesecake is delicious. The tart cranberry topping, the creamy smooth and slightly goat-cheesy cheesecake and that buttery crisp crust. My girls LOVED this cheesecake and I'll definitely be made again and again.
And again.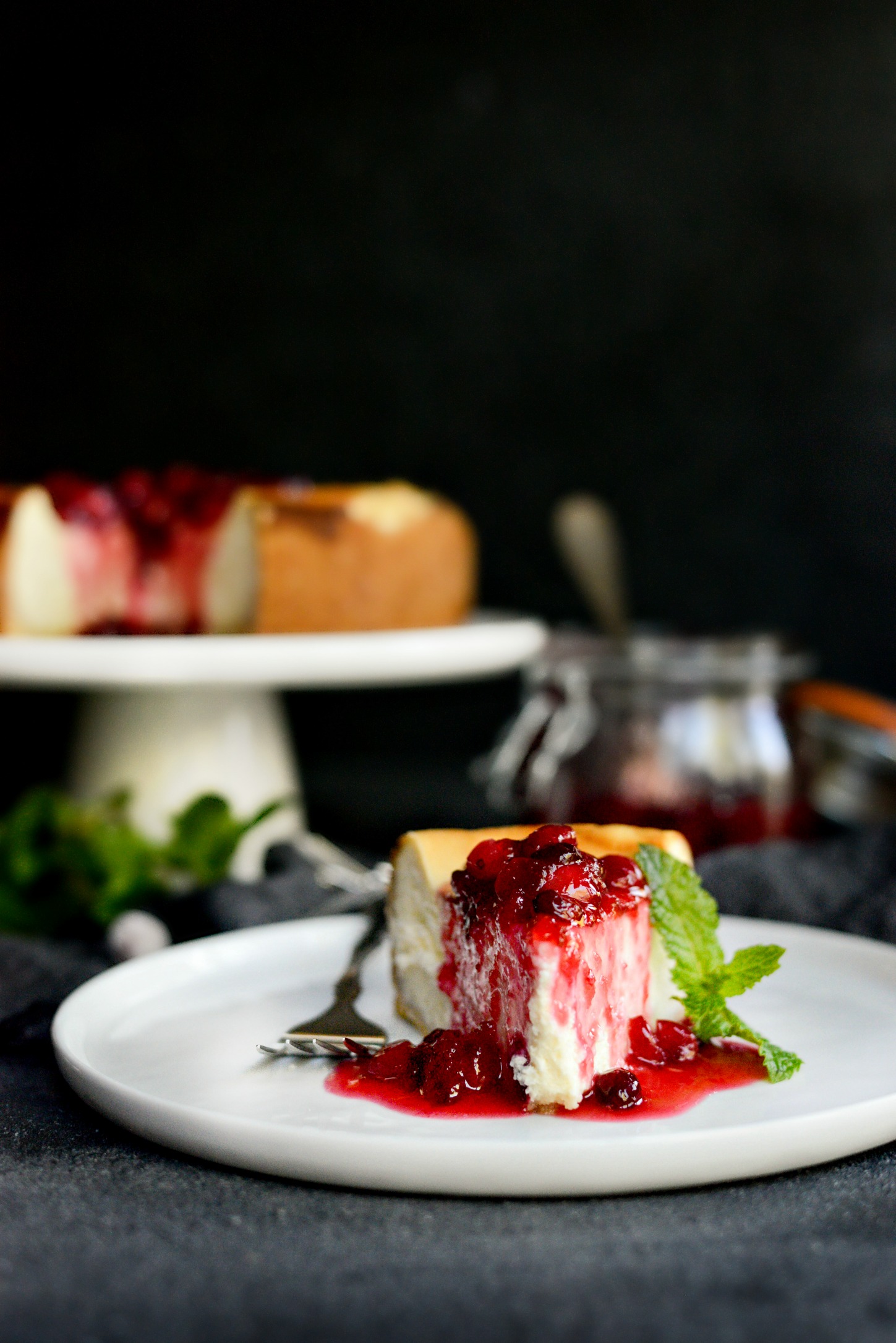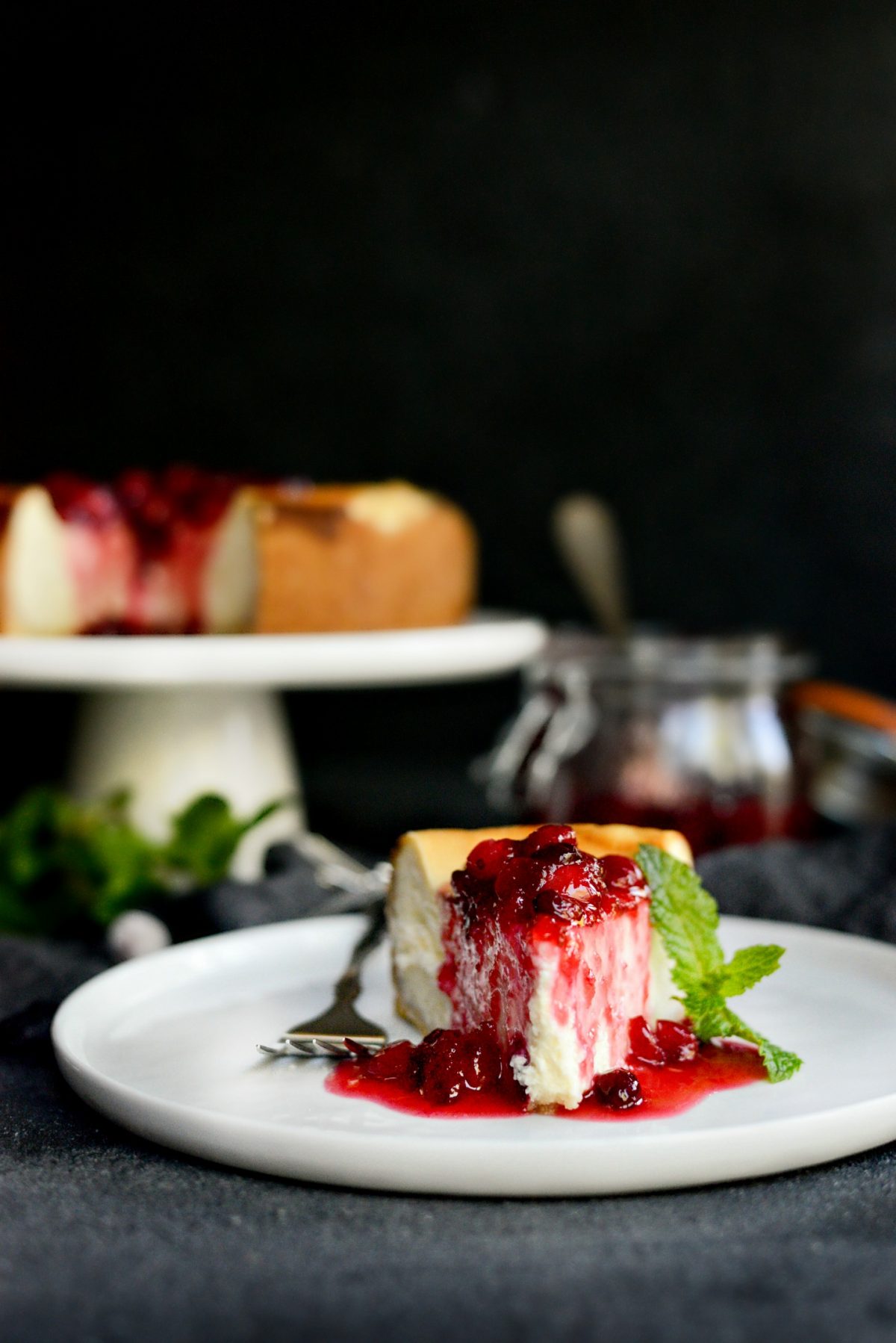 Enjoy! And if you give this Goat Cheese Cheesecake recipe a try, let me know! Snap a photo and tag me on twitter or instagram!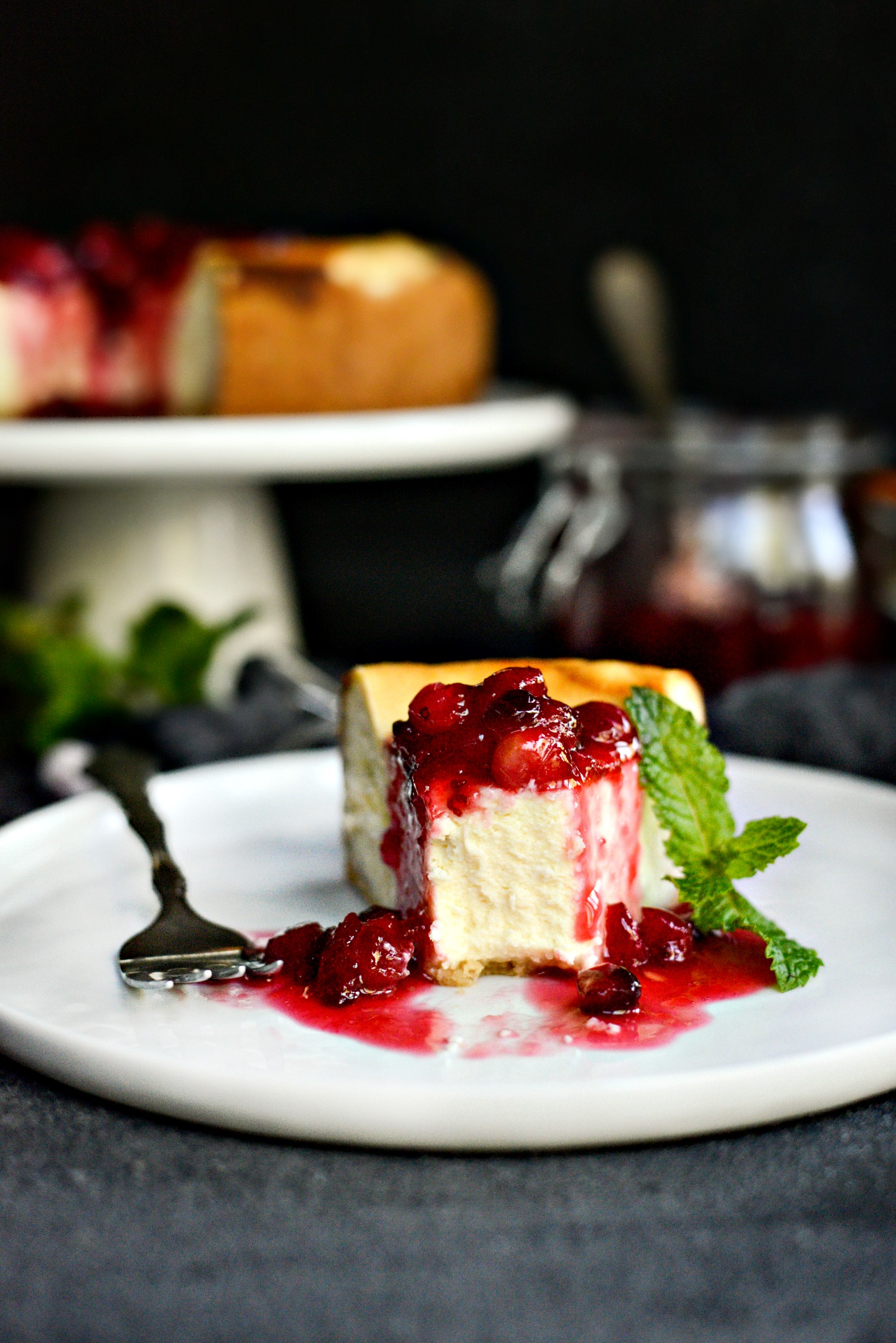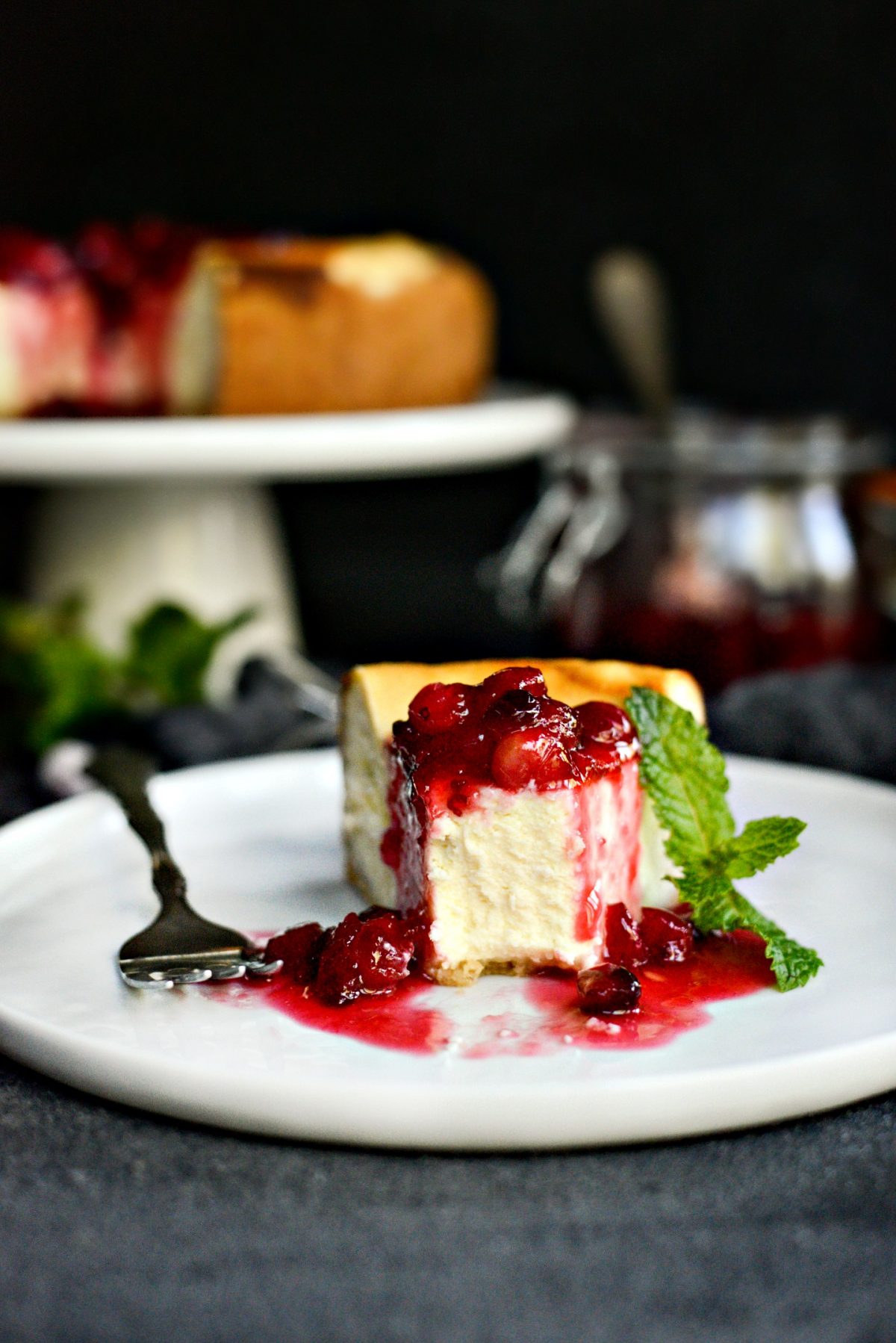 This post may contain affiliate links.
Buy the Cookbook: Simply Scratch : 120 Wholesome Homemade Recipes Made Easy Now available on Amazon »
THANK YOU in advance for your support!